Some models are like Pokemons. Having started with one-two models it's hard to stop yourself from getting all collection. That's why I try not to miss anything from IMR Acoustics and today we will speak about the alternative version to R2 Aten called R2 Red.

The idea behind Red (and yes, I constantly think about Angry Birds here) has been quite simple: to make closed R2 variant for those who need enhanced noise isolation. As usual, the engineers have felt it to be not enough to just re-work IEM bodies. They have also changed tuning to compensate the body influence. In fact the sound is slightly different from regular version but having well-known house sound.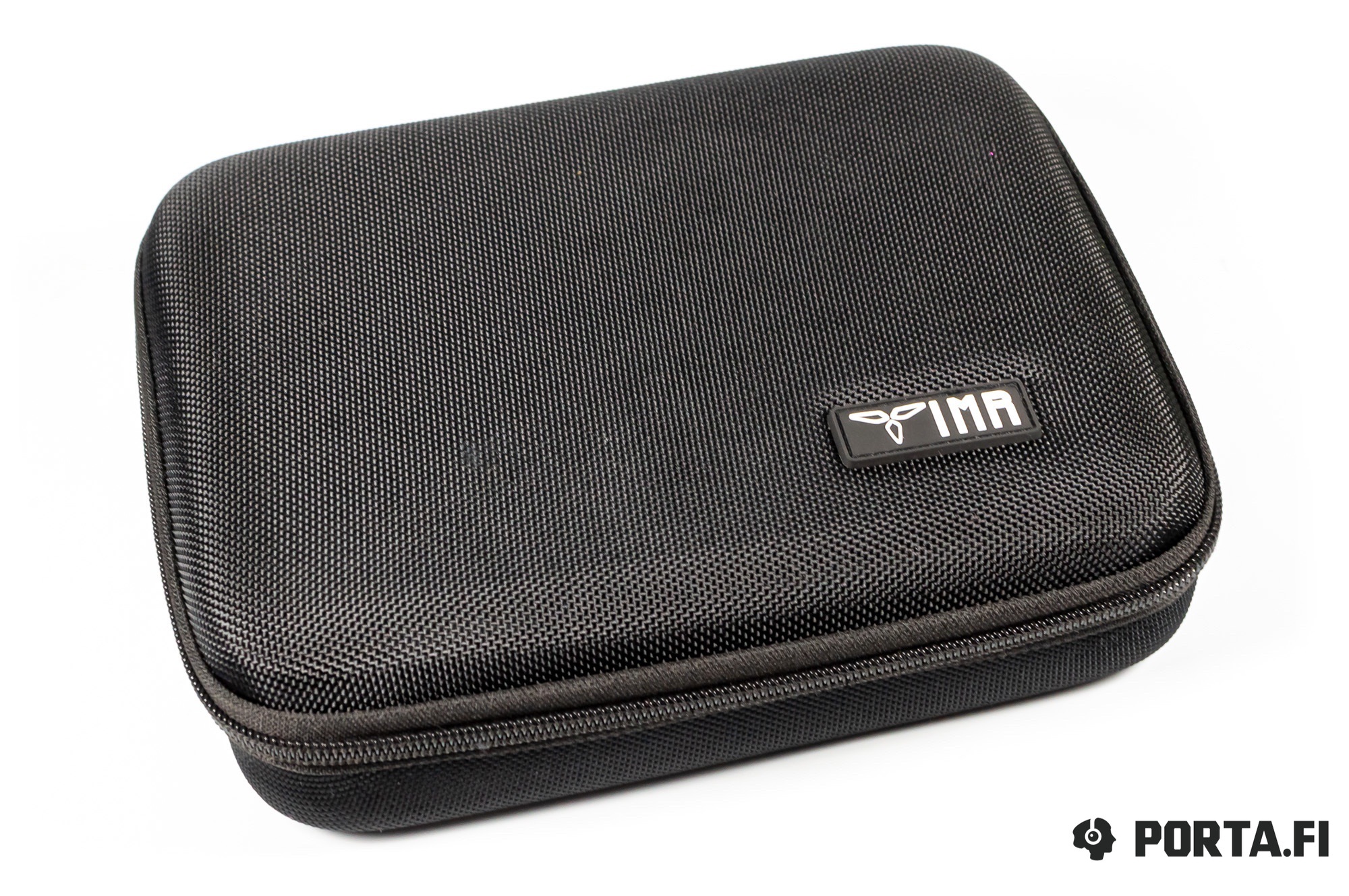 The price tag has become lower, partially because of simplified construction. You can href="https://imracoustics.com/products/imr-r2-red">buy IMR R2 Red at a discounted price (as of writing this review) of 250 pounds. For those who have made purchases with the company previously, there is another discount that makes the price even lower.
Specifications
Transducers: 13.5 mm dynamic + piezo
Impedance: 32Ω
Sensitivity: 105±3 dB
Frequency range: 10 Hz – 45 kHz
Cable: 1.4 m OFC, detachable, with two-pin connectors
Accessories and packaging
In constantly changing world there is a stability — the IMR packaging. Here you get the same convenient nylon zipped pouch, perfectly protecting the ingenals. Apart from IEMs, you get:
5 pairs of low frequency filters
6 pairs of filters for mids/highs
4 pairs of silicone single tips
pair of double tips
2 pairs of foam tips
two cables with different connectors
two leather organizers for cables
clip
6.3mm adapter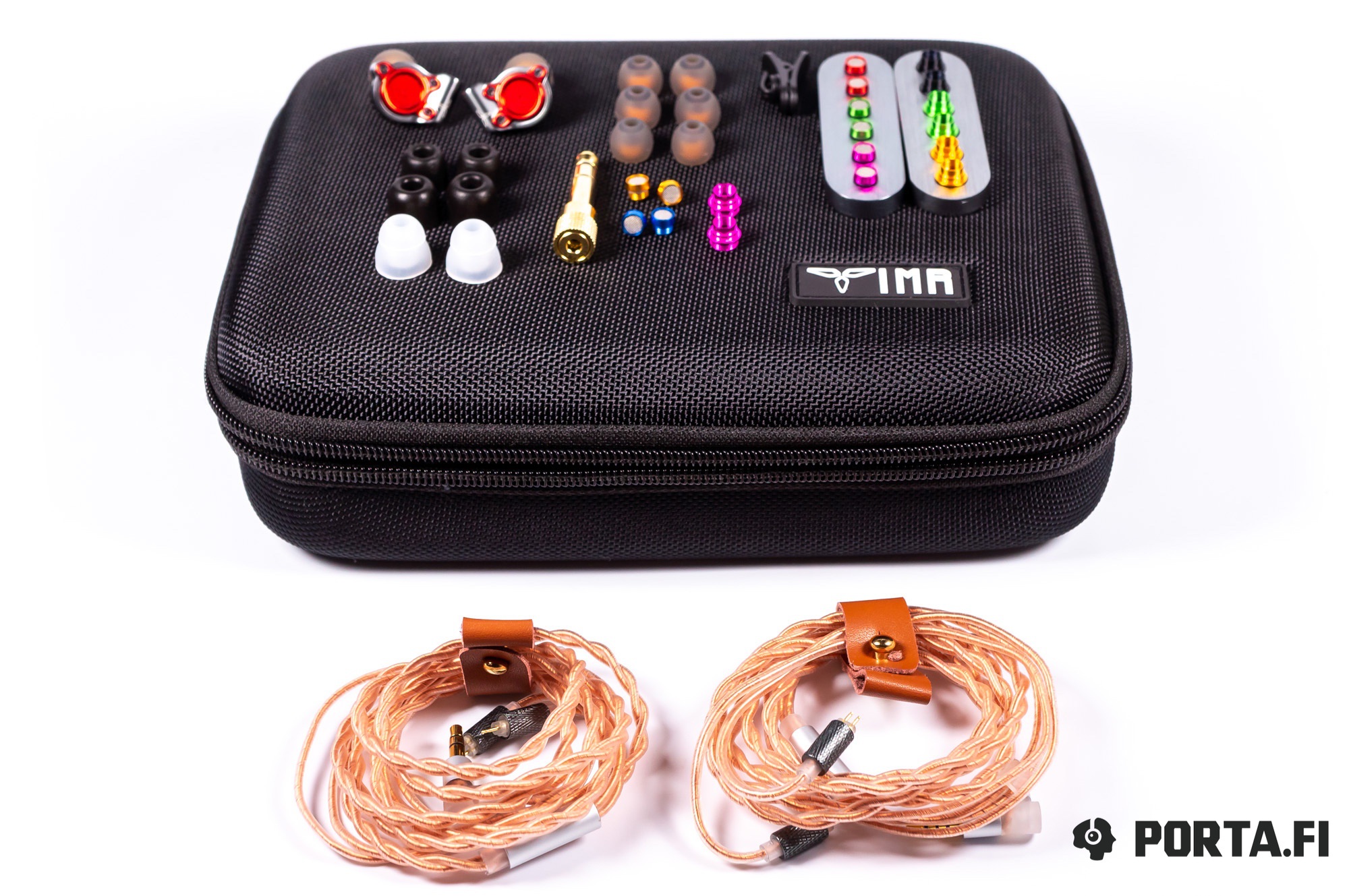 As you can see, the accessories are traditionally abundant.
Design and comfort
Versatility is the main criteria of good design and R2 have proved it. In order to develop this model it has been enough to change the outer plate. Instead of steampunk grill of Aten we have a solid red cover with small compensating hole in the center. Other parts have remained untouched.
The IEMs are made of aluminum with some glossy coating of graphite color. If you look at it you'll recognize unique IMR style that distinguishes them from everything on the market — be it bodies or cable connectors.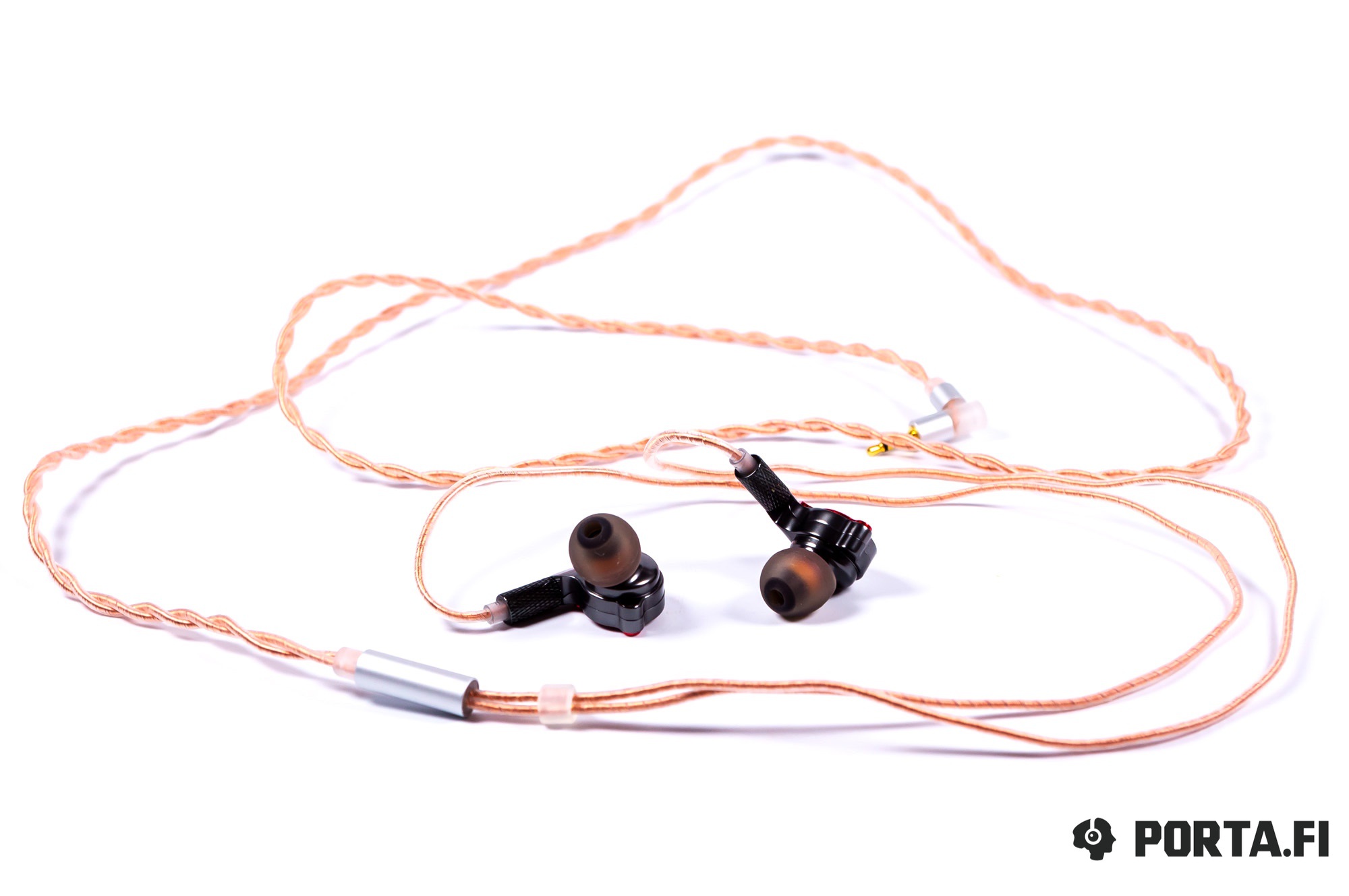 Fit has not changed much. I have had no problems with R2 Aten, and these are comfortable for me as well (it works vice versa — if you have problems with R2 Red, you will likely have them with Aten). Nozzles (that are also filters) are positioned at right angle, so the IEMs are comfortable to wear for long periods of time. The noize isolation has become a little better compared to Aten and it's no surprise, considering the body structure.
The system of sound tuning has remained the same — again you will need to place lows filter and mids-highs filter on top of it. Everything is made accurately and the filters possess wrapper rings, so R2 Red, as well as previous models, leave very good impressions in terms of build — everything is precise here.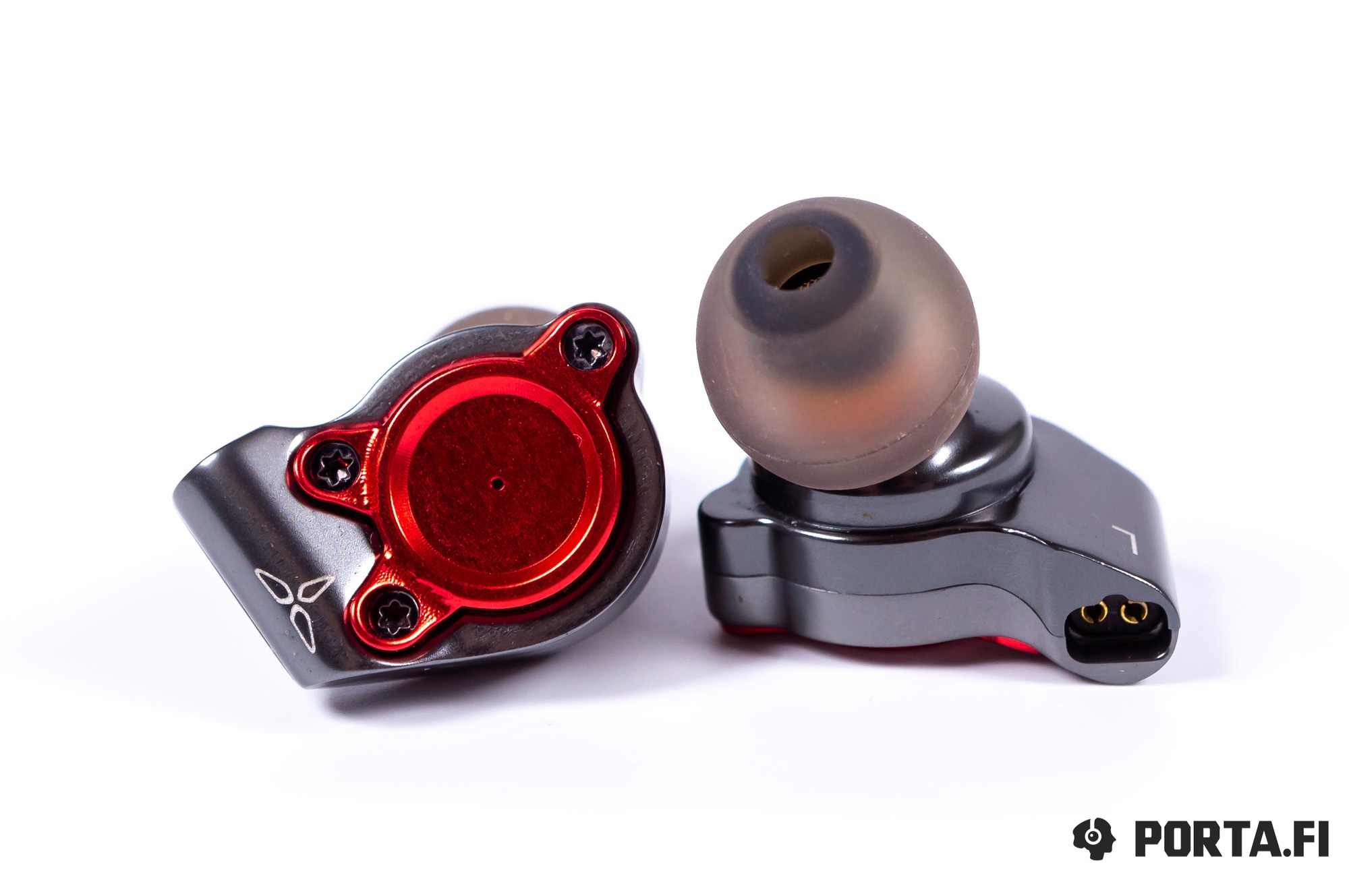 The cable is detachable with 2-pin connectors. Stock cables have projections on connectors that prevent users from incorrect positioning, but if you have such desire, you can use whatever cable with 2-pin standard connectors you like. Stock cables are rather appealing in terms of appearance, they are soft and almost lack microphone effect. They also do not stiffen during the cold weather. In all it's a good step forward comparing to R1 cables. As default the buyer gets two cables — 3.5mm and 2.5mm, but since IMR also possess 4.4mm cables, you might ask manufacturer to substitute 2.5mm one for it.
Sound
I have used the following equipment for listening purposes.
Yulong DA10 and Resonessence Labs Concero HP as DAC and amp
Apple MacBook Pro Retina 2016 as a source
Audirvana+ as a player
Lotoo Paw Gold Touch, Astell&Kern A&ultima SP2000 and others as portable players
Hi-Res recordings in  Lossless-formats (Dr. Chesky The Ultimate Headphone Demonstration Disc and others)
I have allowed 140 hours of burn in with audible changes during the first 100-110 hours. As for Aten, Red need this time for sound to be settled.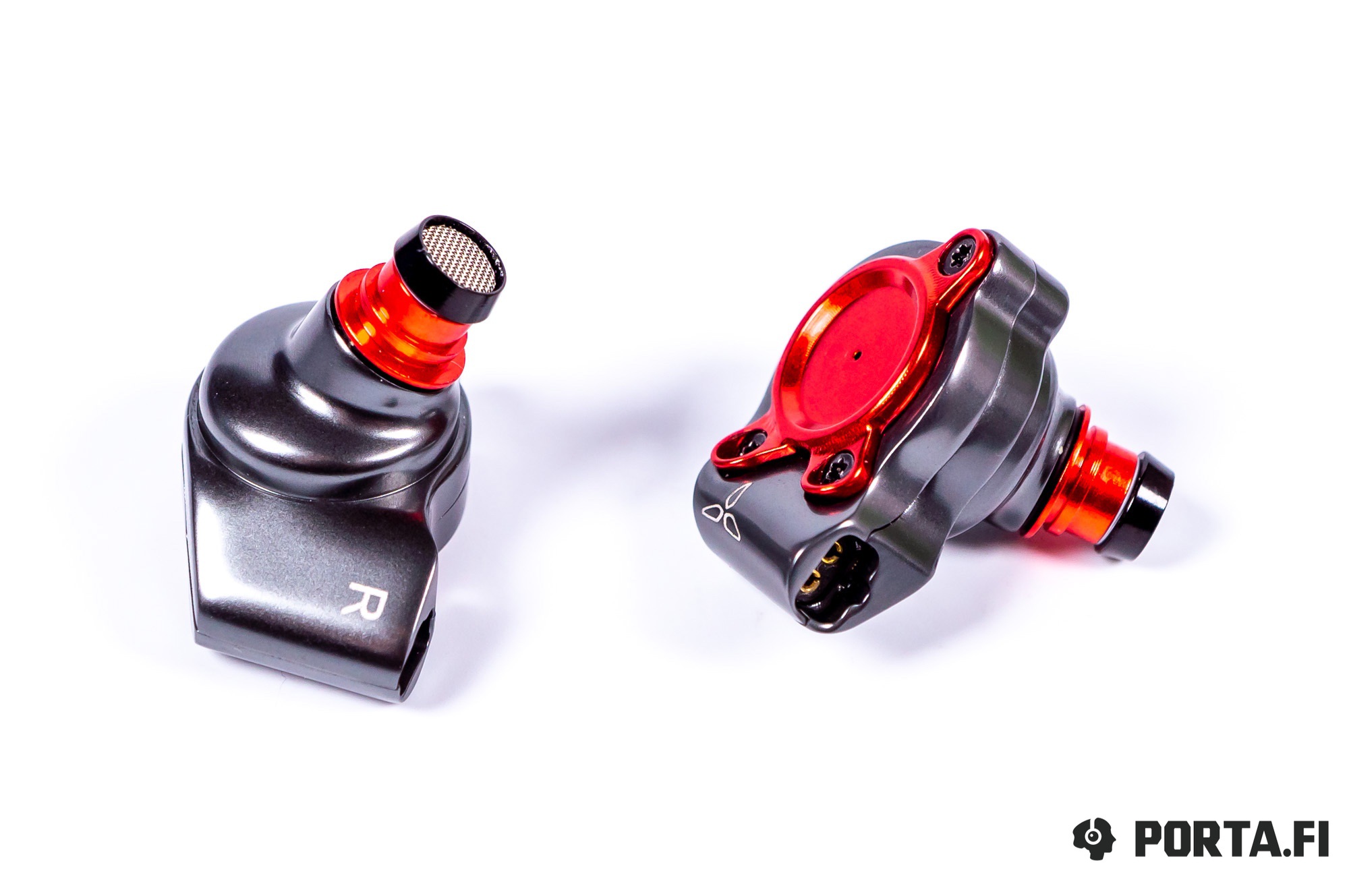 Of course these IEMs offer variety of sound tuning options (30 of them). I've tried most of them and have traditionally stopped on "red bottom, black top". On forums 'black-black' and 'black-blue' variants are popular as well, but I prefer red bass filter that makes bass quantity a little bit lower but that helps it to really shine in quality. That's why I will describe sound for red-black setup from now on.
It may seem sudden, but the frequency range has changed not as much as one could expect from closed backs. IMR love lows, so all their products can be transformed to almost basshead. I try to avoid this by choosing average filter for lows. The bass is accurately accentuated but without abundance. It's good in resolution, weight and depth — not maximal, but close to it. There is some added weight that serves good with synthesized music, while natural instruments dominate a little bit. It can be changed however by choosing even lighter bass filter. Outdoors this weight addition is very welcome and allows to get fuller sound amidst noisy environment.
Mids are played by dynamic driver mainly as well, the transitions from lows to mids is smooth, partially because lows are very well controlled. Mids have less micro detail level and more accent on macro details. There is some added weight and the emotions are enhanced. The mids because of that are more noticeable than in Aten and it's really good for vocals. Red are not overly critical to recording quality, but high quality levels are very welcome. Soundstage is above average in depth and width but more intimate compared to other IMR models.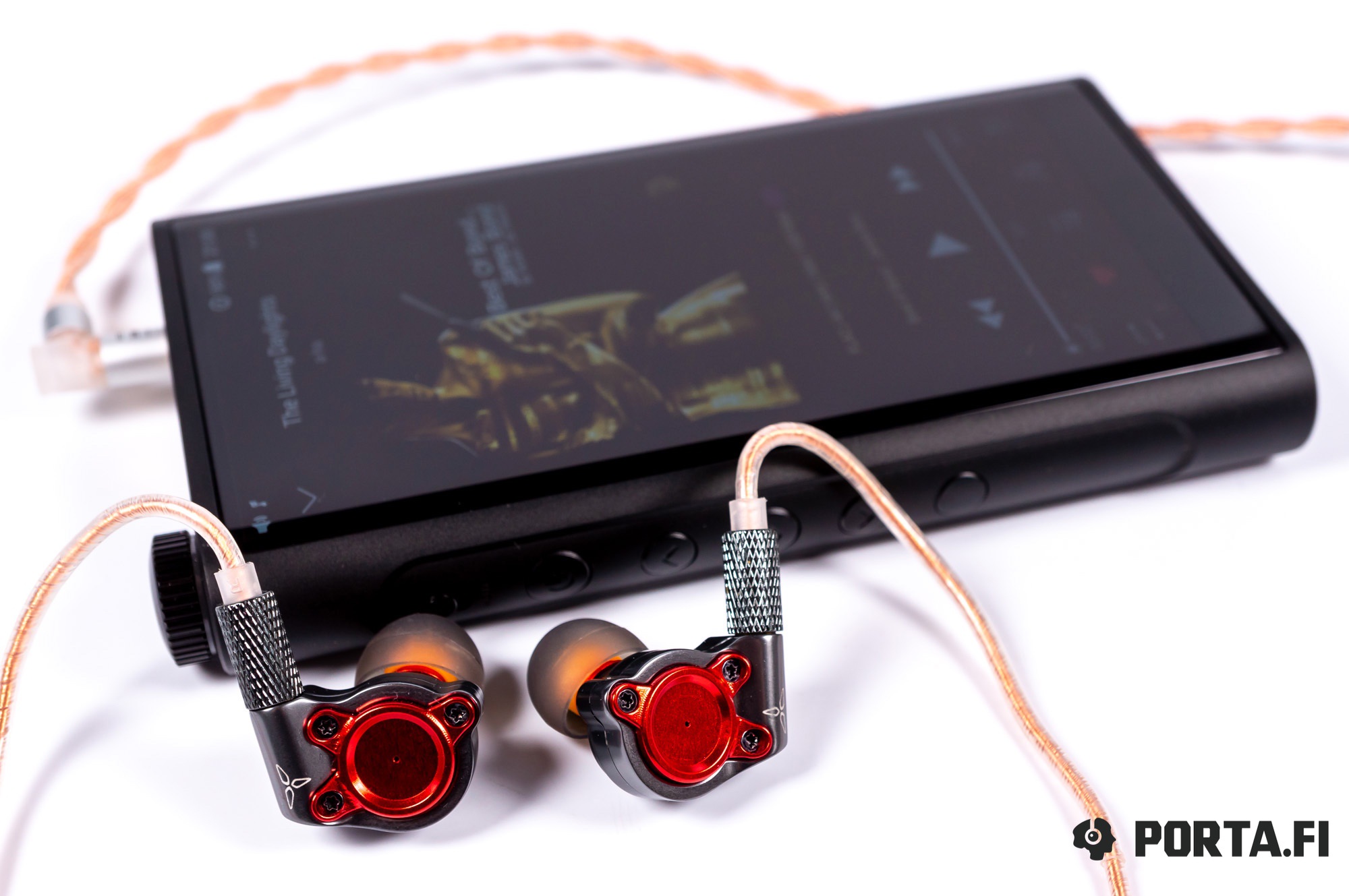 Highs are technical and lengthy as usual but they are a little relaxed at the same time and this is arguably the main change in Red presentation. Of course it's not a model for extra-sensitive people and highs are abundant in amount but not as in the case of Aten or Zenith. Upon the whole all benefits of regular R2 remain there: good length, great overtones, layering above average — all this makes this model distinctive. To simplify things, the level and presentation peculiarities (naturalness, in the first place) of highs have become intact, it's just the accent that has been changed.
Comparisons
And again I find out that IMR models can be well compared only to IMR models — their difference in sound in comparison to other hybrid models makes no sense. That's why this section will be shorter than usual.
IMR R2 Aten In terms of overall presentation Red are more relaxed than Aten, less bright and with more accent of mids that makes focus on microdetails less but makes mids more weighty.
IMR RahRah have become a good step forward for IMR due to the use of planar transducer, so this model offers more natural mids, more weighty bass and is more balanced overall.
IMR R1 ZenithAn example of brighter tuning from IMR: highs are more accentuated with sharper attacks and decays. The presentation is focused on micro details, but lows and mids are less in quantity.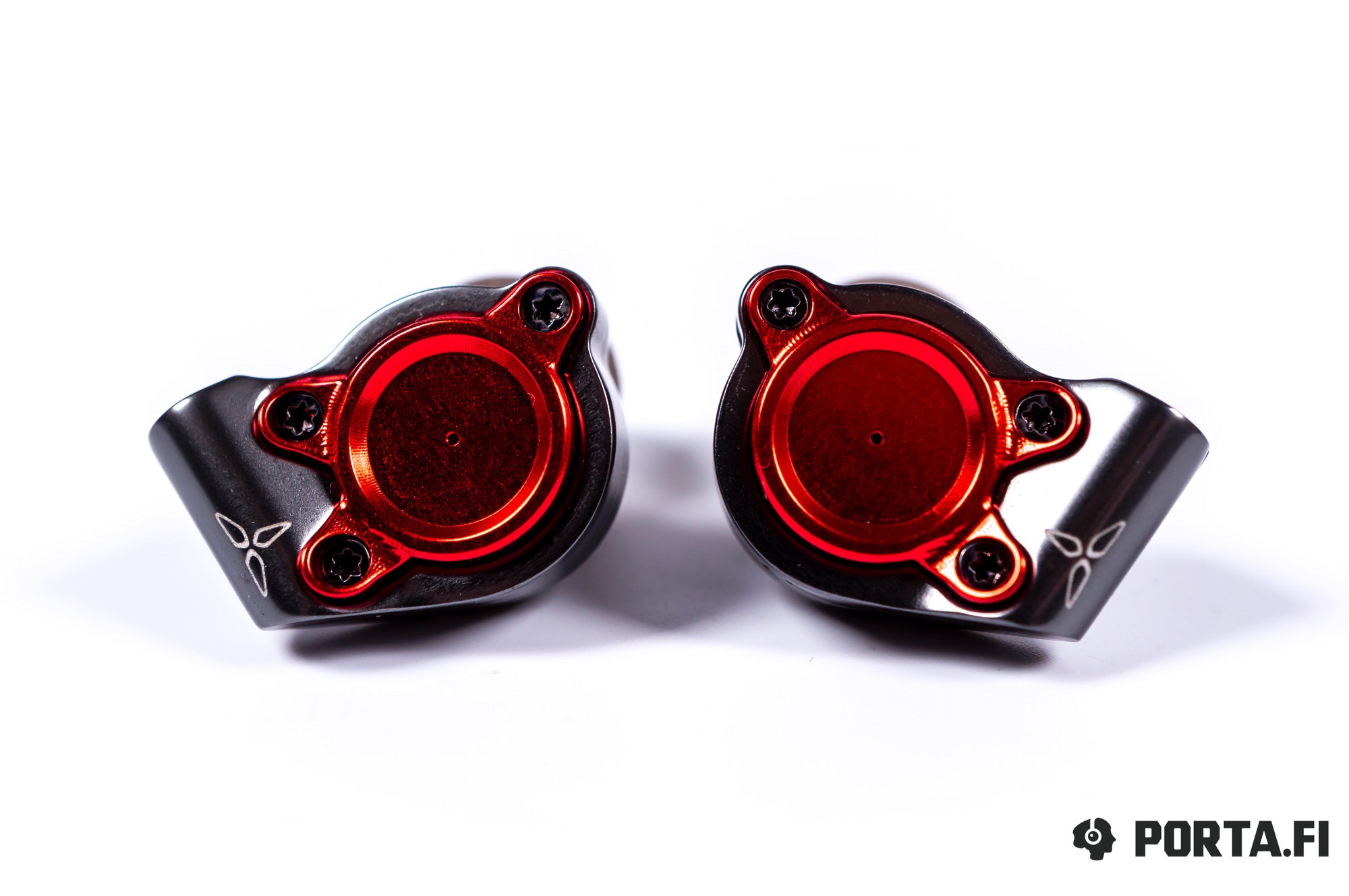 Compatibility
Upon the whole the IEMs do not need extra power or the blackest background. Good control of all frequencies is the main requirements, so practically every player of middle and upper-mid segment will be a good pairing.
Speaking about genres, they are not picky. Their tolerance to recording quality is average — 7 out of 10, but here mids matter more than highs.
Example tracks
Igorrr — Camel Dancefloor One day streaming services will have to make a new category with the name — "Well, hmm… not sure what genre it is" and it will be because of this musician. How can one understand the genre of this Frenchman who mixes everything from opera to black metal? Well, who cares. This track has many components, from industrial to oriental music, so R2 Red have something to work on and they cope with their job well: meaty drums, oriental instruments and aggressive guitar bursts.


Me and That Man — Męstwo (I don't know why, but this track is not shown it widget, so here's the link to it) Behemoth leader has chosen the name of the solo project greatly. Seems like joking on religion and black/death offerings may make one tired, so here, in his solo project, he tends more to blues. Themes are still remaining rather harsh and non-pop in good sense. I have chosen this Polish track since I like how it sounds and it has even more effect due to more notable mids of R2 Red.


Anders Teglund — Mjölkchoklad And now let's remember that we are listening to hybrids from IMR, and this always mean great highs that are played by piezo driver. They may be not so enhanced as in other models of this company, but they offer great layering and overtones and it is well demonstrated by this track. Well-recorded piano is always timbre-rich and complex instrument but R2 Red show very good level here.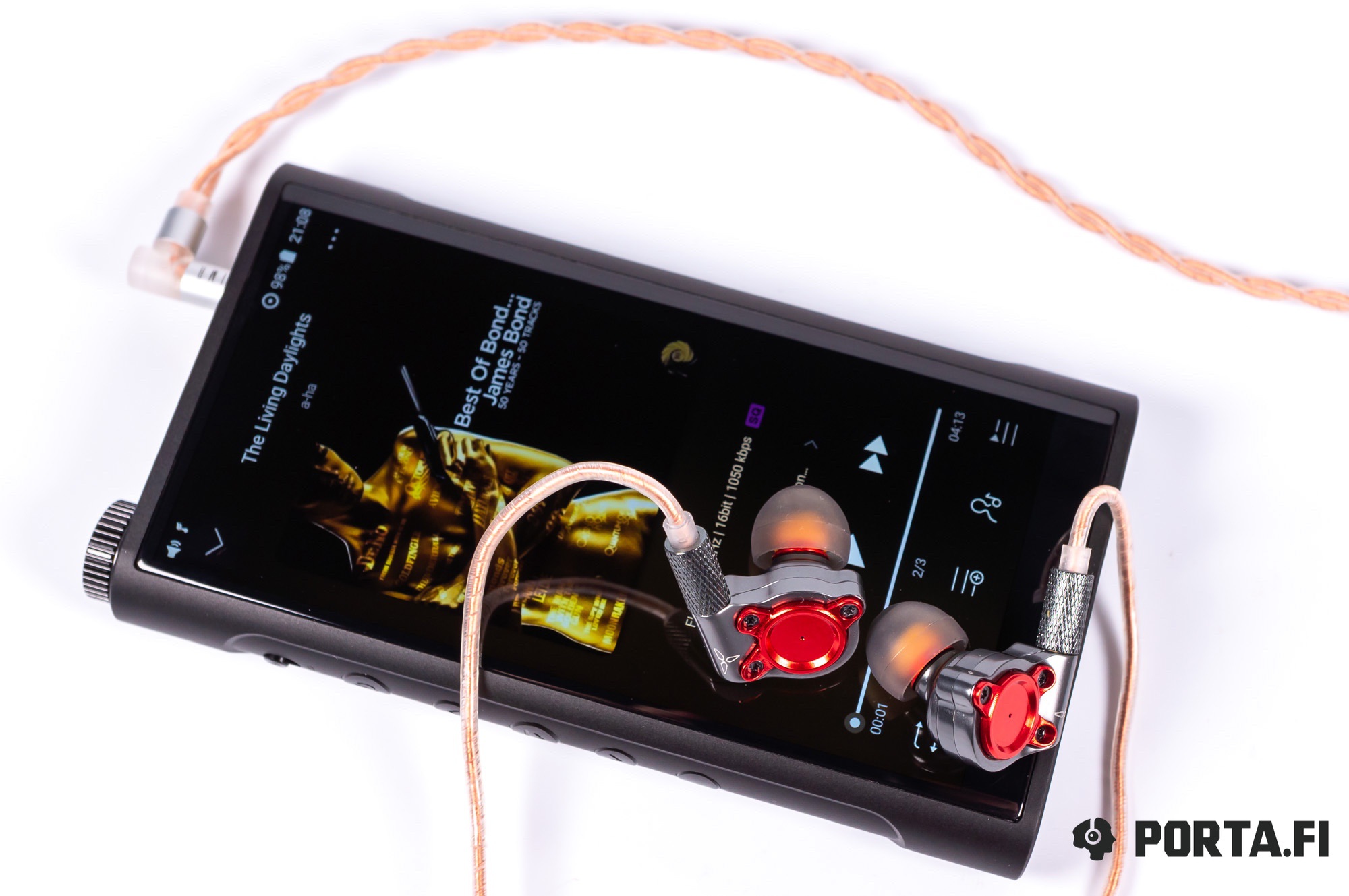 Conclusions
IMR have decided to satisfy most users and R2 Red have made all needed corrections — better isolation, more mids and more relaxed sound. This, in combination with house sound and lowered price makes a very good model both for those who thinks to purchase the first IMR IEMs, or those who seek to expand their collection.
Translated by: Vadim Kolchev