Astell&Kern developers care about their clients more than companies that produce smartphones, their players are deprecated only once in two years, and the beloved SP1000 is no exclusion and I just had to upgrade. But now I can tell you everything about the renewed flagship version.

This year the question of upgrade has been even more sharp, since together with SP2000 A&K have released long-awaited amp for SP1000, so I have had an option to buy amp. I have decided to make the dilemma easier and not to listen to the amp — if I like SP2000 there is no sense in it, and if I don't like it — I will think about the amp. You can easily understand my choice from the fact that I write this text and listen to SP2000 at the same time.
Upon the whole the changes are not drastic, it's just like "facelifting". Apart from changed appearance the manufacturer has provided SP2000 with flagship AK4499 DACs (they just have to be the first in everything), have added 5 GHz Wi-Fi (at last), have increased internal storage to 512 GB, have added power (and it's noticeable on over ears). Specs have become better, although they again lie beyond human hearing and the device now is capable in playing such exotic formats as 768 kHz/32 bit and DSD512.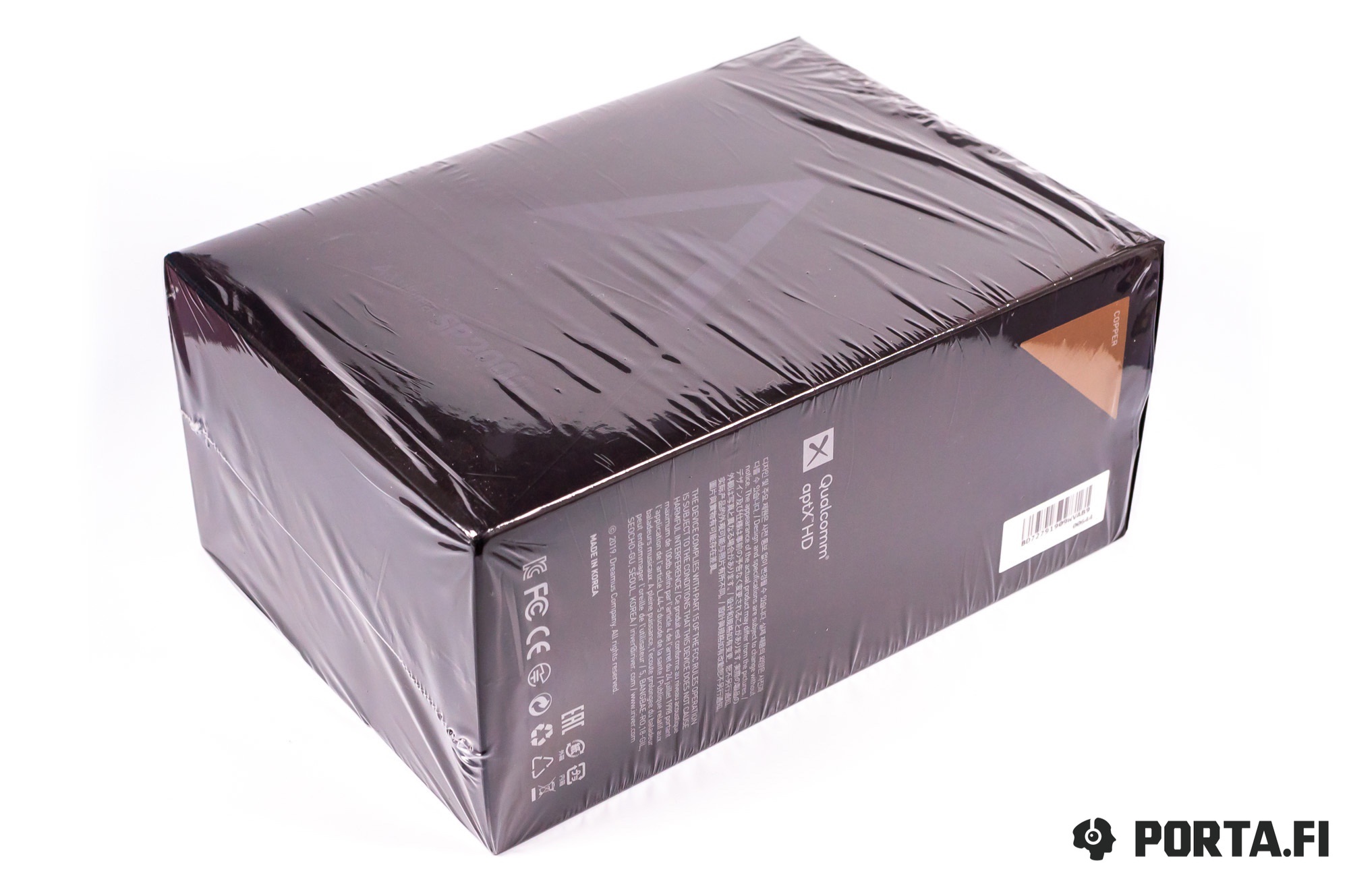 Unfortunately you have to pay for all the upgrades and in this case the playback time has become shorter. New DACs are almost twice as resource hungry as the old ones and the amp has become more powerful too. Despite increased battery capacity the playback time has decreased to 8 hours but you just have to live with it.
The price tag has become the same — you can buy SP2000 for around 3500 USD.
Specifications
DAC: 2 × AK4499EQ
Output power: 3.0 Vrms single ended, 6.0 Vrms balanced
Output impedance: 1Ω balanced, 1.5Ω single
Frequency range (single ended): 20 Hz – 20 kHz (±0.015 dB), 10 Hz – 70 kHz (±0.05 dB)
Frequency range (balanced): 20 Hz – 20 kHz (±0.01 dB), 10 Hz – 70 kHz (±0.03 dB)
Signal/noise ratio: 124 dB single ended, 125 dB balanced
Channel separation: 138 dB single ended, 144 dB balanced
THD+noise: 0.0005% single ended, 0.0004% balanced
Format support: WAV, FLAC, MP3, WMA, OGG, APE, AAC, ALAC, AIFF, DFF, DSF, MQA
Max resolution: 768 kHz/32 bit, DSD up to DSD512
Screen: 5″, 720 × 1280
WiFi: 802.11 b/g/n
Bluetooth: V4.1 with aptX HD support
Input: USB 3.0 Type-C
Outputs: 3.5 mm TRS (with optical out support) and 2.5 mm TRRS
Battery: 3700 mAh
Playback time: up to 8 hours
Charging time (with Quick Charge): ~ 2.5 hours
Internal memory: 512 Gb
Memory cards: MicroSD
Dimensions: 76 mm × 132 mm × 16 mm
Weight: 432 g. for Cu, 410 g. for SS
Accessories and packaging
According to the tradition, the packaging is screaming premium. In the cardboard outer box covered with film there is a wooden box, containing player and accessories. There are the following accessories in the box:
USB-C cable
great real leather case
protective films for front and back
couple of dust plugs for MicroSD sockets (strange, why there are no such things for other slots).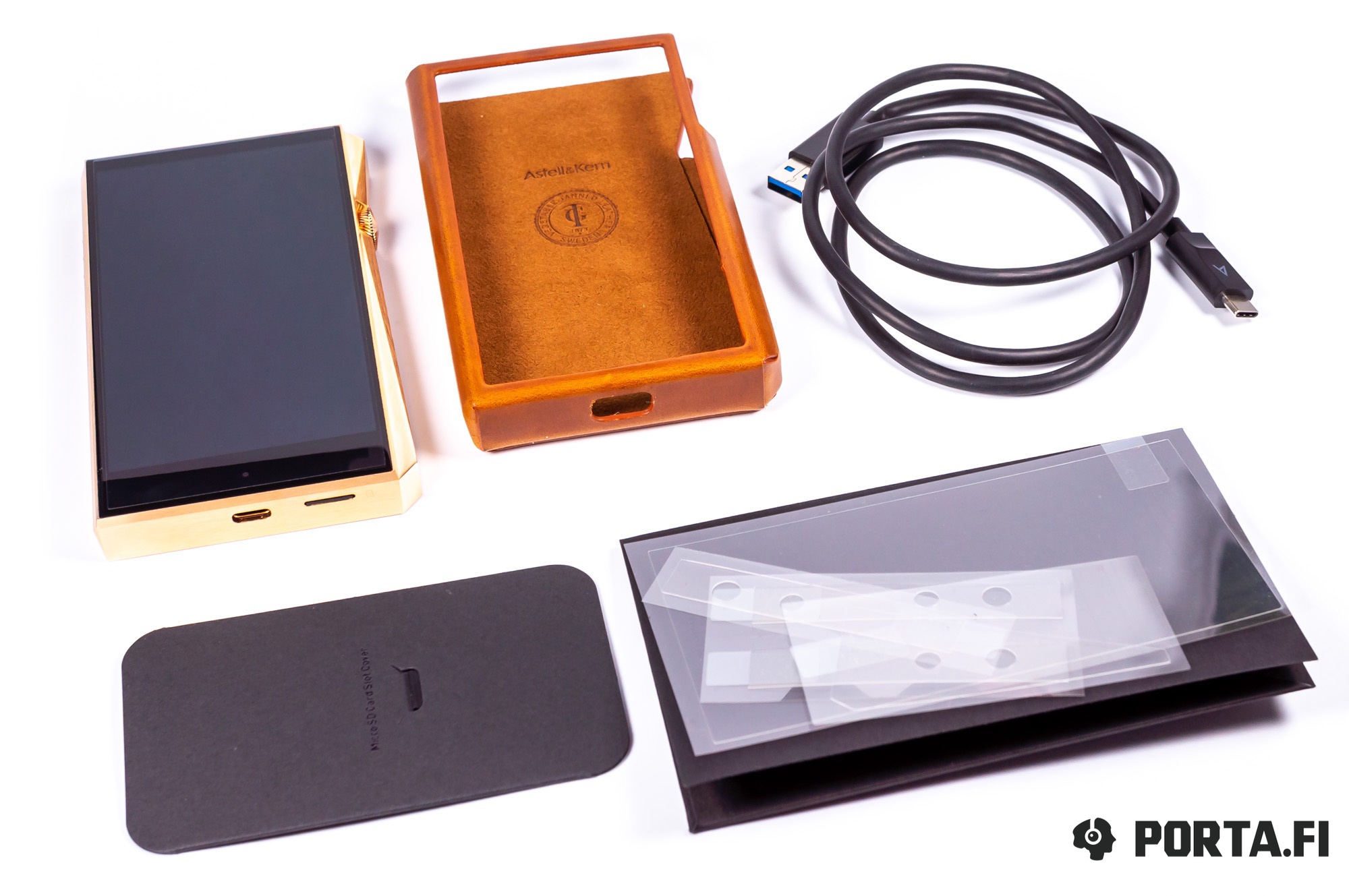 Upon the whole, everything necessary is present. However I still wonder why the screen protectors are not pre-applied in the player costing 3500 USD. Maybe this is a motivation thing?
Design and controls
The appearance has barely changed but the changes are still visible — facets have become sharper, sides more cut and the volume wheel more checkered. The back side is almost all-metal, apart from small insertion on the top where the antennas reside. The player looks great but I will miss carbon back side of SP1000. Maybe this is the reason why SP2000 weighs more — from 410 to 430 g. depending on the material. As you understand, the player is not very portable — you will hardly fit it into your jeans, so it is the solution for those who sit and listen to the music and like to change the places for listening (moving around the house, office, business trips etc.) However I know people who carry A&Ultima around in a bag and listen to it on the streets — they will barely notice 30-50 g. of additional weight though.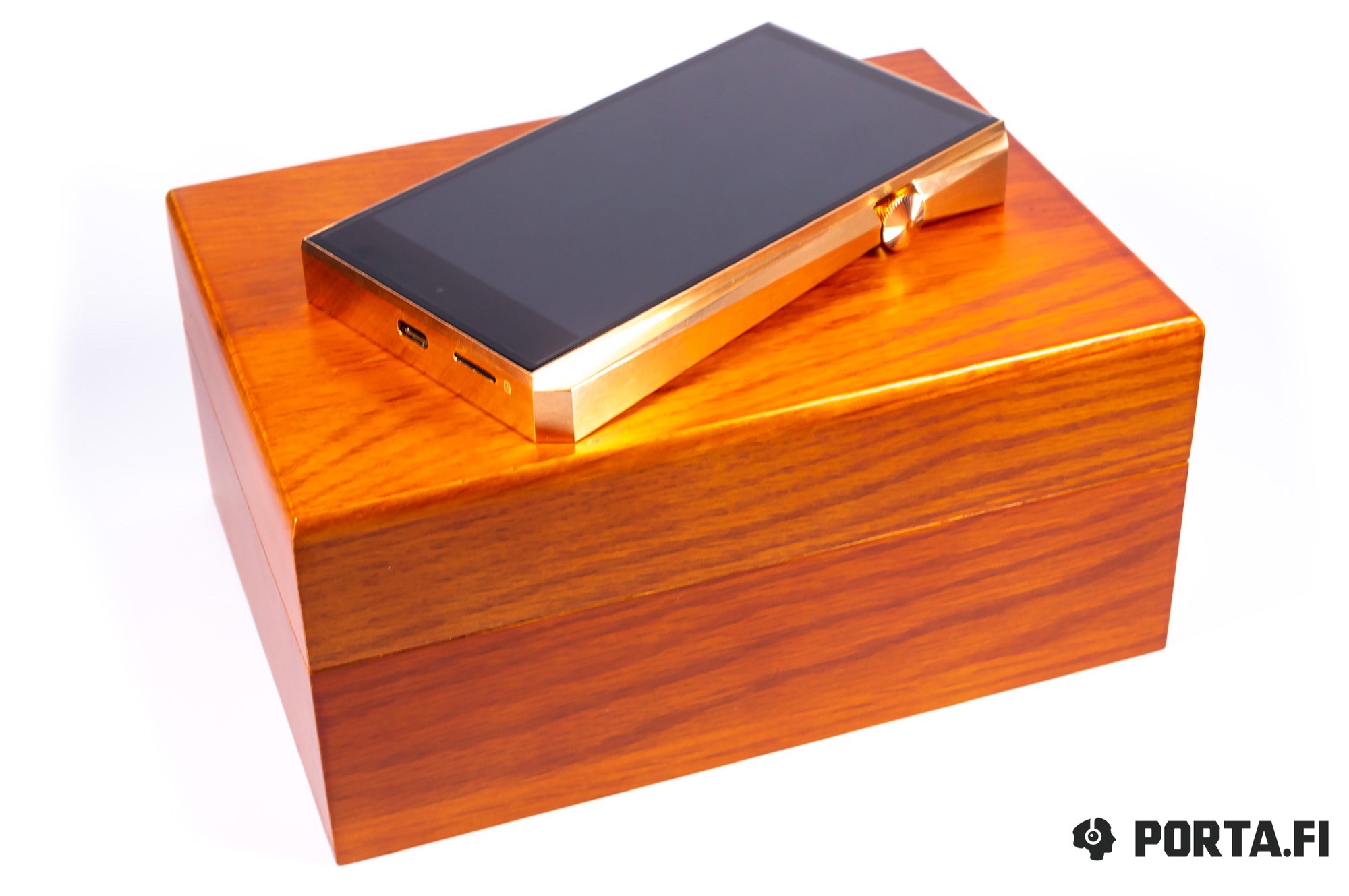 As usual the player is available in polished steel and copper variants, and there are photos of brand-new black copper variant in Instagram. Any variant looks attractive, but those who love copper should understand that the color will change over time. Astell&Kern use special coating that prevents copper from contacting with nature, but patina will appear in the end. I think that this only brings additional attractiveness to the gadget, but for those who love perfection SS version will be more suitable.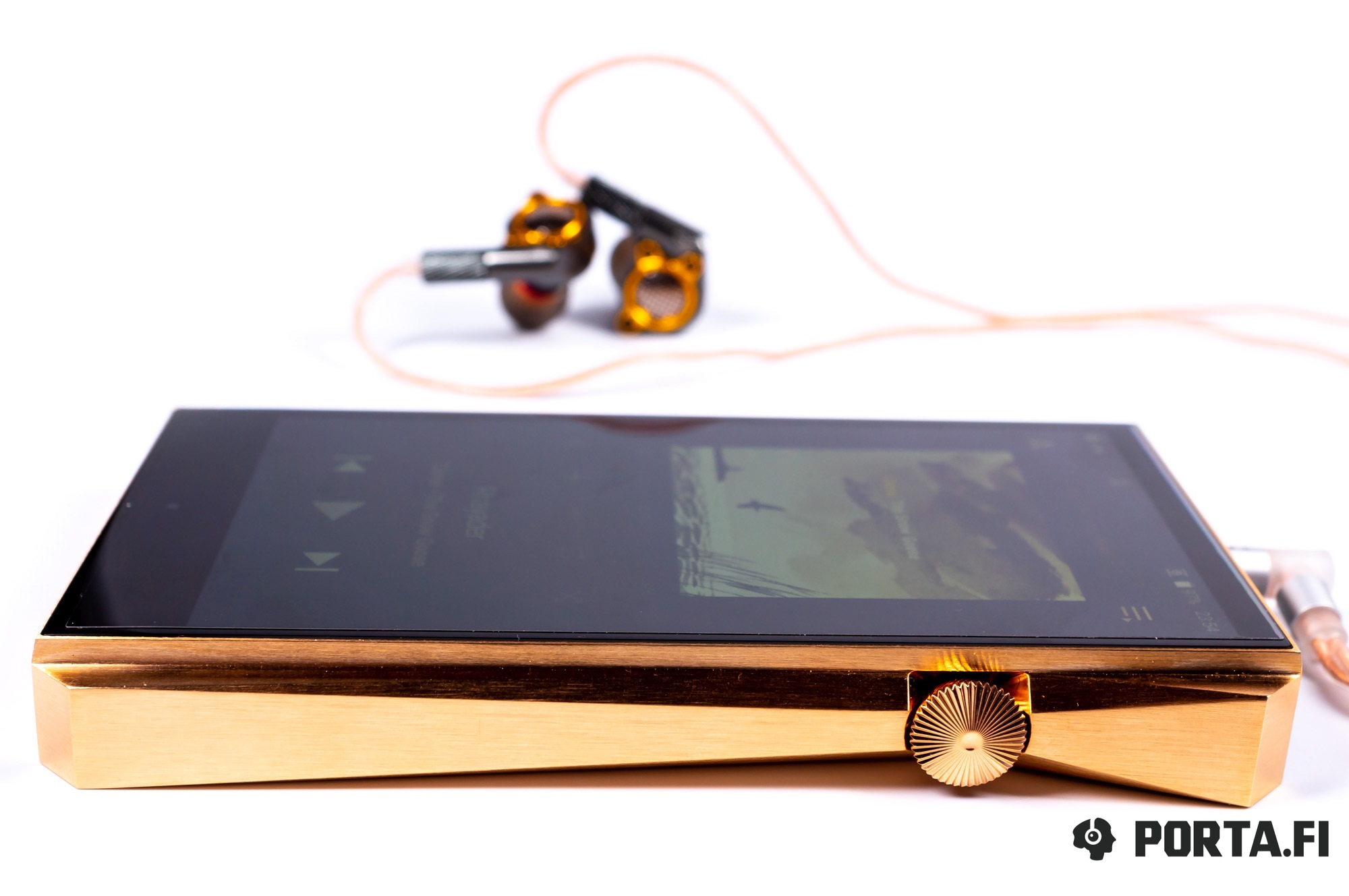 General player appearance is almost the same. There are the playback control buttons on the left, but they are not round, but oval now. On the top there are two headphone outputs and I pity that A&K continue to use 2.5 mm balanced connector and don't use Pentaconn, but given that they have been pioneers in this, I think they will be the last to change. On the right there is a volume wheel that at the same time serves as power on/off button (yes, it can be pressed). Of course the encoder is of high quality and registers twists and presses well. The button is almost not wobbly. On the bottom you will see USB-C connector with standard functionality — charging with Quick Charge, access to memory, digital output to external DACs and usage of player as DAC itself. There is also a slot for MicroSD cards on the bottom — no trays, so you get a springy slot.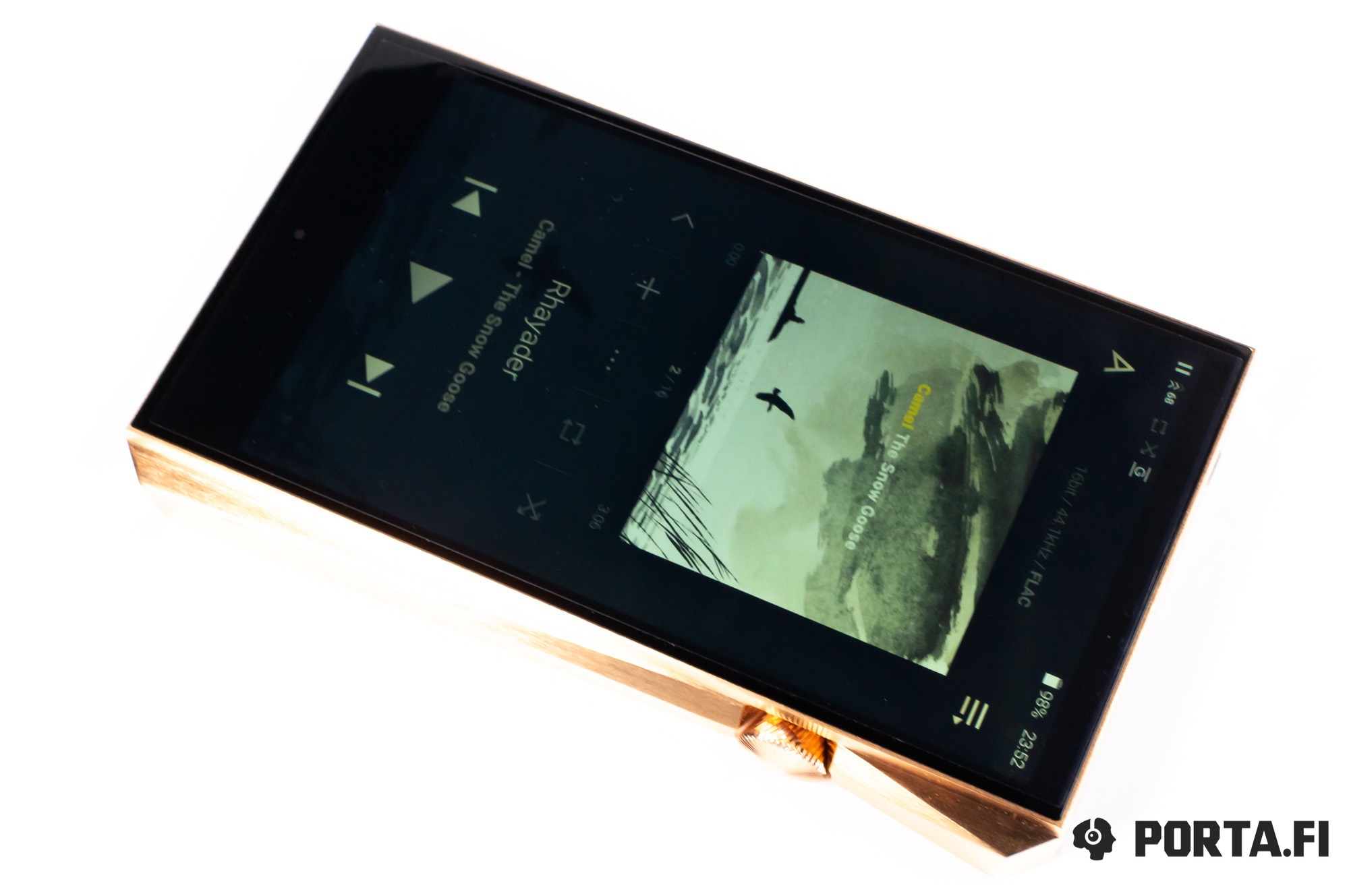 There is a thing that is missed in comparison to SP1000 — no elements for external amp. I think it's due to the fact the internal amp has become much more powerful at 6 Vrms.
As usual, 5″ screen occupies most of the front panel. It's still good in terms of viewing angles, resolution and response and the brightness is enough. However lately the Chinese developers have shown that better (with less bezels and better resolution) screens may exist in a more budget segment. Not that it's critical, but we are speaking about flagships, right?
There is a traditional sensor back button below the screen but I don't see a value of it.
Of course build quality and materials are flawless, it goes without saying.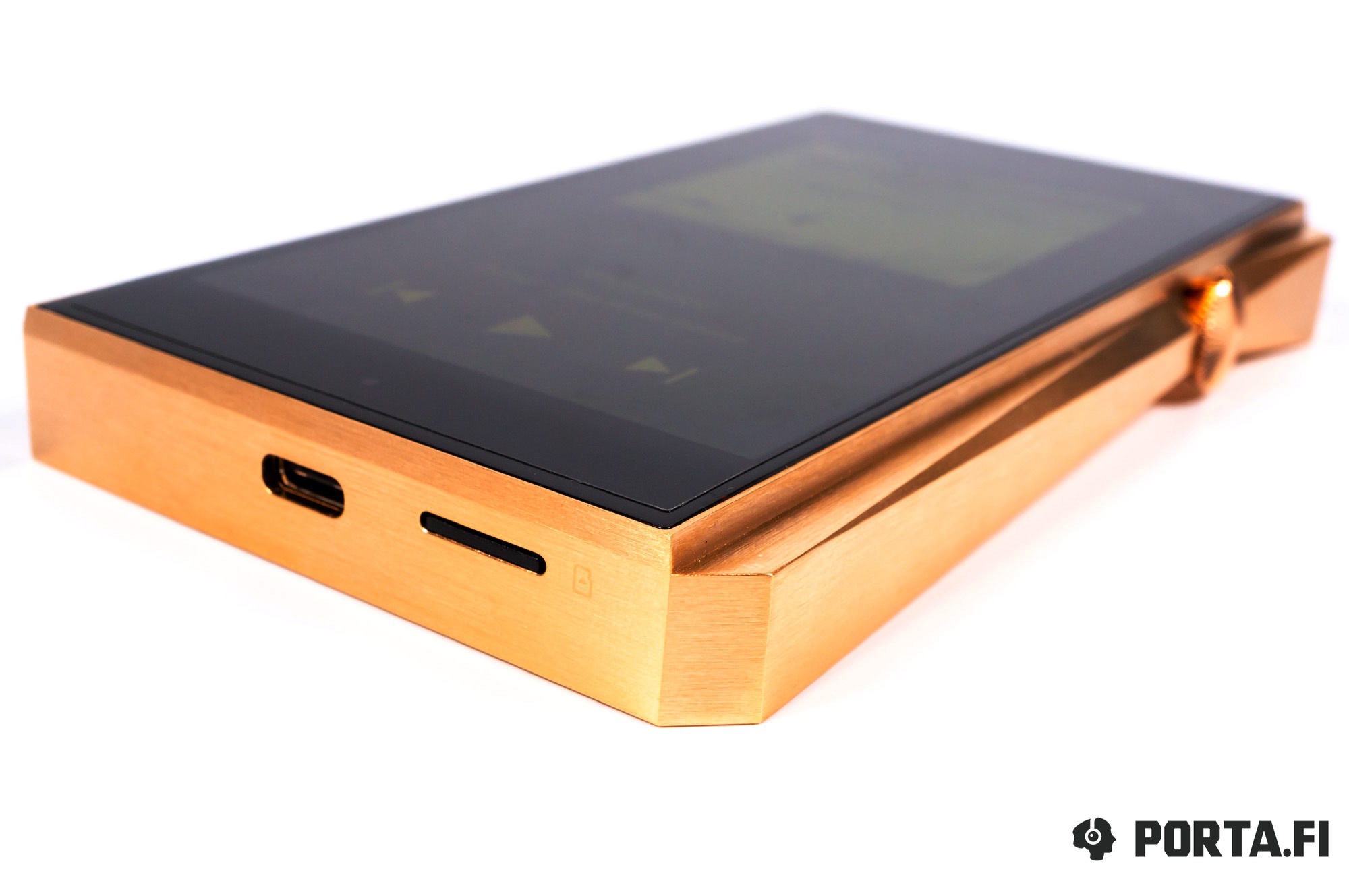 Firmware
A&K have decided not to change firmware at all, however I think that the new flagship has deserved some changes. Astell&Kern use common code base developed on a certain Android version. I have come across metions of Android 6, but I cannot confirm it — all the inner parts of operation system are covered behind the brand appearance.
I don't think it makes sense to go into in-depth details on how everything works in A&K firmware, it's intuitive and very functional, there are many capabilities, including:
enhanced equaliser (parametric and linear)
support for MQA (Tidal masters, local files, USB Audio, MQA-CD)
wireless access and control with A&K Connect
convenient media library
flexible search
And of course much more. Upon the whole, the firmware is stable and works smoothly without any lagging. As in the previous version, the upper part of the case sometimes prevents convenient sliding down of system tray, but you can use long press in the notifications area instead.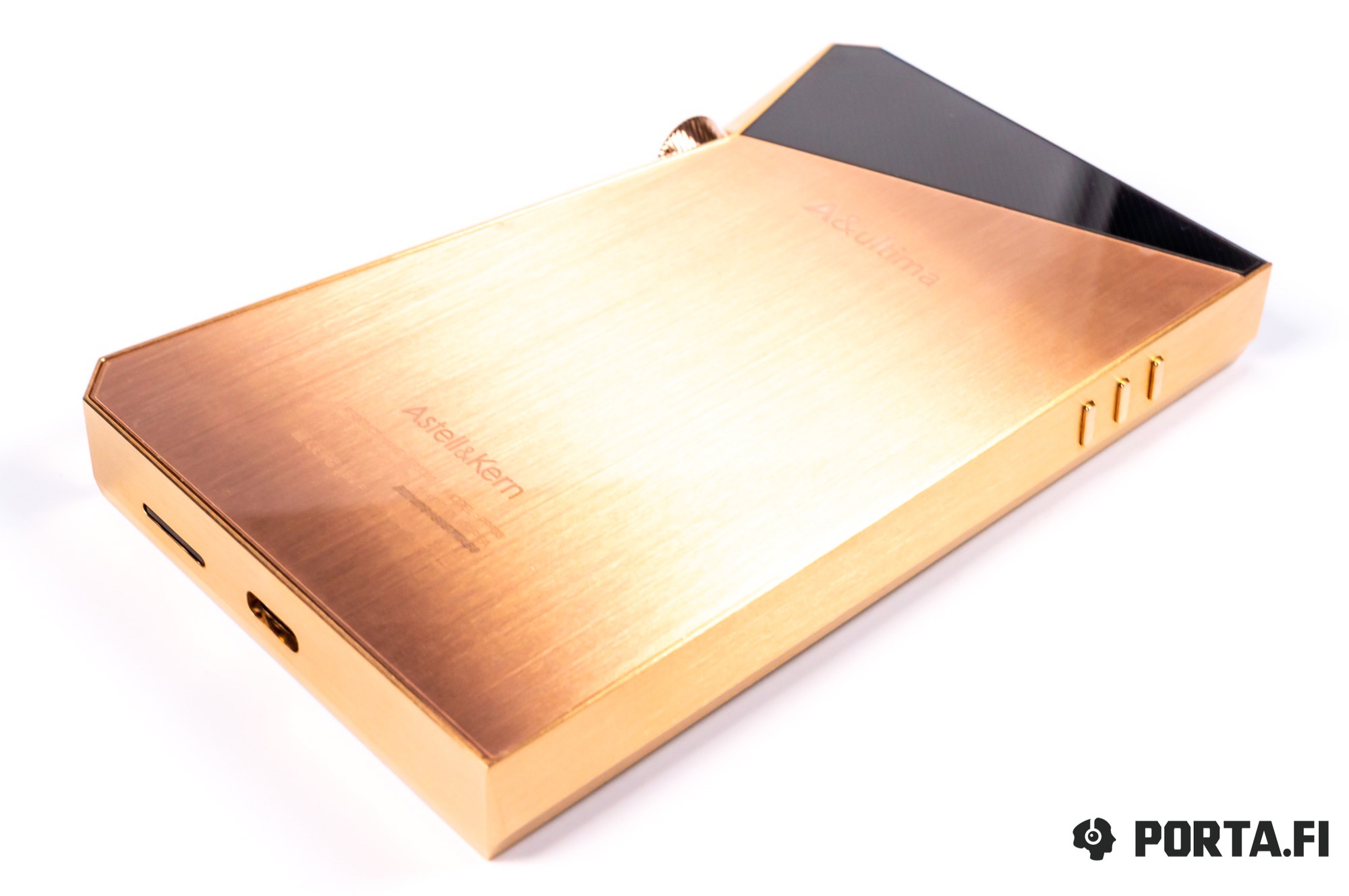 There is a capability to install some Android apps from pre-approved list. They are mostly the streaming services, but there are also standalone player apps and other applications. It's not very convenient to download APKs every time you want to install or update the app, but Ultimas are the only top players that support streaming and it's vital for many people, so you just have to live with it.
Sound
I have used the following headphones for listening purposes: Noble Audio Khan, IMR Acoustics R2, Unique Melody Mason V3, Meze Empyrean, HiFiMan Ananda, Kennerton Thror and others.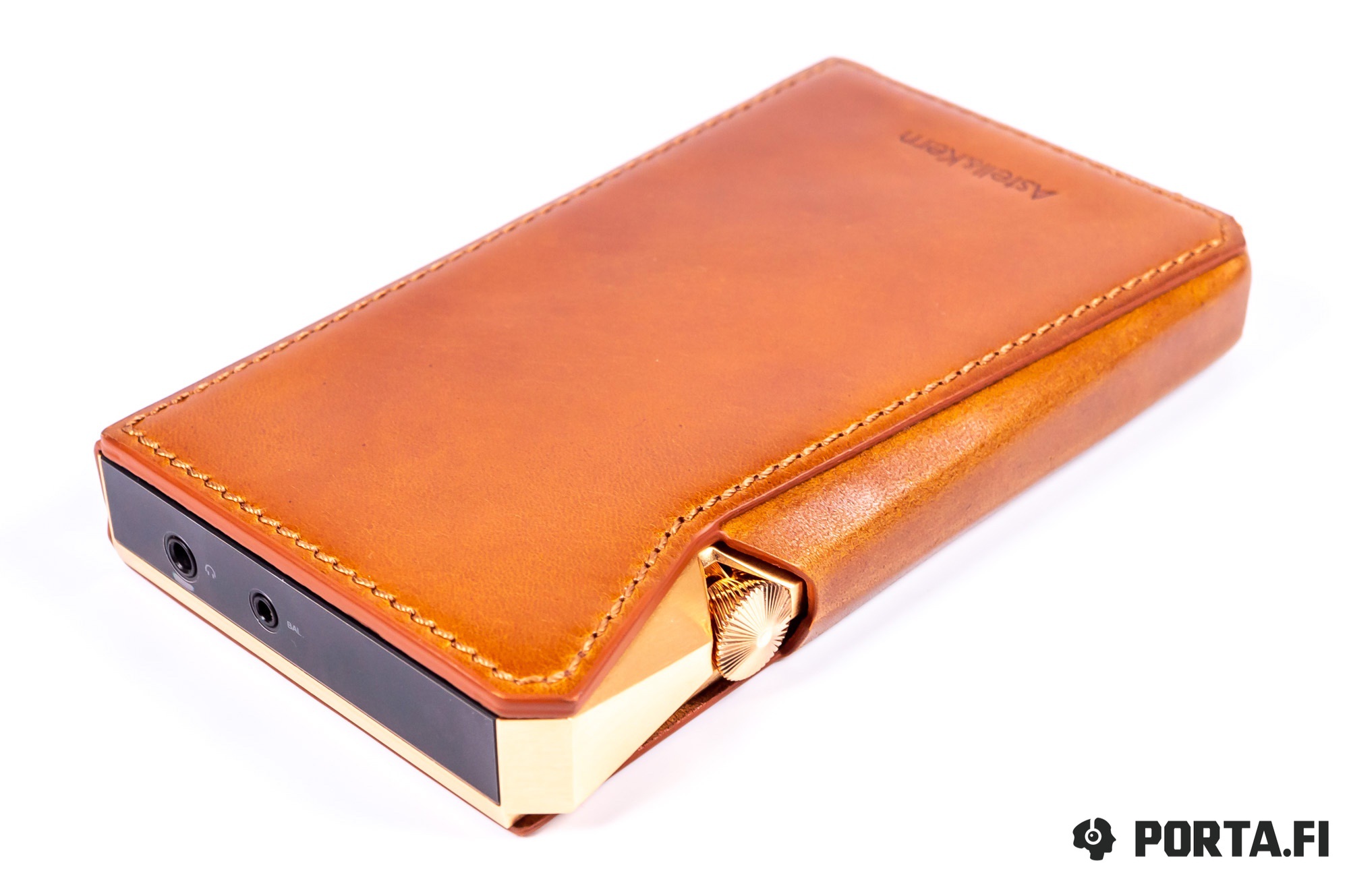 The presentation hasn't changed much in comparison to the previous version. If we omit output power, overall sound is similar to SP100 with better weight in lows and even blacker background. Many people consider SS and Cu versions to sound differently, but blind test hasn't confirmed it.
Bass is great. It's detailed, transmits textures well and sounds great with live instruments, but at the same time it's maximally deep and controls lower layers well. This suits synthesized bass a lot. Slight additional weight over SP1000 has added some thickness to the instruments of the lower register and has made lows more fun. Attacks and decays have become quicker, so the bass is more precise and prominent. Because of this, the lows have gathered more thickness and slam and such presentation surprises pleasantly.
Mids are neutral, very natural. There is no sense in speaking of technicalities, such as resolution, weight balance and correct macro detail levels. Player gives music as it is without trying to change or underline something. Of course the house mids are there and they are the main secret of the company sound. This coloring provides SP2000 with natural sound and whole presentation. The engineers have achieved even blacker background, so upper mids sound with better contrast. Soundstage is close to maximal both in width and deepness, player positions instruments and other sound sources in a correct way.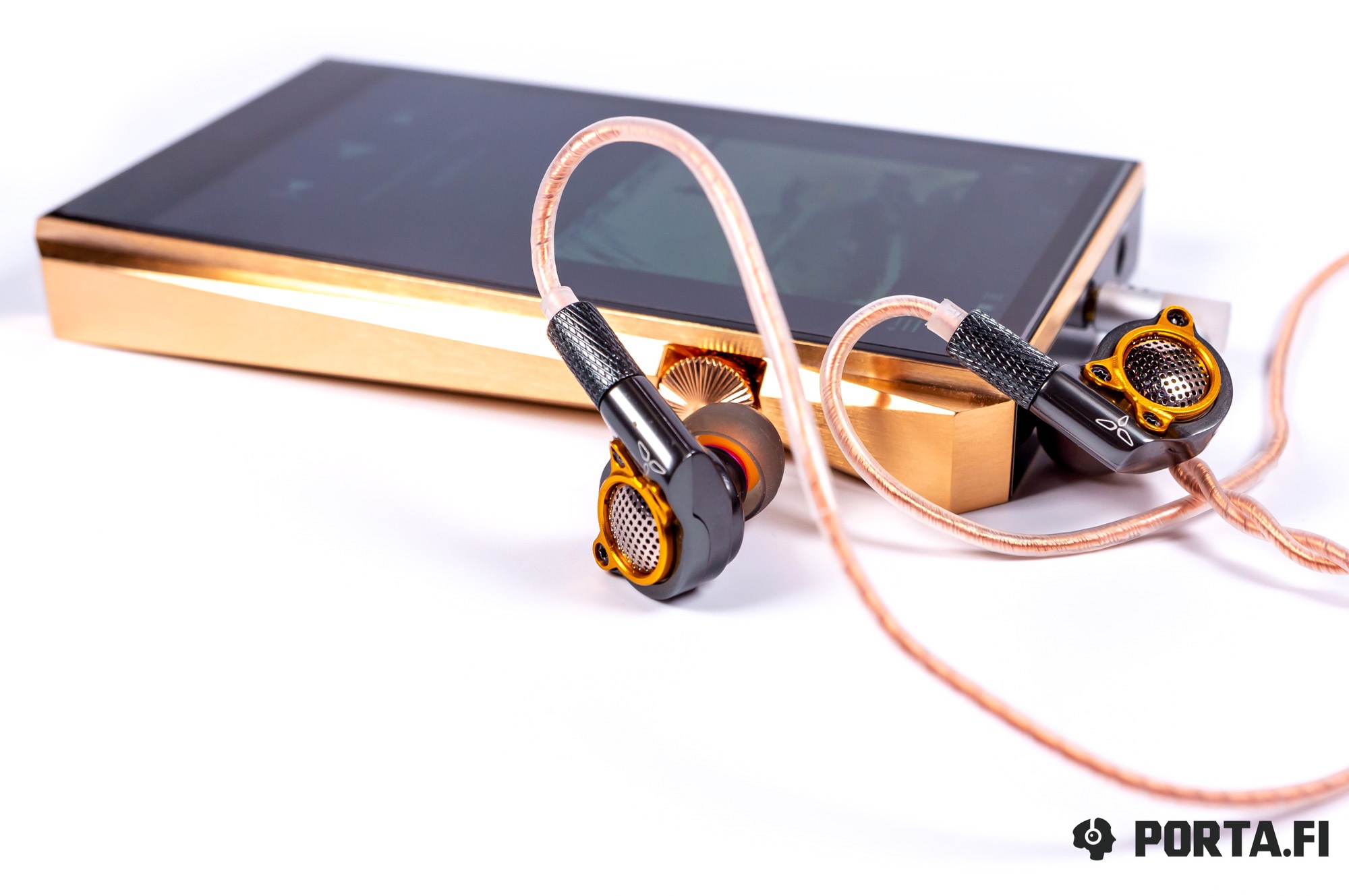 The highs have been maximally ideal even in SP1000, and engineers haven't changed anything in updated version. Because of the blacker background highs have more contrast and the highest overtones have gained more correct separation. For the rest the highs are as technical — resolution, naturalness, attacks and decays, layering — everything is on great quality level and this is what distinguishes tops from other players. The ability to separate overtones provides needed technicality to transmit instrument timbres and room peculiarities great.
Comparisons
There are comparisons in every review, so I'll try to compare SP2000 to the models I have managed to hear.
iBasso DX220 This player is not similar to SP2000 but there are some common ideas in terms of presentation. Both players are neutral, but don't go into monitor sound due to slight weight addition and emotions. Of course SP2000 is better — more detailed and natural with house mids and richer highs — it shows how flagship is different.
Astell&Kern SP1000 I have already covered the difference between two generations, so will just sum up: the players are very similar but SP2000 has more weighty lows and builds soundstage better. It also has blacker background and therefore better contrast on upper mids and highs providing the latter with more natural sound. They are also different in power.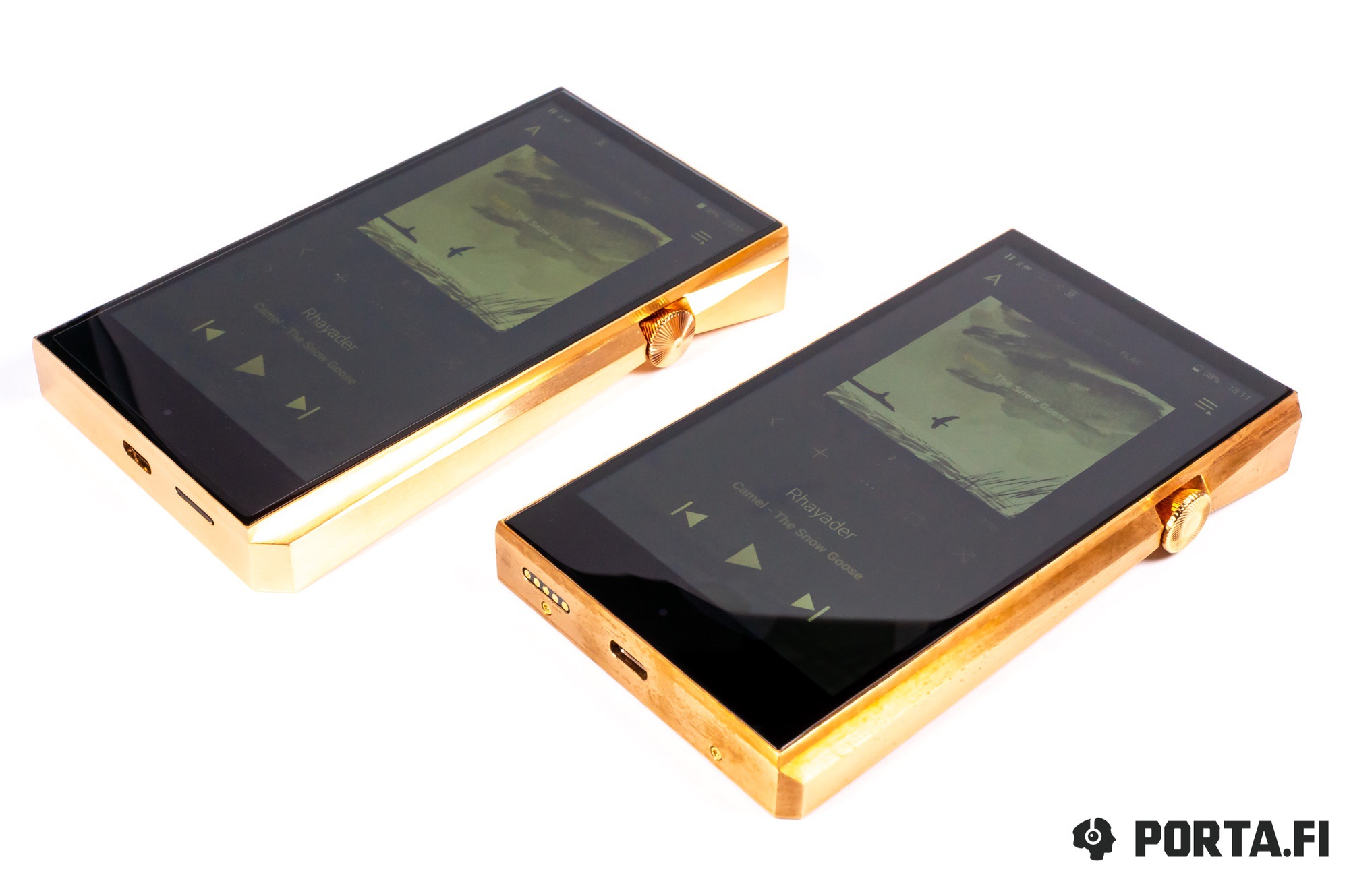 Lotoo Paw Gold Touch Very similar player in terms of sound, with the difference in mids. In Lotoo they are more monitor with accent on upper mids. This means more aggression and drive in sound. Other than that, Lotoo is a top device too, having great control, naturalness, soundstage, rich highs and so on.
Cayin N8 This is valid for Cayin N6ii as well with correction to a simpler sound. Cayin players go their own way, they underline drive and emotions and provide listener with less neutral and more involving presentation without loss to technicalities.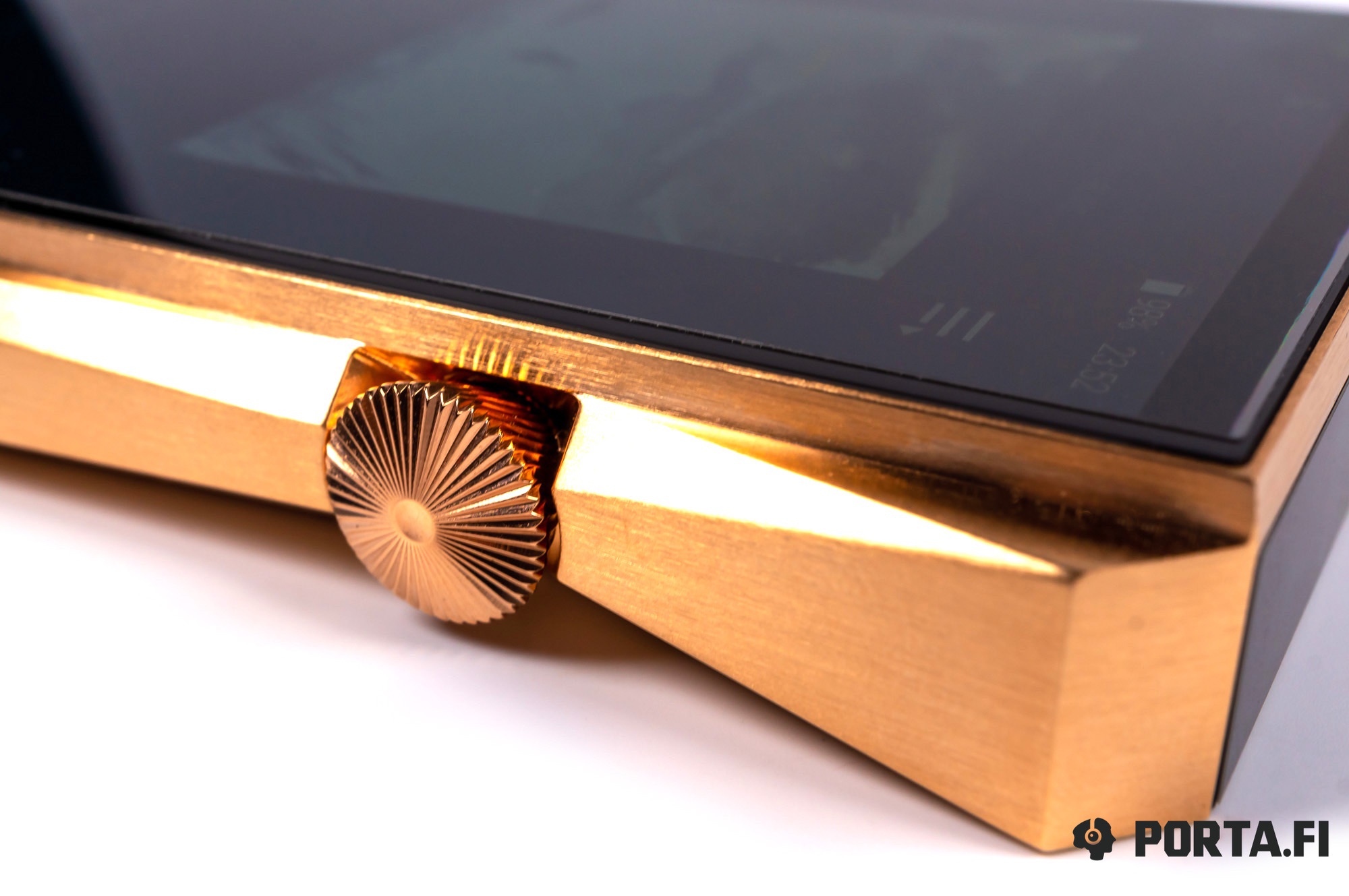 Compatibility
Adding power has been a right step and the added amount is correct. New Ultima copes with most headphones now, except hard to drives. The addition power is welcome by those who use isodynamic models with normal sensitivity. Luckily the noise has remained maximally low and those who listen to sensitive IEMs won't feel any problems.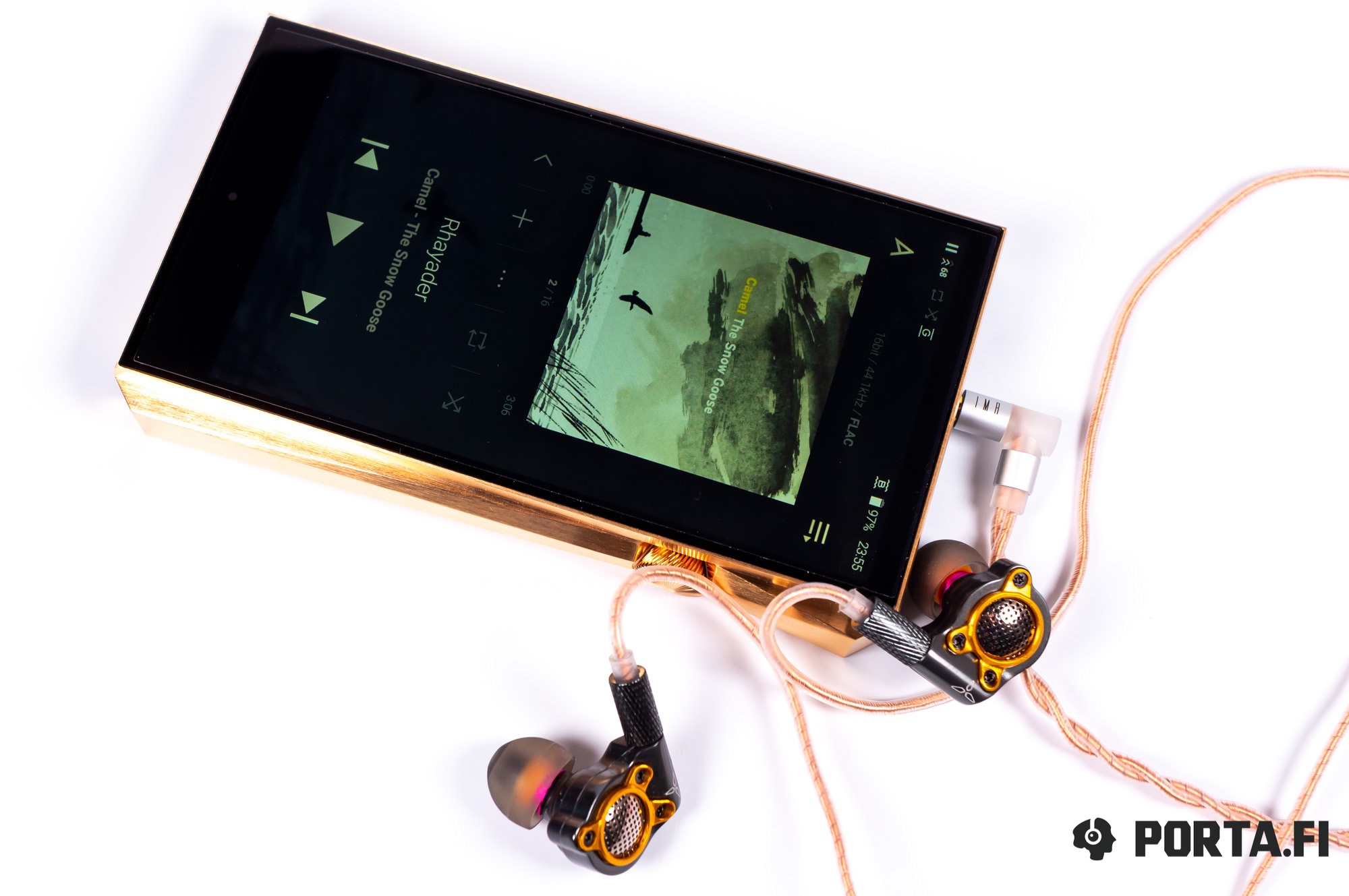 The player is universal in terms of style, technically it is 8 out of 10 in terms of quality recording sensitivity because the player won't reveal extra problems, but won't hide them at the same time. But in fact it should be 10 out of 10 since the player has been created for tracks of maximum quality and it's not reasonable to listen to poorly mastered or recorded tracks on it.
Example tracks
Joe Lovano — Carol of the Bells Tidal has pushed me to choose something with holiday thematics and I have found this gem in jazz compilations. Insane avantgarde version by Joe Lovano brings great percussion that demands great control on highs. Then there is unusual vocals and winds that allow SP2000 to show its house mids that suit this composition very well.


Adam Green — Dreidels of Fire Well, winter holidays are not only about New Year and Christmas, you should respect other religions as well. Greet this interesting track by Adam Green that I have found in one of rock compilations. The track is well recorded — great percussion in the beginning that show the weight of lows on SP2000, as well as violin showing that this weight hasn't been made at the cost of other frequencies.


Little Kirk — Jingle Bells And of course the main hit, but in the most unusual variant. Pulsating and almost hypnotic bass played flawlessly by SP2000, contrasting vocals with unusual accent — everything creates unusual combination that gives impression that winter holidays are better on the sandy shore of the ocean.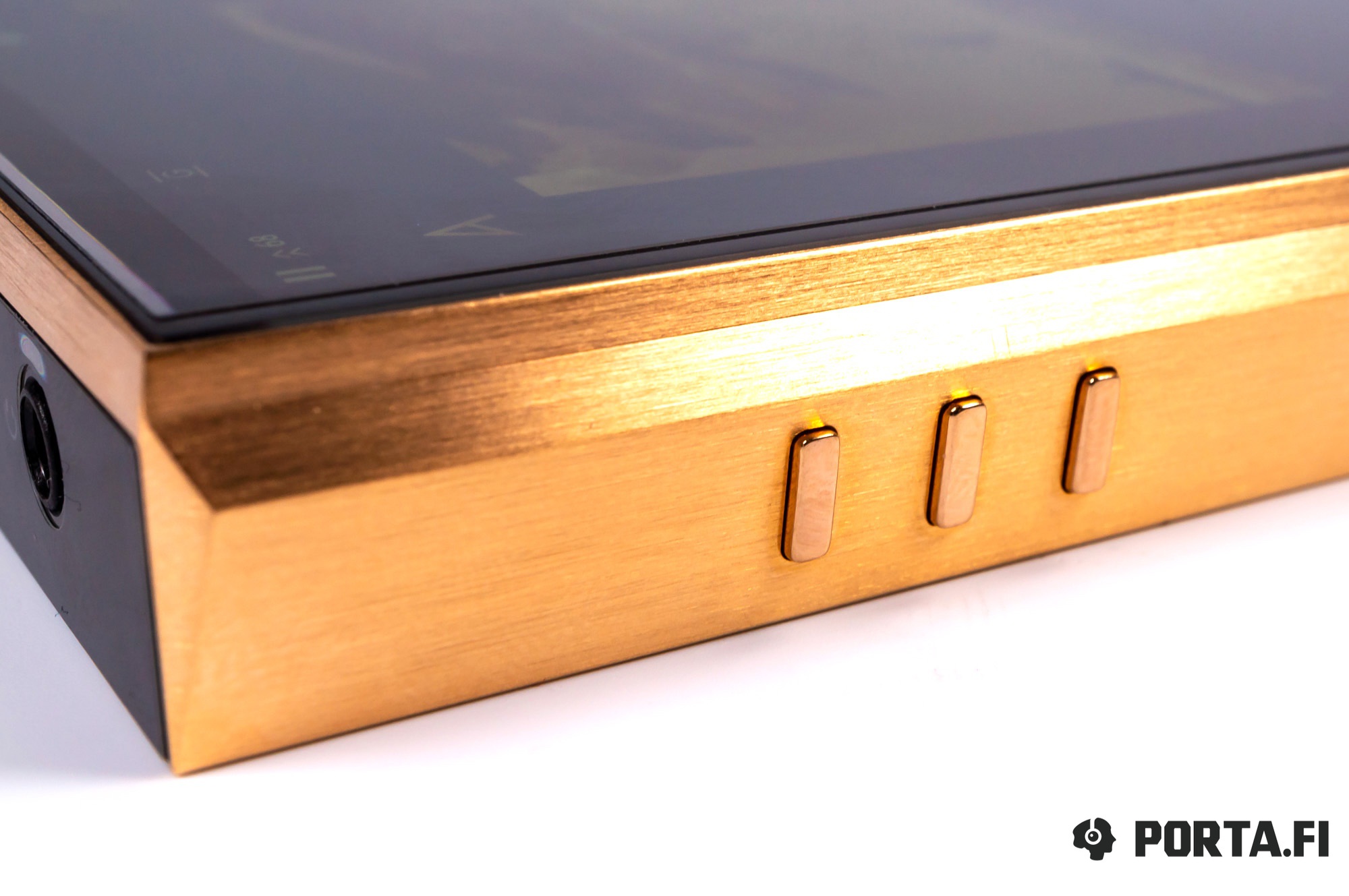 Conclusions
The flagship A&K model has become slightly better and it should be good for everybody who has decided to buy this pricy gadget. The question whether you should upgrade from SP1000 is subjective, since it is still great solution and there's not much sense to sell it and to buy SP2000. I recommend to listen to both players and to make conclusions yourselves. I have made mine, though.
Translated by: Vadim Kolchev