The Meze company from Romania is one of the phenomenon of the headphone world. I don't have any stats, but still assume that their 99 Classics and 99 Neo are one of the best selling models in the world, first of all due to great combination of price and quality. Having conquered midtier segment, Meze have decided to go to the top tier and thus the heroes of this review – over the ear Empyrean.
The announcement has been made in the first half of the last year, but the engineers have been in no haste in releasing Empyrean to the market. There are many unusual solutions in it, so they have decided to showcase it actively at exhibitions, listening to the feedback users have provided and taking it to account. Closer to the end of the last year they have produced the final variant of Empyrean and it has become totally clear that such long development and tuning process has not been in vain and Meze have succeeded in creating one of the most interesting top tier models combining peculiar design and a bunch of innovations, on of which is a hybrid isodynamic transducer that has been developed in Rinaro Acoustics.
The roots of Rinaro date back to 80s to the city of Lviv. In the period the city has been one of the leading audiophile development centers of the USSR, there the first planar headphones have been created, there many interesting and innovative solutions have been offered, for example, hybrid dynamo-electrostatic 35 AC DS-017, that have come out at approximately the same time with Martin Logan Monolith. However, it is another story… The hailers from the same scientific institute have founded the company that has created the most unique planar transducer that modern world has ever seen.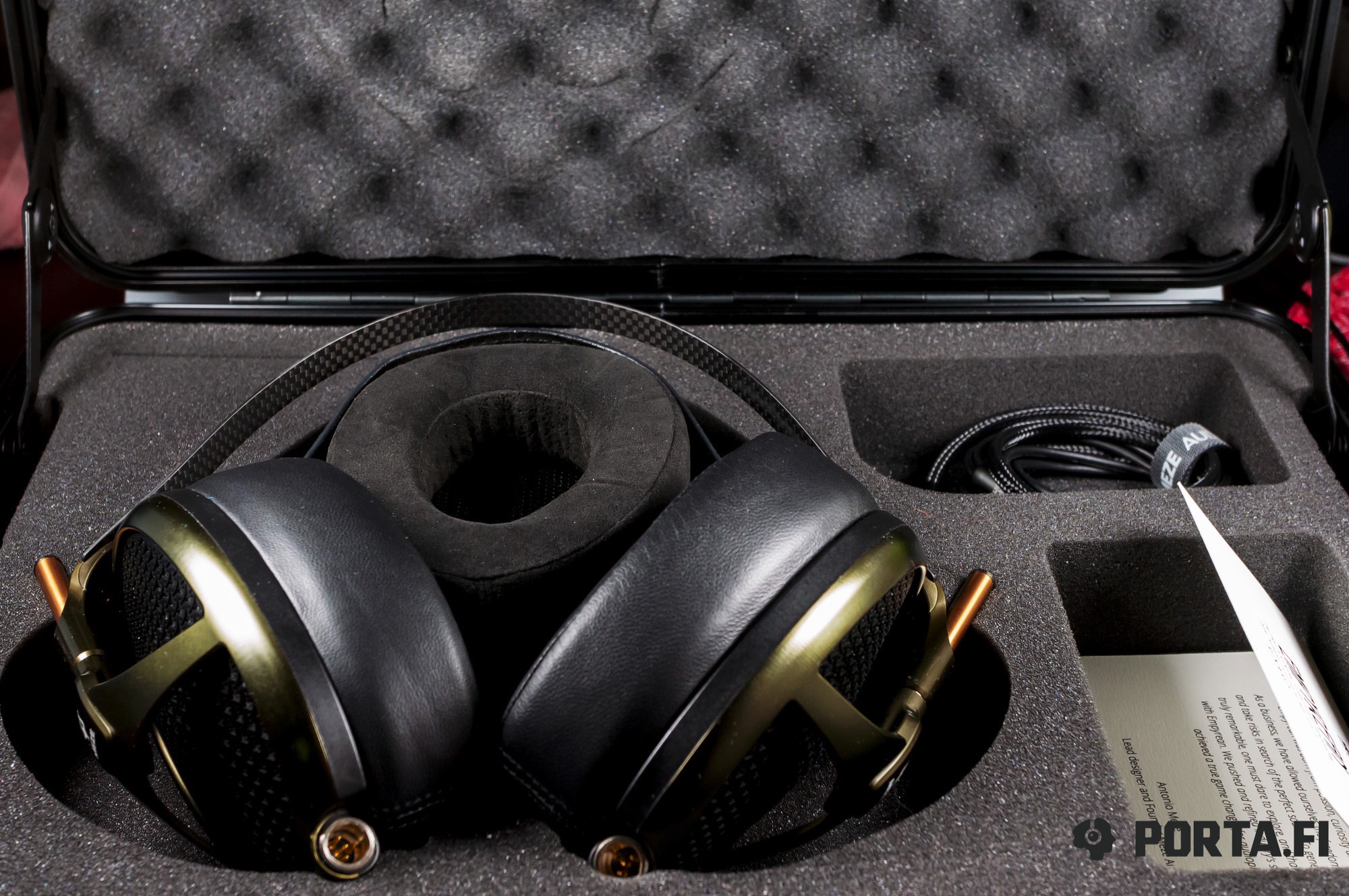 The ultra-thin diaphragm (0.16 g of weight) has a current-conducting path that gets two forms. In the upper part there is a "serpentine" that takes care of the lower part of the frequency range. This shape is ideal to drive solid amounts of air needed for good lows. In the lower part of the diaphragm there is a spiral path that takes care of the upper part of the frequency range. Due to its position, upper mids and highs are driven exactly to the hearing channel without being dispersed, which is very important for the upper frequency range. This diaphragm has an addition in the form of especially developed magnet  system and a peculiar grid on the earpads that ensure the maximal evenness of the magnetic field. The border of the driver is made of ABS plastic enhanced with fiberglass, that has allowed to significantly reduce weight (82 g) and make the driver durable.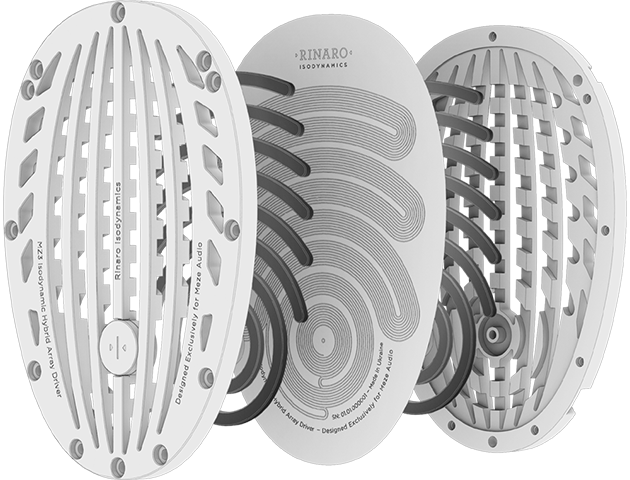 Meze Empyrean transducer, the image is taken from the official website.
Of course, the tuning demanded much investment, however it has been clear from the very beginning that the model won't be cheap by any means. Meze have decided to take into account current psychological barrier and the Empyrean cost 3000 USD (this may vary depending on local taxes).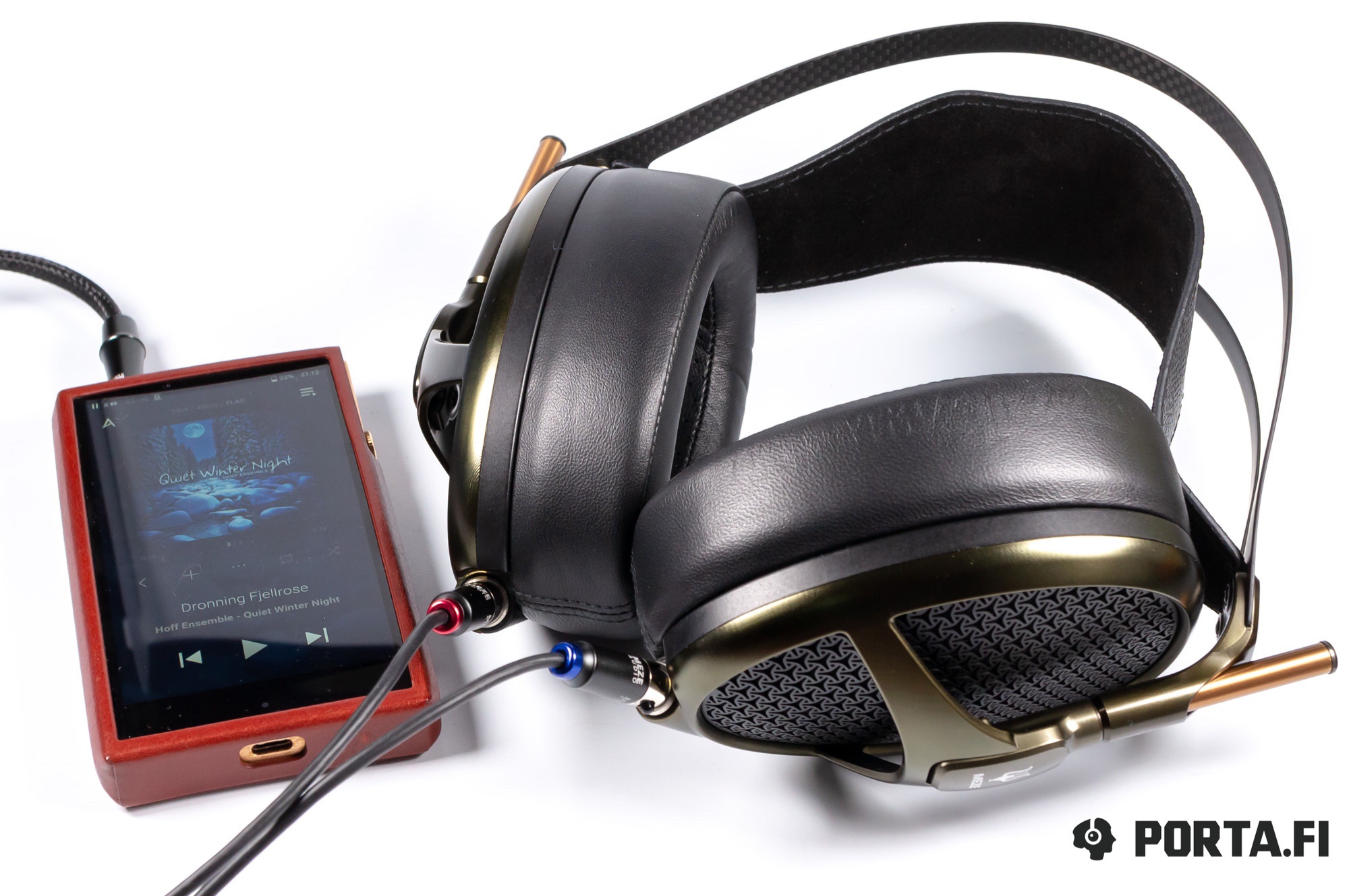 Specifications
Transducer: isodynamic with hybrid path configurations, 102 mm x 73 mm
Acoustic design: over the ear, open-back
Frequency range: 4 Hz – 110 kHz
Impedance: 31.6Ω
Sensitivity: 100 dB/mWt @ 1 kHz
Maximum pressure level: >130 dB
Total harmonic distortion: <0.1%
Cable: detachable, with 4-pin MiniXLR connectors
Weight: ~ 430 gr.
Packaging and accessories
Meze product managers surely know what they do. They have chosen an ideal packaging in terms of usability that has taken the form of flat plastic hard-sided attache case. Something similar has, for example, Audeze, but their case resembles a toolbox and this makes it bigger and less comfortable. Tu sum up Empyrean case is good for storing and transportation purposes.
Inside the box has foam rubber that fixates the headphones, a warranty card, stock cable and extra earpads. Besides leather earpads there are also ones made of alcantara, and they influence the sound significantly, however let us return to this a little bit later. Meanwhile I'd like to say that the packaging is premium class and is worth a flagship device.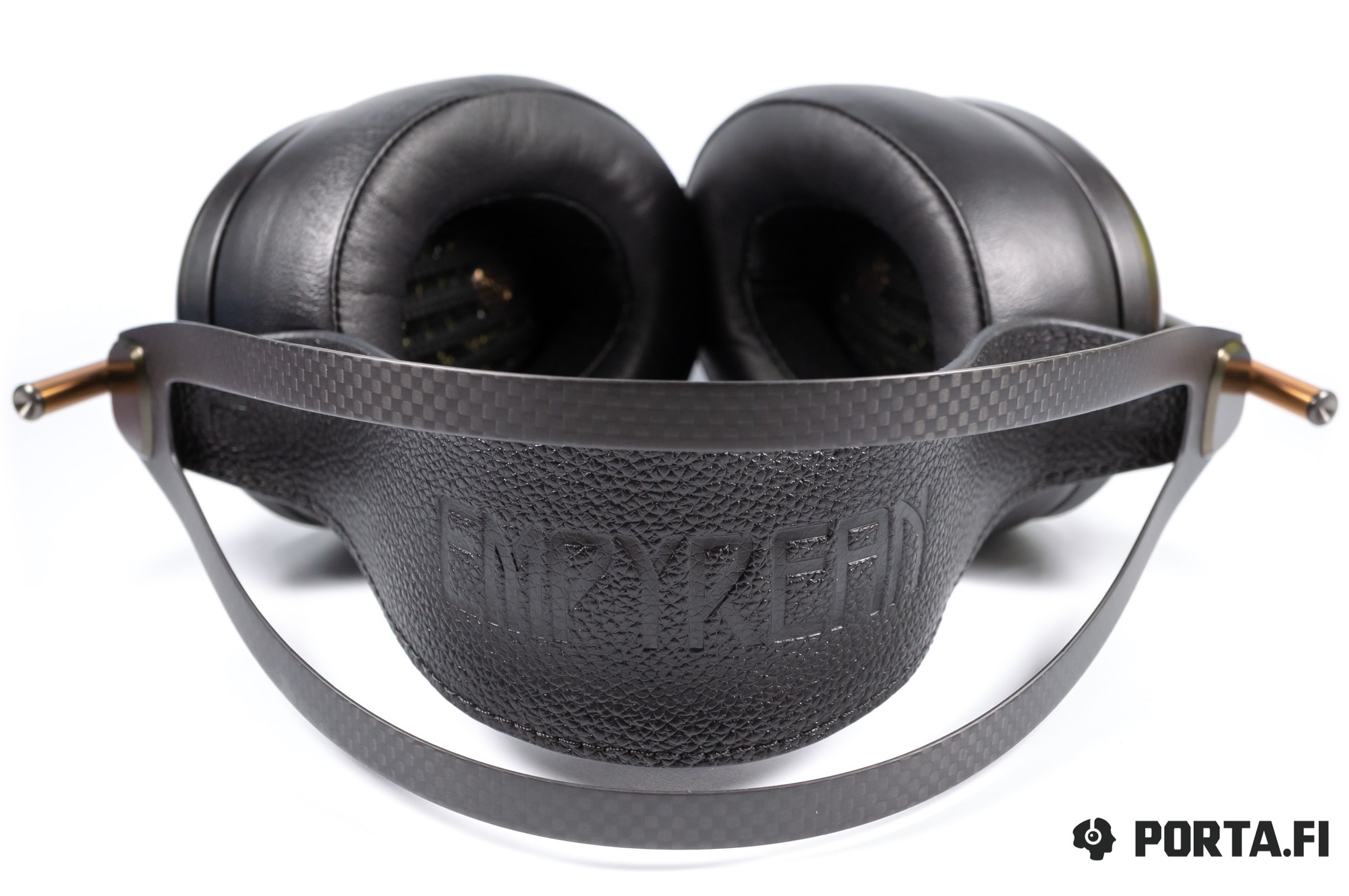 Design and comfort
The appearance of this model has been also changed and tuned. Of course they somewhat resemble their popular Meze 99 model, particularly the twin-arc design and the idea of total dismountability. Meze are particularly proud about it and underline that maintenance will not be any problem – everything is easily assembled and nothing is glued. However, the resemblance of two models ends here and here come several interesting findings that Meze built into their flagship headphone.
In the beginning the twin-arc system is made of carbon that allowed to preserve durability and still make the headphones lighter. The leather headband has small "wings" on the sides that enhance the contact and weight distribution. It is notable how such a small feature increases usability greatly. Empyrean are ones of the most comfortable earphones I have ever tried.
The earcups bindings are made of metal rod and this allows to control not only the size of headband but to turn the earcups vertically thus ensuring even better contact with the head. Meze has maximally tried to avoid plastic, obviously.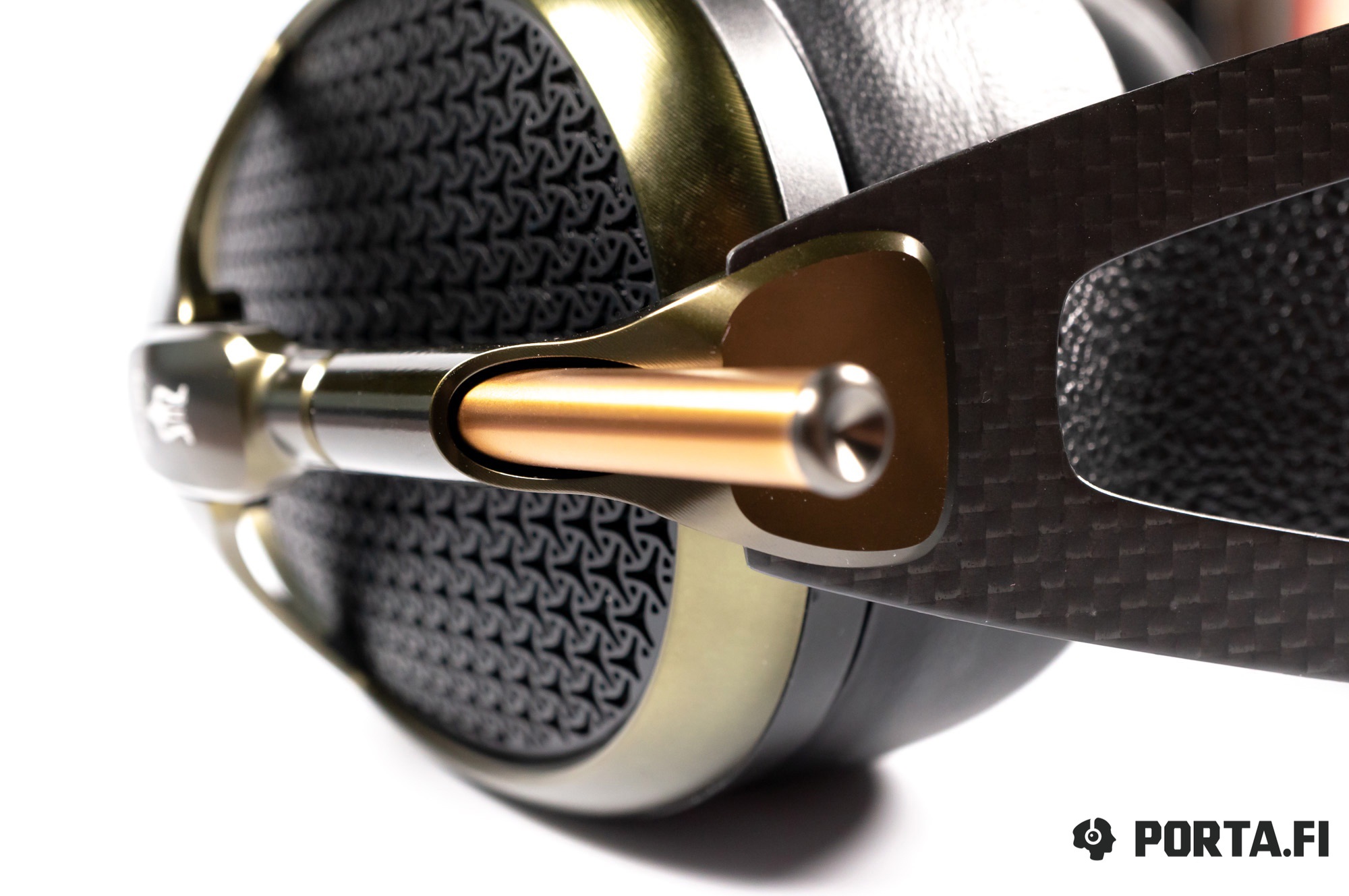 The shape of earcups is not accidental as well, they are made in the form of ovoid, ensuring maximal compatibility with ear shape while maintaining good size. The cups themselves are rather thin and is easily attracted to the grill with complex ornament made of aluminium. It is a very careful and peculiar job.
The earpads are rather deep, Meze made them rotating, having decided that this design is the best to ensure that sound waves get straightly to the hearing canals. There are two pairs of spare earpads that give different sound. The earpads can be easily changed as they are fixed by magnets, so couple of seconds are enough to get a different sound. There is a special grill on earpads that provides better magnetic field distribution.
The cable is of course detachable, a pair of separate Mini-XLR connectors is used. They have a slightly angled position and are located in the lower part of the earcups. When you order the headphones, Meze gives you the choice of several cable variants (3.5 mm, 6.3 mm, XLR), the stock cable is acoustically good, but due to having rather stiff isolation in the lower part, is somewhat less comfortable then expected. Anyway, those who will purchase Empyrean, will surely experiment with different cables to further fine-tune the sound. Meze offer a variety of spare cables. I, personally, plan to order a custom cable from Era-in-ear, I am fond of what they do.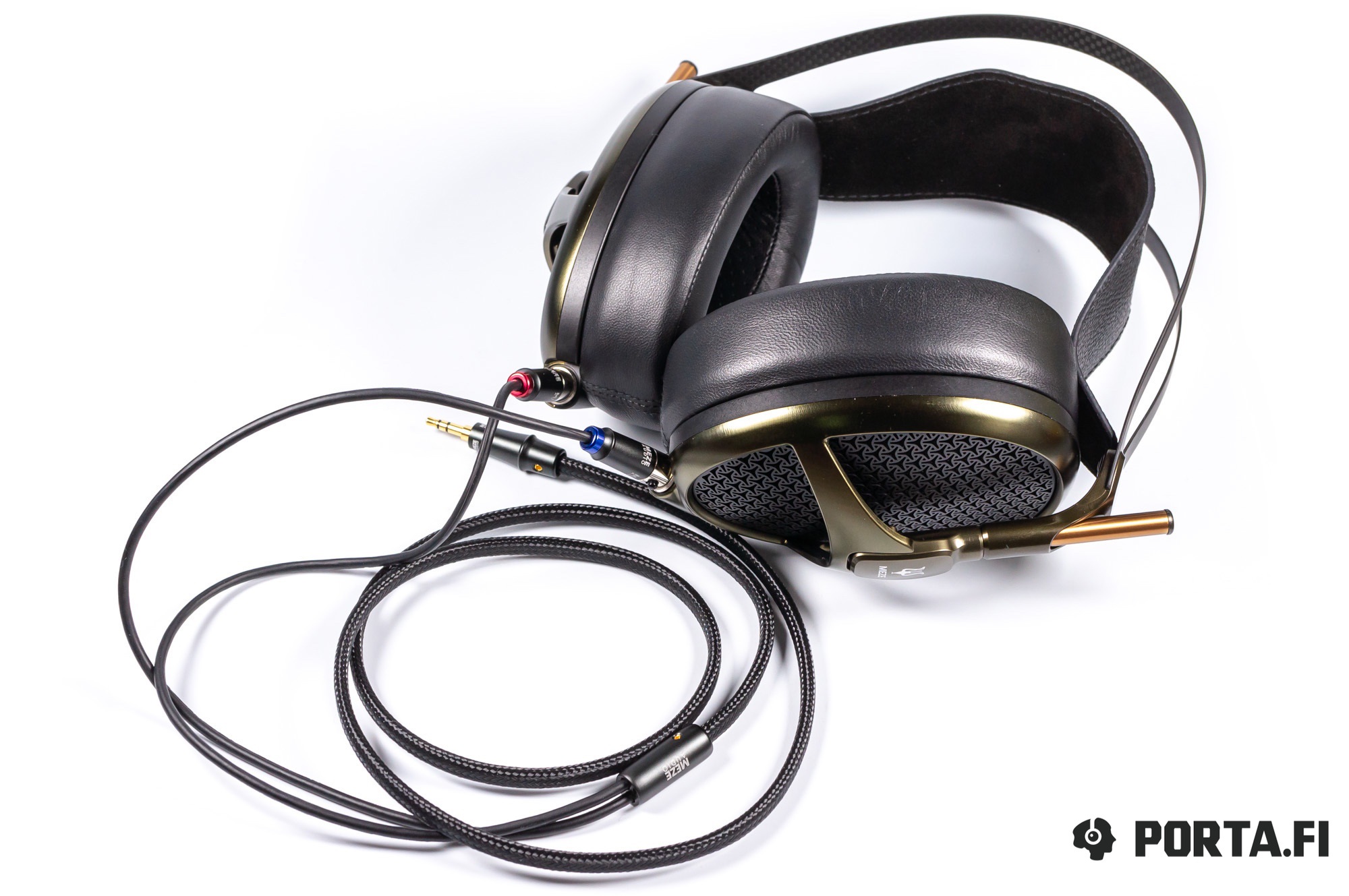 If you look at the photos of the first Empyrean variants, that were travelling all across the shows, you can see how the designers experimented with appearance, changing colors, textures and other elements. Luckily, the final variant proved to be the best, a good combination of dark colors makes headphones look respectable, a real top-tier. Build quality is out of the question.
Sound
For listening purposes the following equipment has been used:
Yulong DA9 and Resonessence Labs Concero HP as DAC and AMP
Apple MacBook Pro Retina 2016 as a source
Audirvana+ as a player
Lotoo Paw Gold Touch, theBit OPUS#2, Astell&Kern A&ultima SP1000 and others as portable players
Hi-res recordings in Lossless-formats (Dr. Chesky The Ultimate Headphone Demonstration Disc and others)
I have allowed 80 hours burn-in period, the audible changes have been registered for the first 65 hours.
The engineers have succeeded to find the correct balance between neutrality and fun, resolution and weightiness, micro details and macro elements that ensure the most natural sound without any imbalance. Empyrean are very musical sounding, but not in the way you usually expect (accentuated lows, flat mids and slightly condensed highs). They are very technical but go a little away from total flatness, providing needed emotions.
The amplitude-frequency curve that you may find on the internet, are very impressive. The headphones are almost linear until the very beginning of highs that have a slight bump, reminding the target Harman curves. In the same time the areas that give unpleasant metallic sound are slightly condensed to provide naturalness. Besides, Empyrean have a very low distortion level – the case when headphones are good on paper and in use.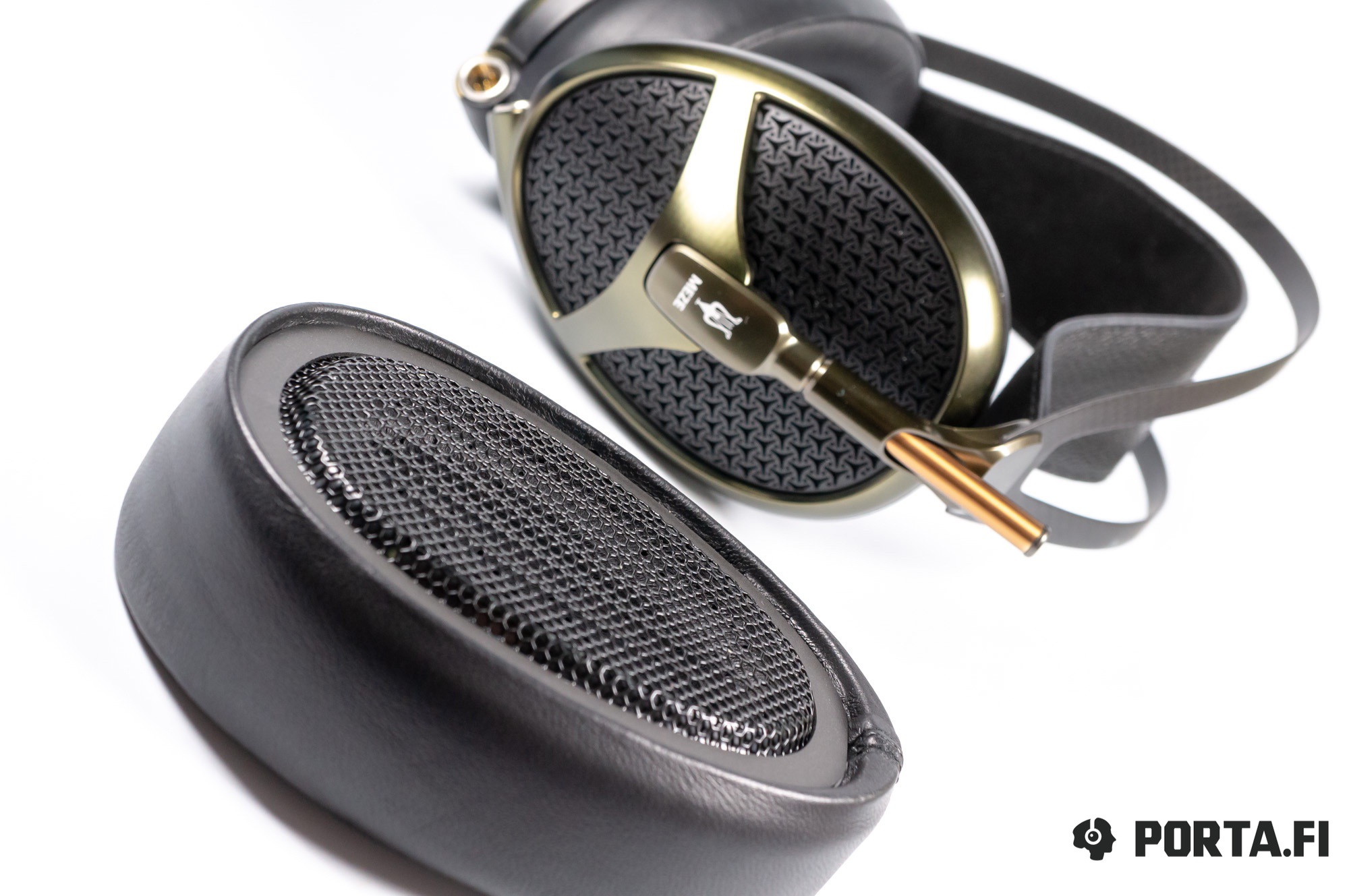 Before I dig deeper into the sound, I should say that alcantara ear pads soften the sound a little and slightly accentuate the lower part of the frequency range. The sound becomes more weighty and the soundstage diminishes a little, however in many cases this means more presence. The further sound impressions are based on the usage of leather earpads that offer a more neutral presentation.
The bass is not accentuated but not lacking at the same time – you will get the exact amount that the recording has. So, Empyrean are not for bassheads, but it is obvious as enhanced bass in isodynamics of the top-tier segment is not a good idea. The bass goes very deep, to a maximum possible level in headphones. This is supported by measurements and this is easily heard. Of course, bass control is great, it has needed thickness and weight. Also Empyrean are very good in textures and layering of the lower frequency instruments. The transducers are rather big and easily pump the needed amount of air to get a monumental and impressive sound.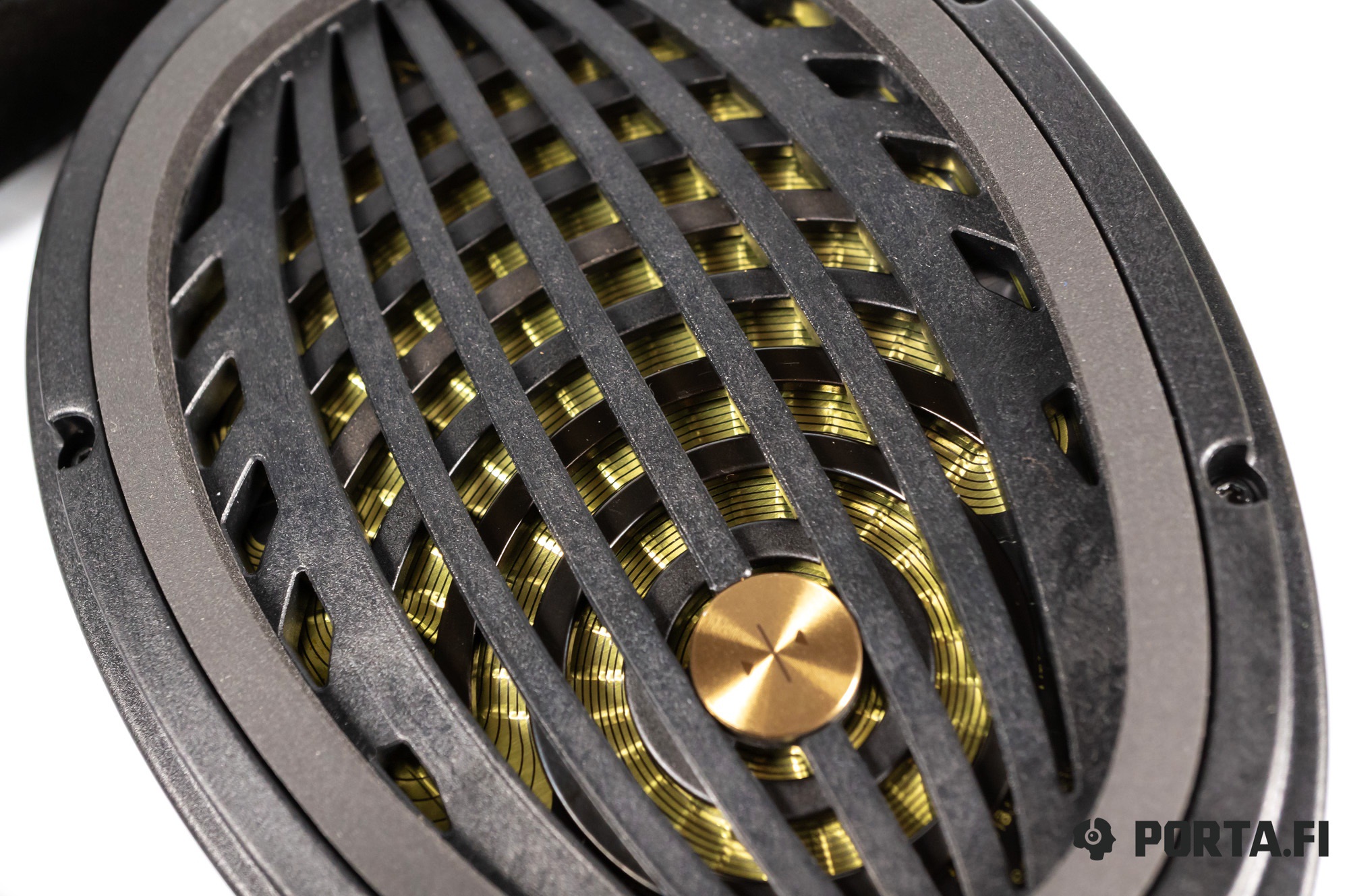 Mids are emotional and full of micro details, but macro details are not a problem as well. Good rumble, explosions, claps – everything sounds natural. The headphones have good resolution but still are not sounding dry and do not show too much problems. This, however, does not mean that they will not show flaws. Despite good technical abilities, Empyrean are emotional and are good in what everyone calls "musicality". Empyrean are good in showing the instrument and voice character, all the micro details that are part of any quality tracks will be presented to the listener at their best. The soundstage is the most wide I have ever heard in headphones, and the same goes for depth. Upon the whole, Empyrean are good competitors for the good electrostatic setups in terms of space and soundstage.
The highs also show the flagship level of the headphones. Usually particularly the highs for me are the key element to understand if the model is top-tier: their naturalness, layering and correct attacks. All this provide the sound with needed naturalness and presence in case of a quality recording. When I saw tech measurements of Empyrean on Head-Fi, I thought  that their presentation might be too bright to bring more pseudo details. Luckily it is not the case and even with more neutral leather earpads the headphones do not have any problems with the highs. The upper part of frequency range is very good, beginning from measurements and ending with such subjective things as length and resolution. They are very natural and bring enough realism that is very noticeable when you listen to instruments having rich timbres.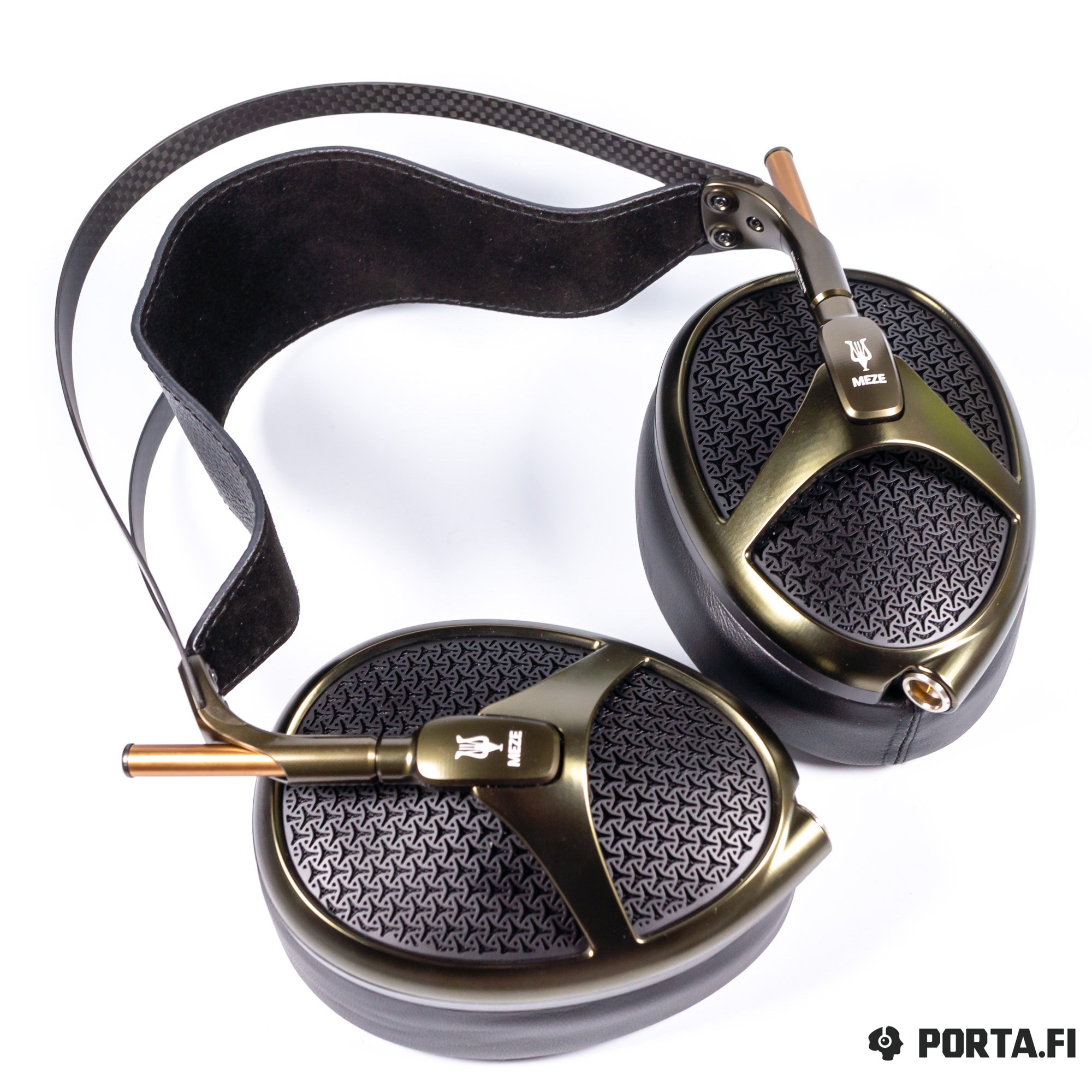 Unfortunately I cannot compare those headphones to many other models, but from those that I reviewed the following can be said:
Kennerton Odin A totally different sound concept: more emotional, full of drive presentation, sometimes a little excessive. According to reviews, the new Kennerton Thror model is tuned more neutrally and is similar to Empyrean, but I haven't tested it yet.
HiFiMan HE-1000v2 Those headphones are more neutral and less emotional then Empyrean. They bring more dry and monitor presentation with less lows and more micro details.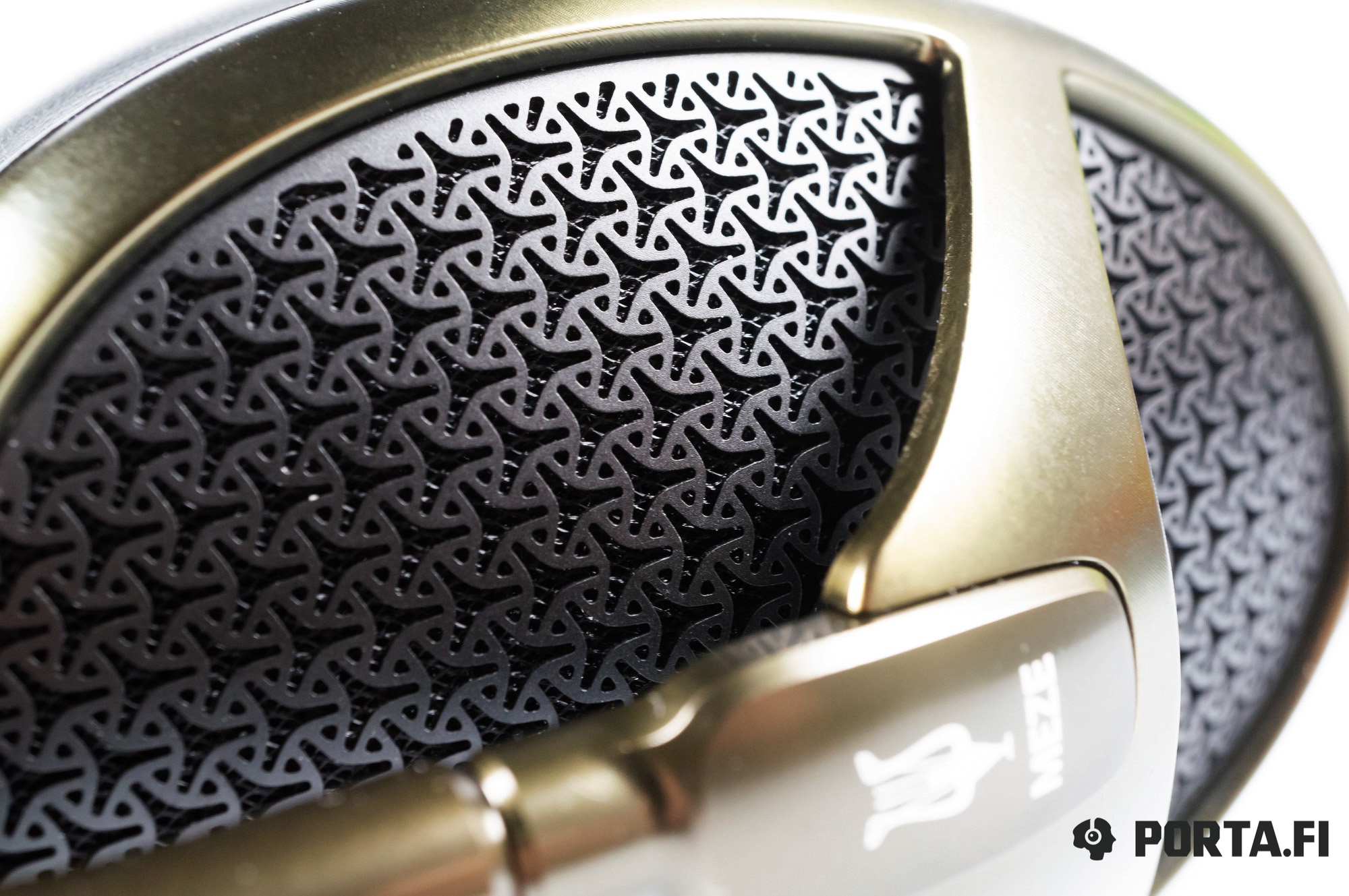 Compatibility
Empyrean are different from other planar models and are somewhat easier to drive. Of course it shouldn't be used from smartphones or players with 50 mWt output, but they also do not require 2-3 Wt per channel. Of course, as any top product, they have big potential to grow alongside with source upgrade, but they benefit more from technical ability, details and speed, rather than raw power. Empyrean feel at home with top-tier DAPs, therefore.
They are universal in terms of genre and the choice between two presentation (earpands) variants gives even more space for tuning. Empyrean are quite sensitive to the quality of recording – 8 out of 10.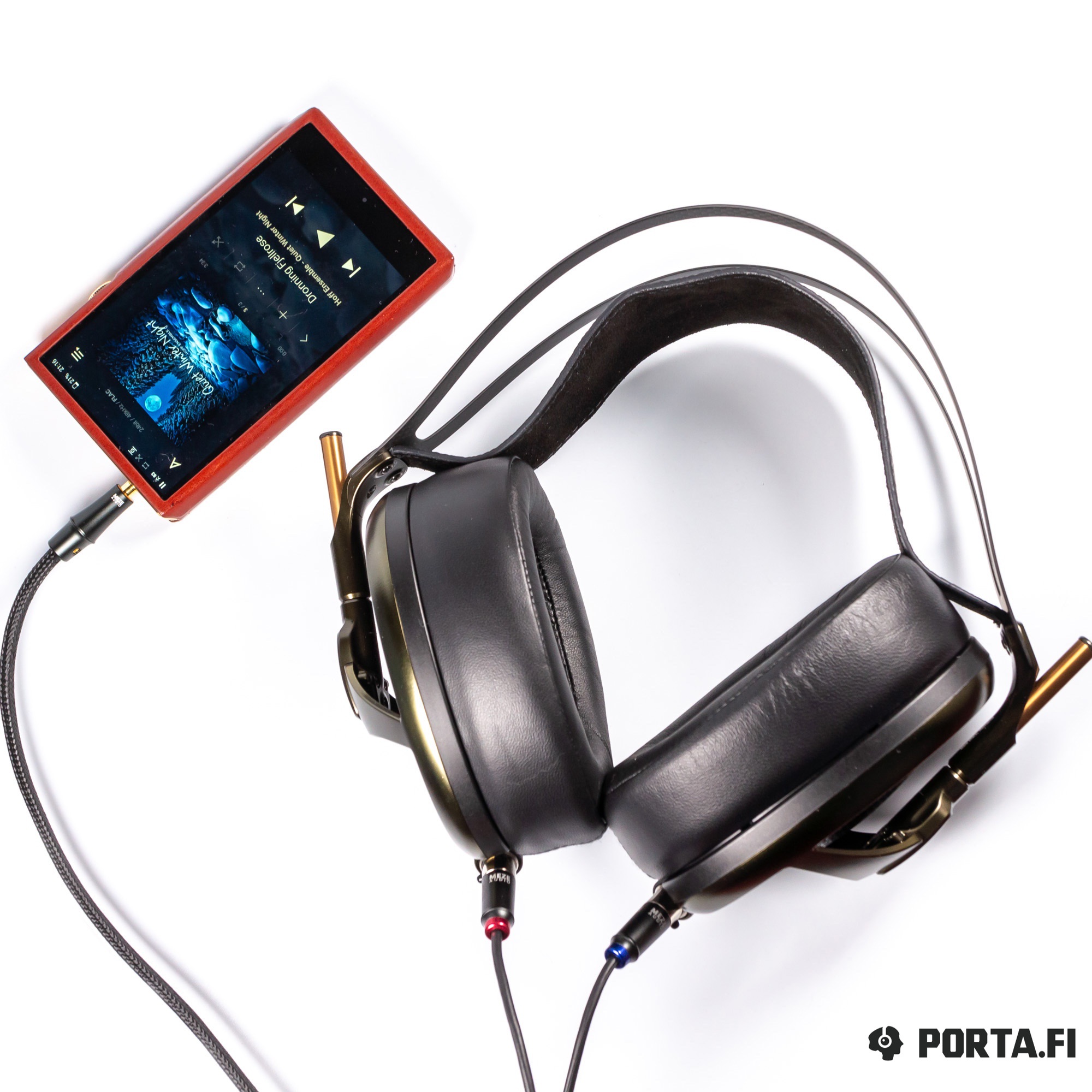 Traditional example tracks
Alice Cooper, Rick Wakeman — Wish You Were Here. I have decided to begin with something unusual, and haven't thought of a better track. Of course, all album of covers from London Orion Orchestra is very good, but the opening track immediately draws attention, especially with Meze Empyrean. Here you will hear all the vocal nuances, great instrument positioning, great sound of keyboards.
Mark de Clive-Lowe — Niten-Ichi. Mark is half-Japanese, half of New Zealand and this is notable in his music. A little constrained beginning resembles classical jazz: keyboards, percussion, winds. All this, together with Meze, brings relaxation and enjoyment. However, the track then flows into the half-abstract impressionist development that mixes musical instruments and genres. This part is also easily played by Empyrean.
Spock's Beard — Edge Of The In Between. This band with a strange name is a hope of all who love classic progressive rock. This track is one of the main hits, and for 10 minutes we will not only get a whole history from the lyrics of this composition, but extraordinary instrumental tracks. Keyboards, guitars, vocals sound great on Empyrean and are totally enjoyable, allowing to savour all instruments together and the composition as a whole.
Conclusions
I don't know what to write here except for cliches that Meze really succeeded in creating a flagship model not only in terms of sound, but in terms of design. Empyrean now ends up at homes of many lovers of top tier headphones.
Translated by Vadim Kolchev