The market rule #372: if a big company does not release new models, it is highly likely preparing something notorious. This principle is right for well-known Noble Audio that was called notoriously – Khan.
Noble Audio needs no introductions, this company is well known for everyone who is into portable audio. Their flagships, Kaiser Encore and Katana – have been leaders for a long time in the "up to 2000$" segment. However, the market does not stand still, and the company has understood the need to produce something new, and succeeded in it. Khan (nod to a history) is not only a top flagship from Wizard, but is one of the first triple hybrids that combine all relevant technologies. 10 mm dynamic on lows, 4 balanced armature transducers for mids and lower highs and piezoelectric supertwitter for the rest of highs. I am glad that companies begin to pay attention to the above 10kHz frequency range and there appear many models with piezotwitters and electrets.
The IEMs have been developed for more than a year and are now presented to the wide public gaining immediate attention. Of course, the price became bigger and is now $2399 that gives way to speak about a higher psychological barrier. Of course this price tag is far from too large because many flagships from other companies have higher price.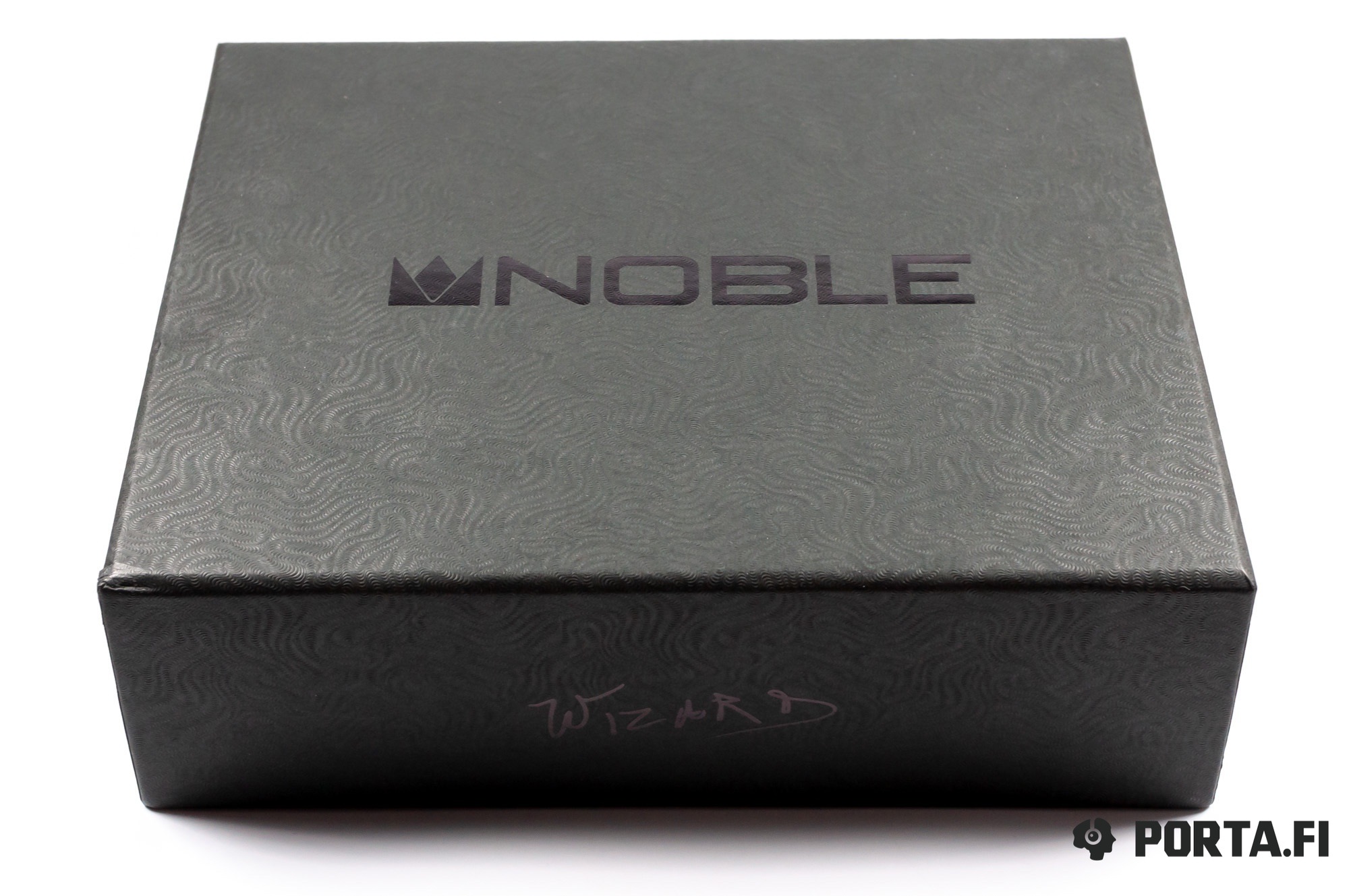 Specifications
The engineers haven't published the specs of the IEMs, and here is what we see on their official website.
Transducers: 4 × balanced armature, 10 mm dynamic, 10 mm piezo-transducer
Cable: detachable with 0.78 mm connectors, 1.2 m
Packaging and accessories
This time the engineers have decided that the size of the box matters and have made it bigger. Of course it is still smaller than Chinese variants, but this time the buyer gets a beautiful box of medium size made of thick cardboard with unusual ornament in the form of waves.
There is a usual Pelican Case inside with IEMs and part of accessories. But this time the product managers have decided to put a second case in form of plastic can with twisting cover for convenient IEM transportation instead of carrying a rather big pelican case. There are tips inside (4 pair of foam and 3 pairs of silicone), velvet bag (don't know what it is for), carabiner (the same), couple of rubber ribbons, cleaning instruments and a special adapter to decrease interference of piezo-driver with stock Apple audio adapter.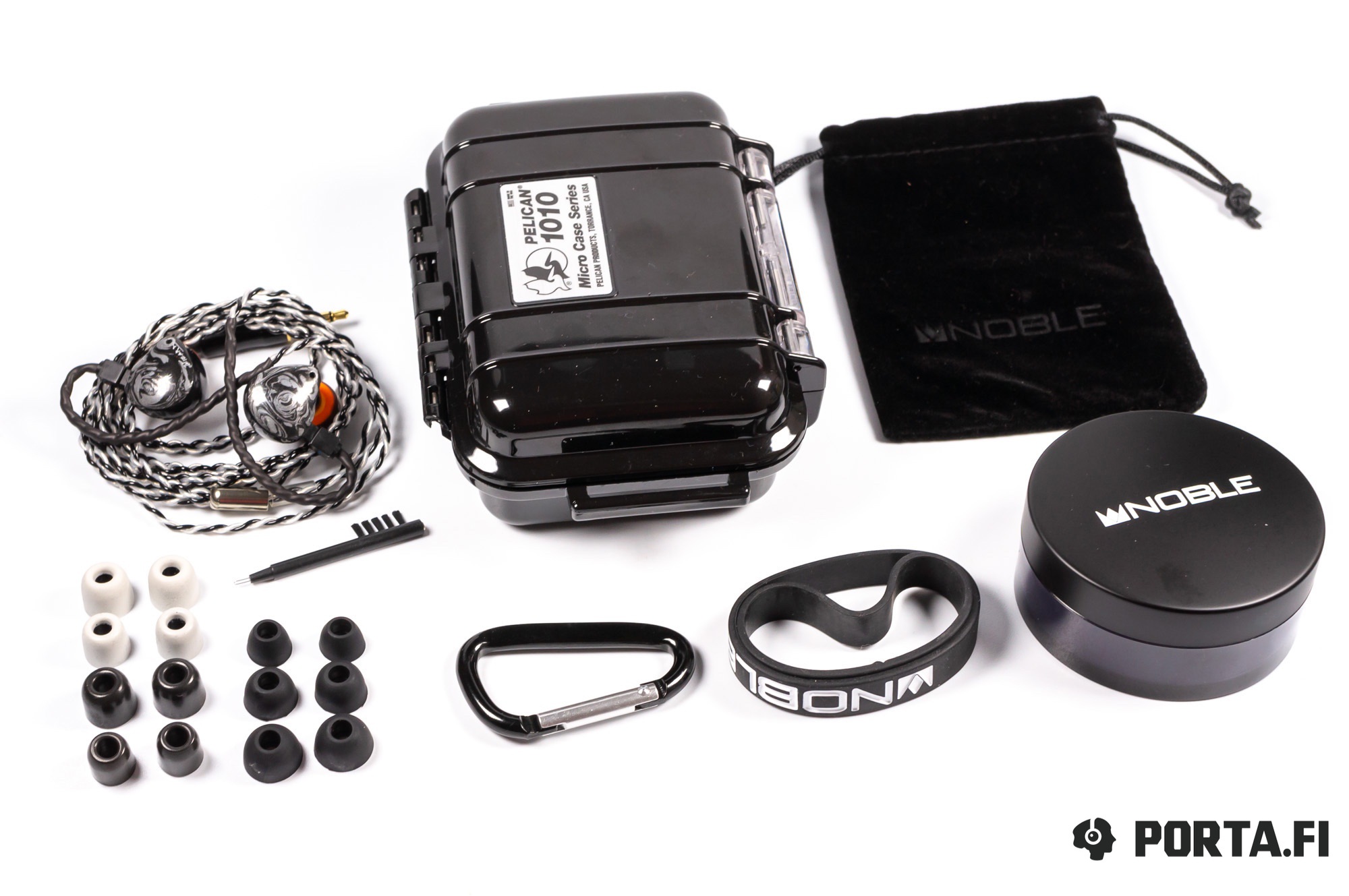 As you see, the packaging is as vast as possible.
Design and comfort
The Khan design brings us to the times when Noble Audio have produced the first Kaiser version that is by many considered the best. The Khan IEM bodies are made of plastic with unusual faceplates with special Japanese metallurgy technology mokume-gane. The IEMs also have the autograph of their creator (yes, Wizard) and brand crown logo.
The change of materials and altered body shape allowed to achieve better convenience for those who have small ears, without sacrificing the appearance. The long nozzles end with metal tops and ensure good sound isolation that makes it good to use the IEMs outdoors.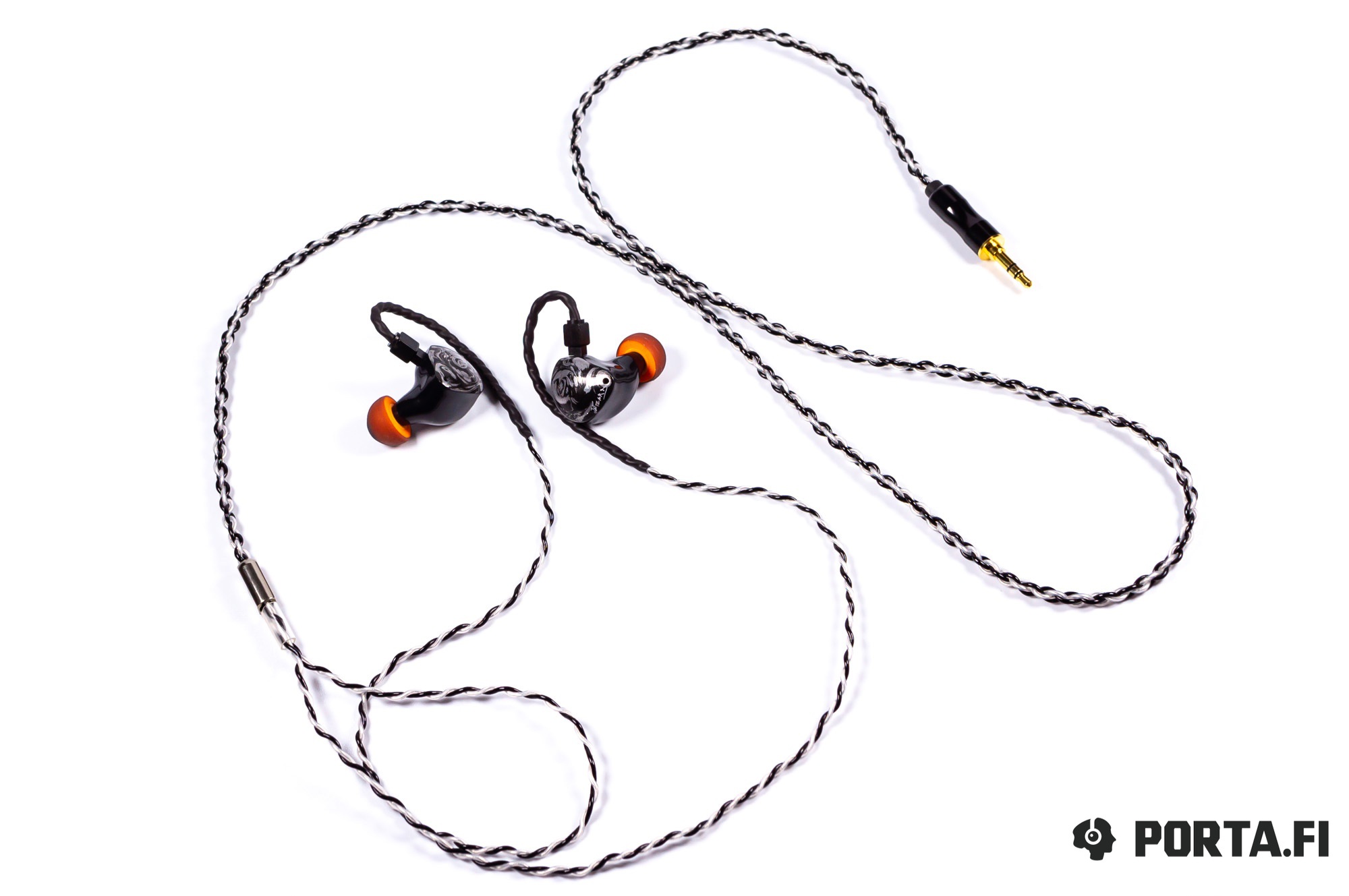 Of course, the cable is detachable and Noble use the 2-pin connectors, as usual. The stock cable from silver-coated copper has also been changed and became thicker and now has black-and-white coloring. There are ear hooks without memory effect that hold the cable in place. The cable is soft and almost lacking of microphone effect. It also does not stiffen in cold conditions.
Despite the appearance the build quality is exceptional, but it should be expected, since Noble Audio are no newbies. Should we expect an exclusive design for Khan in future?
Sound
I have used the following equipment for listening purposes.
Yulong DA10 and Resonessence Labs Concero HP as DAC and AMP
Apple MacBook Pro Retina 2016 as a source
Audirvana+ as audio player
Lotoo Paw Gold Touch, theBit OPUS#2, Astell&Kern A&ultima SP1000 and others as portable players
Hi-Res recordings in Lossless-formats (Dr. Chesky The Ultimate Headphone Demonstration Disc and others)
I have burned the IEMs in for 48 hours and noticed changes for the first 12 hours.
Almost everyone who listened to Khan decided that they are good with foam ear tips. Me, on the contrary, the person, who doesn't like Comply, found my excellence in SymbioTips from MandarinEs.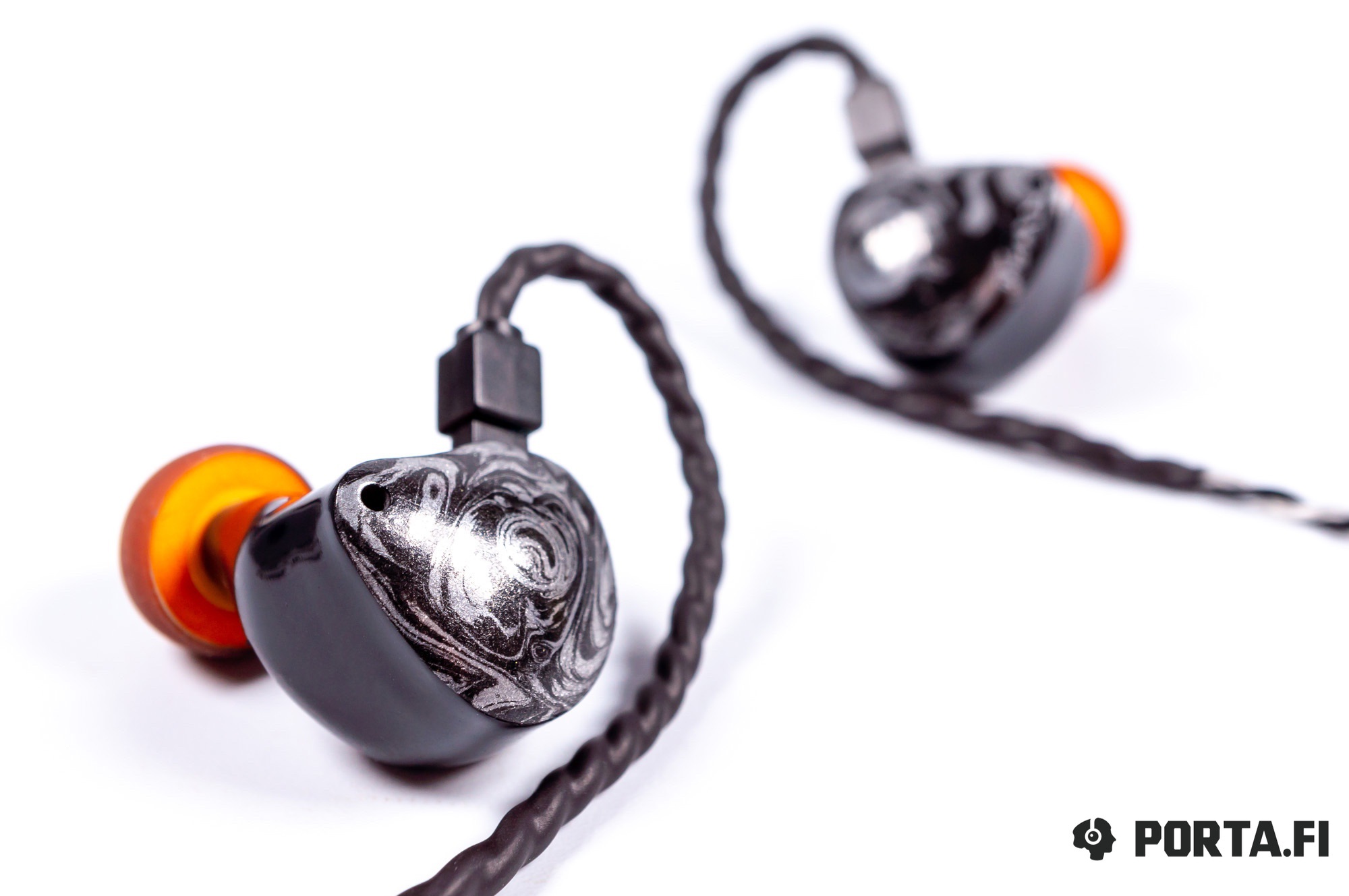 Unfortunately, I haven't heard Katana from Noble Audio, but they seem to fulfill the neutral presentation from the company. That's why I can assume that Khan combines all the best from both ex-flagships. It is more neutral than Keiser but more emotional than Katana. As a result, we get the mature and natural presentation that brings neutrality without sounding too monitor.
Bas is presented with minimal accent or even without it, that's why Khan is not suitable for those who loves enhanced bass. Here we get the exact amount that is in the recording. It is well controlled and offers great texture transmission and instrument separation, but of course it is not an armature, so the bass is in "dynamic" style with solid weight and thickness. Bass goes rather deep and due to lack of the accent on the mids, the lower bass is greatly revealed in a natural manner and shows almost ideal control.
The mids are armature – very detailed with perfect microcontrast and without any additions or enhanced macro details. Luckily engineers haven't entered the cold monitor territory, so if the track is full of macro details, they will be played as is. Also Khan has no coloring (smoothing mids for analogue-like presentation or upper mids accent for pseudo-details). Of course Khan transmit exactly what there is in the track – emotions, instrument character, volume and room peculiarities – exactly what makes top IEMs different. The soundstage is close to maximum for IEMS in both directions, the headphones position instruments truly and have good depth.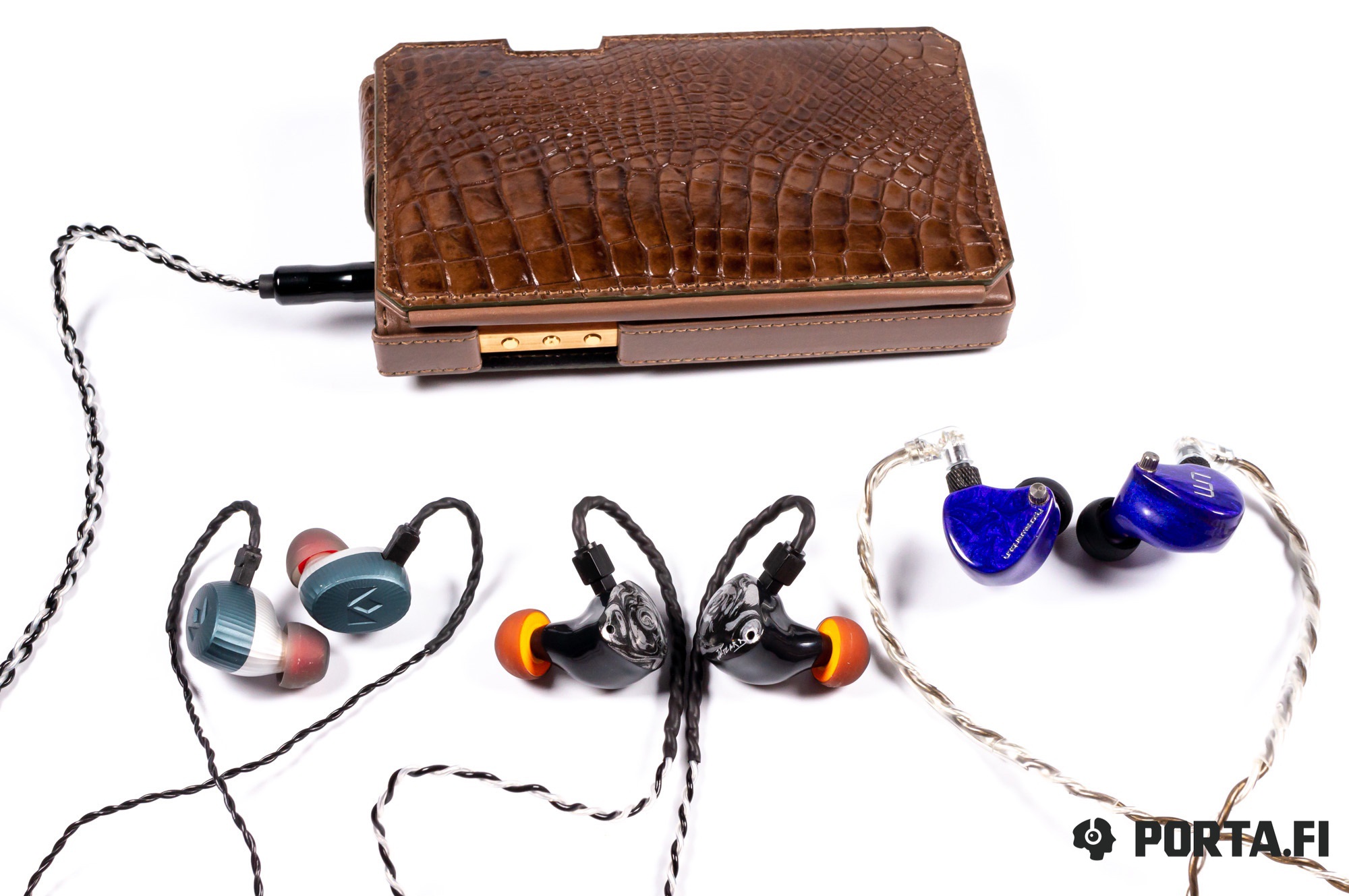 The highs are peculiar for their length and good balance between weight and resolution. The use of piezo-twitter has been a good idea, because when tuned perfectly the result is outstanding. Here we have great layering and weight. The latter usually is lacking in classical schemes with BAs. That's why me, as lover of high frequencies, encourage the use of non-standard tweeters. They bring needed realism into the complex instruments. Of course more simple things such as resolution, correct quantity balance and natural attacks and decays are present here as well.
Let us speak about comparisons now.
Campfire Audio Solaris Different presentation – more accent on lows, more enhanced highs – typical difference between neutral and fun presentation.
Noble Audio Kaiser Encore They differ a lot as well, but this time it is clear that they have been tuned by the same person. Kaiser has more accent on midbass and slightly worse deep layers of bass. Mids are more laid back and it is clearly heard because of the accent on higher mids and less highs length. In all, Kaiser is a slight but notable step from Khan towards the emotional presentation.
Unique Melody Mason V3 Strange, but this model resembles Khan not only with body shape and price, but somewhat in sound. Seems like engineers have had the same goals – to get a natural presentation. Of course there are lot of differences in nuances. UM offers more tuning capabilities with the help of their brand "double" cable and special vents to set the amount for the deepest bass. However, it cannot be seen like a major advantage. Mason is slightly better in dynamics on midbass, but Khan has better deep bass layers. The difference in mids is almost not notable, but Mason is better in resolution and Khan – in weight. The soundstage is better in Khan due to better weight and length.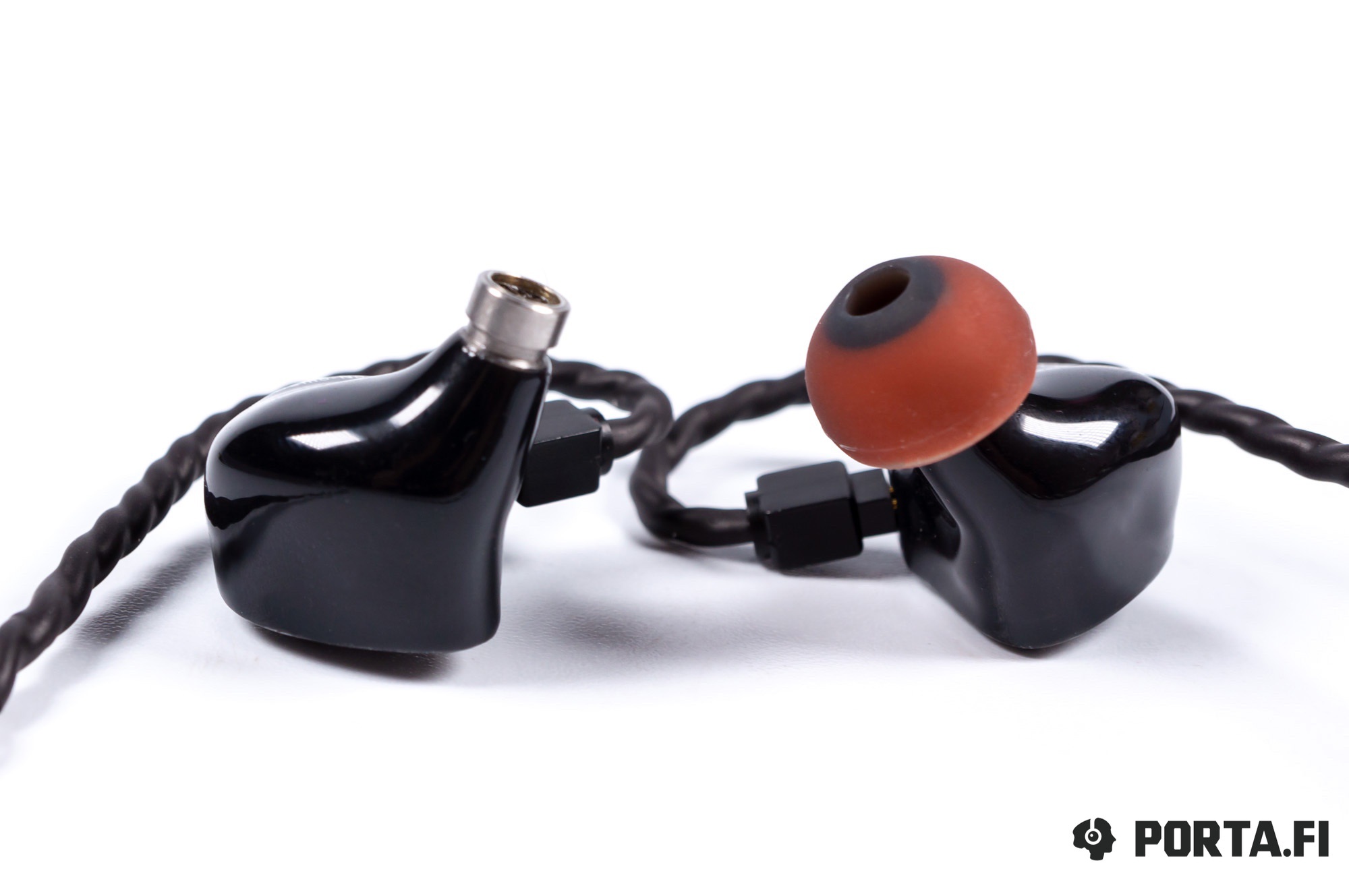 Compatibility
Of course these IEMs are designed to be used with players, and better with upper mid or top segment. Of course they will play with smartphone (remember the included adapter for Apple adapter), but there is not much sense in it – phones will not give needed resolution and control. Actually the potential buyer should find some neutral source (for example, recent DX220 is very good with them). The combination with QLS361 appealed to me too.
The model is universal in terms of style, but keep in mind the need of quality recordings, however it is not extremely picky – somewhat 8 out of 10.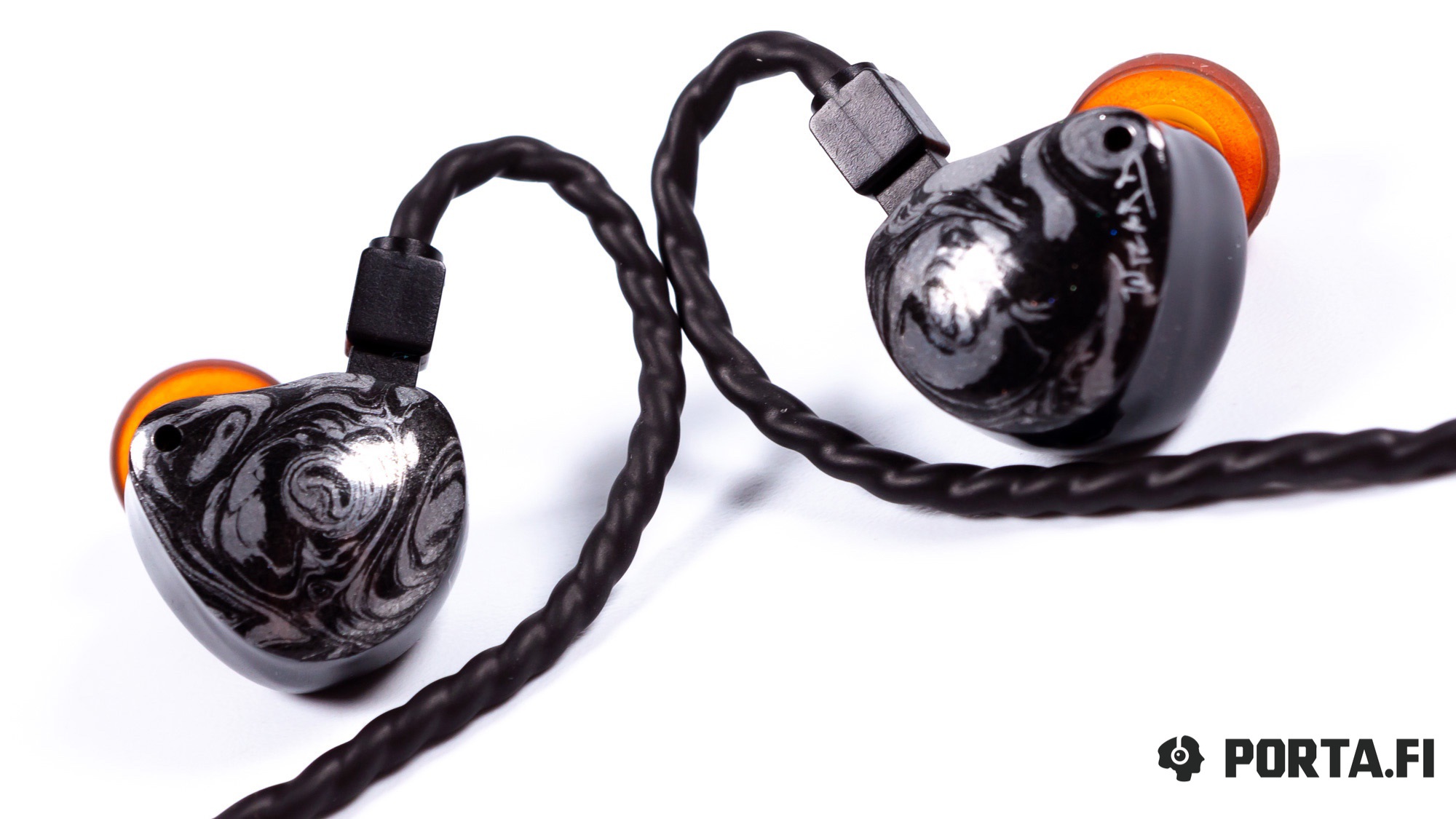 Some traditional tracks as examples
https://tidal.com/track/108412698
Brad Mehldau — O ephriam This is the album we have written about recentrly. It is finally released and yes, it is that good. Of course I might choose any track, but this one is a good example of music for headphones with good technical abilities. The minimal synthesizer line is complimented by the forte piano part and vocalization. Despite the material being rather complex, the overall presentation is somewhat closed and this is where the headphone mini-hell begins. However, new Noble Audio flagship plays it flawlessly.
https://tidal.com/track/22830544
Darkside — Freak, Go Home Let's proceed the trip in the world of unusual music, this time electric one. The Chilean genius Nicolas Jaar has combined his effort with session guitarist Dave Harrington and produced a great album for those who love clever music. Of course, Dave played not only guitar there. Khan also does justice to this track, showing its capabilities during 6+ minutes, and there is something to play, just believe me.
https://tidal.com/track/107376560
The Cranberries — All Over Now I won't develop the topic that the most profitable musician is the one that has just died and blame the society that lives according to these principles. I don't think it will change something, so let us just revert to a voice we all know, singing new compositions. Of course there are no overwhelming details, we love this band not for them, but Noble Audio shows its flagship status here too, transmitting emotions that are in abundance here.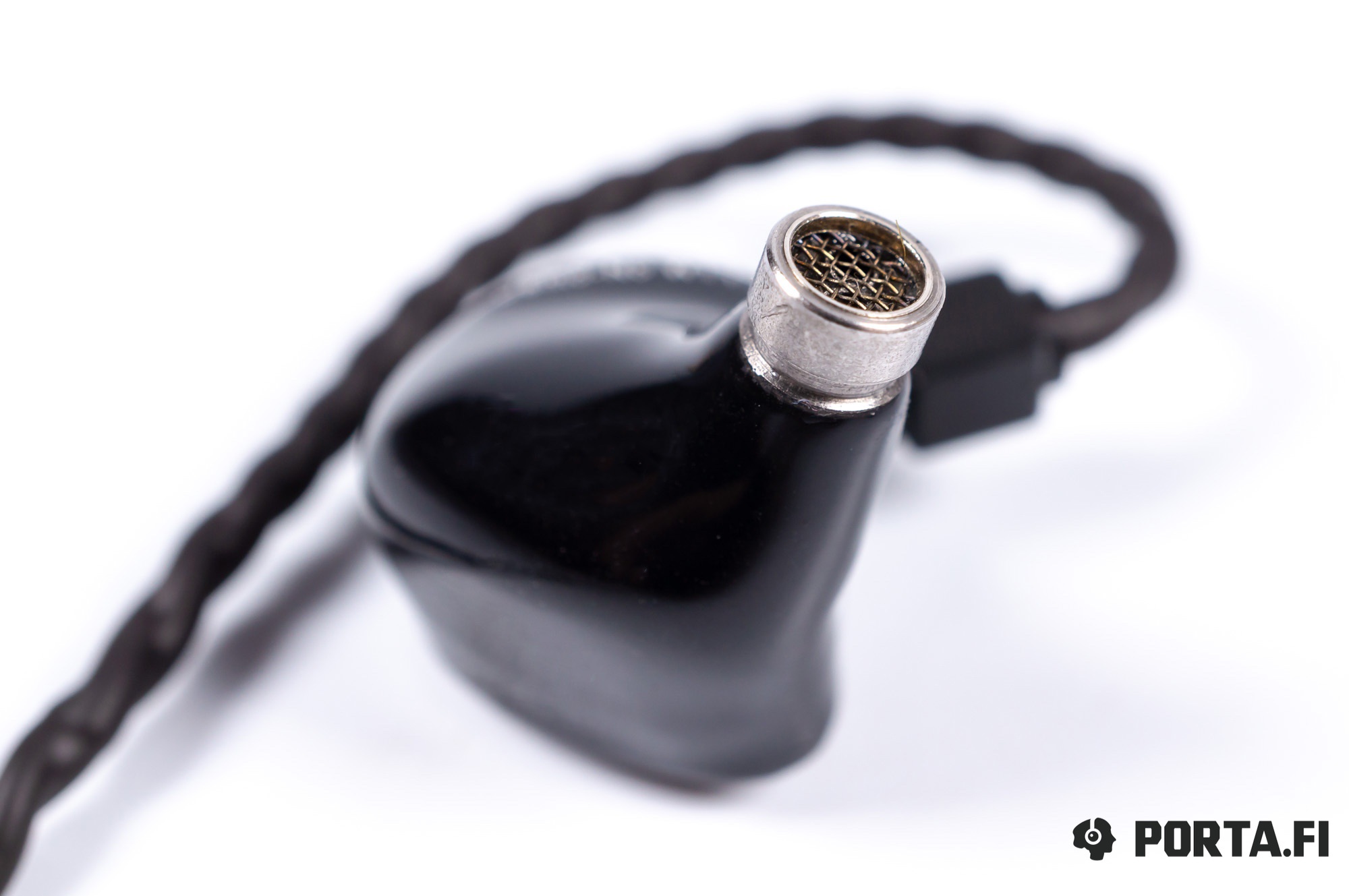 Conclusions
Noble Audio have done a big step forward, offering their fans just what they have been waiting for – a new flagship, combining advanced technologies for creation of the sound that combines the traits of both previous models.
Translated by: Vadim Kolchev