We cannot deny huge influence that HiFiMan has made on portable audio industry. We should be thankful for many things, such as going back to isodynamic transducers and audiophile players concept. Going forward, we will speak about one of the best products in the brand's history — Ananda.

These headphones have appeared recently in the model line and use all current technologies in terms of transducers — ultra-thin diaphragm of 1-2 microns, powerful magnets, optimized topology and so on. Besides, here we get modern variant of headband and earcups that is convenient and technological.
The price is relatively balanced — you can buy the headphones for around 1000 USD (the price at the time of review).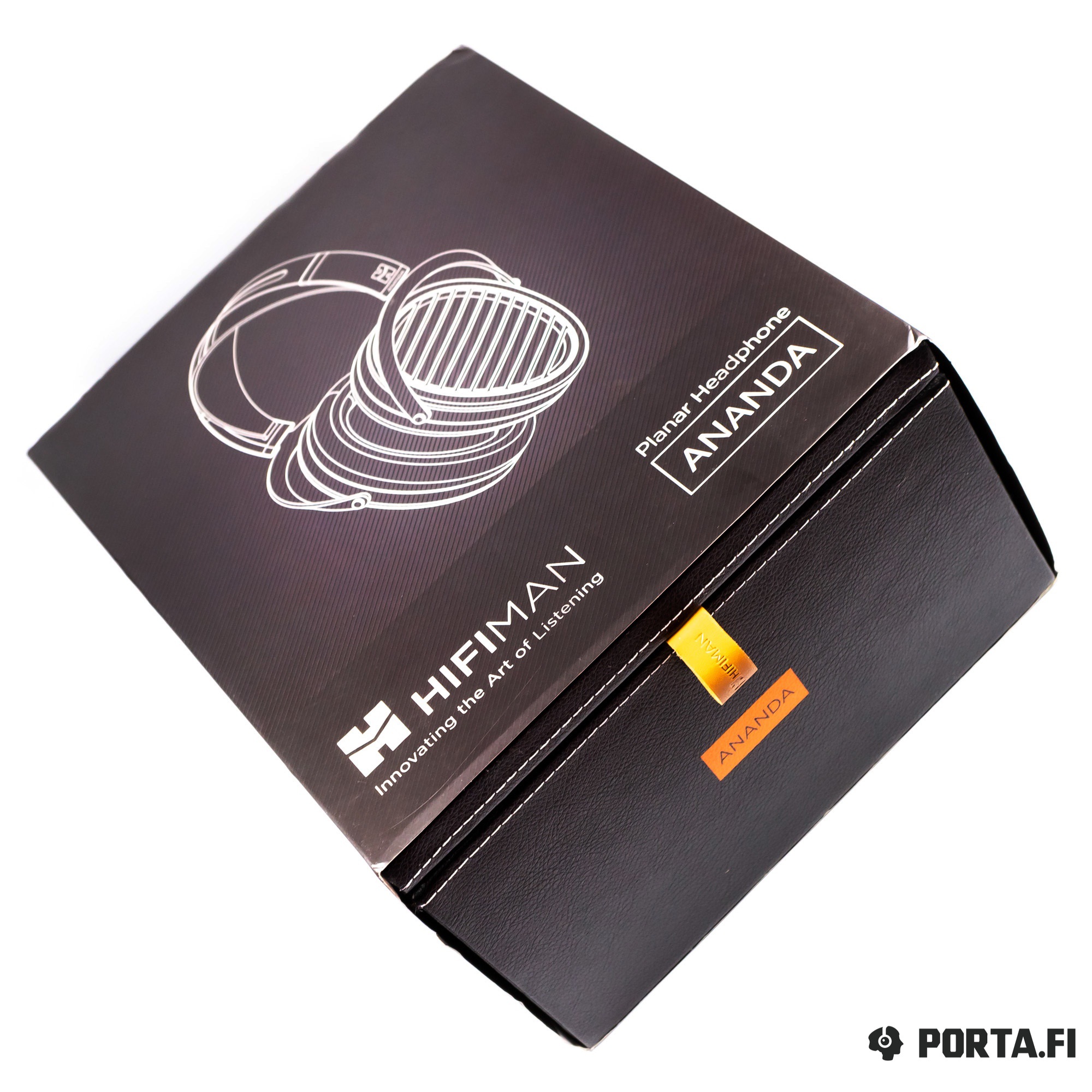 Specifications
Transducers: isodynamic
Acoustic setup: open
Frequency range: 8 Hz – 55 kHz
Sensitivity: 103 dB
Impedance: 25Ω
Weight: 400 g.
Packaging and accessories
The box design, although a little bit simplified, has been inherited from the top models such as HE-1000. They are packed in a beautiful box with artificial leather, and the headphones are beautifully positioned inside, together with couple of stock cables: shorter with 3.5 mm jack for "mobile" use and longer with 6.3 mm for stationary devices. Of course, balanced cable with Pentaconn would have been a nice addition but anyway two cables are better than one so the accessories are quite abundant for over ears.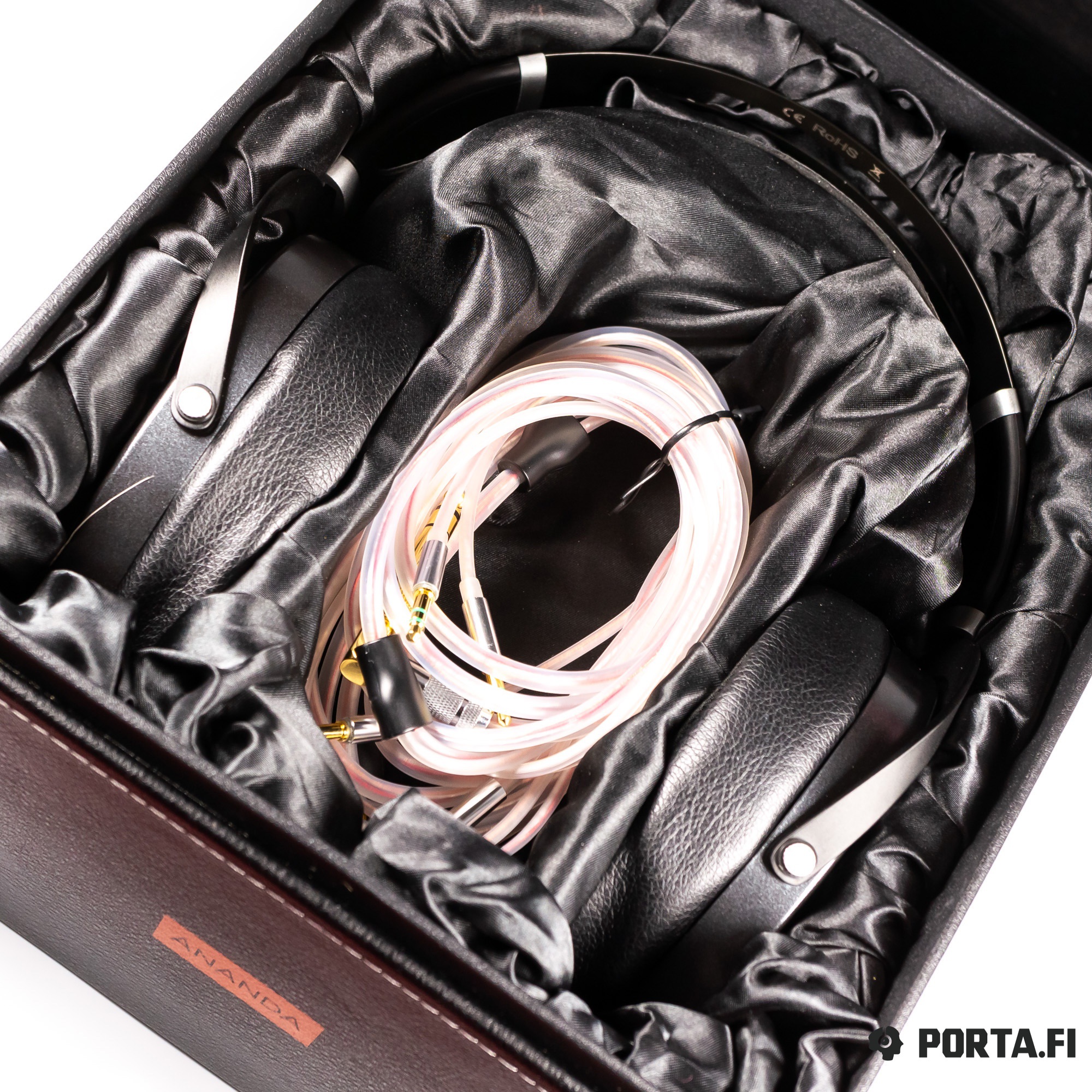 There also is a great instruction with good printing that resembles advertisement booklet, but it is natural with all of the company's top models.
Comfort and design
During the last years the company engineers try to simplify the headphone construction and they manage to do it without sacrificing appearance and reliability, thanks to the fact that HiFiMan transducers do not require complex acoustic solutions and work virtually in any conditions. The headband is very technological and the only thing that can be called minus is that the ear cups are not rotating vertically, however it is not a problem because of the good cushion positioning, so you won't have any trouble with fit.
The Ananda ear cups have familiar HiFiMan oval shape with grill outside. They are thin and light but due to use of metal there is no problem with durability. Soft cushions are hybrid — the outer part is made of leather and the inner part is made of cloth. Together with open setup this makes the headphones convenient to wear and the ears are not overheated.
The headband made of springy steel also add comfort together with leather headband that distributes the construction weight well. The headphones are comfortable, they won't fall during the movement but are not too pressing as well. The size can be adjusted so virtually everyone can get needed comfort.
Due to open structure the headphones are fully acoustically transparent both ways. So The main Ananda use case is home listening, you will hear all the noise in the streets and colleagues in office won't thank you for your musical tastes.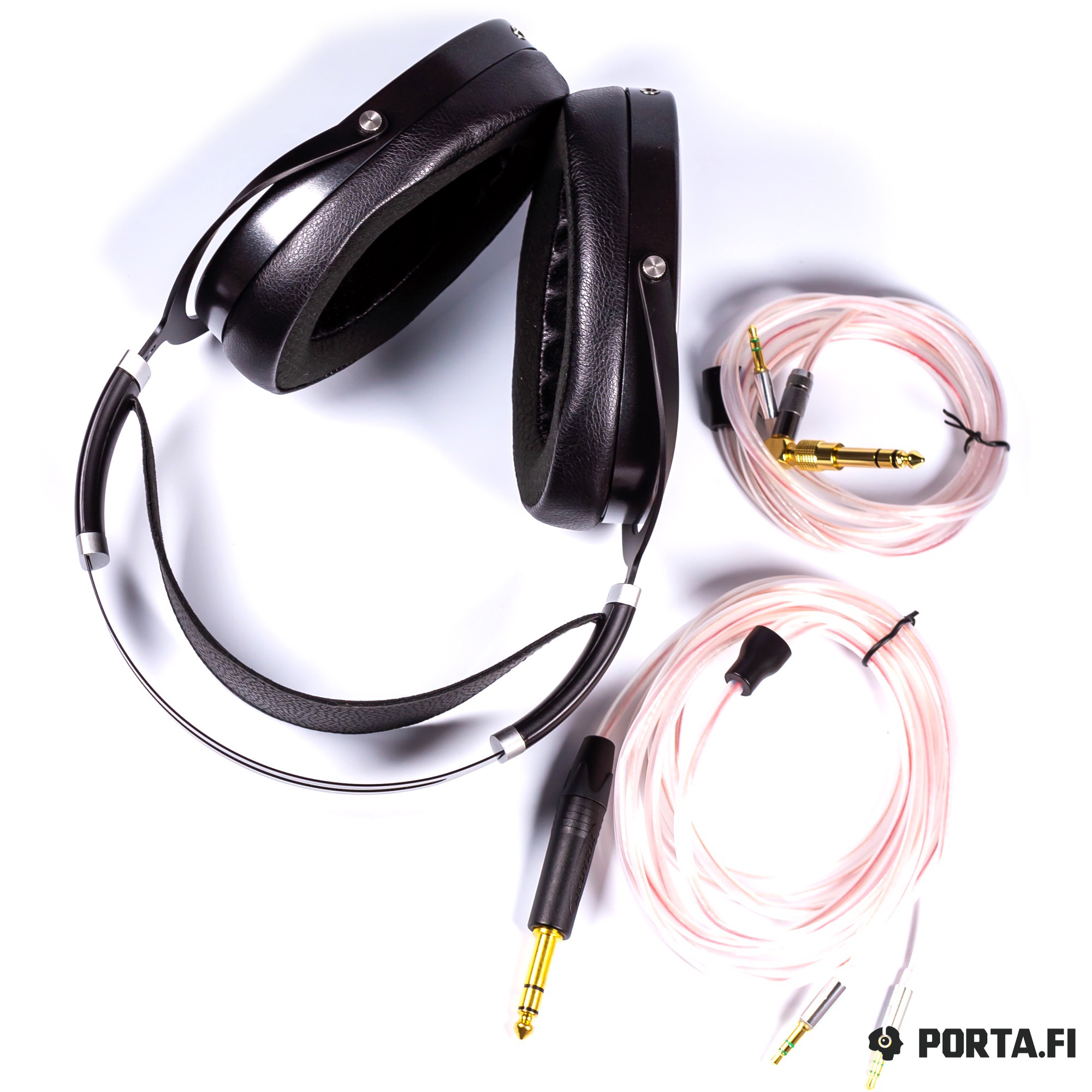 The cable is detachable, it is symmetric and 3.5mm jacks are used to connect it to headphones. Engineers say that the jacks have enhanced reliability. It is the third change of connectors in HiFiMan history and I hope they stop at last. Both cables are made in the flagship style of HE-1000 when the cables go inside the tube and has additional air flow. I don't know whether it is reasonable to use such approach for headphones but it is often used for stationary devices. The stock cables are good — soft enough and not making too much noise.
The engineers have managed to combine reliability with good build quality and add appeal that is usually found in solutions with minimalist design. If you like futuristic approach, Ananda won't let you down.
Sound
I have used the following equipment for listening purposes.
Yulong DA10 and Resonessence Labs Concero HP as DAC and AMP
Apple MacBook Pro Retina 2016 as a source
Audirvana+ as a player
Lotoo Paw Gold Touch, theBit OPUS#2, Astell&Kern A&ultima SP1000 and others as portable players
Hi-Res recordings in Lossless-форматах (Dr. Chesky The Ultimate Headphone Demonstration Disc and others)
I have allowed a burn in period for 140 hours with audible changes for the first 100 hours.
Upon the whole, Ananda give you everything you can expect from isodynamic headphones — they have good resolution, quality micro details, good control across the whole specter. However the overall presentation is made in such way to avoid too monitor approach that is usual for many isodynamic models. They are emotional but not over emotional.
The lows are neutral and not accentuated, but overall presentation is slightly warm. Together with this Ananda demonstrate thick bass and portion its weight well that gives good natural textures and precise character of instruments. Of course the headphones, as isodynamic ones, have good resolution and depth. They also have good slam.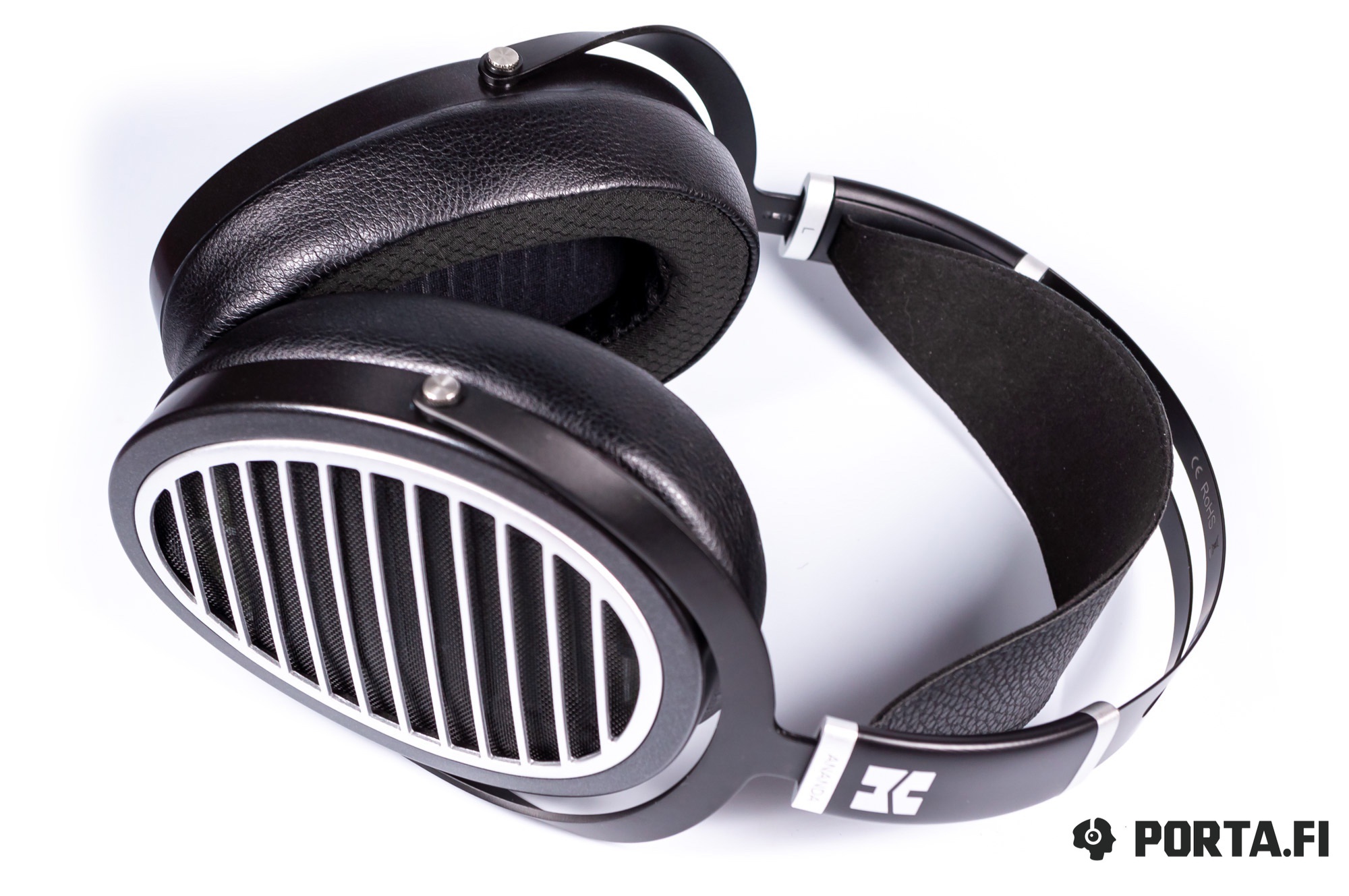 If we look at the frequency response, we will find that the mids are somewhat weakened in comparison to highs and lows but due to great resolution and enough micro details it is not perceived lacking or condensed. The mids sound open and dynamic and will appeal to both those loving details and those who love emotional presentation and correct weight. Ananda has slight bump in the upper mids that underlines vocals (especially female) and the row of instruments, adding clarity to the sound. The sound stage is above average both in width and depth, but not at the level of flagship models, however they are one of the leaders in their segment.
The highs are tuned for those who love comfortable presentation. Of course highs resolution, attacks and decays and weight are more than good here. The treble are pleasant and are not harsh, filling the music with needed decays and overtones. The range above 10 kHz is slightly drawn back not to show mastering problems that are usual for modern recordings. The effect is moderate so the headphones do not have any problems with highs length.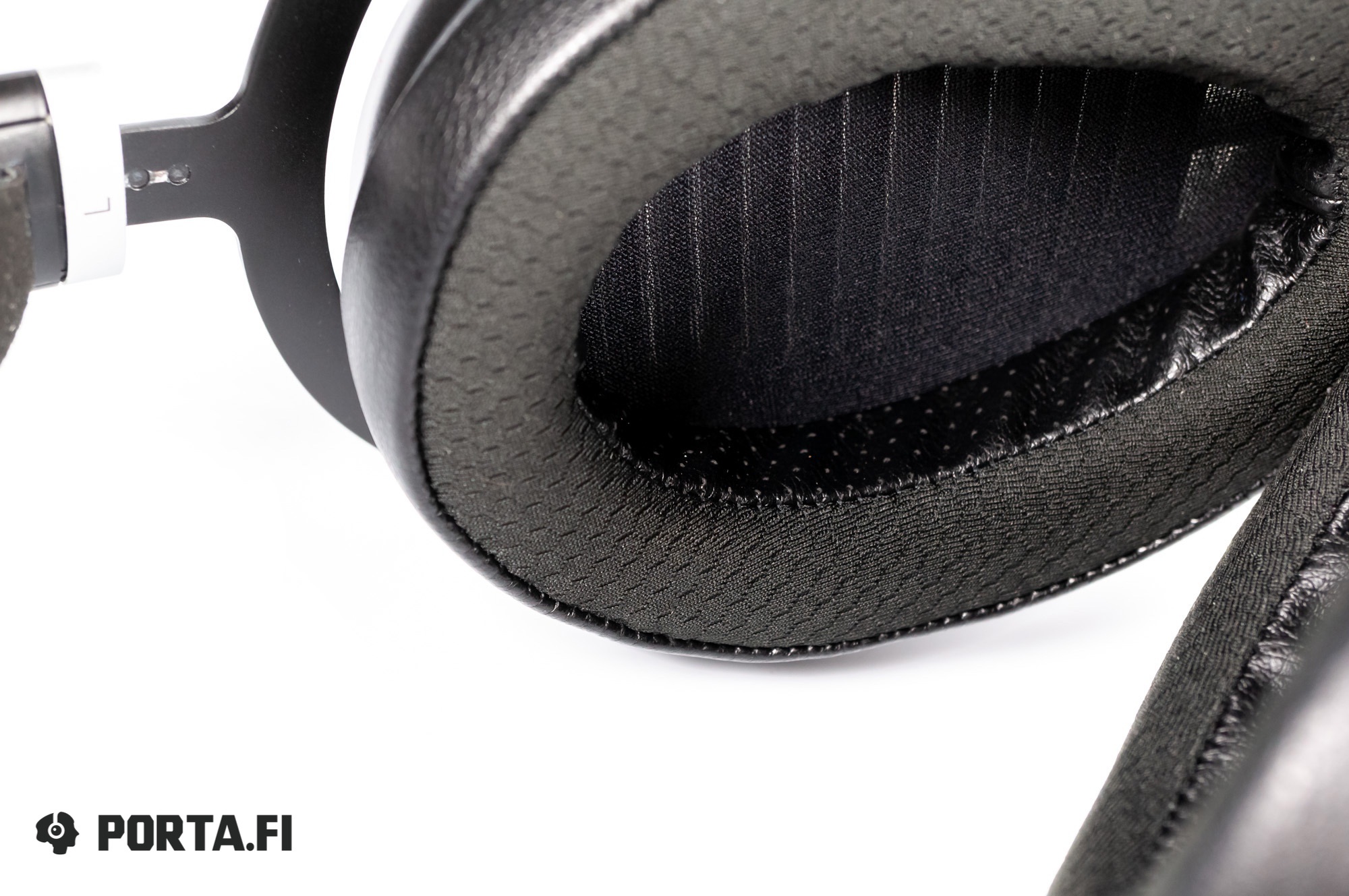 Comparisons
MrSpeakers Æon Flow These are the only headphones I had that fall into the same price tag. Both variants of American planar headphones are tuned for more neutral presentation and sound more monitor with less weight and not accentuated mids.
HiFiMan HE-1000 v2 In this case the senior model offers more detailed and less colored sound with better macro dynamics and more highs length. HE-1000 is more neutral, more technical and has better headroom. They also have more flat frequency response, but I assume more people will choose Ananda and not only because of 3 times lower price tag.
Audio Zenith PMx2 v2 Another planar headphones that are similar to todays model. They are balanced too and combine resolution with emotions but have better upper highs and less warmth in mids.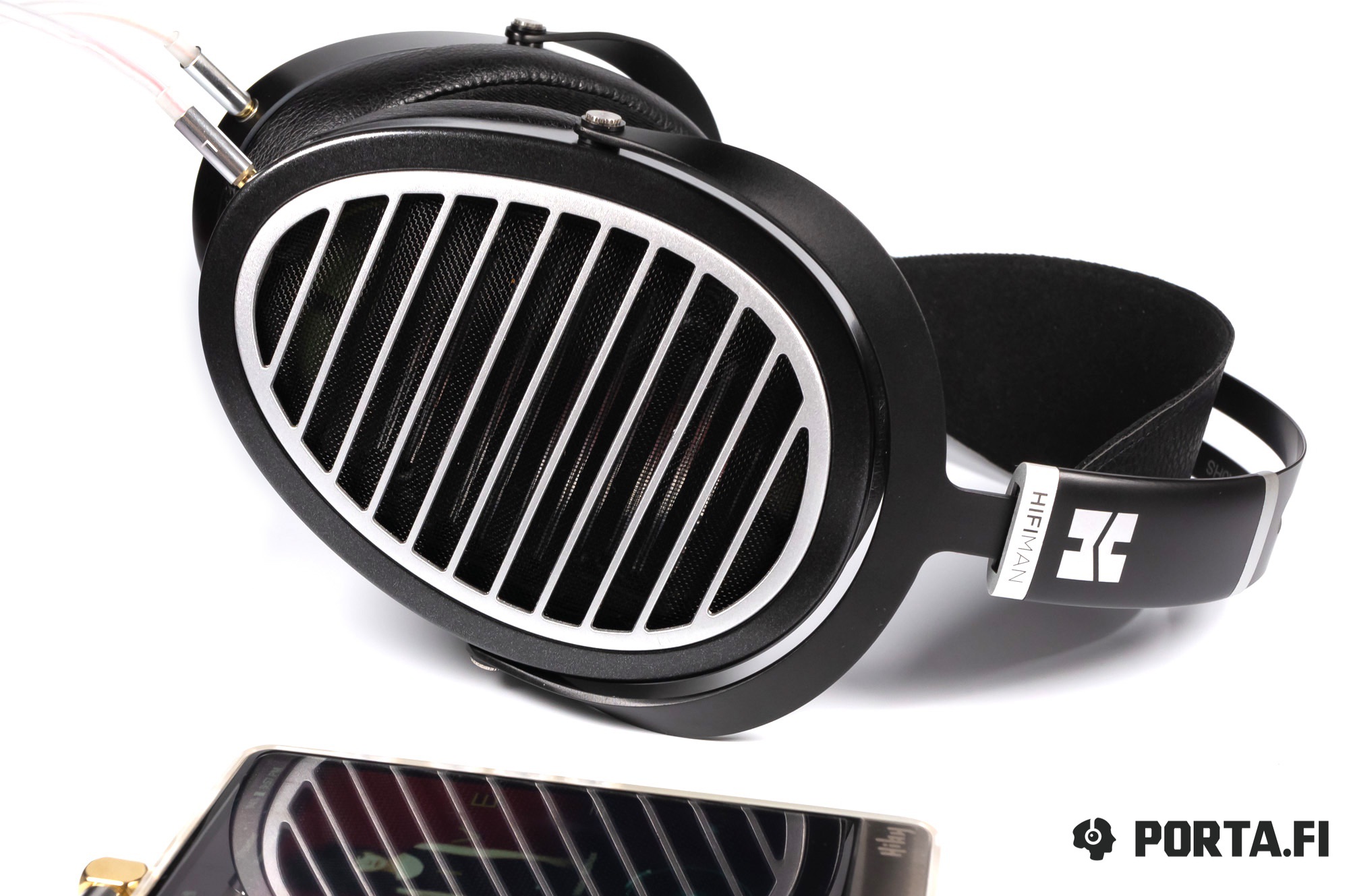 Compatibility
One of big Ananda pluses is normal sensitivity that allows to use them with players. Of course to fully benefit from them you need gadgets with good amp section, but here we don't need many hundreds of mWh. This makes the headphones good for music lovers who do not wish to invest into desktop rig.
Stylistically Ananda are fully universal and due to more accentuated emotions they will appeal to more people than more expensive neutral brother. The sensitivity to recording quality is moderate — 7 out of 10.
Example tracks
Echoes of Ellington Jazz Orchestra — Mars What do you know about hobbies? There is a person, Peter Long, who runs Ronnie Scott's Jazz Orchestra. He devoted 30 years of his life to examination of Duke Ellington's music. Of course, Duke is great, but man, 30 years… In general, Peter has heard "Planets" by Holst on the radio and thought that the music has sounded a lot like Ellington. As a result we have a great jazz suite with easy to remember Holst melodies fulfilled in Duke's manner. If you haven't understood, you should really listen to this great example of clever stylized musiс especially given the quality of performance. I might choose any track, but Mars sounds especially good due to great resolution that underlines every instrument of the orchestra and giving them correct weight that is needed for this composition.
Roger Daltrey — Amazing Journey (Live) Let's evolve the theme of classics revision, however not as cardinal this time. Roger Daltrey has decided that veterans are never old and has decided to re-record Tommy, but to make it live and with symphonic orchestra. The result is not ideal since the vocals are not that strong anymore, but the album is pleasant, especially presented by Ananda — the performance is dynamic and shows concert drive and rock-opera scale. Ananda shows itself very good — powerful scene, energy, dynamics.
Timothy Williams — Called to the Barn Let us be frank — the idea of bad Superman has been around for some time. It should have been a creature with immense power but lacking humanism and moral. Brightburn is a good example of cinema implementation and it of course cannot exist without soundtrack. Timothy Williams has coped well with it and his great combination of symphonic music and ambient allows to dig deep into the film atmosphere, and Ananda helps this a lot by playing extra deep lows and sudden slams.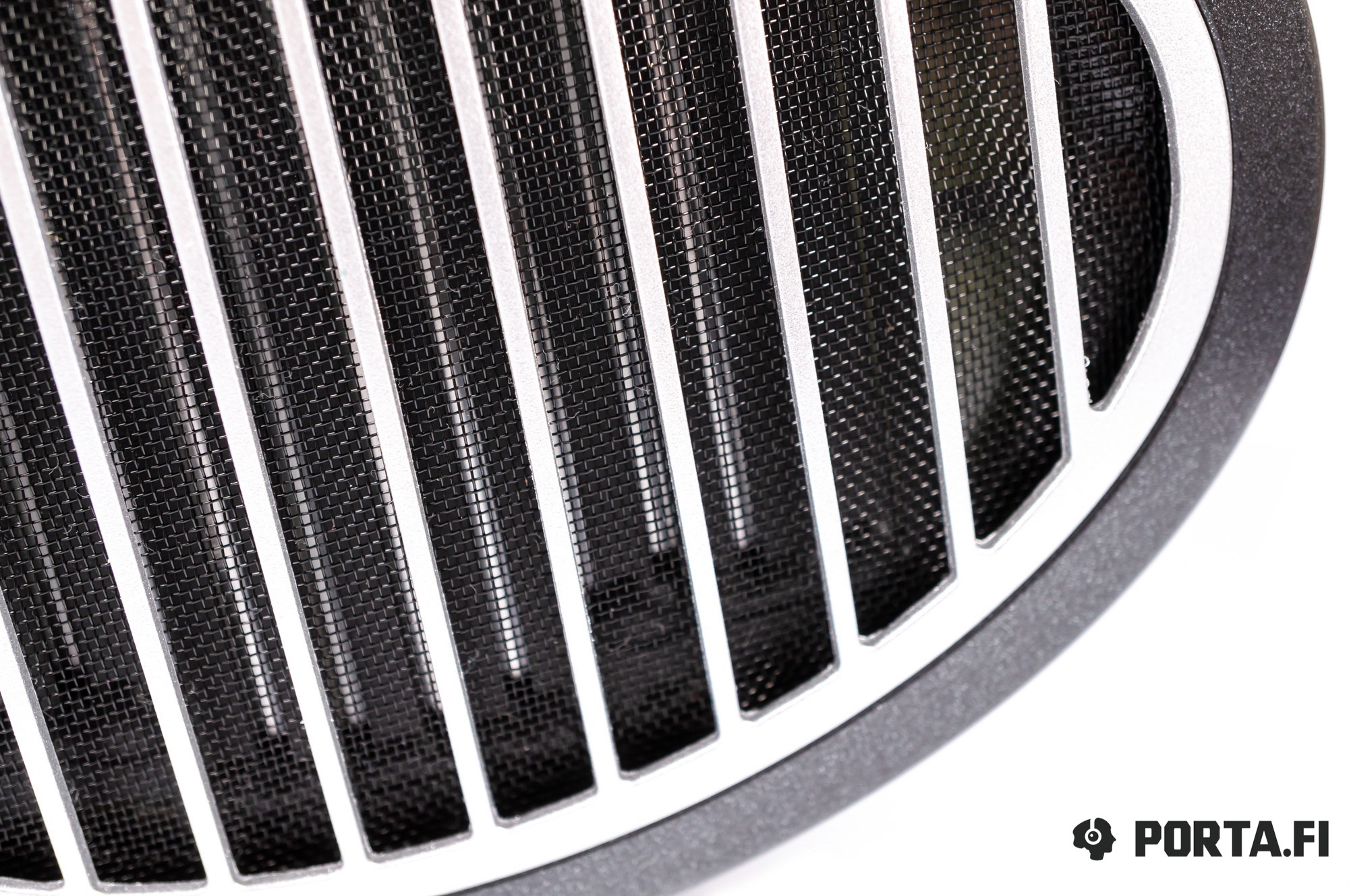 Conclusions
I liked Ananda a lot. To my ears it is the most universal HiFiMan model that I have ever heard that combines emotions, drive and technical ability. I think engineers understand this as well because they are willing to use Ananda technologies to release their first over ear Bluetooth model.