Yulong can easily compete with other famous manufacturers when it comes to its products. The company releases flagship once in several years and put several good models between them costing less. Now it's time to speak about new top from the company that, as expected, is called DA10

Yulong have tried to move to even higher segment in the past and have released D8 DAC and A8 amp, but have decided to abandon the line and to concentrate on what they can do the best – almighty desktop amps for portable audio lovers. Here they have encountered a problem, when the previous DA9 model has been very good as well. If DA8 of both generations have had average output power for headphone amplifier, the engineers have corrected it in DA9 and have provided it with a powerful class A amplifier that works on discrete elements and makes additional amp unnecessary, of course if you don't own too-hard-to-drives.
This is why it is logical that the company engineers have concentrated on the digital part of device. In addition to AK4497 that has proved itself well, the engineers have added a complex scheme of jitter elimination and resampling using FPGA and precise oscillators. The format support has been heightened to DSD512 and 768 kHz when connected via USB. I'm not sure it's practical since there is almost no content with such resolution, however, it's good to know there is such capability.


The price has been left at the same level of around 1100-1200 USD so thanks to the company.
Specifications
DAC: AK4497
USB: XMOS XU208
Volume controls: PGA2311
AMP: OPA1611 and OPA1612 as LPF, OPA1622 — buffer
Headphone AMP: discrete in class A
Signal/noise ratio: -130 dB
Dynamic range: 125 dB
THD+noise: 0.0003%
Frequency range: 20 Hz – 30 kHz (-0.15 dB)
Channel separation: 120 dB
Balance output level: 4.2V
Headphone amp power: single — 110 mWt @ 600Ω, 2000 mWt @ 32Ω; balanced — 230 mWt @ 600Ω, 3000 mWt @ 32Ω
Max resolution: USB — up to 32 bit/768 kHz, DoP up to DoP128, NativeDSD up to DSD512; Coaxial/Optical/AES — up to 24 бит/384 кГц, DoP up to DoP128
Consumed power: <30 Wt
Dimensions: 248 mm × 210 mm × 60 mm
Weight: 4 kg
Packaging and accessories
It is rather simple. There is a brown recycled cardboard box containing DAC/AMP, that is protected with soft insertions from all sides. Besides the device you will get power cable, USB cable, instructions and warranty card – the minimum you need to start using the device.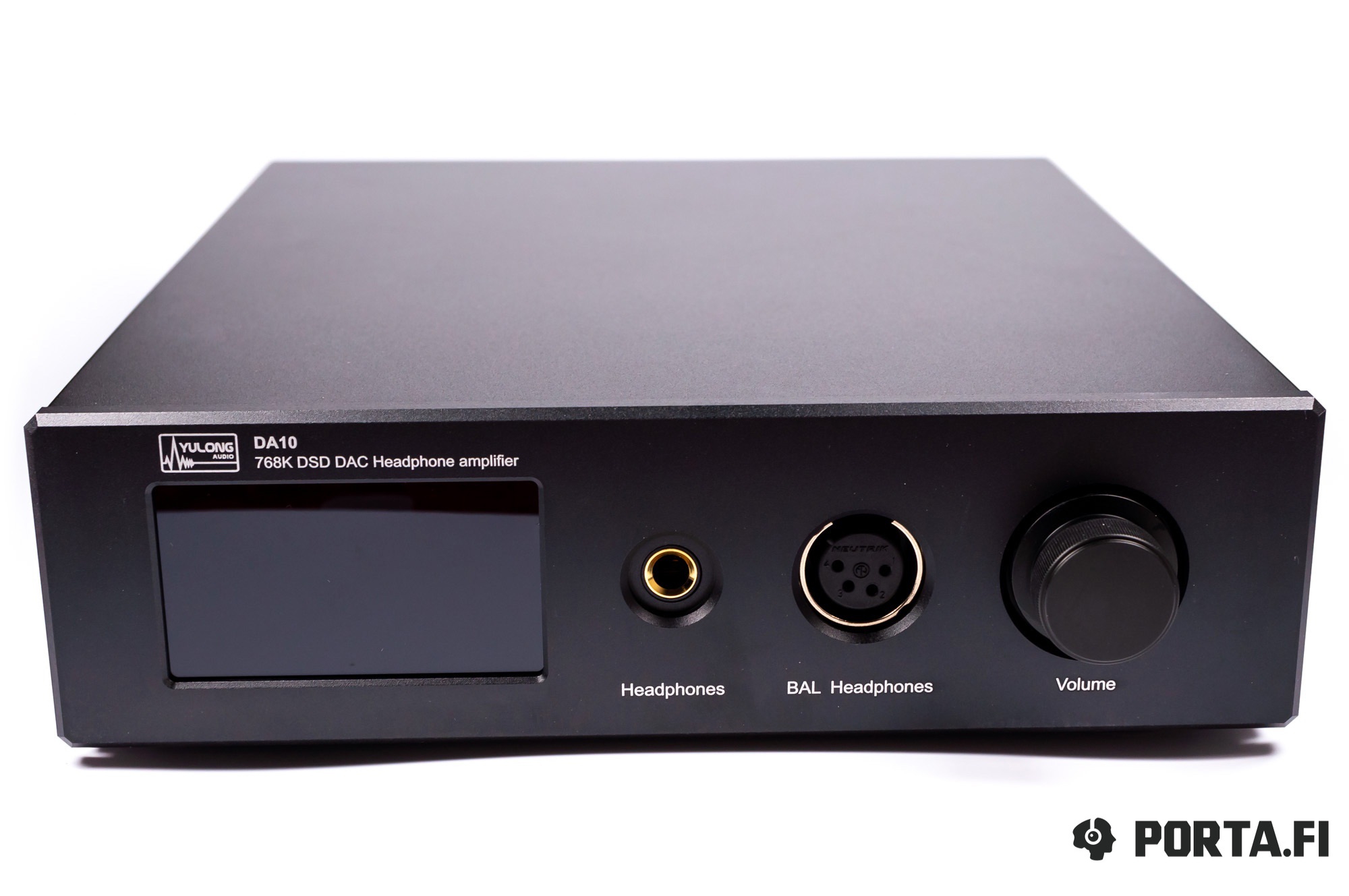 Design and controls
DA10 goes back to the DA8 style in terms of design. Yulong engineers have abandoned the golden insertion and the front panel has the same color with other panels. You can choose among silver, black or red colors to match your walls or your favorite headphones ear cups.
According to tradition almost all controls are located on the front and back panels. On the front panel you will find: screen, two headphone outputs (6.3mm and 4-pin XLR) and volume controls that is also used for menu navigation. The screen is now bigger and more colorful and is IPS with good resolution, brightness and view angles. However, there is no much sense in it since its output is text only – chosen output, playback resolution, volume level and so on. You can press the wheel to choose menu elements and turn it both directions to change settings. This way you can change: input, working mode (DAC only, DAC+preamp, headhone amp), digital filter and overall presentation. The last one, as well as in DA9, allows you to choose one of the variants: neutral, with accent on mids and with accent on highs/lows.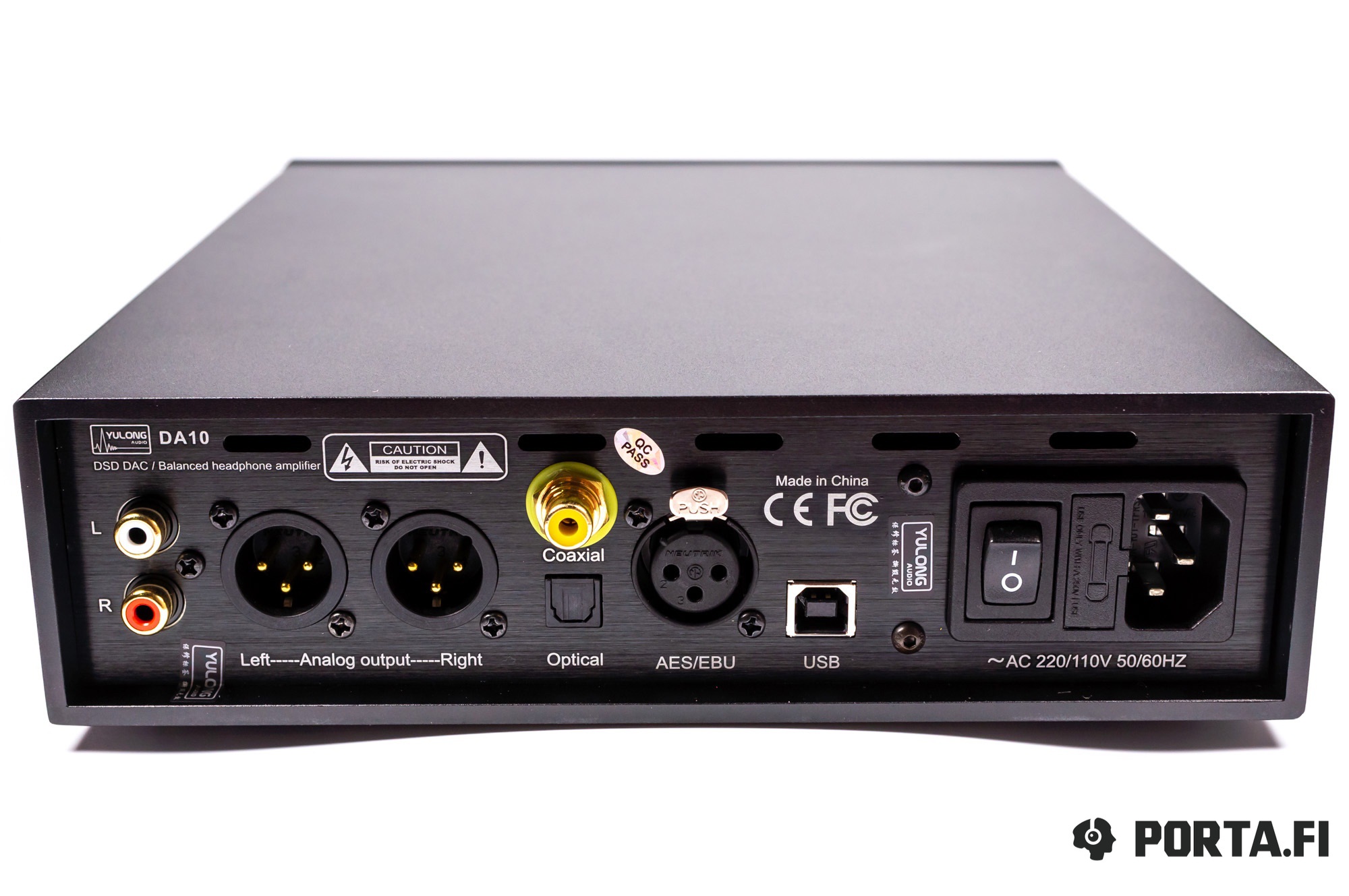 Back panel looks usual as well. There is a jack for power cable and power switch together with surge-voltage protector. Here we also get expected sockets, such as USB, coaxial and optical S/PDIF, AES/EBU. The back panel also has a pair of RCA sockets and 3-pin XLR for balanced connection. As you see, there is no lack of functionality, only line out is missing to use DA10 as an amplifier.
The box is made of thick metal and the device weighs quite right to feel solid and comfortable on the table. There are rubber legs on the bottom to help that and protect from sliding.
Upon the whole the controls have become more intuitive and due to big screen the usage of DAC has become easier. Encoder has good quality and pleasant and correct licks. Design and build quality are on a usually high level.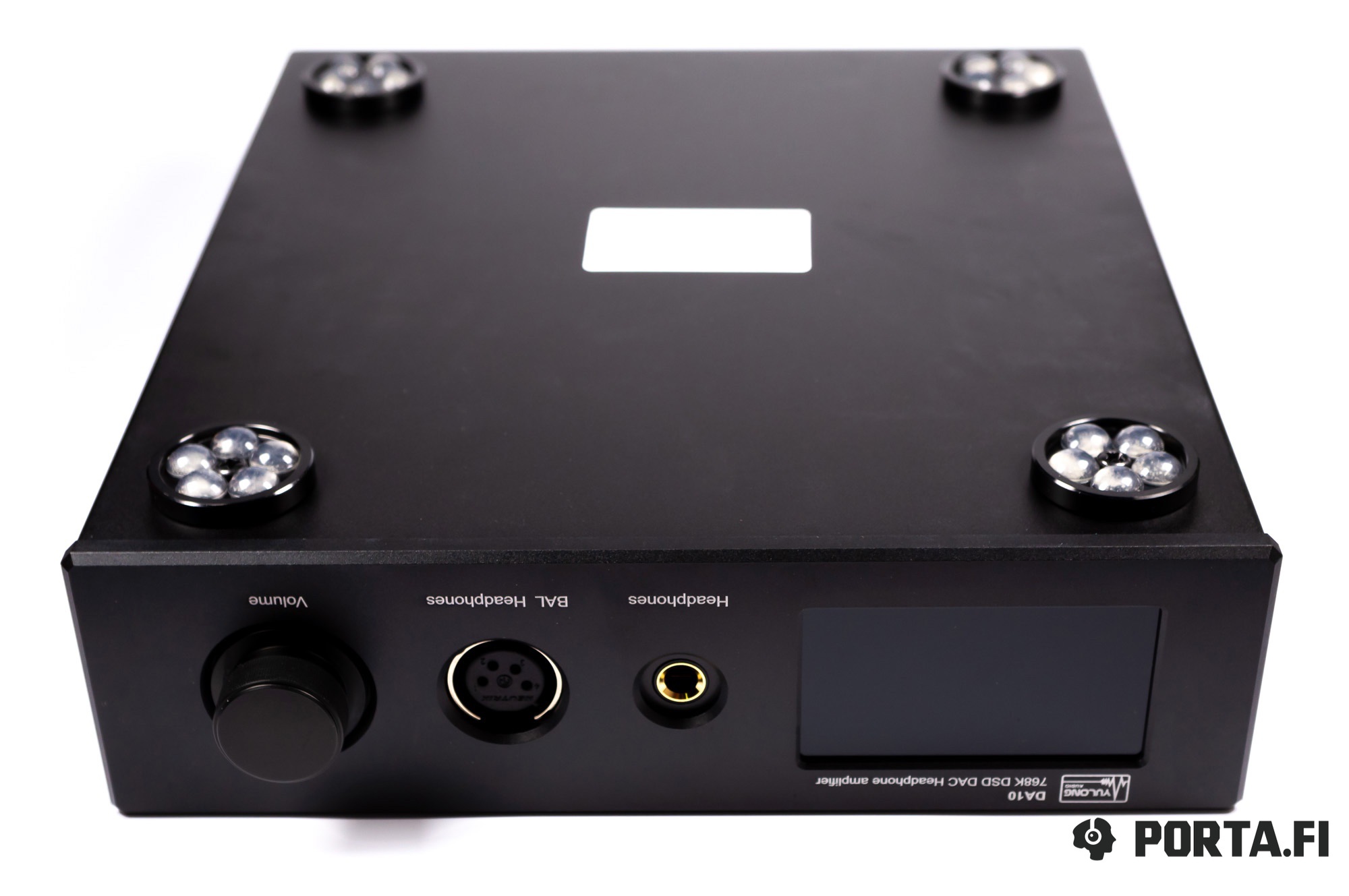 Sound
I have used the following headphones to listen to the device: iBasso IT04, Meze Empyrean, Audio Zenith PMx2, Noble Audio Khan, Campfire Audio Andromeda and Solaris, Unique Melody Maxon v3, HUM Pristine and others.
In terms of sound the newcomer continues the DA9 ideas and it is clear that they have similar analogue part. The Yulong have tried to build a "balanced" sound without any move to cold monitor sound and without tries to get a tube sounding device.
In comparison to DA9, the newcomer works with bad digital sources better, jitter is close to nil and it is good for highs and their length. You can still feel the difference with better source and it will be clear from better separation and soundstage.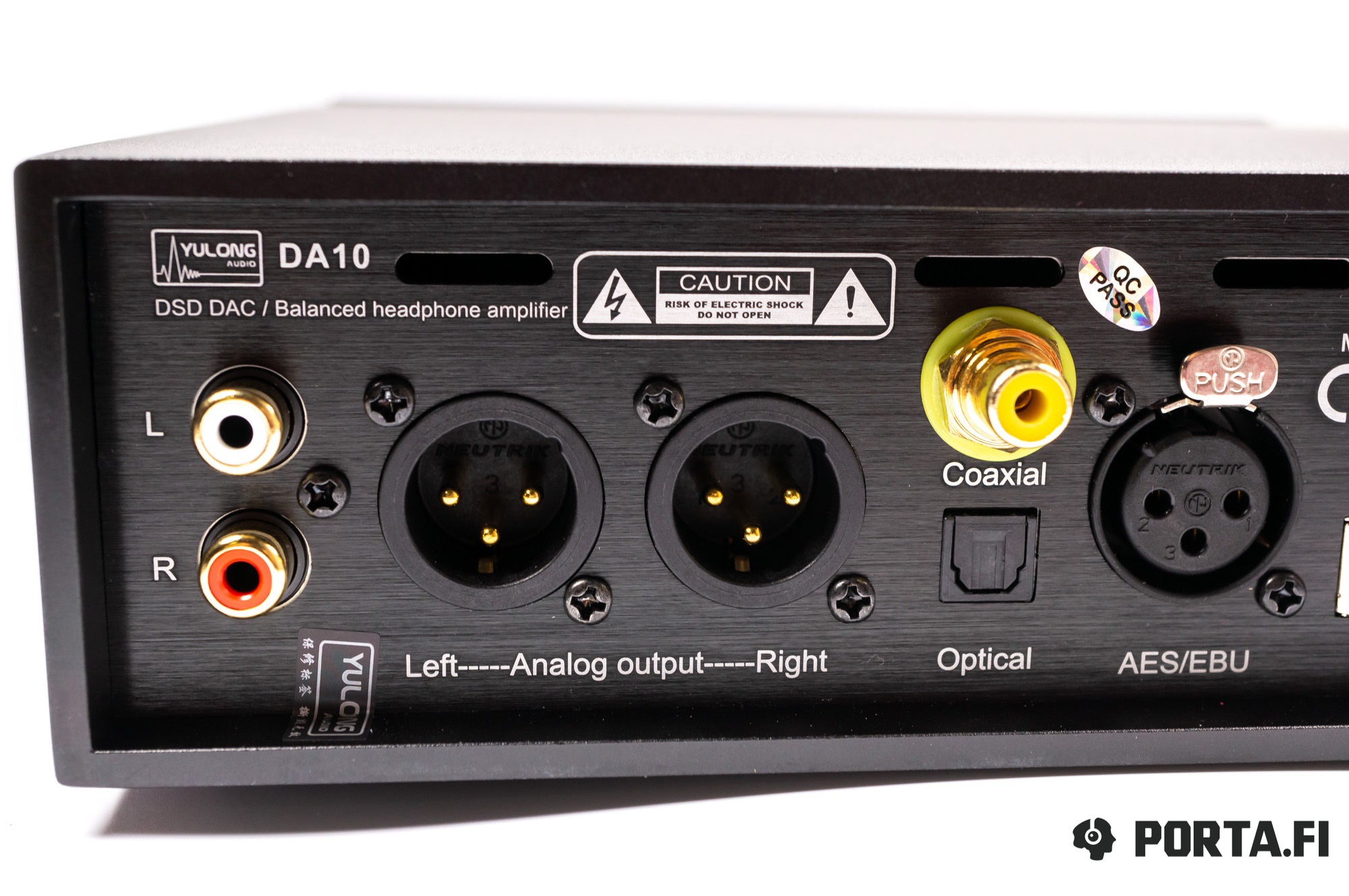 The lows are precise and neutral with good control and depth. For most headphones this device will bring their maximum in terms of resolution, textures, thickness and slam – this is what lacked in DA8, appeared on DA9 and is retained here.
The mids are neutral and transmit what's in track just well, but not too critical to recording quality. You will still hear possible flaws of mastering but they are not forced and underlined. The resolution is good, as well as weight that is needed to make vocals and instruments solid. Micro details are not accentuated and macro details are played to the level they have in the recording. The sound stage is noticeably bigger than average.
The highs are lengthy, detailed, with correct attacks and diminished decays. In terms of overtones DA10 is not ideal, but very good and rich and transmits correct instrument timbres well, as well as the influence of surrounding room, if there is such info in the recording.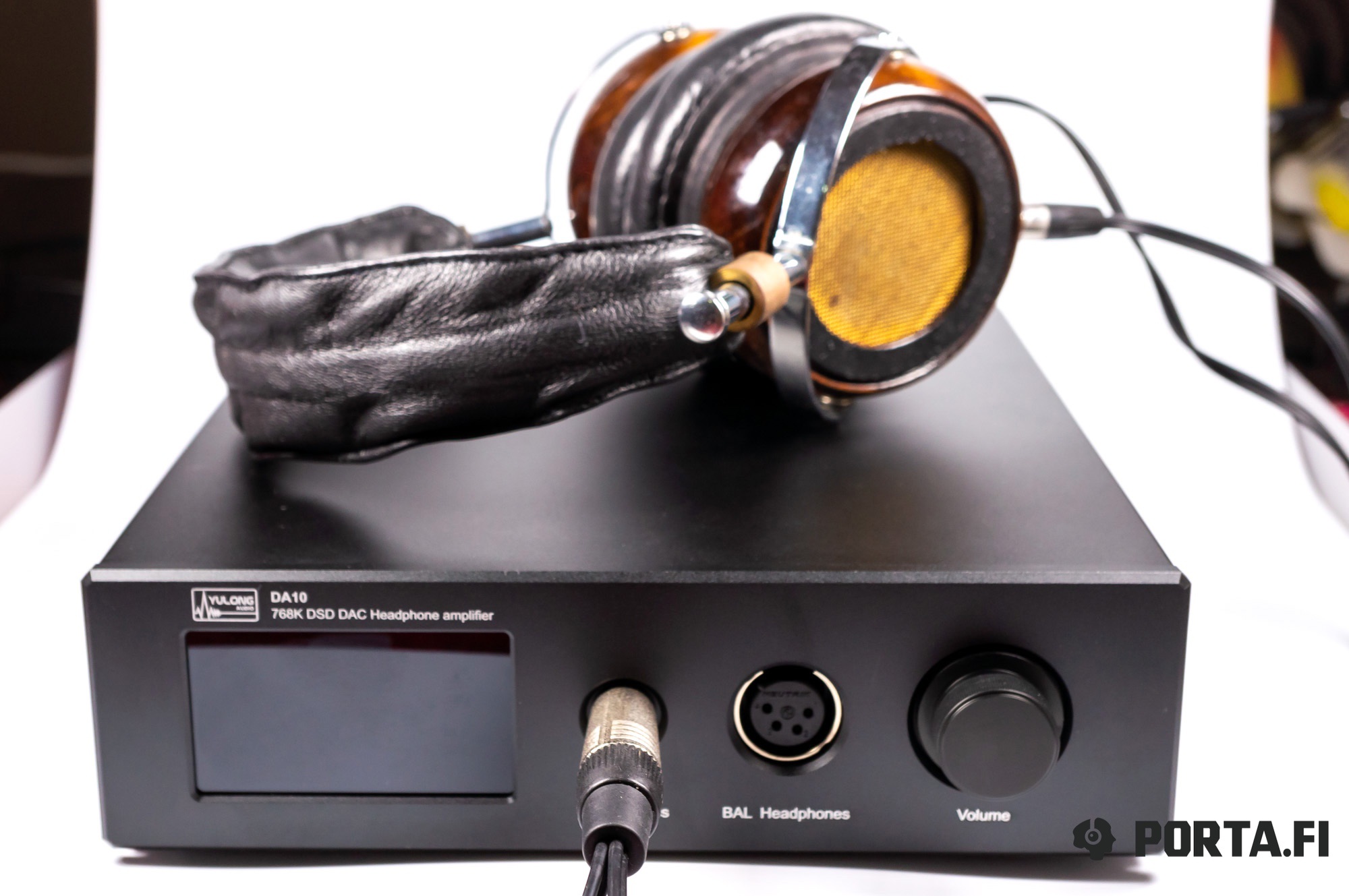 Compatibility
DA10 is rather powerful and can be used with most headphones, except for the most hard-to-drives. If the headphones require enhanced power, there is a balanced output that brings additional weight to lows, but it is very slight. There are no problems with IEMs, however you might want to use attenuator with the most sensitive models.
In terms of style, the DA10 is completely universal, you just need to like the non-colored presentation. It is moderately critical to recording quality – 8 out of 10.
Example tracks
The Stan Getz Quartet — Wildwood (Live at The Village Gate 1961) The more I listen to jazz, the more I believe this music lives only on live sessions, especially in club format. I won't go deep into memories about Jazz at the Pawnshop, since we have a new way to confirm this – Getz quartet recording at the Village Gate. Of course the recording is not flawless and it can be heard on highs, but I think it is a maximum quality that you can have from the master tapes. The new Yulong device does everything to play this album as precisely as possible and to underline the professionalism of the musicians.


ZZ Top — Velcro Fly Since it is a classical release reissue of the most bearded band in the rock history, let us choose one of the tracks to illustrate DA10 capabilities. For me, as the lover of The Dark Tower cycle, the track choice has been evident, since it has great and natural percussion which Yulong plays just perfectly.


Gov't Mule — Mr. Man (Live) Another example of how average quality recording is a real trial for source and headphones. Luckily Yulong DA10 is technical enough to bring life to this track without lacking of live concert drive that adds sudden depth to this composition.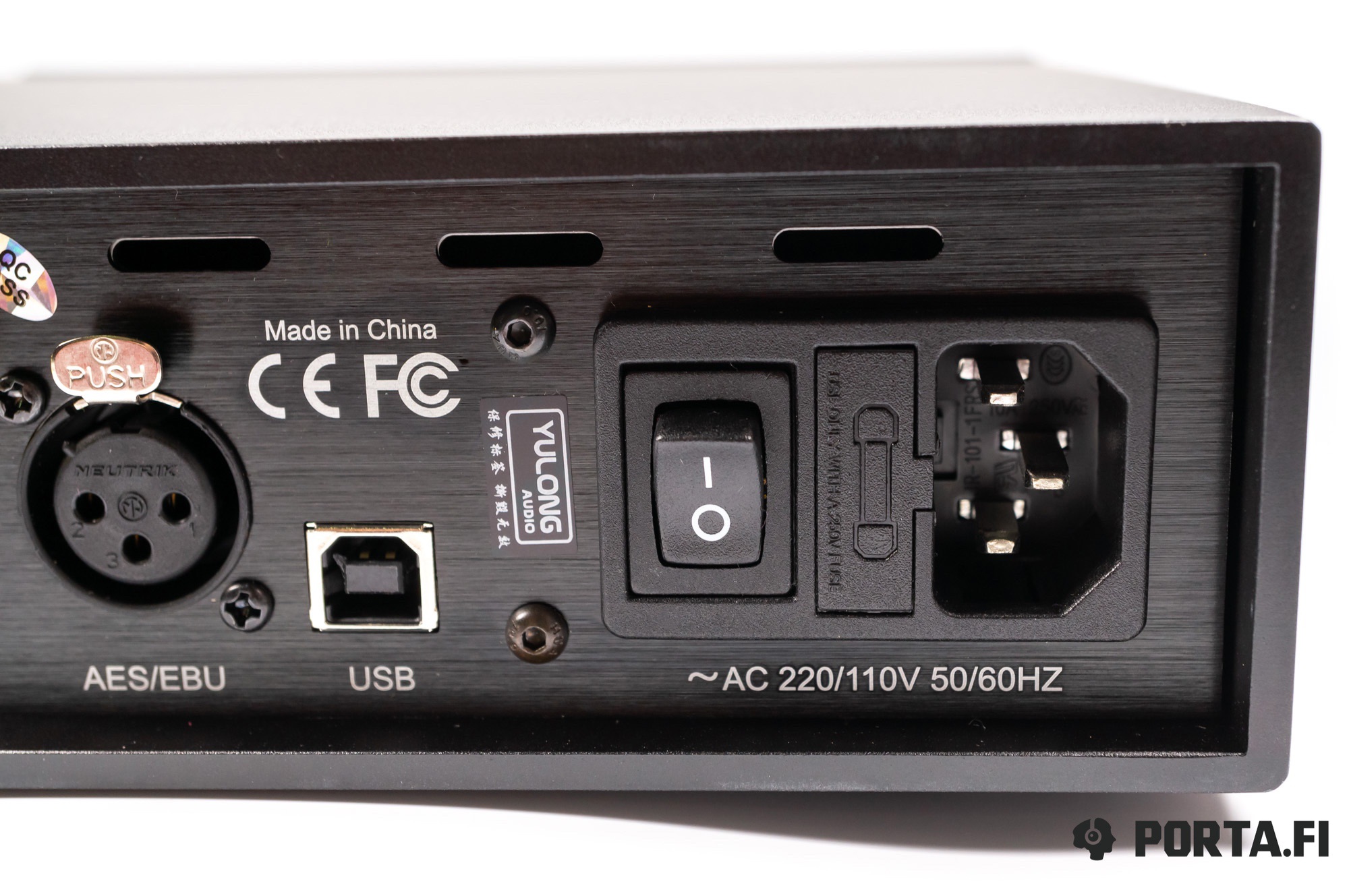 Conclusions
We have an evolutional upgrade of the model. If you own DA9, there is no haste in upgrading it, but if you just think about purchasing your desktop rig, DA10 is an interesting variant. It is also a good upgrade for those having DA8 or DAC/amp of a lower level.
Translated by: Vadim Kolchev