I've always appreciated the straightforward way to solving engineering tasks, especially when the results are so effective, and the hero of todays review is exactly that, a real audiophile brick iBasso DX220 Max.

Somewhere in Darwin awards there is a history of the person who experimented with reactive booster on the top of his car. The ending has been predictable for everyone except that person. Luckily in the audio world everything works different and iBasso have added a powerful amp to their developments in the likes of DX220, which is built on tuned AMP8 variant with separate battery power. Of course the item has become bigger and the design simpler, but it doesn't stop sound lovers. The price has gone up too and is around 2000 USD.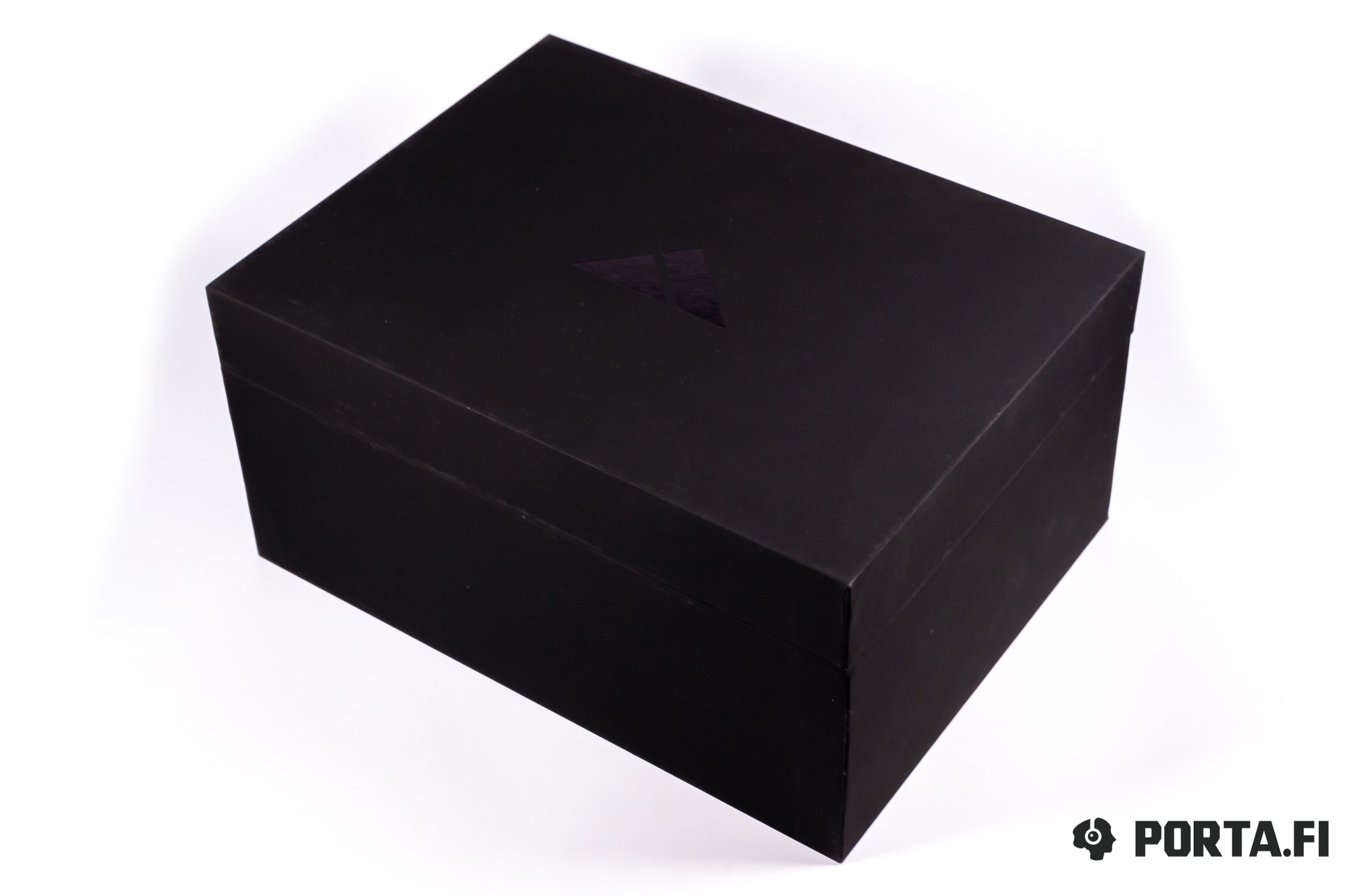 Specifications
Processor: 8-core ARM
DAC: 2 × ESS9028Pro
Frequency range: 15 Hz – 45 kHz (±0.1 dB)
Output voltage: 8.8 Vrms balanced, 4.4 Vrms single
RAM: 4 Gb LPDDR
ROM: 128 Gb
Wireless interfaces: WiFi 5GHz, Bluetooth 5.0 (two-way)
Bluetooth codecs: aptX, LDAC
Screen: 5″ IPS, 1920 × 1080
Battery: 4400 mAh, 3.8V Li-Polymer for digital part, combination of 4 batteries of 900 mAh for analogue part (±8.4V)
Quick charge support: QC3.0, PD2.0, MTK PE Plus
Playback time: 8 hrs – 14 hrs
Memory card support: MicroSD
OS: Android 8.1 + MangoOS
Supported formats: MQA, APE, FLAC, WAV, WMA, AAC, ALAC, AIFF, OGG, MP3, DFF, DSF, DXD
Playlist support: M3U
Мax resolution: up to 384 kHz/32 bit, DSD512
Dimensions: 144 mm × 84 mm × 27 mm
Weight: 700 g.
Accessories and packaging
The player resides in a rather large black cardboard box that hides many accessories behind it. Apart from player you get:
couple of protective films
leather case
USB-C cable
4.4 to 2.5mm adapter
CA02 adapter
coaxial cable SPDIF
18V charging adaptor
"burn-in" cable
As you can see, the accessories range is vast.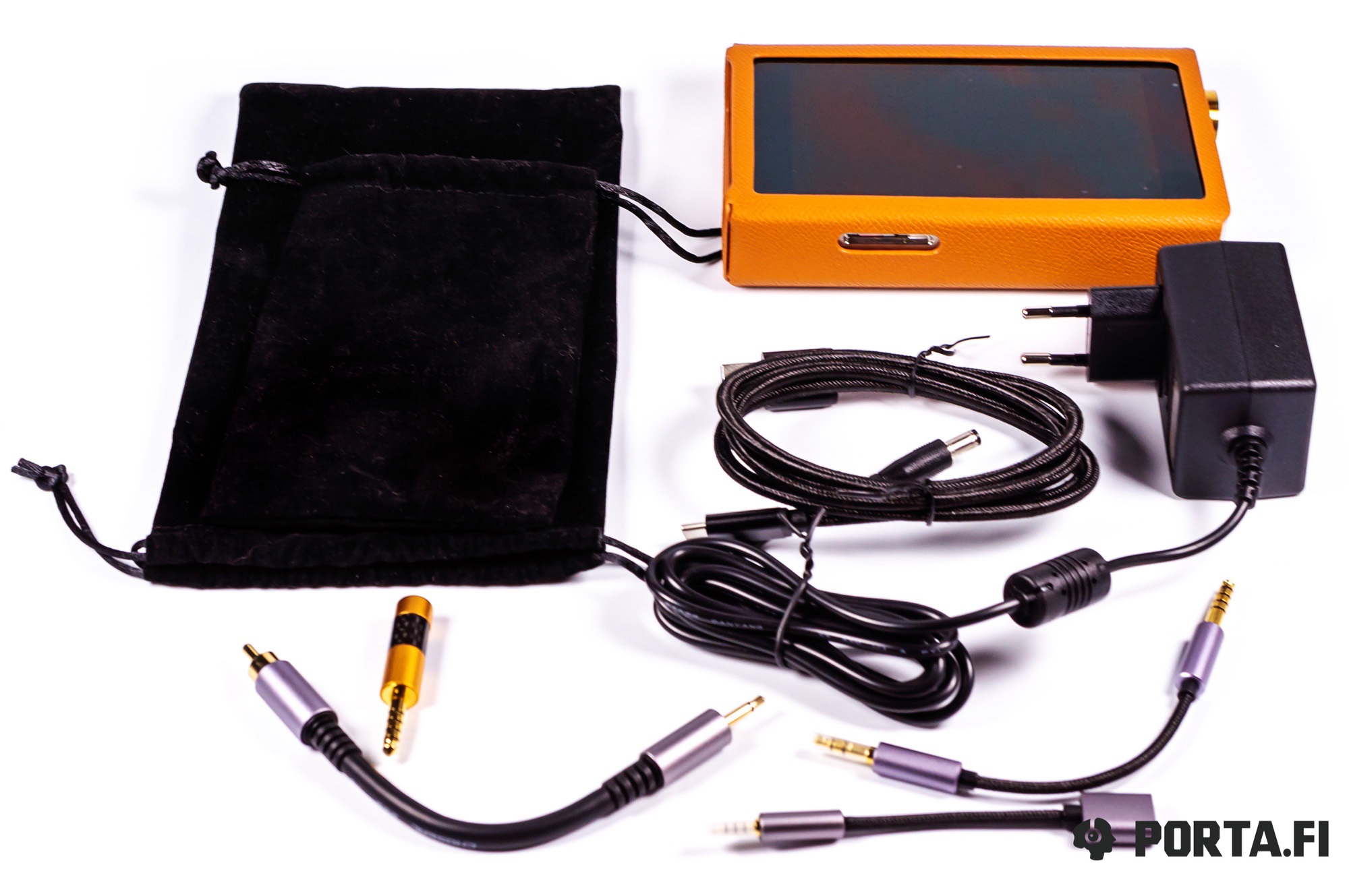 Design and controls
It is clear at the first glance that the device has been made to be convenient in use. Absolutely plain aluminum body shows by its dimensions that it is not portable, but transportable gadget. You can move it around the house, listening to it on the balcony or at your working table. You can take it to your business trip to listen to it during the hotel evenings. One can imagine many use cases, but only super-true audiophiles will dare to carry it around on the daily basis, and even then they would need a bag for it.
Subjectively, in real life Max looks better than on photos and renders — it has its own brutal charm with beautiful metal texture, glass back panel, golden knob and the design of inputs-outputs. Most of interfaces are on the sides. On the upper side there is a power button, S/PDIF, USB-C and amplifier charging input. If you haven't guessed already, you will have to charge the player twice — digital part works from a regular battery charged through common USB-C while the batteries for amplifier are charged through a separate connector. It is not very convenient but this has been totally needed in order to charge the analogue part for a reasonable time and not to overthink the charging scheme. So don't be astonished to see two battery indicators on screen, it is not a software glitch. The charging time is approximately 2.5 hours for digital part and around 2 hours for analogue one. It is enough for digital part to last 11-13 hours and for analogue — from 10 to 14 hours. The last figure mainly depends on volume level and headphones.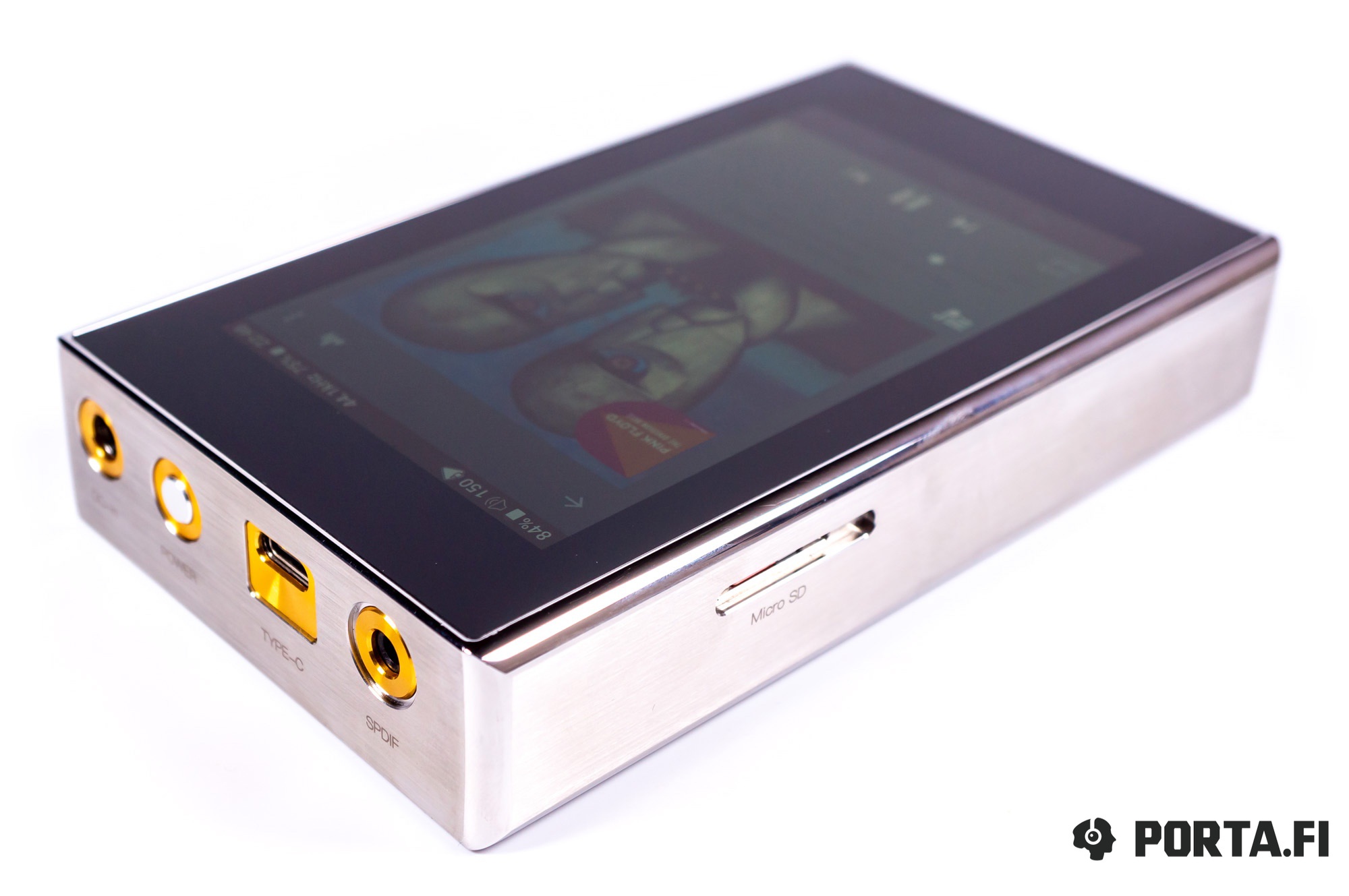 On the lower side there are outputs: line out, balanced with Pentaconn and regular 3.5mm. Volume wheel is also here and it is analogue but using a quality potentiometer, so there are no noise or channel imbalance.
On the left side there is a microSD slot. Player has 128 Gb of internal memory, but it won't be enough for large libraries, of course.
The screen on the top is the same as in DX220 but due to the larger body it has borders, but this has been also totally needed. In all, the screen is beautiful with very good resolution, colors and brightness.
In all, the ergonomics for desktop use is good. For portable solution it lacks hardware playback buttons, but I just think it is not a scenario that has been seriously taken into account.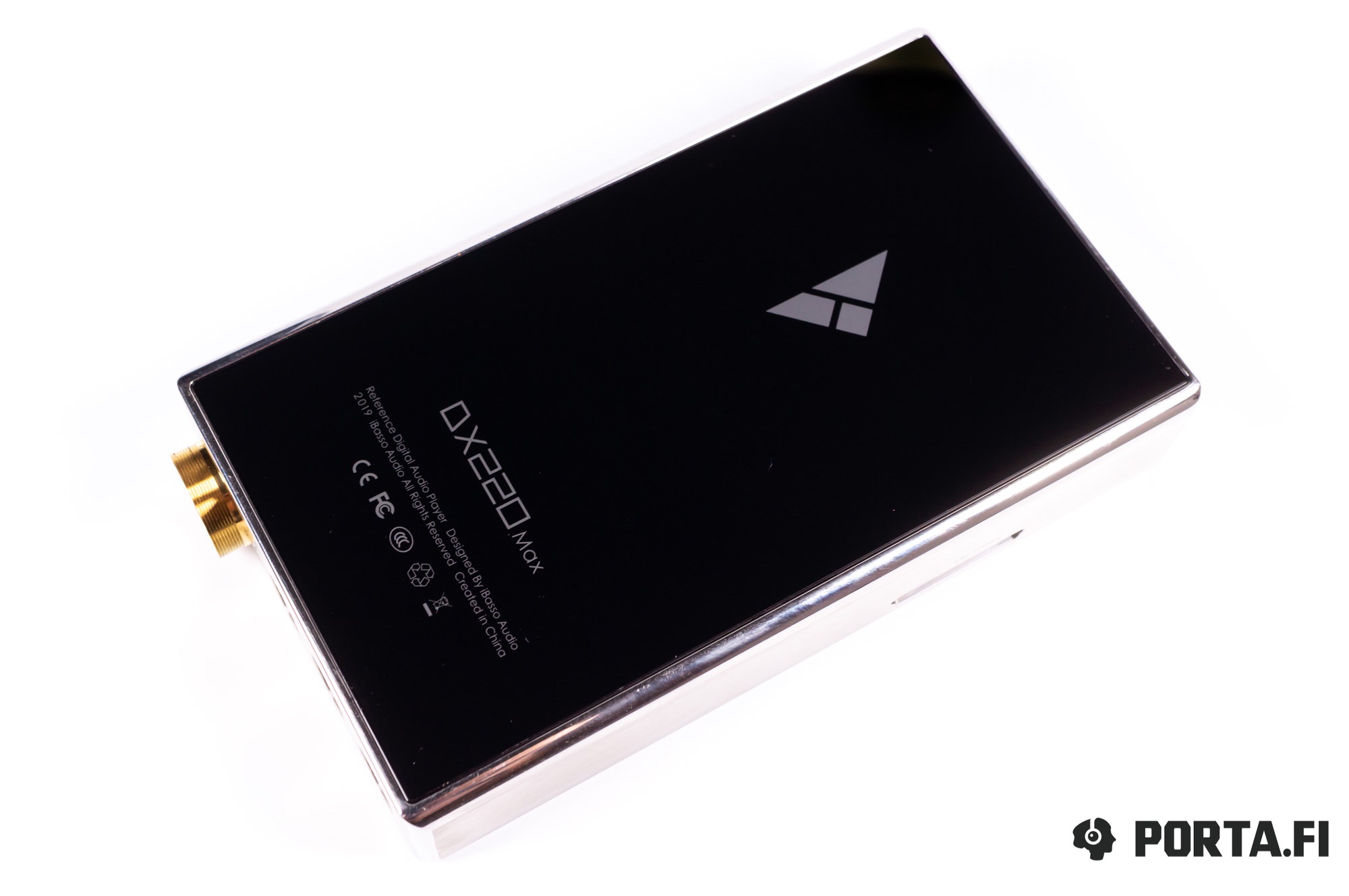 Firmware
Everything is the same as in non-Max version: Android 8.1 with some additions and separate Mango mode for those who prefers device without streaming and other extra functions support.
Android mode, I think, is main here, iBasso have done their best to make their products very functional. It has MQA support, full-fledged Play Store, two-way Bluetooth with LDAC and other codecs, support for UAPP and much more. Of course, the default player with there with flexible media library and rather good parametric equalizer. I won't dig in too deep into the firmware, want just to note that it works quite fast if you don't put very intensive tasks on it (chipset is rather old). Firmware is stable and this is the result of several years of work.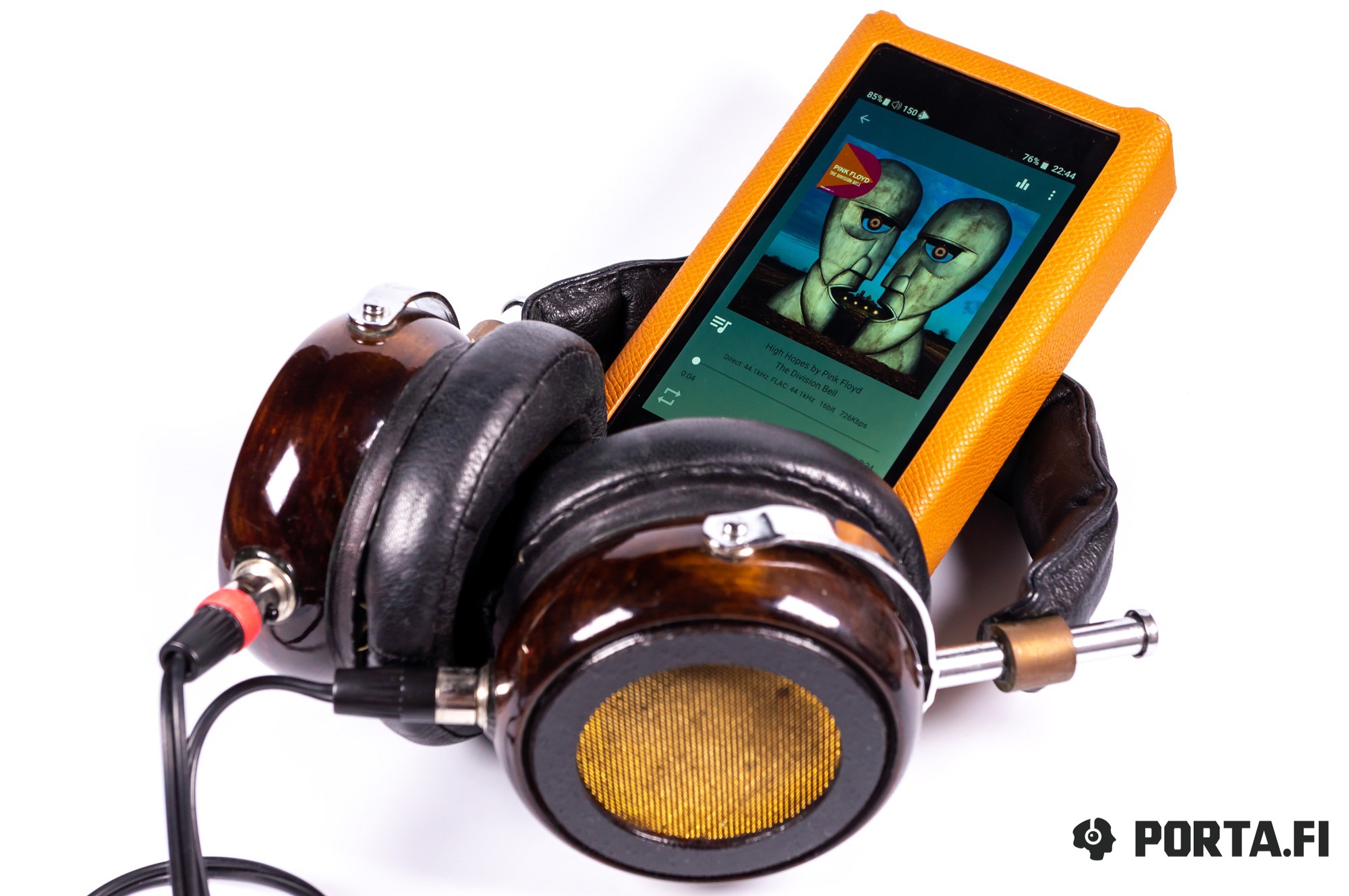 Mango mode is similar in appearance to Android Mango player mode with slightly more simple interface without parametric equalizer.
Sound
I have used the following headphones for listening purposes: Noble Audio Khan, IMR Acoustics Rah, Unique Melody Mason V3, Meze Empyrean, HiFiMan Ananda and others.
In reality, Max sounds as you may expect from DX220 maxed out: neutral technical presentation without being too monitor, with great control and slightly forced macro details.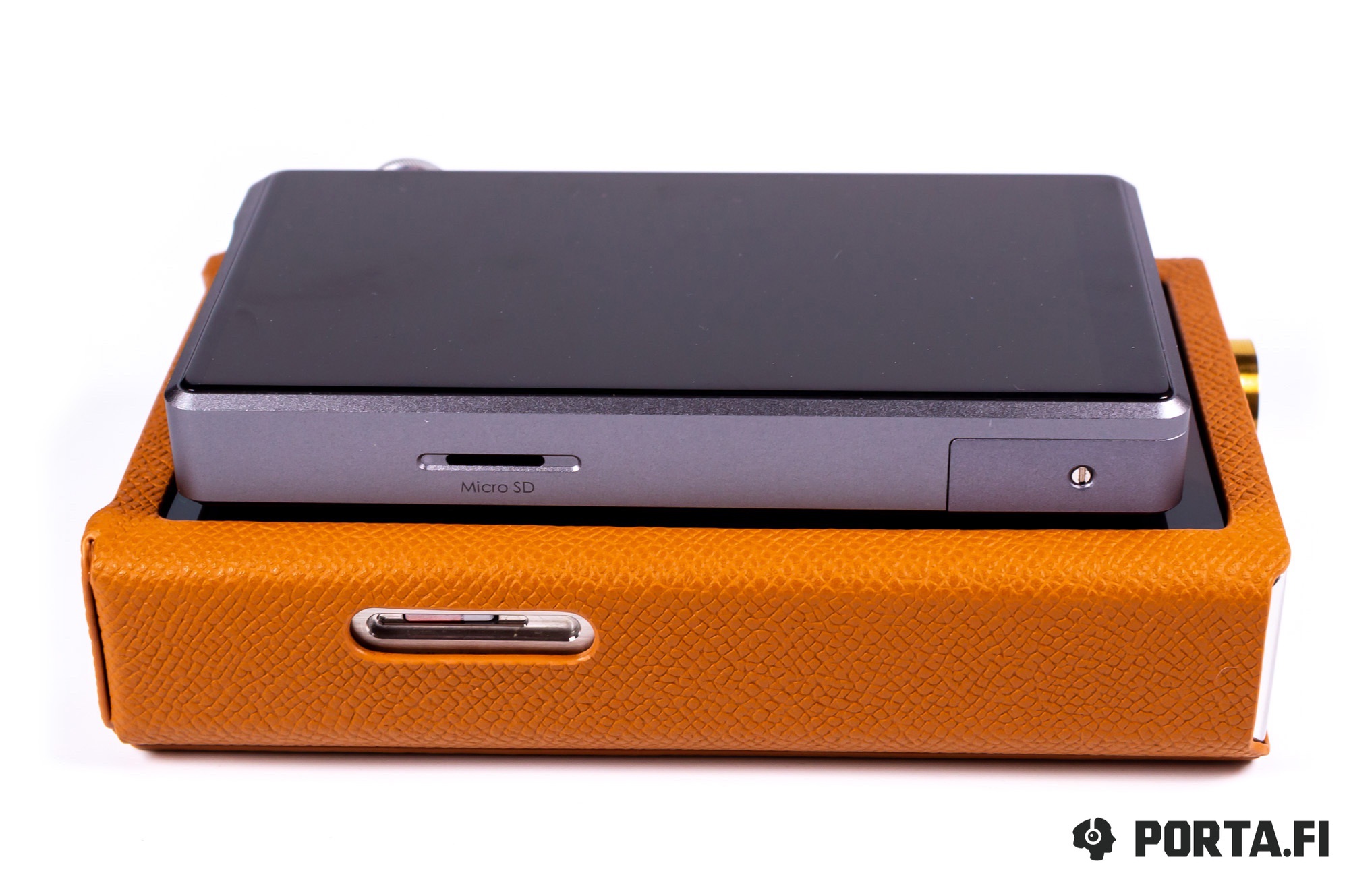 Bass is technical with no coloration, it goes to the maximum depth and demonstrates practically flawless control. DX220 Max doesn't try to make accents or change anything in presentation, but it will deliver what is in the recording with maximum dynamics. It is most effective with various styles that require quickness of this frequency range.
Mids are inherited from the parent DX220 model. They are neutral, very detailed and on top of that due to great amplification part the macro details are practically perfect and the sound is full of drive. The player transmits the character of instruments perfectly well. Vocals sound good and emotional but of course it requires quality recordings. The soundstage is close to maximal, 3-dimensional stage is good as well.
Highs are maximally lengthy, they are thoroughly controlled and sound natural, with correct attacks and decays that give them great layering and makes them overtone richness. DX220 Max doesn't try to smoothen or color the highs and you should take it into account if you are sensitive to this part of the frequency range.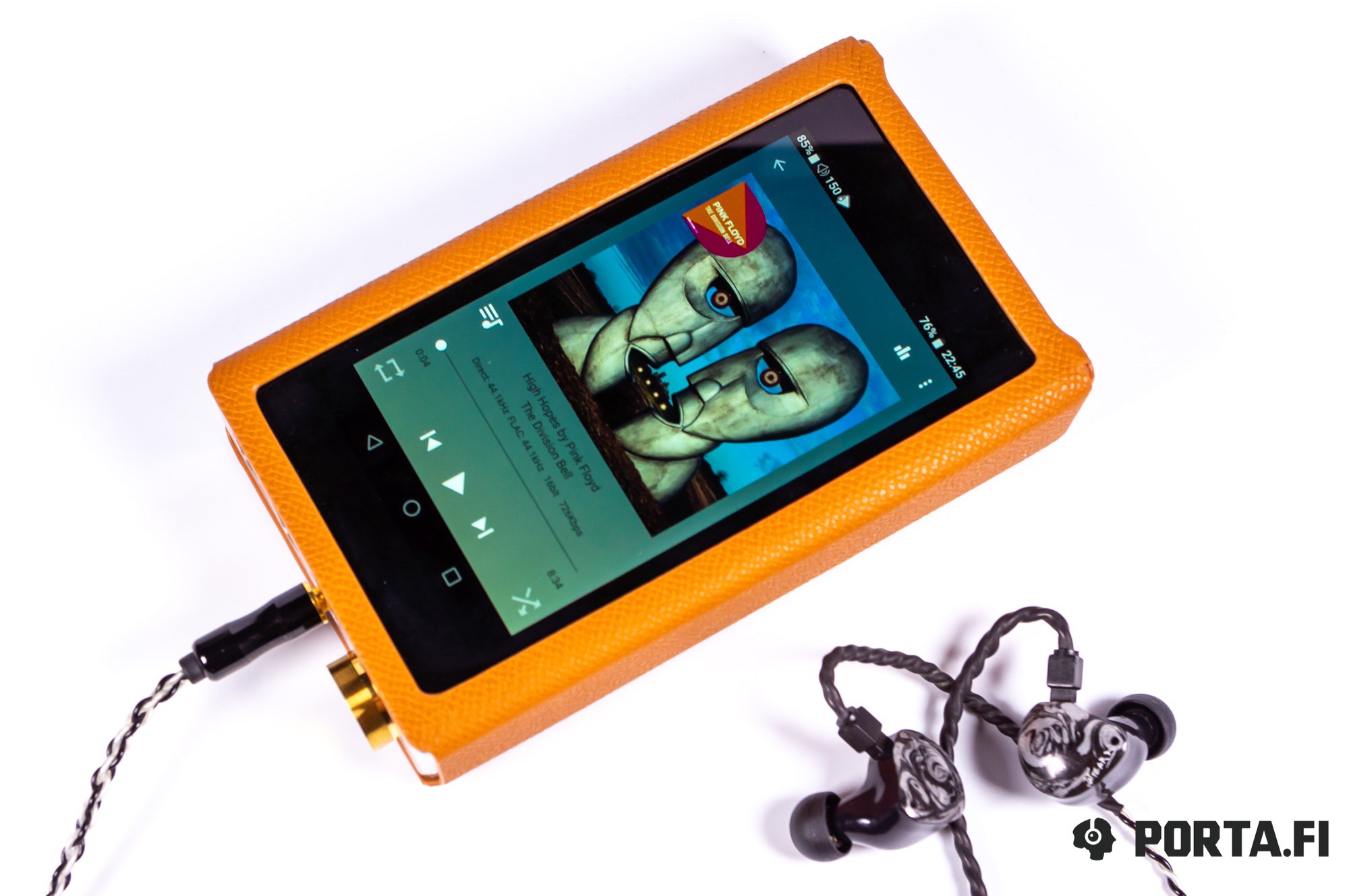 Comparisons
Speaking about comparisons, it is not a fair thing to other portable players, as DX220 Max is one of the most dynamic and powerful players, so I will focus only on sound basic representation.
iBasso DX220 As I have already mentioned, the presentation of players is quite similar (especially if you compare to AMP8), but Max has more drive and better dynamics and brings more emotions to recordings. It also has better control, especially for hard to drive headphones.
FiiO M15 This player has a different approach to sound, it sounds more weighty in terms of lows and mids and this additional weight makes the presentation more analogue and the player less critical to recording quality. FiiO's player is less focused on micro details and sounds bit more laid back.
Cayin N6ii This player is created for those who love emphasized emotions, it sounds less natural but has more accented macro contrast. DX220 sounds more neutral and has a better representation of tiny nuances in music.
Astell&Kern SP2000 I don't know why many people want to compare Max to SP2000 since their presentation is very different. AK is a bit more natural due to less accented dynamics and has brand fluid mids that makes sound more organic.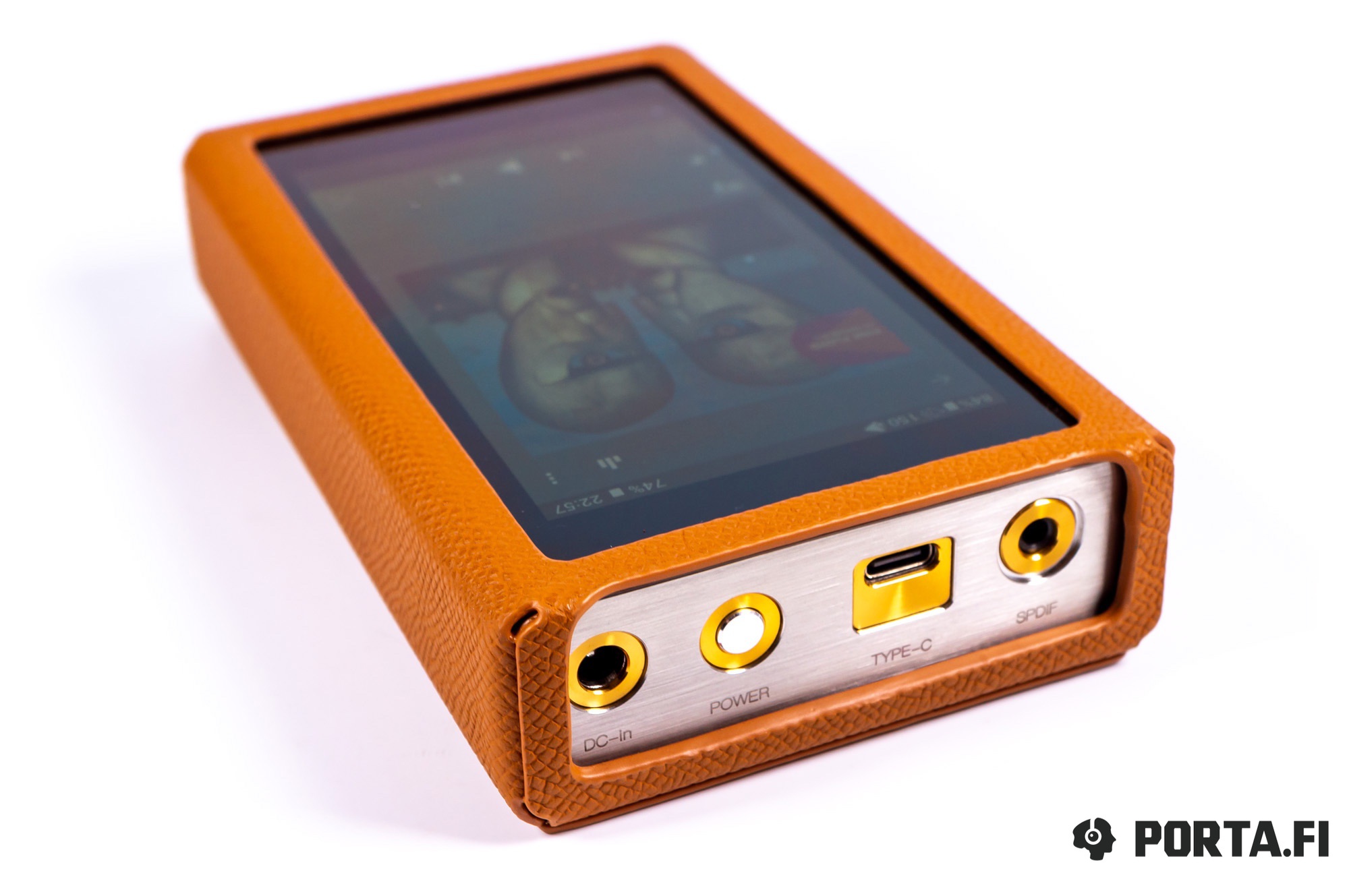 Compatibility
It is evident that there won't be any problems with hard to drive headphones (apart from couple of those who are EXTREMELY hard to drive), it is more interesting how it behaves with sensitive IEMs. Luckily, the behavior is really good. Apart from hyper-sensitive IEMs, iBasso DX220 Max demonstrates very good (though not ideal) black background.
The player is universal in terms of genres, but subjectively it sounds better with energetic music that benefits from macro details, such as different rock and metal genres, orchestral works, intelligent electronic music. The player is very critical to recording quality — 9 out of 10.
Example tracks
Gregory Porter — Dad Gone Thing Fresh album from one of those who move the vocal jazz scene is as you might expect from such a professional: great vocal parts, pleasant melody, good recording quality. Emotional and energetic iBasso presentation allows this track to show its full potential and not to lose a single detail.
Rick Wakeman — Arsia Mons Another work the quality of which can be easily predicted. Wakeman, despite his age, continues to bring pleasure with his brand melodies that are full of keyboards with addition of some guitars and drums. That's why we love him. The concept of the album is quite understandable from the title, and I have chosen the track with stylish changes of quick and lyrical parts that will allow DX220 Max to show its full potential, especially resolution, naturalness and dynamics.
Paul Weller — More I wouldn't dare to give this composition a certain genre, since Paul Weller have played in many different bands and artists and is very capable of mixing styles. Take a good player (especially DX220 Max) and listen to this great music full of interesting findings, transitions and peculiarities.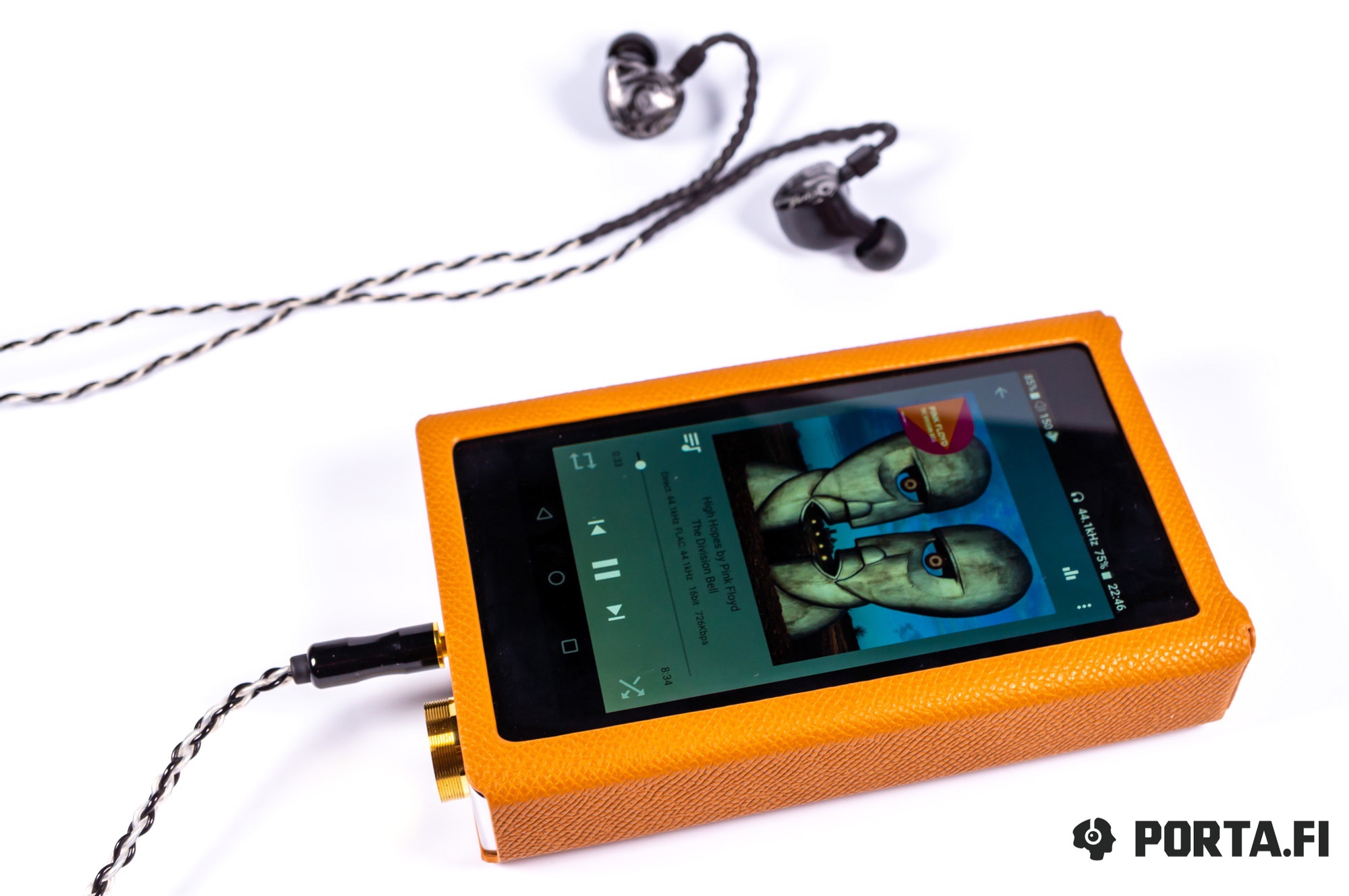 Conclusions
Of course, iBasso DX220 Max is a niche device but I am sure it will be appreciated by audiophiles since it is the case when everything is done for the sake of sound. And the sound here is not just good, but outstanding and even unique at some extent.
Translated by: Vadim Kolchev