FiiO developers continue their attempts to conquer the budget-friendly segment of players that is well occupied by many secondary Chinese companies, and luckily many of top companies on this market do not want to dive deep into this price tag. Interesting, but it is not so easy to create good budget devices — you have to do really a lot for relatively small money. This is why release of new M3 Pro has become one of the most interesting events.

This is not the first time FiiO tries to occupy the segment. M3 that has been released several years ago has offered great playback time, compact size and rather pleasant sound, although programming limits that have been imposed by using a certain platform prevented it from becoming a bestseller. The next (and more successful in terms of sales) M3K model has got bigger size but has had firmware on par with other company products.
The fresh attempt that has received 'pro' prefix has become slightly smaller but is still closer to the second revision, and it is well understood since there is a lot under the hood: ES9218P as DAC, large touchscreen and battery. As a spoiler I can say that the newcomer is a giant step forward. It is pleasant that the price tag has remained the same and M3 Pro currently costs around 80 USD (local price may depend on taxes).
Specifications
Processor: Ingenic X1000E @ 1 GHz
DAC: ES9218P
Screen: 3.46″, 340 × 800
Battery: 1000 mAh
Charging time: ≤2 hrs
Playback time: >15 hrs
Format support: DSD, APE, FLAC, ALAC, WAV, AIFF, MP3, OGG, WMA, AAC
Supported resolution: up to 384 kHz/24 bit, DSD up to DSD128
Output power: ≥75 mW @ 32Ω
Frequency range: 5 Hz ~ 90 kHz
Output impedance: <0.3Ω
THD + Noise: <0.001%
Channel separation: 78 dB
Signal/Noise ratio: ≥117 dB
Weight: ~70 g
Dimensions: 96 mm × 45 mm × 10 mm
Packaging and accessories
The box is expectedly made in minimalist style however black color and good printing quality shows that designer have just followed reasonable economy. And it can't be said about the accessory range, since apart from player and paperwork you just get a USB-C cable for charging and data transfer. We miss a basic pouch here, but I'm sure that there will be plenty of 3rd-party offerings on AliExpress, but this will mainly depend on how popular M3 Pro will be.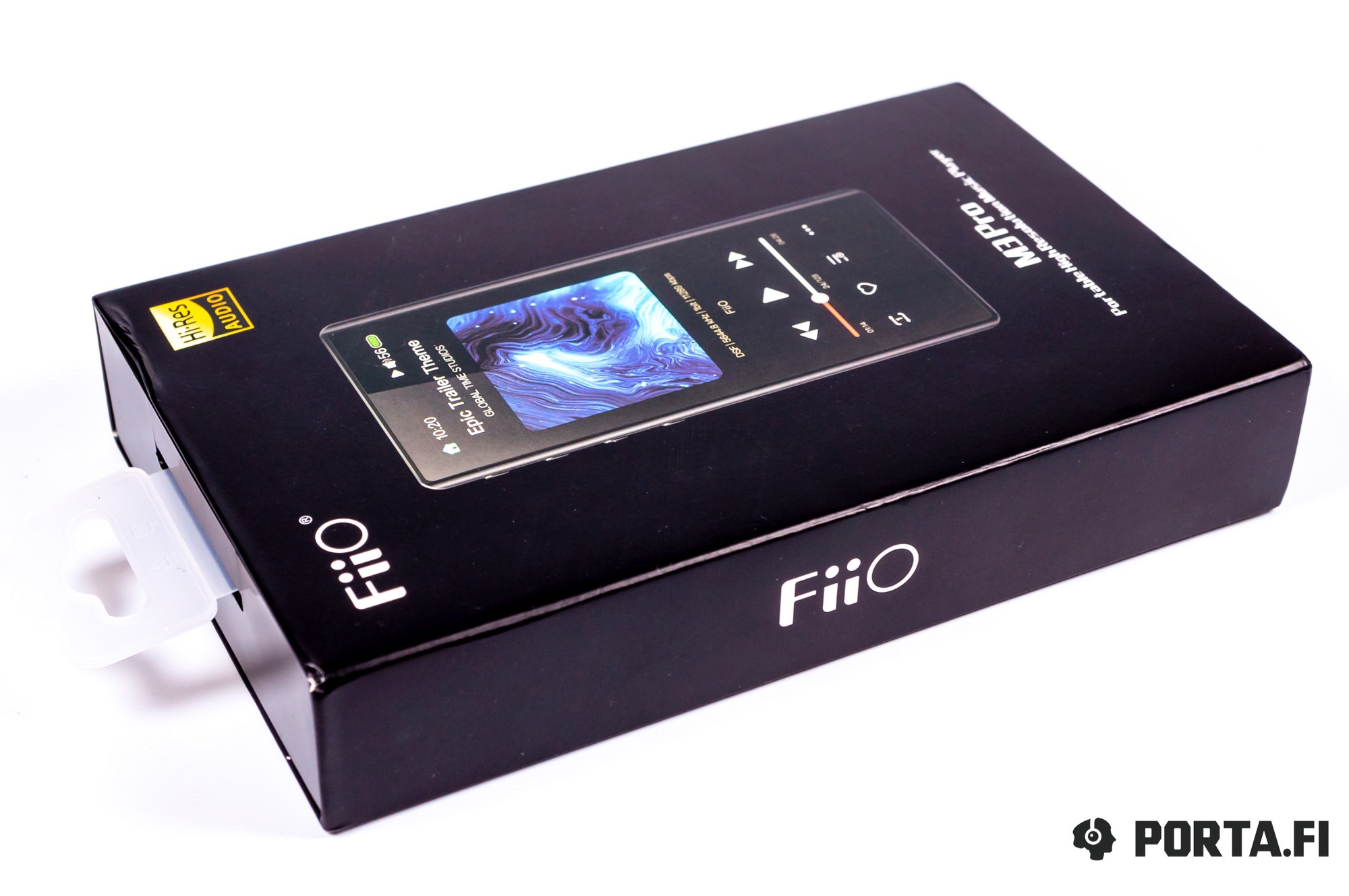 Design and controls
Appearance of player is really great. It has compact and well built body of black aluminum that has rounded angles and considering back panel and screen I can say that the player really looks better than the most models of middle segment. I'd like FiiO to take this into account and use similar design for their future flagship players. And another thought — to see this model in different colors, but this again will be dependent on model popularity.
Screen occupies the most of the front part and it has a resolution of 340 x 800 that is really good for budget offering. Colors and viewing angles are okay and brightness is enough for screen to stay visible under direct sunlight. I've liked how black color is transmitted, if you watch it perpendicularly it seems like it is really drawn on the front panel since you won't see transition to front panel borders. Display reacts well to presses and gestures, you just have to get used to them and to pressing the back button precisely.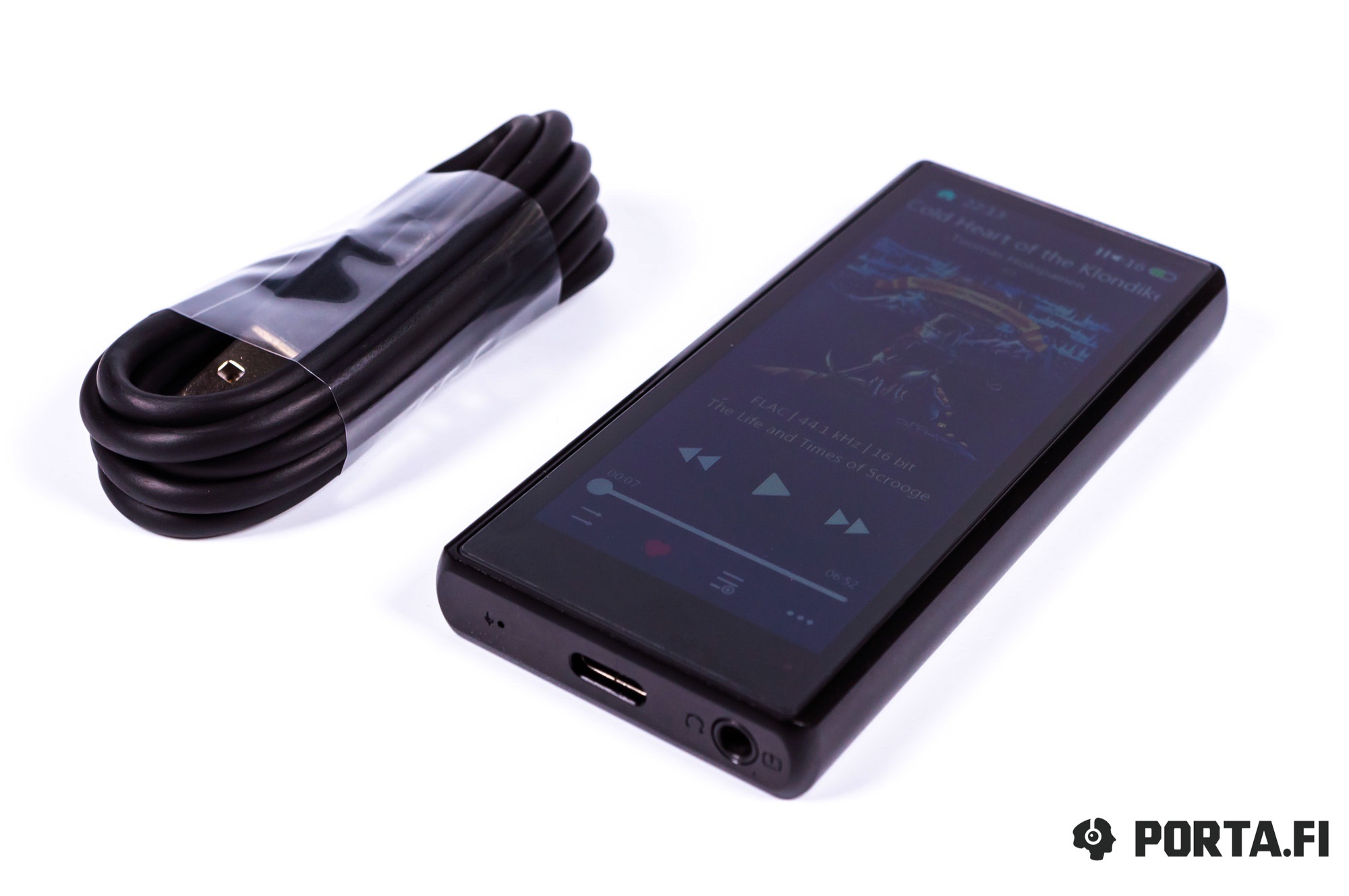 Those who like 'blind operations' are lucky too, since there are four buttons on the left side: power on, play/pause and two volume buttons and they traditionally can switch tracks on long presses. This side also has MicroSD slot since M3 Pro doesn't have it's own memory, but it reads any card without a problem.
On the bottom side there is a 3.5mm headphone output that can be used as line out, microphone projection (yes, we have voice recorder here) and USB-C connector that is really universal: charging, access to card memory, digital out, usage of M3 Pro as USB DAC. So M3 Pro has everything to become a good transport. Playback time is really well here — you have to charge player for around 1 hour 50 minutes and it can play for around 13 to 16 hours (well depends on volume level and headphones). Considering with well-working deep sleep mode this player is good for trips and everyday use.
I personally think that M3 Pro looks a lot more expensive than its price and can be considered as idea continuation of iPod Nano model (before it has become really small), it is pleasant to hold the player in hand.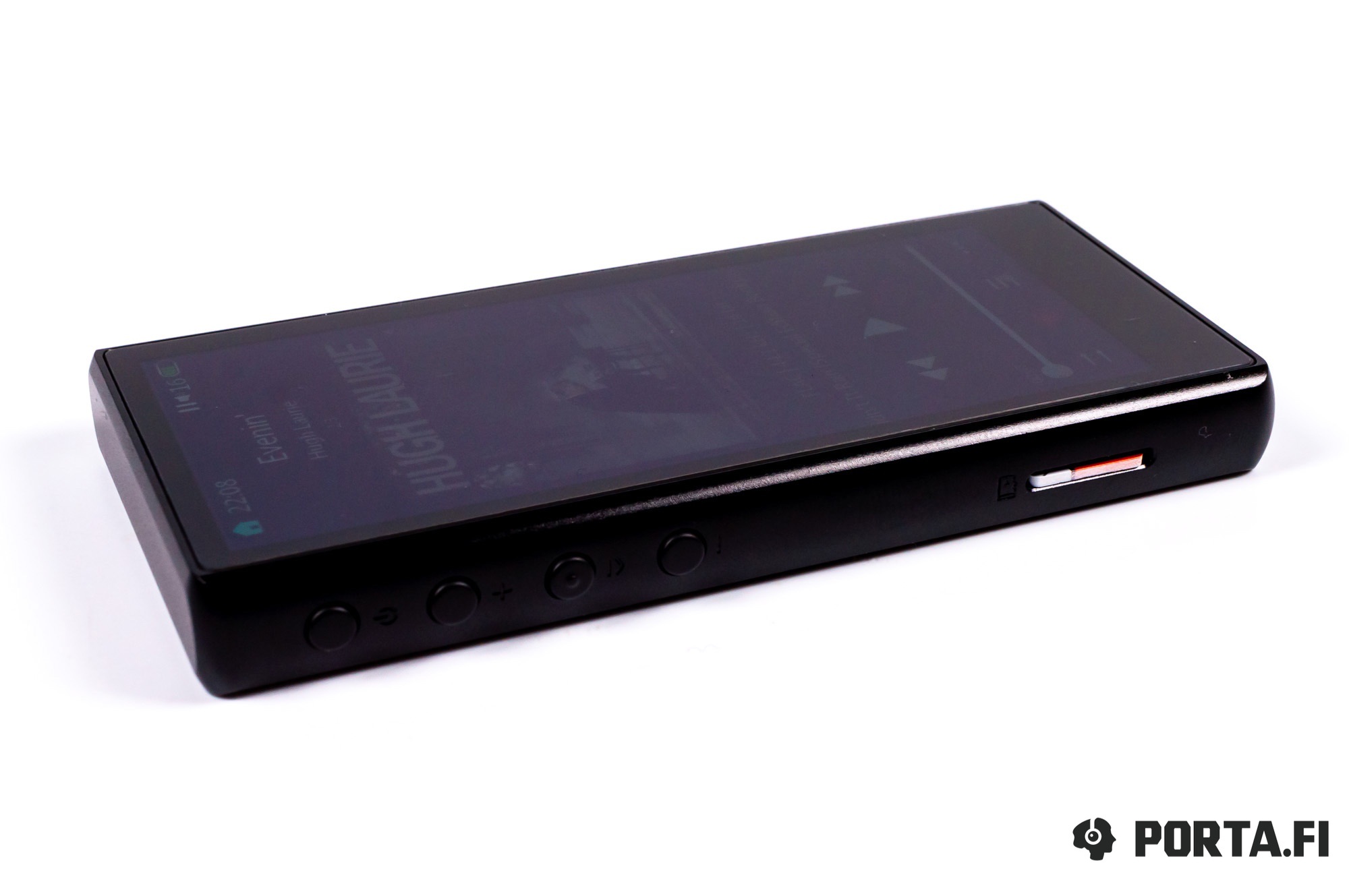 Firmware
Player has good and polished firmware right from the start — intuitive interface and everything works smoothly and works well, you quickly get used to it.
Main screen has two columns of icons that hold main functions.
Category This is a well-known and simple library. You can see all tracks, tracks grouped by artists, albums and genres. Here you also get favorites list, user playlists and recently added tracks. Scrolling is easy and you also get batch processing here — availability to add separate tracks and even whole categories to favorites, playlists and to delete them.
Browse Files It reminds of the previous entry (together with batch processing capabilities) but here the music is presented in the way you have organized it on memory card.
Now Playing This is a playback screen and it is appealing because of album art (and again, screen quality matters). Here we also get playback buttons, navigation bar and additional controls: adding to favorites, playing order etc.
Recording Voice recorder. I don't know why it is here but it's here, period. Probably someone uses it. Recording quality is average but clearly better that in last FiiO models.
E-Book E-book reader. Again, don't know why it is here, but probably you might want to use it during exams. Only TXT-files in UTF-8 are supported. Font size is adjustable and the app remembers the last position. Again I'd like to praise screen quality that makes everything readable, but considering the overall screen size there is not much sense in it.
Calculator Another thing that you won't expect to see in player, and yes, it's a regular calculator and it has obviously been inspired by iOS calculator (that is in it's turn based on some really existing gadget). Strange that we have not got a calendar here.
Gallery Gallery that allows to see images from microSD. Not the thing you might need but doesn't arouse so much astonishment from me as previous entries.
Settings There are no separate playback and system settings and everything is put under Settings in a proper segment. The third segment is media library update. Options are on par with other company products and look usual so I will just say what is missing currently: replay gain and custom equalizer settings.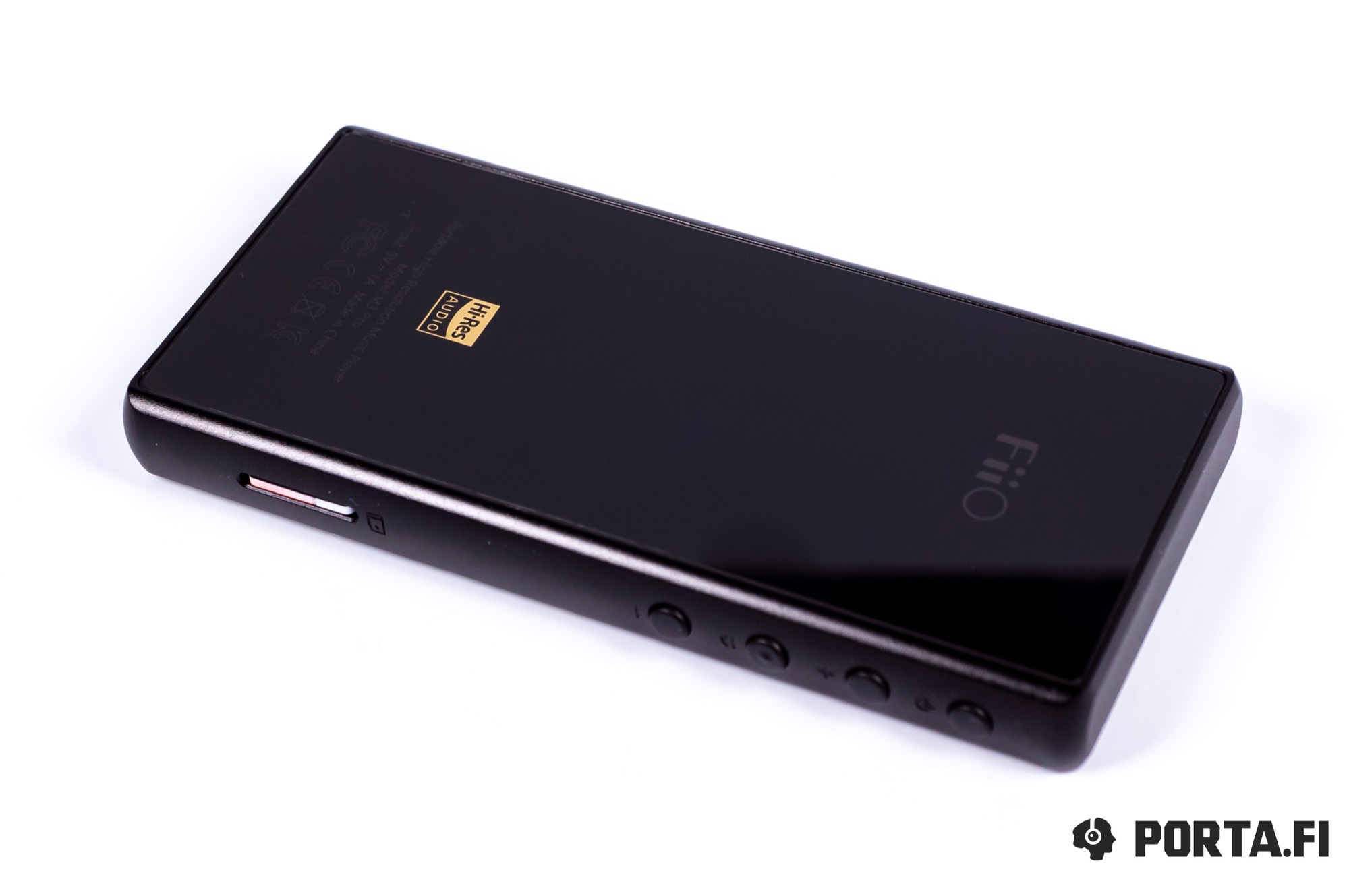 Usual swiping works here too. By moving your finger from left to right you go to previous screen. Opposite gesture switches file and track lists to batch processing mode. Swiping from up to down as expected opens quick settings – current track, playback controls, screen brightness and access to calculator, voice recorder and reader.
Firmware is hassle-free and we clearly see that the developers have done their best to make it functional.
Sound
I have used the following headphones for listening purposes: Noble Audio Khan, IMR Acoustics Rah, Unique Melody Mason V3, Meze Empyrean, HiFiMan Ananda and others.
If you consider the price, M3 Pro seems flawless: live, dynamic sound without abundant coloring (but still has some additional weight). In comparison with more expensive models some disadvantages are evident, but again, you won't expect mid-tier segment to play worse.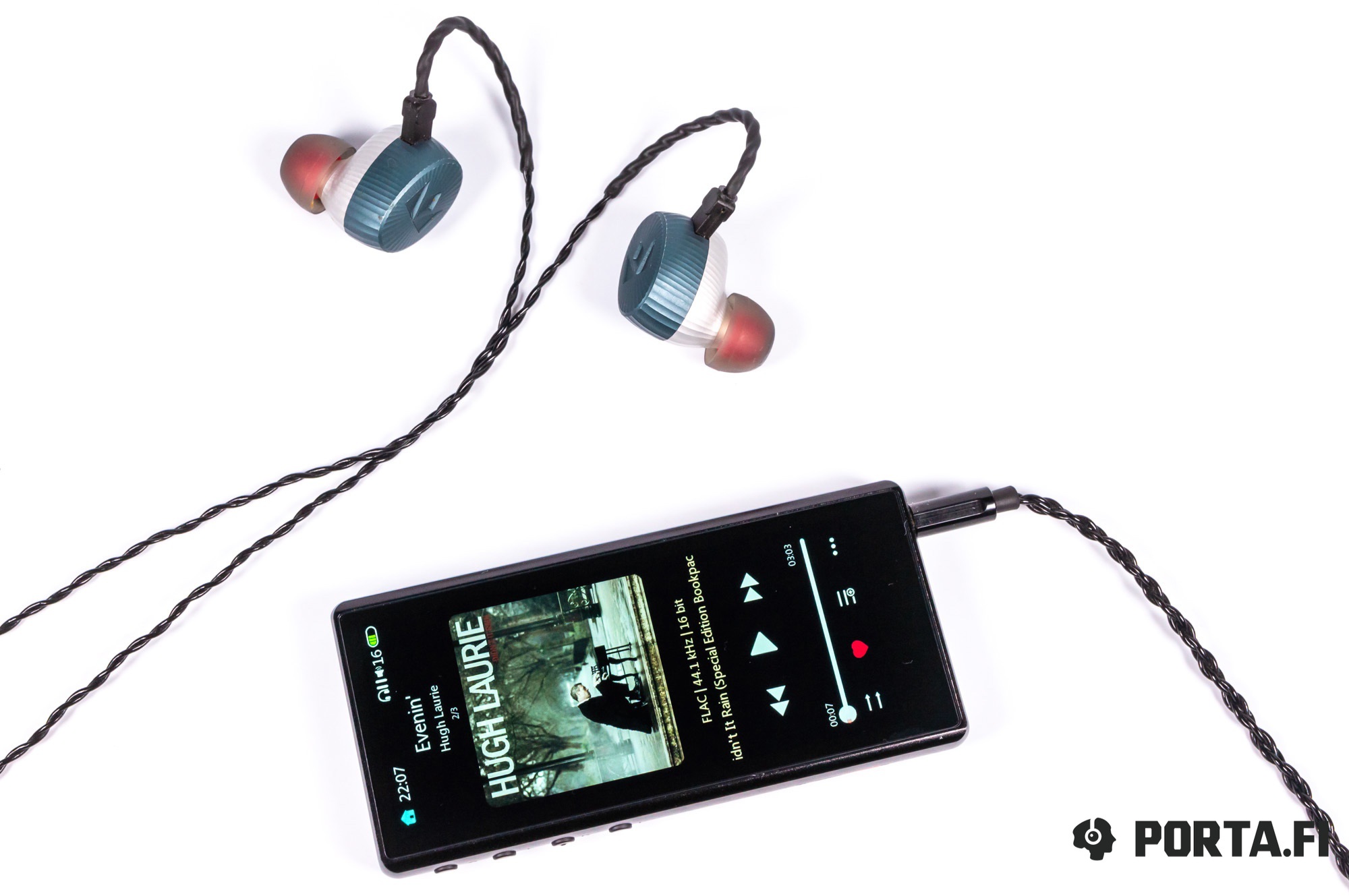 Lows are dynamic with slight weight addition. Depth and control are well and you can easily see the increased power of the player. Resolution is averagely well, it has good textures and plays natural instruments well, but sometimes lacks nobleness of more expensive players. Upon the whole bass sounds good, it is thick and springy.
Mids continue lows character. The player does not focus on micro details and has slight additional emphasis on weight and macro details. Resolution is okay but you should not expect the player to enhance small nuances and divide the recording into smallest audiophile part. To make it simple, M3 Pro sounds lively, has good dynamics and is rather tolerant to recording quality. There are no problems with weight and voices and instruments sound natural. Sound stage is average on both directions.
Highs are average in terms of length without any accents, they have good resolution, although attacks and decays are a little accelerated that leads to slightly less informative overtones and layering, but in this case they stay clean and are not emphasized, and it's very good.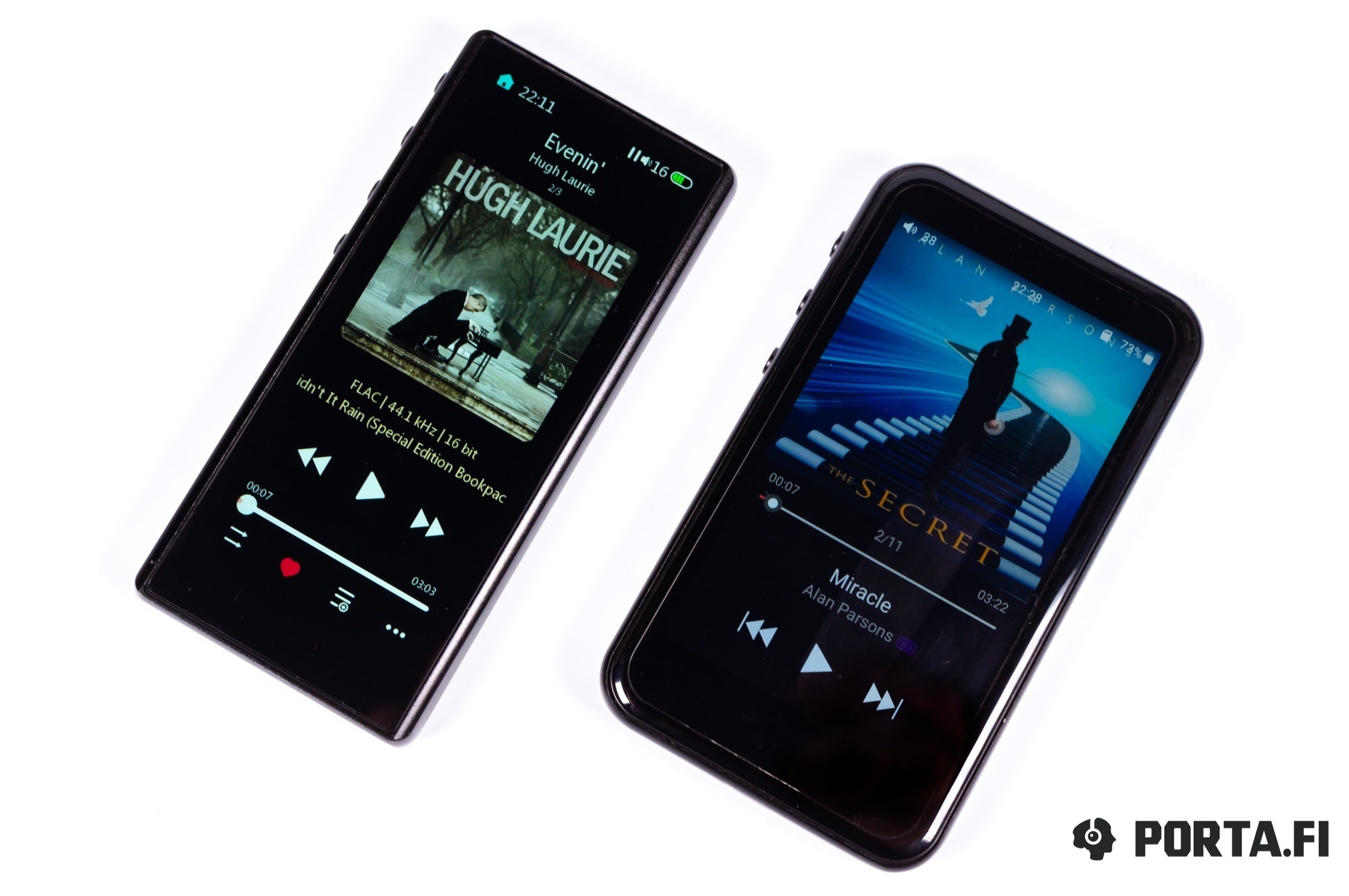 Comparisons
FiiO M3K Even by appearance you can tell that M3 Pro is a new generation product — rather large touch screen, more ergonomic shape and many other small things speak in favor of Pro. The sound is better as well — more neutral, natural and even more detailed across the frequency range.
FiiO M5 Despite more affordable price and lesser index, M3 Pro sounds slightly more detailed and technical. M5 however has additional pluses such as Bluetooth (bidirectional) and more compact size.
Tempotek V1A V1A developers have been close to winning the budget market, but just haven't made it by a close margin in terms of sound by making highs simpler. It however has Bluetooth, while M3 Pro has more natural sound and better screen.
FiiO BTR5 This device is a real gem in receiver FiiO lineup. BTR is more detailed, technical and neutral. It is more expensive and of course requires a source.
FiiO M6 Another player where FiiO have given maximum in a small package. Setting apart purely functional differences, M6 has more volume in sound, detailed and balanced than its smaller brother.
Hidizs AP80 I haven't heard the Pro model yet, but standard one sounds more detailed, brighter with more micro details.
Shanling Q1 Unusual and stylish new product from a company that pays much attention to design. Overall presentation is similar to M3 Pro but with slight difference: FiiO has a warm sound because of additional weight, and Shanling – because of rolled off highs.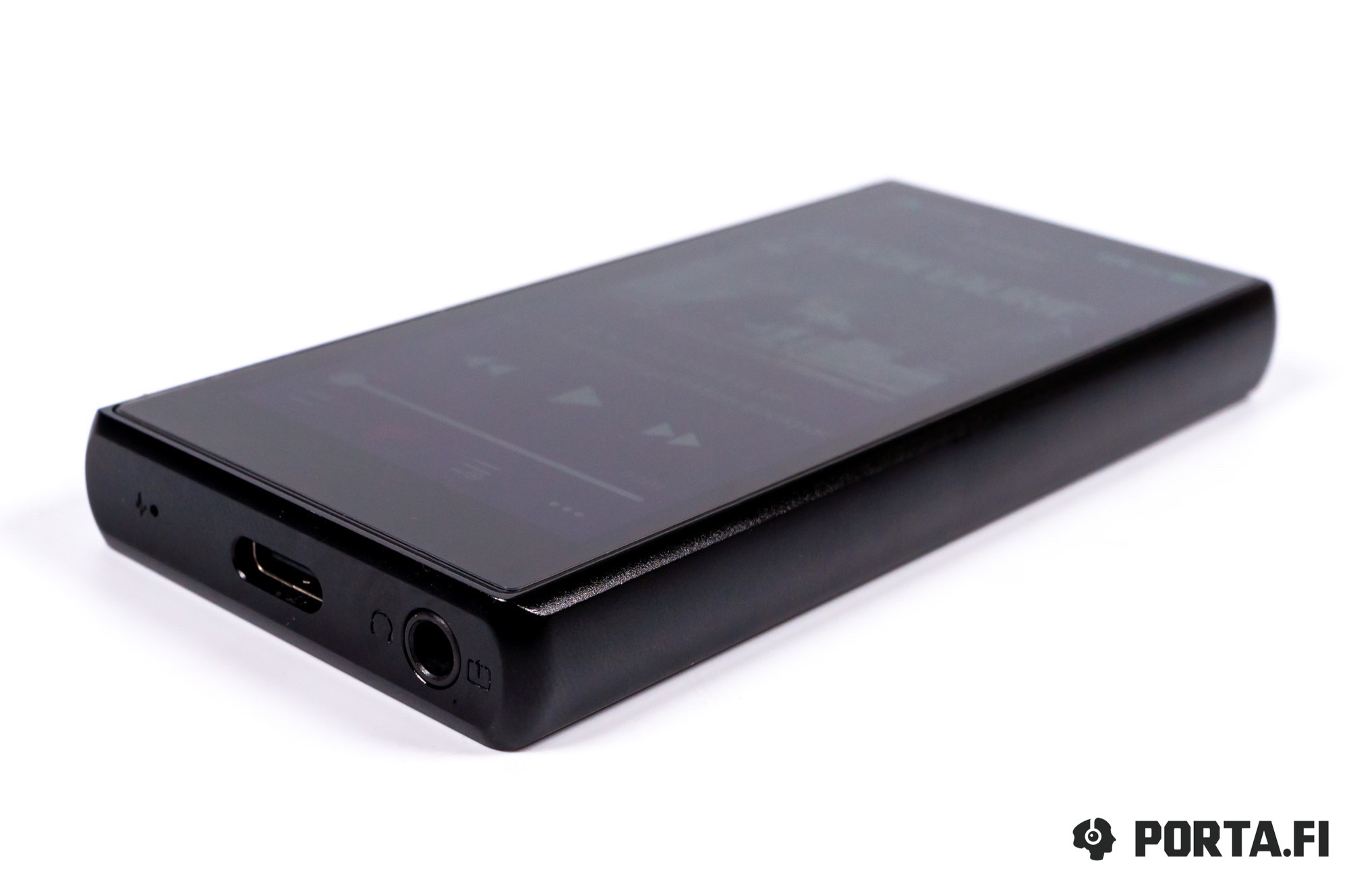 Compatibility
In terms of power FiiO players have decided to choose the golden middle. 75 mW is enough for most portable headphones, including starting and mid segment. Increased power in comparison to M3K allows this player to drive even over-ears and at the same time to produce no hiss with sensitive IEMs.
Player is universal in terms of genre but you have to take into account that this is an entry level player and you cannot demand flawless sound on audiophile recordings. Sensitivity to recording quality is average – 5 out of 10.
Треки-примеры
Grayson Capps — May We Love It seems that if you are born in Alabama and have decided to become a musician, you won't be able to play anything apart from blues, blues + americana and country, as Grayson Capps does. In this case however we are lucky since he is doing it well, his music is very beautiful and this is it for the musicians who care about form and melody. M3 Pro copes with it well, showing good vocals and instrumental parts.


Vahriie — Just My Imagination Some non-complex and positive reggae is what this compilation needs. And despite most people will have to spend this summer in their own cities, such sunny music helps to stay positive and warm. FiiO player is a lucky choice here due to accurate weight addition, emphasizing those 'vibes' that are required by this music.
Bob Dylan — False Prophet As you understand, I can't omit single from future Bob Dylan album and apart from meaningful text there is a music that is based on William Emerson 'If Lovin' Is Believin' classics. It's not an audiophile track, but again, our review here is more mass-market, so it suits this music really well.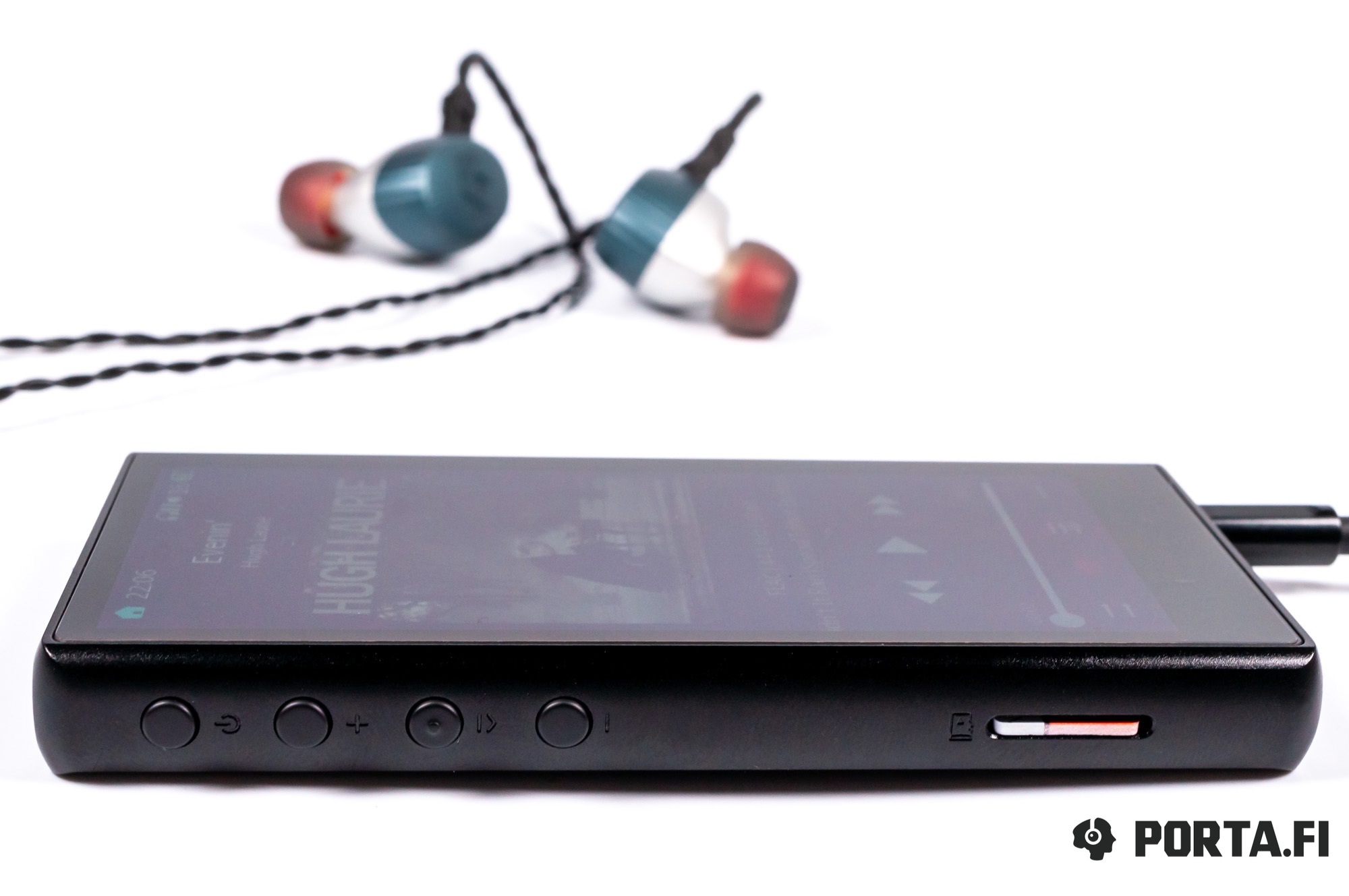 Conclusions
Many will lack Bluetooth support but I think it's relevant to price, since the functionality is really vast together with great design, screen and sound — and all this below 100 USD, so we really have 'best source for everyday use' here.
Translated by: Vadim Kolchev