xDuoo company has come a long way from very budget solutions to creating hardware that can be called top-class and has shown the ability to take customers desires into account. This is how we have got xDuoo TA-30 headphone amp which we will speak about today.

Some time ago xDuoo have released a very good tube TA-20 amp that has conquered my attention with the great combination of price and sound. Even during the testing period I have had a longing for xDuoo to add DAC to it and it seems like my desires have just come true. In this flagship device company has decided to do everything to its maximum. There is ES9038Q2M DAC that is helped by two main oscillators. USB interface is build on XMOS and offers max resolutions. There are also good capacitors used — 5Z3P for power and couple of ECC82. However, the most unusual thing is the presence of Bluetooth connectivity through aptX HD and LDAC codecs.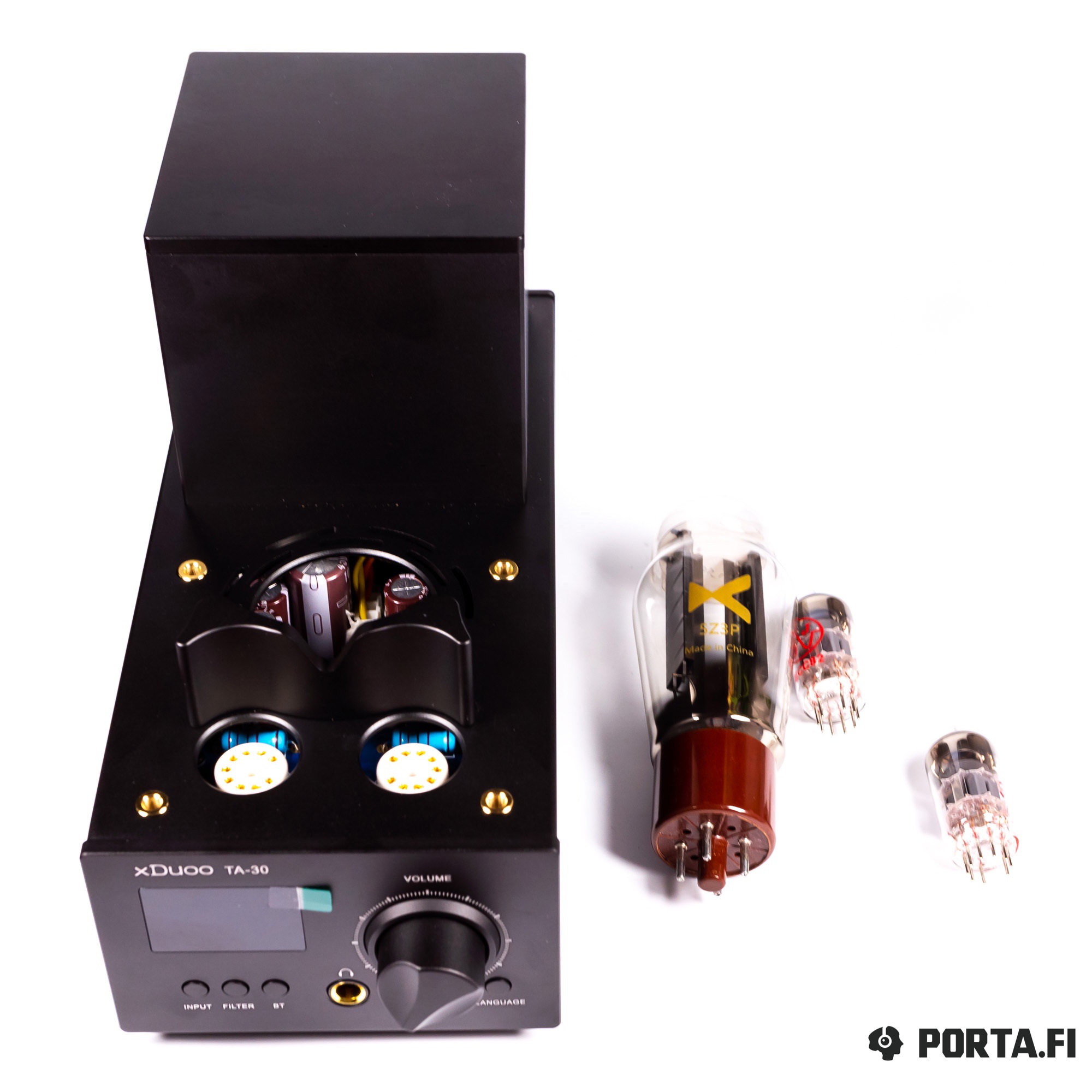 The price has been of course increased and is around 710 USD, but still TA-30 is a very good offer that stands out of the crowd.
Specifications
DAC: ES9038Q2M
S/PDIF interface: AK4118
USB interface: XMOS XU208
Tubes: 5Z3P + 2 × ECC82
Max power: 3 W @ 32Ω
Frequency range: 20 Hz ~ 20 kHz (±0.5 dB) in DAC mode, 10 Hz ~ 100 kHz (±0.5 dB) in amp mode
THD + noise: 0.5% @ 1 kHz
Signal/noise ratio: 110 dB
Channel separation: ≥65 dB
Max resolution (via USB): 768 kHz/32 bit, DSD512
Supported Bluetooth codecs: SBC, AAC, aptX, aptX HD, aptX LL, LDAC
Dimensions: 29 cm × 11 cm × 17 cm
Weight: 3 kg
Accessories and packaging
The box is made of simple recycled cardboard and inside there is a lot of protective material that makes TA-30 and its accessories safe. The most fragile objects, such as tubes, are lying inside in a separate box with additional layer of protection, so you should not fear about their transportation (though I still remember getting my Darkvoice 336 all in broken tube fragments as a result of careless shipping).
Apart from that the buyer receives:
AC power cable
USB cable
Bluetooth antenna
couple of protective clamps
Product designers have done their best for user to be able to immediately use their device.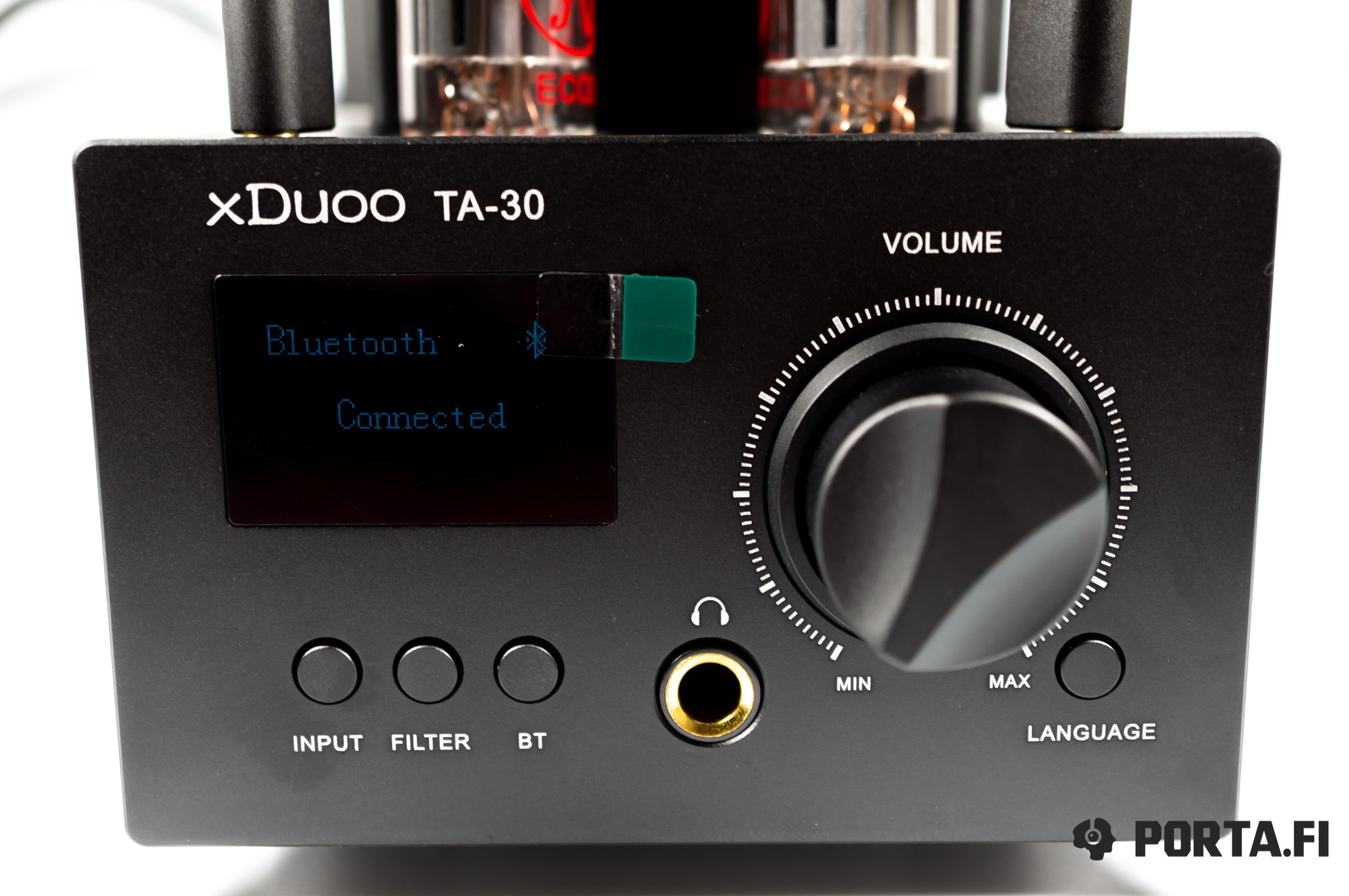 Design and controls
Before you begin using TA-30, you will need to perform a very light assembly activity: install the tubes, connect Bluetooth antenna and install protective clamps. Just in case, I will remind — the tubes should be installed using protective gloves (or at least to wipe your fingerprints after installation) and should not be touched by bare hands afterwards. Apart from that the installation process is very straightforward and you should not have any problems with that.
The TA-30 design is rather simple, the developers have tried to make the device as compact as they could, so it comprises the brick with projection — transformer — on the back side. The tubes are installed on the front top side. On the left top side there is a simple monochrome screen that contains information about chosen input and signal resolution. Right below it there are three buttons — the choice of input, the choice of digital filter and activation of Bluetooth pairing. Slightly on the right there is a headphone output which is regular 6.3mm. The developers have decided they do not need balanced output here since 3000 mW is quite enough for practically any headphones. Even closer to the right there is an analogue volume wheel that moves very smoothly and allows to set the volume very precisely, and this is very welcome given the power of the device. Channel imbalance is minimal and there is no noise when using volume wheel. Right below the wheel there is a button to choose the interface language, and in my case I have had only two languages — English and Chinese.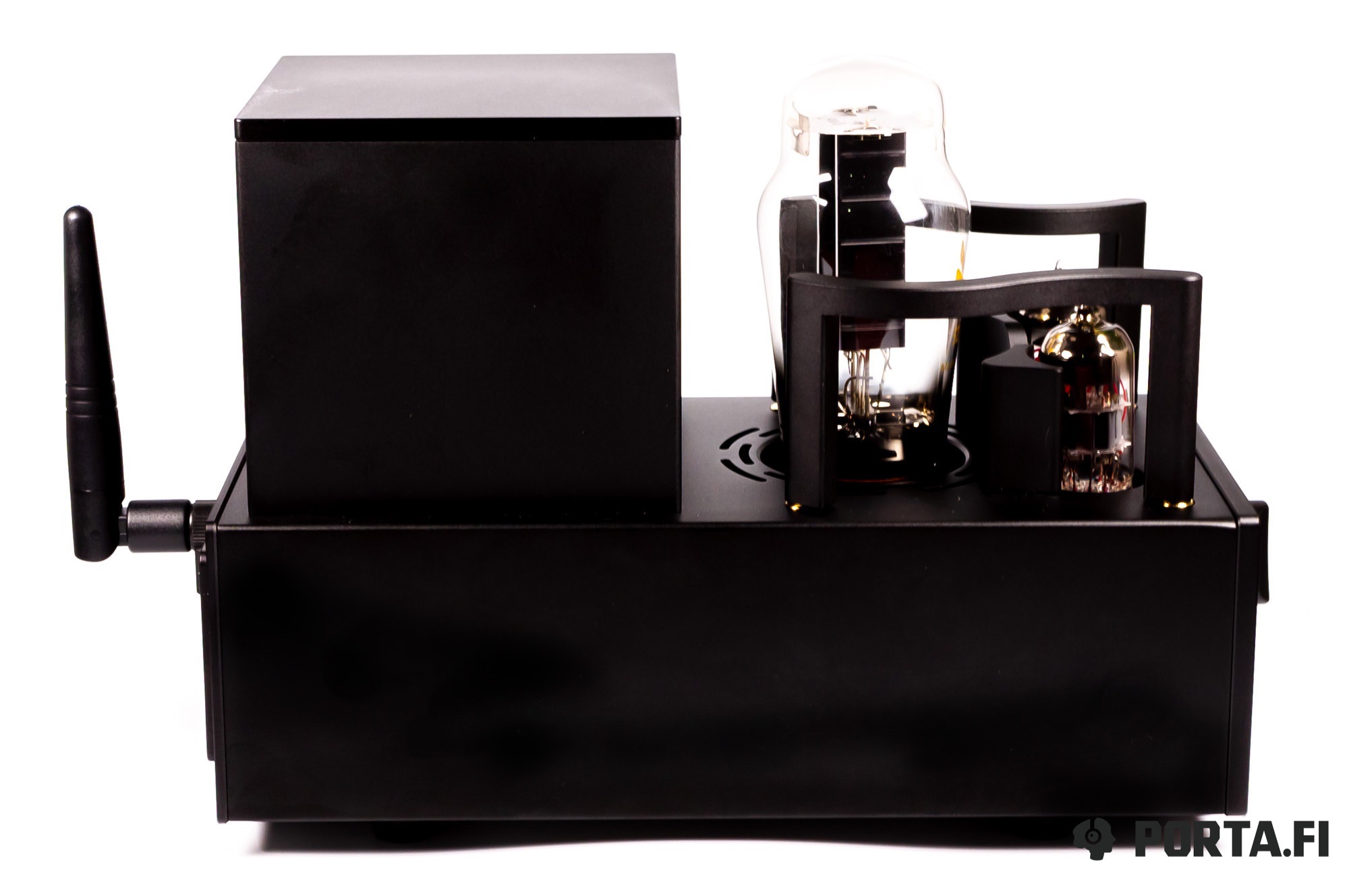 The rest of outputs are on the back panel: there is a power switch, two line-in RCAs and two line-out RCAs, USB input and coaxial input with optical S/PDIF. As you see, the developers have taken into account almost all, if not all, scenarios.
Couple of words about Bluetooth — it is rather reliable, probably because of supplied antenna that can be easily installed.
Sound
I have used the following headphones for listening purposes: Noble Audio Khan, IMR Acoustics Rah, Campfire Audio Ara, Meze Empyrean, HiFiMan Ananda, Kennerton Thror and others.
Upon the whole the presentation is quite what I imagined when saying "to add a DAC to TA-20". The sound is very clean, powerful, with some analogue feeling that is possible due to tubes. Those who love experiments can go in for tube rolling, since as we have seen in TA-20, the sound may vary significantly, but overall presentation stays the same. I have not conducted such experiments so I will describe sound with stock tubes.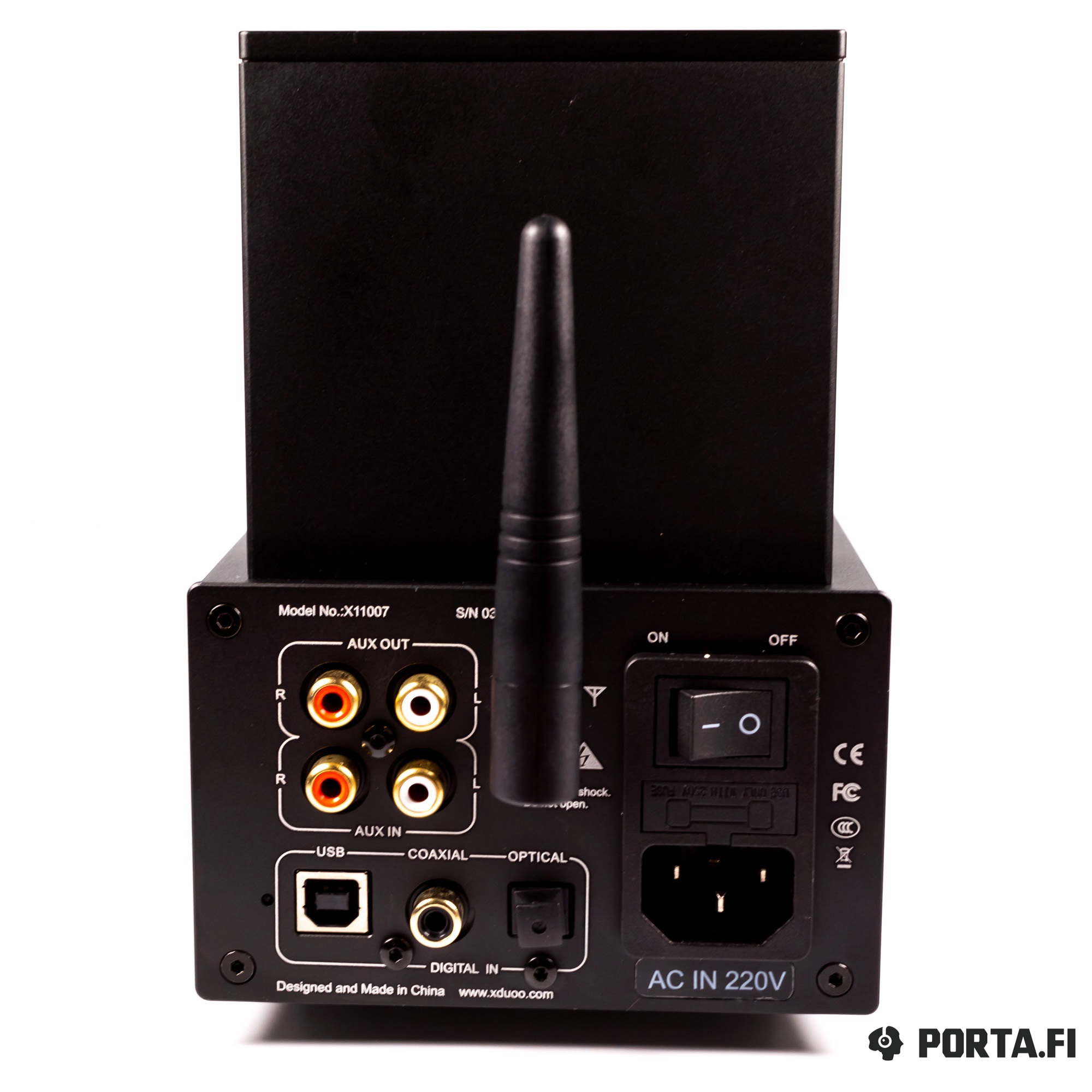 Bass is neutral, technical and linear. It goes to max depth and brings you good resolution and textures. It is obvious that TA-30 is a very powerful source that has no problems with control. This DAC/Amp does not try to concentrate on maximum speed or to go to totally monitor sound. On the contrary, the lows have good weight and it does justice to live acoustic instruments.
Mids are slightly on the warm side on the lower part of this frequency range and have some emphasized energy on the upper mids. I say 'slightly' and 'some' because the changes and accents are not huge — there is still good balance of weight and resolution that provides pleasant musicality without sacrificing details. Tube analogue sound and its wholeness are moderate, but you can still get a hint of macro dynamics and emotions. The soundstage is obviously above average in depth and width but there is no emphasizing here.
Highs have good length and layering, with almost perfect overtones. Attacks and decays are realistic, and so is the resolution. Technically speaking the highs are very good, they do not try to be overly monitor, and slight warmness makes this frequency range not accentuated. This means you get enough of them and of good quality but without them being in the center of attention. However, as far as I've heard, you can make them more noticeable by tube rolling.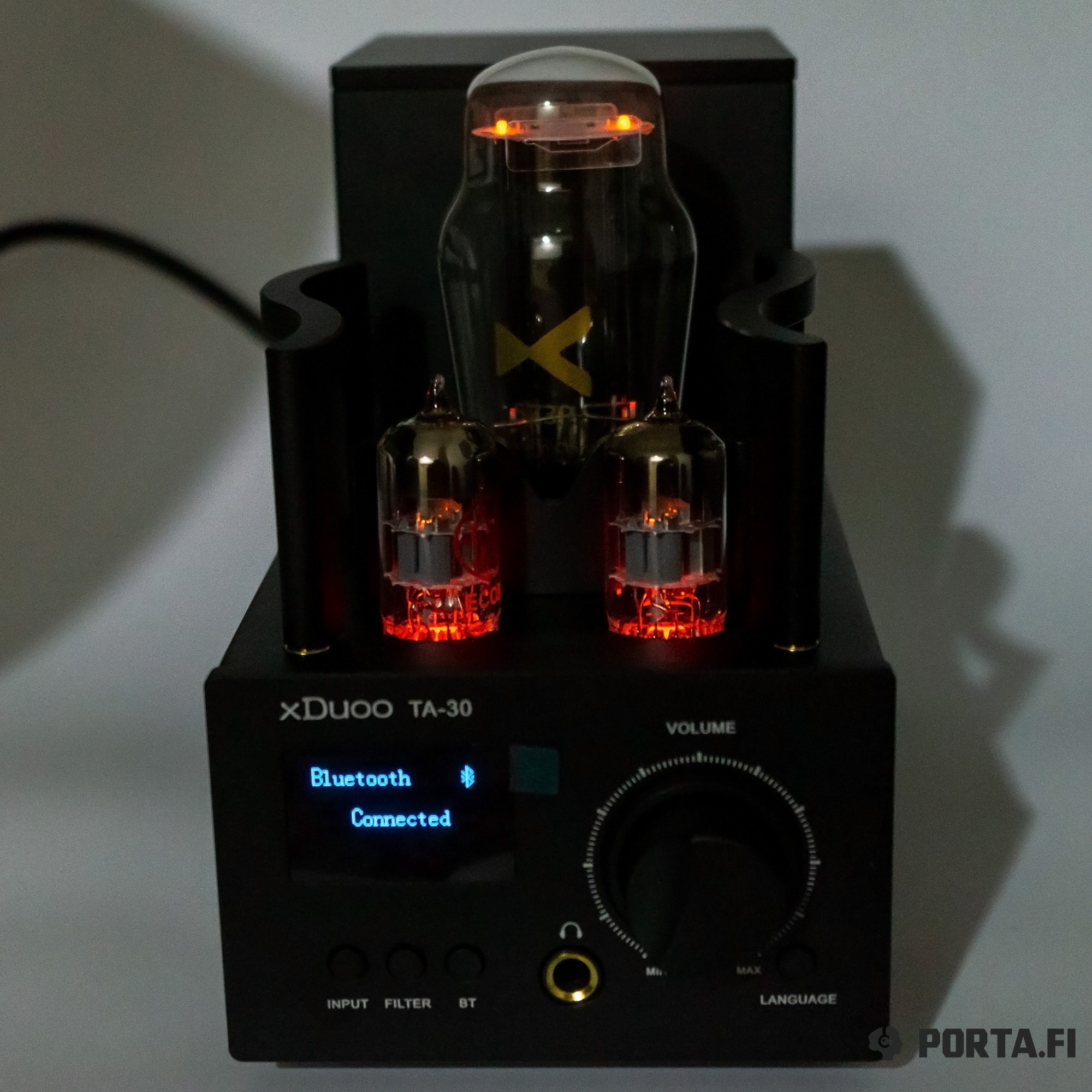 Couple of words about sound with Bluetooth. Of course lossy conversion is present and even with LDAC codec the bass depth and length of highs are slightly diminished, but again the sound is very good, the mids sound pleasant and musical and probably it is because of tubes.
This time I won't be speaking about comparisons since TA-30 is very different from other DACs I have tested by presence of tubes and this makes comparisons unneeded.
Compatibility
Obviously the TA-30 has been created with full-sized cans in mind, including the most demanding ones. And it is not strictly about background noise (which is of course present, but is not bad at all, much less than I have expected). It is more about the volume — even very small step of the volume wheel will increase IEMs volume significantly so if you really want to listen to them from TA-30, you should better get an attenuator. I subjectively think that one should use devices where they belong and todays review hero is great as a desktop source for good full-sized cans.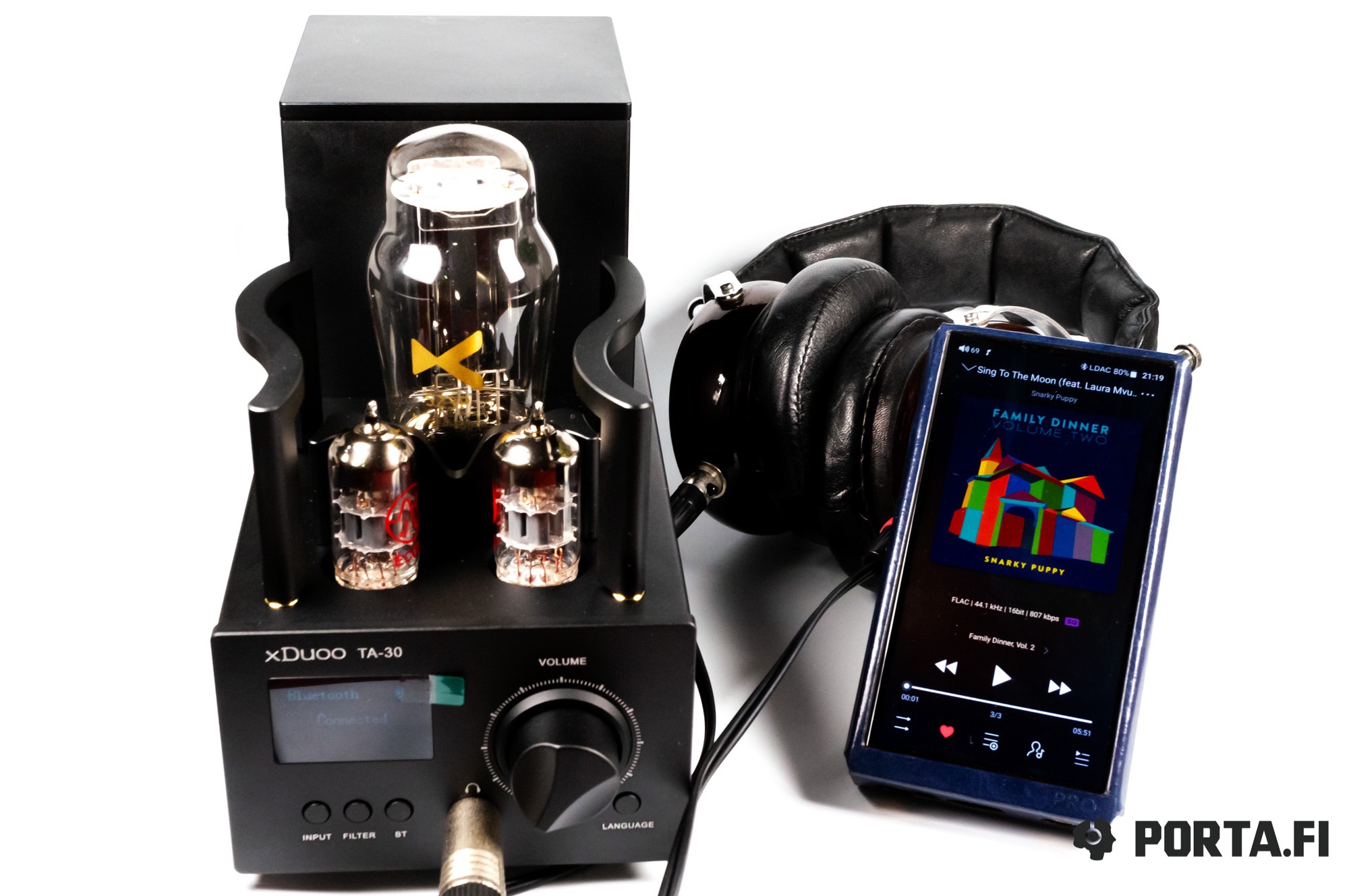 In terms of style the DAC/amp is fully universal but is better with recordings that require analogue sound: classical rock, jazz, vocal music and so on. The sensitivity of recording quality is slightly above average – 7 out of 10.
Example tracks
Chris Smither — Let It Go Classical blues performance age beautifully and this track proves it. The DAC from xDuoo makes accents on effective places of the composition, brings great emotions and underlines great keyboard part.
Fenne Lily — Birthday Calm and melancholic track from new indie-folk star is a great example of "quarantine music" that is present everywhere among creative part of humanity this year. Here xDuoo shows itself very well, emphasizing condensed emotions and playing everything quite naturally.
Puscifer — The Underwhelming This is the composition of Tool and Teh Perfect Circle singer side-project album. xDuoo is great at playing distored sound and unusual back vocals. Other instruments get their part of attention too.
Conclusions
Great desktop device for those who want to get quality sound with analogue part and keep the advantages of modern devices, such as universal application, resolution and power.
Translated by: Vadim Kolchev