Are you willing to build a desktop headphone system? Are you fond of mild classic presentation of tube devices? Would you like to spend long winter evenings listening to the difference between Brimar and Telefunken? Today I will show you the device that can become the backbone of your future setup — hybrid amp xDuoo TA-20.

You all know xDuoo as a firm mid-fier of the player world that provides users with good design, capabilities and okay sound for a modest price. But in the case with current model they are coming if not to the top league, but overcome themselves clearly. TA-20 boasts quality fully balanced hybrid amplification with couple of 12AU7 as pre-amps and quality components that provide needed sound color and power, while maintaining affordable price. You can buy xDuoo TA-20 for slightly less than 370 USD and the price is very good for the sound you get.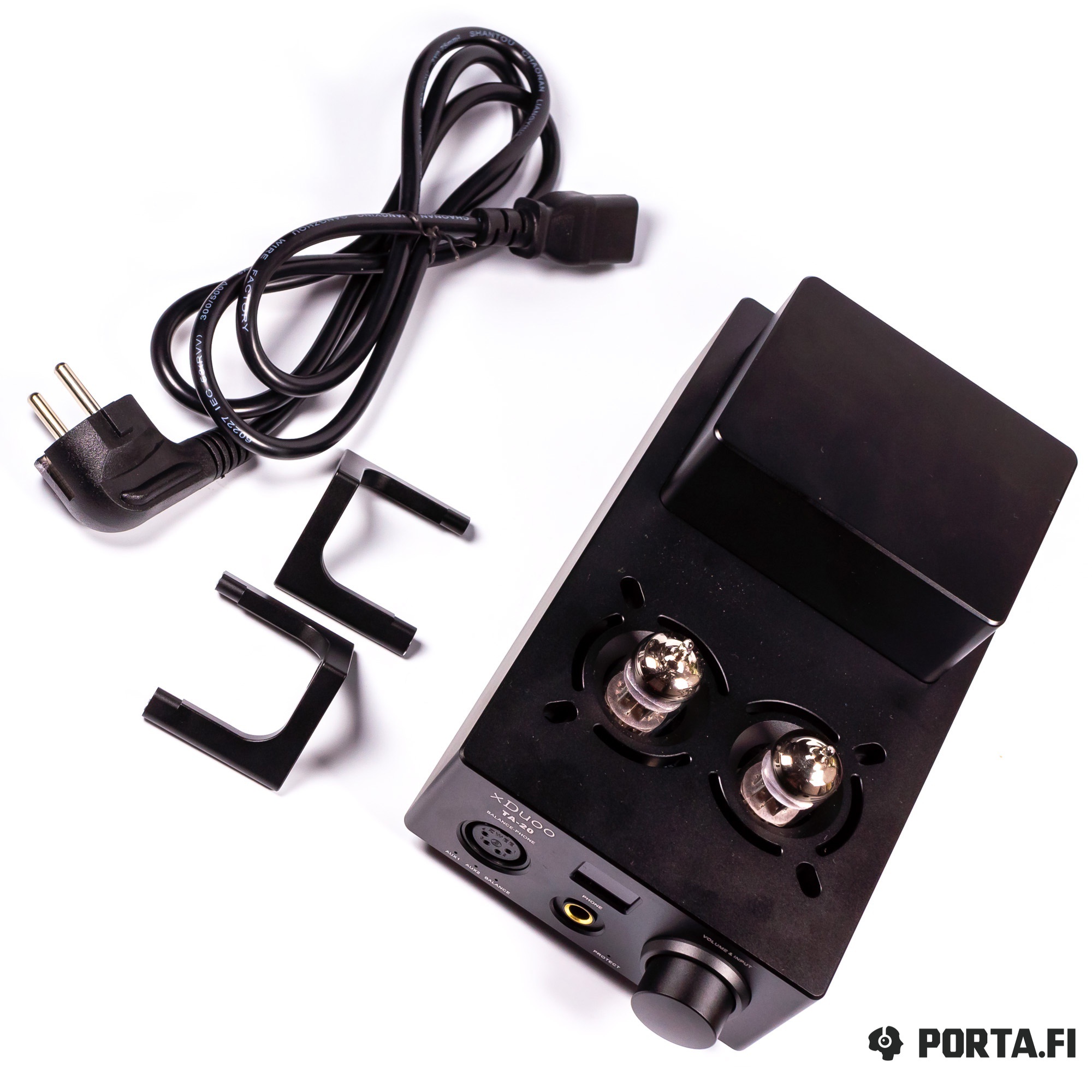 Specifications
Scheme: hybrid amp with 2 × 12AU7 in pre-amplification
Output power: 2000 mWt @ 32Ω (on each output)
Recommended impedance load: 8Ω – 600Ω
Frequency range: 10 Hz – 100 kHz (±1 dB)
Gain: +18 dB
Distortion: ≤0.01 %
Signal/Noise ratio: 115 dB
Dimensions: 32 cm × 12 cm × 11 cm
Weight: 1.5 kg
Design and controls
The box is made of standard yellow cardboard. It sports protective insertions inside, in which the amp resides, as well as accessories — power cable, 6.3 mm adapter and removable protective clinchers for tubes.
The gadget looks modern, there are no attempts to make it vintage — strict forms, black aluminum, exceptionally rectangular shapes. In combination with good build quality it looks good even beside the ultra-modern computer. xDuoo have made the step up and this time have not provided led lighting to tubes as it is usually done by budget manufacturers.
The tubes are located in the front part of the upper panel, the back part is taken by transformer. If you wish, you can install protective clinchers that are preventing 12AU7 from mechanical damage. They are held by magnets and can be easily removed. It's good news for those who love tube rolling.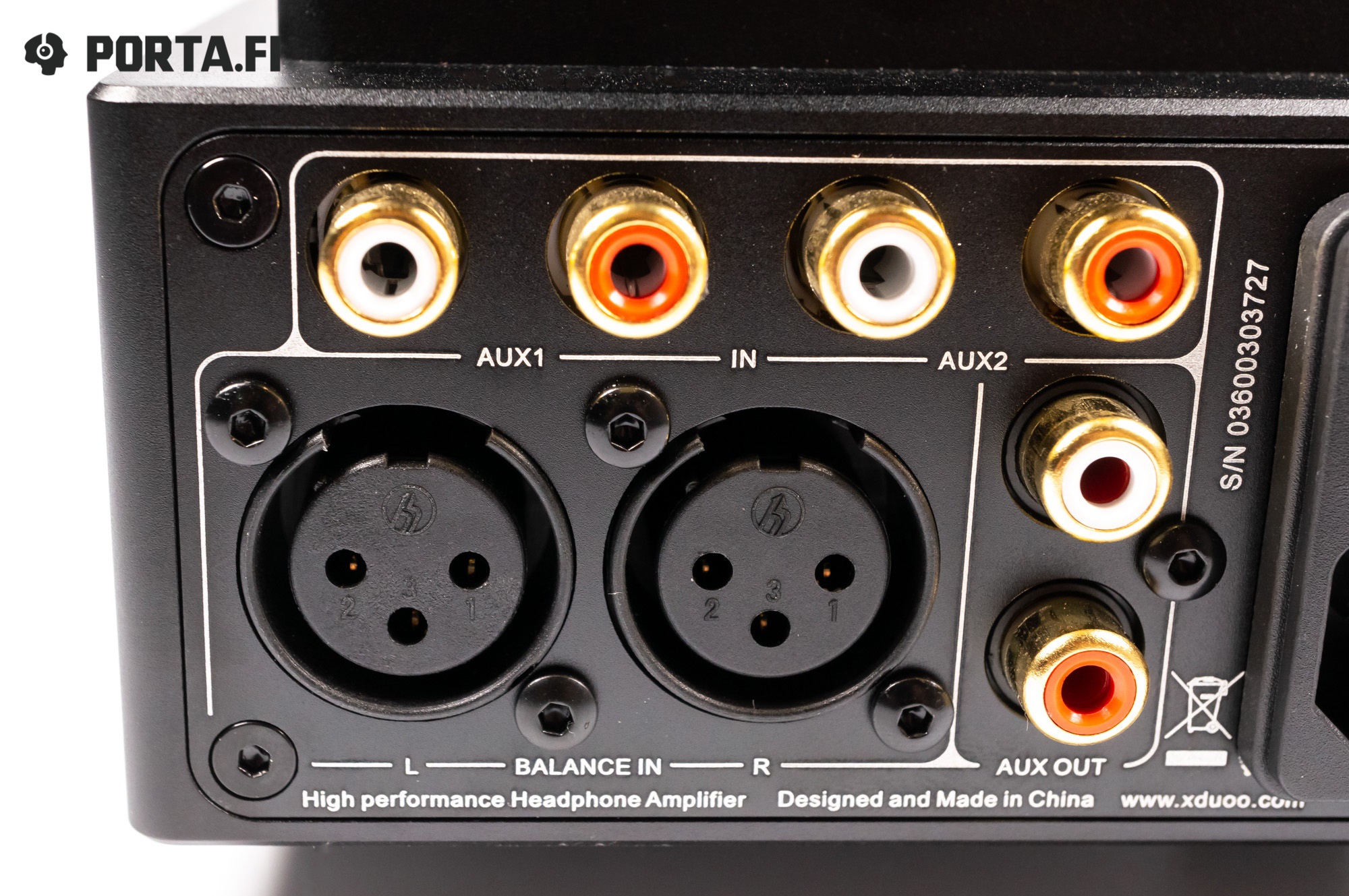 On the back side there are all ins and outs — couple of 3-pin XLR balanced inputs, two regular inputs made in the form of RCA pairs each and line out that also uses RCA (useful for couple of active acoustics). As you see, there is no shortage in connection options for this product. The back side also sports power input with traditional switch. The turning on is accompanied by protective relay clicks that confirm no attempts of saving on protection.
The controls are on the front panel. Here we find two outputs (regular and balanced 4-pin XLR), three LED indicators that indicate chosen input, 2-way indicator of volume level and of course volume wheel itself. The used encoder is good, it register steps and clicks well and turns with slight power needed. Presses on the encoder allow to switch inputs.
The bottom side has legs that ensure optimal contact with surface and prevent device from sliding. Since the amp produces rather much heat it should better be positioned in the way the heat can be easily dissipated.

Sound
I have used the following equipment for listening purposes.
Yulong DA10 and Resonessence Labs Concero HP as SAC
Apple MacBook Pro Retina 2016 as a source
Audirvana+ as a player
Lotoo Paw Gold Touch, Astell&Kern A&ultima SP1000 and others as portable players
Hi-Res recordings in Lossless-formats (Dr. Chesky The Ultimate Headphone Demonstration Disc and others)
Usually when we speak about tubes people think about milder presentation, emphasized warmth and enhanced macrodetails. The xDuoo product gives it all with its own character, gives its color but does it skilfully.
TA-20 is responding well to tube rolling and this alone makes the product stand out of non-expensive Chinese products that usually have tube just for visual effect. I have tried couple of Sylvania tubes that I have for a long time and they made highs go up a bit. Now I plan to buy a carefully chosen pair of Mullards, but it is another story. For now I'd like to underline that I describe sound with stock tubes (don't know who the manufacturer is).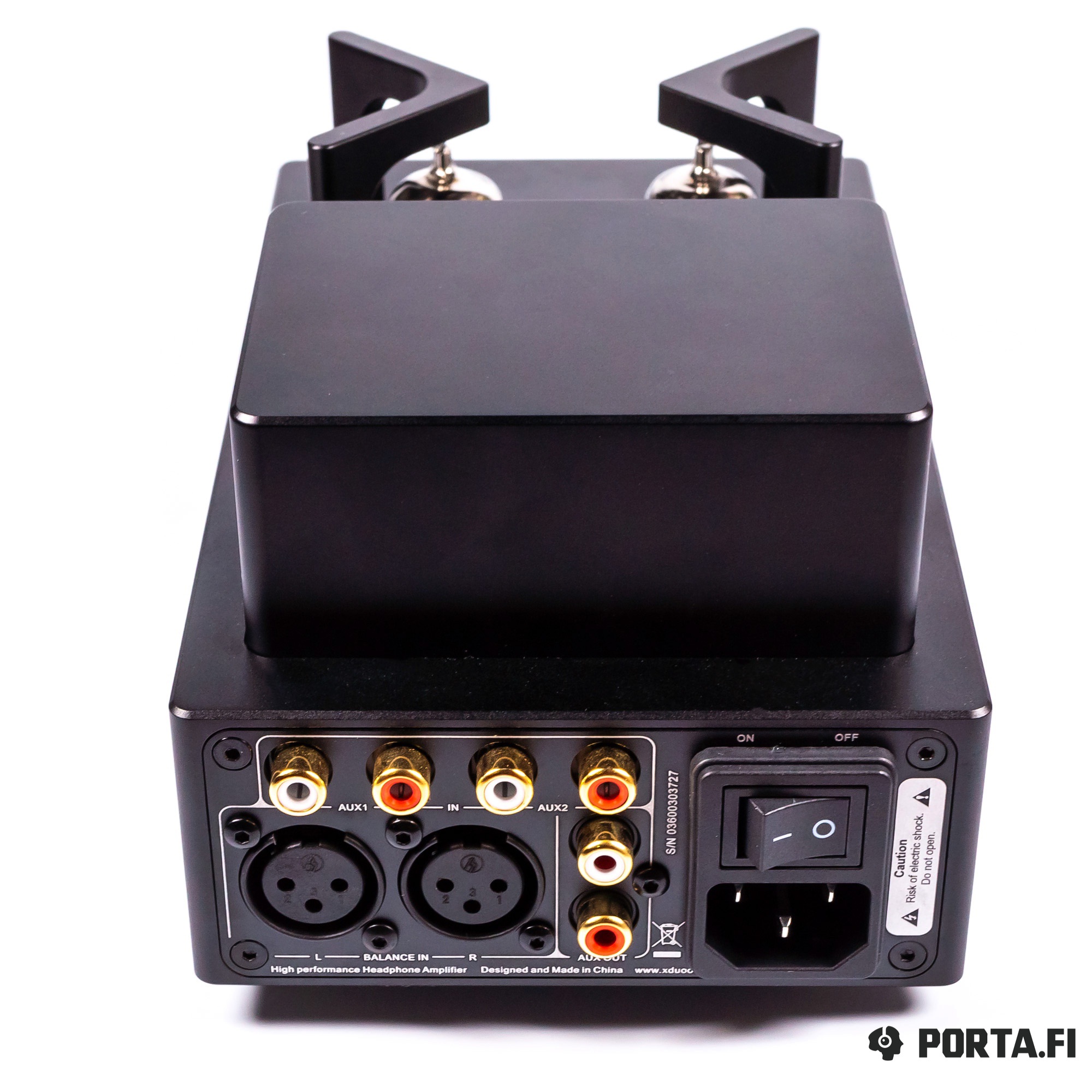 Traditionally for tube devices, TA-20 needs a minute or two to become fully operational.
The bass is slightly accentuated but this accent is done via additional weight. They have good resolution but are of course somewhat smoothed to create this additional weight and to sound springy. The bass goes to maximum depth and, what is important, it is well controlled there — the power of the device gives its influence. Lows have good textures and play all the instrument nuances with quality. Attacks and decays have slightly increased length and this gives bass additional weight and warmth.
The mids are presented in a similar manner, they are very organic and emotional, have good resolution without accent on micro details. The amp does its best in showing macro details and emotions and plays lively while not drawing recording problems to the top. Mids also have additional weight that often (but not always) is good for vocals and instruments. The soundstage is above average in width and even more in depth. Such soundstage may seem unusual at first but you get used to it.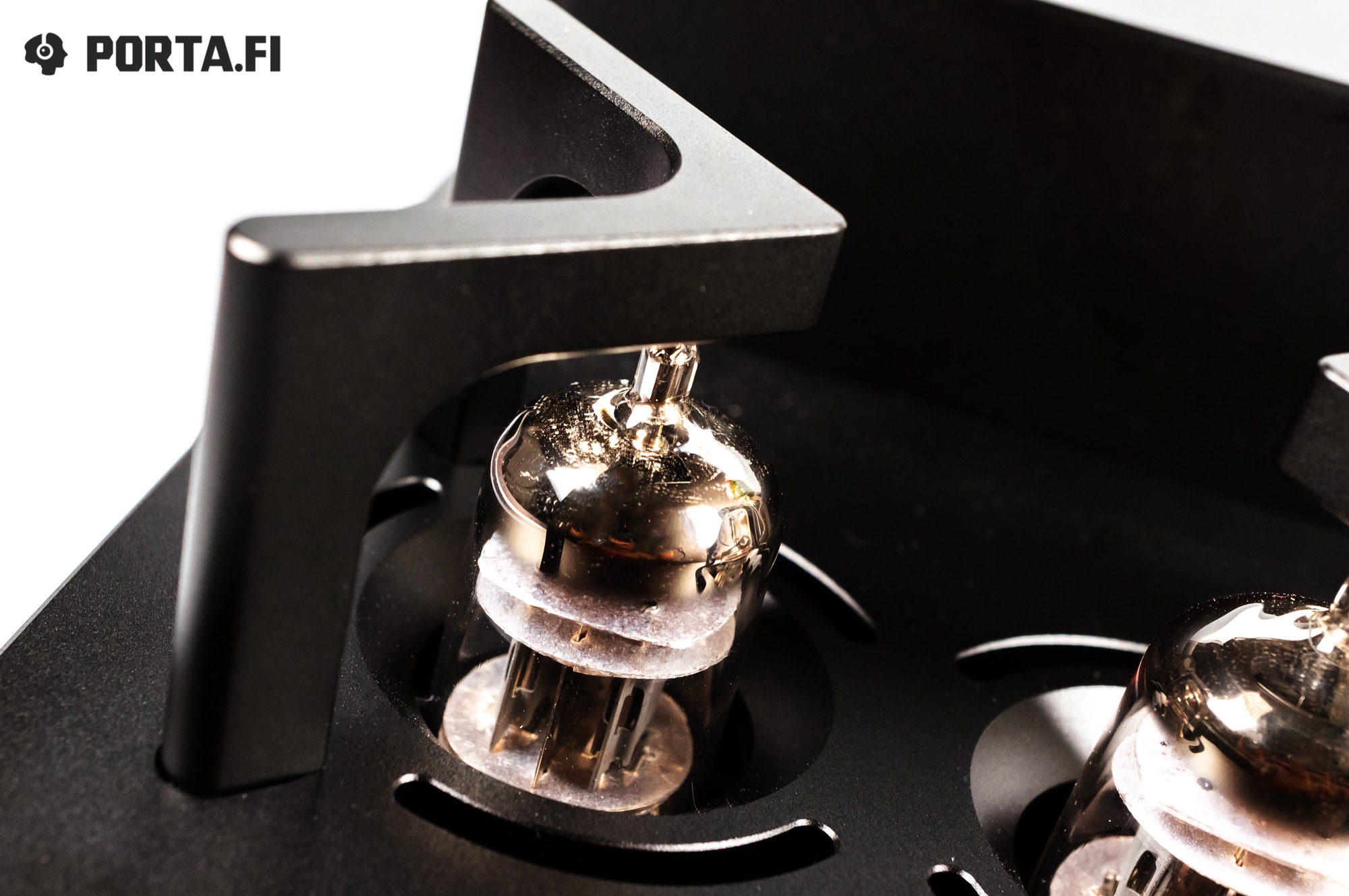 The highs are slightly softened. They are good, have good length, sound natural. They somewhat lack in quantity but it's what you expect from such device and this allows to bring additional warmth. The highs have good resolution with natural attacks and decays which in combination with normal layering gives correct overtones if DAC is capable enough.
Compatibility
The device is firstly intended for over ear models with average and low sensitivity, we are speaking about 2 watts here. Due to good volume controls it still can be used with IEMs, however lack of gain makes background noise audible for sensitive models.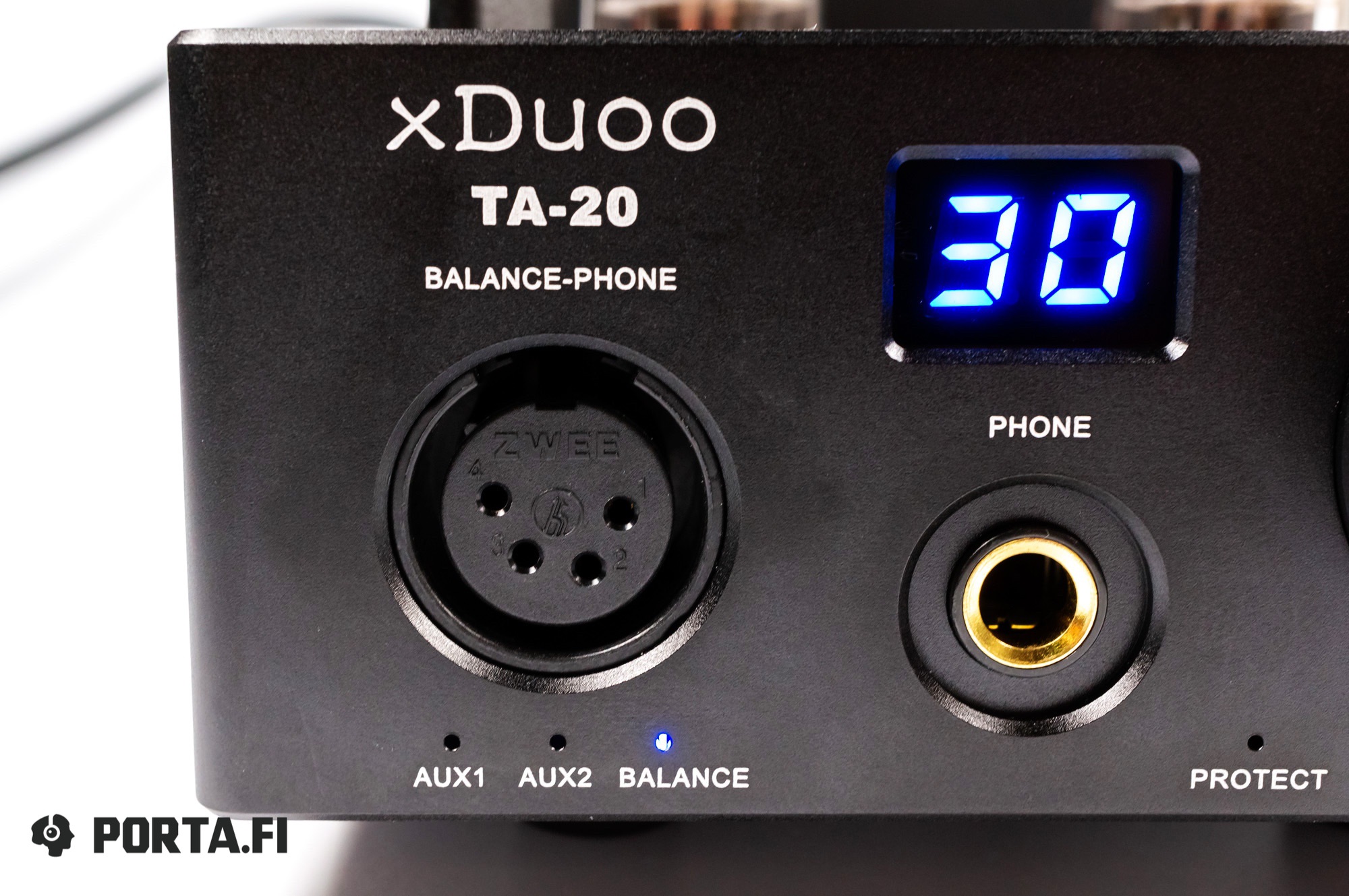 The amp is universal in terms of style, but I personally find it better with live instruments. The sensitivity to recording quality is average — 5 out of 10.
Example tracks
Hoff Ensemble — The Elder It won't be emphasizing to say that this Ensemble is a good example of Nordic approach to recording. Flawless quality, no compromises — this is what allows "Quiet Winter Night" to become one of the pearls in collection of many audiophiles. The second album, "Polarity", the melancholic atmosphere is kept, if not multiplied. TA-20 is what the track really needs — more weight works like a little cinnamon in your coffee.
Mike Patton, Jean-Claude Vannier — Chansons D'Amour Mike Patton doesn't need any introductions, I think. He is one of the best rock voices, but also a meme who created many of his projects just for fun. This time it has gone too far and the collaboration with the French composer turned out into an album of great beauty and fragility that brings many associations from Nick Cave to Lou Reed. Of course, this track is rather minimal in terms of accompaniment, it's the vocals we listen to here. Our new xDuoo amp shows itself from the better side bringing harmonics to the voice that emphasize emotions.
Bobby Hutcherson — The Kicker There are instruments that are considered to be suitable for jazz — trumpets, sax, piano. There are others that jazz shares with other genres — guitar, acoustic bass, percussion. And there are instruments that you don't expect to hear in jazz at all, but then you come across that Bobby Hutcherson album and understand that it's hard to imagine instruments that are more of jazz, as marimba or vibraphone. Especially if you see Hutcherson live performances (for example, vivid It's only A Paper Moon with Herbie Hancock): passion, technicality and accidental elements. In The Kicker track xDuoo TA-20 demonstrates the ability to underline character of instruments adding effects and realism to vibraphone but not forgetting other instruments.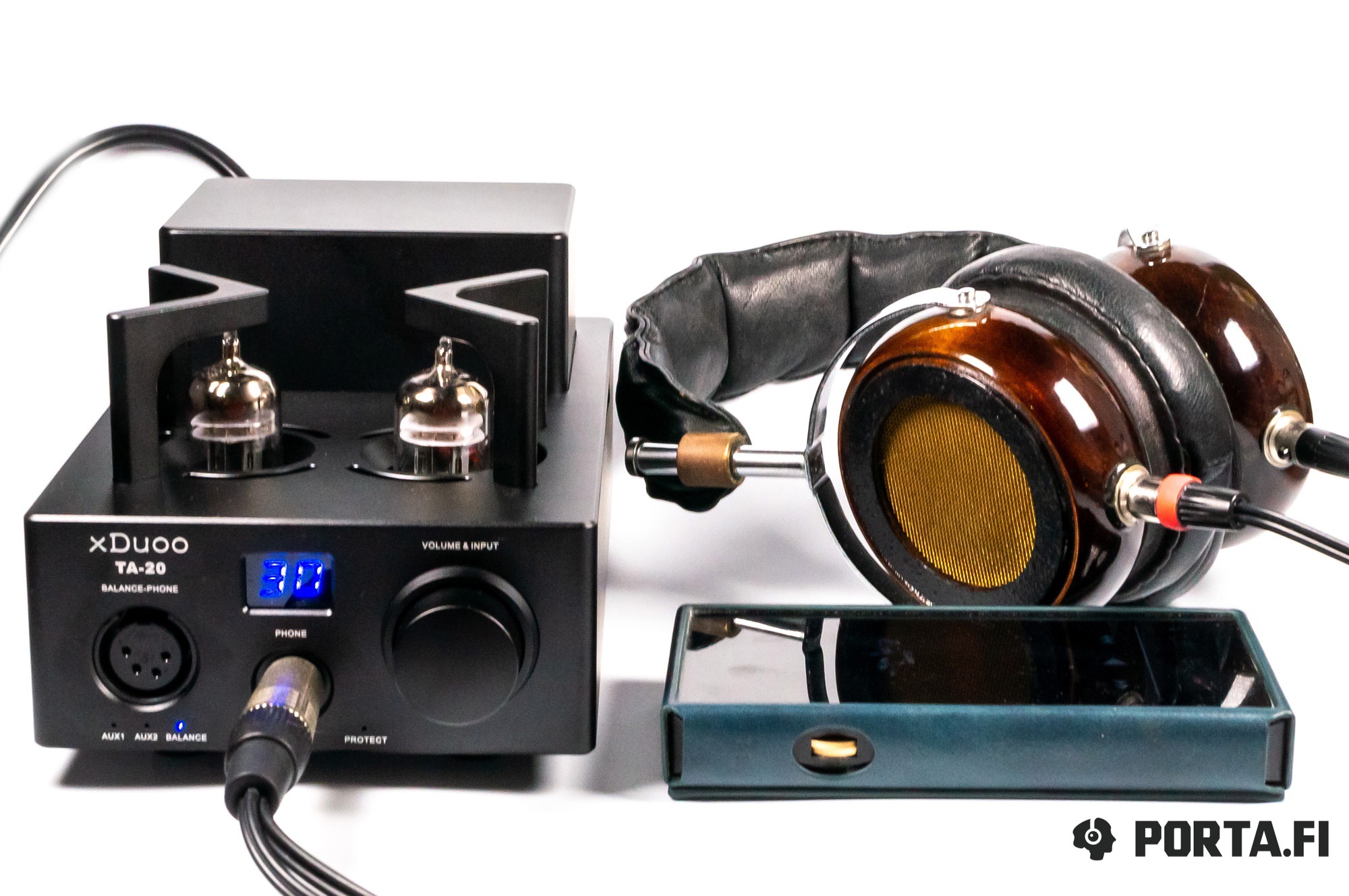 Conclusions
Good amp for those who want character in sound, vintage but technical presentation, who want to experiment and tune nuances with tube rolling.
Translated by: Vadim Kolchev