I need to acknowledge the role of Shanling in diminishing size of players on the market. Their M1 in its own time has transformed the market and has shown that users need compact devices. The time has passed and M1 is old now and has demanded an upgrade, but instead of upgrading the developers have decided to completely rework it, so today we will speak about Shanling Q1.

Of course many of you can say that M1 is not that old and remember M0, but let's be honest, it has been average in terms of sound (opposite to great functionality). It's usability has left much to be desired and Q1 occupies the niche right between M0 and M2 (I have forgotten the current index number). Moving forward I can say that Q1 is a success – unusual body material, enhanced sound, good price around 130 USD which seems really good and adequate.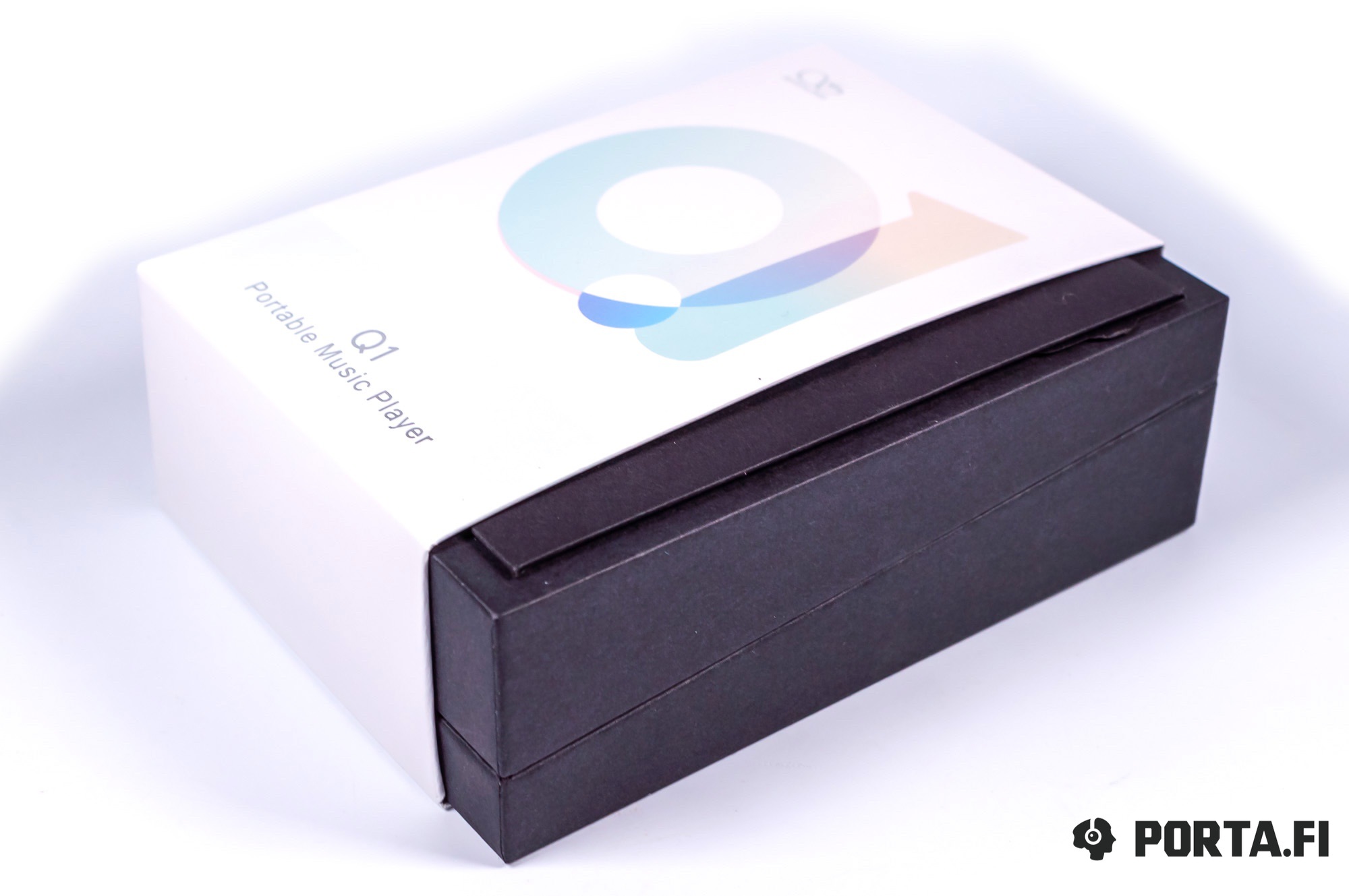 Specifications
DAC: ESS ES9218P
Output power: 80 mWt @ 32Ω
Output impedance: <0.2Ω
Recommended impedance load: 8Ω – 300Ω
Channel separation: 76 dB
Frequency range: 20 Hz ~ 40 kHz
Dynamic range: >105 dB
Signal/noise ratio: 118 dB
Distortion: 0.004% @ 1 kHz
Max supported resolution: 384 kHz/32 bit, DSD128
Max resolution in USB DAC mode: 192 kHz/24 bit
Bluetooth: 4.2, two-way
Codec support: SBC, AAC, LDAC, aptX (transmission only)
Battery: 1100 mAh
Playback time: up to 21 hours
Charging time: <2 hrs
Memory: MicroSD up to 2 Tb
Screen: 2.7″, 360 × 400
Dimensions: 75 mm × 62 mm × 17 mm
Weight: ~133 g.
Accessories and packaging
The box is stylish, nothing striking but still stands out from competition with the help of interesting printing and diagonal cover.
Inside, apart from player itself you will find USB-C charging cable, silicone cover (using the same color scheme as your player) and protective film — everything you might expect to see in box of a modern player.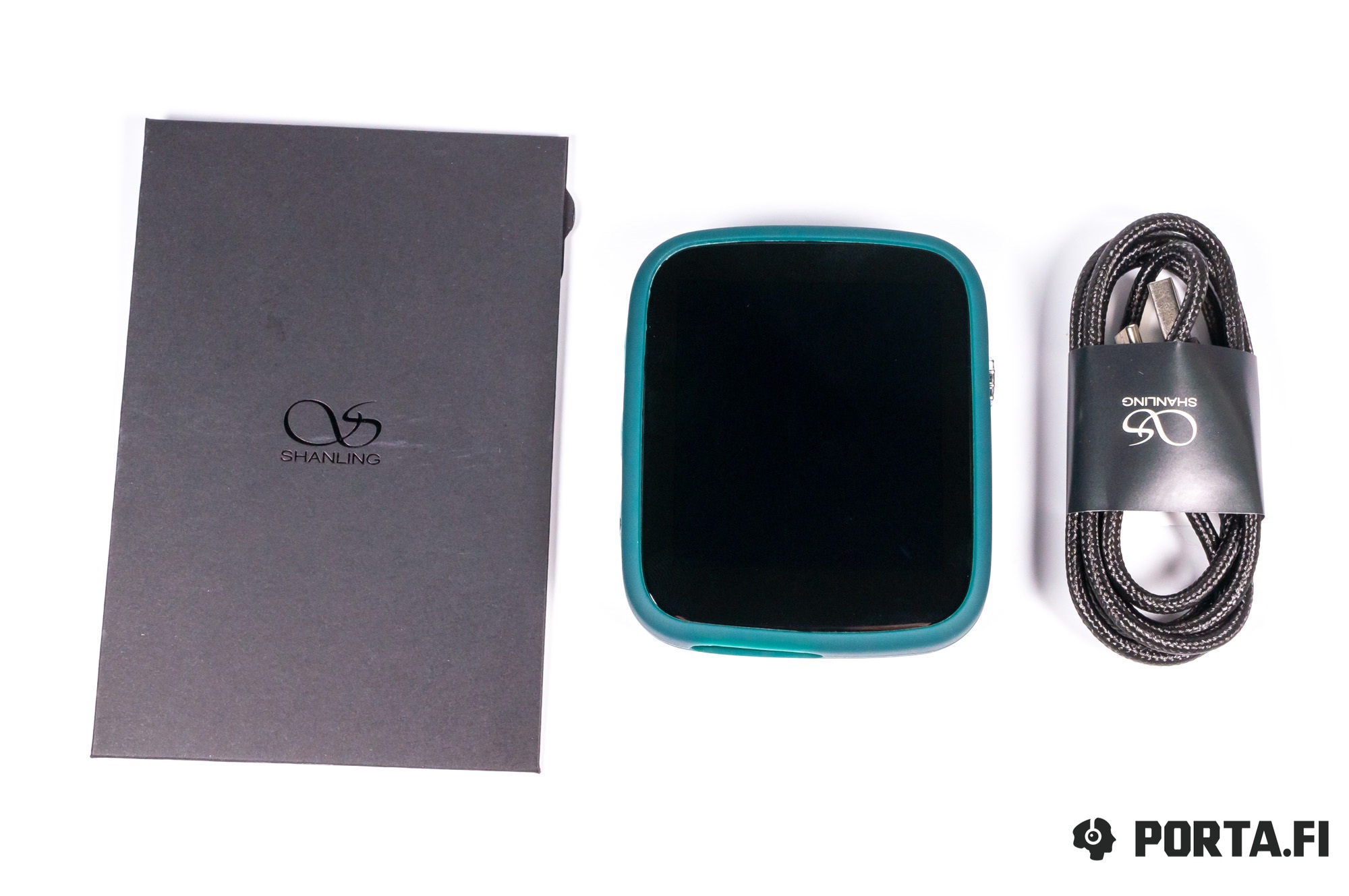 Design and controls
Design is what really stands out in Q1. It is especially made to look vintage, or even retro-futuristic style, if you wish – rounded shapes, unusual color, interesting body material, complex dying technology. I'd like to speak about it a little bit more. Shanling are the first to use zinc as body material with an interesting dye that reminds of varnish paint. It looks really good and feels even better. The player feels very smooth and I at first have thought it is made of plastic, but it of course weighs too much for that.
Ergonomically player is a success too – you can easily blindly find three playback buttons on the left side (I have missed it in M0). Ideally I would like buttons to be stiffer but it's not a problem at all, especially if you use stock case. And of course click-and-spin volume wheel is also here. It is in the upper right corner and is different from the body: silver with engrailment. It reminds of watch crown and fits in vintage style just right. It feels okay in terms of clicks and movement and register moves well. The functions of it are standard – volume change, turn on and off and screen lock.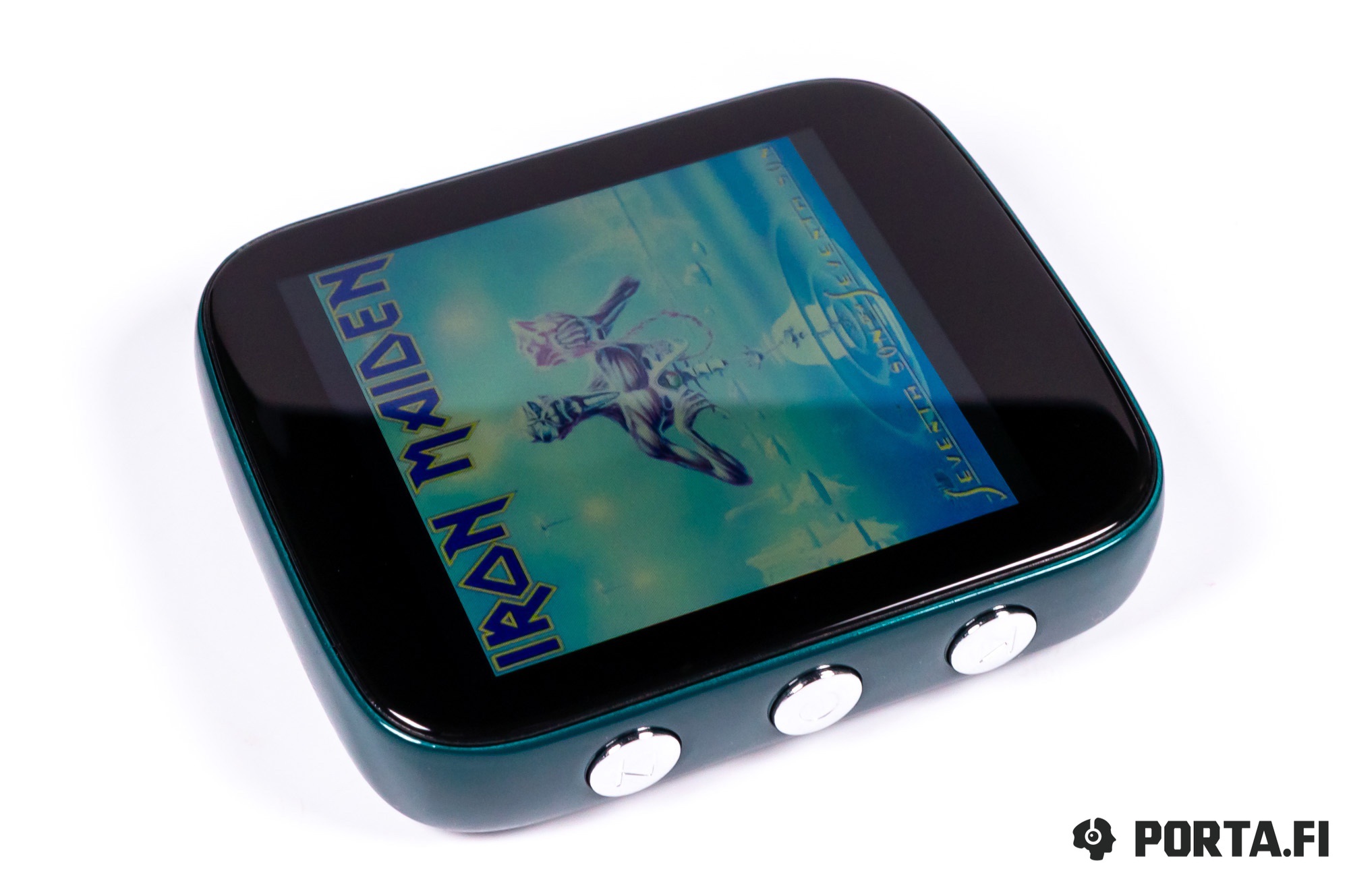 On the bottom side there is a microSD slot (player doesn't have it's own memory), the headphones output (3.5 mm only, can also work as line out) and USB-C slot that again works as expected: charging, memory card access, using player as DAC or transport. The battery in Q1 is good. It can be fully charged for approximately 1 hours 45 minutes and it will be enough for more that 15 hours of work. I have not been able to get the promised 21 hour but I think it is possible with some IEMs. Anyway, the playback time is clearly above average.
The display is small, less than 3 inches, with good resolution and view angles. The brightness is a little bit lower than on the best screen examples but if you use your hand as cover you will see everything even under direct sunlight. The screen is of course a touch one with presses and taps registering well but you have to get used how the gestures work because they need to be precise and rather quick to work.
Firmware
Shanling Q1 firmware has been developed by the company itself and you can see it everywhere: the animations are sometimes not smooth, you have to get used to gestures and so on. But nevertheless the firmware is good, stable, convenient and has all needed functionality.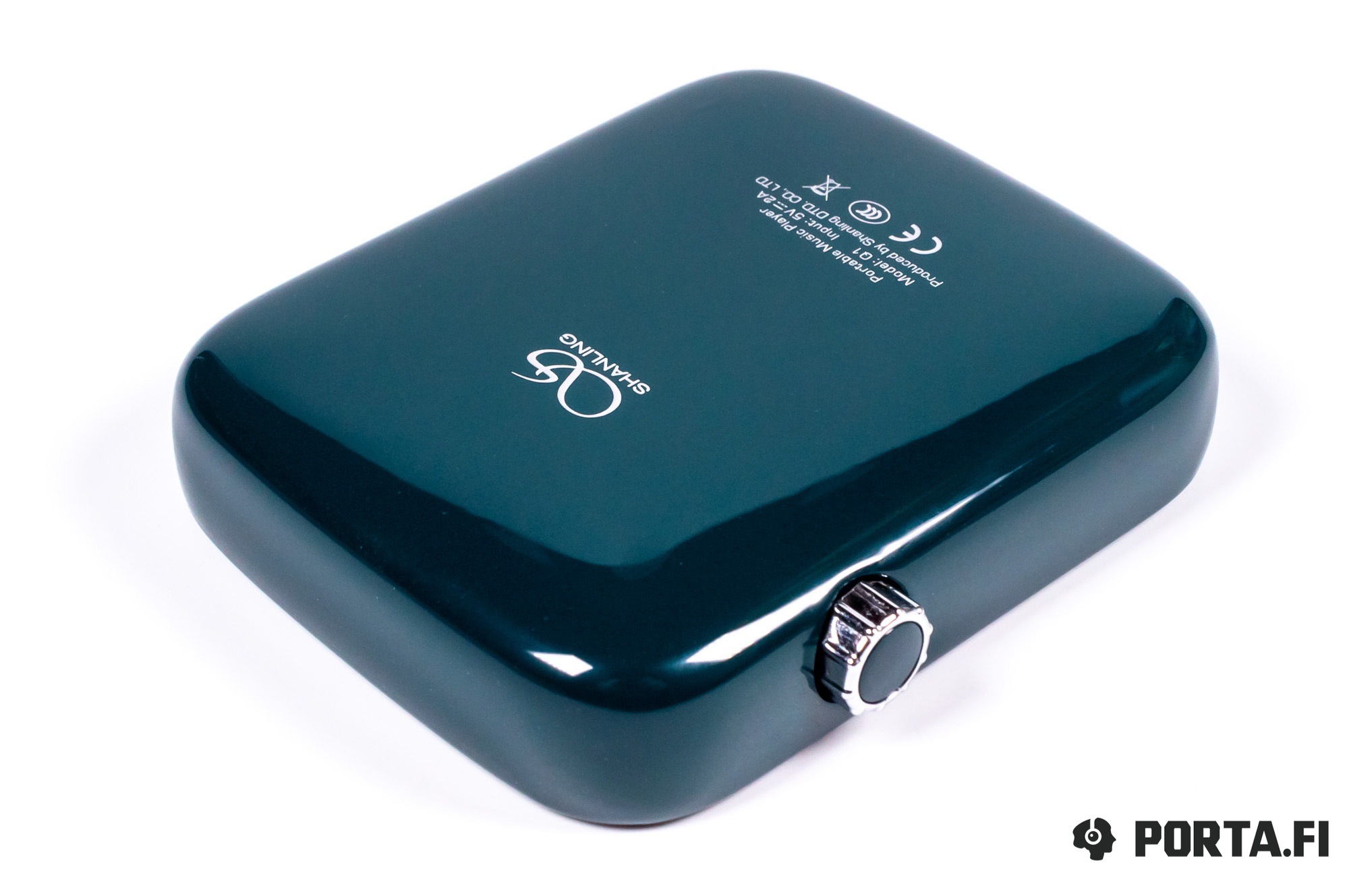 Menu, as in M0, is in the form of carousel of large icons that move left and right. In the times of M0 there have been many complaints about laggy movement of carousel and it has been fixed – the developers have got rid of animation at all. We see the same behavior in Q1. Menu is traditionally organized and has the following parts:
My music Regular media library that has standard features such as All Tracks, Albums, Artists and Genres and even more — Composers and Hi-Res. Here you can also find recently added music and latest listened tracks and those that you listen most often.
Favorites It has been made a separate menu, however I doubt it is that popular, but Shanling have thought it to be so.
Folders Traditional menu entry for those who like to organize media library in folders. You have bulk file operations here, such as removal or addition to playlist.
Playlist I think the purpose of this part is obvious, and would just like to add that there is a convenient way to export and import the playlists for those who uses such kind of music organization.
Playback Playback settings such as gapless, equalizer, play through folders and others. Q1 has it all, including replay gain and digital filters.
System It is predictable too, starting from language choice and ending with sending files to player over WiFi. By the way, the situation with WiFi is interesting here — it hasn't been announced anywhere prior to release and has appeared only with 2.0 firmware release, however, there are no streaming services and Shanling do not plan to add them. However, the support of DLNA with AirPlay and wireless file transmission, as well as firmware updates are welcome additions to a device that costs 130 USD.
Playback screen is regular with large playback buttons. There is a usual dropdown menu that can be opened using top to bottom gesture – here you will find quick settings and brightness.


Q1 firmware is not only stable but functional. It has Bluetooth support with LDAC, ability to work as digital transport and remote player controls with the help of SyncLink.
Sound
I have used the following headphones for listening purposes:
Noble Audio Khan, IMR Acoustics Rah, Unique Melody Mason V3, Meze Empyrean, HiFiMan Ananda and others.
The specifications and chip remind of previous M0 model, but the sound is very different. This time Shanling have concentrated on more natural presentation with better control of frequency range. Again it proves that you can achieve different results with the same chip. However it may be the case that modern M0 revisions have been updated in terms of sound, but I am not aware of that.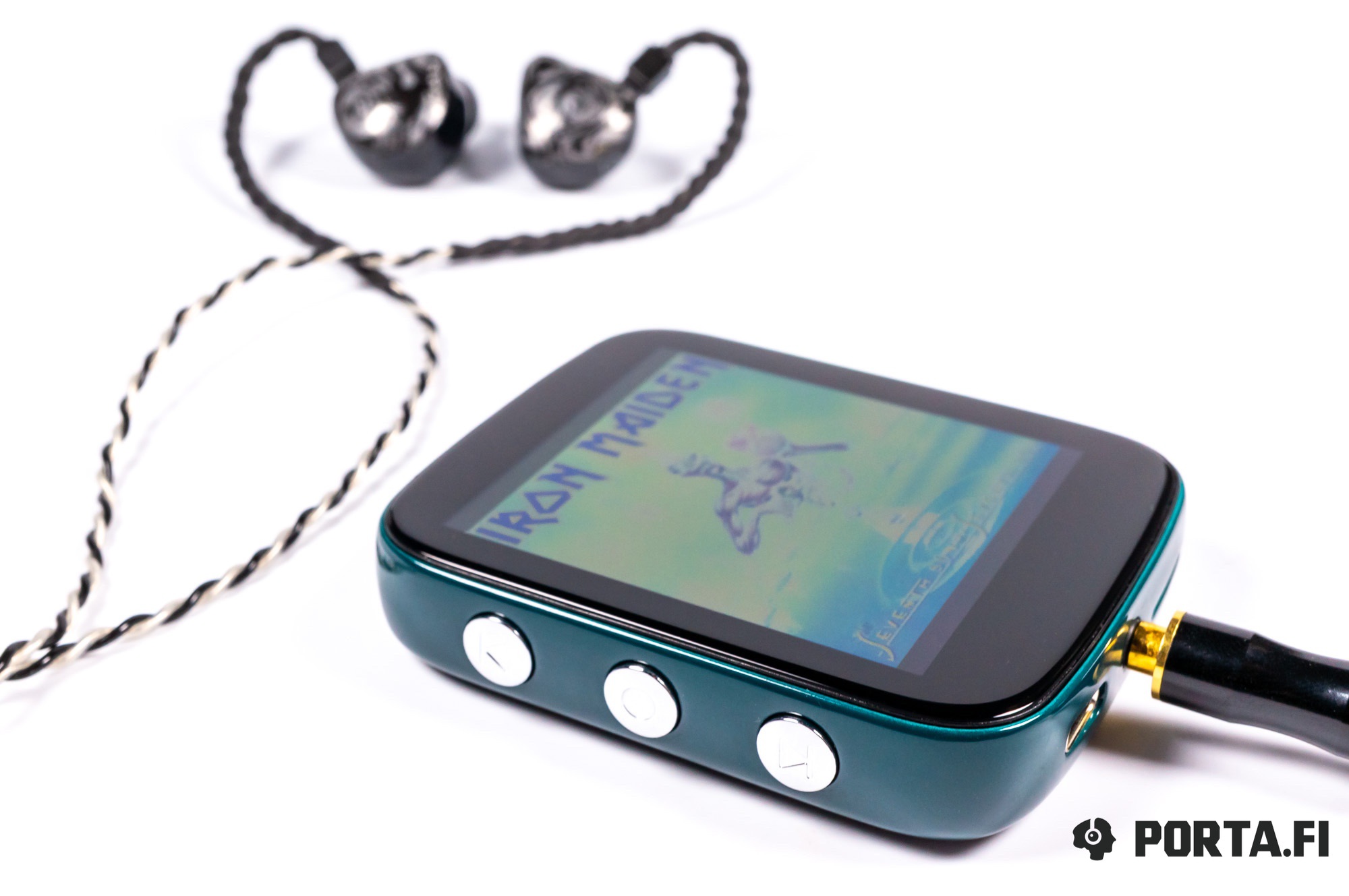 Q1 has neutral bass without attempts to color it towards weight or speed. It is well controlled and transmits textures well which provides better instrument naturalness. Resolution is not overly great but normal for this price tag. Depth is good but not maximal.
The mids are balanced. Shanling haven't tried to make it too detailed or too massive so the mids have become natural with good control and weight, together with detail amount, if the recording quality is good. Upon the whole the player is averagely critical to the recording quality and it will be good news for those who have non-audiophile library. The soundstage is slightly above average in depth and width.
Highs are a little bit smoothed to create more comfortable sound. It is done not in terms of quantity but using less energy in this part of frequency range. This effect is not huge and will not transform bright headphones into comfortable ones but still they will feel a little bit comfortable. The highs are good here but you should not expect ideal layering, however they still have such basic things as resolution and control, good length and good attacks and decays.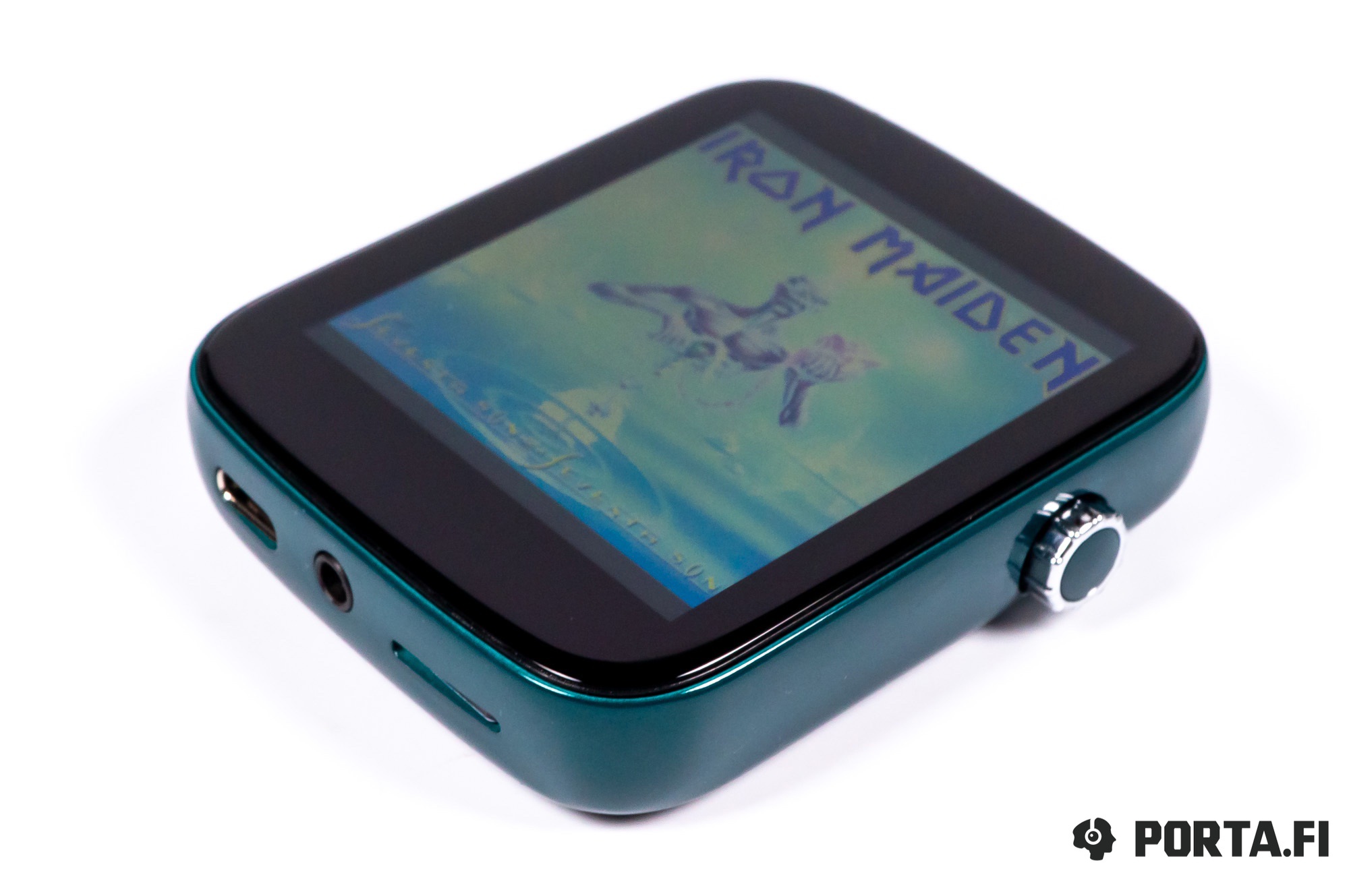 Comparisons
This time I will speak about sound only and only about compact budget players.
Shanling M0 I have already noted this player before and will sum everything up – Q1 sounds more natural, has better soundstage and controls bass better.
Shanling M1 Here we also have changes in sound with Q1 having better naturalness and better control across the frequency range.
Hidizs AP80 Pro Compact player from Hidizs offers more micro details and has a brighter presentation.
HiBy R3 Pro Here the situation is opposite, R3 Pro has more massive presentation than Q1 and is smoother and warmer.
FiiO M5 Q1 has better mids that sound more natural. M5 has more notable highs.
FiiO M6 M6 has more natural highs and deeper bass (however it is not too obvious).

Compatibility
Shanling Q1 can handle even some hard-to-drive headphones, but 80 mW of course won't be enough for planars and high-impedance headphones. Sensitive IEMs play well here with very slight background hiss.
In terms of genres the player is universal and averagely critical to recording quality — 6 out of 10.
Example tracks
Ennio Morricone — Childhood and Manhood A sad reason to remember this masterpiece by a master who has passed away recently. He will live with us forever, though, thanks to his creations and this great soundtrack proves it. Piercing story and the same kind of soundtrack: light, airy with great piano part that is enhanced by Shanling Q1. This small player greatly dips the listener to the track atmosphere (and film).


Derrick Hodge — Not Right Now The track begins as a classical instrumental jazz but the level of abstraction quickly grows involving the listener and making him put away everything and enjoy the music. Shanling Q1 is of course not ideal for such complex music but it offers technical enough presentation that allows to enjoy every party separately and the composition altogether.


Cold War Kids — You Already Know Probably this is how the rock should sound, especially the one created somewhere in the south of Los Angeles: inventing and joyful. If you add great Shanling presentation to it, you get a good synergy that will make you want to nod your head or tap your foot.
Conclusions
Shanling have made a good job of optimizing their device. The newcomer has all positive features of both M1 and M0 and has enhanced sound. Besides that Q1 has enhanced body that is aesthetic enough and I am waiting for future models using this material.
Translated by: Vadim Kolchev