I love situations when you don't expect anything great from gadget and it surprises you. This is exactly what has happened to a small DAC Meizu HiFi Audio Pro made in a popular dongle format.

Just think about it — when mobile phone manufacturers have really cared about the sound? Remember the sound quality of Xiaomi earphones and the answer is — never. There are some attempts from LG, but this is the beginning and approximately the end of the list. This makes Meizu dongle a great surprise for me. I will cover the sound in-depth, but even specs look good: CS43131 as a DAC, OPA1622 as an AMP, high resolution support, good output power — what else is needed? Of course, good price, and it is rather good here — you can buy Meizu HiFi Audio Pro for 50 USD and it is one of the best ways to jump onto audiophile train. With "PortaFi5" code you'll get an additional $5 discount.
There is a also a non-pro version of dongle that costs less and has weaker amp, but I haven't tested it and don't think it's worth saving some money sacrificing quality.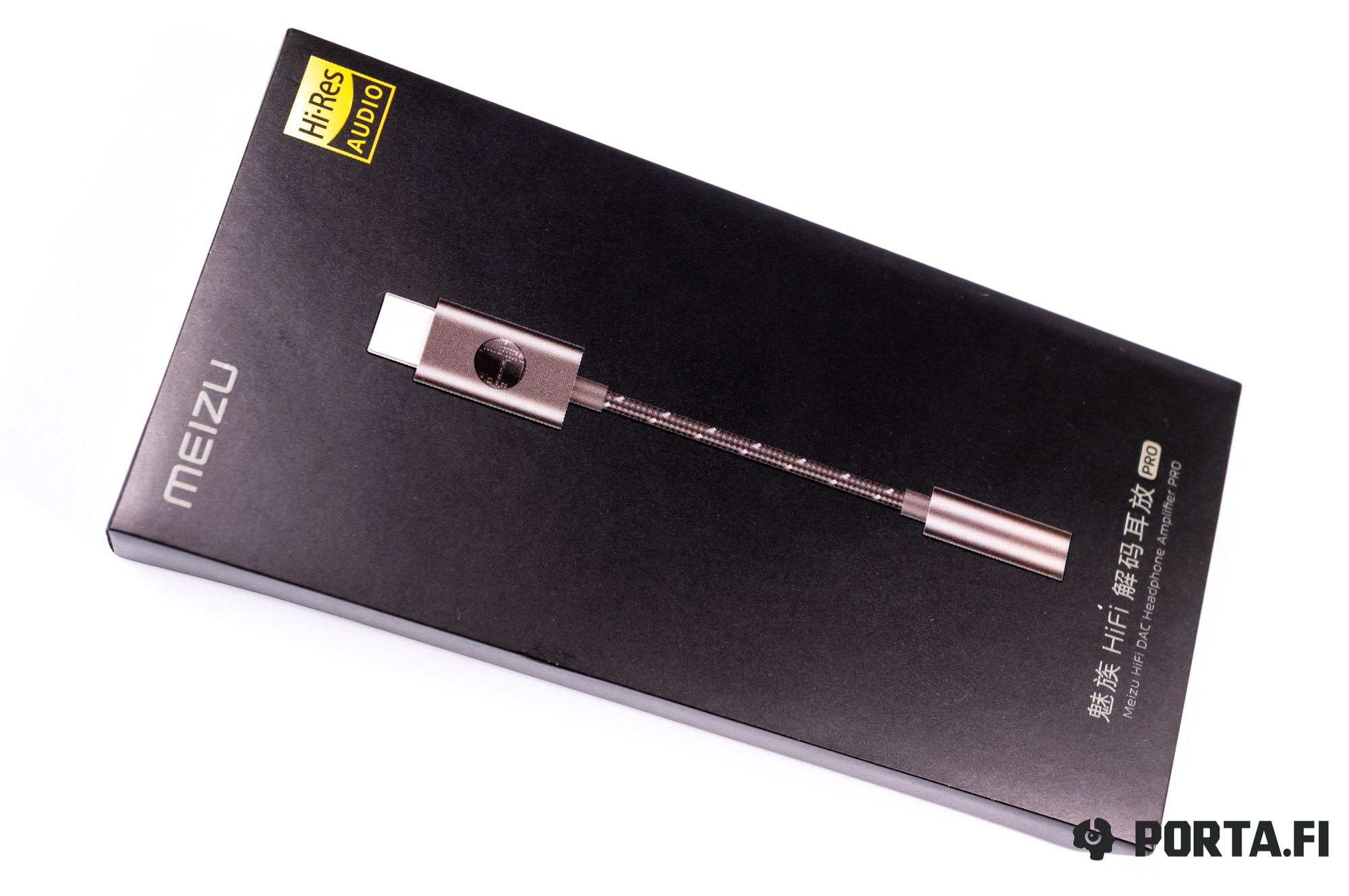 Specifications
DAC: CS43131
OPA: OPA1622
Frequency range: 20 Hz – 40 kHz
Signal/noise ratio: >120 dB
Dynamic range: >120 dB
THD+noise: <0.0003%
Recommended impedance load: 16Ω ~ 600Ω
Output power: 30 mWt per channel @ 32Ω, 6.7 mWt per channel @ 600Ω
Resolution support: up to 384 kHz/32 bit, DSD128
Weight: ~ 4 g.
Design
The packaging is simple, but has good printing and nice combination of glossy and matte surface. There is dongle and some paper inside, so the accessories are rather scarce.
The appearance looks better. All the electronics fit into USB-C connector box and still it is very compact. It has illuminator and you can literally see what's inside. The connection cable is not long but it's enough to prevent unnecessary load on USB-C input of your smartphone. The earphone socket is as small as possible and it supports hands-free.
Meizu have tried to do everything the best way. If you put your headphones out of socket, DAC is disabled and when you connect them, it's enabled again. I think it is done to save precious energy, since it's the smartphone power that is used to give juice to dongle. During my tests the discharge rate was 30% higher than without dongle but of course it will depend on load and chosen volume.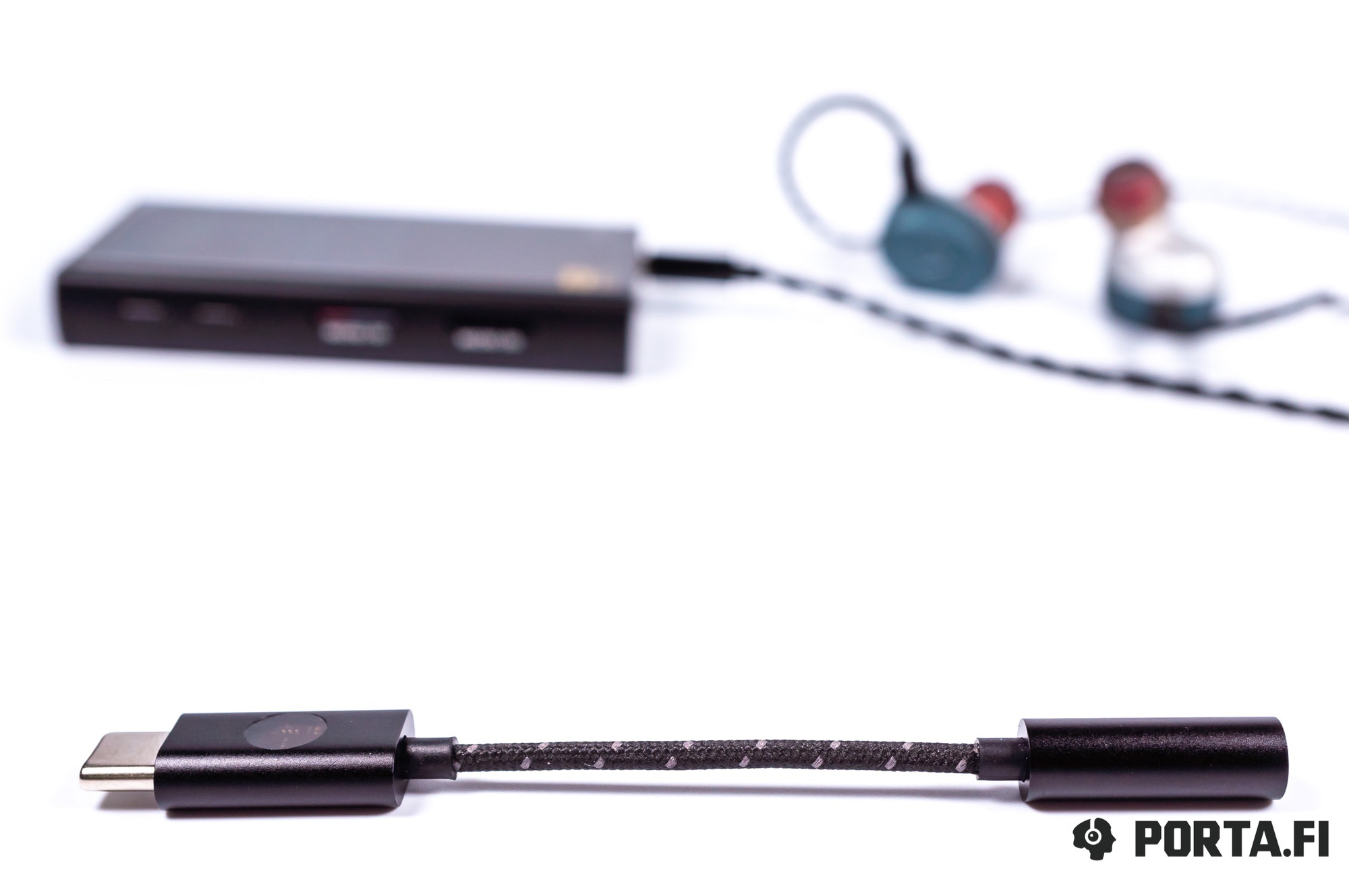 I have come across complaints that dongle is not compatible with some Samsung models but it must depend on chipset or some other things, since other people report it's working on the same models of the same manufacturer.
Sound
I have used the following headphones for listening purposes: iBasso IT04, Meze Empyrean, Kennerton Thror, Noble Audio Khan, Campfire Audio Andromeda and Solaris, Unique Melody Mason V3, HUM Pristine and others.
Of course there is nothing very special about this adapter but if you compare it to regular non-audio oriented smartphones you get a sufficient progress. This DAC offers more neutral and detailed sound in comparison to generic smartphones and it is a good step up for most of users.
Overall the tendency is that dongles become more and more popular and compete with players — they are not too costly, have good sound quality and user retains UX and capabilities of his smartphone.
The bass is tight and has good slam, attacks and decays are a little accelerated but compared to oversized bass of regular smartphones it is a good step forward. Bass goes deep and is well controlled, the amp part is well heard and it is clear that it can control earphones well (except hard-to-drives).
Mids are detailed and non-colored with slight accent on micro details. If you want to "hear new details in old compositions", as bad reviewers say, it's a good option. Of course it won't add any new details but will move accents in such way that you will hear the old ones better. Dongle presents music as is without attempts to underline emotions, add weight or enhance sound in any way. Of course the requirements to the recording quality are higher, it even supports DSD, so you will feel yourself as a real audiophile, picking better mastered albums. The soundstage is less than average in depth and width but compared to plain smartphone soundstage, again, it is a clear step forward.
Highs are the most notable part in terms of improvement. Of course, rich and textured highs of expensive gadgets are not about this dongle, but compared to modern smartphones the improvement is very significant. It has more length, details, correct processing of attacks and decays and more natural presentation — this is what this gadget provides.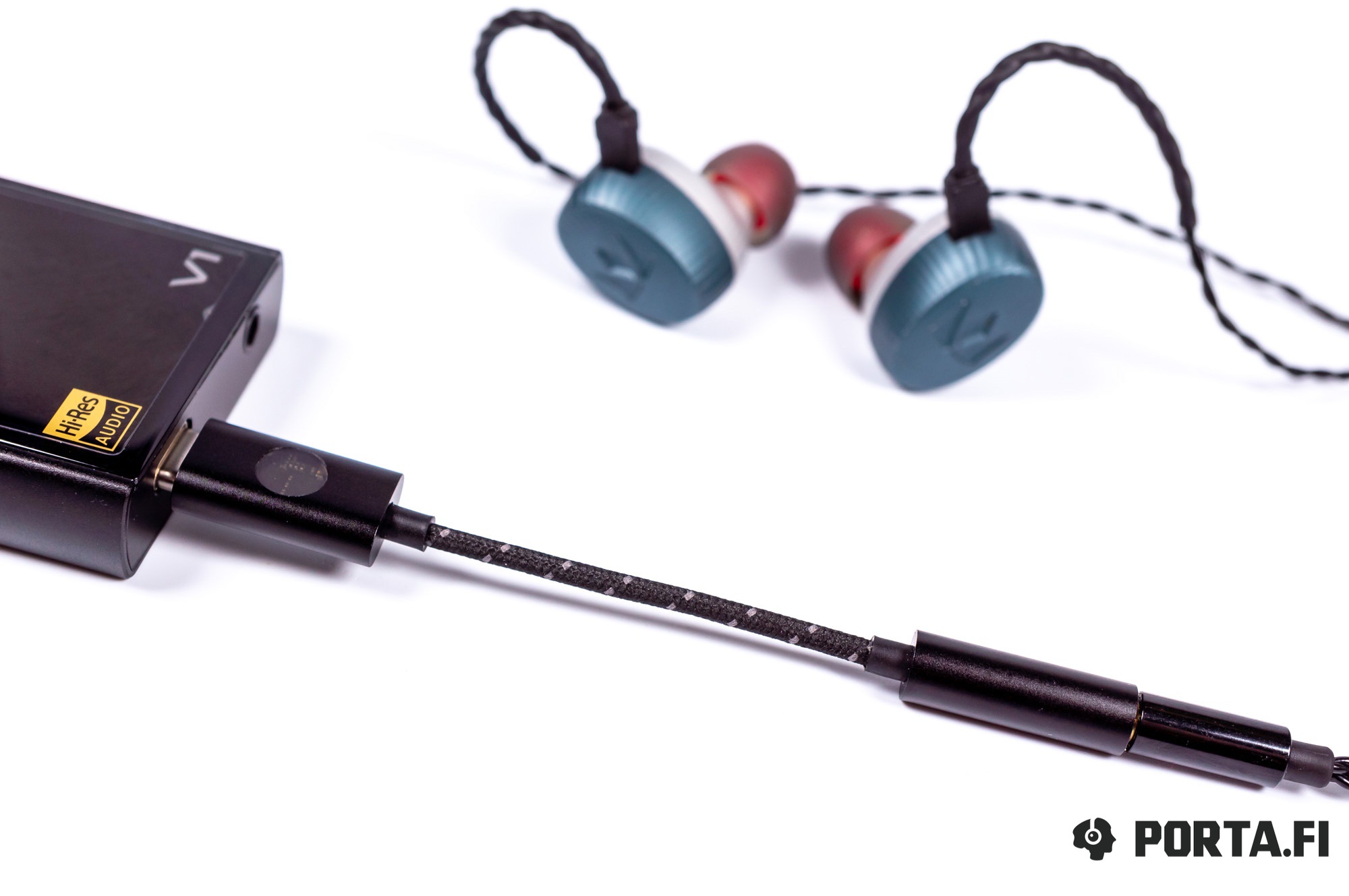 Comparisons
There are couple of similar gadgets that I have already reviewed.
Hidizs Sonata DAC HD Slightly more bland dongle with less resolution and less control in terms of lows.
iBasso DC01 Slightly more power, better lows control, better resolution across the frequency range, but at the expense of more power consumption and balanced connection. Of course, iBasso have released regular DC02 version, but I haven't listened to it yet.
Compatibility
Unfortunately I don't have 600 Ohm headphones to check the manufacturer figures, but this dongle is not bad with Sennheiser HD600, however, they still sound better with good OTL lamp amp. Upon the whole, I have to admit this small gadget is good with averagely sensitive headphones. Low impedance IEMs sound well too, with low level of background noise.
In terms of style the gadget is universal, it's only necessary to understand that the user will get more neutral and uncolored sound and will be ready for it. The overall sensitivity to recording quality is 7 out of 10.
Conclusions
It is the case when the device is successful. Compact size, convenient usage with any Android smartphone with Type C and good sound quality together with support of high res formats — this is what Meizu HiFi Audio Pro offers to users.
Translated by: Vadim Kolchev