HiBy is a good example of how software company can produce good hardware solutions, and the HiBy lineup shows it perfectly, as well as its development that brings improvements with every iteration. Today we will speak about the successor to the younger model — HiBy R3 Pro.

Formally speaking this player should be called not R3Pro, but R3 Mark 2 or so, since the model is not senior but upgraded R3, although quite impressive. But let's put formalities aside and speak about changes. The appearance has remained the same, all the changes go the the audio part — there is couple of CS43131 as DAC and upgraded amplifier shows 210 mW per channel in balanced mode. Despite increased power playback time also increased to 20 hours (a little less in real life, to be honest, but very impressive). The price hasn't gone up and the player sells for the same 200 dollars and you can (preorder it from the official website).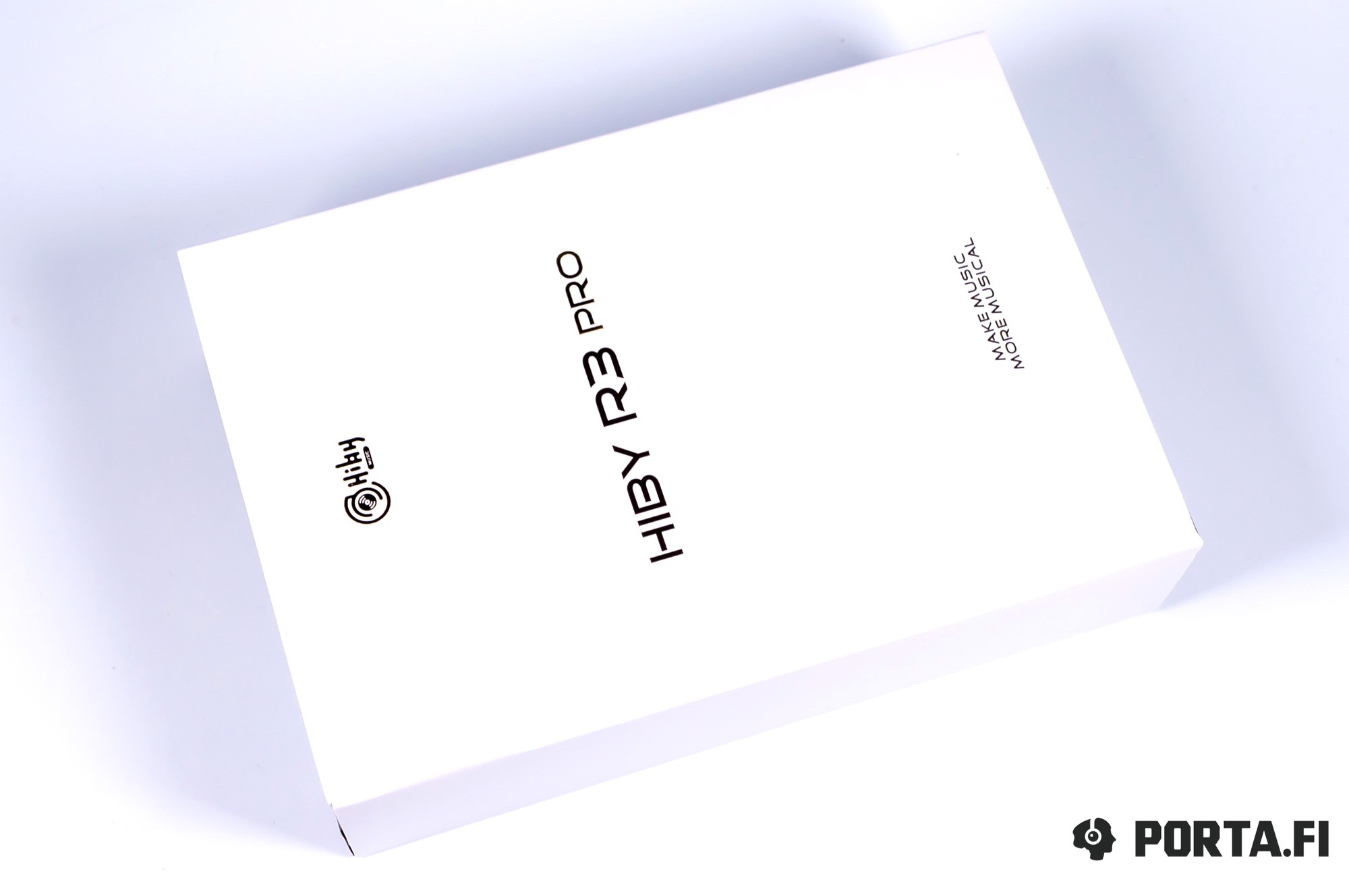 Specifications
Processor: Ingenic X1000E
DAC: 2 × CS43131
Frequency range: 20 Hz ~ 90 kHz
Output power (per channel): single: 60 mW @ 32Ω, balanced: 210 mW @ 32Ω
Signal/noise ratio: regular: –120 dB, balanced: –124 dB
Channel separation: single: 73 dB, balanced: 106 dB
THD + noise: 0.0007%
Screen: 3.2″, touchscreen, IPS, resolution 360 × 480
OS: HiBy OS v3 (Linux based)
WiFi: 2.4 GHz, 5 GHz
Bluetooth: V5.0 with support for SBC, AAC, aptX, LDAC, UAT
Memory card: Micro SD up to 2 Tb
Input: USB Type C
Outputs: 3.5 mm TRS, 2.5 mm TRRS
Battery: 1600 mAh
Playback time: ~ 16 hours balanced, ~ 20 hours single-ended
Full charging time: <2.5 hours
Support for formats: MQA, DSF, DFF, ISO, APE, AIFF, FLAC, WMA, MP3, AAC, WMA, OGG
Max supported resolution: up to 384 kHz/32 bit, DSD256
Dimensions: 82 mm × 61 mm × 13 mm
Weight: 95 g.
Packaging and accessories
It's funny, but the player has better packaging than senior models in the likes of R5 Pro. Here we get a black box with white dust cover — minimalist, but trusted.
Inside there is a player, USB-C charging cable and thick bumper case made from transparent plastic. Apart from that there is a protective film for back panel and protective glass for the screen. It's not necessary to apply them since HiBy R3 Pro has protection right out of the box (thanks, HiBy).
Additional accessories include artificial leather case that can be purchased separately.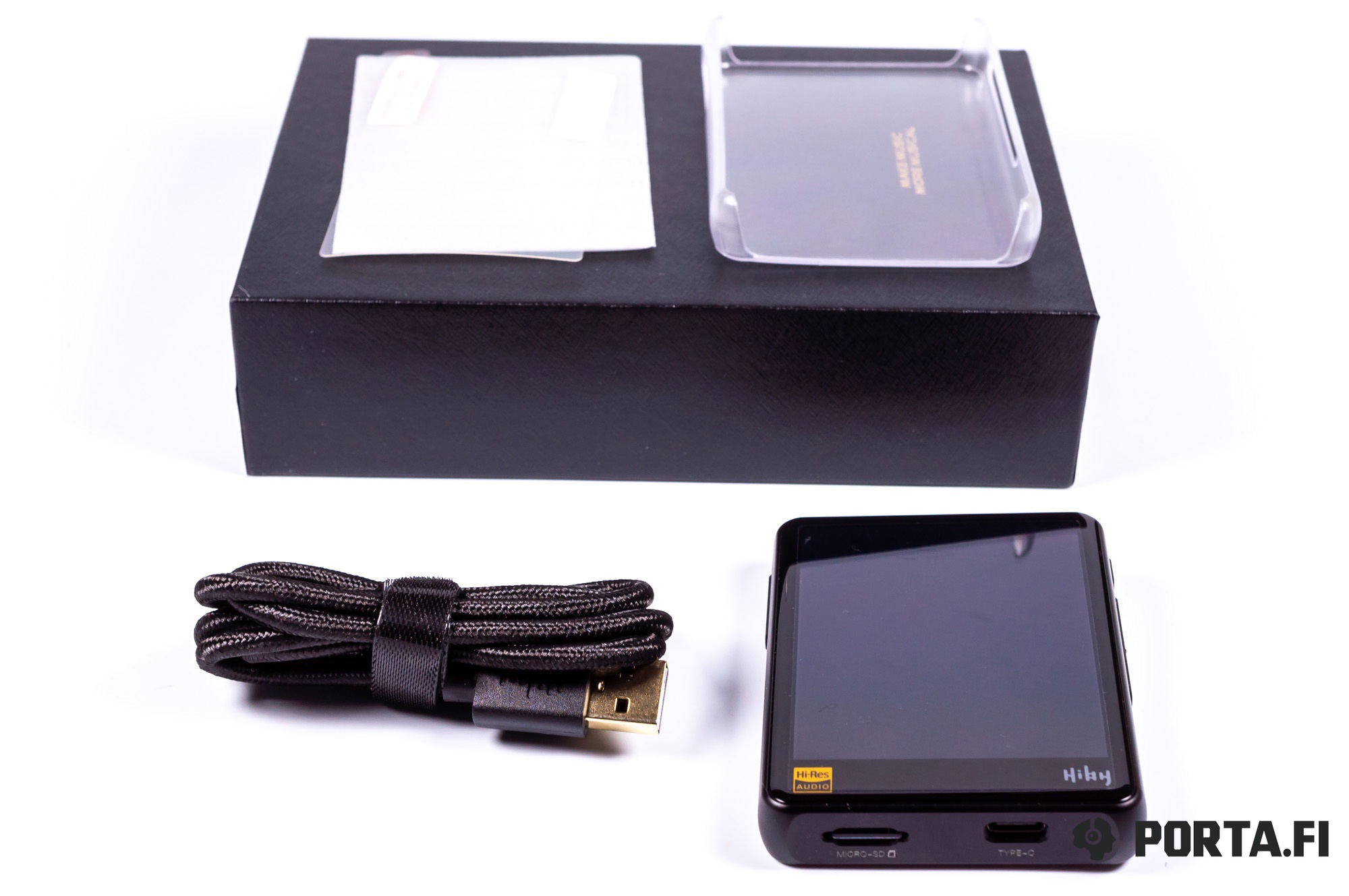 Design and controls
Do you remember a pic showing hard work of Apple designers? HiBy have decided not to change anything, so R3 Pro looks absolutely like regular R3 — aluminum body with rounded corners is slightly different from competitors in its more square shape. It's very convenient. You can choose black or silver color but of course more vivid colors might be welcome. I also hope to see steel version, of course, it's not mandatory, but steel R6 pro has a very good feel.
HiBy follow their traditions and use buttons for controls. On the left there is a volume rocker, on the right — playback buttons, multicolored LED and on/off button. In the center there is a small bump that helps to find needed buttons easily. LED shows not only on/off status and battery status, but also the frequency of the signal.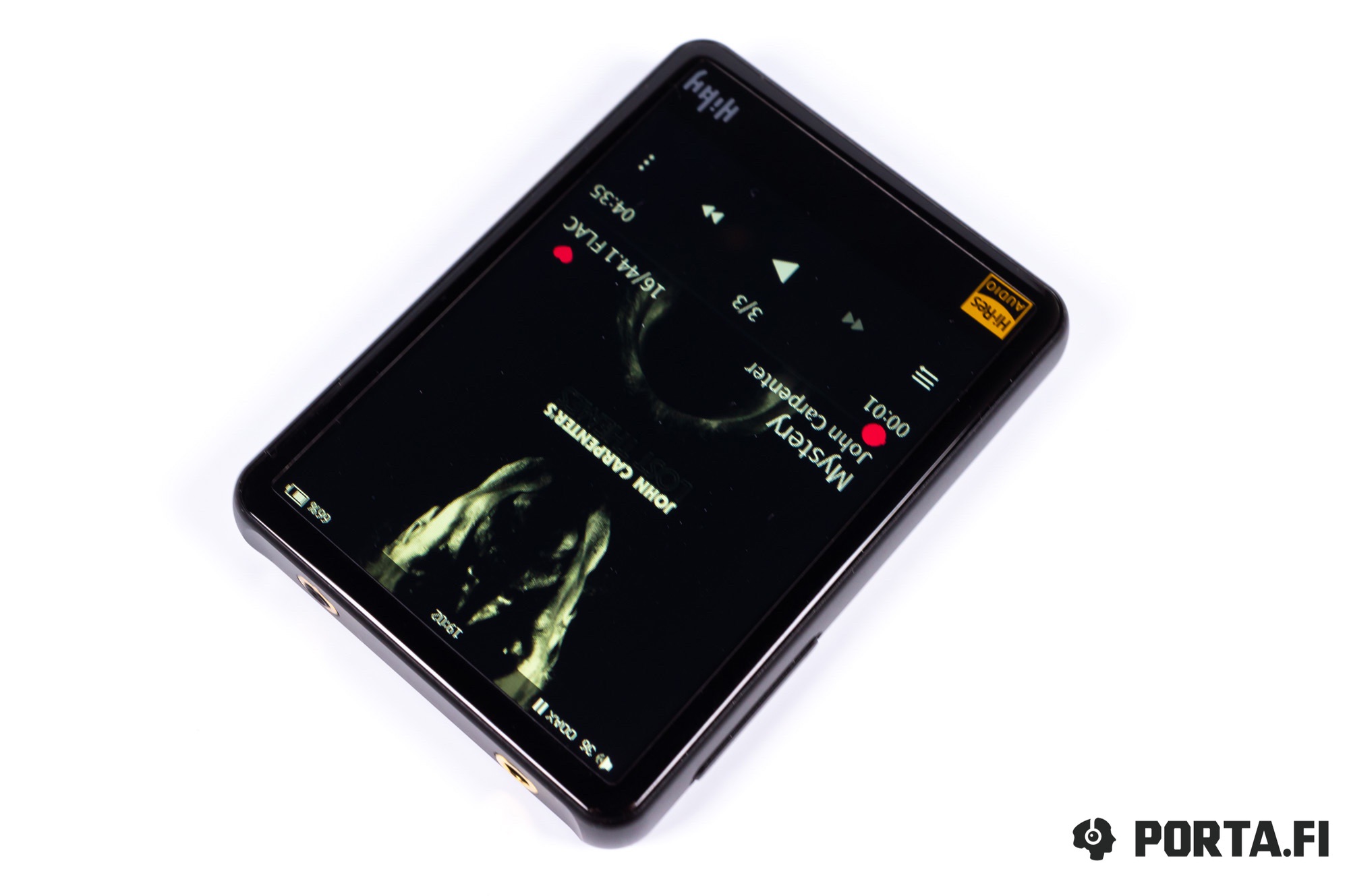 There are both outputs on the top, balanced is 2.5, and probably 4.4 couldn't fit into such small body.
On the bottom there is a MicroSD slot (player doesn't have its own memory) and traditionally multi-functioned USB-C port. Apart from charging and access to memory it allows to connect R3 Pro as DAC and allows digital output and even USB OTG connection. Charging is a notable improvement, since 20 hours are on paper but in reality you get 17-18 hours single ended and 14-15 hours balanced. Combined with good deep sleep mode R3 Pro is a good all-rounder.
Of course screen occupies the most part of the front panel, it's rather bright with good viewing angles and vivid colors. Display registers presses well and stays visible under direct sunlight.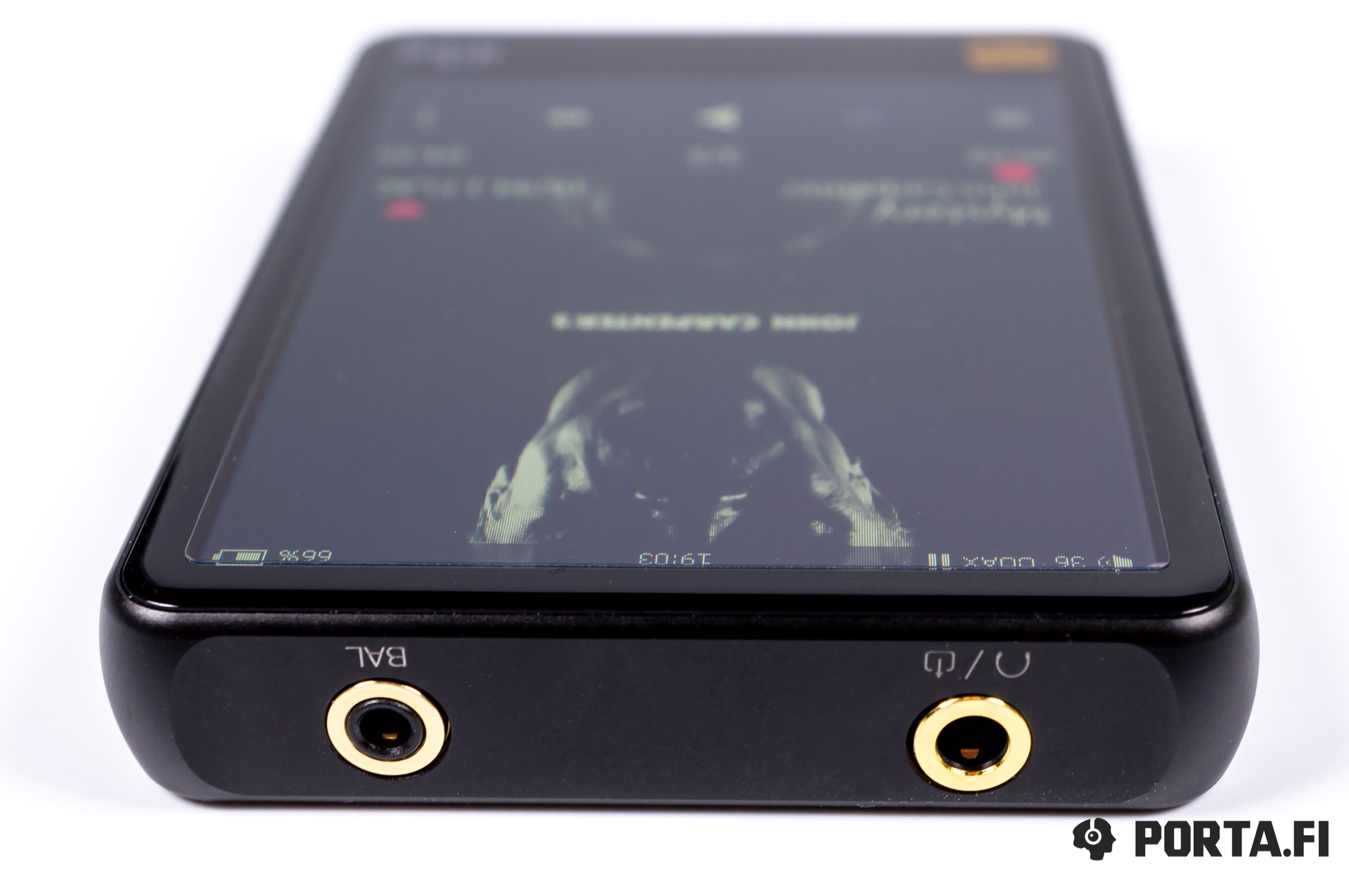 Firmware
The same as R3, Pro variant is based on Linux, that was transformed into HiBy OS. Yes, no Android love here. What about streaming? It is there. HiBy have developed their own Tidal, Qobuz and Web-radio clients. Of course, they are not official and don't have offline mode, but this is what you get if you omit Android.
In terms of usability this device reminds other company devices with interface divided into three parts where you can switch between them using swipes. Named from left to right they are playback, media library and menu screens.
Playing Now screen is traditional — big album cover, progress bar, navigation buttons and short track information. We have seen it all many times. Here you can also change playback order, open context menu (delete of track, add to favorites and so on) and see text in tags (tap screen).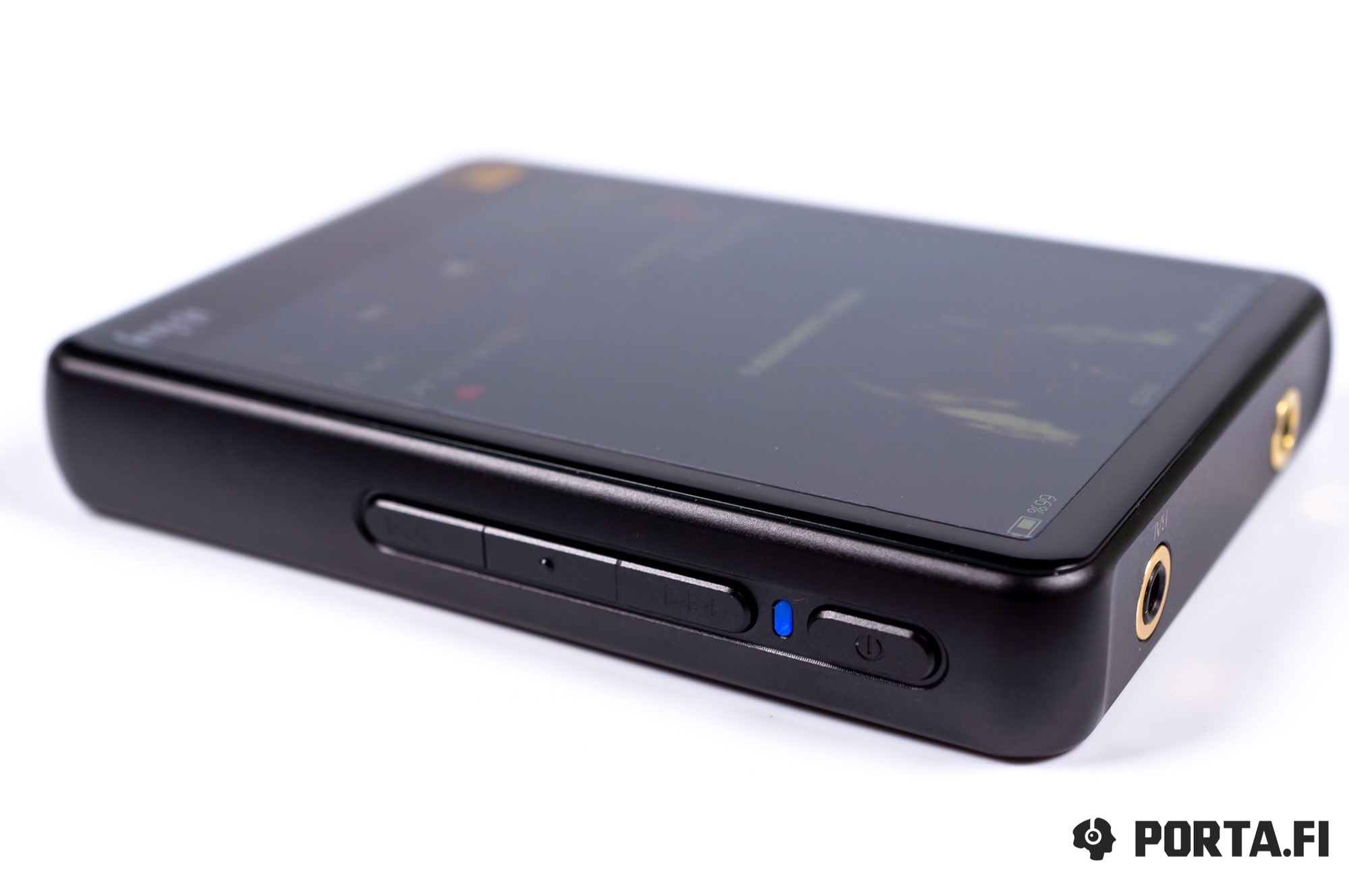 Media library is of traditional two-layered style — the upper row of buttons switches modes — local library, playlists and streaming. Each mode has subsections that can be navigated using the second row of buttons. In case of local library you can choose folder, artist, album, genre and other views. There are bulk operations and ability to delete files. Playlists have favorites, recently added and other modes. Streaming is rather basic — you are prompted for login and password and then search and play music. Of course it looks and feels unusual without regular Tidal client that does offline, but it's better than nothing.
Menu contains everything that haven't made it into other sections: equalizer, pedometer, WiFi transmission, MSEB (brand HiBy equalizer allowing to easily change sound using such terms as 'brighter/darker') and preferences. There are three segments of them — wireless, system and playback settings, and there is no use in describing them all since player has all the modern capabilities — play through folders, replay gain, gapless playback and much more. There are brand technologies such as HiBy Link and all the latest Bluetooth codecs, including their own UAT. There is MQA support.
You can open additional menu with swipe up on every screen and quickly change brightness and volume and there are playback buttons as well.
Upon the whole, the firmware is well tested and works stable, smooth and without any glitches. The only thing of concern is an on-screen keyboard that reminds me of old button phones when you have to press the same buttons many times until needed symbol appears. Complex passwords are surely a test here. However, you cannot demand convenient keyboard on such a small screen.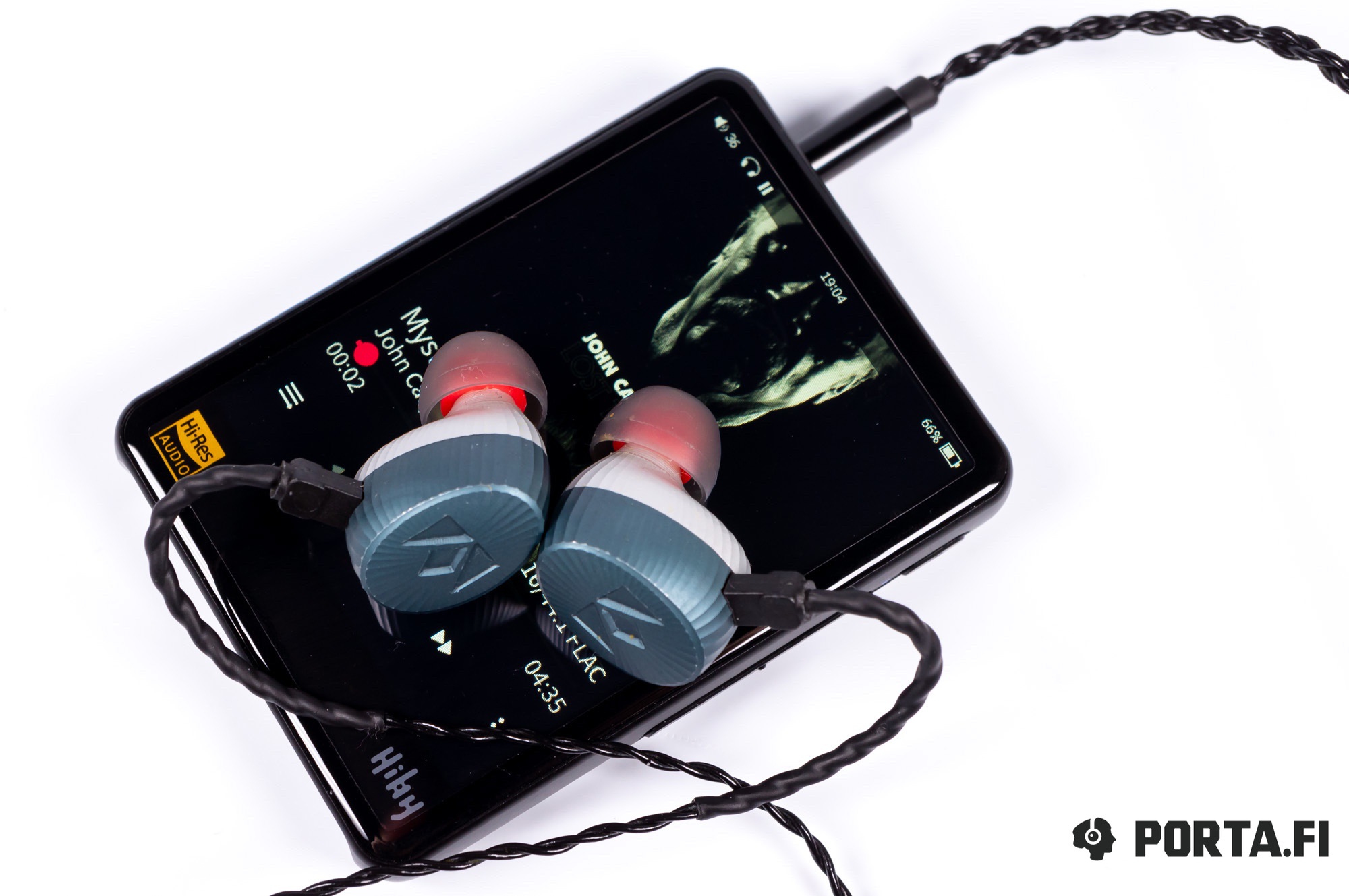 Sound
I have used the following headphones for listening purposes: : Noble Audio Khan, IMR Acoustics R2, Unique Melody Mason V3, Meze Empyrean, HiFiMan Ananda and others.
Sound presentation is different from previous versions, the new model has more highs and it provides more natural sound but still keeps the house sound that has been achieved by additional weight.
Lows are thick and springy with slight additional weight. The deepest bass sounds good and is well controlled, though not ideal. The resolution is okay and textures are well transmitted. Additional weight sometimes accentuates lows slightly more than necessary but most tracks benefit from it and it is true for both real instruments and synthesized bass.
Mids have the same manner. The player doesn't go into micro details — it's massive and full of macro details. But of course the accents are not huge and are used to make music more beautiful. Mids have good resolution, they are full of life and are natural when it comes to instruments and vocals. The player is not over-critical to recording quality and it is good for those who listens to bad recorded genres. The sound stage has become bigger, it's more than average in depth and width and this is possible due to upgraded highs.
There are more highs than in original R3 model, but still the player keeps the tendency for comfortable presentation. Resolution is good but attacks and decays are slightly smoothed and it provides comfortable presentation for those who don't like sharp highs. The highs sound natural and technical but of course they are not on par with players costing 500 USD or more.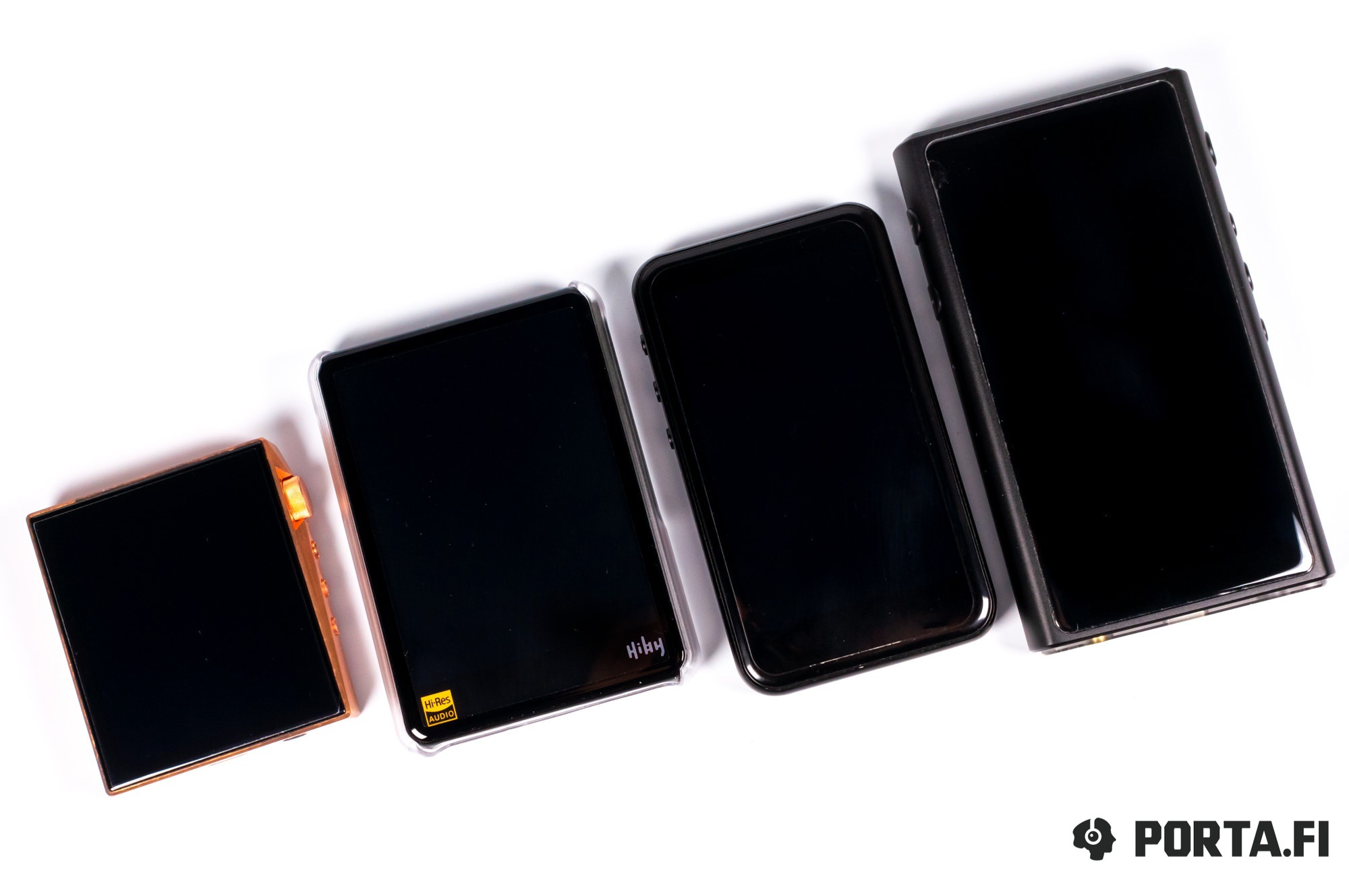 Comparisons
Let's shortly speak about comparisons and make the main accent on sound.
Hidizs AP80 This player is more bright, neutral and with more accent on micro details. It has higher resolution but is more dry with less emotions. The copper version is closer in terms of sound, but has less speed and more massive lows.
FiiO M6 This FiiO player is better in resolution but not as monitor as AP80,although not such fun as R3Pro. Apart from that, M6 has more highs and they are not that smoothed.
HiBy R3 There is a short difference above but I will sum up again. Pro version sounds with more details and better space and sound stage, it has more highs and they are more natural.
HiBy R5 This player is similar in presentation but with better marcro details, more natural and precise sound. Given that now it's available for around 300 USD the choice is not obvious.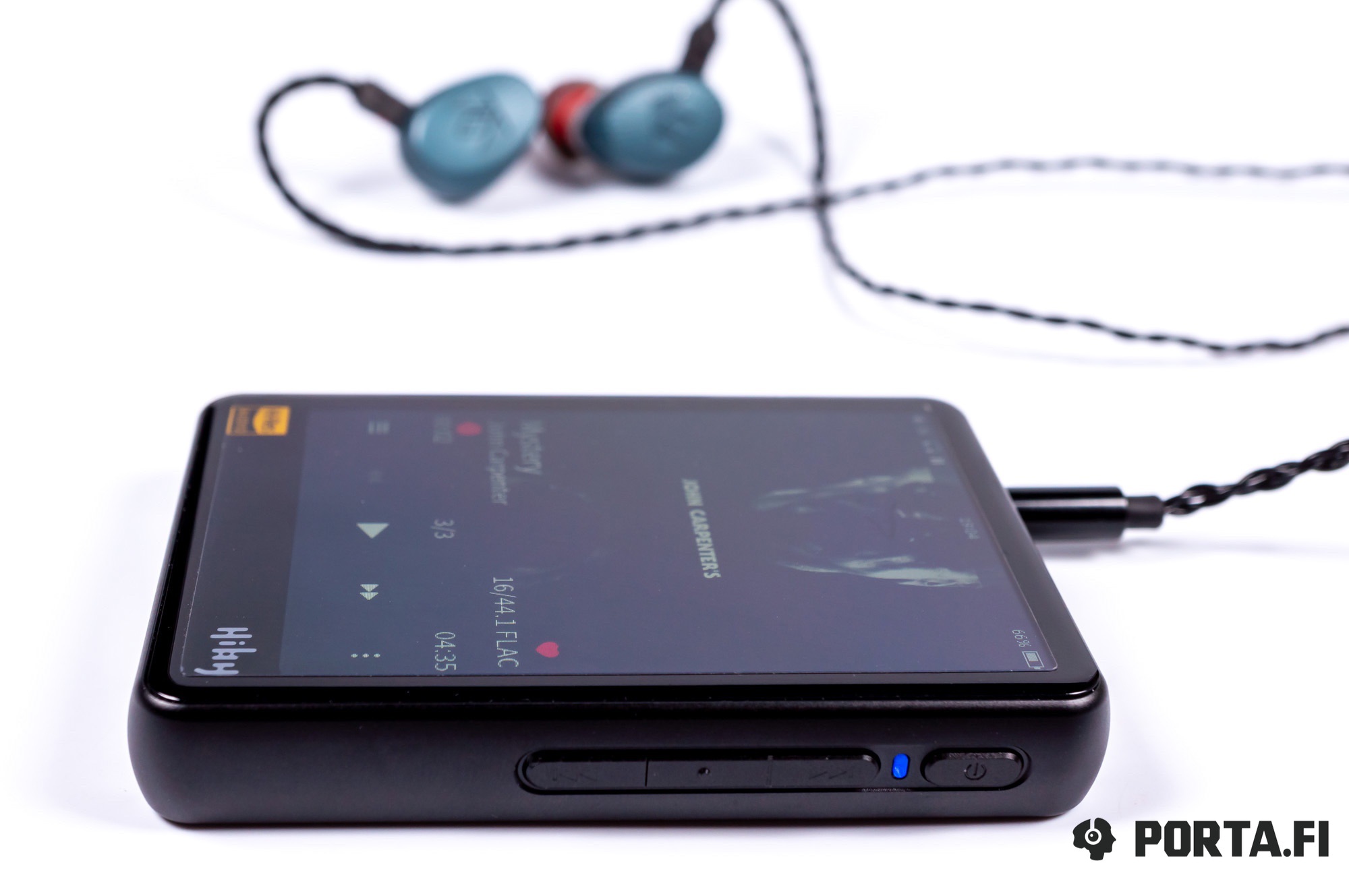 Compatibility
Increased power does the device good. If the difference is not clearly seen single-ended, balanced provides with better control through all frequency range. It's also pleasant that the device is not hissy with sensitive IEMs, there is a good black background.
It's not picky in terms of style, so it's up to your liking. Subjecively I would prever more open highs for complex vocals and classical music. The tolerance for bad recordings is moderate — 6 out of 10.
Example tracks
Rush — Subdivisions I am somewhat late, but would still like to pay tribute to one of the greatest drummers (and lyricists) in rock music history. In this track we can enjoy Neil Pearts' brand technique and good and dynamic player, such as R3 Pro, is welcome here.

https://tidal.com/track/127130640
Devon Gilfillian — The Good Life Devon Gilfilliean sounds well on this player that adds good weight to vocals and accentuates already convincing vocal tonality.

https://tidal.com/track/124448302
Pink Floyd — Yet Another Movie (2019 Remix) Great present for all David Gilmor admirers — a box set that contains remixed A Momentary Lapse of Reason with Wright and Mason lines, the Delicate Sound of Thunder, 5.1 remixes and many other things. So, put everything aside, take good player and proceed to listening. Of course R3 Pro is not ideal for such monumental things but it's necessary to note it still copes quite well, especially when it comes to epic sound of one of the greatest bands.
Conclusions
The year has only begun, but the contest for the best compact player has already started. The popular model has received great update that enhanced playback time, made the solution more powerful and sound more quality. Sounds fantastic? Sure, especially when the price hasn't changed.
Translated by: Vadim Kolchev