PRO players continue to increase in their abundance and now we have a budget PRO solution from Hidizs — AP80 Pro.

In fact, Hidizs have been pioneers with the idea of PRO version of players, remember their AP60 Pro player. This time the logic is the same for their bestseller — AP80. This compact player is for those who love neutral sound and it has gained much recognition and has also been manufactured as a limited edition in steel and copper versions. Now it is the time for an update and the developers have decided not to change the good things, so they have only tuned sound: there are two DACs instead of one and as a result a balanced output for those who need more power. The pricing is the same — AP80 Pro comes in the place of regular AP80, so it costs 170 USD while non-pro version becomes even more affordable.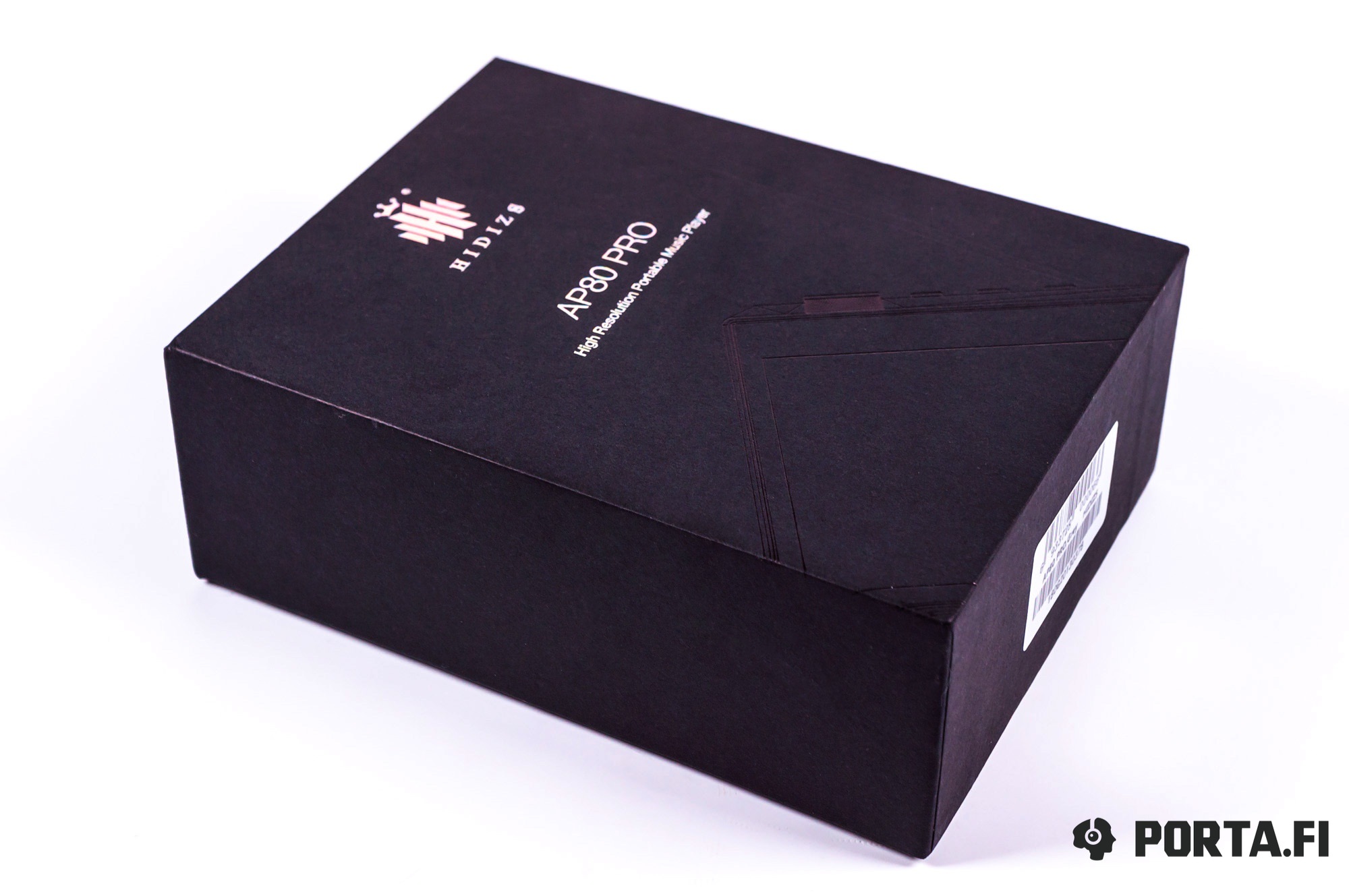 Specifications
Processor: Ingenic X1000
DAC: 2 × ES9218P
Frequency range: 20 Hz – 90 kHz (±3 dB)
Output power (per channel): 75 mWt @ 32Ω single ended, 190 @ 32Ω balanced
Signal/noise ratio: 119 dB single ended, 120 dB balanced
THD + Noise: 0.0015%
Dynamic range: 115 dB single ended, 116 dB balanced
Channel separation: 70 dB single ended, 98 dB balanced
Recommended impedance load: 8Ω – 200Ω
Bluetooth: 4.2 with support for SBC, aptX, LDAC and HiBy Link
Screen: touch, 2.45″ IPS, 480 × 360
Memory card: MicroSD up to 512 Gb
Format support: DSD (DSF, DFF, ISO), APE, AIFF, FLAC, WAV, WMA (lossy and lossless), MP3, AAC, OGG
Max resolution support: 384 kHz/32 bit, DSD256
USB: Type-C with support for USB DAC, USB OTG and USB Audio
Battery: 800 mAh
Playback time: up to 13 hours single ended, up to 9 hours balanced
Charging time: ~1 hours
Dimensions: 61 mm × 56 mm × 14 mm
Weight: 68 g (aluminum version)
Accessories and packaging
The packaging is minimal: regular black cardboard with simple printing. Inside there is a player and the following accessories:
silicone case
protective films
USB cable for charging and connection
MicroUSB cable for external DACs and mobile phones

It is good to note the extra cable, not that it is too much needed, but extra care is always good.
Design and controls
The appearance of player hasn't changed much, it is still a compact (however couple millimeters larger) aluminum square with unusual projection on the right side. As usual, Hidizs have released steel and copper limited editions, but this time they have been sold out very quickly and now can be found only in the aftermarket.
The main control element is of course screen that is taking almost all of the front panel. It has good resolution and normal brightness but in summer you will still have to cover screen with the palm of your hand to protect it from sunlight and to see something. It register presses very well and doesn't have any problems with swipes etc.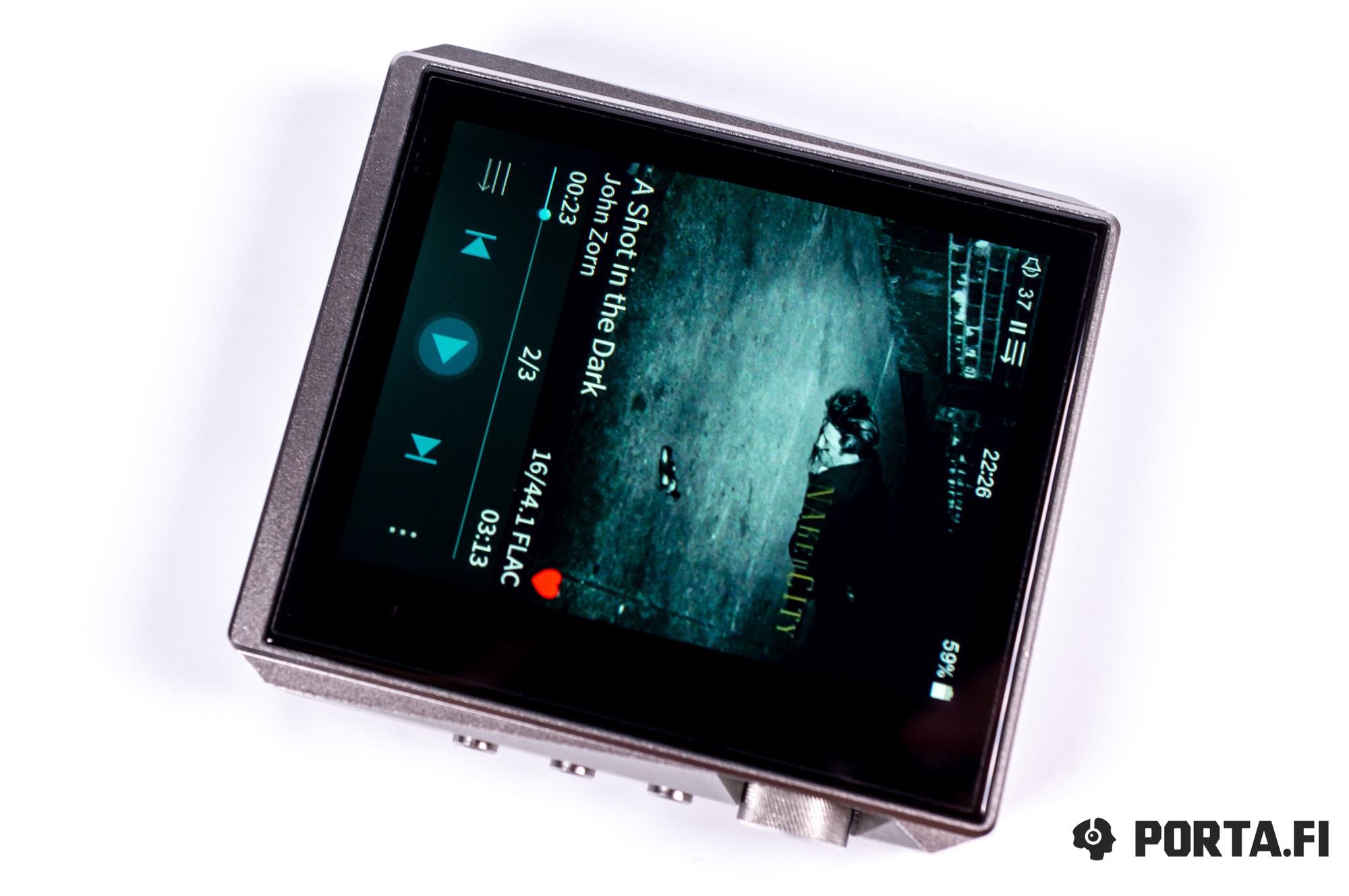 Blind controls have not been omitted — there are three playback buttons on the right side. Also there is a volume wheel that acts as on/off button as well. Encoder is good, so the movement is pleasant and volume control is precise.
On the left side there is a microSD slot. The player doesn't have it's own internal memory but it is normal for a budget device, especially given the fact that cards become cheaper and cheaper.
On the bottom there are 3.5mm and 2.5mm balanced output. Here is also a USB-C slot that is responsible for charging, access to memory and digital transport and DAC functions. Despite its small size the playback time is rather big. On average it plays around 8 hours balanced and 11-12 hours single ended.
Hidizs have managed to find a very good and ergonomic shape for AP80. It is convenient and compact with good build quality, so it is natural that they have decided to stick with it in Pro version.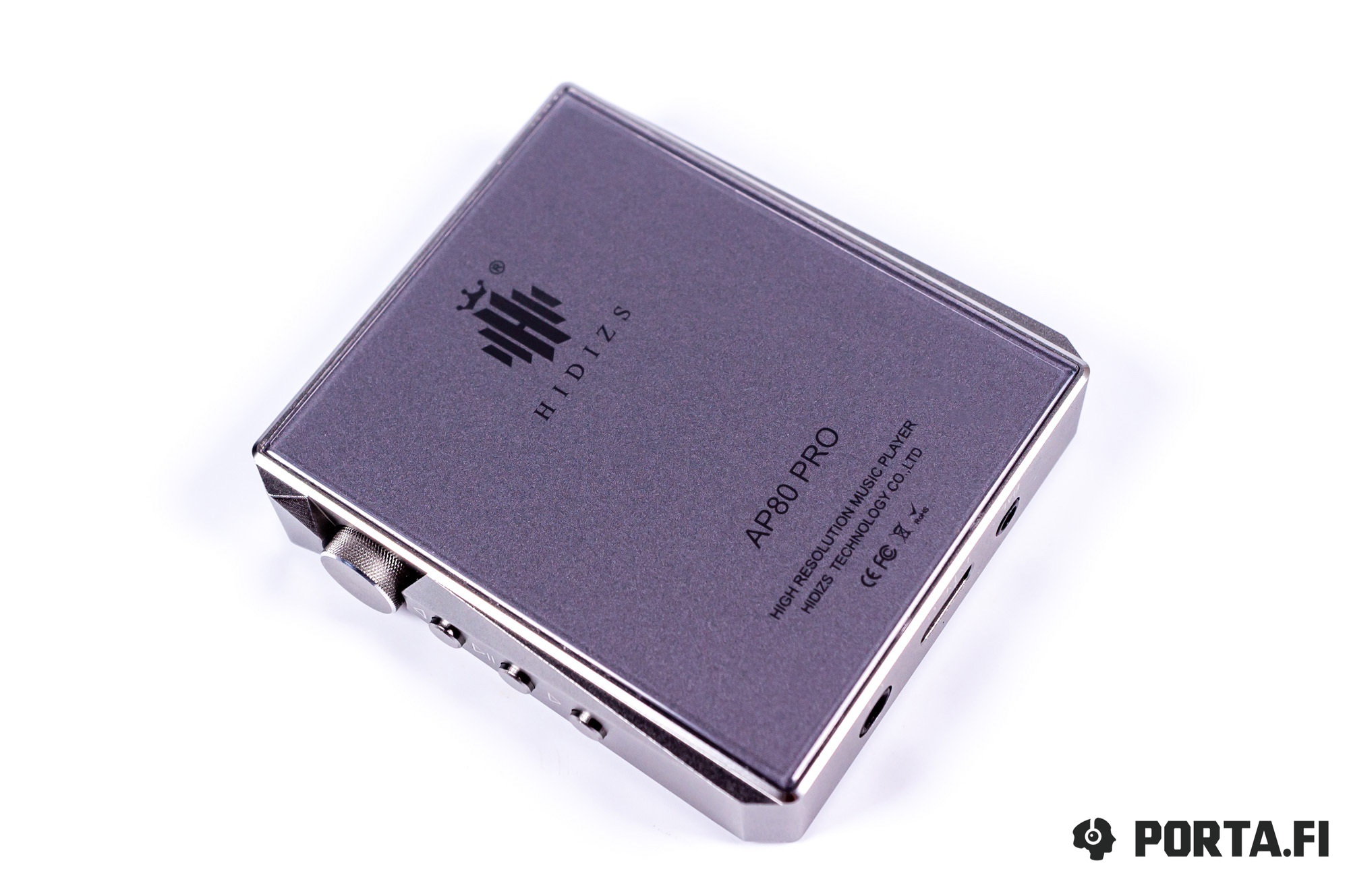 Firmware
This hasn't changed a lot, if changed at all. As usual, the firmware uses HiBy codebase, so it is stable and brings in many preferences and capabilities.
The main menu contains two screens of icons that are horizontally scrolled where apart from the system info you have player, radio, pedometer, Bluetooth and settings. FM radio is of average sensitivity and requires headphones in 3.5mm slot, but in cities the main stations are received without any problems. Pedometer is rather precise but I don't understand its need without sync with smartphone.
Settings are regular for players — backlight control, timers (sleep timer, screen off timer), language, media library update, USB mode, playback buttons work and some of the interface settings: font size, color theme.
The player reminds of HiBy R3 version and has some similarities with big brother that works on Android. The playback screen has large cover art, media library has all needed sections and ability to work with custom playlists. It also supports all modern capabilities such as bulk file manipulations, gapless playback and digital out. There is also brand HiBy equalizer and MSEB sound processor. The latter is very convenient for beginners who can fine-tune the sound by using well defined characteristics such as darker/lighter, massive/airy and so on.


In all, the firmware is convenient and functional. I don't think it will be upgraded often, but again, you have all modern capabilities you need.
Sound
I have used the following headphones for listening purposes: Noble Audio Khan, IMR Acoustics Rah, Unique Melody Mason V3, Meze Empyrean, HiFiMan Ananda and others.
Overall AP80 presentation hasn't changed. The regular AP80 has had it's own peculiarity in being neutral with small accent on micro details. It has been a selling point, so the developers have decided to keep it.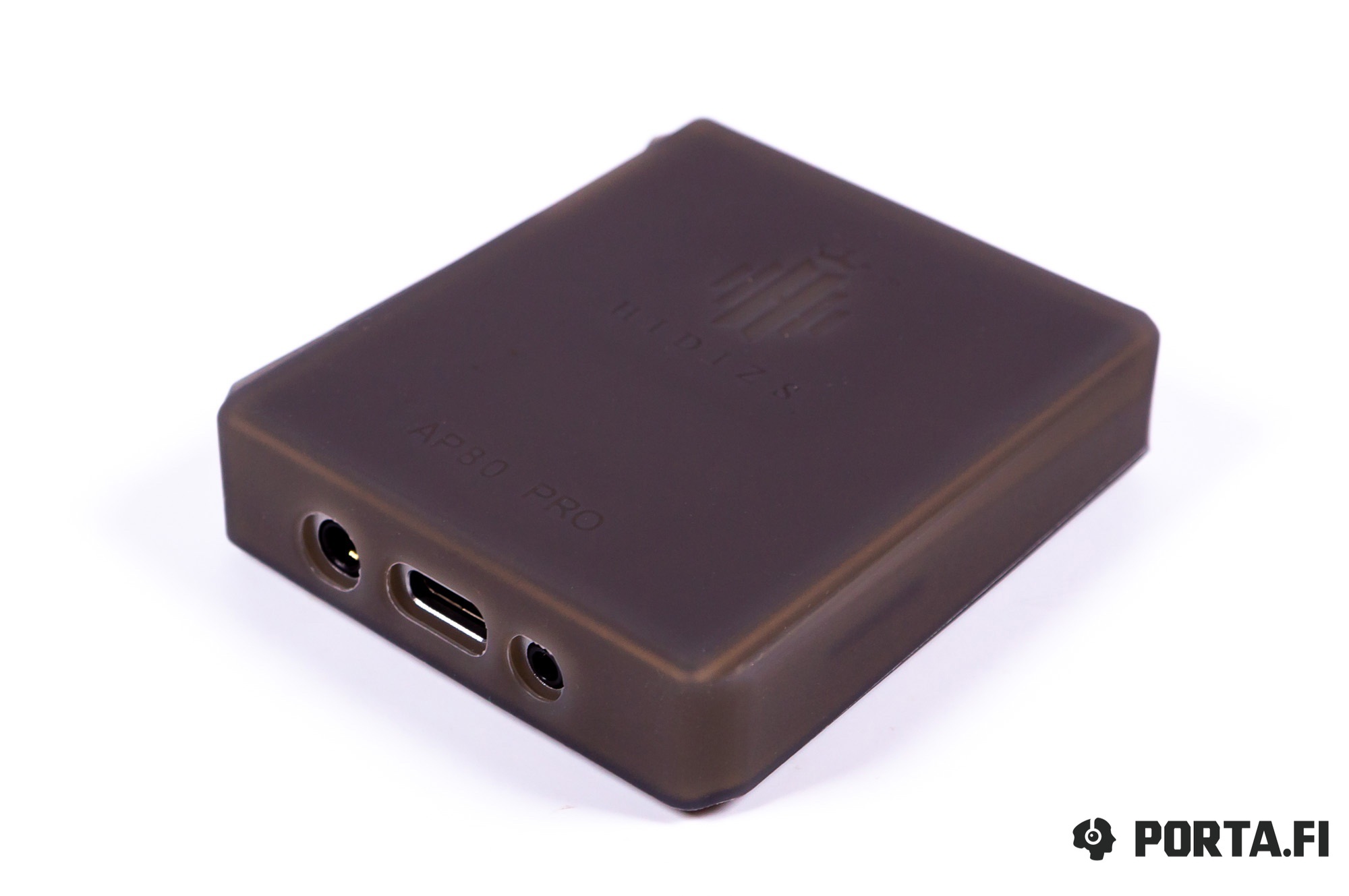 Bass is quick and technical, with slightly accelerated attacks and decays. It transmits textures and small nuances well. At the same time the lovers of additional weight won't be very happy, but it can be compensated by the headphones. Lows have good depth and are well controlled.
Mids focus on micro details. The accent is not huge but noticeable. This brings monitor-like presentation to the player suitable for those who love analytical sound. Of course this means requirements for the recording quality, but it is true for any neutral source. On quality recordings the player sounds lively and natural. The soundstage is above average in width and depth.
The treble has some additional energy and this makes player sound light, adding some clarity. Attacks and decays are normal, as well as overtones. The layering is very basic but it should be expected.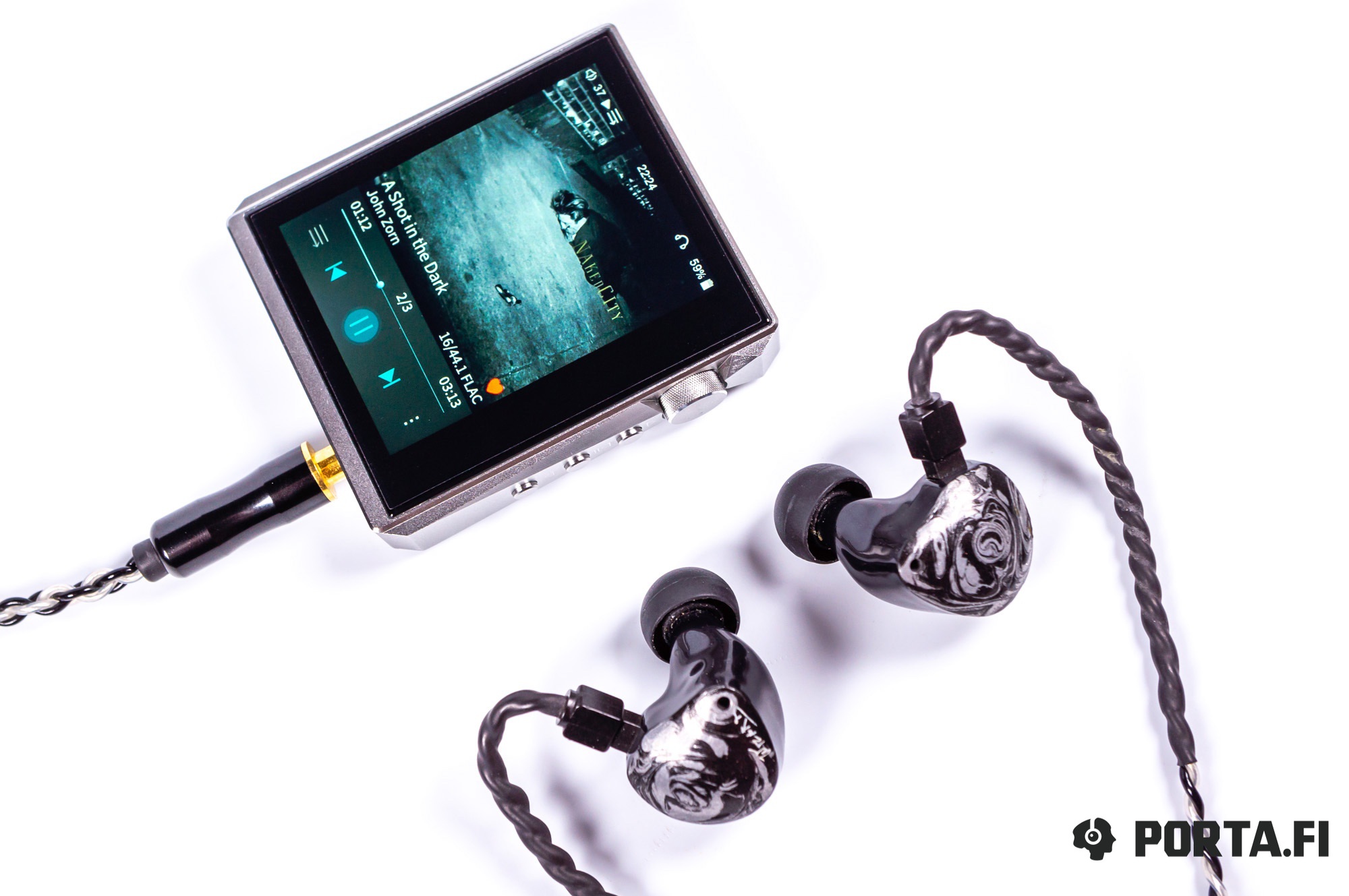 Comparisons
Hidizs AP80 Changes in presentation are minimal here. The main difference is in balanced output with better power that would be useful for hard to drive headphones. Sound from balanced output is a little bit thicker but the changes are not dramatic.
HiBy R3 Pro It is the case when the players are totally different. Neutral and light AP80 makes accent on micro details, while R3 Pro has more weight and warmness resulting in more analogue sound.
FiiO M6 First of all here we have a difference in functional capabilities (and it is huge). As for sound, AP80 is more about micro details and sounds lighter and drier while M6 balances between micro and macro details and has less accent on highs.
Shanling Q1 Another "comfortable square" example. Speaking about sound, this player is between M6 and R3 Pro. Lows and mids are neutrally balanced and less monitor than in AP80 Pro. Highs are slightly on the softer side like with R3 Pro and this makes Q1 sound more warm.
width="2000″ height="1329″ class="aligncenter size-full wp-image-3469″ />
Compatibility
Increased power will make player sound better with over ears and of course there is no sense in pairing it with hard to drive planars or high impedance variants, but regular over ears are okay with it, especially from balanced output. There is a background noice with very sensitive IEMs, but it is almost non-noticeable and does not compose a problem.
The player is universal in terms of style, you just have to take its criticalness to recording quality into account. It may be a problem with some recordings. In terms of criticalness it is 8 out of 10.
Example tracks
Art Blakey — Close Your Eyes Usually jazz drummers that are running their own band like to have leadership in recordings as well. Luckily Art Blakey isn't one of those guys. Of course the drums are there and they are great but other instruments are very present and the detailed source such as Hidizs AP80 Pro allows to enjoy it fully.
Deep Purple — Drop the Weapon Deep Purple are not very original with their material, but we love them not for being innovative, but for their stable mastery and the fresh release is not an exclusion. Thick sound, melodies and many hits — they can do all of it, so the album turns out to be great, as well as the track I have chosen. AP80 Pro plays well all the vocals, guitar riffs and keyboard solo.
Ben Frost — Eva (Dark: Cycle 3 OST) We can discuss the TV series and its ending for a long time, but we are interested in soundtrack and it is of course ambient. Ben Frost has coped with creating the sound landscapes of the 3 season very well. This very track is atmospheric and the atmosphere is transmitted by the source very well.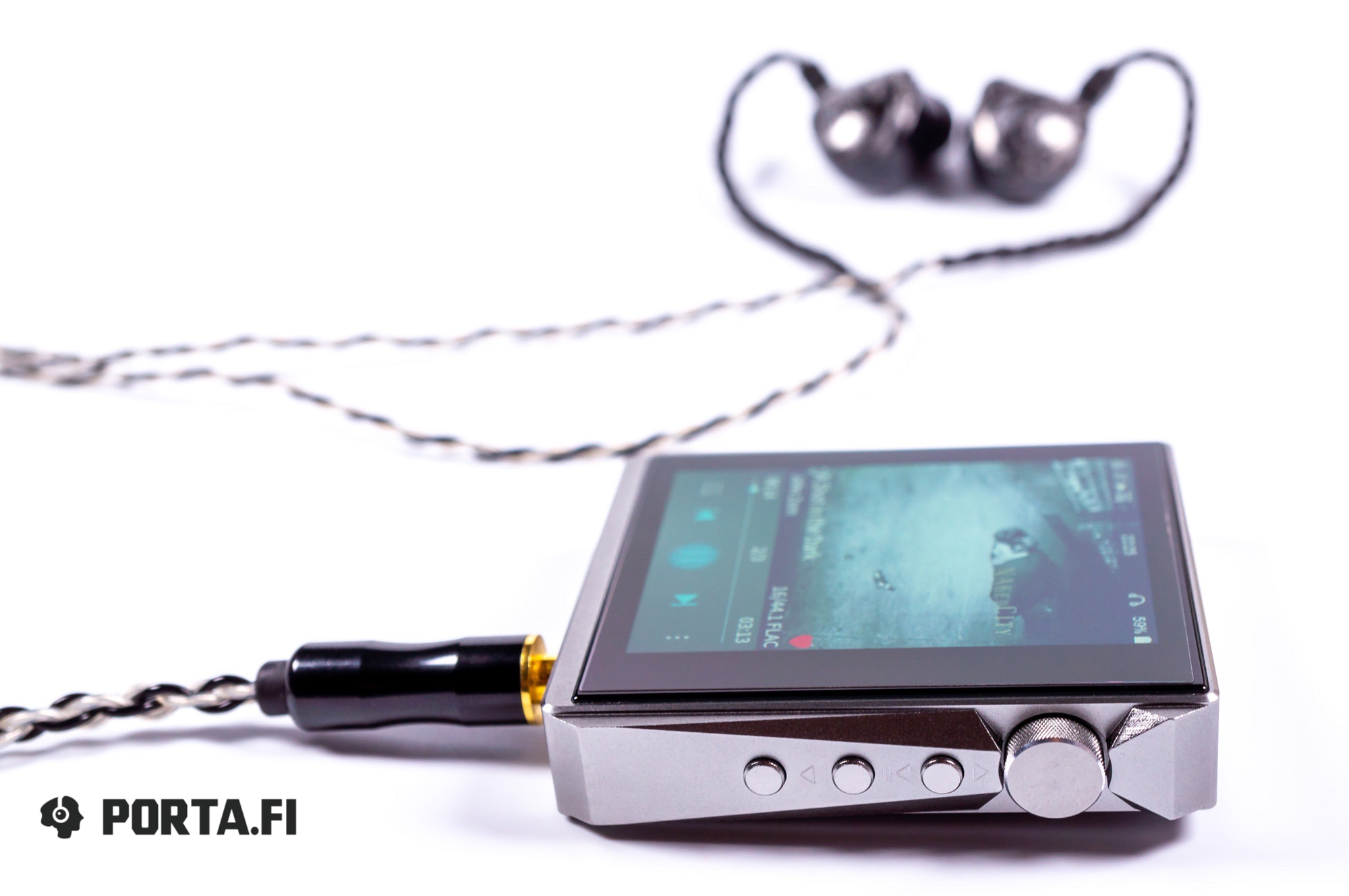 Conclusions
We have a good example of evolutional development. The developers have taken the actual player and refreshed it and have made its lifetime longer. We have a good budget player that is ergonomic, has enough power and level of details.