Several years ago Cayin N3 has been a sort of revelation, showing that it is possible to make the player both non-expensive and well-sounding. The time has passed and many of us (including me) have waited for successor. But it has happened that the new N3, gaining Pro suffix in the name, has become a different beast. Let us talk about it.

Company product managers, pleased by N8 success, have decided that the audience needs its minified version, and N3 Pro is exactly that. As you may guess, the main highlight of the affordable N8 version is tube amp. However, on the contrast to the flagship that boasts Korg NuTube, here we have Raytheon JAN6418 that are closer to regular tubes by design. This have put a plethora of tasks before the developers, with them being mostly mechanical: protection from hits, vibration mitigation and many other things. Cayin is not a newcomer on the market and they have found a good solution in the likes of special silicone stand and elastic mounting pad.
Unfortunately, you can't roll tube here due to the compact size of player. You also shouldn't bother about longevity since the tubes are used as a buffer and work in comfortable mode, so their life cycle will be greater than technological obsolescence of player itself.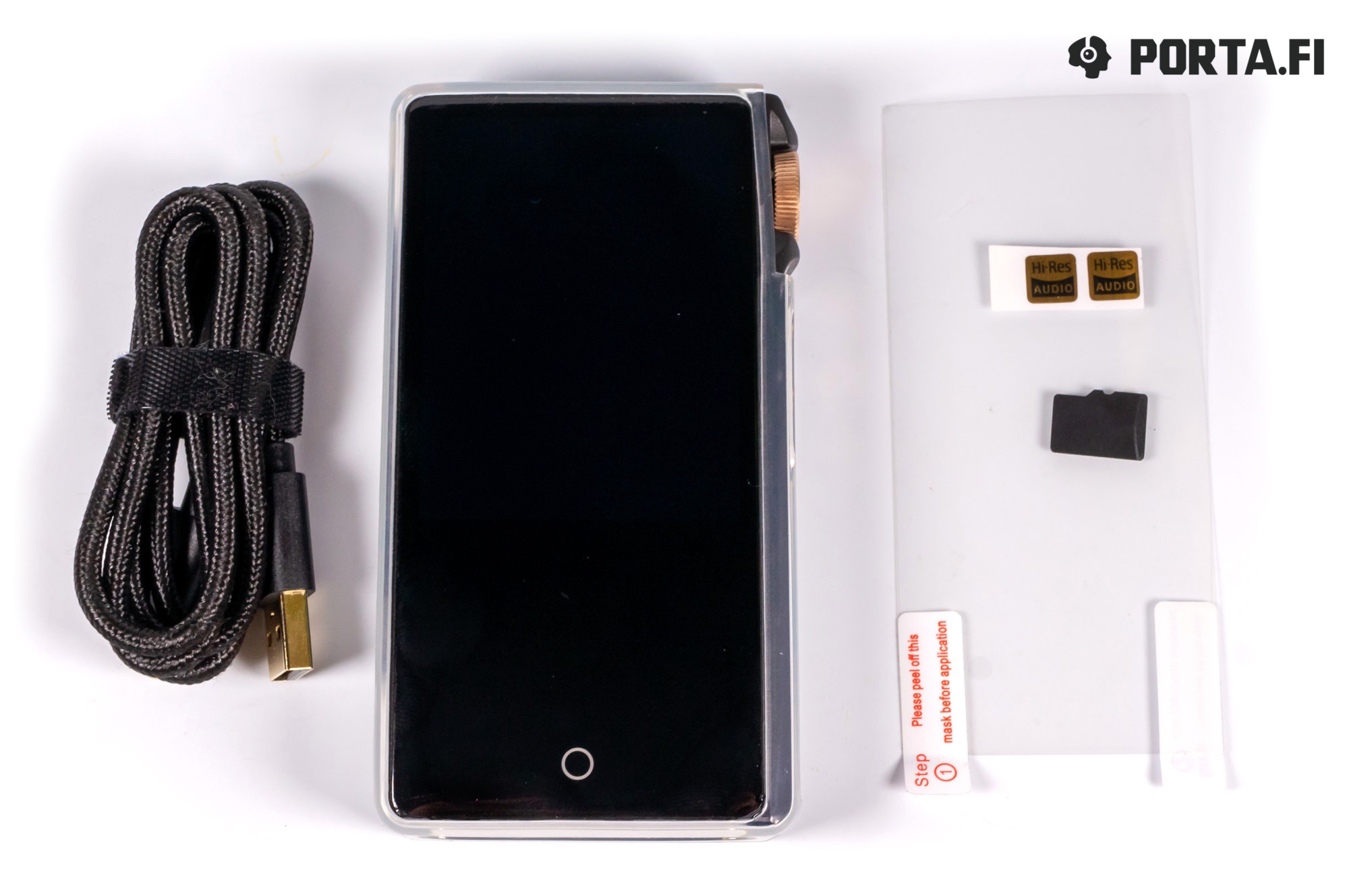 To bring more joy to audiophiles, Cayin engineers have made the buffer work in two modes — ultra-linear and triode, so in fact you get two variants of sound. Besides it you have the ability to disable the tube part, and it is the third variant of presentation. The fourth one is balanced output, and here it is different not only in power, but also in sound.
The price tag of course couldn't stay on N3 level, and Cayin N3 Pro costs around 500 USD, subject to taxes in different countries.
Specifications
DAC: 2 × AK4493EQ
Tubes: 2 × Raytheon JAN6418
Bluetooth: 5.0 with support for LDAC, UAT, AAC, SBC
WiFi: 2.4 GHz
Memory: MicroSD up to 1 TB
Screen: capacitive, 3.2″ IPS, 480 × 360
Battery: 4100 mAh
Charging time: 3.5 h
Playback time: 9 h ~ 11 h
Max resolution: DSD256, 384 kHz/32 bit
Format support: DSF, DIFF, SACD-ISO, AIFF, WAV, FLAC, ALAC, APE, WMA, MP3, OGG, AAC
Dimensions: 115 mm × 64 mm × 19 mm
Weight: 195 g.
3.5 mm output
Power in tube amp mode: 130 mW @ 32Ω, 15 mW @ 300Ω
Power in OPA mode: 250 mW @ 32Ω, 27 mW @ 300Ω
Output impedance: 0.6Ω
Frequency range: 20 Hz – 20 kHz (±0.2 dB)
THD + noise: 0.003%
Dynamic range: 118 dB
Signal/noise ratio: 118 dB
Channel separation: 75 dB
4.4 mm ("balanced") output
Power: 800 m@ @ 32Ω, 110 m@ @ 300Ω
Output impedance: 1.0Ω
Frequency range: 20 Hz – 20 kHz (±0. 2 dB)
THD + noise 0.002%
Dynamic range: 119 dB
THD + noise: 119 dB
Channel separation: 110 dB
Accessories and packaging
It has happened so that my packaging has been lost during the transportation. According to photos there is a regular box made of thick black cardboard with player, silicone bumper protecting the sides of players, USB-C cable, MicroSD slot dust cover and protective film for screen.


Traditionally there is a great leather case for this player but at extra cost.
Design and controls
The appearance of the player is similar to its younger brother in style, but more reserved. The body has a simple rectangular shape made of black colored metal. It is average in terms of size and there is almost nothing in common with regular N3. The pro variant feels great in hand and is ergonomic due to good positioning of control elements.
Main controls are on the right and bottom sides while top and left are almost empty, except for memory card slot. N3 Pro doesn't have it's own memory, but can read cards of any capacity, as the developers claim.
On the bottom side there are traditionally outputs: 3.5mm headphone, 3.5 mm lineout and 4.4.mm combined (both headphone and line out). Here is also USB-C connector that allows not only to charge the device, but also use it as DAC, connect OTG devices and output digital signal in S/PDIF format with the help of special cable-adapter. The battery is not bad but given powerful amplification the playback time is in average 7-10 hours, depending on used outputs, modes and power. Player can be fully charged within 3.5 hours.
Controls are on the right side: here we get three playback buttons and clickable volume wheel that can also turn the device on and off. The buttons are pleasant, can be easily found blindly and register presses well. The wheel is slightly wobbly but also works perfect.
On the front side there is a sensor screen that occupies around the half of available space (yes, no edge to edge here). Resolution is average, but viewing angles, colors and brightness are good. The display registers presses and touches well due to well designed firmware and good quality. Below the screen there is a window to show working tubes and you can see their orange glow. Below this window there is a led indicator that is combined with the sensor button that returns user to the playback screen. For those who does not like extra lighting, it can be disabled from menu.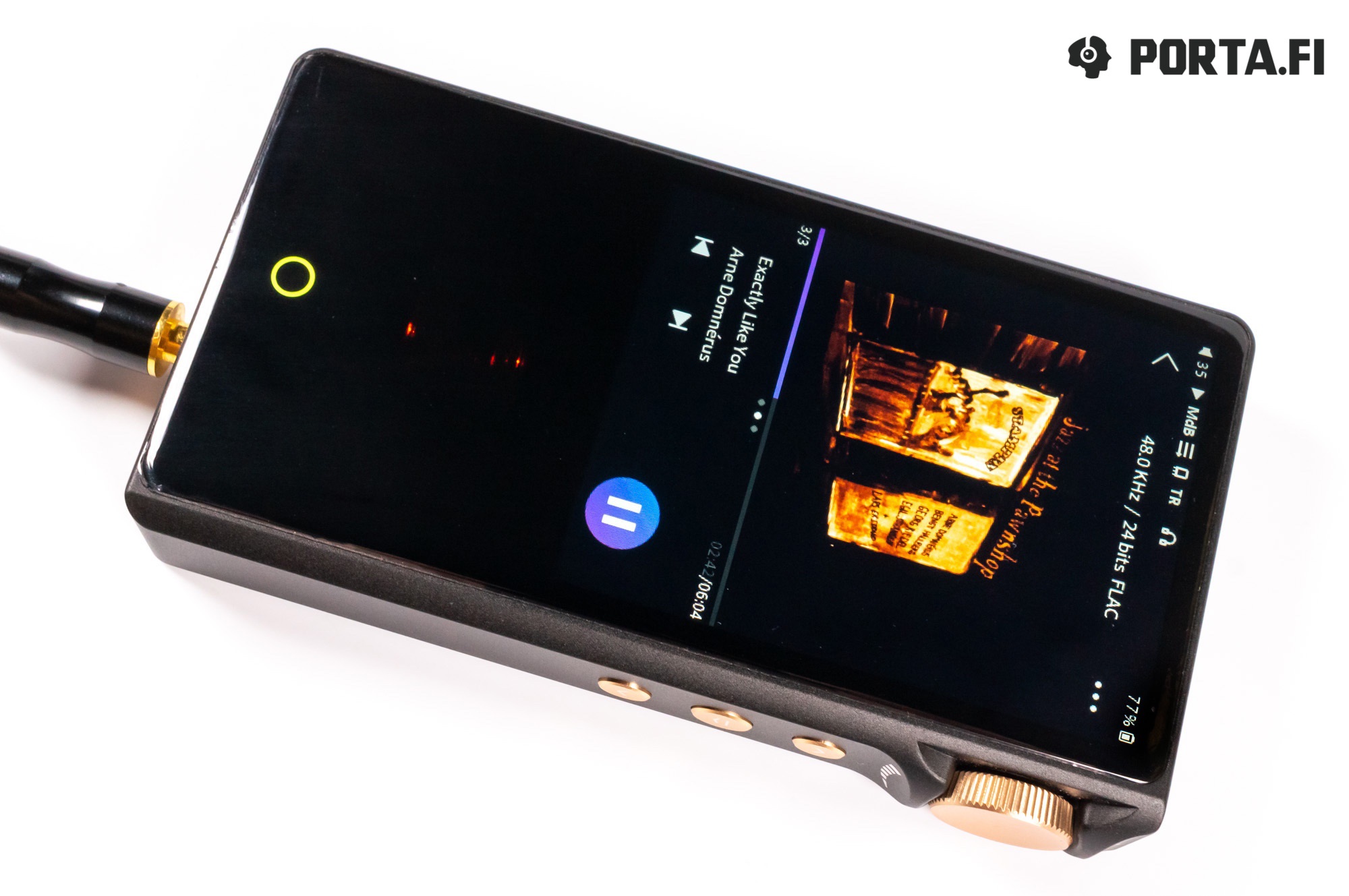 Despite slightly retro approach to design, the device is very convenient and comprises great combination of compact size and power.
Firmware
Those who don't like Android, rejoice. Here there is firmware without this operating system. This means no streaming, but as developers say, you can stream from your phone to the device using Bluetooth. Seems like HiBy have been responsible for firmware, that's why here we see some brand things, such as UAT codec and HiBy Link.
Main screen is divided into two parts. On the top there are 6 icons of media library, while in the bottom there is information about played track. If you tap this information, you will go to the playback screen.
The media library is divided into usual parts: folders (including USB OTG storage, if connected), playlists (recent files, favorites and user), all tracks, artists, albums and genres. The list of artists and genres is two-level, so when choosing artist you will see the list of his albums. There is batch capabilities everywhere, so that you can delete and add music to playlists in one step.
Playback screen is quite usual. Its most part is occupied by album cover, while the progress bar and playback buttons are below. Here you can also see additional information about the track, add it to favorites or to the playlist, delete or change playback order.
Swipe down from the top opens quick settings panel with mainly playback options, such as gain, amp mode, tube mode, balanced output preferences and output to DSD. Apart from that, here you can enable Bluetooth and sleep mode. Below there is a slider controlling screen brightness.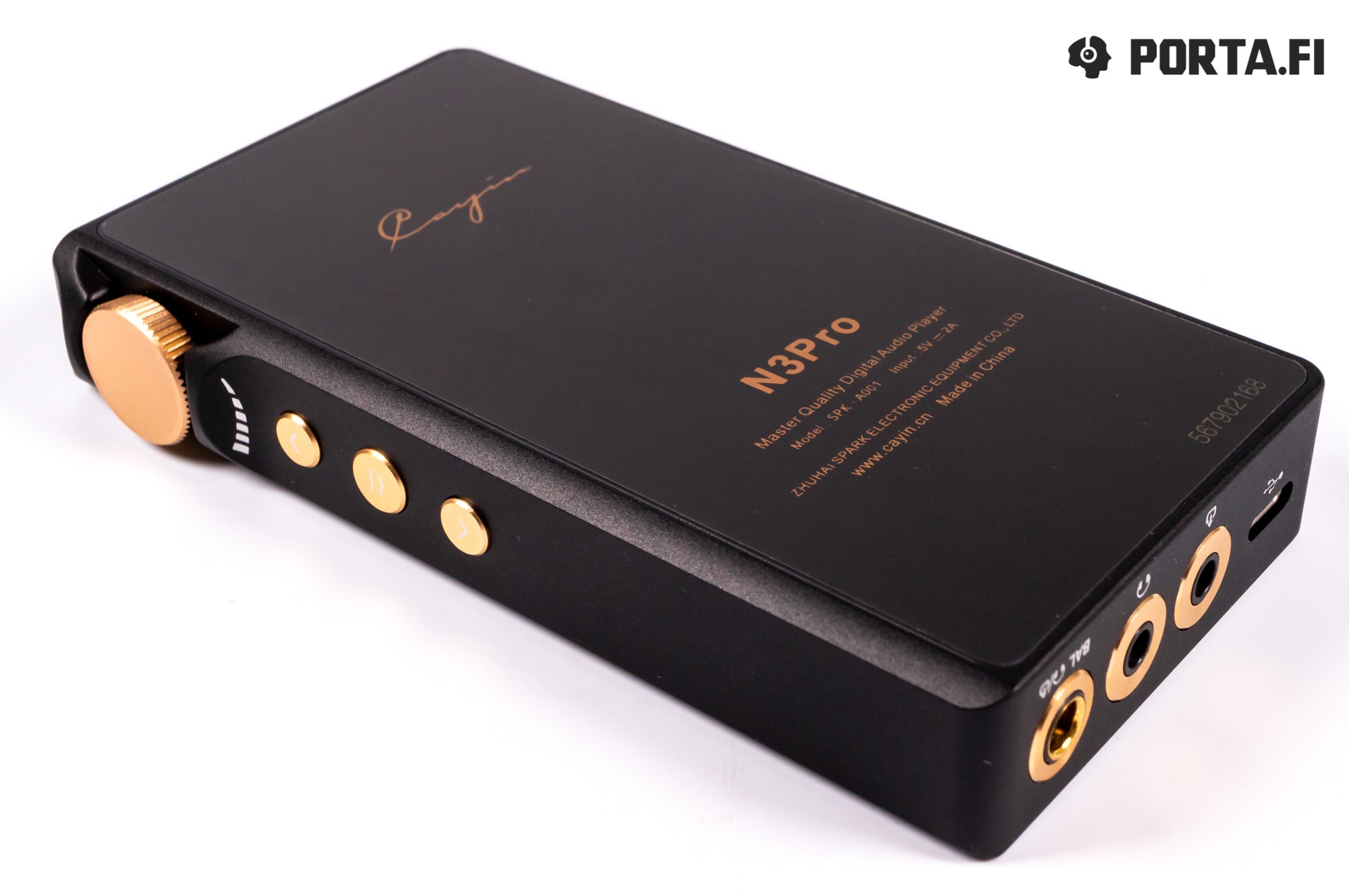 Swiping up from the bottom part of the screen you will open sound and system preferences. First group is rather common and has all modern capabilities, starting from replay gain and gapless playbacks and ending with equalizer and choice of digital filters for DAC. System preferences are also quite expected: wireless interfaces, timers, hold buttons and much more. Interesting that the player has not only Bluetooth with all modern codecs, but also WiFi. Of course the latter is not that useful without streaming, but you can use it to move files to the player or to update firmware.
What is good, is the frequency of updates. While I've been writing the review, the 2.0 firmware has been released adding MQA format support. Of course it's value is not very high without streaming, but you can still play offline MQA releases.
Upon the whole, the firmware is stable, it's clearly seen that the codebase is settled.
Sound
I have used the following headphones for listening purposes: Noble Audio Sultan, IMR Acoustics Rah, Campfire Audio Ara, Meze Empyrean, HiFiMan Ananda, Kennerton Thror and others.
In terms of tuning Cayin follow their own vision, offering their clients technical, but emotionally underlined presentation. In fact in case of this player user gets four different sound tunings: one from balanced output, that is different from regular one and three from regular output (OPA mode and two tube modes).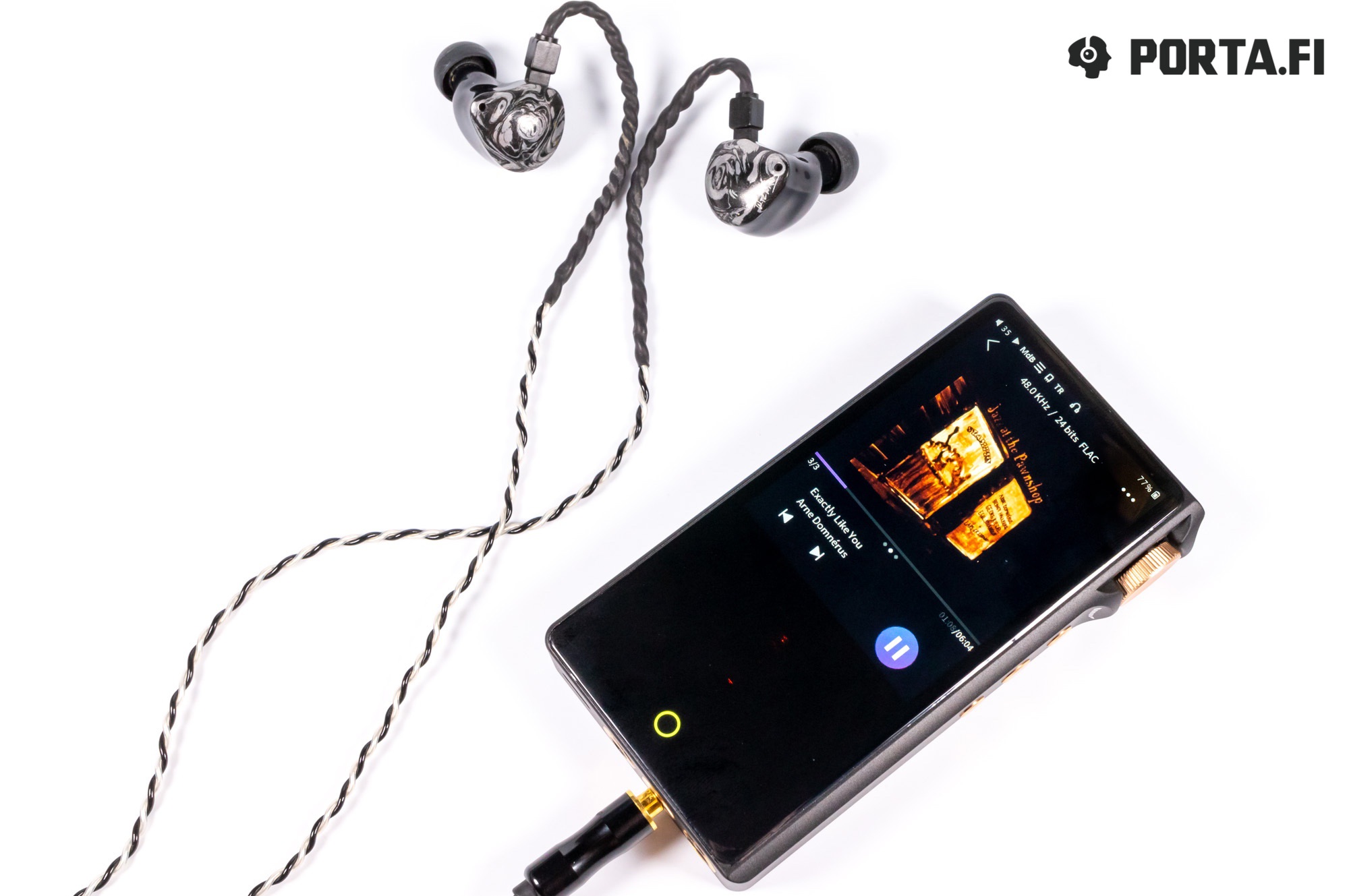 Bass is emotional, dynamic, with little additional weight. It provides the feeling of springiness and good slams. Due to accentuated weight the speed of lows stays a little bit behind of more expensive players, but the resolution is good, all textures are well defined. The depth and control are on the high level and provide needed naturalness. Balanced output gives even more energy on bass, while OPA mode gives more neutral sound. In triode mode the sound is maximally warm and massive, while in ultralinear it is somewhat between triode and OPA.
The mids also boast house sound. Despite good resolution, the player does not try to focus on micro details and is more about macro dynamics. Because of that the presentation is tolerant to the recordings of lesser quality. In different words, N3 Pro is the player that tries to involve listener into its presentation and not to reveal all problems of recording quality or mastering. With well recorded material it shows great level of technical ability and naturalness. Switching different modes you can change presentation and soundstage. Triode mode means maximally warm presentation in combination with intimate soundstage, ultralinear is more technical, but still with additional warmth with soundstage above average. OPAs on regular output provide maximal soundstage and focus on speed, while on balanced the soundstage is slightly less than in regular output, but the sound becomes more aggressive and is full of drive.
Highs are colored and this goes along with presentation of other frequency range. They of course have good resolution and correct attacks and decays, but their presentation differs from accentuated on balanced to smooth in triode mode. Of course the coloration is not overly abundant, and you will have to choose correct earphones if you need different sound. In terms of length the highs slightly miss the maximum with above basic layering. Overtones are good here and this provides pleasant naturalness especially in timbre-rich instruments.
width="2000″ height="1329″ class="aligncenter size-full wp-image-3851″ />
Comparisons
I don't think there is any sense in comparing this player to others in similar price tag, since it is different: it doesn't have Android (which means absence of streaming), and the sound is quite different from other offerings who try to be more neutral and interfere with the track less.
Dethonray Prelude 1 Probably the only player with conceptual similarity. Both players try to build on emotions, but DTR1 is more detailed and technical, while N3 Pro has better firmware and offers additional tube modes for those who love warm sound.
Cayin N8 It's funny that N3 Pro is thought of as the younger brother of N8 flagship, so Cayin have hit the spot. Yes, it is not that striking in terms of smallest nuances, highs are simplified and tube mode is not that refined, but it still brings some romance and analogue-like sound.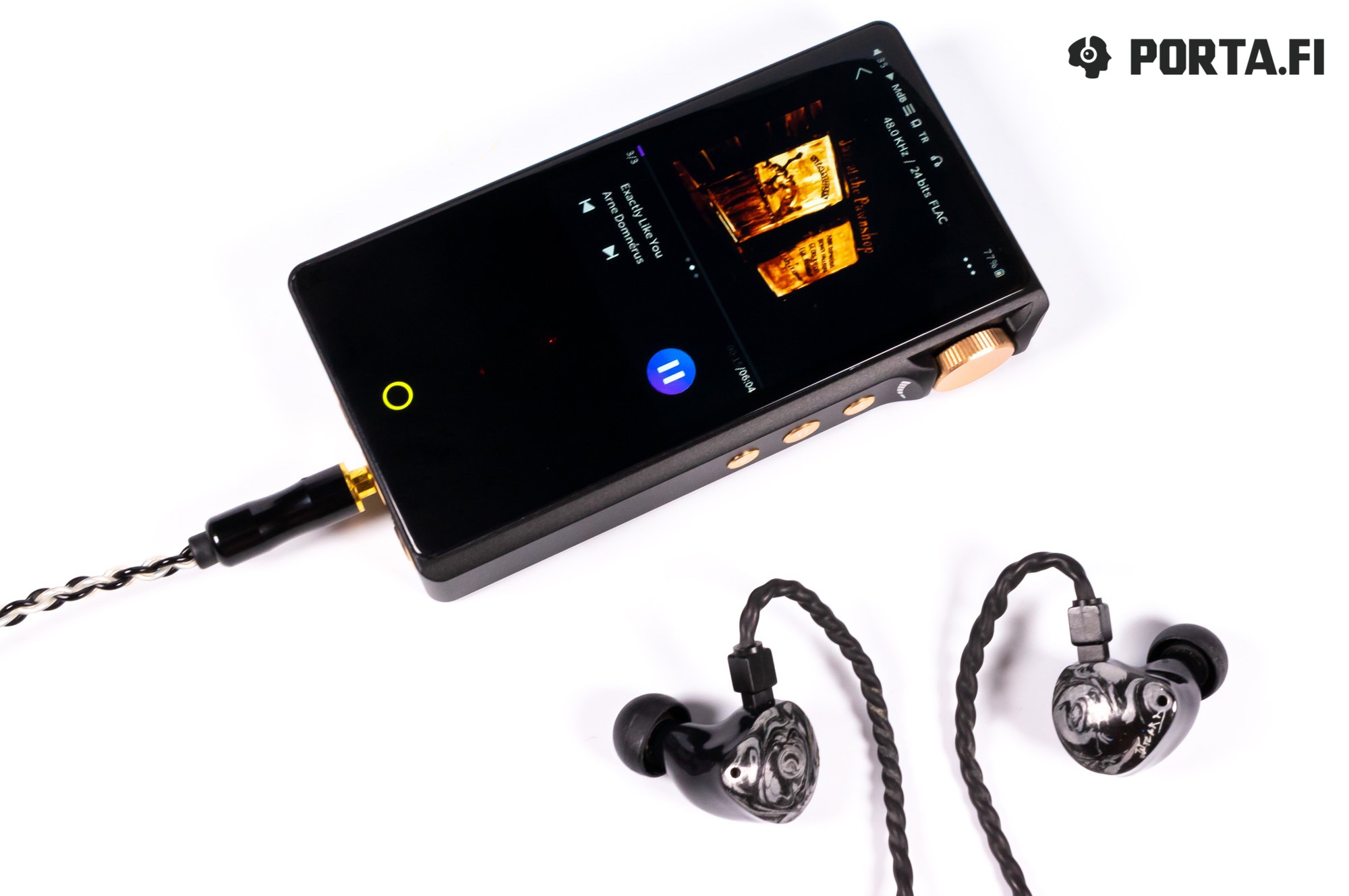 Compatibility
For its size the player has quite good power. 800 m@ in balanced mode allow it to drive even hard-to-drive headphones, including many planar models (except for several ones) and dynamic high-impedance headphones. Regular output is several times less powerful but it is still more than enough for most headphones, including over ears. In tube mode the power is around 150 mW so it fits better for IEMs. Noise level with the latter is quite low so there should not be any problems with sensitive IEMs.
In terms of style the player is universal but is better on live recordings and tracks that use "natural" instruments. Criticalness to recording quality is 6 out of 10.
Example tracks
Shirley Bassey — I Owe It All to You How can great singer celebrate 70th anniversary of career? Of course, with album release. This album (and track) is the gem for those who value great female voices with addition of great orchestral arrangements. I have decided to choose the title track from this album that is especially well sounding from balanced output: technical ability, volume and emotions of presentation allow to dig deep into the composition atmosphere.
Fates Warning — The Way Home If we start speaking about those who are on stage for a long time, I should note these pioneers of progressive metal. Of course they are not close to 70th anniversary, but 40 years are impressive, especially given the fact that the band makes us happy with pleasant releases that combine unusual ideas and great melodies. This track deserves solid state mode, since despite the slow beginning, the track becomes heavy quickly and neutral presentation can do justice to guitars and drums.
Dave Alvin — Highway 61 Revisited And the cover here, with Dave Alvin great take of Bob Dylan classics. Since this composition is not only about music, but also lyrics, the triode mode of N3 Pro comes in handy here, underlining emotions and bringing shape to vocals.
Conclusions
In 2020 the mid-tier player without Android seems like a challenge for sales, and the company who dares to do such thing should offer something peculiar and interesting. Cayin have coped with this task.
Translated by: Vadim Kolchev