In case when audiophile longings do not lead to disease and continue to be healthy hobby with important part of love for music, people, apart from their listening devices, pay much attention not only to sounds, but music. Different music. Everybody has his own taste. And even given that I can be astonished by the kinds of music people listen to on their top devices costing several thousands of dollars, the fact remains the same — everybody has his own taste.

In its own turn, the interest to music (not device) allows to broaden musical tastes and knowledge a lot, not limiting oneself to single genre. In the world of streaming services everyone can find and advise lots of similar tracks, but I do not understand it fully. For me it's okay to listen to other tracks in the album from which you have liked a track, as well as with whole discography and live recordings, if you have liked several albums. To find out more about the artist, his collaborations etc. This way one can open the door to absolutely new things. Of course it takes time and effort, but it is the way I can really recommend and use by myself. And yes, usually the genres are closed, but in many cases one artist may have recordings in different genres. Anyway, in order to broaden the knowledge about music one should consider to dig deep not only in music itself.
One of the best sources for musical knowledge may seem to be not so obvious — I talk about movies. More or less well-known, they may become a blockbuster and a value for small group of fans. Let us talk about some of them. Movies in general are one of the most affordable things and they usually sport some good music. Of course we can have some arthouse movies with non-trivial soundtrack or even documentaries about sub-genres, but more often there is a title main composition and it is usually more or less well-known, or preparing to become such. Sometimes it's like an insurance for movies that may turn out to be not so popular — the creators usually ask a well-known band or artist to record a soundtrack. Of course if the movie is bad, nothing will help it, the bands may be picky as well, but I won't go too deep into it. Let's come back to some movies.
To some — because really I can't cover all of them in a short article and it's of course no guide to movies or TV series. If I mention any names, I don't aim to give a review to it. Luckily (or not luckily), I'm not a journalist or musical critic. I'm just an audiophile and lover of music who likes to see a good movie from time to time.
There is an abundance of musical movies. Even more, you can consider practically everything as a musical, so we should divide them somehow for better understanding and structuring purposes.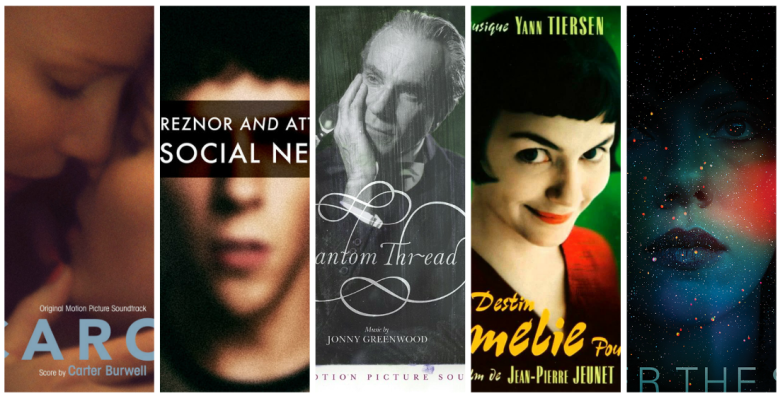 Movies with music but not about music
Regular movies first. Well, not so regular. But those are movies that everybody knows and likes. That's why I'd like to point out the movies where the soundtrack plays vital role. The plot of such movie can be very different. But since those movies are overall easily comprehensible, such title will be well known to major of the audience and thus they will be very good to find out a new musical genre. Of course, we can pick many movies as an example. Music plays vital role in them.
Of course we cannot imagine "Pirates of the Caribbean" or "Throne" without music. Many people have searched for soundtrack from those titles, I'm sure. And those who have liked them, have surely made a proper research of the soundtrack and other works of the same composers. And of course, the directors of the movies play vital role in this process. For those, who mind not only money, but soul in their creations, music plays vital role too.
Apart from well-known titles by Tarantino and Nolan, we can point out many other.
In terms of being close to spectator, other examples may be even better. Mentioned above. Those who can not be perceived without a soundtrack. Those who have become a cult and the title composition is fully associated with the movie.
As an introduction — relatively recent James Bond title. Of course, as many of you have guessed, I'm talking about "Skyfall". And this is the case when the mutual PR succeeded and the Adele song has become a real hit. And I should say, it would have been a hit even without the movie.
I'd like to begin from rather hard title in terms of psychology. It's a movie by Darren Aronofsky called Requiem for a Dream starring Jared Leto and Jennifer Connelly. This movie is based on the novel by Hubert Selby Jr. We may discuss a lot how perceiving the plot may be, but if you haven't watched it, it's highly advised. It's not a light picture, but full of social problems and the like. Speaking about musicality, this is the case when the soundtrack by Clint Mansell is associated with the movie and vice versa. Despite the division to seasons of the year, the movie creators haven't picked Vivaldi's masterpiece. And as a result the soundtrack can be considered as one of the best ever.
I should also mention great soundtrack in such movies as "Blade Runner" and "Blade Runner 2049". I think that without carefully picked soundtrack they wouldn't have been able to recreate that unbelievable atmosphere we all remember. And of course we can't help mentioning Vangelis, the composer for the first "Blade Runner" and plethora of other movies. Very important figure on par with recently late Ennio Morricone. As for the second mentioned movie, the composer is Hans Zimmer. He has lots of soundtracks already and doesn't think about stopping. Let me also mention 2 Steps from Hell. The duo of composers who have abundance of soundtracks as well.
"Le Grand Blue" by Luc Besson can boast the soundtrack by well-known Eric Serra. Here his music is perceived as the whole with the movie. We can count a lot of such cases.
Speaking about TV series, you may get something from each episode from such title as "Supernatural". Let's put apart all speculations about how long this series should have been, it's not what bother us here. What matters is that you get great rock music and even heavier there.
There are a lot of movies to name here, so let's move to a different section.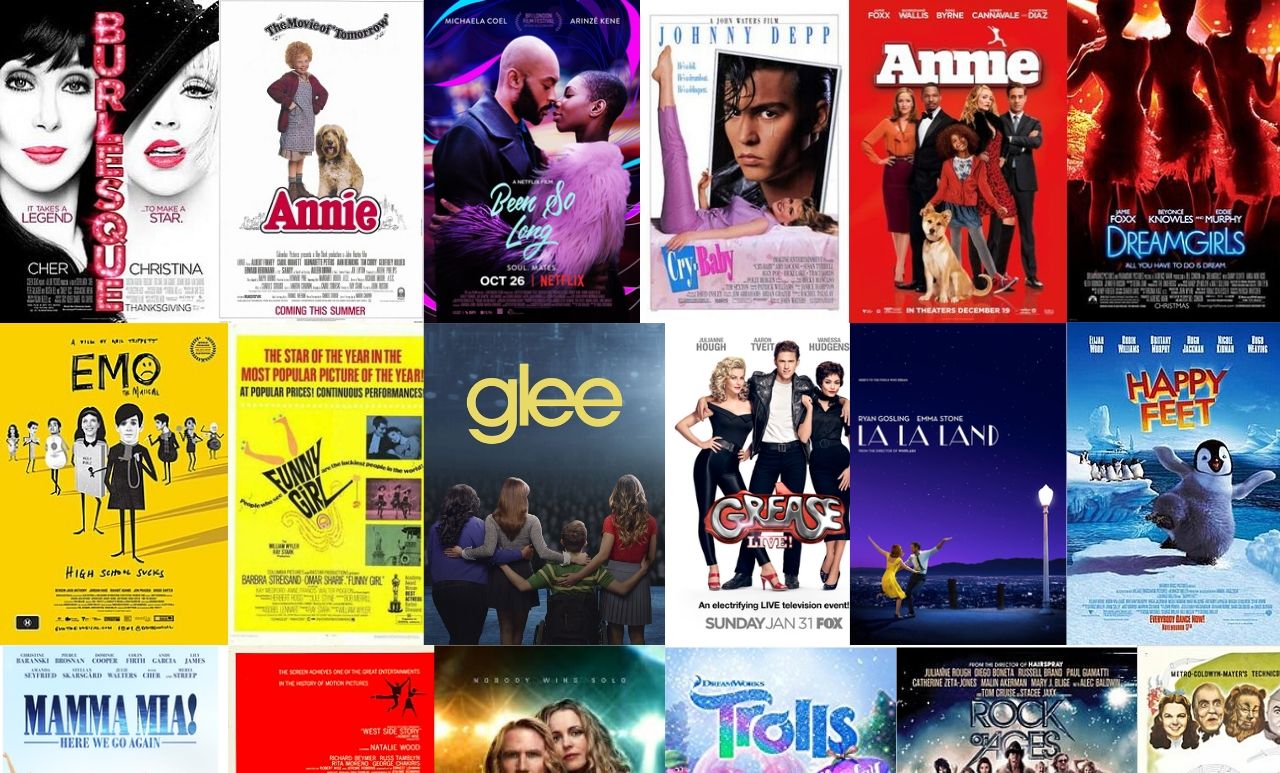 Movies with music about music
Speaking about music, you can not only talk about it, but also devote whole movie to it. To music and musicians. This is a variation of the previous genre with the only difference in that the music plays even more vital role in the plot. Pity but this is usually the only thing such movies have and they are rather typical, showing us how someone goes after his own dream and succeeds in the end. And still, if the director is skillful, even the simple story can be very interesting. It's logical to mention several movies that, being totally fiction-driven, will become a good source for acquaintance with this or that genre.
The "Soul" cartoon from Pixar is a good starting point. Very kind and warm story with great animation. Not so saturated with music, but more about music, but I can't help mentioning that calmness during watching it.
"La leggenda del pianista sull'oceano" is not a discovery for anyone today. Fantastic acting by Tim Roth, that despite usual fictional plot won't leave anyone untouched. Because of this, the musical drama by Giuseppe Tornatore occupies good place in the list of movies about music. And it clearly shows that jazz can be not boring. The plot is good here as well.
There is a lot of passion in "Whiplash" as well. Critics like to criticize it because of its freshness, because they consider many things being unnatural and frightening. Well, let they talk to physicists about "Fast and Furious" and "Transformers" as well as those who judge more than 90% of modern blockbusters. For those who just like movies and do not count flaws, it will be very interesting to follow the conflict of teacher and student and think about how many things are needed to develop a talent. And what is needed after all. What if another Charlie Parker will become pissed and just stop to do what he is good at, constantly hearing from his teacher how bad he is. Probably this is the case why many of well-known jazz performers have been considered eccentric and ill-tempered. Well, they have been the rockstars of their time, they could afford it. But could they do it if they have been too soft or not sure in the fact they do everything right?
Apart from eternal things, the movie has several unusual jazz compositions. They are rather complex, it's not that jazz that has been a popular and even dance music. It's Thelonious Monk and Art Tatum, the times of improvisation and complex structures. Jazz that influenced the improvisation art a lot. Not only in its genre but the music upon the whole. Probably you won't correctly evaluate "Caravan" from the very beginning, but it's highly likely that if you listen to something more complex than modern pop music, the title composition will stick to you for a long time.
"Rock Star" with Mark Wahlberg answers the question whether you should create or inherit. I think everybody has seen this movie. But if you don't know, the movie shows how one cover band tries its best to be very similar to their idols. It also shows what happens when the idols turn out to be real people and not the ones from a poster in the room. And of course it's interesting that the movies is claimed to be based on history of Judas Priest vocalist.
"Hevi reissu" — a recent Finnish comedy that slightly remind well-known "Metalocalypse" cartoon series. If it's not known to you, just correct it, because it talks not only about heavy music, but about heaviest possible. Of course the movie and the cartoon series are comedy but for those who love heavy music, it may be a very good variant.
For others such music is closed. One consider it not to be music at all. Others consider that there are titles that are really hard to listen, such as pop, rap and other genres. But nevertheless those who thinks that guitar presence speaks about rock, won't understand metal. And "Rock Star" will be a good advice for them.
"Rock Wave" is the movie that is a little bit more far away from musicians, but rather close to music and musical industry. It's very interesting and unusual comedy, nicely filmed and although not having sharp plot twists, has great soundtrack.
Electronic music can be called the antipode of metal. From the moment of creation it has popularity right to today, it's well known to everyone. So it's not strange that there are movies around it. For example "It's All Gone Pete Tong". This movie shows how to lose popularity quickly and why should one go to music at all, even if there are hardships, and how important is to love music in yourself.
"A Star Is Born" is a perfect example of drama around couple of performance. Yes, this is the case when the actor is a musician and the female singer has become a good actress as well. A separate plus is that all material is sung by actors themselves and the music has been created especially for a movie. I won't spoil the plot, so just watch the movie.
Speaking about classics, I can recommend "Copying Beethoven" by Agnieszka Holland. It's a fiction, but nevertheless an interesting opinion about the history of well-known composer.
"Vinyl" TV series speak about the ugly side of musical industry. Fiction again, it has some motifs and allusions and even quite direct points to well-known personalities and it just can't leave us untouched. Mick Jagger and Martin Scorsese have done a great job. The soundtrack here is great. It is quite modern but at the same time has the spirit of those times.
The recent movie "Kill Your Friends" with Nicholas Holt, stays slightly apart. Yes, this is a black comedy based on work in musical industry, but sometimes it is good to look at music as a business. Dirty, angry and cynical business. The title does just that.
Movies from musicians
The fiction movies in which musicians took part are close to previous sections. I will just put away deep analysis on how involved they have been and won't speak about the cases when the musicians have shown themselves as good actors and vice versa. There are a lot of such examples, especially given that half of American rappers think they are very good actors and decide to take part in at least one movie. So, actors and movies are a broad subject that deserves a separate article.
Here I speak about the case when the musicians create a movie. And I don't mean biopics — it's a separate section we will come back to. The case here is that the plot is written by musicians with bands soundtrack. This usually means that the composer wants to tell something and the clip format is not enough. I think many of them have done so, but I won't speak about many, but mention only one. It's an "Imaginaerum" by Nightwish. And here I'm biased since I really don't remember any other such movies. Regarding this one, it's a great depiction of composers's plot and the author of around everything in Nightwish. The metaphors and true meaning of the songs is often not clear even in the simplest cases. So this movie is a good example of what the music can be about.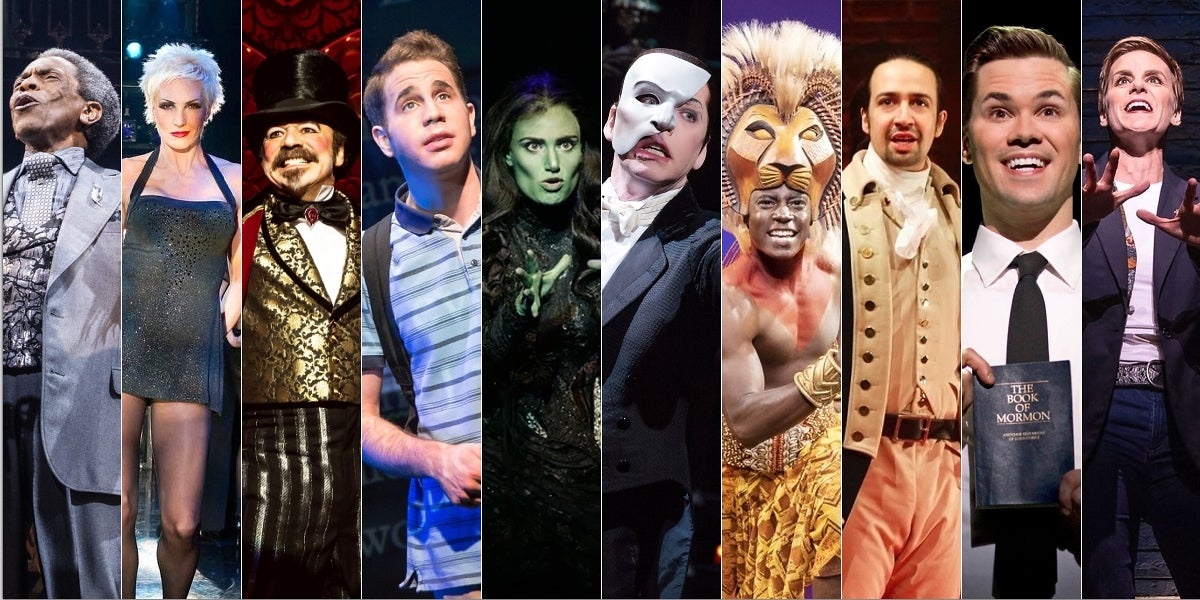 Musicals
As I have already said, one can find a lot of movies about music. But musicals are a separate apogee genre. Here there are comedies and the staging of the whole classical operas. To tell the truth, I don't like this genre too much, so I won't be able to give many examples, and they will be obvious, but not bad.
The first one and my favorite is "The Fantom of the Opera". Broadly speaking I have one king in mind when it comes to musicals, and his name is Andrew Lloyd Webber. The abovementioned picture seems like a staging of some gothic period, but it's not. It has been created in the year of 1986. But yes, on the motifs of earlier " Le Fantôme de l'Opéra" by Gaston Leroux. Historically Sara Brightman has been the first Christine, and she has been the composers wife at the moment. Today the duo of Christine and Phantom has gone into different genres and there are more than 20 variants of well performed acts on it. As for a movie, I speak here about the Joel Schumacher title of 2004 that can be considered as canonical one, since the maestro himself took part in its creation not only as a composer, but also as a producer and scenarist.
I also can't help mentioning other great works by Andrew Lloyd Webber, such as "Jesus Christ Superstar", "Cats" and others. Those musicals have corresponding musicals as well.
As for musicals by other authors, I have very scarce knowledge. Nevertheless, I can't help mentioning "Chicago" musical with many famous (and then young) Hollywood actors. It's a good example of the fact that you do not have to insert singing everywhere.
And for the lovers of something more horror and heavy we've got "Repo! The Genetic Opera". A good example of musical with clear elements of anti-utopia and cyberpunk. It may be really good for those who love noir rock-operas.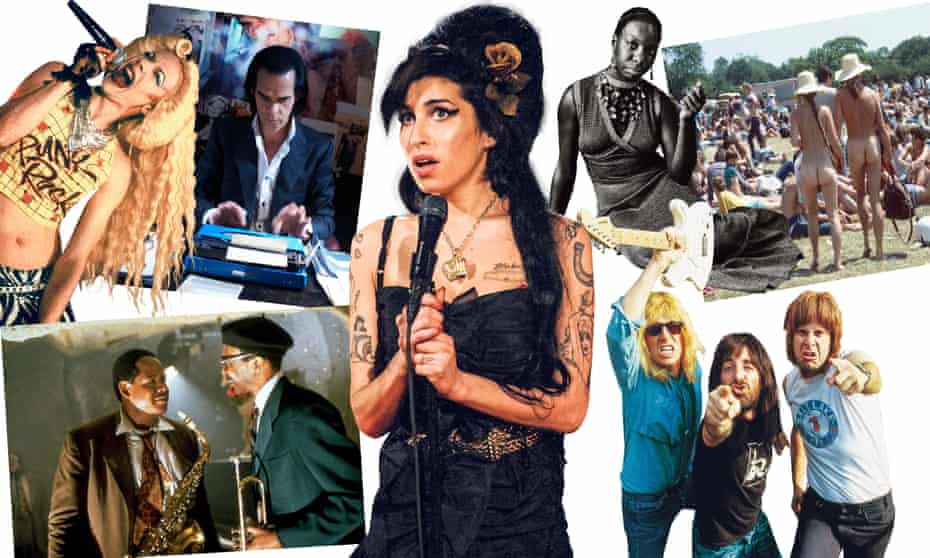 Biopics about musicians
Speaking about movies about music, biopics are the obvious genres. They have become more and more popular recently, but the genre is not new. It also doesn't matter a lot how close they are to reality, since they are not documentaries, but rather a fiction and their plot can be imagined. In case when the hero of the movie is also working on it, he can ban some bad facts from his life from appearing in it. And even after the hero's death there are many nuances that can spoil the party. For example, legal moments. So it's rarely seen that such movie speaks about the band or performer path thoroughly.
This happens with all professionals in all spheres, be it the movies about poker players, astronauts or musicians. Speaking about musicians, there are many such movies. They are usually ones of the most popular, public persons but not actors. I wonder why such movies are not happening to actors often.
I think we can gather many examples of such movies about performers in great variety of genres. But let's traditionally start with jazz. I think the most vivid example is "Ray" with Jamie Fox. Very complex story about a blind musician who not only touched the jazz world, but has become its legend. This is the movie about the blind boy who has broken the system and has become one of the highly paid musicians. A story about how the couple of words have become a segregation and how much time and effort it has taken to overcome it. Yes, the movie is controversial and there are many questions to it. Some think that the musical abilities have not been developed in due way. But they forget it's impossible to transmit everything that happens inside a person. Others think he is depicted like a women lover and junkie. Nevertheless, those are different aspects of life of one person. Well, 12 children speak of themselves and alcohol and drugs have long ago become company of talented people. Probably we will see the same kind of movies about other people, but here I would like to note the one about Miles Davis.
Also jazz-devoted with segregation thematics, that goes hand in hand with this genre – "The Green Book" starring Viggo Mortensen and Mahershala Ali. And they coped with their task very well, so it has been expected that the movie would take Oscar. It's the story about Don Shirley touring through America. Watch it, it's really good.
And also the movie that almost totally work on charisma of legendary Al Pacino. No, not "Scent of a Woman", though it's a good one. It's named "Danny Collins", a story inspired by the biography of folk singer Steve Tilston.
"Military Wives" — a biopic more about the musical journalist, but good as well, saturated with music and plot twists. Also based on real life story.
To certain extent the reverse segregation is shown in the "8 mile" movie, the one about emerging of a modern rap and hip-hop icon Eminem. With him as a main actor. Well, it's not really usual. It's mostly preferred to hire professional actors, but as I have said earlier, rap performers like to act.
Every well-known rap musician has at least one act and even if such acting is not really good, it is not the case with Eminem. It's his only act in movies, but he looks very organic and lively there.
Rap music has traditionally been the "black music", so there are thoughts that white musicians cannot do it properly, so it's really hard to shine amongst tens and hundreds of contenders from your city, especially if the most of population is black. Even modern world has such prejudice, although not as strong as before. Eminem has been the first to break the rules. The movie tells about the moment of the start of his career and the moment when he realizes what he can do.
There are other movies about rap singers but they are not so strong as this one in terms of plot and acting, so they are mostly interesting for the fan base.
Relatively new movie "The Dirt" tells us about Motley Crue history. They have been the legends of glam-metal and have had great influence not only for this sub-genre, but for the culture upon the whole. What's interesting, here plays another rap musicians — Machine Gun Kelly — but it is the case when rap musician is a good actor.
I should also mention "Bohemian Rhapsody" even if it is perceived as a benefit night of Brian May and the input of other musicians is obviously diminished, the movie is good. Even if it is just the opinion of the guitarist, it transmits the main moments of the history of "Queen" good, and the hits of this band are known even to those who do not know rock music at all.
There are many movies about The Beatles. I can recommend relatively recent "Nowhere Boy" based on Julia Bird book. The movie talks about personal life, family relationship and his growing up before forming of the band.
"Last Days" tells us Kurt Cobain story. And even if the creators of the movie speak about it as influenced by real life story, there are many matches and the narrative is full of details. Fiction here adds to realism.
There are couple of more – for example "Sid and Nancy", telling us a story of Sid Vicious whose influence on music has been great.
Many movies speak about rock stars, while almost none are telling us about metal icons, since the barrier to entry is higher here. Many people think about rock and metal as the same and do not know anything heavier than Rammstein. But even since we don't have movies about them, only one comes to mind – "Metallica: Through the Never", although it can be perceived as the movie by musicians.
Speaking about rock biographies, I can also remember "Runaways" about same titled and mostly forgotten band.
"Control" tells us about Ian Curtis, the leader of Joy Division. Despite huge talent, the musician couldn't cope his demons.
"Doors" needs no introduction. Movie about this famous band, one of the most well-known in 60-70s of the last century.
Of course the movies are not limited by rock music. Another movie about musician: "James Brown: Get on Up". As it often happens, the childhood has been tough, but stiffness, hard work and love to what he has been doing have become fruitful. Even when he has been put to jail his life has only begun.
"I'm Not There" — the biography of Bob Dylan with whole plethora of Hollywood stars.
"La Môme" with outstanding Marion Cotillard tells us about well known singer Edit Piaf starting from poor childhood and ending with the status of worldwide legend.
"Walk the Line" — the movie about Johnny Cash. The main actor is Joaquin Phoenix, who has been approved by musician himself. Unfortunately the musician has died before the movie premiere. It's a picture about drugs, despair and how to overcome it all.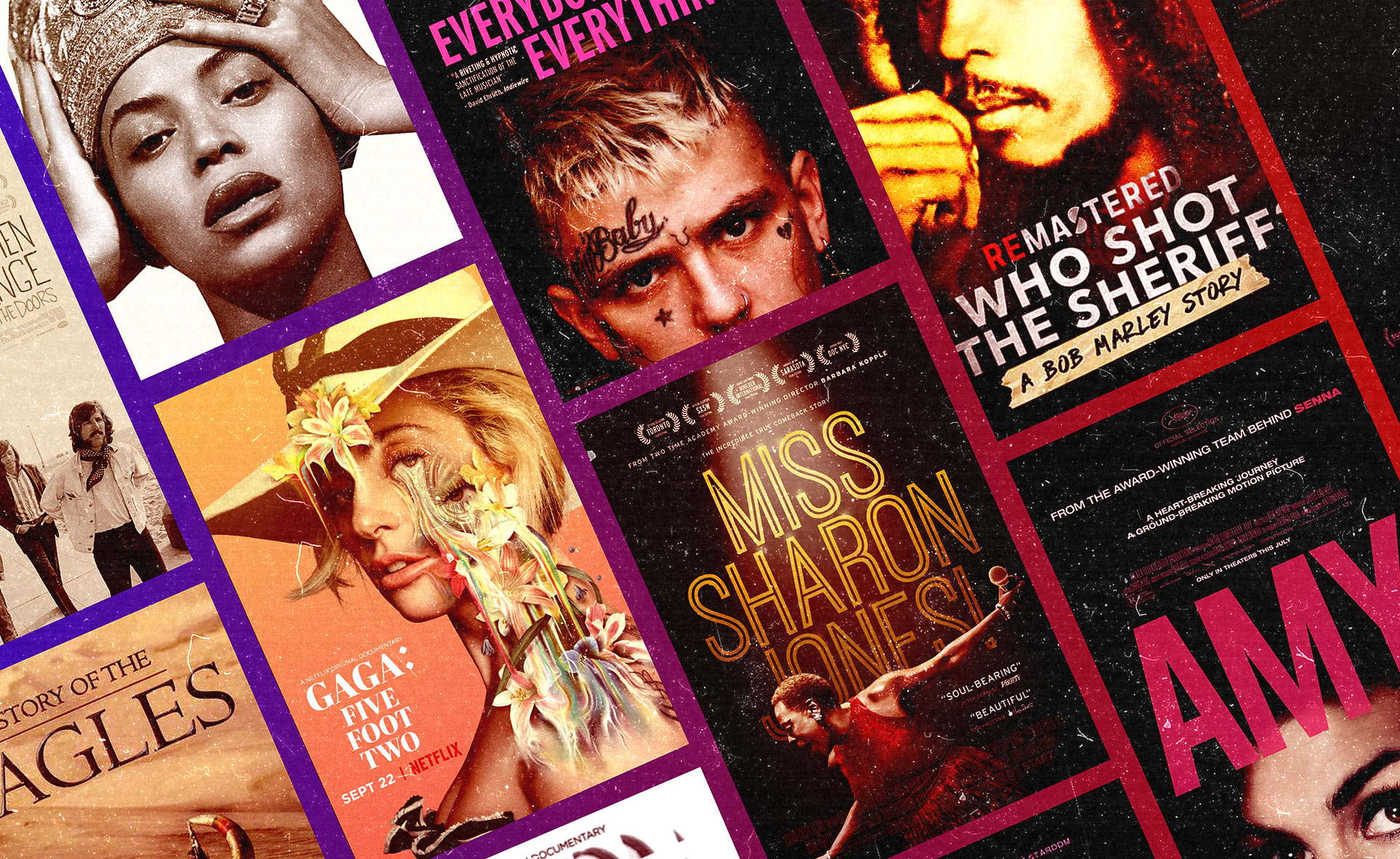 Documentaries
Maximally authentic genre, and there are many examples to it. Many bands produce such, but usually it's done for fans. For not involved people it won't be totally clear what its value is, especially on separate or bonus DVD.
But it's not so bad. If we have spoken about metal, I can recommend movie by Sam Dunn "A Headbanger's Journey" and its continuation in "Global metal" and "Metal Evolution". Other movies by the same author are good as well. The stories are narrated not by stars, but by the icons of the genre. Stories about how it all has begun, who has influenced on the birth of genre and how it evolved. Great thing for metalheads who don't want to limit themselves with only couple of bands. As for soundtracks, those can be clearly identified by the fans.
"Wacken 3D" is a documentary about Wacken Open Air with commentaries of well known metal people and fragments of known bands performances.
The similar one but about the house music – "Pump up the volume" also with commentaries of well-known stars of the genre.
Also I can't help pointing out the documentary named "Searching for Sugar Man". The movie that is not perceived as a documentary and might be interesting not only for the lovers of the folk genre.
Daft Punk Unchained — the history of the band in documentary and interview of creators and multiple stars working with them at that time.
Of course there are such documentaries in many genres and sub-genres of music and they can be united under one pattern — the bunch of interviews from more or less competent people who talk about how the development has been made — their own or their music. Mostly such movies are boring if you don't like the genre.
Afterword
Of course it's not a guide on all movies about music, it's just the opinion of the author. If you think that some of movies should have made it to the article, leave your recommendations in the comments.
Translated by: Vadim Kolchev