Unfortunately, I haven't heard the top Rai Penta model yet, but I have given a proper listen to the "younger brother" — Rai Solo. Today we will speak about them.

It's easy to understand from the name that there is a single driver and the most obvious thing has been to use the dynamic transducer. Meze, however, wouldn't have been themselves if they haven't spent 4 (!!!) years in tuning and haven't produced an unusual solution that's called Unified Piston Motion or UPM. To make it short, in ideal transducer the diaphragm is moving as a whole without inconsistency. It is unachievable practically since the diffusor is deformed. Engineers try to get rid of it with the help of different carbon nano-tubes and types of coating. Meze have managed to get rid of another source of distortion — the cords that bring signal to speaker coil. As the engineer tests have shown, even thin cords produce great influence on sound in terms of small transducer. That's why they use the diaphragm surface as a transducer. If you are interested in details, there is an in-depth video on the official website that demonstrates the principles of new technology.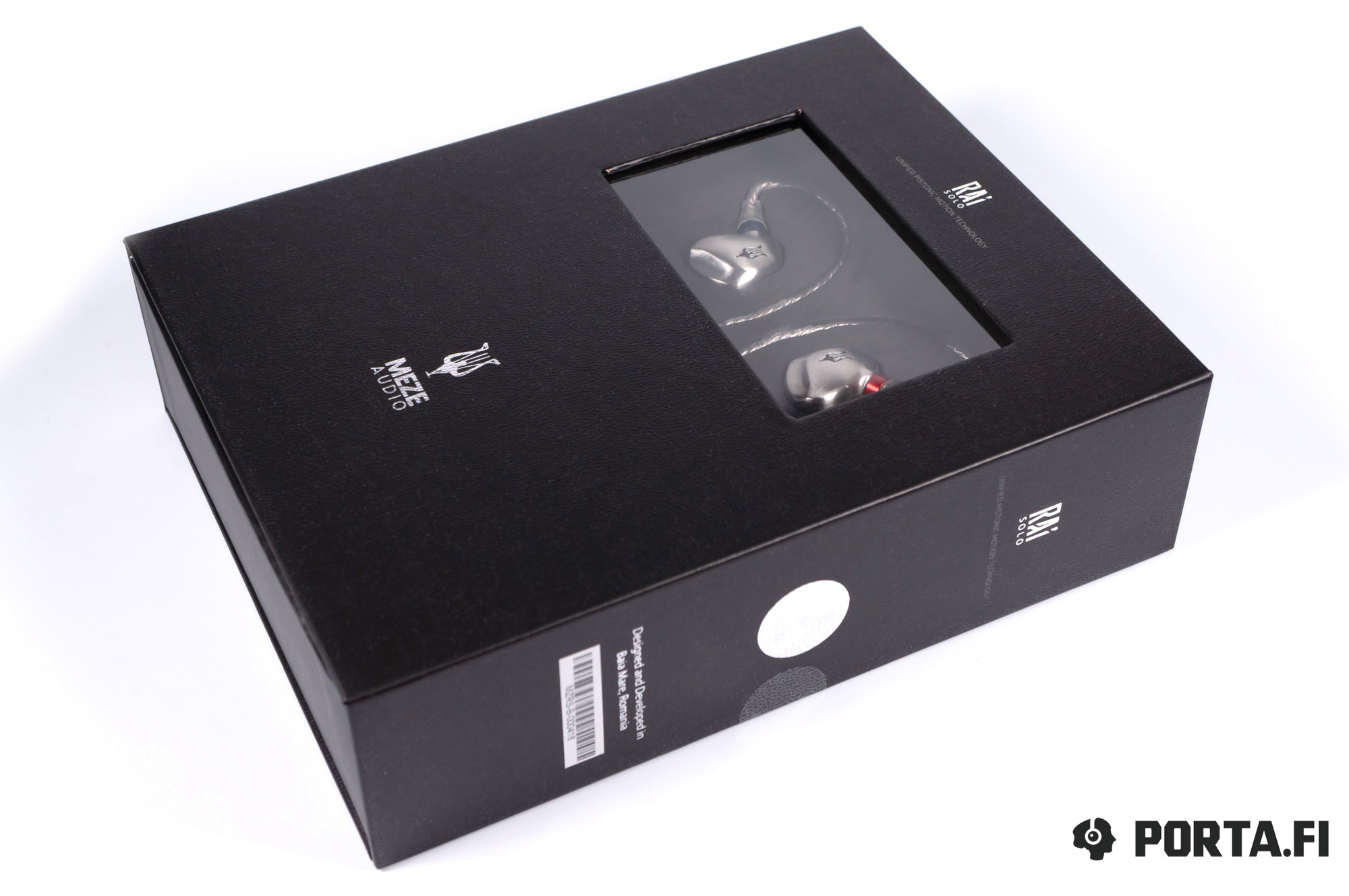 To reduce resonating the body is made of stainless steel and the transducer is positioned in a specially projected 3D-space. As you understand, it's a hell of the job, and it is pleasant that the price has remained resonable — you can purchase Meze Rai Solo in the official store for 250 USD.
Specifications
Transducer: 9.2 mm, dynamic, with UPM technology
Diaphragm thickness: 9µm
Impedance: 16Ω
Sensitivity: 105±3 dB/mWt @ 1 kHz
Distortion: <1%
Cable: 1.3 m, detachable, with MMCX connectors. Silver-plated copper
Jack: 3.5 mm TRS
Accessories and packaging
Everything is good here — convenient box with transparent window that is closed with the help of magnet. The printing is good. There are headphones and accessories inside:
great leather case with metal insertion
stock cable
three pairs of single silicone tips
three pairs of two-flanged silicone tips
two pairs of two-flanged silicone tips for deep insertion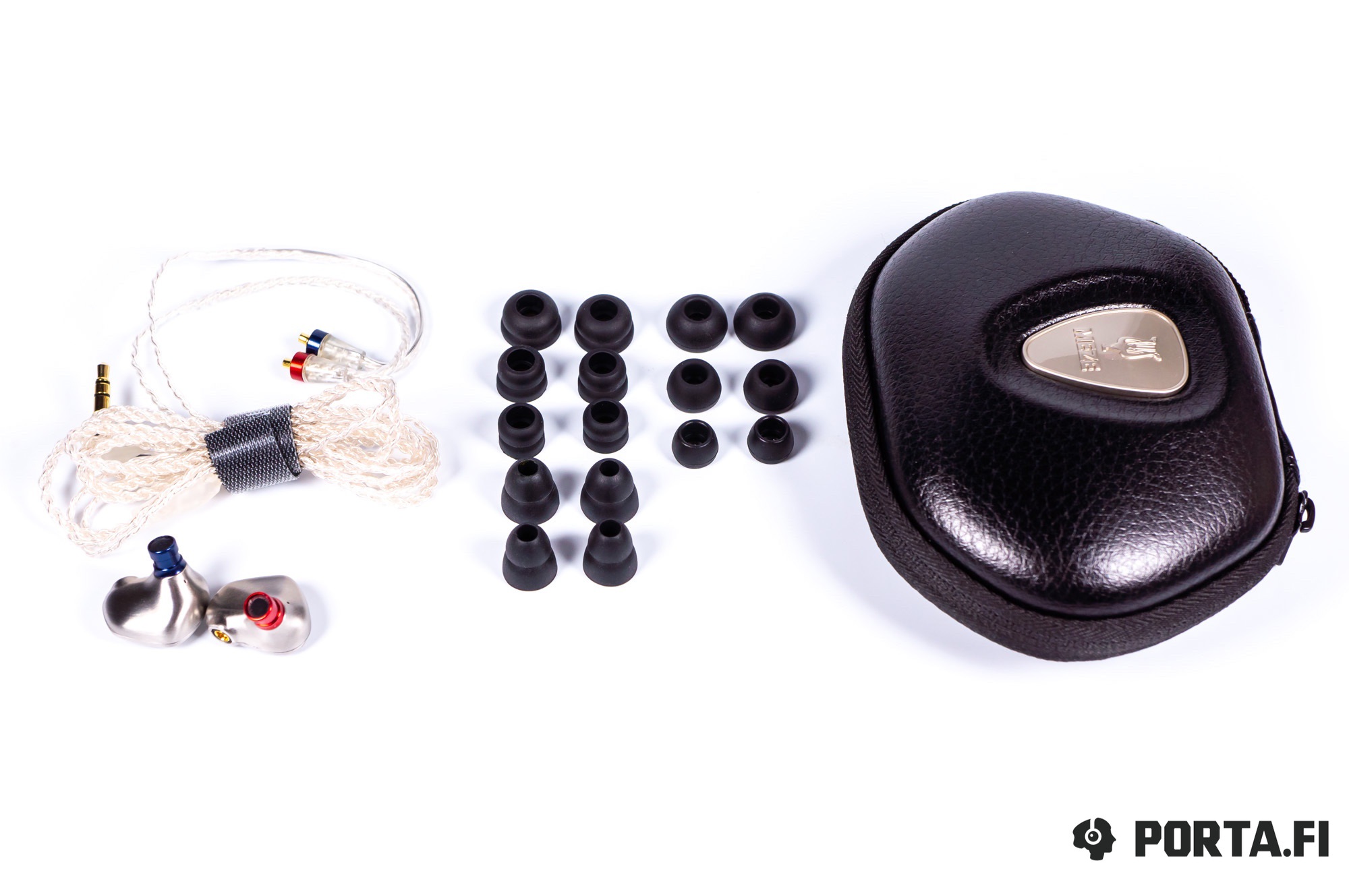 As you can see there is everything necessary for convenient headphone use.
Design and comfort
Meze have always had great design and Rai Solo are no exclusion. Those are arguably the most stylish and comfortable IEMs of this price range. The bodies are made of metal. Every detail has been manually processed to create unique texture. Even photos cannot transmit the beauty of the design well enough, and of course words are scarcely doing it as well. Build quality is traditionally good.
The body shape has been well thought over to fit the most users. You can wear the IEMs for long period of times, except, probably, frosty weather, but it's problem for any IEMs made of metal. The nozzles are of enough length and have a good angle, so sound isolation is above average.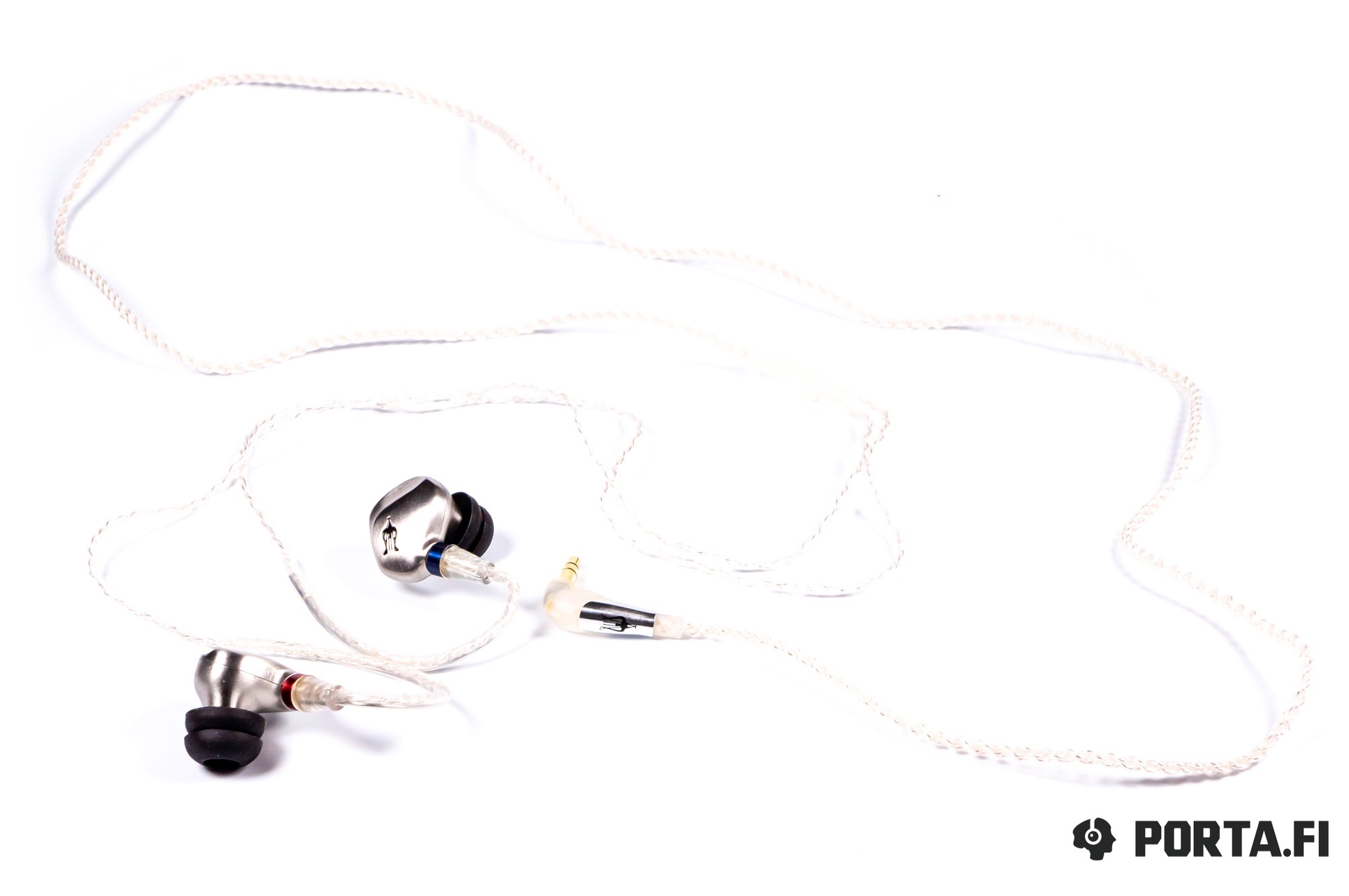 The cable is detachable with MMCX connectors having good fixation. Stock cable is rather soft and convenient, there are ear hooks with memory effect. Cable lacks microphonic effect and does not stiffen during cold weather. It's sounds good as well, so it makes no sence to recable those IEMs.
Sound
I have used the following equipment for listening purposes.
Yulong DA10 and Resonessence Labs Concero HP as DAC and amp
Apple MacBook Pro Retina 2016 as a source
Audirvana+ as a player
Lotoo Paw Gold Touch, Astell&Kern A&ultima SP2000 and others
Hi-quality recordings in lossless formats (Dr. Chesky The Ultimate Headphone Demonstration Disc and others)
I have allowed 36 hours of burn-in, but since I haven't checked them in process, I cannot say if the sound has changed at all.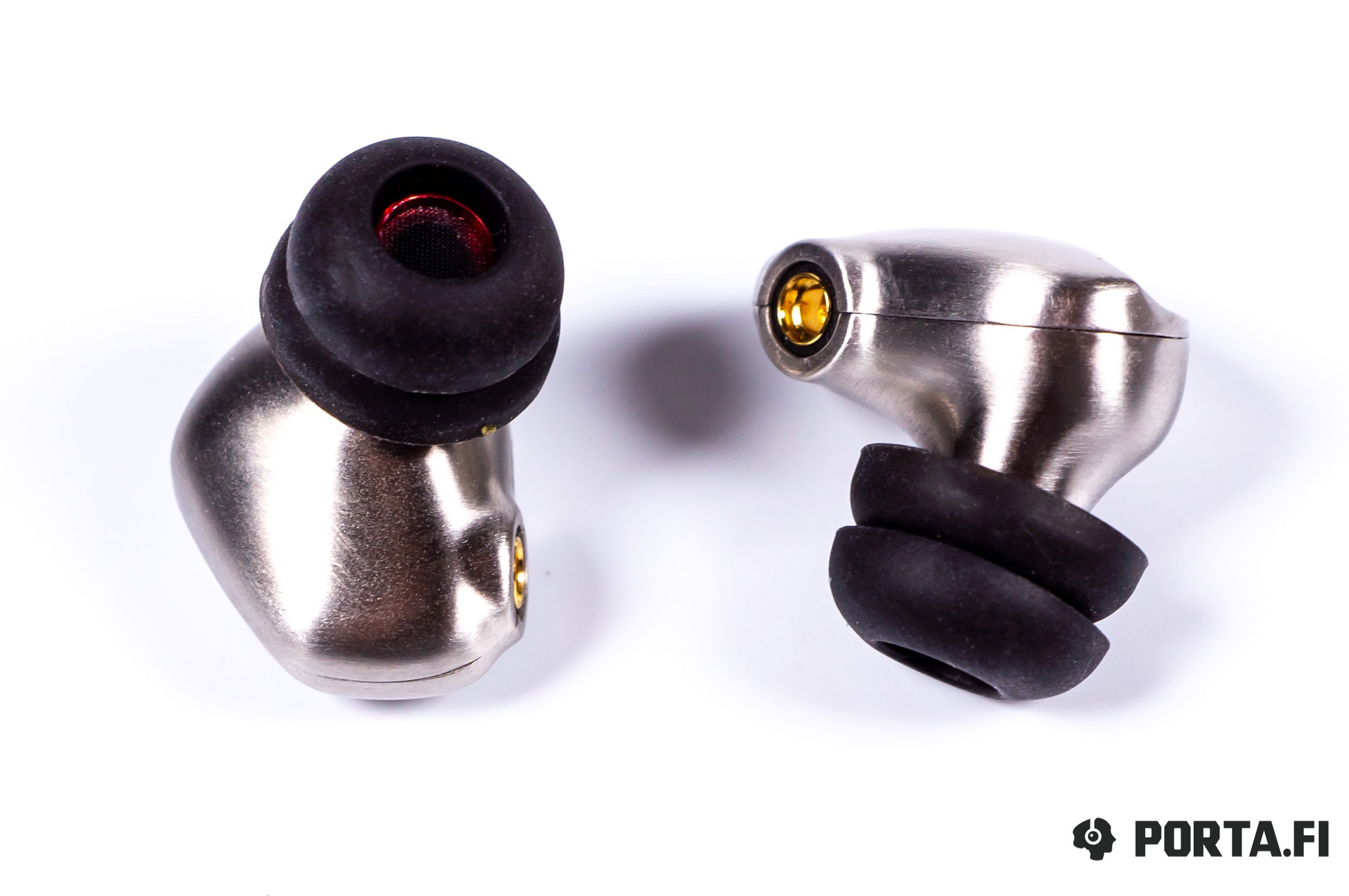 Starting from Empyren, the engineers from Romania have changed their sound concept (warm presentation with accentuated lows) and have moved towards more neutral brand sound without extra move to monitor sound. In this particular case they have chosen neutral presentation with accent in upper mids, providing clarity. Company representatives describe model as slightly v-shaped but I don't hear them as such — for that they lack bump on lows. but let's do review in a proper order.
The bass is slightly accentuated, but the accent is very small. IEMs are not basshead and people that got used to standard Meze bass bump, will need some time to get used to Rai Solo presentation. The bass is quick in terms of dynamic transducers. Lows are tight with slightly accelerated attacks and decays, high resolution and great control. The depth is well, however they lack the deepest bass. There are good textures, so the heroes of this review cope with natural bass well, but they lack quantity and fluidity for synthesized bass (matter of preference, though).
The mids can be divided into two parts: upper mids and all the rest. Since I usually tend to move up, lets start from "all the rest". This frequency range shows IEMs to play as good dynamic: normal (but not outstanding) resolution, some accent on emotions and macro details, non-distinguished micro details and good weight balance. Instruments and vocals have good weight and it brings realism. Upper mids are different due to bump. This brings additional energy. Presence is moved forward, bringing clarity and some aggression to sound. The headphones slightly underline emotions and recording faults that fall into this frequency range. Rai Solo move vocals slightly forward and this makes the sound stage deeper and brings good layering. The soundstage width is above average but not overly so.
Highs have gained slight enhancement because of accent described above, but this is valid only for the start of the frequency range. I find treble comfortable, but if you are sensitive to this part of the frequency range, you'd better listen to them prior to purchase. The treble length is normal, but there is a usual decline after 10 kHz. Of course, layering and complex overtones are in beginning state here, but resolution, naturalness, attacks and decays are present and sound well.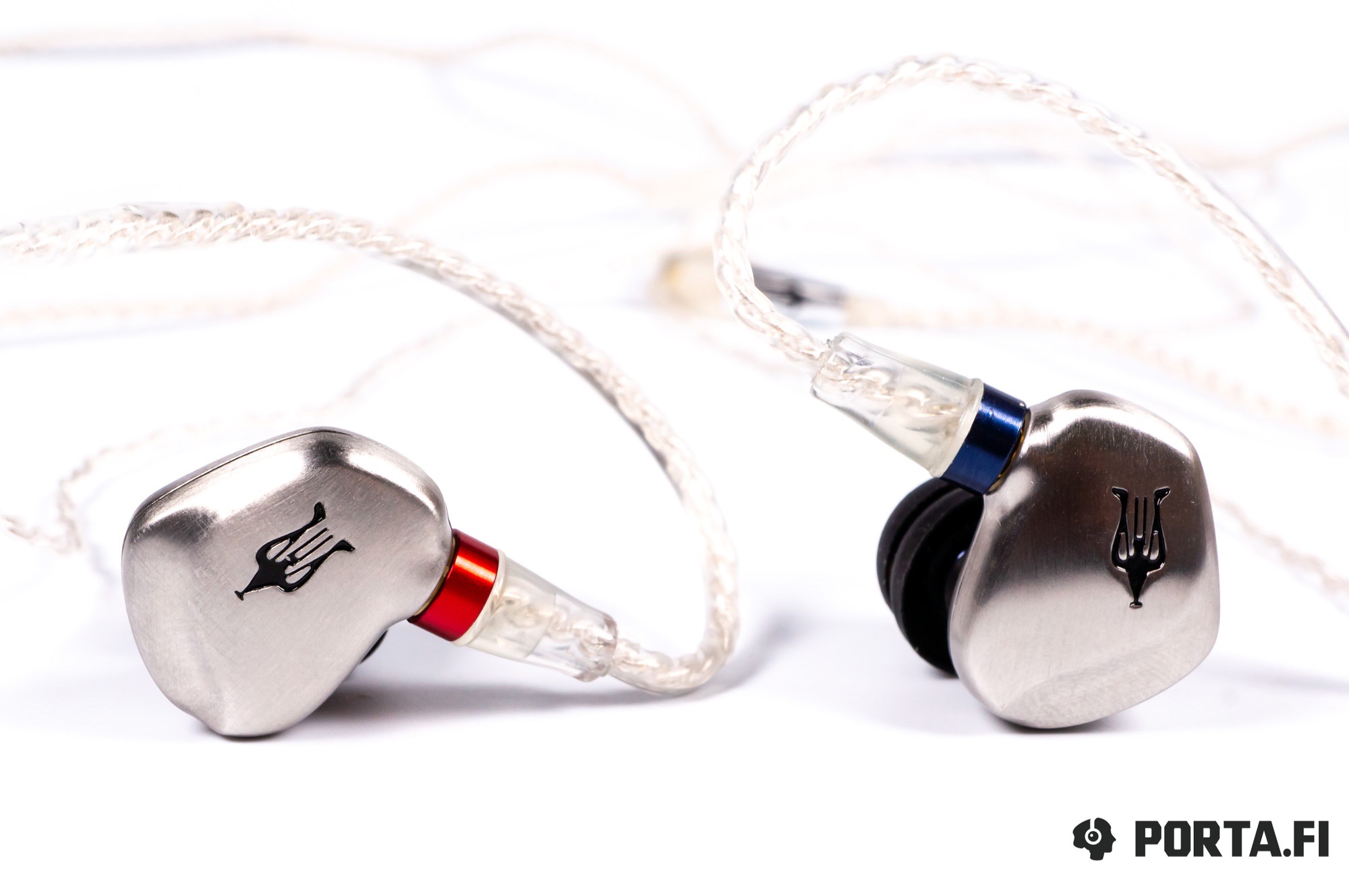 Comparisons
The type of transducer has peculiar sound and the tuning is not conventional, so I will concentrate on similar dynamic headphones of lower-mid price segment.
Moondrop KXXS This model is in many ways similar to Rai Solo. The same neutral tuning with bump in the upper part. The Meze variant is different in more correct weight balance and less accent on micro details. This makes their presentation less monitor with more natural mids. Moondrop has more lengthy highs.
Dunu Falcon-C Another dynamic model with neutral sound, but Falcon sounds more dry with more micro details. They are higher in resolution but the sound has less weight and it's noticeable on mids.
iBasso IT01s Neutral dynamic IEMs as well with somewhat dry presentation and accent on micro details. I can say almost the same in comparison as for Dunu Falcon-C, but iBasso are even brighter.
CampfireAudio Lyra II More expensive model from CA resembles Rai Solo somewhat, but is better on the egdes of the requency range and has less accent on upper mids.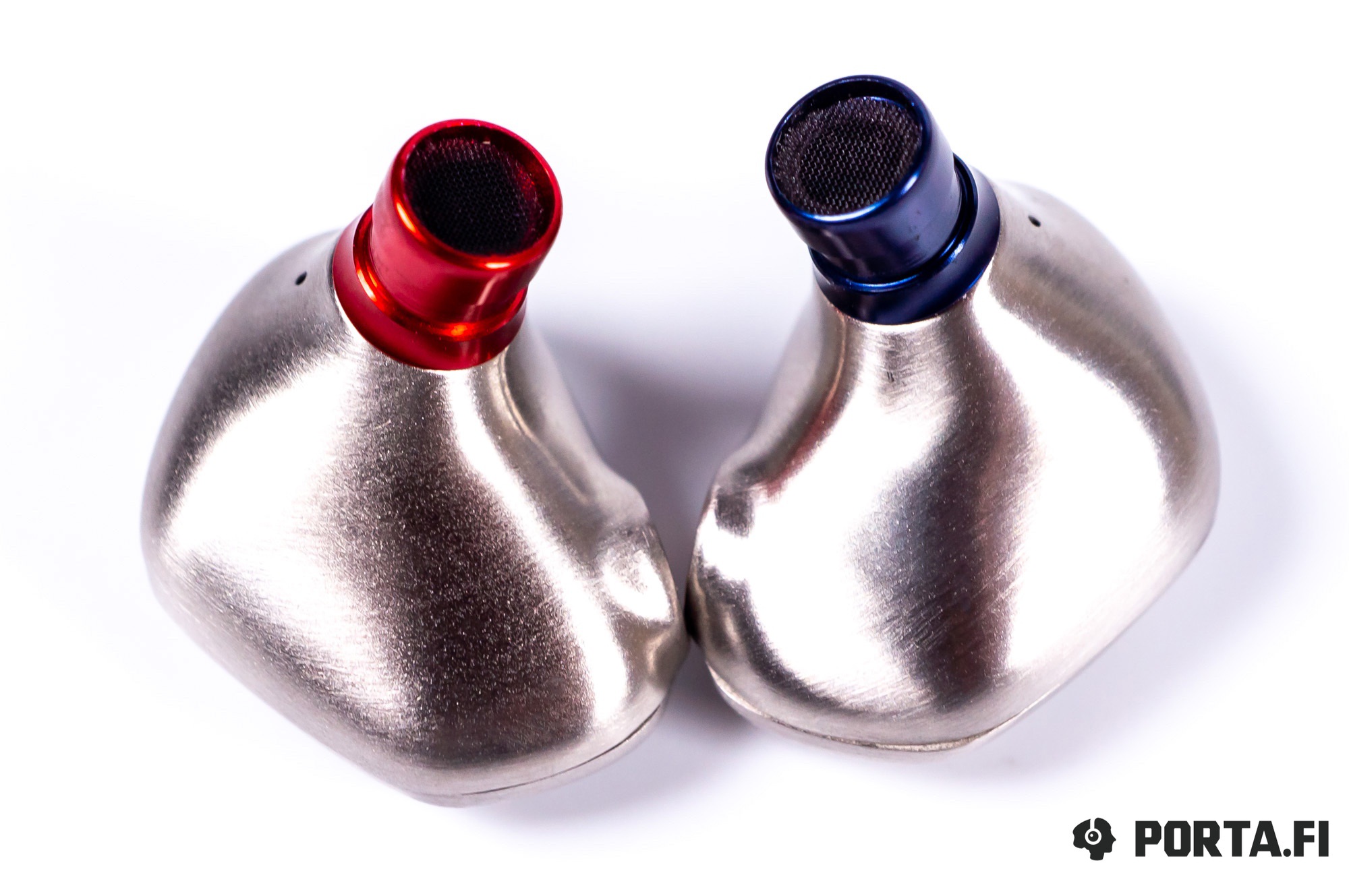 Compatibility
There is no sense in using Rai Solo with phones and tablets, they require a good player to shine, but of course you won't need top player to get the most of them — mid-fi player is enough. They do not require too much power and are not sensitive to background noise.
The model is universal in terms of genre and moderately critical to recording quality — 7 out of 10.
Example tracks
Rod Stewart with Royal Philharmonic Orchestra — Sailing The famous ballad by Rod has needed good arrangement, and here we go. Take good headphones (yes, Rai Solo, for example), and have a listen. Great violoin parts, multi-voice choir, great strings, appearing hear ande there. Pleasure to listen to.


Ozzy Osbourne — Straight to Hell Let's be frank, his age and condition should see him retired, but Ozzy does not give up and fresh single is a proof. Of course the vocal is not that striking as during his prime, but steel sounds great. Together with talented musicians, we get a great shooter and Rai Solo adds to this greatness.


Rodney Whitaker — Caravan I think there are no people who haven't heard this jazz standard, but very few have heard it with vocals so I offer to correct this. Of course Whitaker remains the main hero and his play is the vital part of the track, and together with all other musicians it sounds really good, especially with Meze Rai Solo.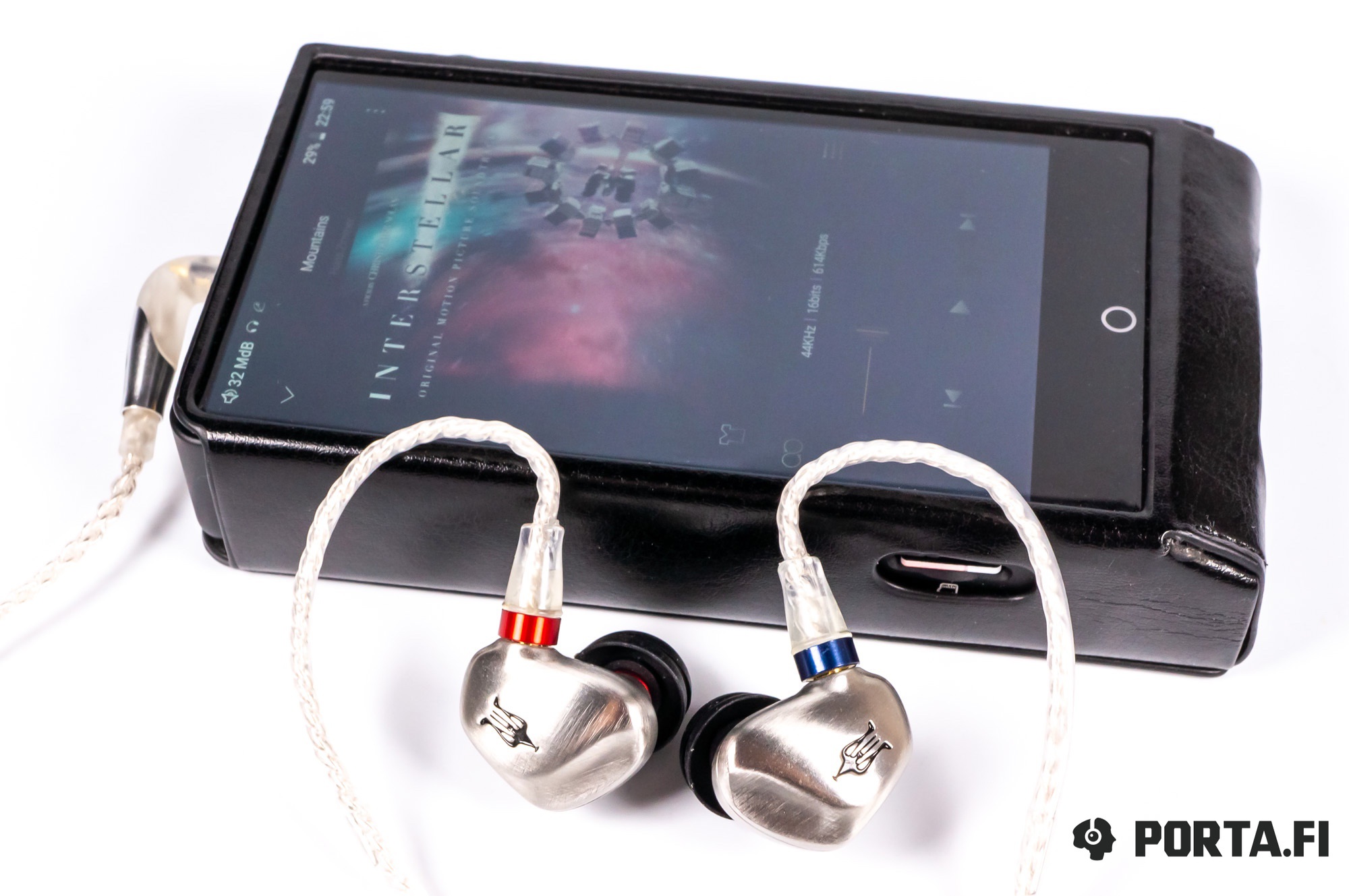 Conclusions
Meze continue to develop both in design and sound. Their junior dynamic model is interesing in terms of sound, but not everyone will like the neutral presentation, though I'm sure there'll be enough fans. Great design and price add up to decision making.
Translated by: Vadim Kolchev