I don't know who is in product management team of iBasso, but they have earned a bonus for sure — successful DX220 flagship, fast selling DC01 dongle and now new DX160 that has everything to become a mid tier leader.

Seems like we will see decrease in detachable amps market soon. FiiO has moved towards it and iBasso think about it as well, obviously. DX160 is made without detachable amp cards and this has allowed to reduce price, dimensions and weight. The developers have provided DX160 with very good amp with impressive 6.4Vrms. There are couple of CS43198 used as DACs that have become very popular recently. XMOS, used in previous models, is changed for Savitech with chip generator from the same manufacturer. There is also a bunch of modern technologies: Bluetooth 5.0 with LDAC, full MQA unfolding, quick charge and other things that are useful in 2019. Here we also get beloved 5″ 1080p screen and the main attraction — moderate price of around 400 USD.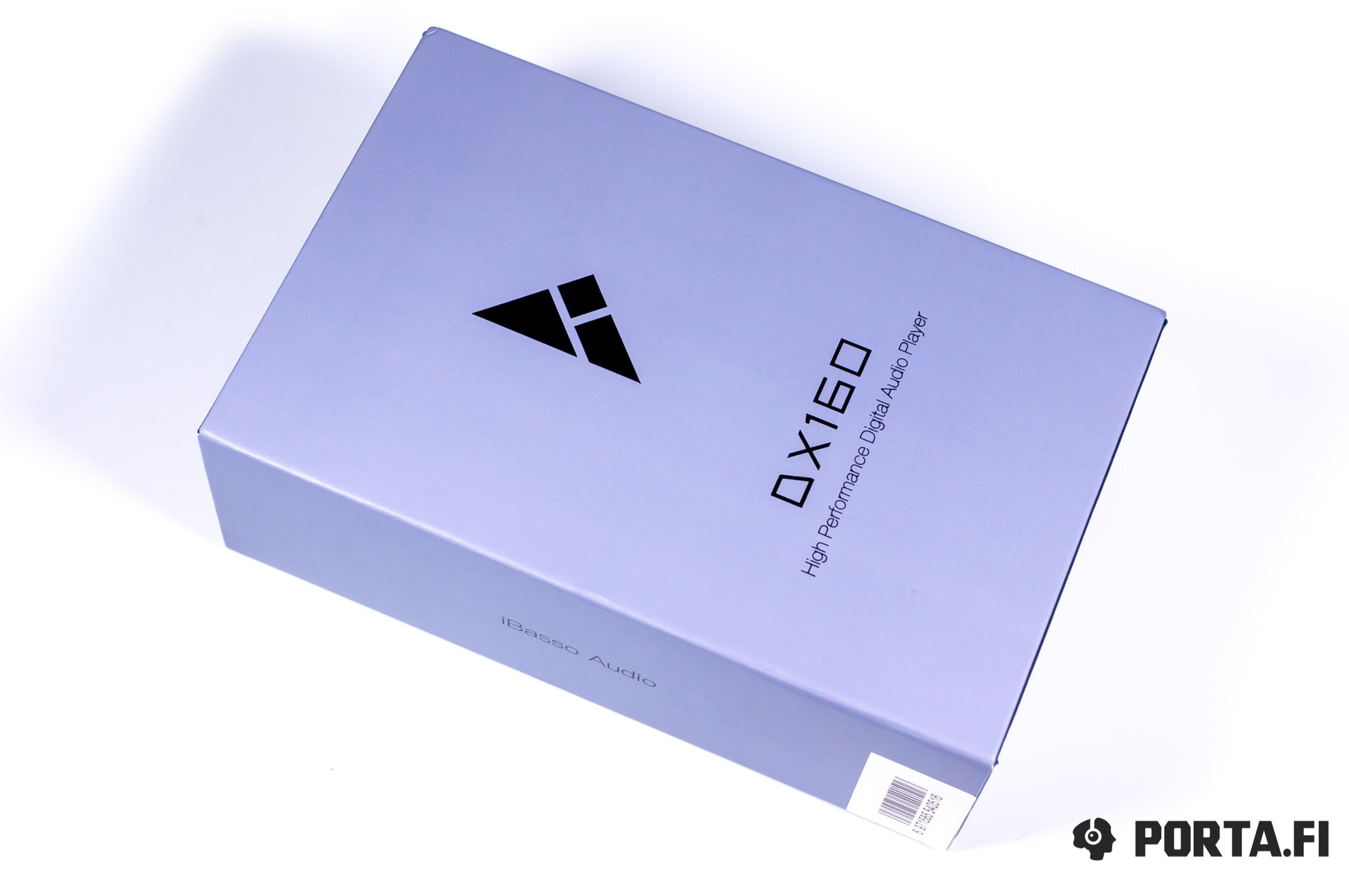 Specifications
Processor: 8-core ARM
DAC: 2 × CS43198
Frequency range: 10 Hz – 40 кГц (±0.15 дБ)
THD + noise: 0.00022% (32Ω @ 2Vrms, balanced), 0.0007% (32Ω @ 2Vrms, single ended)
Signal/noise ratio: 130 dB balanced, 125 dB single ended
Output voltage: 6.4Vrms balanced, 3.2Vrms single ended
RAM: 2 Gb LPDDR
ROM: 32 Gb
Wireless interfaces: WiFi 5GHz, Bluetooth 5.0 (two-way)
Bluetooth codecs: aptX, LDAC
Screen: 5″ IPS, 1920 × 1080
Battery: 3200 mA/h, 3.8V Li-Polymer
Quick charge support: QC3.0, PD2.0, MTK PE Plus
Playback time: ~ 13 часов
Memory cards: MicroSD
OS: Android 8.1
Supported formats: MQA, APE, FLAC, WAV, WMA, AAC, ALAC, AIFF, OGG, MP3, DFF, DSF, DXD
Playlist support: M3U
Max resolution: up to 384 kHz/32 bit, DSD256
Dimensions: 113 mm × 69 mm × 15 mm
Weight: 178 g.
Accessories and packaging
Of course the product is far from being budget, but it is not top tier at the same time, so we will not get luxury box of DX220. However, iBasso have provided with possible maximum — cardboard box with magnetic cover and dust cover sport beautiful colors and is stylish with pleasant textures. You will get the following apart from gadget itself:
silicone player cover
good nylon covered USB cable
couple of protection films for front and back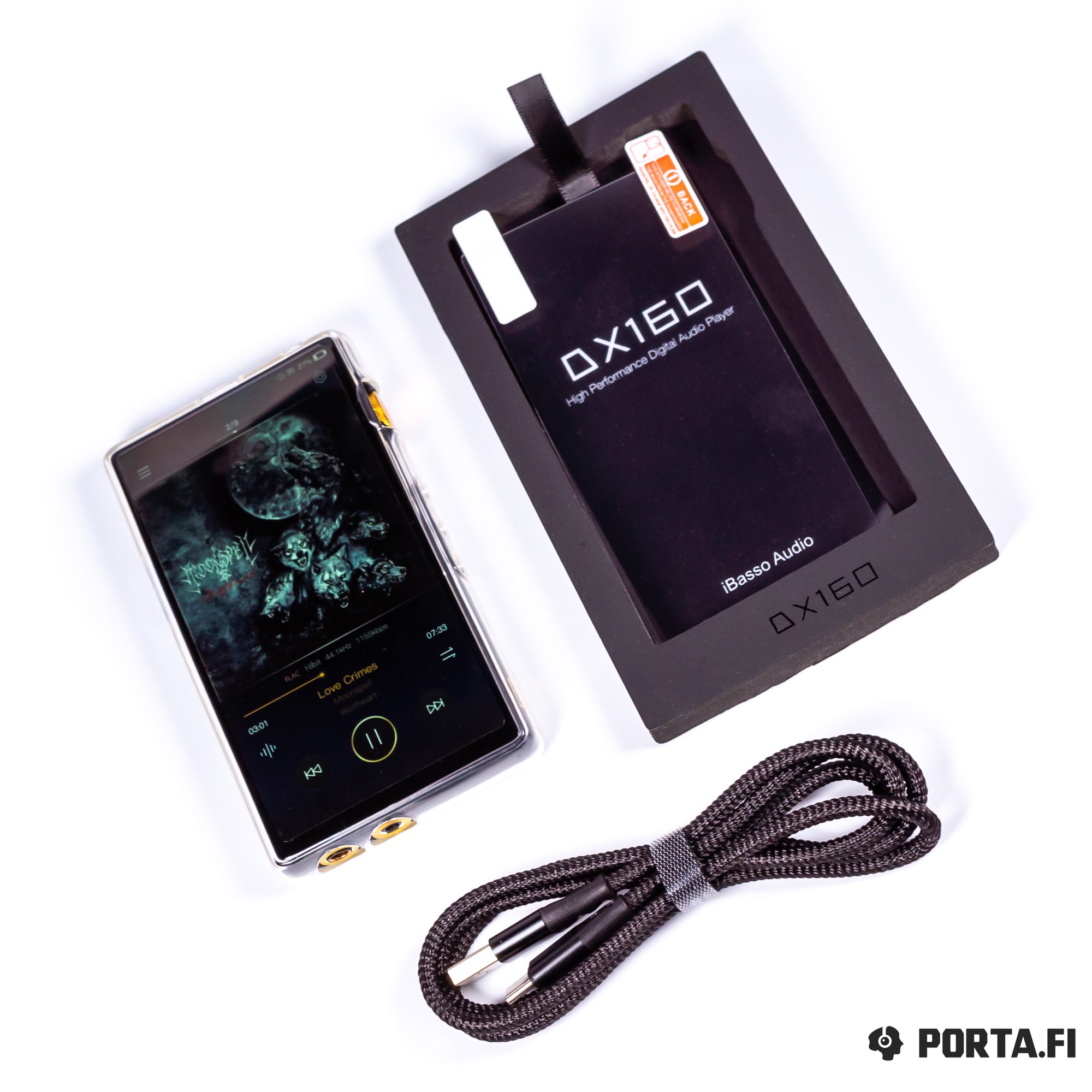 The films are a little narrower than the screen and do not protect rounded corners, so you will have to buy a 2.5D protector that is much more expensive than regular films.
The accessories are not excessive but there is everything important.
Controls and design
This is what makes us love this device instantly. iBasso have managed to fulfill what phone manufacturers do for the last several years — they have made the device almost borderless, so despite large 5″ screen DX160 is relatively compact and diminished weight and thickness have made it even more pocketable. The body is made of aluminum and you can choose from 4 colors — black, silver, red and blue. The player has correct rectanuglar shape with rounded corners. Back panel with silver company logo is made of plastic that looks like glass and feels very pleasant. Build quality is excellent — everything is ideal.
Of course all needed controls are there. On the left there is a microSD slot and it is made simple without modern trays. DX160 has its own 32GB of ROM but it is surely not enough, given that the part of it is already taken by the OS. Luckily, MicroSD cards become cheaper and it's not a problem to get more space.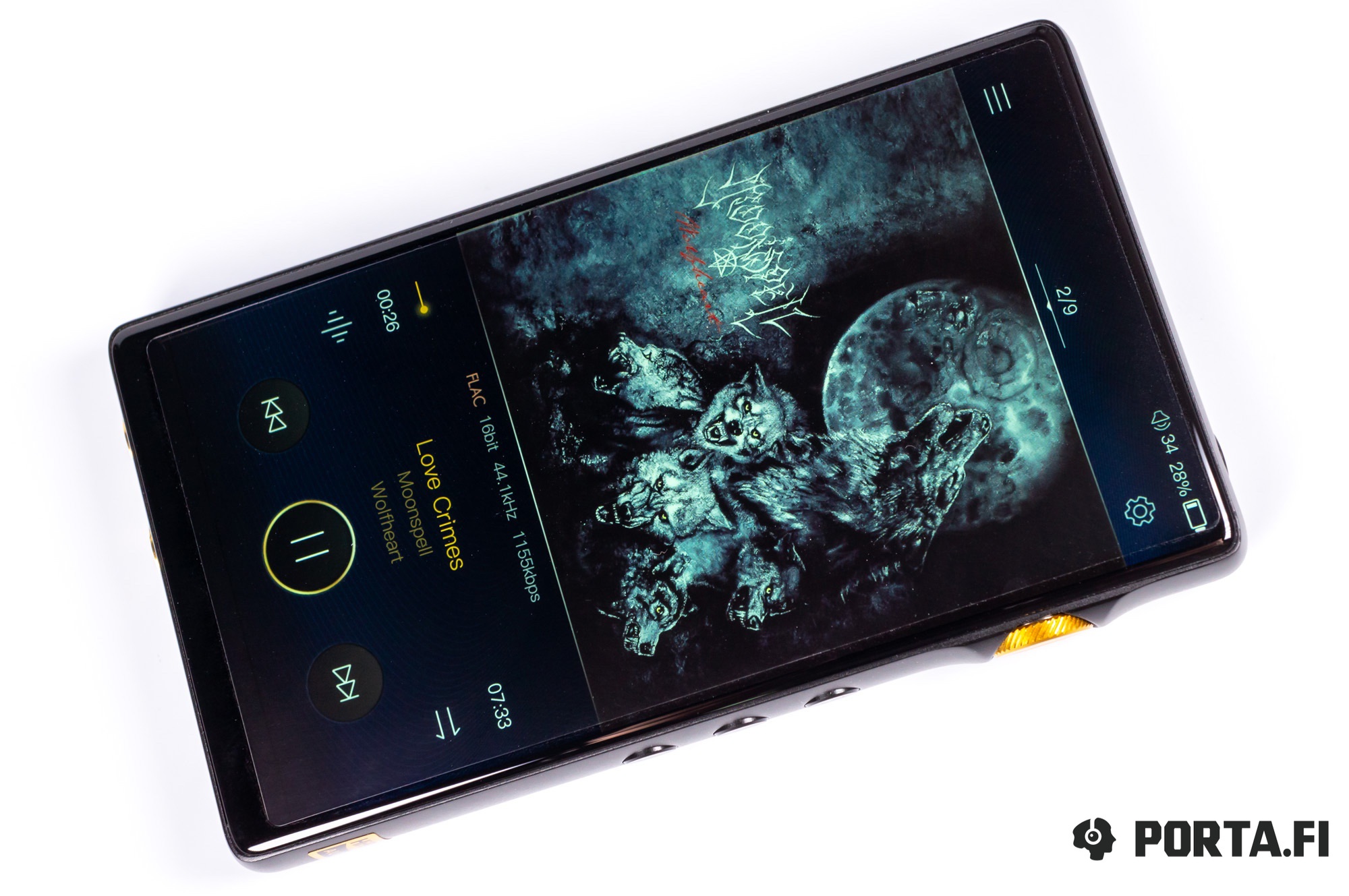 On the top there is on-off/block button and USB-C connector that fulfills many roles — charging, mermory access, external DAC connection and usage of DX160 itself as a DAC. Playback time depends on load and used output. In balanced mode playback time is 7-8 hours, while you will get 12-14 hours single ended. Given that we have quick charge here, it's more than enough.
On the right there are three playback control buttons and golden volume wheel. The latter uses quality encoder and works tight enough to avoid sudden and unexpected volume changes. Ergonomically it is well situated to prevent occasional turns. Also this back sports traditional HighRes Audio certification sticker.
There are headphone outputs on the bottom panel. Usual 3.5mm output can be used as line out and coax out. Balanced output is 4.4 Pentaconn. White names of outputs are some distraction and slightly spoil the overall design. Is there anyone who can't tell USB from phone out?
Of course screen is the main attraction. It is detailed, vivid with good viewing angles and register taps well. It stays visible under direct sunlight and looks just gorgeous indoors. Probably you will even have to change your album artwork for files in better resolution — they look very well on this screen.

Even before the player has been released many people have blamed iBasso for taking old RockChip chipset, but in everyday use (music, streaming, file manager) I don't see any problems with speed, but I can't say I have checked 100% of usage scenarios. In recent firmware versions developers have added capability to change screen resolution to 720p that enhances speed of device, but I haven't used it yet.
Firmware
The firmware is common for iBasso. We have seen it in DX220 and will likely see it in future. iBasso use Android without Google Play Services and add APKPure and CoolAPK apps instead of Play Market. These markets allow to install most of needed apps. But if you need Google app store, you will need to install Lurker firmware that adds it and couple of other useful capabilities. Additionally iBasso have provided player with full MQA support, including Tidal, and ability to avoid system resampling — everything modern Android player should do.
There are two things in firmware that show it is audio oriented. The first one is additional options in system settings, where you can change filter, gain, balance and non-audio settings, such as playback control keys remap etc.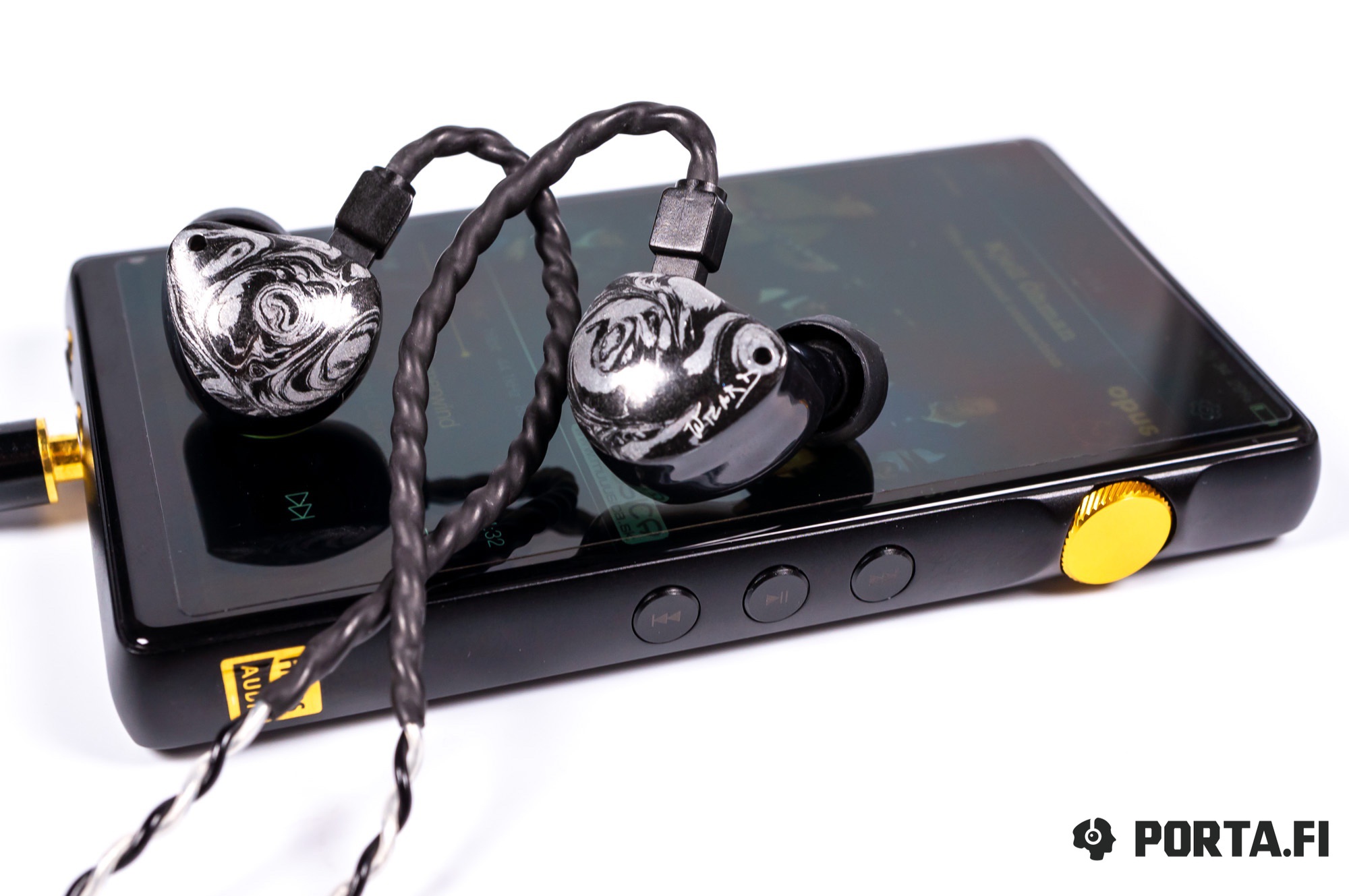 The second thing that screams we have a player is the presence of Mango Music. It is trusted and well-known software player from iBasso that has got renewed interface starting from DX220. It sports all new features, including convenient parametric equalizer, advanced sorting in media library and so on. I don't think we need to discuss the app in-depth, it is very intuitive and takes 5 minutes max to learn all the features. It is optimized for simple controls and is good.
There is no separate Mango mode in DX160, I don't know why but only top models receive it.
Firmware is overall pleasant, everything just works.
Sound
I have used the following headphones for listening purposes: iBasso IT04, Meze Empyrean, Kennerton Thror, Noble Audio Khan, Campfire Audio Andromeda and Solaris, Unique Melody Mason V3, HUM Pristine and others.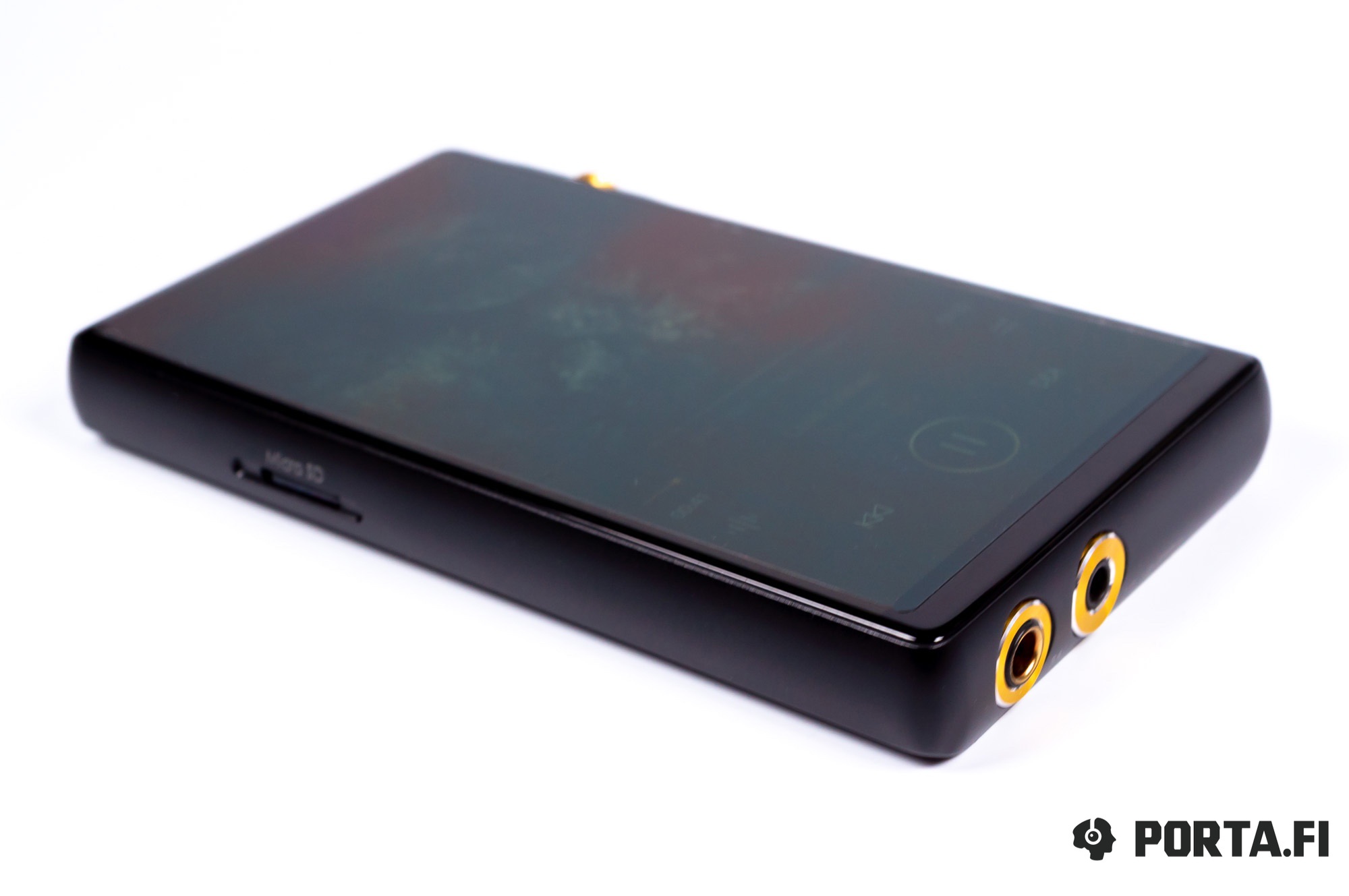 Overall presentation is a combination of DX220 and DX150 models. It is not neutrally monitor as the first one and not so energetic as the second one.
The lows have enhanced weight, they are lively and dynamic without being dry and overly accelerated. It has normal resolution and has good textures without forgetting to provide melody foundation and weight to the instruments of this range. It does not go too deep, but well enough. Lows have good control, bass is always in place and does not bleed to mids.
Mids are close to being neutral, but micro details are diminished to underline emotions and dynamics. DX160 mids are natural, emotional and full of drive. It's not a moder for those who love dry monitor sound, nevertheless I can't call the player overly colored. It just adds some weight to instruments and vocals that brings organic sound. Sound stage is above average in width and depth and has good air and volume.
Highs are well balanced and just fit in well. Of course length and layering are not flagship-like, but are very good for mid tier. Overall presentation is not aggressive, but the player doesn't try to make highs too smooth, they have normal resolution and natural attacks and decays that offer natural sound.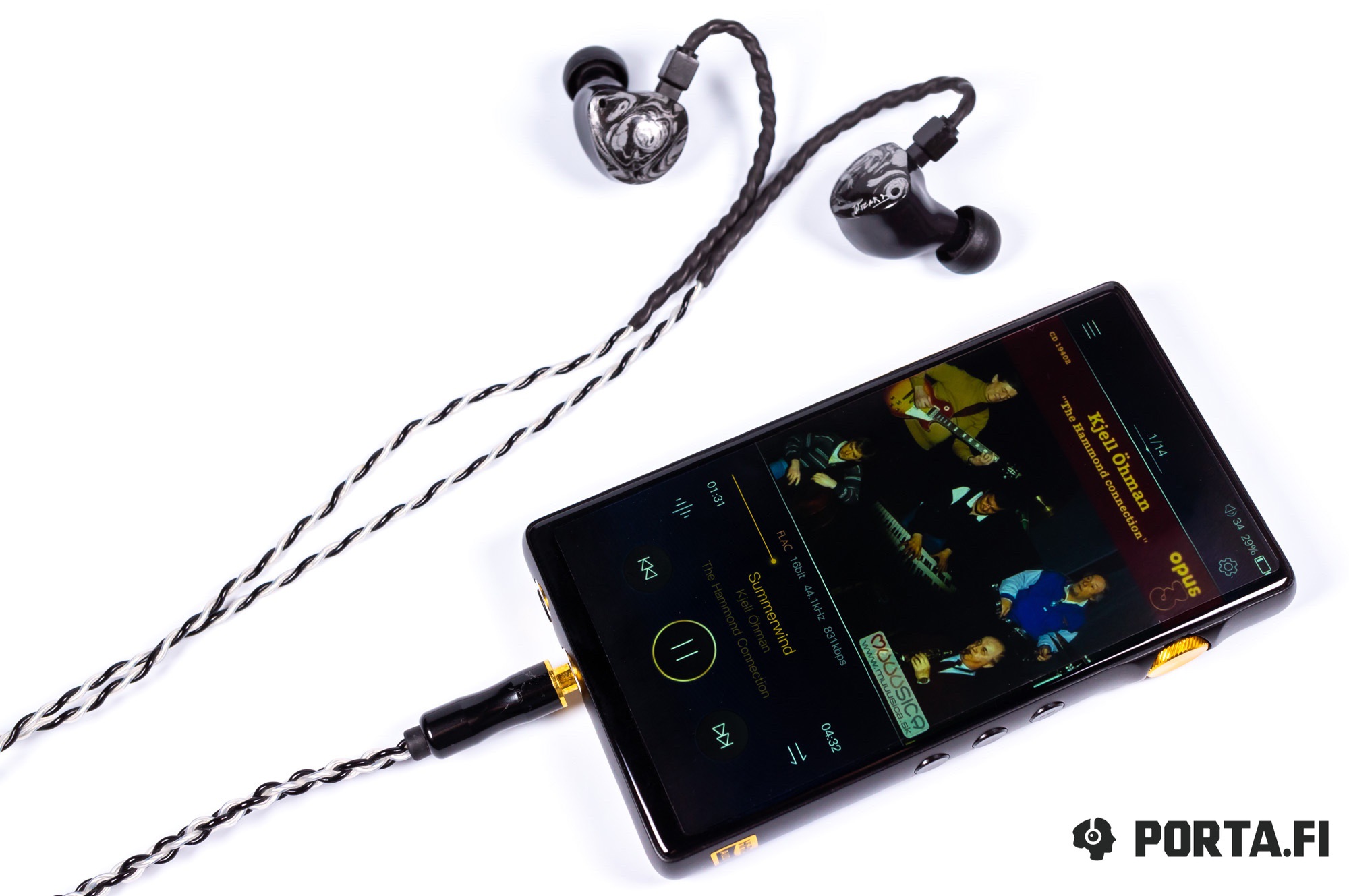 Comparisons
Let's shortly compare DX160 to other players. As usual, I will discuss only sound differences.
iBasso DX120 DX160 overcomes previous budget company solution, since for just 100 extra dollars you get more stylish and modern device. 160 sounds more organic, has less micro details, so it sounds more weighty and natural.
iBasso DX150 Many will argue, but I think that DX160 is a better overall offer. If you already have DX150, there is no need to haste and change it for DX160 though, but if you only consider a purchase there is a lot to think of. DX160 is less emotional but has better frequency edges. DX150 has an advantage in the form of detachable amp cards, but this also makes DX160 look better bang for buck.
iBasso DX220 It's obvious that the newbie presentation was made with having DX220 sound in mind. 220 however offers better control, better control over all frequency range, especially highs, and more tight bass.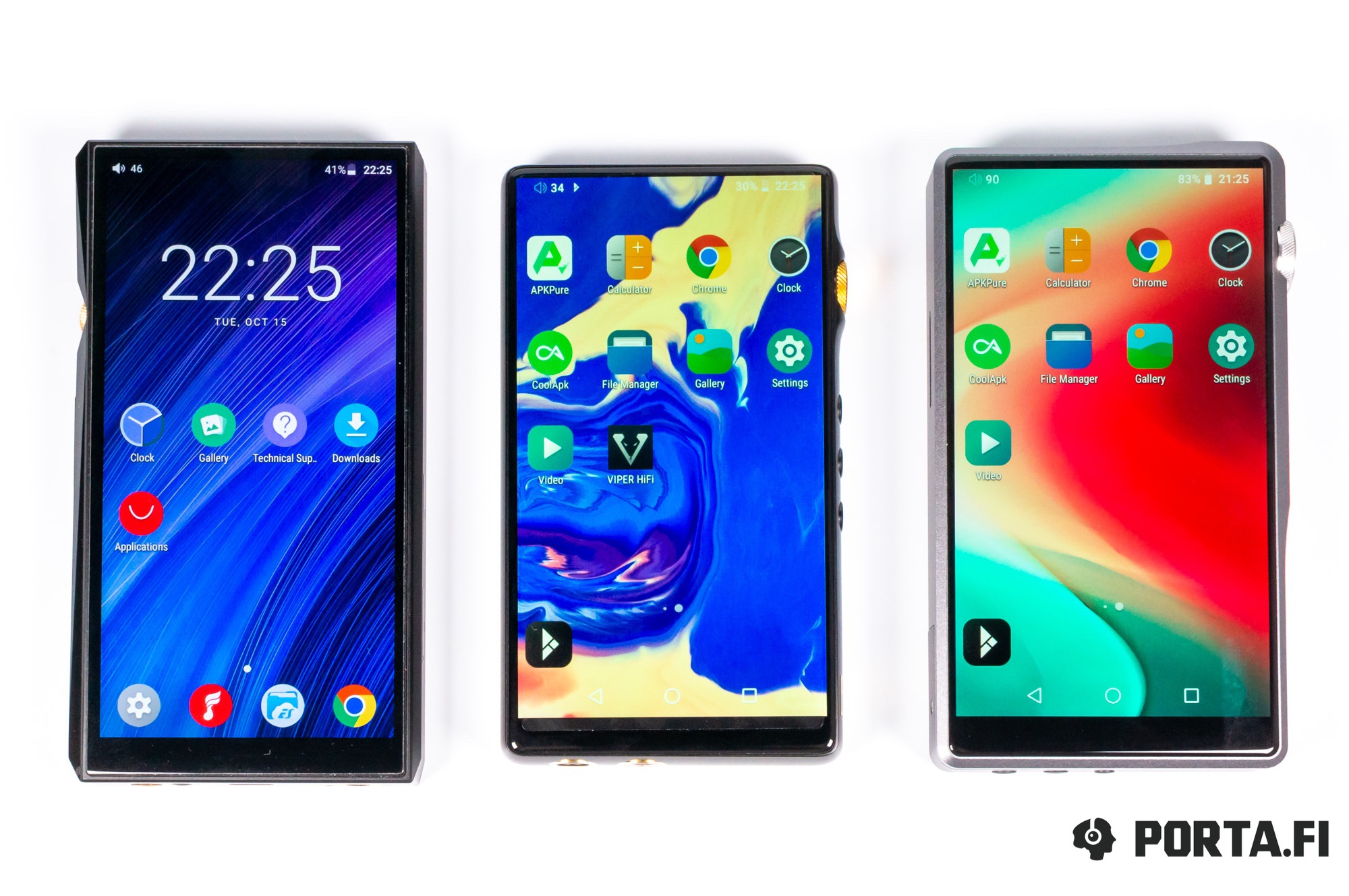 FiiO M11 The difference in presentation is obvious, M11 accentuates micro details more and plays in a more monitor way, while DX160 is better in terms of weight, emotions and macro details.
Совместимость
Despite compact size DX160 is powerful. It is not a record breaker, but is in the top line for sure and can bring to life even hard to drives. What appeals, it has black background despite having got only two-step gain. There is almost no noise even with the most sensitive IEMs.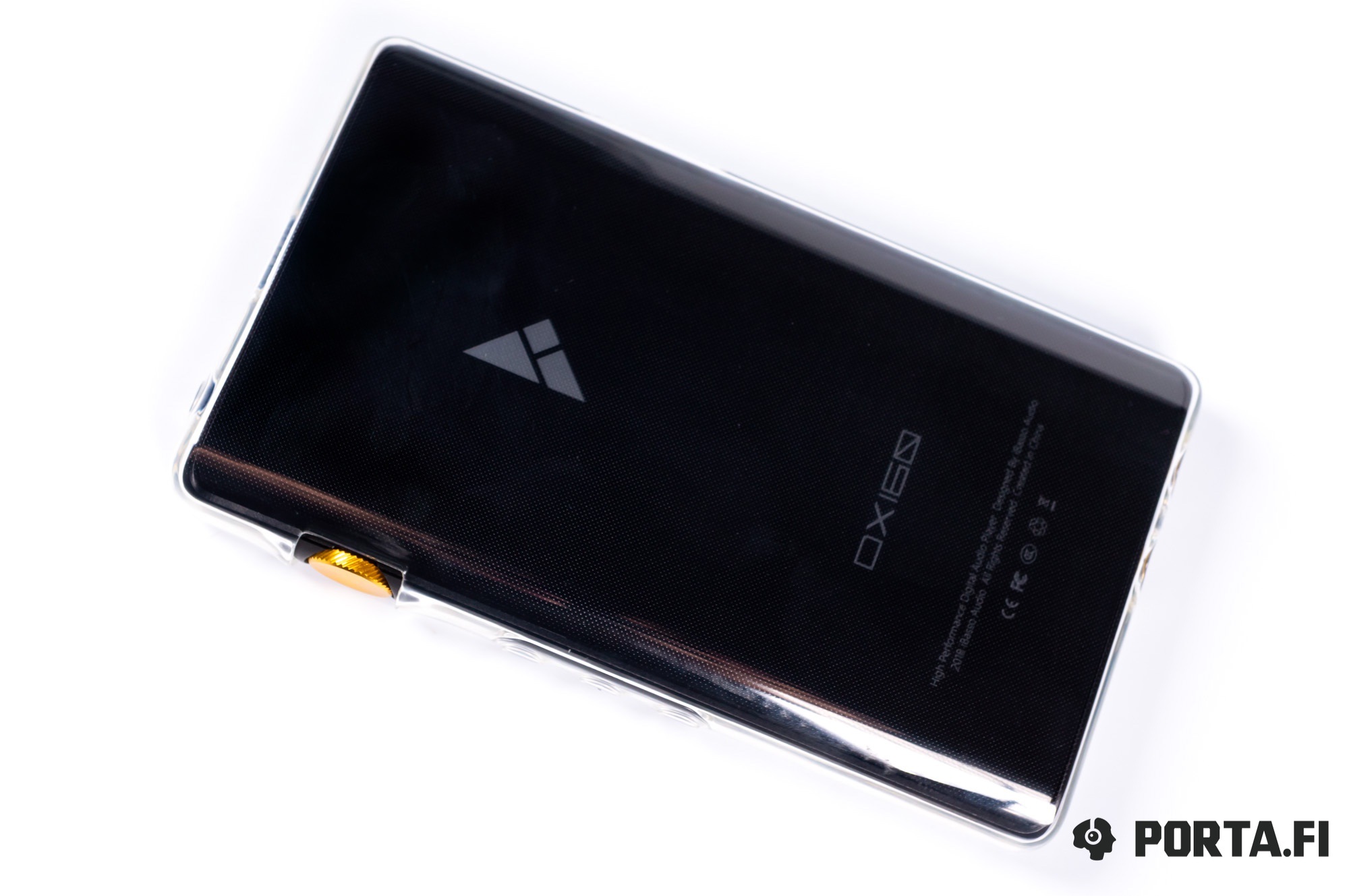 The player is universal in terms of music styles and is moderately sensitive to recording quality — 7 out of 10.
Example tracks
Tom Green Septet — Arctic Sun For those who are nostalgic and love classical jazz — this is a work of London trombonist and his septet. Tak a player that is able to reproduce all nuances of wind instruments, bass, piano and percussion, for example, DX160, close your eyes and prepare for journey to the past. The newbie from iBasso demonstrates not only good resolution, but also correct weight that offers naturalness and realism. Apart from being virtuoso, Tom Green improvises very well and this album demonstrates it. He, however, has correct limits and the album is not boring at all.


Robbie Robertson — Walk In Beauty Way Talented man is talented in everything and Robbie Robertson proves it right. He has left his career as producer and actor to concentrate on music. If you haven't known — Robbie is not just The Band (ideal name for the band) member, but also a session musician who has played with such monsters as Bob Dylan and Eric Clapton. Despite the age, Sinematic (another great name) album sounds fresh and deep. Take DX160 and listen to this intimate duo — I guarantee that it won't leave you untouched.


Keb' Mo' — Oklahoma If one day I retire and will have to choose the only one musical style to listen to, I will highly likely choose blues. Robertson has provided quite a level with previous track and I has thought much what to choose for the third one, and at last it has become obvious that I should proceed with the same style, but in a more traditional way. New iBasso player has good balance between emotions that are needed for blues and resolution to play all those nuances that there are in track (for example, violin country part in the middle).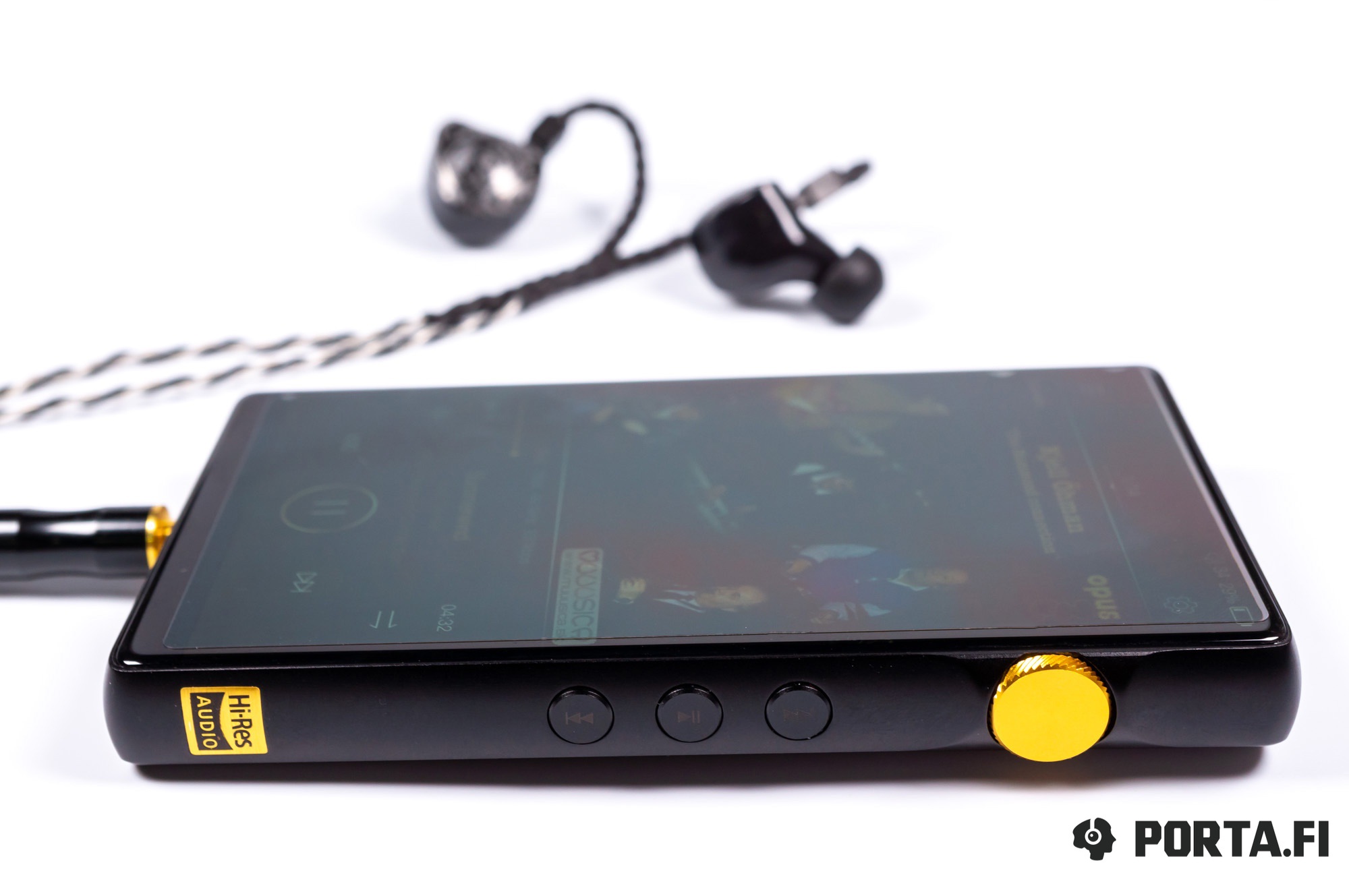 Conclusions
iBasso have shown again what a device should look like in 2019 and probably in 2020 as well. Striking design, compact size, convenient controls — everything is fulfilled without sacrifice to sound and other player capabilities.
Translated by: Vadim Kolchev