In the end of 2020 FiiO have released two unusual offerings by presenting headphones and enhanced version of uBTR TWS adapter. We will speak about the latter in a different time, and today the review is dedicated to the headphones — FiiO FD5.

According to company representatives these headphones should be considered flagship in the range of single driver company offerings so the developers have tried to pack them with technologies. Here we get a 12mm dynamic transducer with diaphragm made of diamond-like carbon covered with the main audiophile material of the latest years — beryllium. Bodies are made of metal and has semi-open structure. There is an acoustic lens right before the transducer and from the other side there is a specially designed resonator. As a bonus, owners can change sonic presentation with detachable nozzles. This way FD5 provides with two sound variants. Accessories range is appealing and even unexpected to some extent.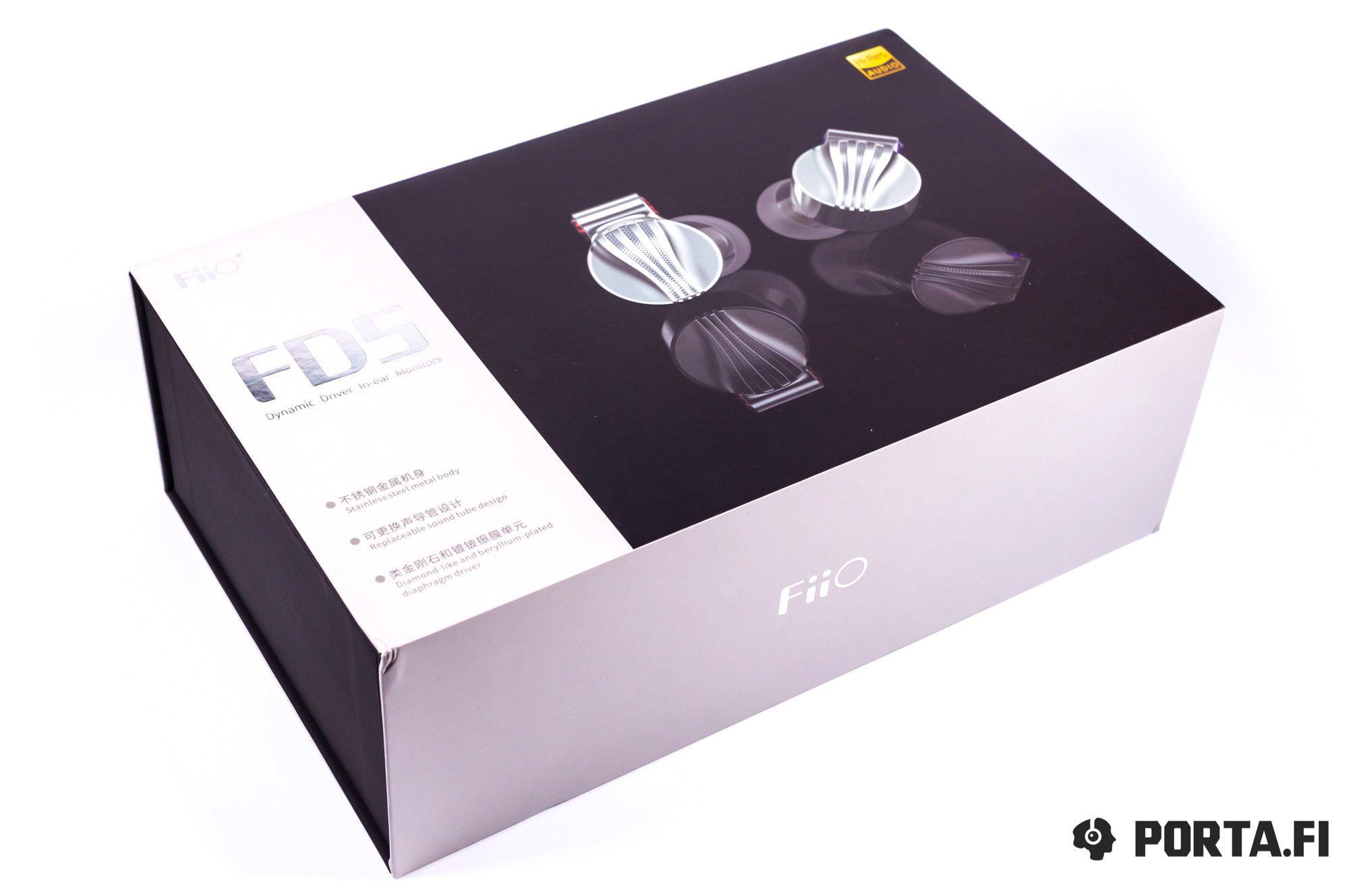 It's pleasant to see moderate pricing for such feature-packed headphones, they cost around 300 USD but the price may vary depending on local taxes.
Specifications:
Transducer: 12 mm with beryllium covered diaphragm
Frequency range: 10 Hz ~ 40 kHz
Impedance: 32Ω
Sensitivity: 109 dB/mWt
Max power: 100 mWt
Cable: 1.2 m, detachable cable, silver-plated OFC
Weight (per ear piece): 11 g.
Accessories and packaging
Product managers have started to astonish users right from the packaging. The IEMs come in rather large cardboard box with dust cover. Printing and inner organization of space is traditionally perfect and unpacking process arouses plenty of pleasant emotions. Apart from IEMs, the accessory range includes:
beautiful leather case
two pairs of triple tips for narrow nozzle
two pairs of foam tips for wide nozzle
4 sets of 3 pairs of ear tips for wide nozzles of different sizes with different sonic abilities
stock cable and two additional detachable jacks for it
detachable nozzles-filters
cleaning tool
tool for detaching MMCX connectors
As you can see, the packaging and accessory range is abundant and has everything user may need.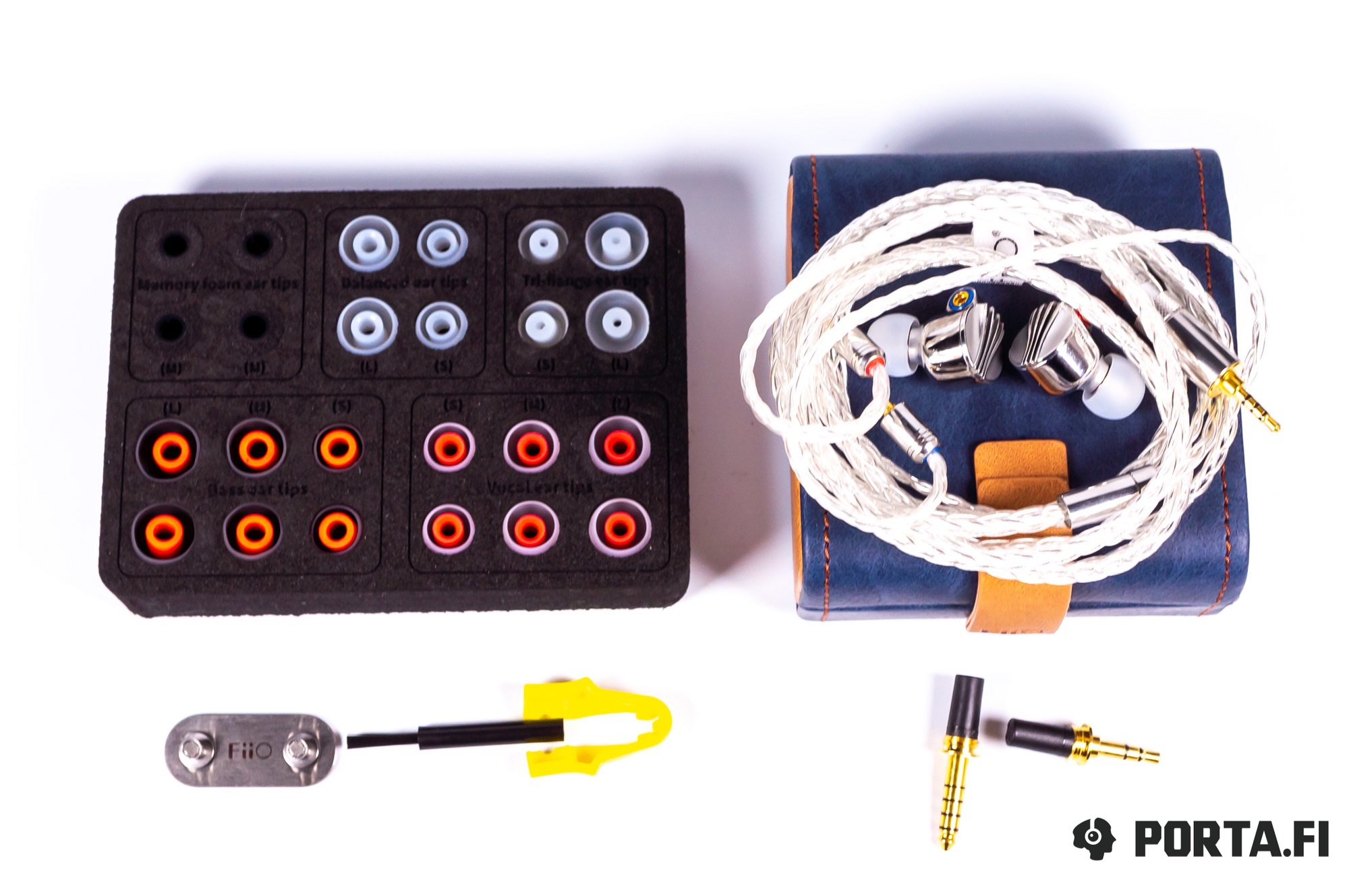 Design and comfort
The appearance is attractive. We get a classical body design of cylindrical shape with vertical stripes on face plate and grill between them that provides semi-open structure. Polished steel looks well and is pleasant to touch. Overall build quality is very high.
The IEMs have good fit and comfort. Despite semi-open structure the passive isolation is on a high level: the IEMs almost do not play outside and isolation is almost on par with similar fully closed offerings. This means that apart from very noisy environment you shouldn't get any problems with isolation.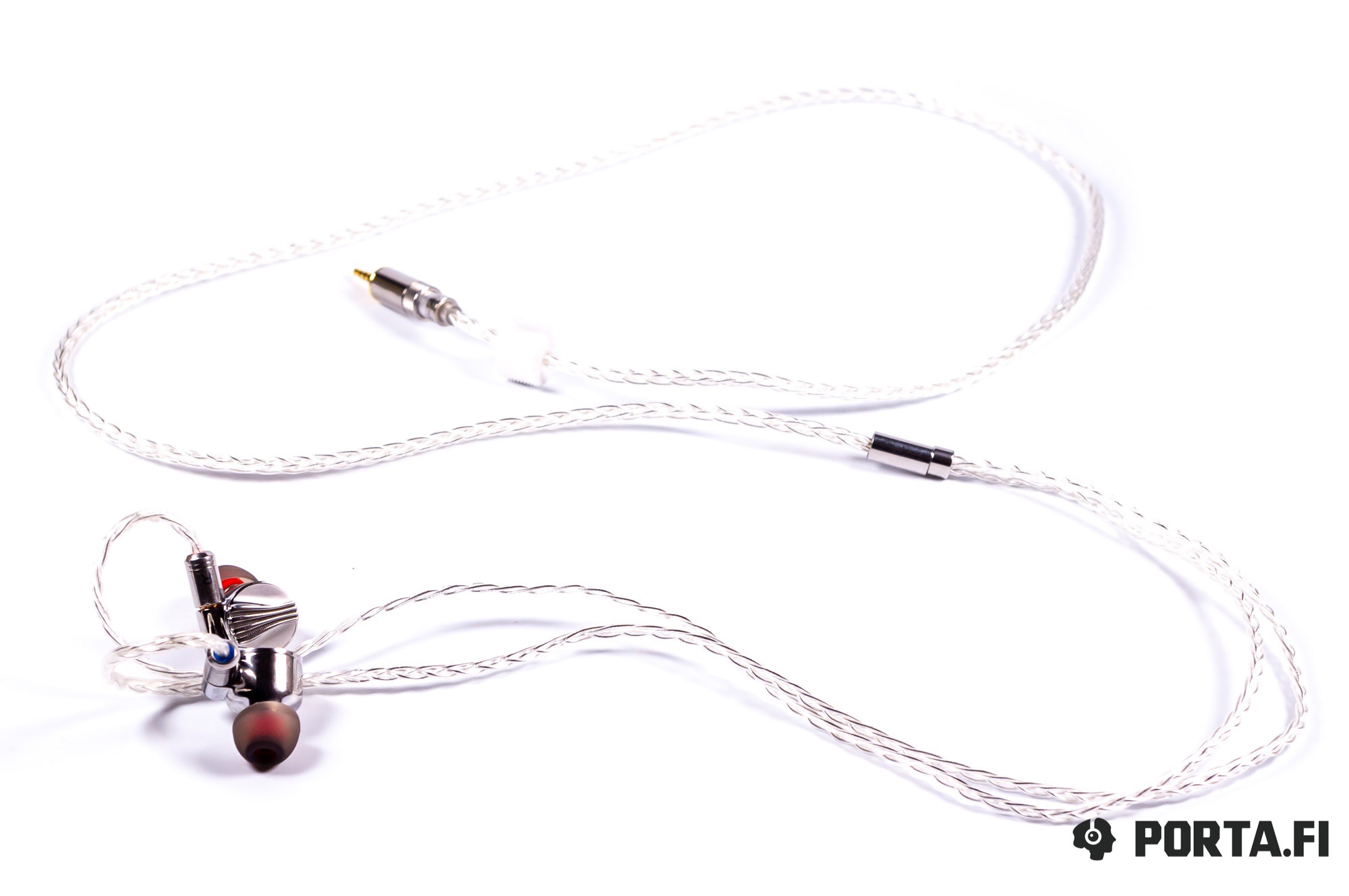 The cable is detachable with MMCX connectors used. They have good fixation. The cable is averagely stiff, does not tend to stiffen during the cold weather, has very slight microphone effect that is almost non-existent because of the ear hooks. FiiO have fulfilled interesting connection scheme when you can change the insides of the jack, so you can easily connect IEMs to 3.5mm, 2.5mm or 4.4 mm balanced outputs. Such solution is more compact than such of Dunu and previous offerings from FiiO itself, so I think we will see this again in future products.
Sound
I have used the following equipment for listening purposes:
Yulong DA10 and Resonessence Labs Concero HP as DAC and amp
Apple MacBook Pro Retina 2016 as source
Audirvana+ as a player
Lotoo Paw Gold Touch, Astell&Kern A&ultima SP2000 and others as portable players
Hi-Res recordings in lossless formats (Dr. Chesky The Ultimate Headphone Demonstration Disc and others)
I have allowed 60 hours of burn in before critical listening with some audible changes during the first 30 hours, and mainly in treble.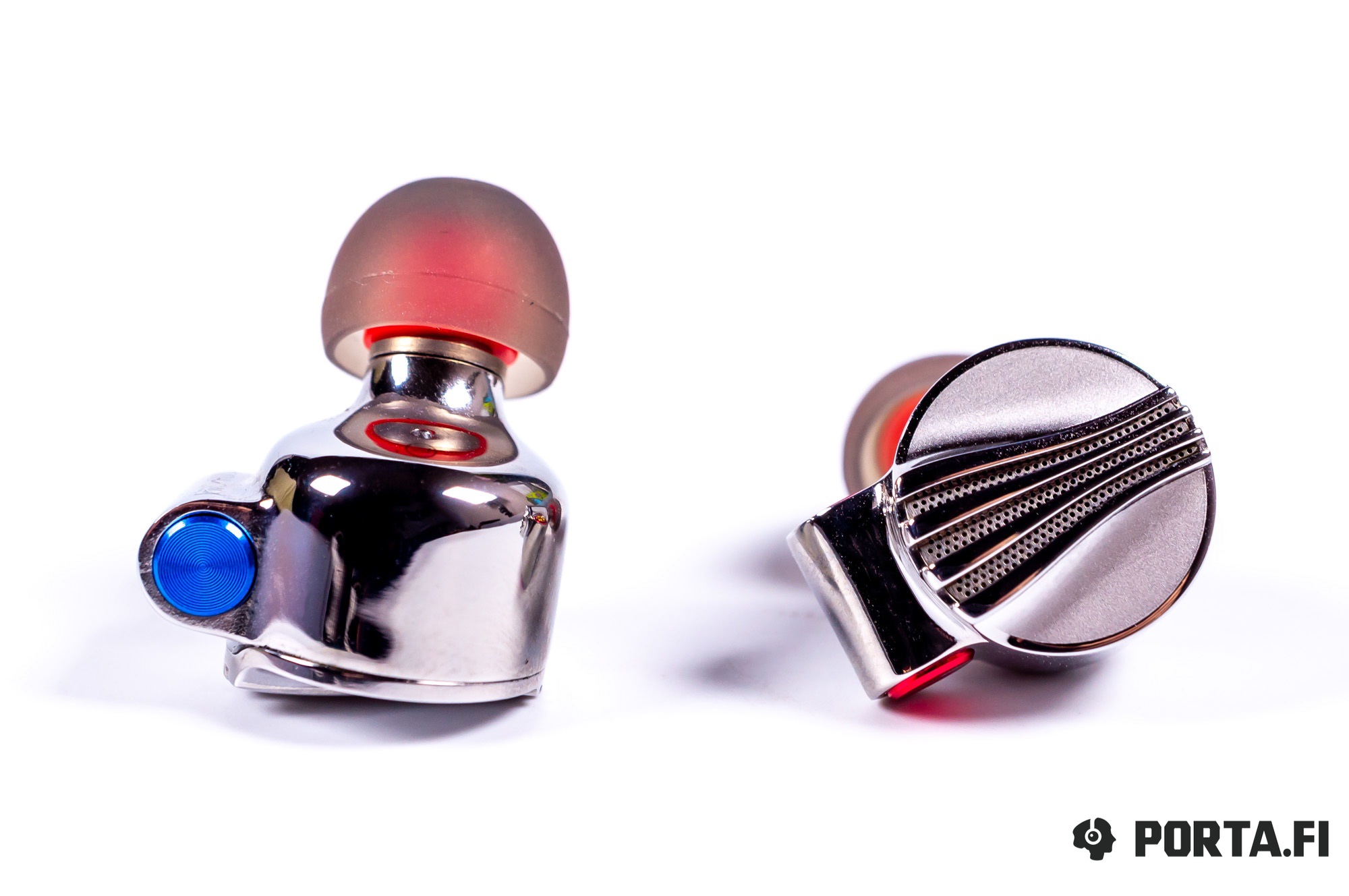 As I have already stated, the IEMs offer two presentation variants: more technical with wide nozzles and more fun and warm with narrow ones. I advise to try both of them but still consider the first one to be main. After all we have many massively sounding offerings when it comes to dynamic transducers, but not so many technically fast.
With wide nozzles we can also fine-tune presentation with supplied ear tips, and I have stayed on 'balanced' ones. Narrow nozzles are for some reason compatible only with triple tips that isolate well, but I think not everybody will like such deep insertion. I advise to get as many tips for small nozzles as you can to find the ones that suit you the best.
Main sound impressions have been made for 'technical' presentation variant.
Bass is accentuated in terms of quantity and the accent is above average (in terms of Harman tuning), but as long as dynamic transducer is rather quick and detailed, the lows control is on a high level. This provides us with somewhat dry and springy bass that has a good slam, is capable to transmit smallest nuances. Bass has good depth and control. Of course we shouldn't question weight of bass, since 12mm dynamic shows its potential.
Mids are moderately focused on micro details with great resolution for dynamic transducer. FD5 are demanding to the recording quality but if it is good they are able to transmit all peculiarities. FD5 do not have additional weight and does not try to emphasize emotions, so if you are used to macro detail tending, you should better look for other IEMs, since FD5 has monitor-like sound. The soundstage is clearly above average in width and depth and is only slightly behind flagship models. I think this is due not only technical ability of dynamic transducer, but also due to complex tuning applied.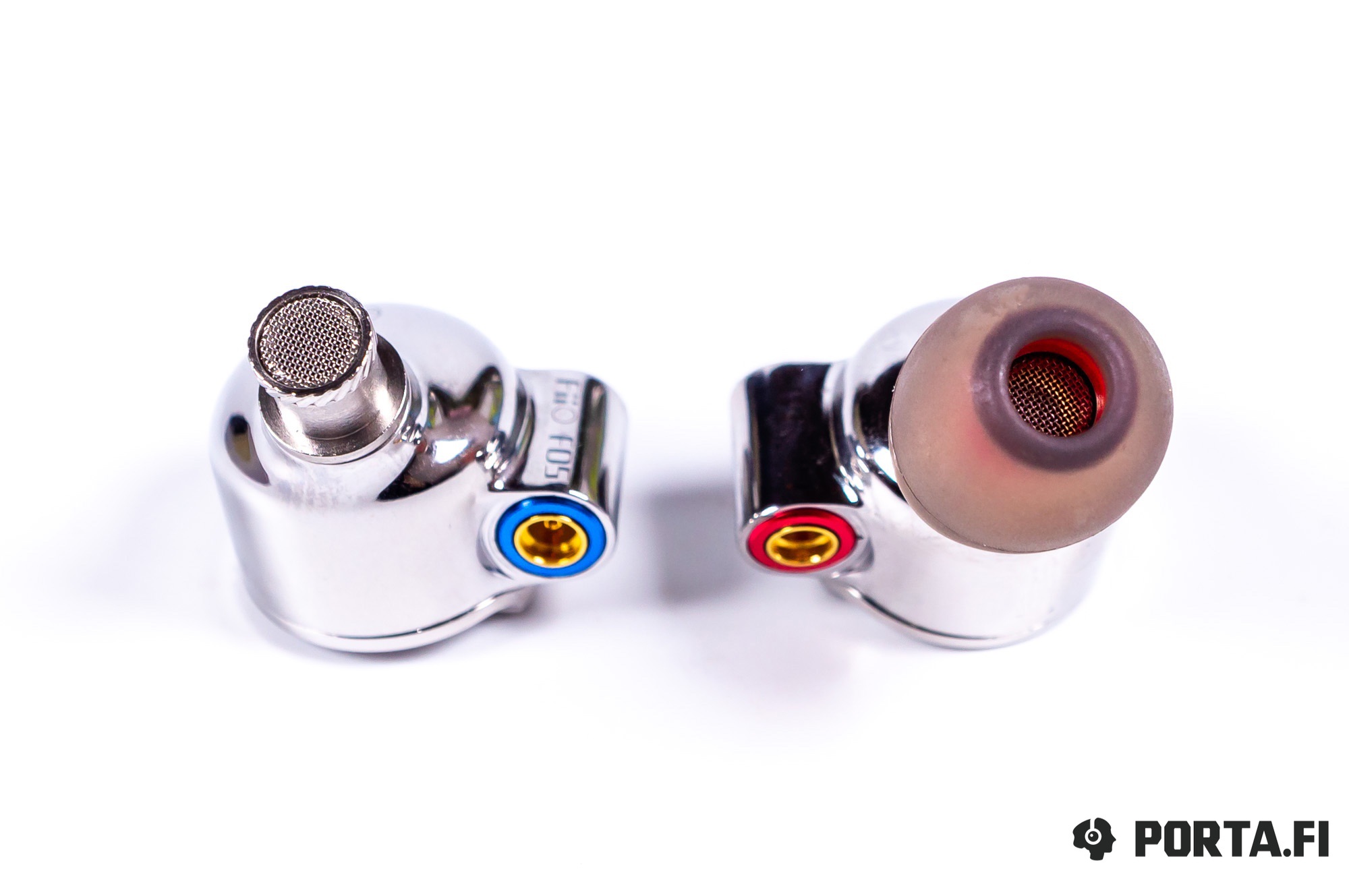 Highs are moderately accentuated but I still advise to listen to them first if you are sensitive for this part of frequency range, since highs have additional energy. Together with good length it sounds a little bit aggressive. Nevertheless highs sound very technical, having high resolution, correct attacks and decays, basic layering and great saturation with overtones that will appeal to quality highs.
Would still like to say couple of words about bass variant. FD5 presentation becomes notably milder with less highs and this means less resolution and technical abilities. The tuning has great synergy with some genres, but I still prefer basic variant.
Comparisons
FD5 are not similar to most of IEMs of their price tag, since most of rivals are hybrid ones. I have tried to find dynamic offerings to compare to.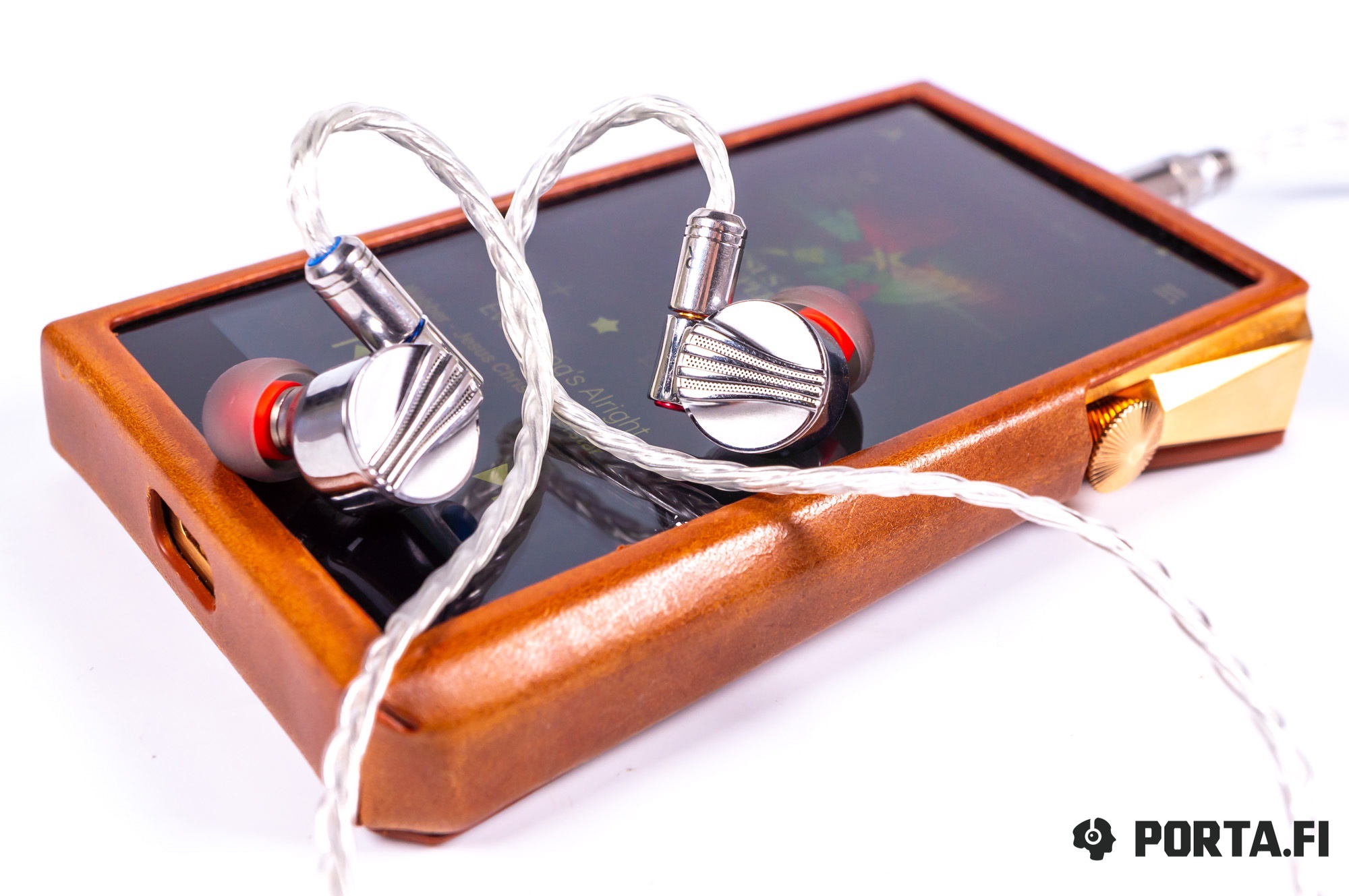 FiiO FD1 It is the case when the model has some similarity in presentation, however the strong point of FD5 is in technical ability and naturalness.
Periodic Audio Be Despite using Beryllium, Periodic sound is different: Be's are less aggressive, have less micro details and sound more warm.
NF Audio NM2+ One of the best offerings of monitor models with dynamic transducers. NM2+ have more linear sound and less accents on both sides of frequency range so they have less wow effect. FD5 has better resolution still.
KB Ear Believe One of comparisons that seem evident, but is actually not. Another beryllium offering that have more dark and massive presentation with less highs.
TinHiFi P2 The only non-dynamic comparison here. The price tag is similar as well as the presentation with focus on resolution, but P2 have less length on highs and less bass accent. 10kHz peak of P2 shouldn't be forgotten as well and makes the difference in presentation.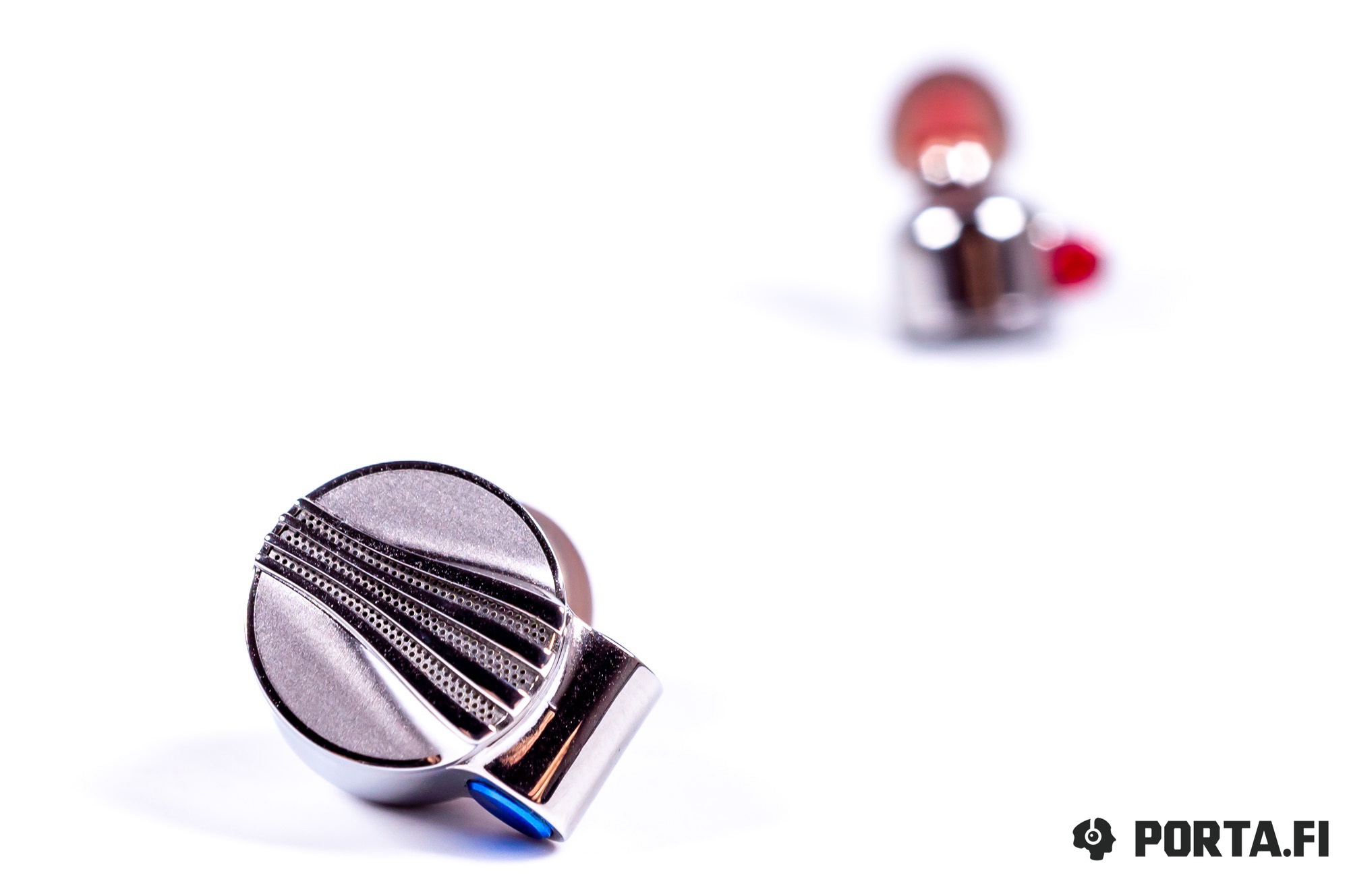 Compatibility
Despite the fact that IEMs don't need much power or perfectly black background it makes little sense to use them with sources of less than mid-fi level, they won't show all their potential. As FiiO model is rather neutral and technical, the character of source may fully depend on tastes of user and most of them will probably prefer some thicker sound and dynamic presentation, that are really good in senior FiiO offerings in the likes of M11 Pro and M15.
FD5 are universal in terms of genre, but you should remember they are rather critical to recording quality, so the genres where the focus is on different things, will sound accordingly.
Example tracks
Leah Kardos — Malio Reprise Fresh release from performer who usually has immense fantasy, is surprisingly calm this time. However such tracks may be a huge test for headphones, since the beauty here is in the smallest nuances and emotions. Luckily technical FD5 have no problem with it.
The Rolling Stones, Jimmy Page — Scarlet Yes, Rolling Stones have decided to re-issue 1973 classics in the year of 2020 and have taken maximally great track as a single. Of course it is logical, especially given that they gained the horde of Jimmy Page admirers. And we get the ability to re-listen to this hit. FD5 copes with guitar parties, vocals and other instruments well.
Lionel Loueke — Butterfly Very unusual mix of ethnical music with jazz from guitarist and vocalist from Benin lets us know instantly that if it is made quality, it can be the immense source of interesting music. FD5 shows its talent well: shapy lows, realism of guitar, vocals — everything is played naturally.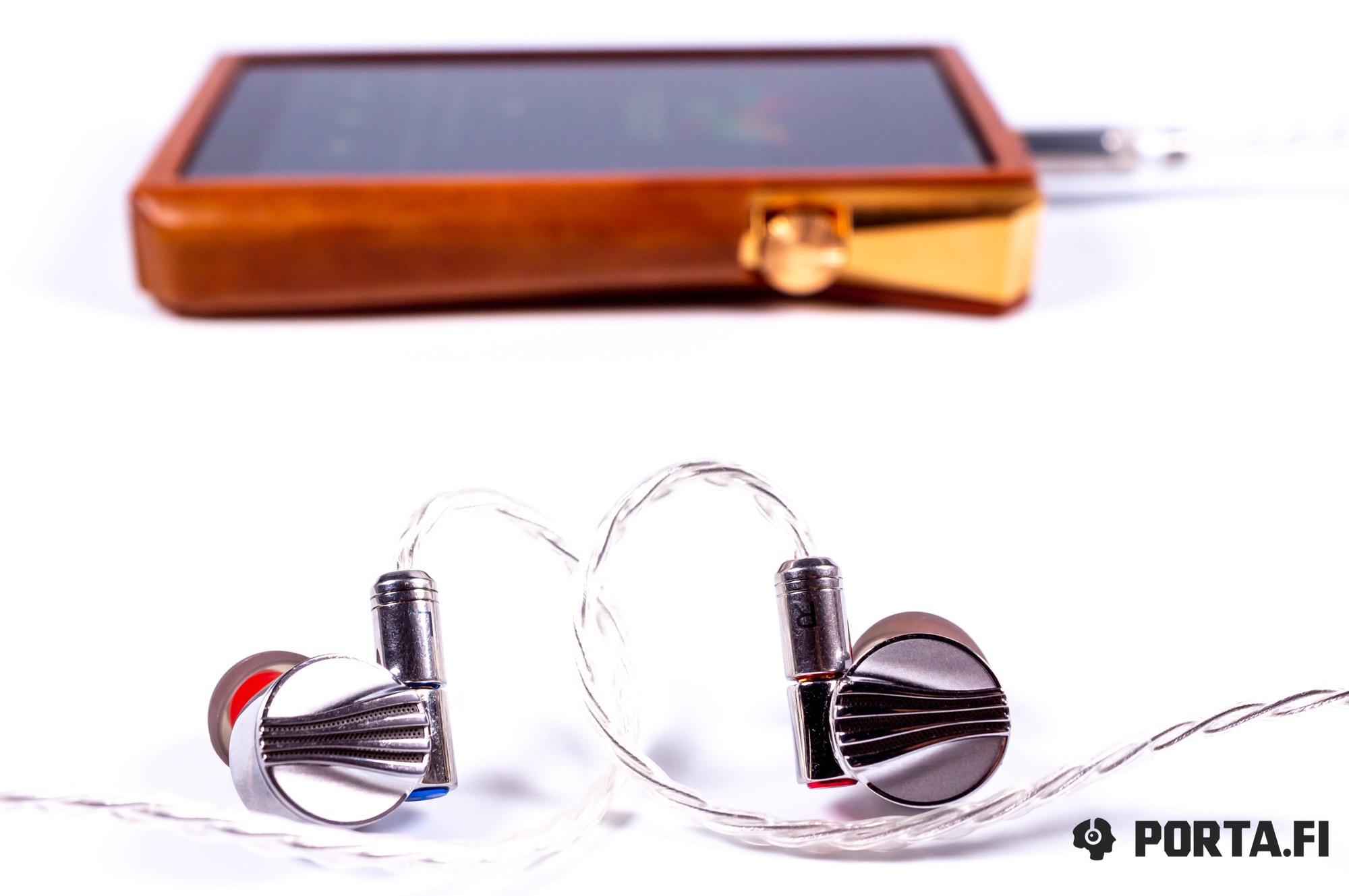 Conclusions
Seems like we are on the threshold of single driver dynamic IEMs renaissance. Many manufacturers re-think classics with the use of new technologies and process. FiiO, of course, do not stay aside. With FD5 we get not only interesting sound (in fact, two variants), but also great design and attention to peculiarities, such as accessories.
Translated by: Vadim Kolchev