Over ear headphones have been highly awaited from FiiO, that have succeeded in IEM market, it's logical. However, FiiO have decided that it's not enough to release simple over ears and have announced Bluetooth FiiO EH3 NC model.

The company has stored lots of development findings in terms of wireless sound over lats couple of years and many of them have ended in this product built on CSR8675. There is Bluetooth 5.0 and headphones support all popular codecs. They are also able to connect with USB-C and even have a hybrid noise canceling system. Together with long playback time the model looks interesting, especially regarding its price that is around 170 USD as of writing this review. The price may vary depending on country due to applied taxes and distributor margin.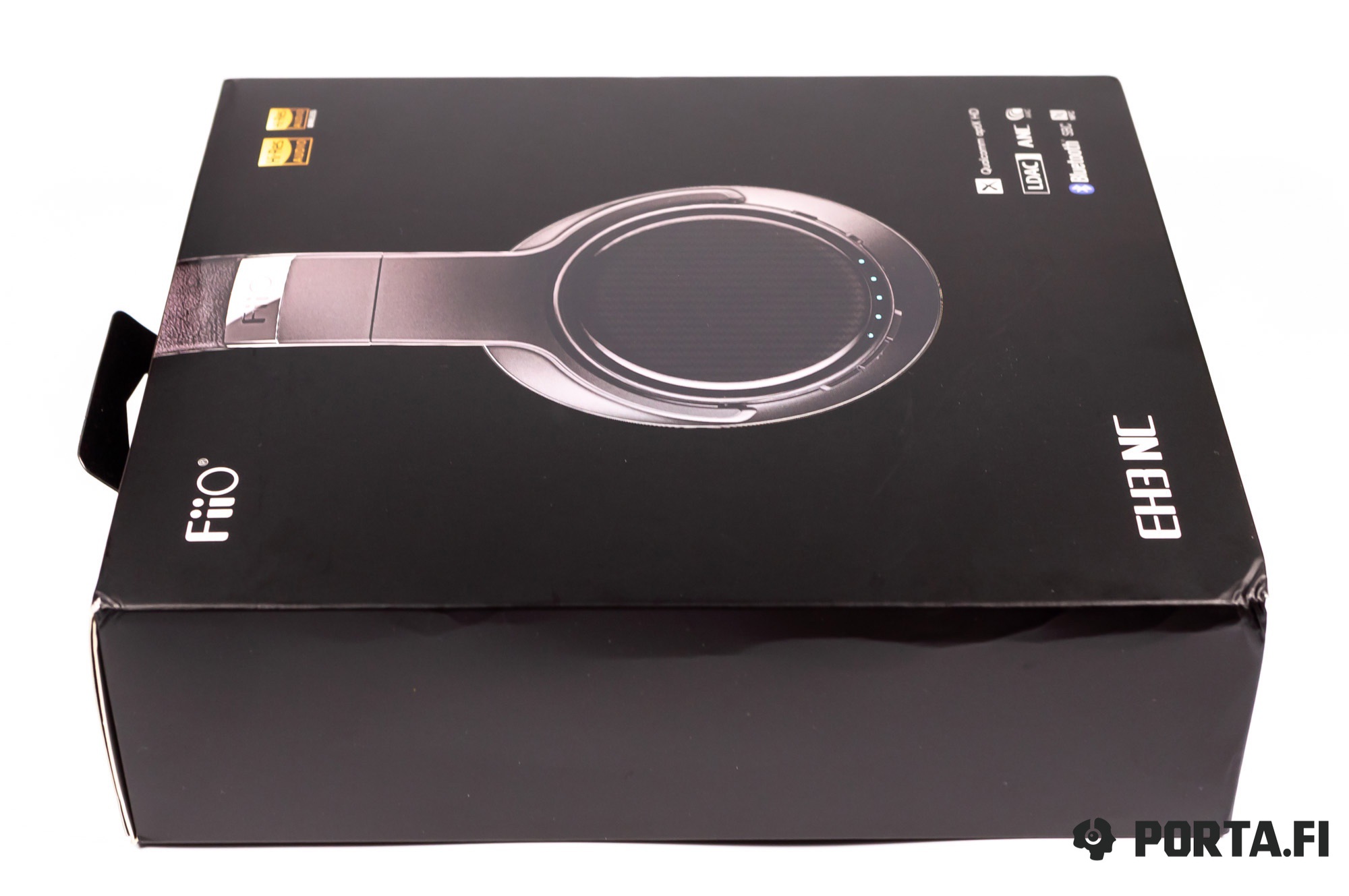 Specifications
Wireless interface: CSR8675
Bluetooth version: 5.0
Supported codecs: SBC, AAC, aptX, aptX LL, aptX HD, LDAC
Active noise canceling: hybrid (Feedforward+Feedback)
Trandcuer: 45 mm titan coated
Impedance: 30Ω
Battery: 1000 mAh
Charging time: ~3 hours
Bluetooth playback time: ~50 hours without ANC, ~30 hours with ANC
Weight: 293 g.
Accessories and packaging
The packaging of this model is rather traditional and is two-layered — the thin upper part with printing and thicker inner cardboard part. Inside there is a convenient zipped pouch resembling the ones form Sony. Inside of the pouch we find headphones, USB-C cable for charging and wired playback and regular analogue 3.5 mm cable.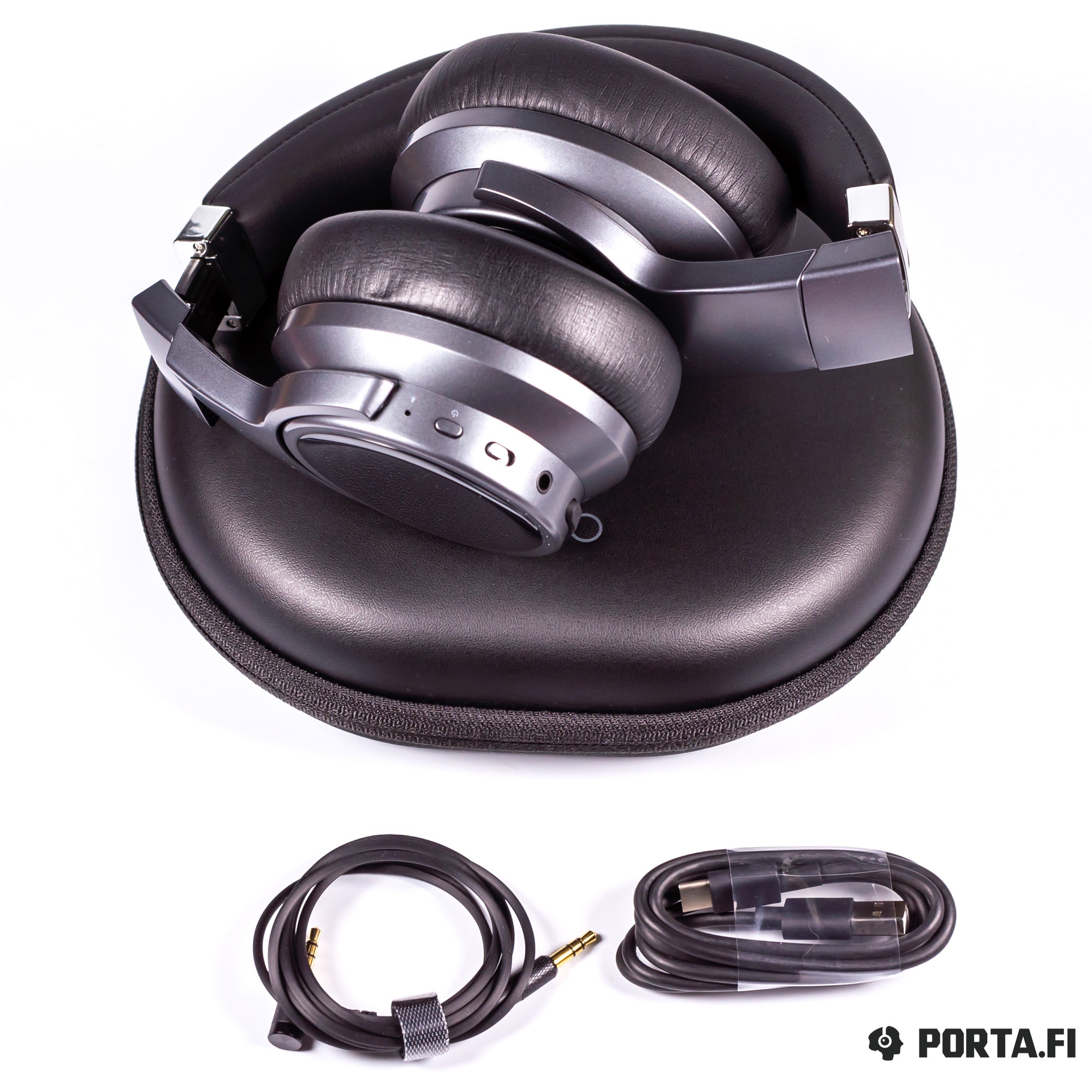 Design and controls
The appearance of EH3 NC is rather simple — they are made of durable plastic and the durability is enhanced with metal insertion where needed. Regular gray plastic meets carbon on the outer part of the ear cups and there are many small peculiarities. Traditionally the ear cups rotate on two-axis basis and can be folded, so it's convenient to wear headphones on the neck.
The headband and earpads are made of pleasant artificial leather and are very comfortable to wear for long periods of time, correctly spreading weight and pressure. There is enough reserve so the headphones will suit even for big heads. Due to closed construction you will nevertheless want to make some breaks to give rest to ears.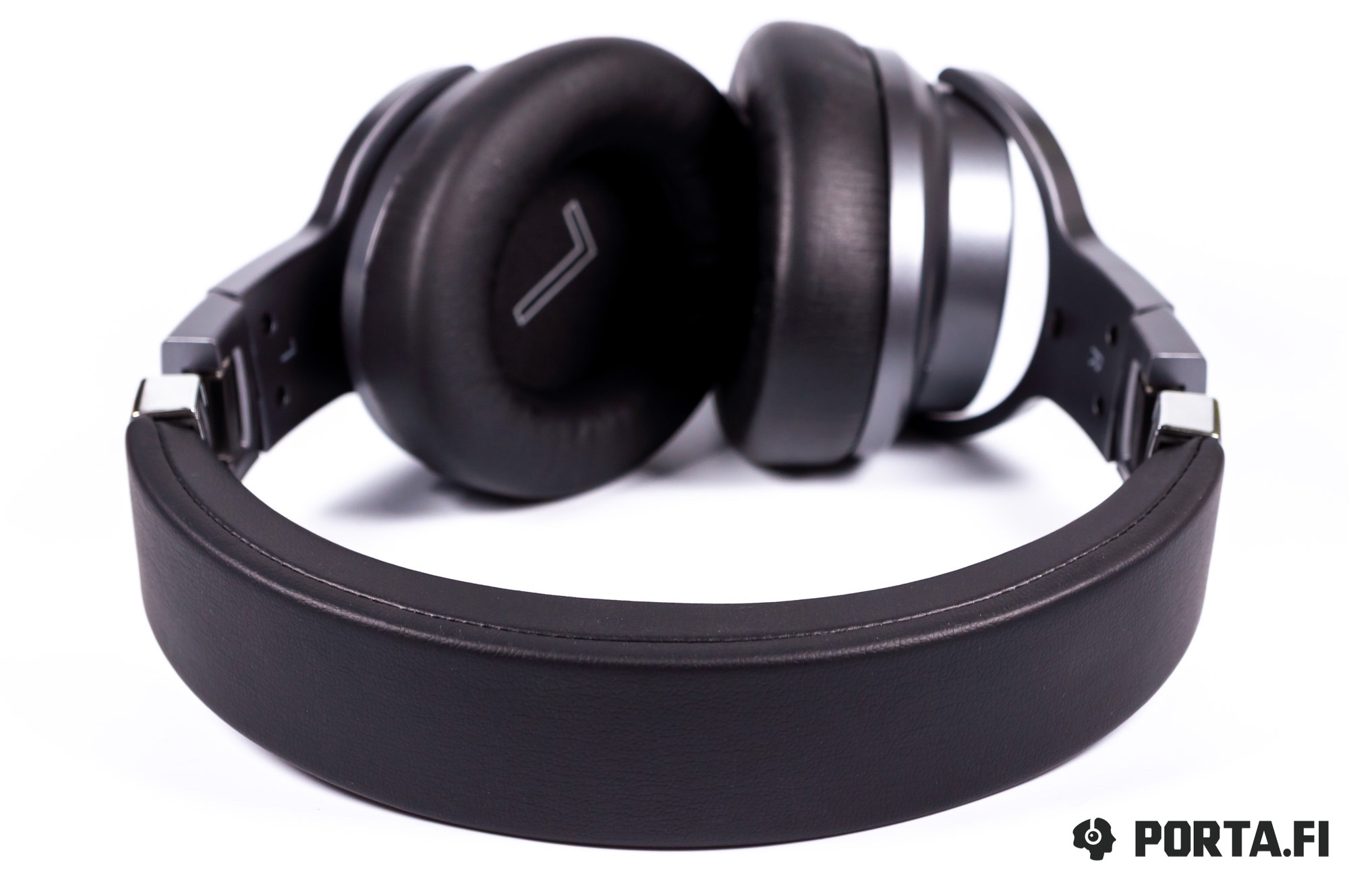 The ear pads are held on clips and this makes changing process simple. For those who were first to order headphones on AliExpress, FiiO have added extra ear pads made of different metrial, so probably alternative pads will hit the stores soon. Anyway it's good that this part can be easily changed.
On the left ear cup there is USB-C connector that is used for charging and connection to digital sources. In this case the built-in headphone DAC is used and it's very welcome by those smartphone users who don't have 3,5 mm output. Of course Bluetooth connection is of higher priority and if you connect headphones to two sources, wireless interface will switch off USB-C. Real playback time is close to announced — you will get 40+ hours without noise canceling and around 25 with noise canceling enabled. The result is good and such playback time is very good for those who love to travel a lot.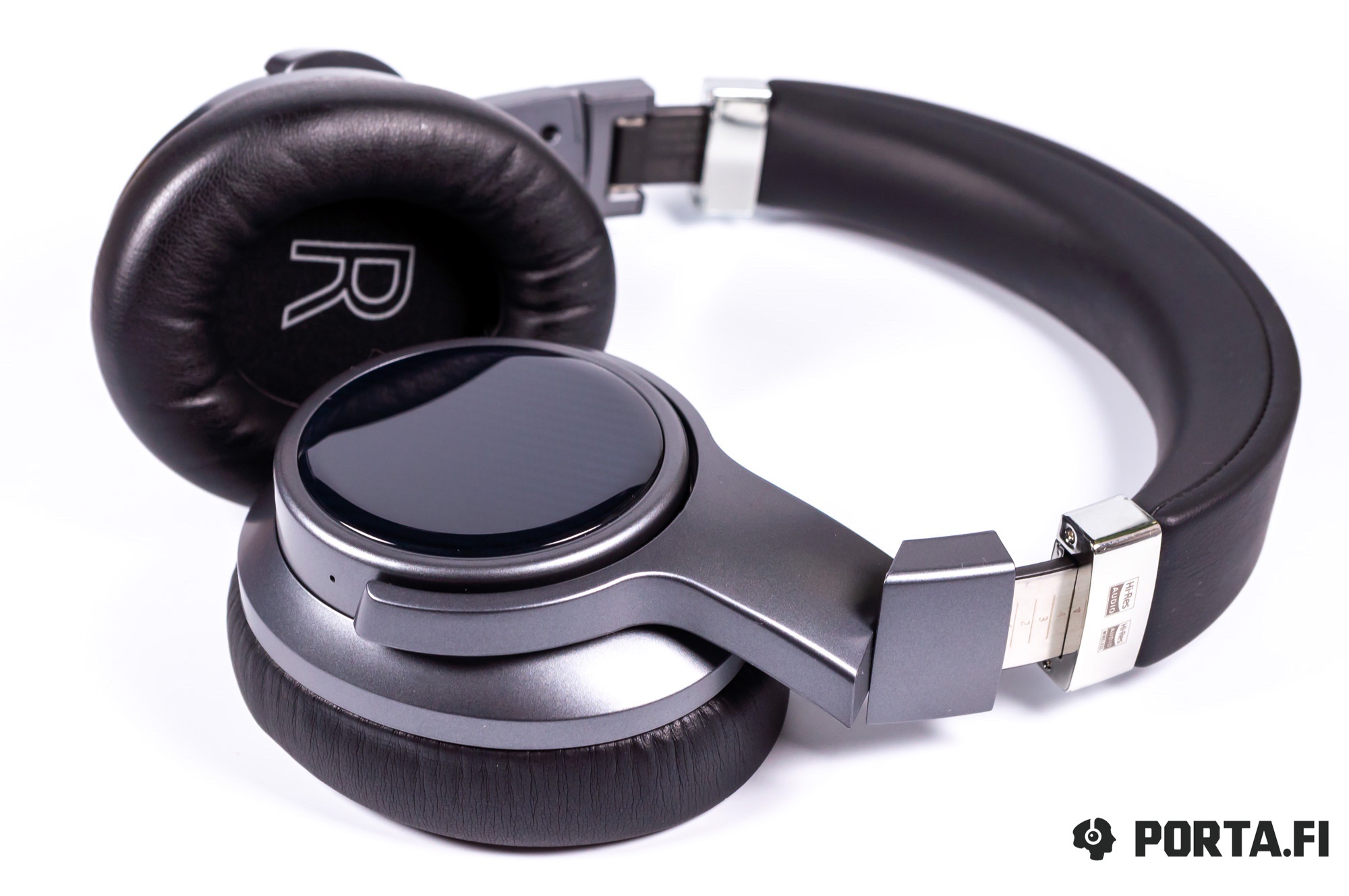 The right ear cup holds control elements. Here you will find three control buttons, two of them change volume and the central one is a start/stop, acceptance of incoming call and other functions button. There is also 3.5 mm socket here that allows to connect to sources in passive mode. If you use this socket, this will disable all other interfaces. It's good that the headphones will work from 3,5 mm even if they are fully discharged. Also there is a switch to turn noise canceling on/off, power button and main microphone for talking. On the lower part of the outer panel there are 5 LEDs that show active codec and charging level. The LEDs are not overly bright but for those who don't like the light, they can be disabled using the settings app.
The microphone is of good quality and you will be clearly heard in a silent room, but on high-traffic street you will lack a little bit of noise canceling.
The headphones have reasonable passive isolation and actually it's enough for regular not high noise level. Active noise canceling is average in terms of result, it works good for lower rhythmic noise but in case of sudden sounds or high mid noise, passive isolation helps more.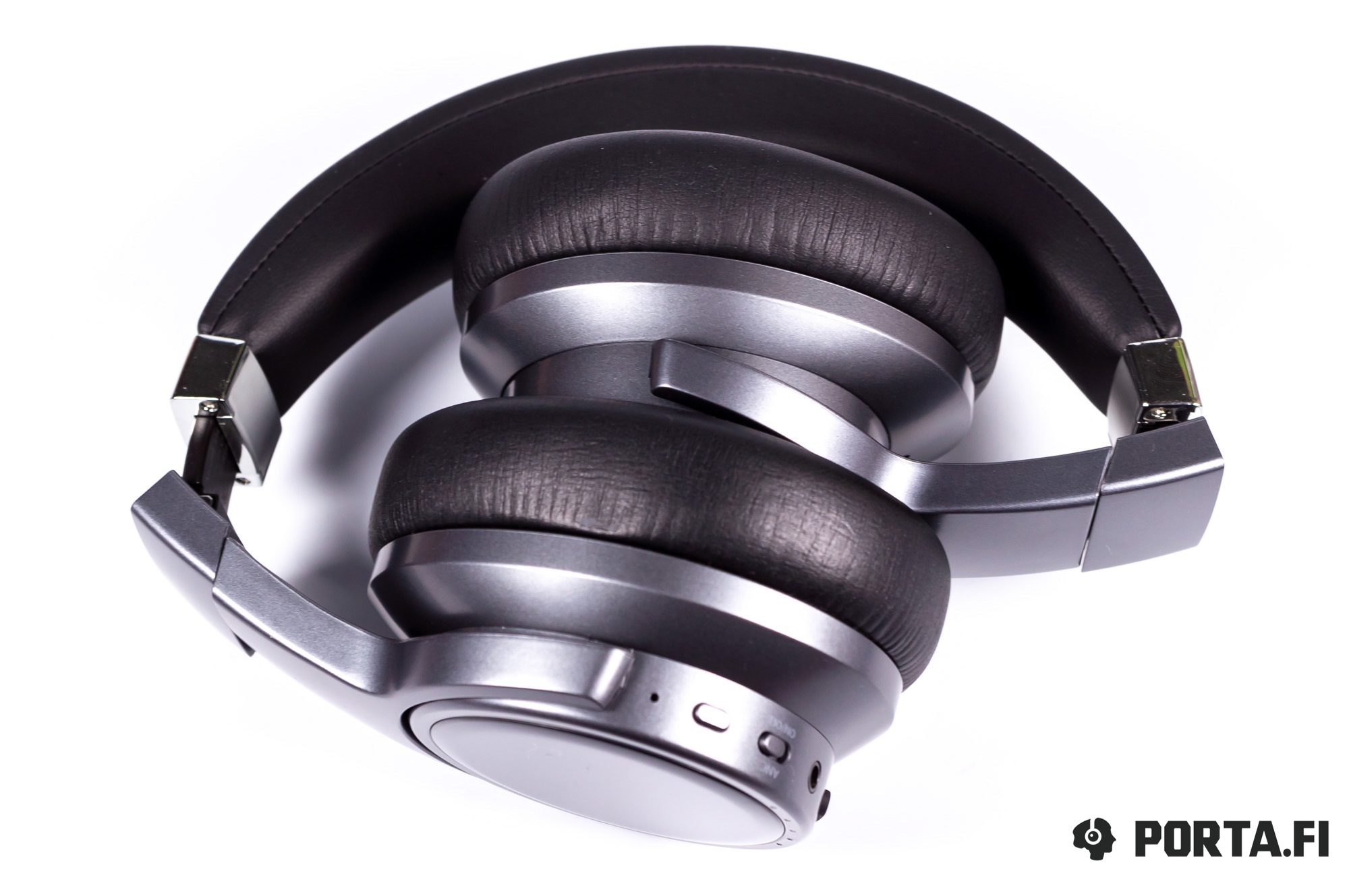 None of good wireless headphones lack settings app and FiiO is no exclusion. In this case it's FiiO Music that can be installed on any platform, so EH3 NC can be set up from players of company and any iOS or Android smartphone. The connection is simple and hassle-free and the app allows to set up basic things such as turning LEDs off or idle power-off. But probably the best thing is the equalizer that allows to fine-tune the sound according to your liking and it will work regardless of your source.
The headphones firmware can be upgraded (and as of today there is already one update), but you will need Windows computer to install it. Constant support of their products is good, but I just hope FiiO will release wireless update function in future.
Sound
I have used FiiO M11 Pro as a transport, Yulong DA10 as DAC/Amp for wired connection.
I think that the main usage scenario is wireless using LDAC so I will describe sound over Bluetooth and will just make some correction for other variants in the end of this part of review.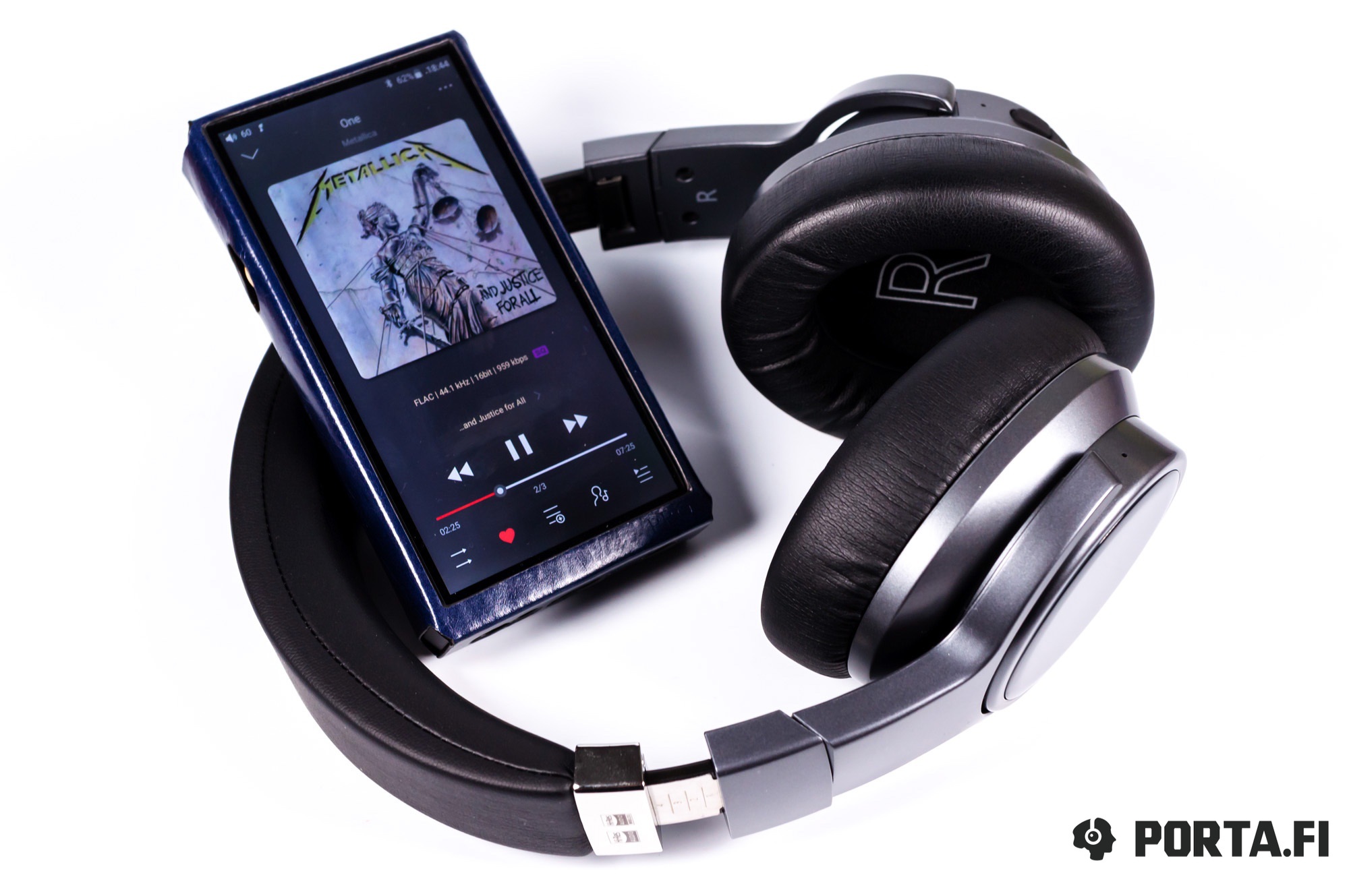 Lows are tight, they go rather deep (as deep as Bluetooth codec allows) and demonstrates good overall control. The bass is accentuated in terms of quantity and there is additional weight that makes it massive. The resolution is normal, EH3 NC do not try to retrieve abundant details but the sound is textured and there are all nuances of real instruments, however synthesized lows sound even better.
Mids can be described as 'typical regular dynamic'. Don't wait lots of micro details or monitor sound. Mids have slight weight addition and enhanced emotions. Due to such approach EH3 NC are very tolerant to recording quality and sometimes hide recording problems due to compression. Instruments and vocals have good weight, the soundstage is slightly above average in terms of width and slightly lower than average in terms of depth.
Highs are slightly accentuated, probably to find balance with bass, but the accent is very comfortable. The length of highs is average due to wireless transmission, but in all they have good resolution and are well controlled. Of course, you can't expect any audiophile layering but in all the highs are clear and accurate, they add needed sparkle and have basic overtones.
USB-C connection changes situation a little, there is less accent on lows and the resolution becomes higher over all frequency range. Also the length of highs is increased and it is good for sound stage and layering.
Active noise canceling changes presentation pretty well, the sound becomes more bland, there is no accent on lows and overall the presentation lacks weight. However you can easily add bass by using equalizer. Of course, even equalizer won't help with more simple mids and highs, but still it can enhance sound to some extent. You should understand that ANC is an optional feature here, but of course FiiO can fine-tune it in upcoming firmwares.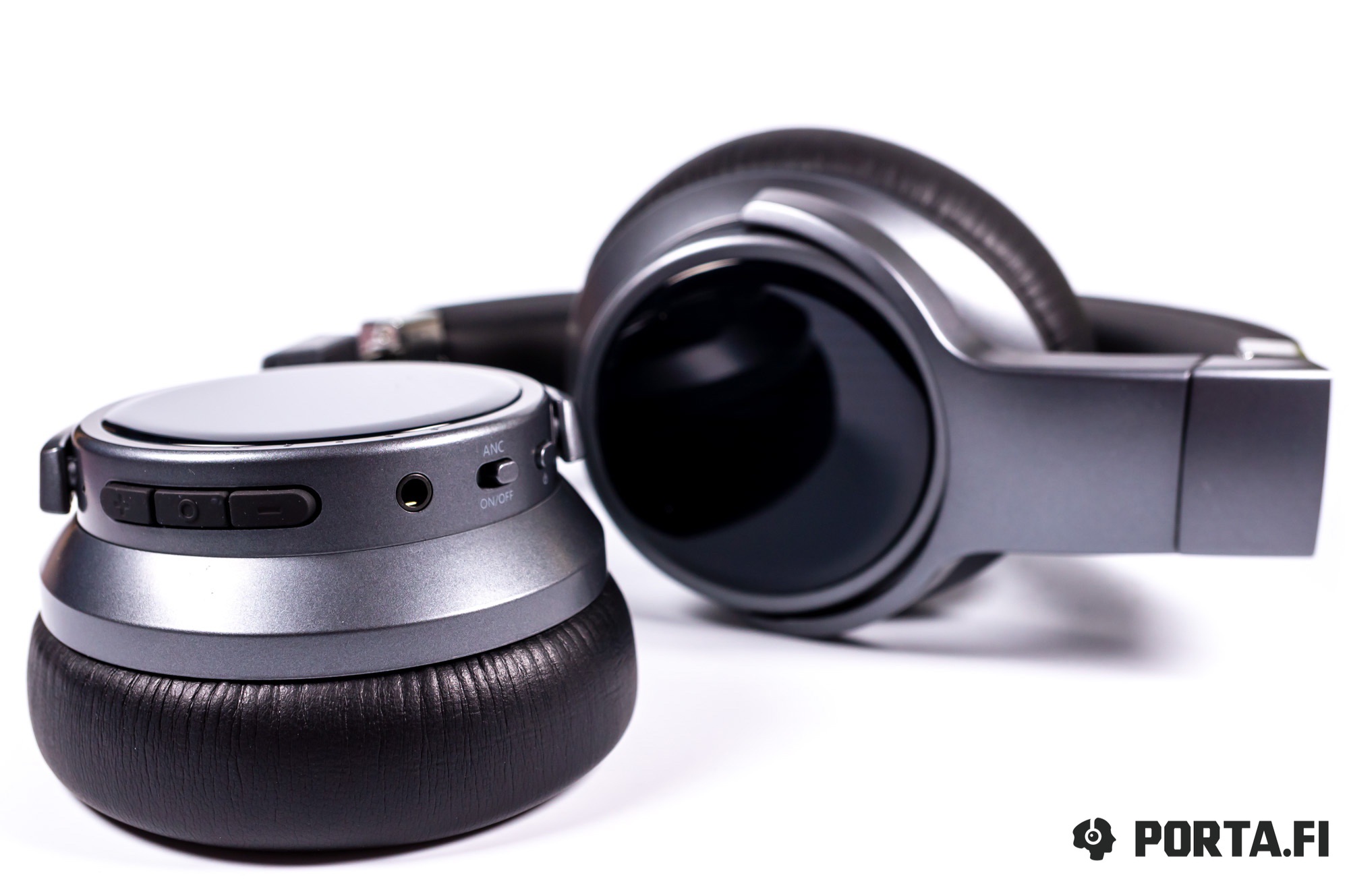 The headphones are pleasant when used wired but with quality source. With FiiO M11 Pro the presentation is good, with normal detail retrieval. The sound is not audiophile but the tuning is very balanced. When using regular smartphones USB-C connection brings more quality.
Comparisons
Unfortunately I haven't had many Bluetooth over ears, so this part of the review will be lacking a little bit, but I hope to change it in future.
MEEAudo Matrix ANC The model from American company has better ANC and is more V-shaped. The resolution is lower and the highs are brighter. There are sound presents, but you can achieve similar results by using equalizer manually with EH3 NC.
Audeze Mobius Omitting non-sound abilities and comparing just stereo Bluetooth sound, we can say that Audeze model sounds more neutral, monitor and detailed because of isodynamic driver and quality amplifier. It's no surprise, regarding their price that is, if I'm not mistaken, more that 2x higher.
Example tracks
Pet Shop Boys — Hoping for a Miracle If you want to listen to pop music, you'd better listen to professionals and Pet Shop Boys have enough experience to be called so. Fresh album is a good example of how good can be simple things. Take good headphones with slightly emphasized bass, such as FiiO EH3 NC and hear good contrast between bass and vocals, supported by keyboard part.


R.E.M. — Tongue (Remastered) The best way to mark the 25th anniversary of great rock album is to release its remaster. Quite simple arrangement of tracks on this album do not prevent musicians from showing their talent and due to FiiO headphones it becomes clear that album is not as simple as it seems. Listen to sudden guitar appearance and striking keyboard parts.


Santana — Angel of Sunlight Let's move from fresh releases to the past, to the distant 1974 when Santana has released his 'Illuminations'. It's clear that if you gather professionals in one place the result will be outstanding. The avant-garde melodies supported by unusual guitar part and intensive percussion of course require more serious headphones that EH3 NC, but in wired mode with good source FiiO copes with this track rather well.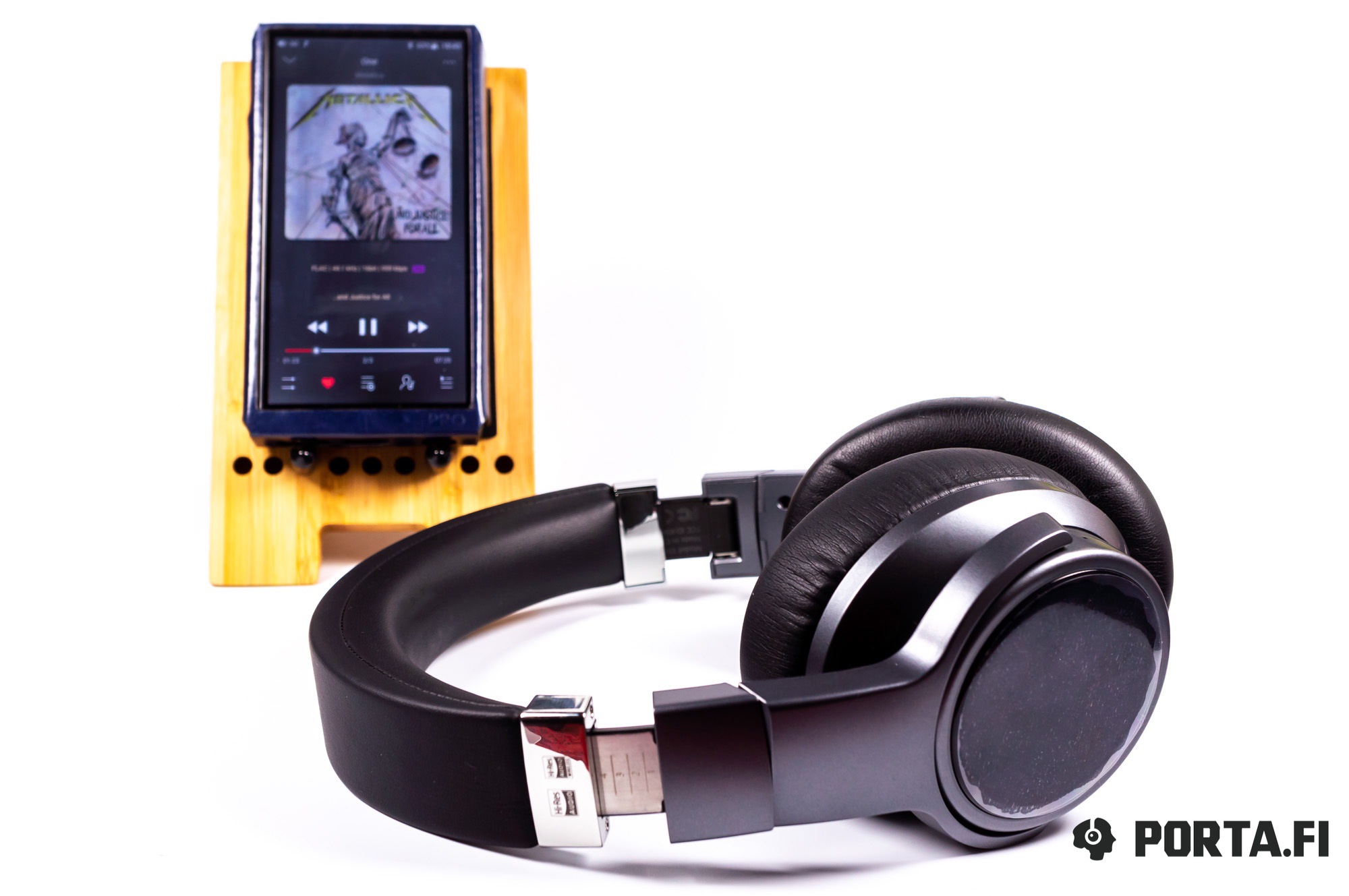 Conclusions
The FiiO over ear debut has become interesting. It's not an audiophile model and the tuning is more of mass market, but there is enough resolution, dynamics and the sound is rather natural. Together with good price tag, long playback time and advanced features, the headphones seem to be a good deal.
Translated by: Vadim Kolchev