In this review I'll speak about two FiiO models, one released under their own brand and one — under Jade Audio (belongs to FiiO). We'll cover the in-ear budget earphones FH1s and EA3 that have much in common but are different in sound.

Seems like FiiO tries to remove the cheapest products from their lineup and move them to Jade Audio brand. Most of products are somewhat simplified items in comparison to 'big brother'. This is relevant to FH1s and EA3. Both models have the same design and transducers but are different in packaging, accessories and, what is more important, sound. Of course the price is different as well. Jade Audio item costs 50 USD, while FiiO asks 60 USD for FH1s, so let's see where the difference lies.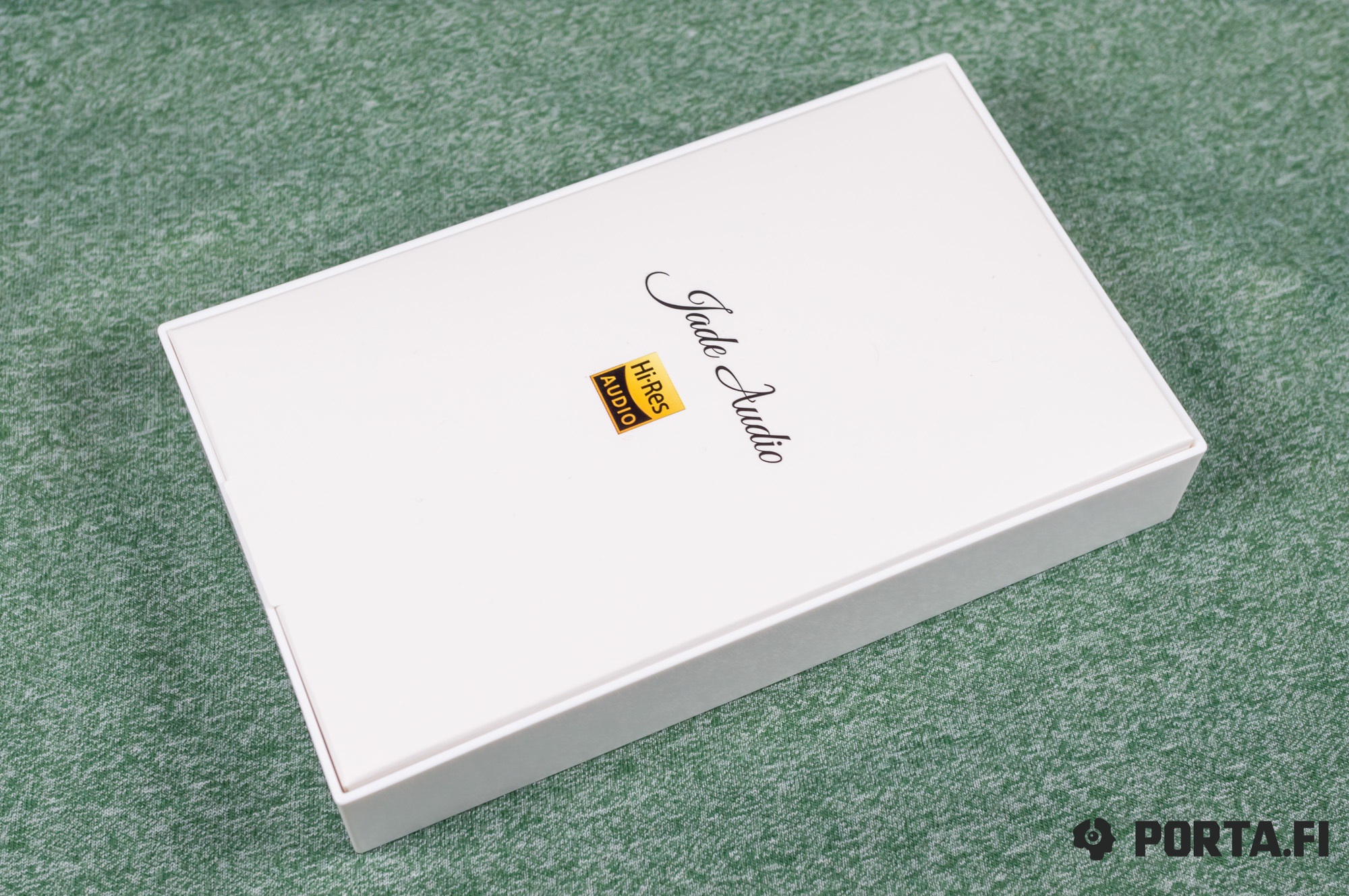 Specifications
Transducers: 13.6 mm dynamic + balanced armature Knowles 33518
Frequency range: 5 Hz – 40 kHz
Sensitivity: 108 dB/mW for EA3, 106 dB/mW for FH1s
Impedance: 18Ω for EA3, 26Ω for FH1s
Cable: detachable, with 2-pin connectors. 96-core silver-plated copper for EA3, 120-core single-crystalline coppoer forмедь у FH1s
Weight: 21 g.
Accessories and packaging
Let's start with more affordable model. It's sold in simple white box that resembles packaging of BTR receivers. There are also stock cable, two sets of three pairs of single silicone tips and fabric zipped pouch that's convenient for everyday IEM storage and transportation.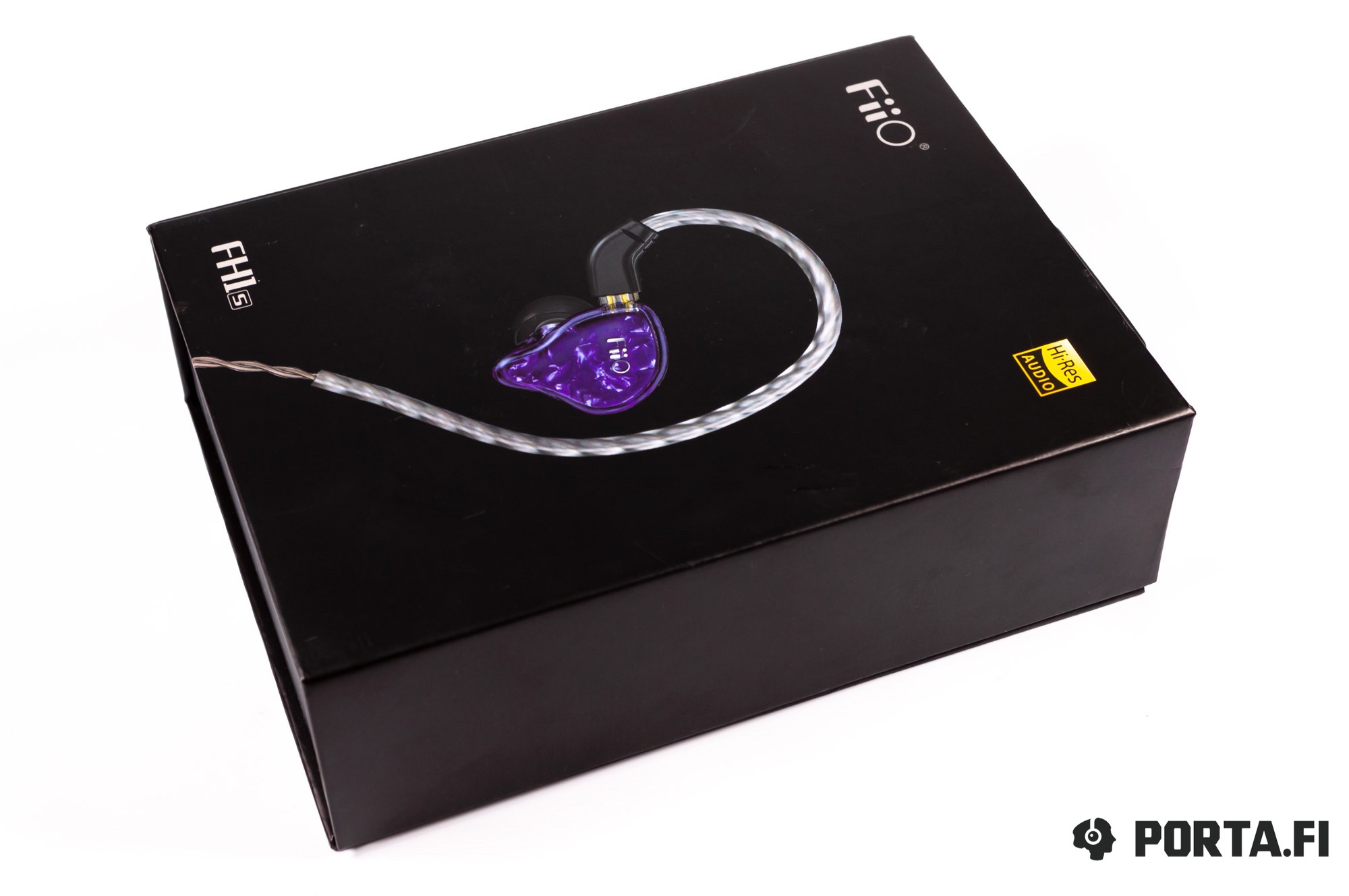 For additional $10 that you pay for FH1s you get a bigger black cardboard box with magnetic lock. There are headphones, stock cable and same sets of silicone tips inside, but FiiO have added a couple of foam tips and plastic storage box.
Design
There is almost no difference between both models appearance. They both use popular polymeric bodies of ergonomic shape. It's half-transparent and is of dark grey color. There is also a blue version available. The faceplates are made of 'wrinkled' celluloid and this allows each and every ear piece have it's own unique appearance. The main difference between models is brand name.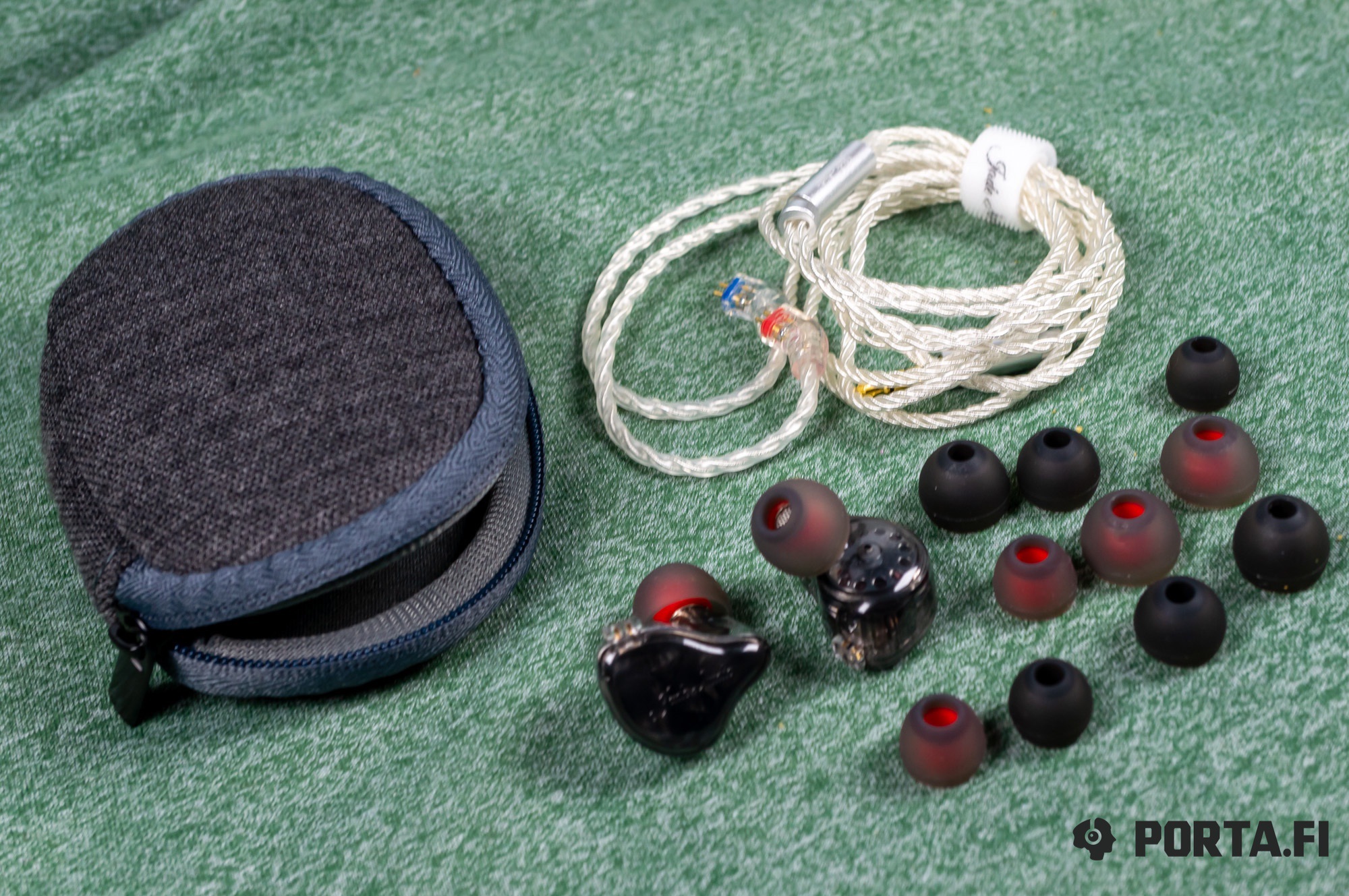 The headphones have long metalic nozzles and this ensures good sound isolation and comfort. There are even small details that add convenience, such as protective grill on nozzle and projection to hold ear tips in place better. There is difference in nozzle materials with EA3 having regular aluminum while FH1s utilizes brass.
Both models use detachable cables with 2-pin connectors but the cables themselves are different. Jade has a regular light-colored conductor made of silver-plated copper that is usual for many IEMs 'above 50 USD'. FiiO have got OCC cable and it looks more 'audiophile'. Both cables have good quality, are soft enough and do not stiffen in cold weather. FiiO's cable has less microphone effect, but it's not that one from Jade Audio causes problems — the over ear wear makes it almost unnoticeable.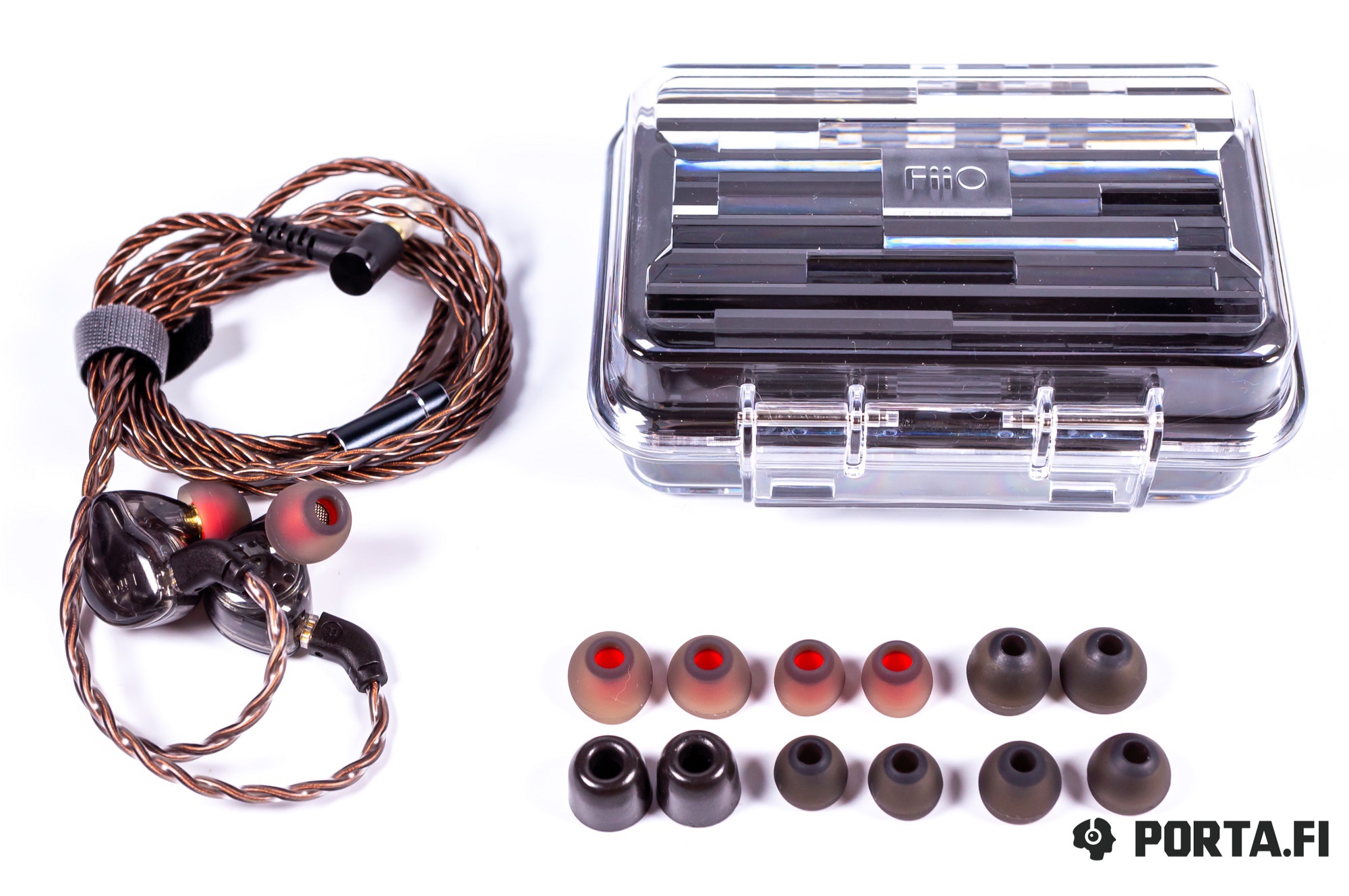 Sound
I have used the following equipment for listening purposes:
Yulong DA10 and Resonessence Labs Concero HP as DAC and amp
Apple MacBook Pro Retina 2016 as a source
Audirvana+ as a player
Lotoo Paw Gold Touch, Astell&Kern A&ultima SP2000 and others as portable players
Hi-Res recordings in Lossless-formats (Dr. Chesky The Ultimate Headphone Demonstration Disc and others)
I have allowed 36 hours of burn-in with audible changes for the first 4-5 hours.
Since we have double review there will be two sound descriptions.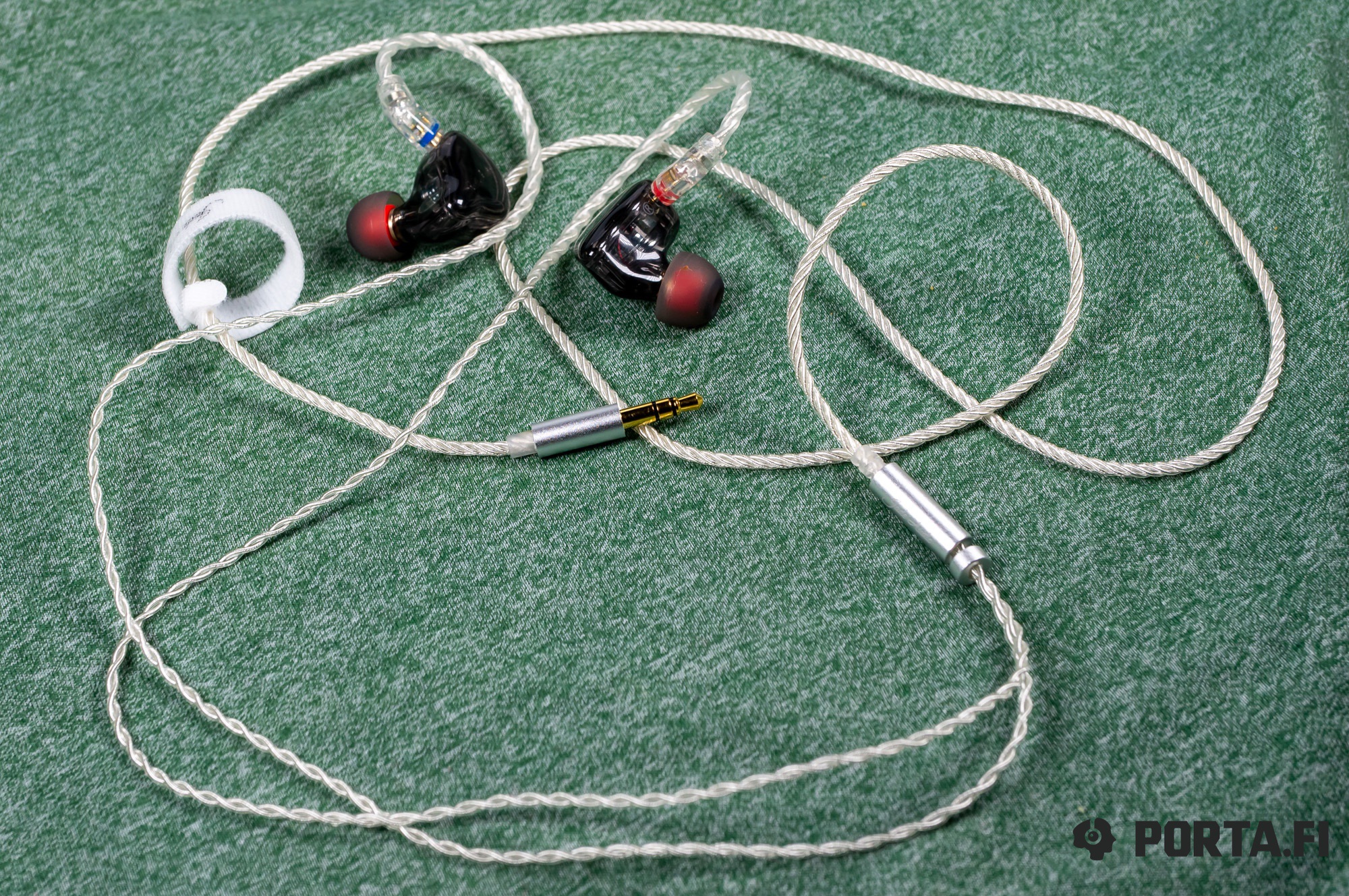 Jade Audio EA3
Bass is accentuated and the accent is average. They are not basshead but not neutral as well. There is an accent not only on midbass but on deeper layers as well and it brings more realism and thickness. The resolution is not bad for budget hybrid IEMs but of course they are not leaders of the world. Lows are controlled well and play both synthesized and real instruments well, offering good texture and massiveness.
Mids have normal weight but do not have usual hyper-detailed sound for armatures. The resolution is not bad but mids are somewhat laid back because of v-shaped style. However there is a correct balance of macro details and mids do not sound condensed therefore, EA3 play emotionally and full of drive. They transmit voice and instrument bodies well but you shouldn't wait audiophile abundance of micro-details from them. The soundstage is above average in width and depth with plenty of room and air.
Highs are above average in terms of length. they are played by one transducer and they have good resolution that ensures 'transparency' and 'clarity', but highs slightly lack overtones and weight. Of course you cannot expect anything different from budget hybrids. Highs are slightly elevated so you'd better listen to them before purchase, however, I think that they are far from being harsh and uncomfortable. They just compensate lows accent.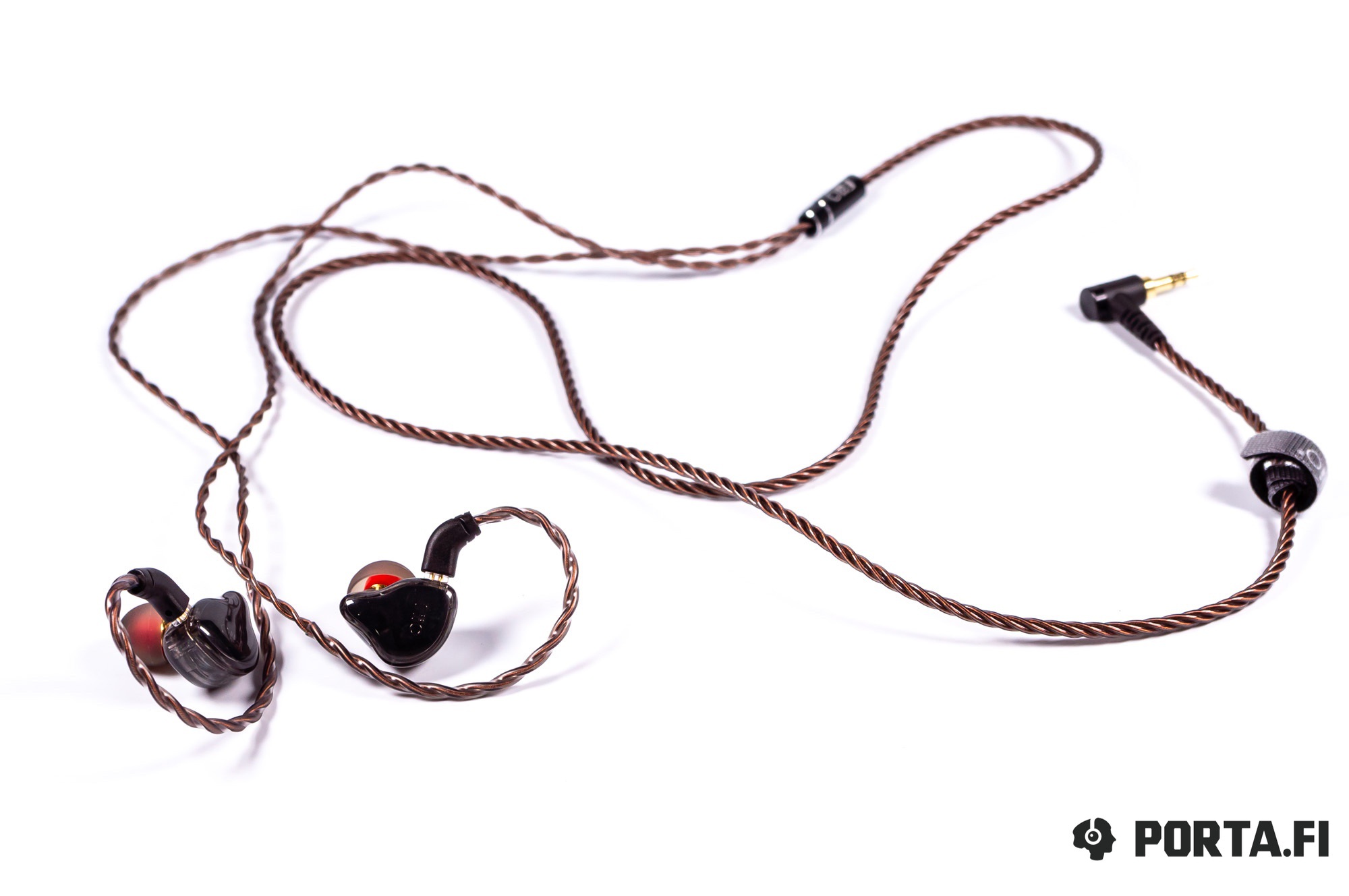 FiiO FH1s
Before first reviews on those have hit the Internet that's been opinion that the difference between two models lies only in accessories range and packaging, but it's definitely not so. Despite similar transducers the sound is tuned differently (and the specs scream about it as well). FH1s are more neutral and have more micro details with less elevation on lows. FH1s also have more treble length.
Despite having the same dynamic driver as EA3 and similar speed and textures of bass the accent on lows is smaller, the sound is tuned to be more neutral, although not monitor. Due to less lows accent the bass is better controlled on fuller tracks. However, if the bass is abundant, you'd better choose EA3 to get the most of it, since FH1s is more into realism and better level of details.
Mids are linear and neutral. They are less laid back and seem more detailed than in EA3, offering higher level of details. Of course, the IEMs are far from being monitor, but will suit better for those who love non-colored sound. Apart from that, as expected, such mids provide more realistic instrument sound transmission and require recordings of better quality. The sound stage seems bigger here.
The highs sound more real in comparison to EA3. They are more natural and better in quality and length. Overall they are typical for armature — clear, detailed with slightly accelerated attacks and decays that provide air and good resolution. The peak is smaller here but still present and it's comfortable for me.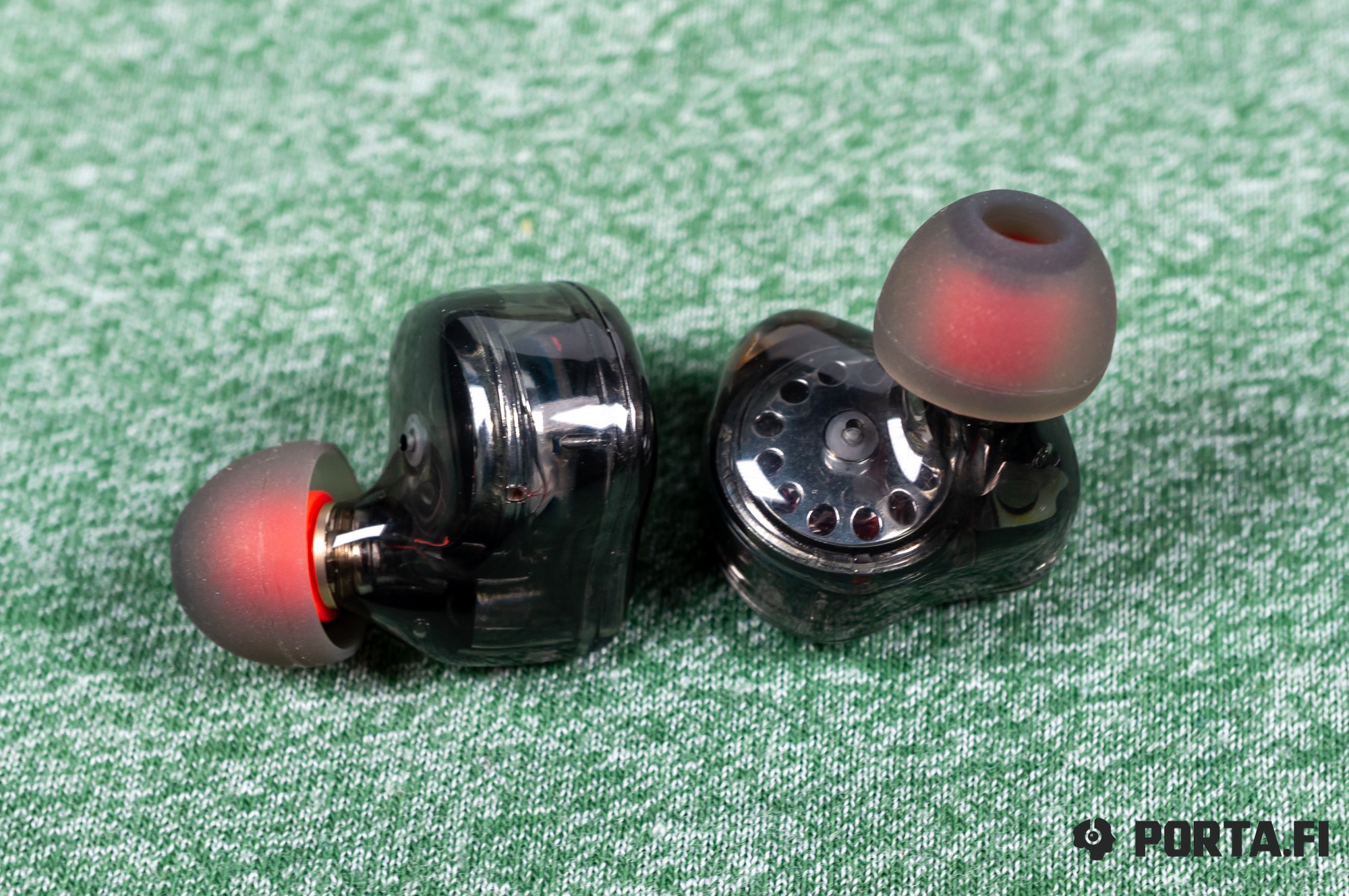 Comparisons
To begin with — Jade Audio EA3.
TRN V90 More neutral sound with less accent on lows but because of quicker presentation TRN sound more dry and aggressive and show contrasts and speedy transitions more at some expense to the weight. It's necessary to say that Jade Audio has more natural highs (I think it's due to Knowles transducer).
KZ ZSX Slightly less accent on lower bass with more of that on midbass, better resolution on mids (traditionally at the expense of weight), more underlined highs with better length, but the realism is on Jade Audio side.
FiiO FH1 More dark and massive sound with more condensed highs and even more accent on midbass than on its deeper layers.
FiiO F9 Pro More v-shaped with more accent on highs, more detailed and cold mids and more accent on midbass.
And comparisons of FiiO FH1s.
FiiO F9 Pro FH1s sound obviously more neutral with better bass depth and less accent on it and with more comfortable highs.
FiiO FH1 Despite the name FiiO FH1 has not much in common with its 'S' variant that has more highs and better resolution on mids and treble. Apart from that they have deeper bass that's also more composed.
TRN V90 These IEMs sound more dry and aggressive, although the difference is not as striking as between them and EA3. FiiO model has more natural sound and it proves again that resolution is not the only decisive factor when you choose IEMs.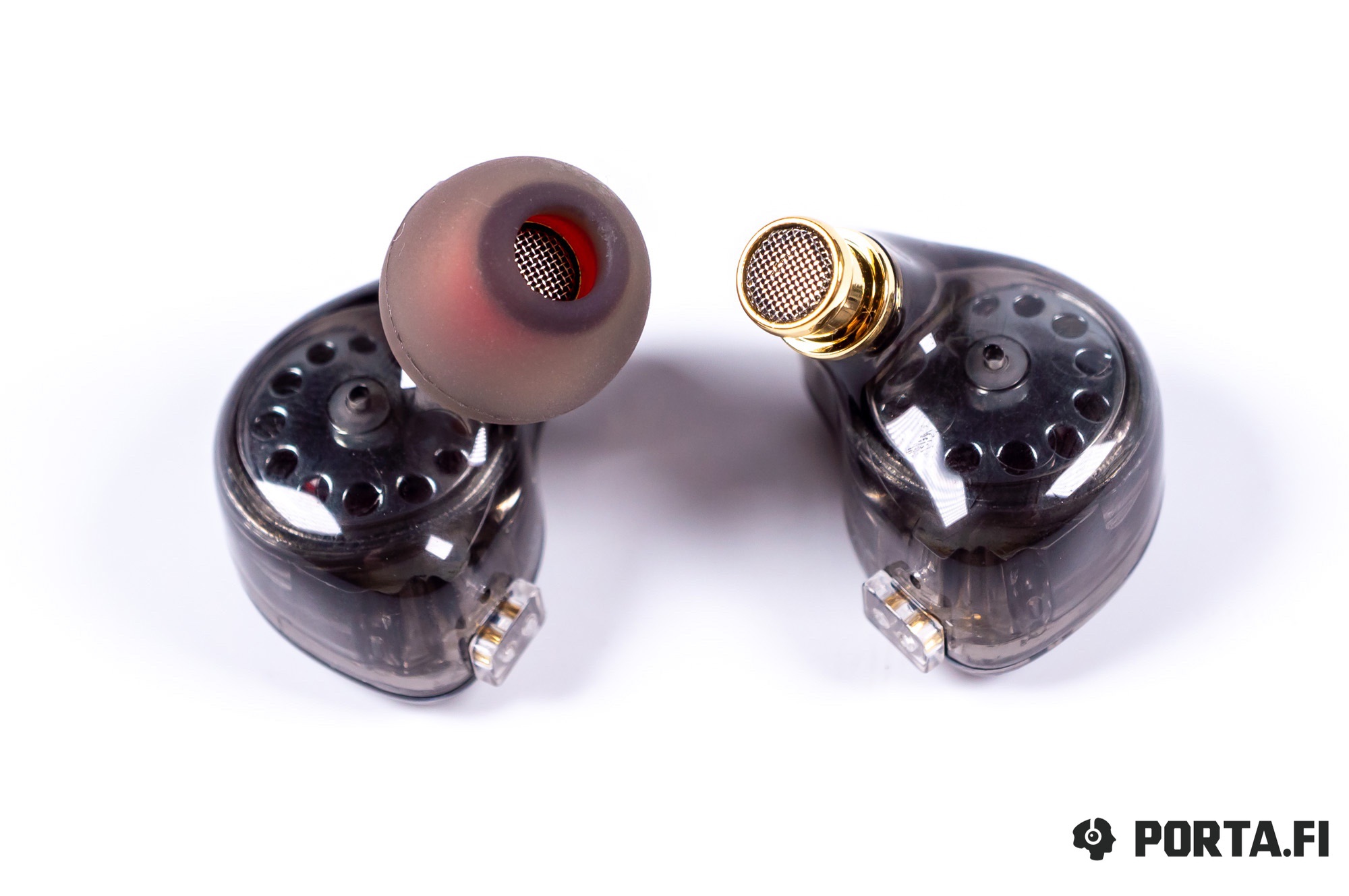 Compatibility
Both models do not require powerful sources or the blackest background, they are well balanced in terms of impedance and sensitivity. Upon the whole you can use them with simpler devices, such as smartphones, but you'll get better results with 'from budget to mid segment' players.
They are universal in terms of genre but it's obvious that EA3 will suit more for styles that require accentuated bass, while FH1s will be good for genres that require neutrality and natural presentation. The sensitivity to recording quality is 5 out of 10 for Jade and 6 out of 10 for FiiO.
Example tracks
Warren Wolf — Vahybing Jazz accepts all instruments and this is proved by this vibraphone player who has released a new album recently. It's interesting in many ways, starting from unusual melodies and stylish sound of vibraphone itself. Of course both models are not ideal here but cope with it well for their price, especially FH1s due to its more neutral and detailed presentation.


Sunny Jain — Osian Another example built around unusual percussion instruments. Now we have dhol here and it's used by one of the main specialists of this instrument and active developer of ethnic music — Sunny Jain. His new album is very interesting and is full of unusual music for western listener. Both models cope with this track well but better weight on lows from Jade Audio suits here better.


Residente — René Let's continue our global journey with Puerto-Rican hip-hop artist (as well as writer and director) René Juan Pérez Joglar that is known under Residente nickname and his autobiographic story about mental health. The track is long and is full of small peculiarities and EA3 and FH1s both shine from different sides — more weighty Jade opposes the details of FH1s and this makes the choice between them very hard.
Conclusions
FiiO have managed to cope with what everybody have waited for — to revise their FH1 bestseller twice. Both variants have their own positive things and aroused a warm welcome from audience.
Translated by: Vadim Kolchev