Cable influence on sound is one of the most arguable things today. It's not strange, since people love to make mistakes. One make mistakes thinking that that influence is too high, others think there is no influence at all. And the truth, as always, is in the middle. It is no surprise then that choosing right cable is highly individual thing and is the last thing after you choose correct player and headphones. It is also great to understand what you need from that cable and what you expect from it. Ideally. Today we will speak about Toxic Cables Hydra.

It is the British brand and the price is around 360 pounds, which is rather expensive, so let us try and see what manufacturer offers for this price.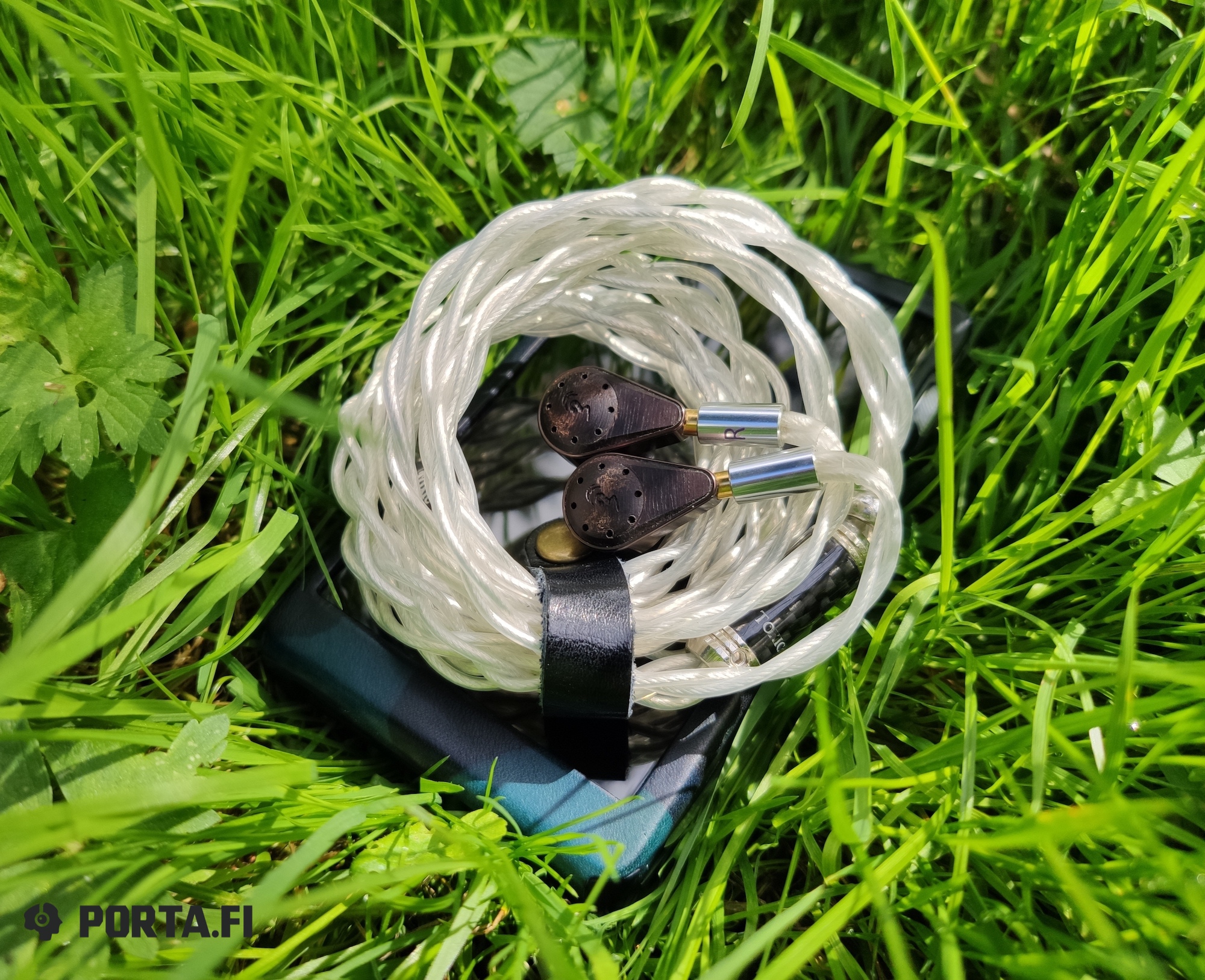 Build
Technically is not too hard to create a cable. You take a proper conductor, braid it to needed thickness and solder the connectors. Seems like an easy thing to do, but in fact it is harder, since the influence of each component can be quite important in the whole canvas.
Not long ago I have thought that cable manufacturer produces conductor itself, but it is not so. Toxic Cables order it, of course, with needed characteristics. Hydra has a construction of 6 cores. Every core consists of three differently sized OCC silver braids. Apart from that, cotton base is used. Everything is aimed at a correct sound. As a result the construction has convincing 22AWG per transducer. Yes, Hydra model Is quite thick. If you need a thinner cable, pay attention to their other models, and let us proceed with Hydra review.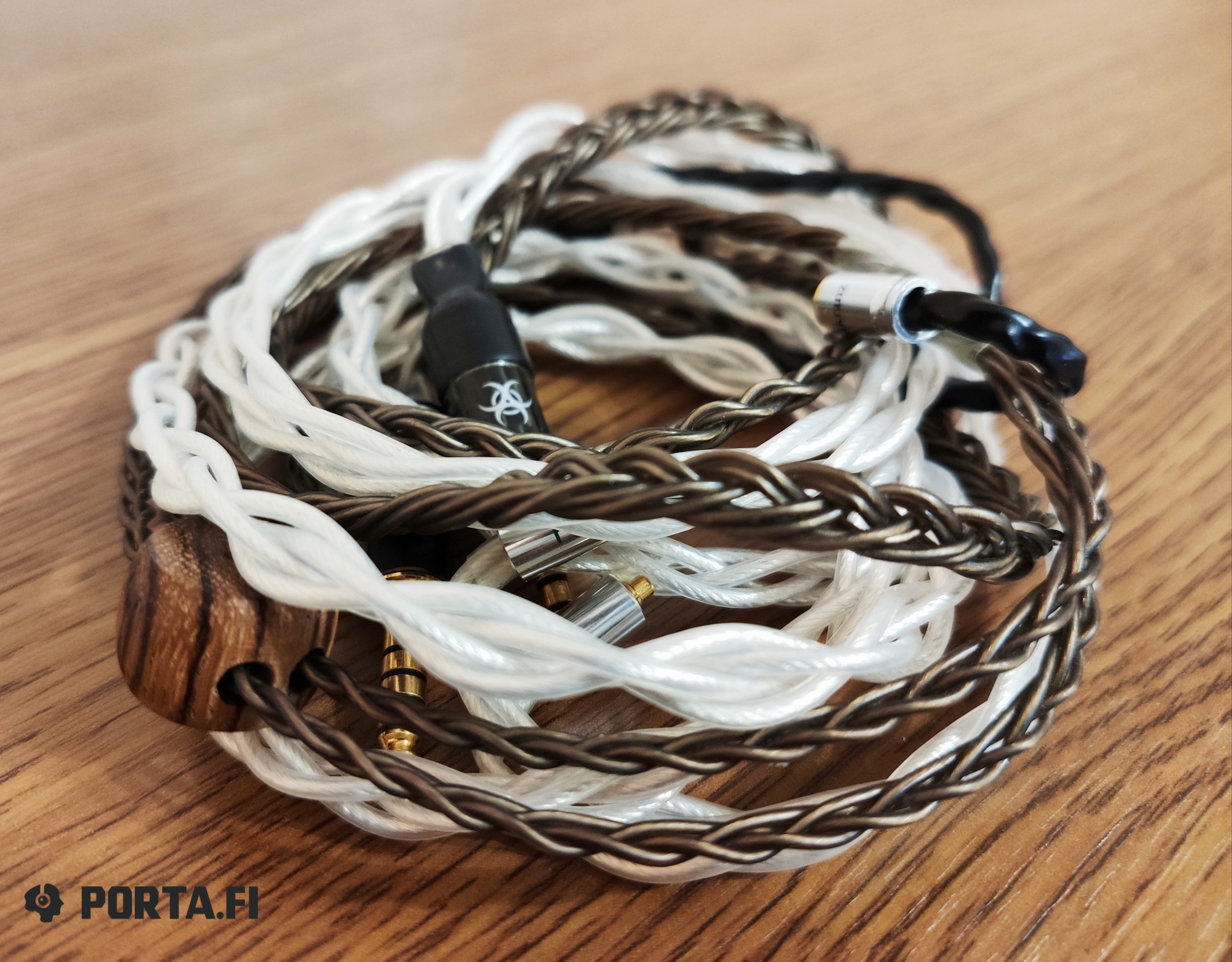 Design and ergonomics
Hydra cable uses pure cry-silver OCC as main material. 22AWG are quite impressive, such cable cannot be thin or compact, and even the name suggests that it can't be thin. You also for sure can't put such huge amount of conductor in small diameter. And if we remember that 22AWG is a measurement for a single conductor and cable has 4 our them, everything becomes clear. By the way, the thickness and comfort of this cable is similar to well-known Dunu Hulk.Here, however, we don't have interchangeable connectors. The cable is terminated with convenient 3.5 jack on one side and MMCX connectors on the other. Splitter style is on par with other components. It is rather massive with black carbon insertion. It look organic and whole. Only the shrink on jack looks slightly out of order. It sports information on manufacturer and model, but it does not cover jack fully. Of course we can say that it has been intentional since custom cables are hand made. But I would like to see shrink cover jack fully, as in Moon Audio, it would be more organic. However I can't say that only Toxic Cables do it this way, I've seen such things before, for example with Double Helix Cables and Brise Audio.
The braiding is not too tight and not too loose. It is traditionally cross-like and after that is a spiral of two conductors. The cable is rather thick and is maximum I would like to carry around if we speak about portable solutions. And you should think if you definitely need such thickness.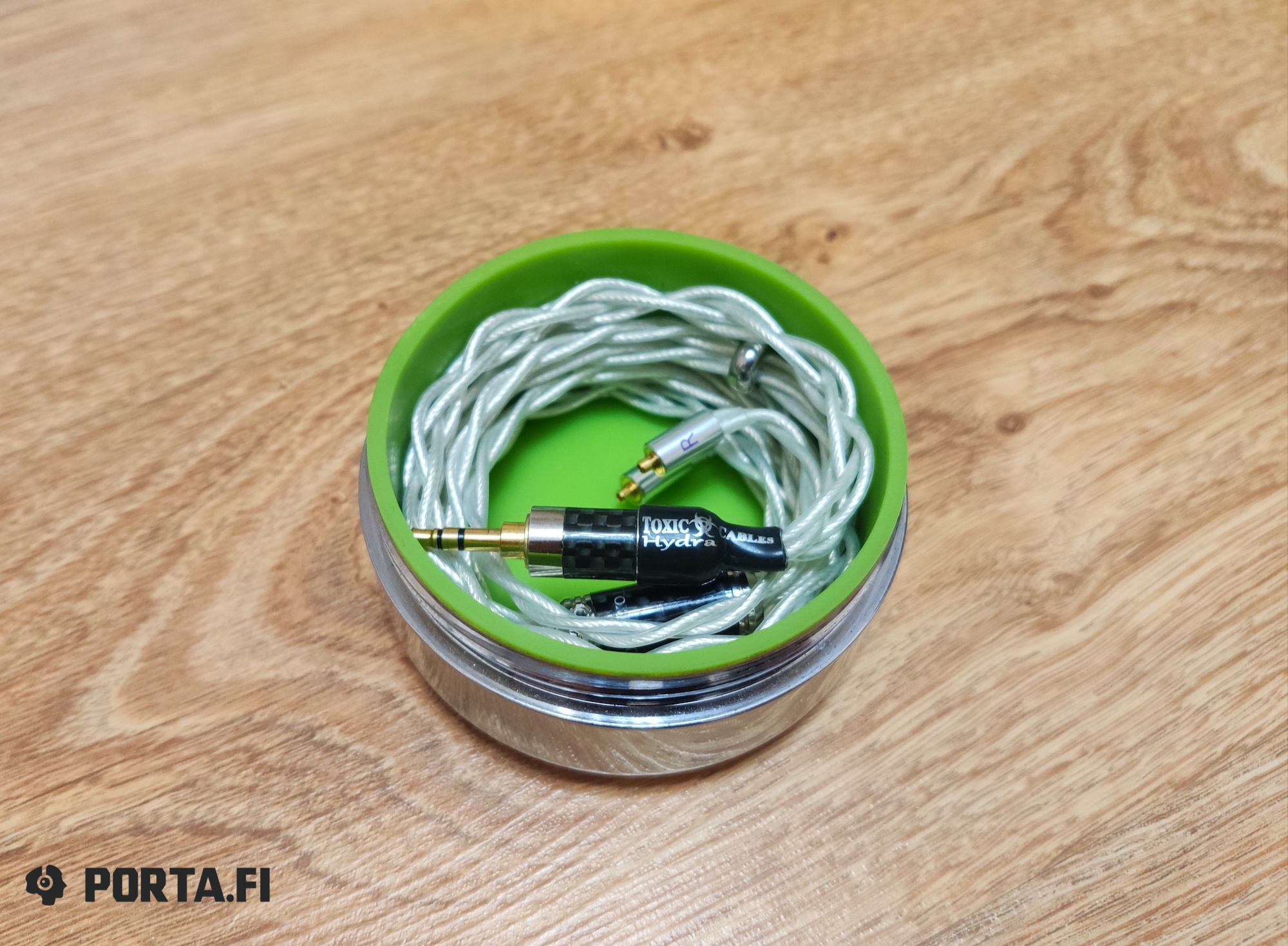 Even more, the size and stiffness of cable are those factors that have made me leave it home and prefer a different and more compact variant. Ergonomically the cable is not too much better than ALO Audio SCX8. Of course it is not a plus. The connectors are of good quality, they are rather tight so the IEMs are not wobbly but at the same time twist freely. However you can choose other connector options when you place an order — it is the benefit of custom products. You can also choose to have ear hooks or not, as well as color, length of cable and splitter style. Everything here is as usual.
As I have already stated, the cable looks according to its name and is rather large. If we speak about IEMs, I've not found a thicker cable for IEMs. Conductors are thick too. They have transparent isolation. Inside you can see neatly braided silver wire. And even if we can't say that this cable is the most beautiful, the general visual and aesthetic impression is very positive. Cable looks reliable and durable and has its own rough, brutal and masculine charm.
Weight is on par as well. Hydra is not small and you can feel it. However the most problematic thing is ergonomic. Hulk, for example, is slightly softer. Hydra has some microphone effect and and is rather stiff. In terms of portable usage it is not very convenient. Of course the brand has smaller options but I personally think that ergonomics is one of the most critical and important moments if we speak about portable usage, despite of the model, so I cannot be silent about that.
As for accessories, I can't say anything about it. Considering the photos there is cable only. I can't say for sure since I have purchased second-hand one for myself.
alt="" width="2000″ height="2000″ class="aligncenter size-full wp-image-3900″ />
Sound
And of course sound. This is why we choose to suffer on and on. To begin with, I'd like to note again that the combination of cable and IEMs is individual so you can get different opinion using different IEMs.
Cable has rather whole and thick sound. It provides more details on the edges of the frequency range, especially on highs. So there are two things that are enhanced — micro and macro details. The sound becomes cleaner but does not change its character and only adds to the quality aspect.
Lows are rather deep and this is the most notable thing. It astonishes the most, especially given that I know my Solaris SE very well. They have gained even better bass. It does not mean that it becomes more accentuated, just better in quality.
Mids are almost intact. They keep the character but get more distinctiveness. Instruments and vocals have more nuances and are convincing.
Highs are what changes the most, especially in terms of length. Although if IEMs have good length of highs already, you will likely not notice it. However, what is the most notable thing is the quality of this part of frequency range. It becomes more clear and airy.
The soundstage gains additional length in both dimensions — in terms of length and depth. Instrument positioning becomes better as well. It doesn't mean although that the soundstage is built differently.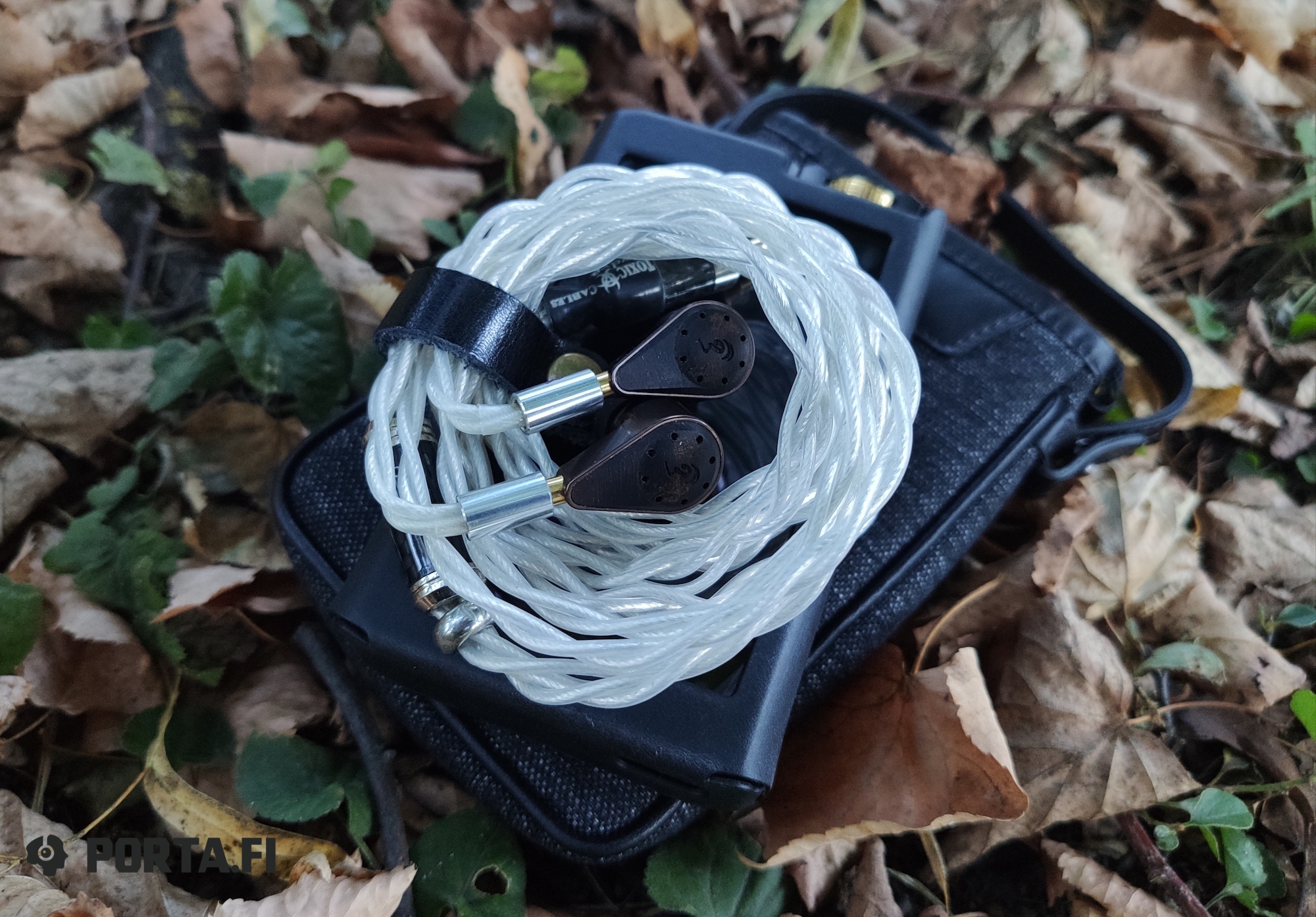 Conclusions
The cable is great and provides quite an upgrade, but you can't predict the effect with certain headphones. Also you should take into account scenarios of usage and ergonomics. Apart from that the cable will be a great addition if you already have quality source and headphones.
Translated by: Vadim Kolchev