Audio world is a place of associations. The first metrics that you may think of is tonality. It's always described as dark/bright. This means that the longing to hear sound precisely is as high as to watch something. And it is a true dream of audiophiles. Let's not talk of attention here. You can miss something even on a well-known picture, and this is the name of See Audio brand. Their Yume headphones gain more and more popularity. What is this model about? Let's talk.

Accessories and packaging
The headphones are supplied n a rather large box. The dust cover has the name of the model with transducer configuration (1 dynamic and 2 armature), as well as name of the company and anime girl. As you will see downside, anime girls are what the manufacturer uses extensively in design.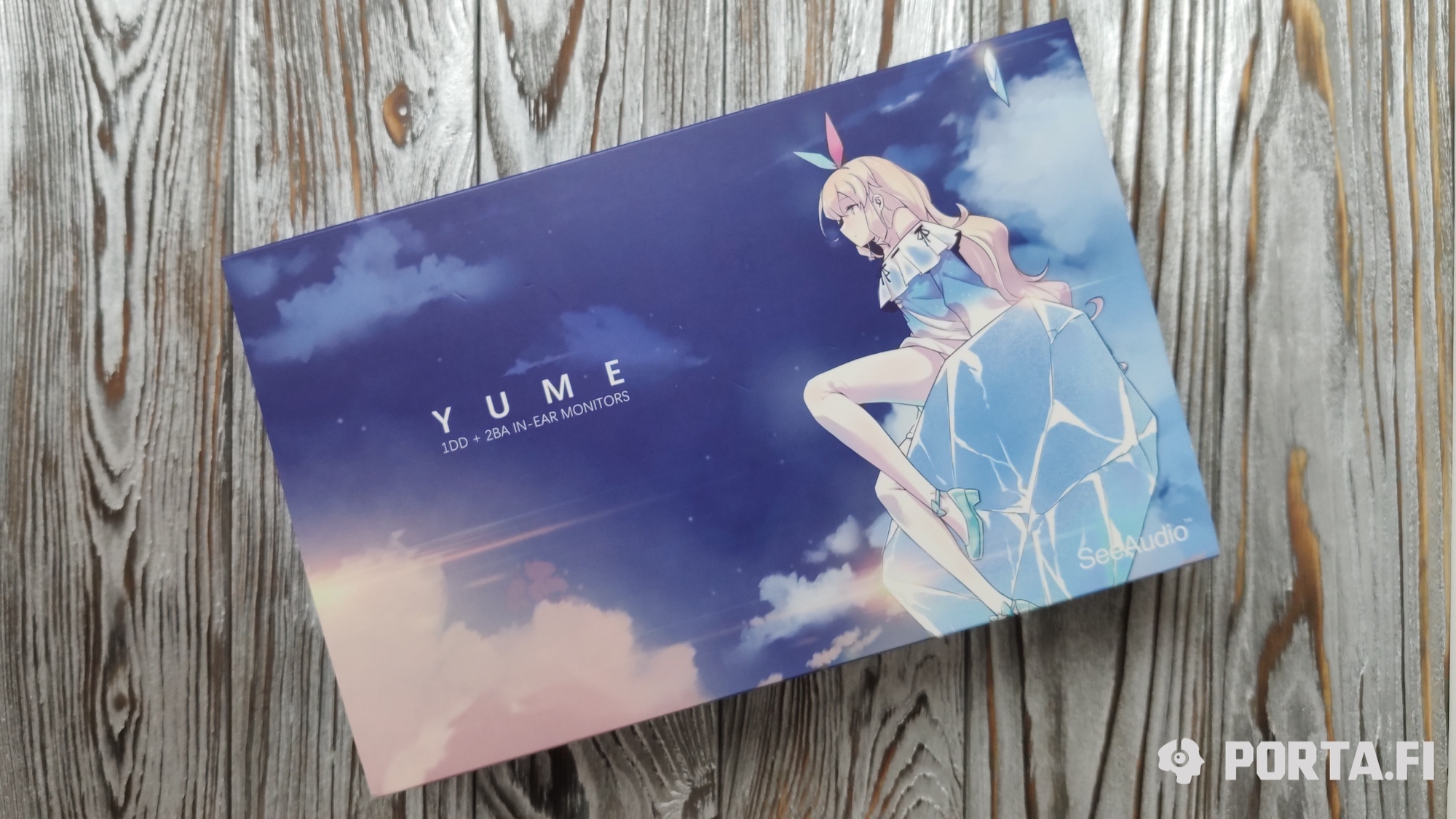 Right below logo on the side there is a company motto — See through your ears. I think this means that company wants to allow customers to hear as precise as they see, but stimulating one sense with another. Sound arouses visible impressions and so on.
Apart from that there is a bunch of very helpful information. For example, the dust cover holds description of 9.2 mm dynamic transducer with its peculiarity in the shape of "fluid silicone" membrane. Apart from traditional correlation of weight to stiffness, the engineers note thermic abilities of material that in general means that it stays the same during the usage period.
Armature transducers are not well described there but we know them well — mids and hghs get one Knowles 29689 each.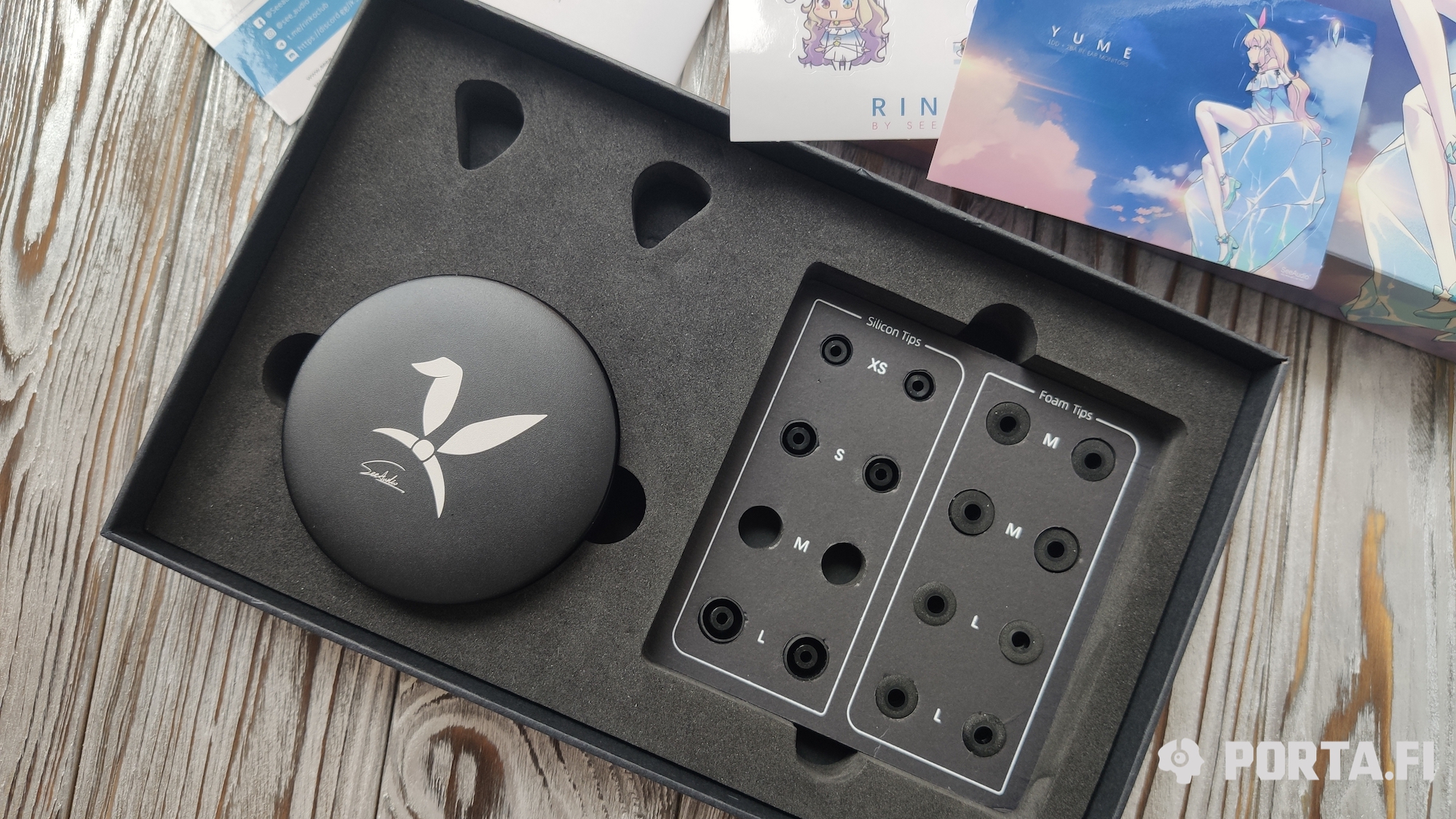 There is information of LFC technology (lows filter) on the back. This is in fact an acoustic camera. Apart from lows it helps to better tune transducers with each other.
The most important part is of course graph. The box clearly states that the headphones have been tuned with Harman in mind. To be honest, the sound proves them. Other characteristics are actually what many other headphones have — 32 Ohms of impedance and 106 dB of sensitivity. Not too hard to drive and not noisy. Golden middle. And this is actually true. The headphones do not pick noise from everywhere and don't require immense noise to drive. What lacks on the box is price, and it's expected. Here you can buy them for 200 USD, but the price may differ in various locations.
There is an abundance of everything inside the box. First of all, it's tin round black case with cable inside. It also has a separate compartment with ear tips. Of course here we also get a lot of stickers with the same anime girl. Who knows, maybe this is a good selling point.
Tip choice is good — 4 sizes of silicone and 2 pairs (M and L) of foam tips. This means you can easily choose something to fit from stock tips. Another good thing is that the headphones are not critical to tips.
This is all in terms of accessories. Not too much, but enough, relatively. No adapters, but stickers instead.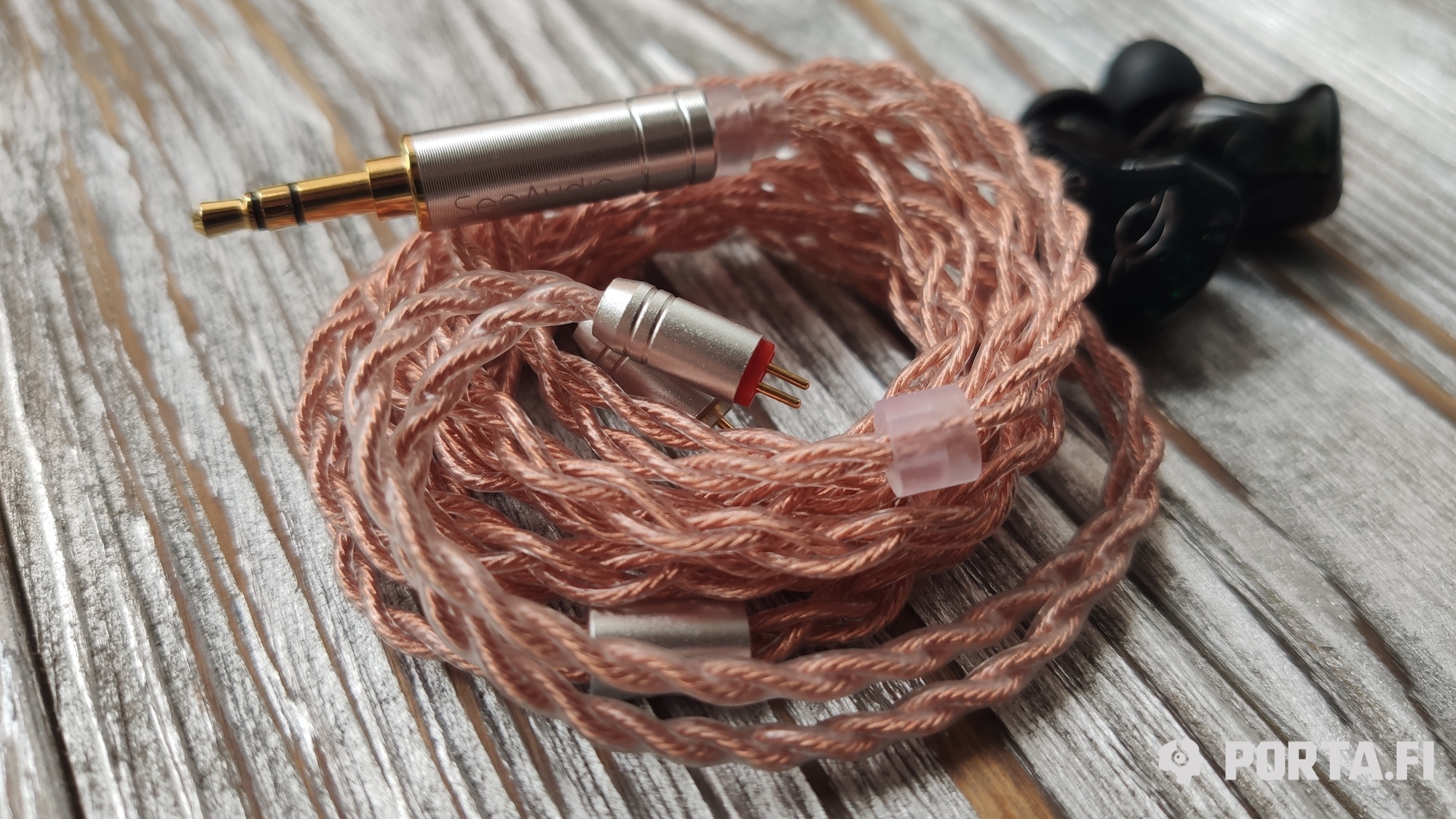 Design and comfort
The IEMs are made in a deservingly popular universal version of custom headphones. The faceplate is rather small and the body is not too large as well. Due to well thought shape with many ergonomic projections, you won't feel them in ear at all and if there is a slight discomfort, you can always think about tip rolling. The insertion is average, closer to deep. Due to small bodies and long nozzle you would probably want medium tips or smaller. The noise isolation is above average. You won't need to fix their fit, it's convenient and reliable.
Faceplate is made of an interesting iridescent green material on the black foundation. Not too bright and not too bringing attention. Everything is neat and beautiful. On the top you get logo, company name and model.
The bodies are dimmed, semi-transparent. In good light you can see the insides, though not with abundance of details.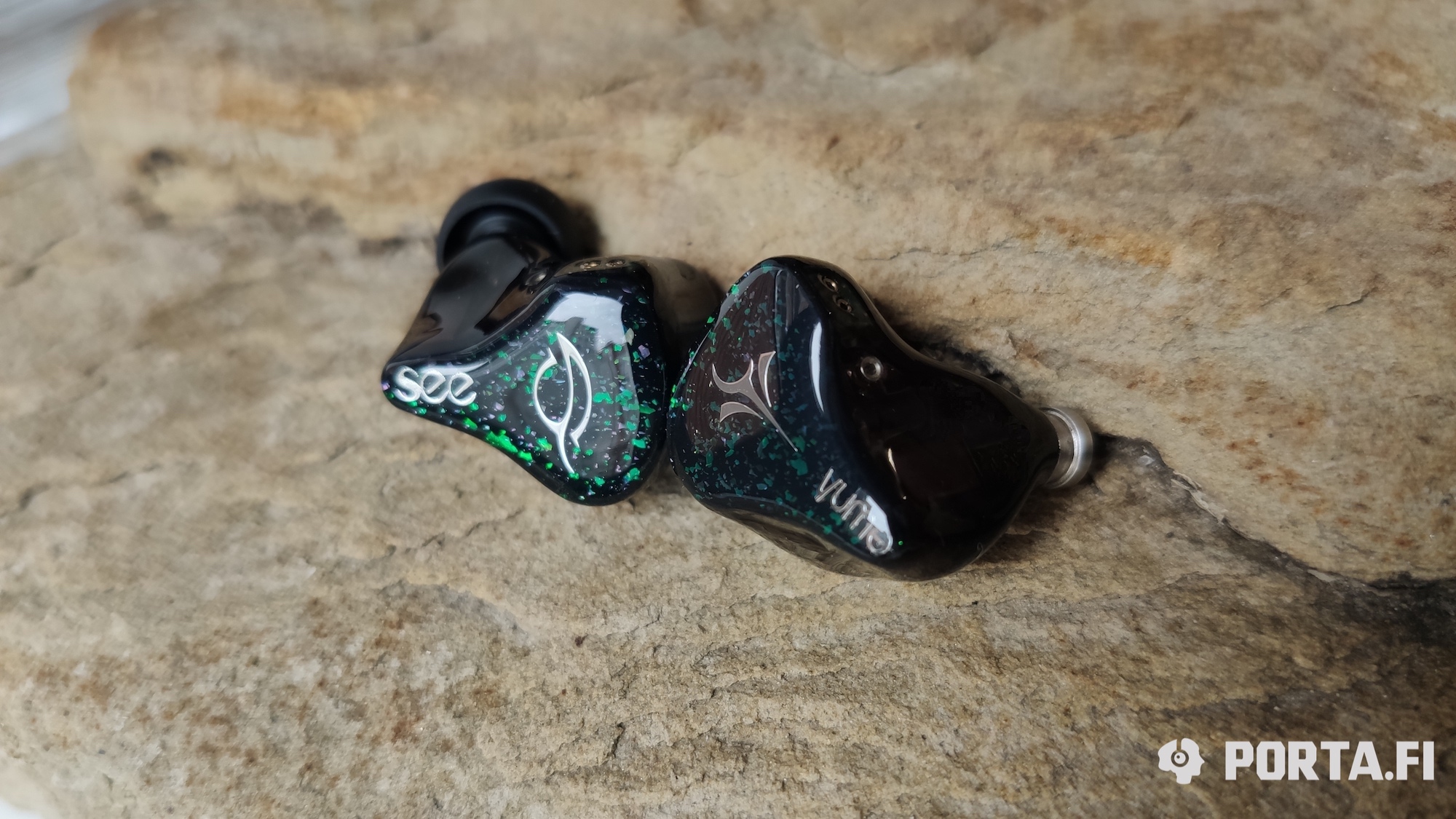 The cable is of course detachable. There are regular 2-pin sockets and a compensating projection for dynamic transducer nearby.
The cable has transparent coating and you can easily see beautiful copper conductor. The length is standard, the jack is straight 3.5mm. No balanced connection or anythong else, the most wide spread connector to match 99% of sources. There are preformed ear hooks. The connectors are 1mm projected and this looks better than fully projected connectors. The sockets are rather reliable with precise fixation. You won't however need excessive force to detach a cable.
Cable here influences sound but I don't think it's mandatory to change stock one, since it is rather convenient solution in terms of ergonomics sound.
Sound
Sound itself. First of all it's Harman curve I have mentioned above. It means that the sound is perceived as flat and natural without any accents. Everything what is needed is there. On the other hand the sound may seem dull, since there are no accents on highs and lows. But it is a matter of taste.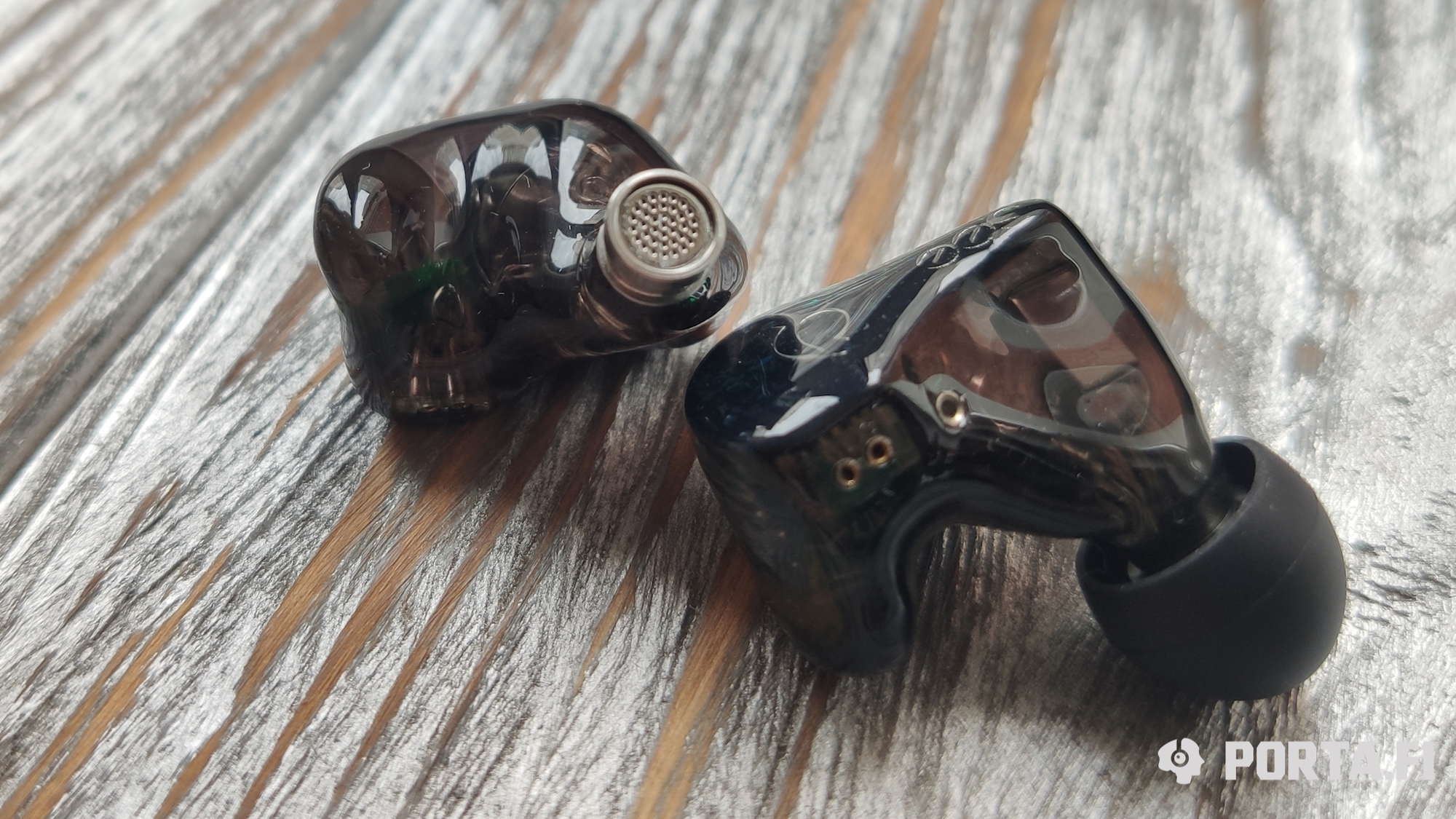 Headphones are balanced and coherent enough. They do not have much difference in character of various segments of frequency range. Everything sounds almost in the same way. The sound is whole and slightly on the soft side. Bass does not try to be maximally technical and shapy. Even more, the sound tends to be more musical, whole and to be involving. So there is no armature sharpness. As for frequency response, the headphones seem obviously v-shaped but in reality the accents are almost non-present and everything is perceived organic enough to just be ignored. But I have to note that those accents add a little bit distinctiveness and emotions to sound. This means that the sound is not too general. It is just moderately emotional.
Lows have slight accent. Of course there is no excessive length in this price tag, but things are rather good. The headphones do not create impression of lacking of lows or low length. They can cope with digging deep where it is needed and are enough in quantity.
Another thing is that main accent goes for midbass and compensates the hearing curve more than accentuates anything. So, yes, the lows are notable, but not basshead. The accent is made in a way where Yumi are not too technical and dry, but stay on the side of wholeness, thickness and reasonable weight. Technical ability is still good, as well as control. It's that bass is not dry.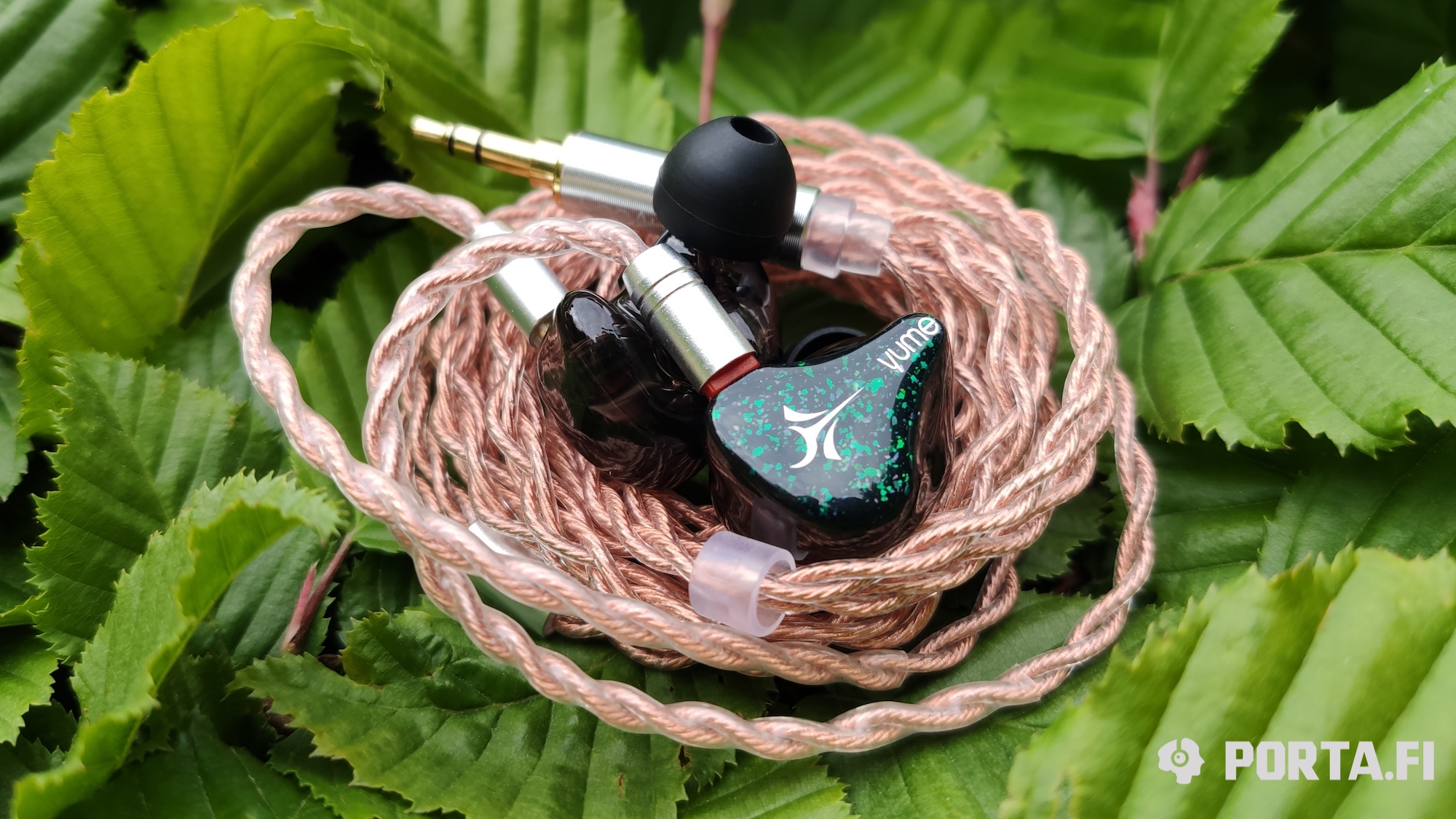 Mids continue lows tradition. They do not try to separate recording to smallest nuances. Of course here we get slight warmth that adds distinctiveness and more convincing sound. And this is good given that the overall sound presentation is coherent. Someone may find the technical ability is lacking, but it is not the case, it's that headphones transmit more macro details and emotions. Emotions though are moderate and are not forced. IEMs are attentive to composition, showing nuances and emotions well, but without tearing down the whole canvas.
Technical ability and control do not stand out here, but are present even in the complex tracks, so there are no problems here.
Highs have rather good but not record-breaking length. They transmit recording without coloration and very close to original. The highs are not piercing, there is no armature harshness, but they are not muffled too. There is enough level of details of various instruments, they just avoid going into too much details by inverting dynamic range and bringing details of 2nd and consequent layers up front. Of course you may have some complaints to highs, but they are very well tuned to hide their downsides.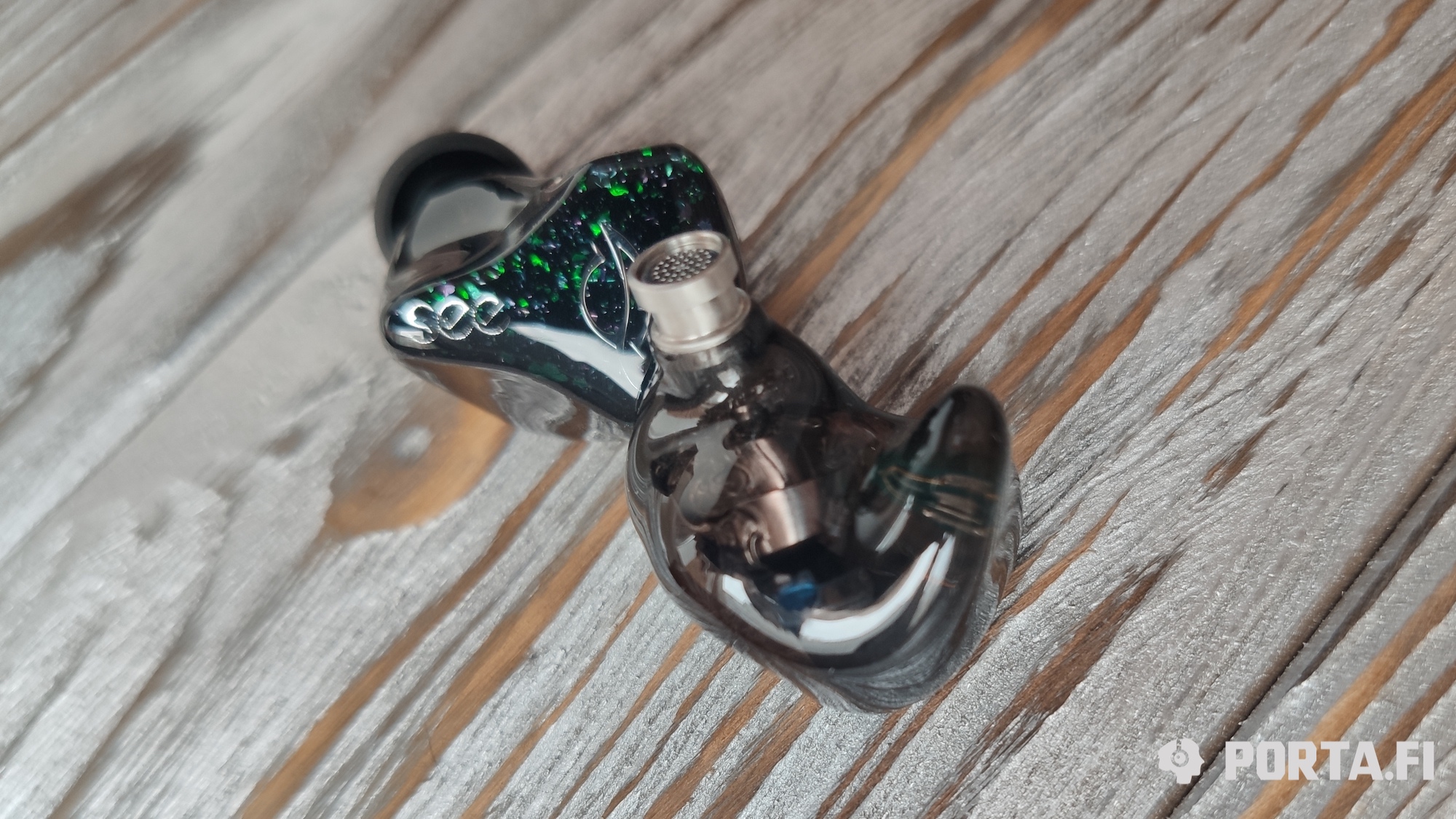 The soundstage is average both sides. The headphones do not try to play too wide or too deep and concentrate on soloist and the first layer. Traditionally for budget offerings it is more distinctive than accompaniment.
This means slight tending to compactness of the soundstage, that we can easily forgive, since this is not top offering.
The headphones are moderately critical to recording quality and everything is according price tag here. They lack accent on micro details, so they will be a good variant for streaming, youtube and other not always quality recordings. But with quality ones they of course show themselves much better.
In the end I would like to say that the model is interesting. It will be good for those who seek interesting, natural but not sharp presentation. Headphones that have good attention to composition, but emotions as well. Probably it is not an audiophile model, but for those who love music — to listen to it and forget about everything.
Translated by: Vadim Kolchev