Today our review is dedicated to an unusual device. The main difference is that the approach for its creation has been maximally engineer-like, when any decision is made without taking into account the popularity and other important marketing factors. Apart from that this desktop solution has another ace in hand.

I won't go to deep into technical questions as S-Audio development is as transparent and plain as it can be, their website has in-depth information and references for all decisions taken by the engineers. Let's focus on the main points and the first one is a binaural processor. For those acquainted with personal audio solutions it is not surprising that headphones are behind acoustic systems in terms of soundstage due to the lack of psychoacoustic factors that are used by our brain to locate the position and source of sound. There are no mixing of channels, no phase timeout between them, no reflection from surrounding scenery. If we cannot do anything to the last point, the first ones can be corrected and many engineers have tried to "mix" the channels. Usually their crossfeed solutions are made for already analogue signal and are basically 2-4 step filters. The results of such approach are not too good.
Here crossfeed is implemented with the help of digital signal processing and the mixing process uses a complex curve of timeout dependence from frequency. This has allowed to rather precisely emulate physical processes involved in listening to acoustic system, positioned frontally at 45° degree. This DSP is also used to control the volume level and the work of upsampler with apodizing FIR filter. The processor firmware is completely developed by S-Audio. Async USB-interface, based on CM6631A chip, also uses own microcode.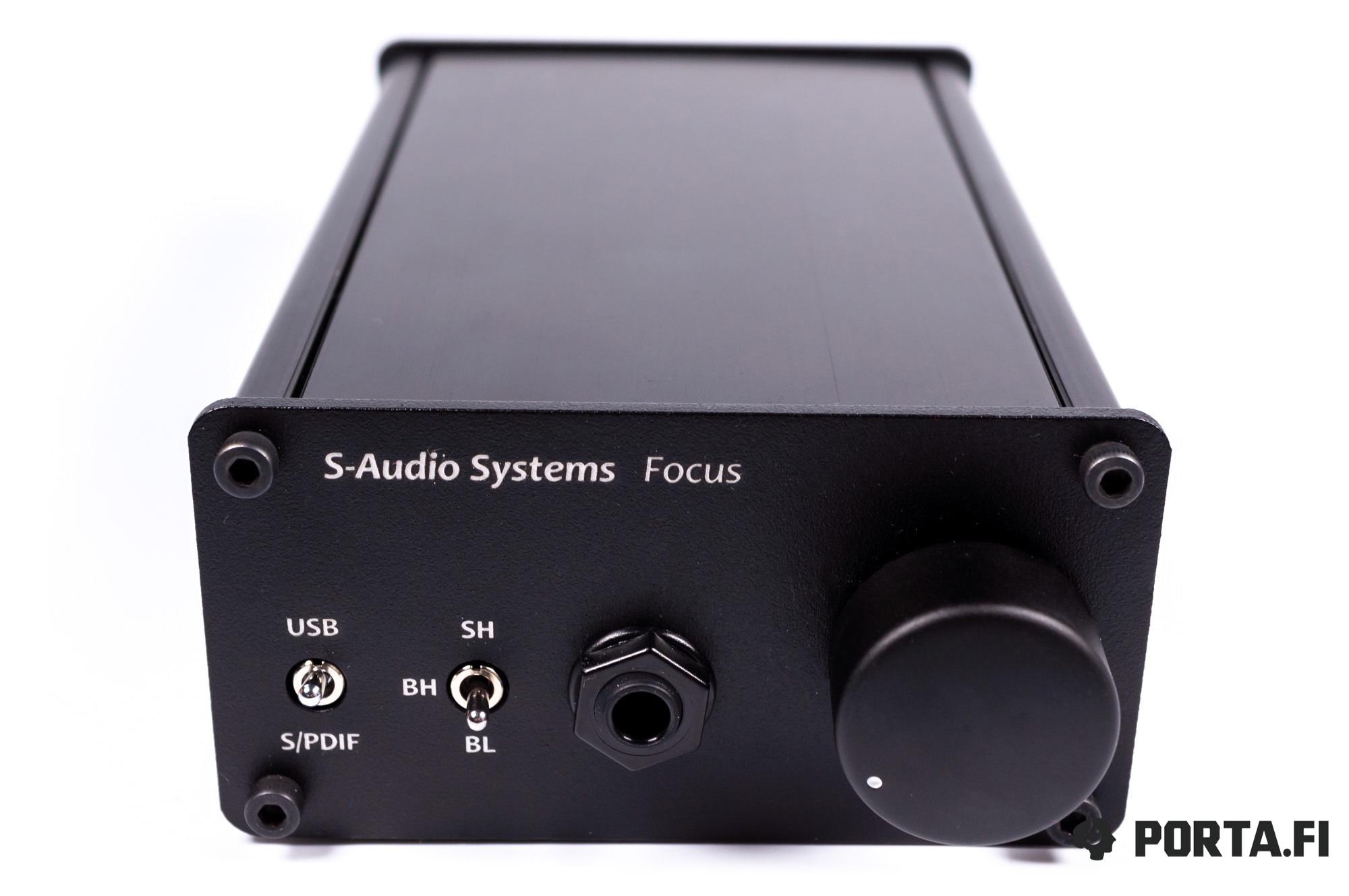 This device also has quality power source and powerful amplifier allowing to drive even hard isodynamic earphones.
Well, seems I am digging too deep into technicalities. Let's move on. The price of the model is 800 USD, and let's see what it can do.
Specifications
Maximum outgoing current: 0.6Ap-p
Maximum output impedance: 12Vp-p
Recommended load impedance: >4Ω
Output impedance: ~0Ω
Inputs: USB and S/PDIF
Outputs: 6.3 mm headphone, 2 × RCA lineout
Dimensions: 165 mm × 110 mm × 60 mm
Design and controls
The engineers haven't cared too much about packaging and everything is limited to a minimal package of accessories, including DAC/Amp, USB and power cable. That's why I will omit the unboxing part and move to the next part.
Focus surprises us with its rather compact dimensions. It is hard to understand how all those technologies are packed inside this black brick body, but it is the consequence of the minimalist engineer approach. We can say this gadget combines rational approach both in circuit design and overall appearance.
All controls are positioned on the front and back panels, you will find USB, coax input, power input, on-off switch and couple of RCA lineouts on the back.
On the front side we get headphone output, input switch, mode switch and volume control. The latter uses a quality potentiometer and hybrid scheme – the potentiometer data is converted to digital and used to control DSP volume. This allows to get ideal channel balance and absence of noise. Mode switch allows to choose one of two gain levels or to use the mode without binaural processor. Usually this mode is used by those who want to use Focus as a DAC with external amp and acoustic system.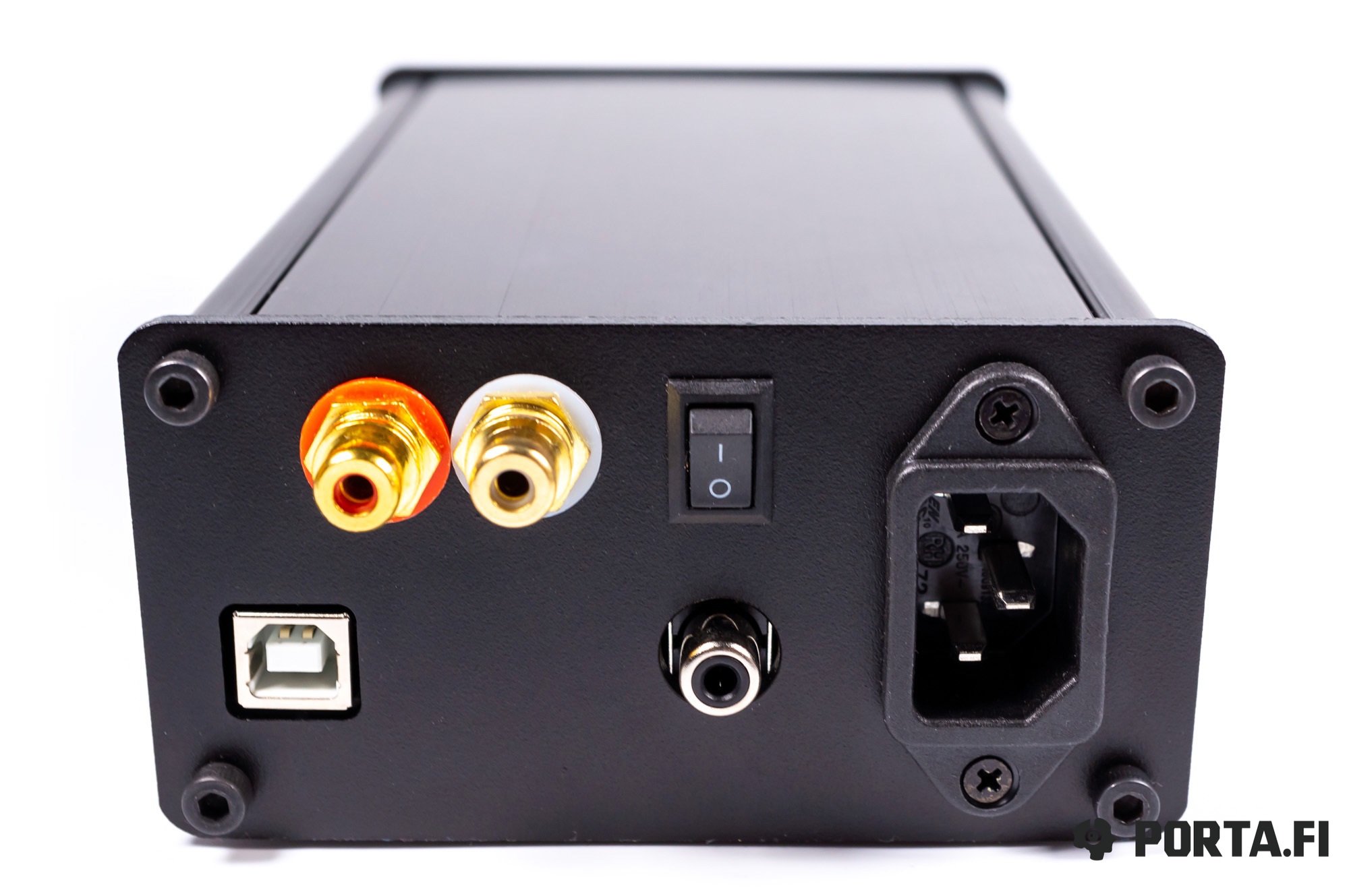 The bottom part has small silicone legs that ensure good grip of device on the table.
All in all, the DAC has appealing design and is a compact device for a "computer audiophile", whose main source is notebook or PC. It doesn't take too much space on the table and is very functional. It's also suitable for more serious setups.
Sound
I have used the following equipment for listening purposes: iBasso IT04, Meze Empyrean, Audio Zenith PMx2, Noble Audio Khan, Campfire Audio Andromeda and Solaris, Unique Melody Mason v3, HUM Pristine and others.
It's logical to divide sound impressions into two parts and to speak first about the presentation without binaural processor. In this mode Focus sounds totally neutral and does its best to achieve monitor presentation. It is necessary to note that the device won't suit for those who love coloring and additional weight, monolithic sounding mids, imitating tube sound.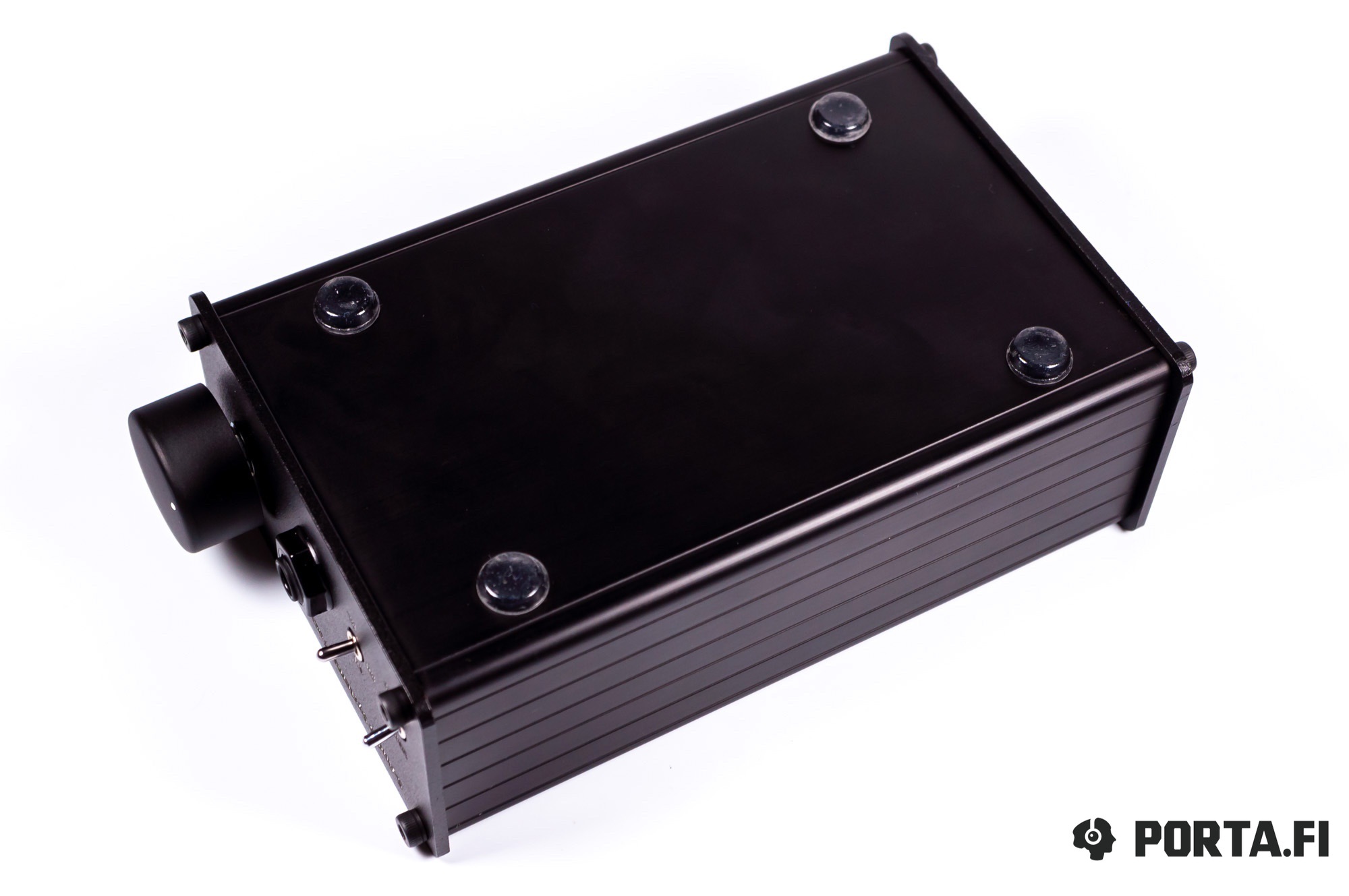 Lows go as deep as possible, are well controlled and are thick and springy. This shouldn't be a surprise, given all the power of this horse. Resolution and textures are on a very high level.
The mids are neutral and almost transparent, which means the DAC/Amp is very demanding in terms of quality of recording, you will hear all mixing problems, although Focus won't enhance them. There is a good balance between micro-details and weight that offers needed level of realism. The device doesn't add up anything but reveals all nuances and emotions. The sound stage is close to maximal in headphones without the binaural processor.
The highs please me a lot. They sound expensive with maximal length, good layering and correct attacks and decays. The listener will get maximum of overtones if the headphones are capable of that. This will ensure the realistic presentation, including the presentation of the room in which the recording has been made. Of course, the quality of recording should allow this as well. I assume the digital filter is responsible for such good highs, but it is a guess.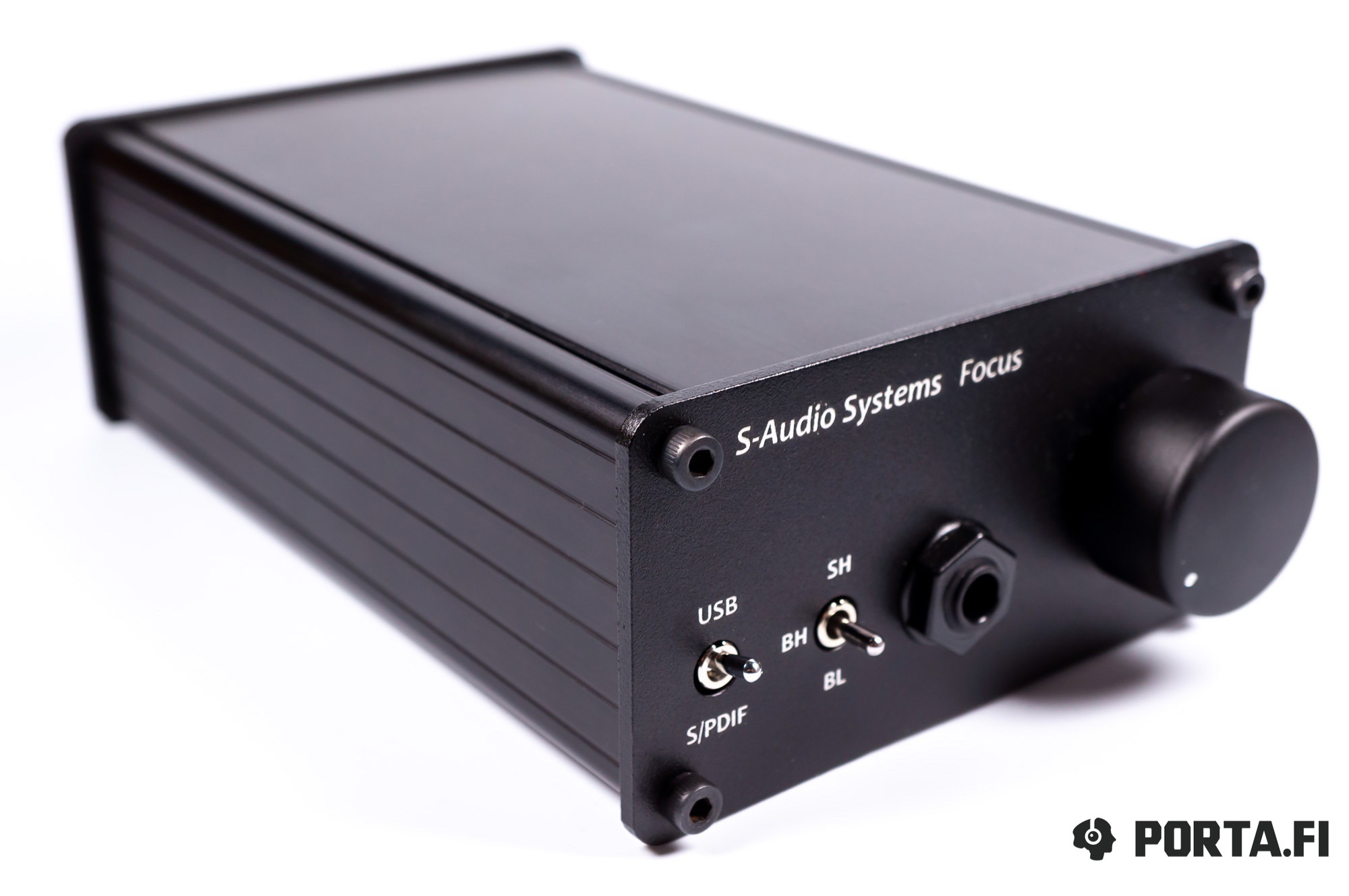 Now let's move to the main feature of this device – binaural processor.
It surely gives its effect – the sound stage moves a little bit forward. Don't expect the acoustic system sound, but the result is much better in comparison to usual DAC-Amp-headphones setup.
There are some points everyone should understand.
Firstly, you should get used to binaural mode. Your brain should learn to listen to be "fooled" by it, because the headphone sound stage usually moves with your head, but real sound sources don't wark this way. I think that in future we will see the headphones with move detection, the first experiment by Audeze Moebius has shown that this direction has its potential, however their crossfeed is not on the needed level. After some time you get used to the floating soundstage and begin to enjoy the effect.
Secondly, the more neutral headphones you use, the better, since binaural processor is made for neutral devices and the effect will be hidden by models with too much coloring.
Thirdly, not all tracks are equal and to hear the effect you will need to ensure you use the tracks that contain soundstage information. This means that many genres, starting from pop-music, will not do, as the result will be strange. On the other hand many tracks begin to play differently. This is very noticeable on recordings of Pink Floyd who have always loved effects, for example the helicopter in "The Happiest Days of Our Lives". In regular headphones this moving helicopter is perceived as increasing and decreasing sound. With the use of binaural processor you can actually feel the helicopter moving in a realistic way.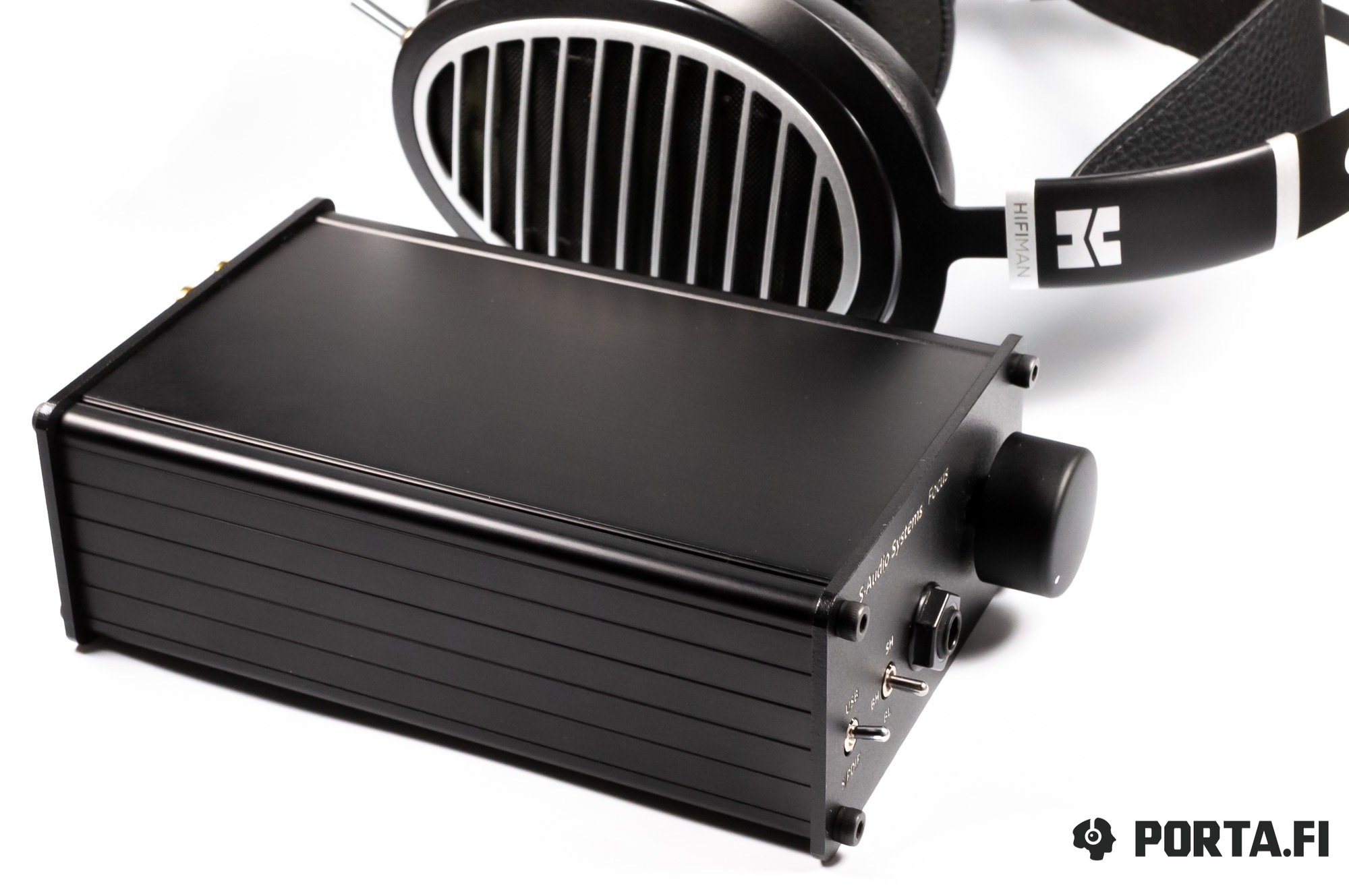 Compatibility
There is not much to write here, since there is enough power for any over ears (excluding, probably, Sundara and some other exotic models). There will be no problems with high impedance headphones, planars or the headphones that require much current. As you can understand, the IEM usage is limited here since we get noticeable background noise and the volume grows too fast. Of course special adapters can be used to fix this.
The model is universal in terms of style, but the listener should be ready to the presentation lacking any coloring. The sensitivity to the quality of recording is high – 9 out of 10, but it depends on headphones a lot.
Example tracks
Luciano Pavarotti — La donna è mobile Fresh documentary about the most popular tenor brought much attention to his works. Of course the vocals of this level is a neutrality trial for any source, but Focus copes with it without any problems, transmitting all the nuances of Luciano's voice and shows its full potential in coda.
Sara Andon, Simone Pedroni — Cinema Paradiso It is not classics, but close to it. Great Enio Morricone track using flute and fortepiano. The quality of recording is good, so you can understand why this track played by Focus appeared here. It demonstrates the ability to transmit all the richness and complexity of highs of the natural instruments. The binaural processor shows itself greatly here.
Wes Montgomery — Jingles (Live) Opposite example, the track that is not well-recorded, but that strikes with its energy, especially on lows and mids, which is not surprising since we listen to one of the best guitarists in jazz history here. Focus shows itself greatly, controlling all the frequency range and playing all the instruments correctly, starting from guitar and ending with percussion, regardless of the bad recording quality.
Conclusions
It is the case when no-compromise approach has a good balance with understanding of what is right, giving us a surprising DAC/Amp, starting from maximal neutrality and ending with good power reserve. Binaural processor often gives realistic result and is a good a welcome addition for those who love listening to music in headphones.
Translated by: Vadim Kolchev