The MrSpeakers company is a good example of how to fulfill sound ideas. They have begun with production of modified variant of famous Fostex T50RP, and Dan Clark has evolved his ideas step by step since then until reaching the point when his company headphones are considered to be one of the best among isodynamic variants. The heroes of today's review – two Æon models – occupy a well-deserved place in their production line.

Despite being considered a budget solution (Aeons cost 800 USD) are considered to be the junior model and still they use all know-how or th company. The magnetic system grills are optimized with TrueFlow – the system of special shells that guide the sound waves. The patented diaphragms with V-Planar technology provide diminished distortion level because of less deformation in motion. Those who want to learn more about used technologies, they are illustrated in detail on the official website.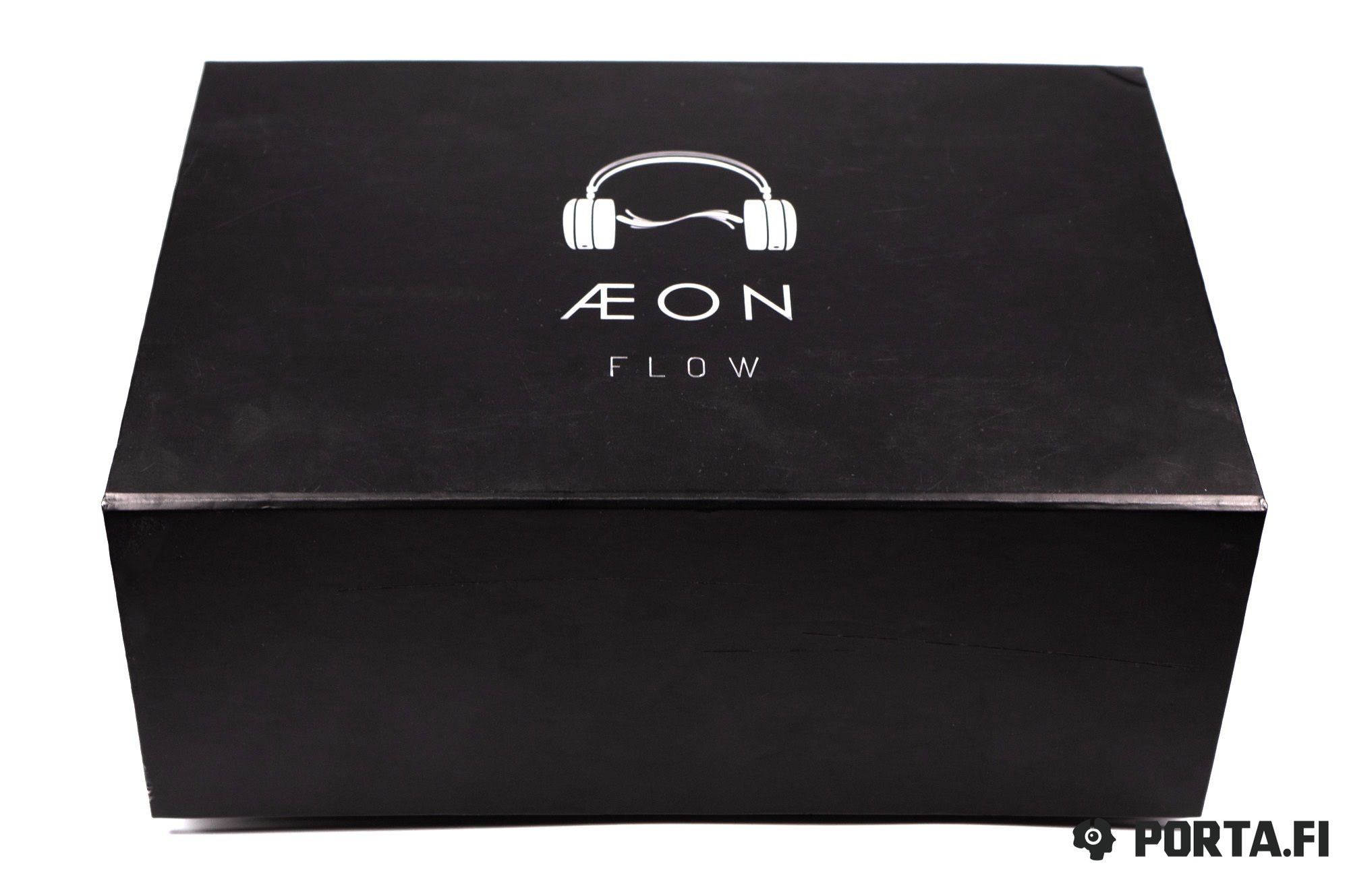 Specifications
Transducer: isodynamic, 62 × 34 mm
Impedance: 14Ω
Sensitivity: 93 дБ closed back, 95 дБ open back
Cable: detachable with proprietary LEMO connectors
Weight: 330 grams closed back, 326 grams open back
Packaging and accessories
Design of the packaging was well thought over. It is a usual box of the black cardboard with minimal printing. There is a convenient zipped case inside and it protects headphones during the storage and transportation. There are also stock cable, warranty card and the set of pads that allow to alter the sound (they are just put into the earpads)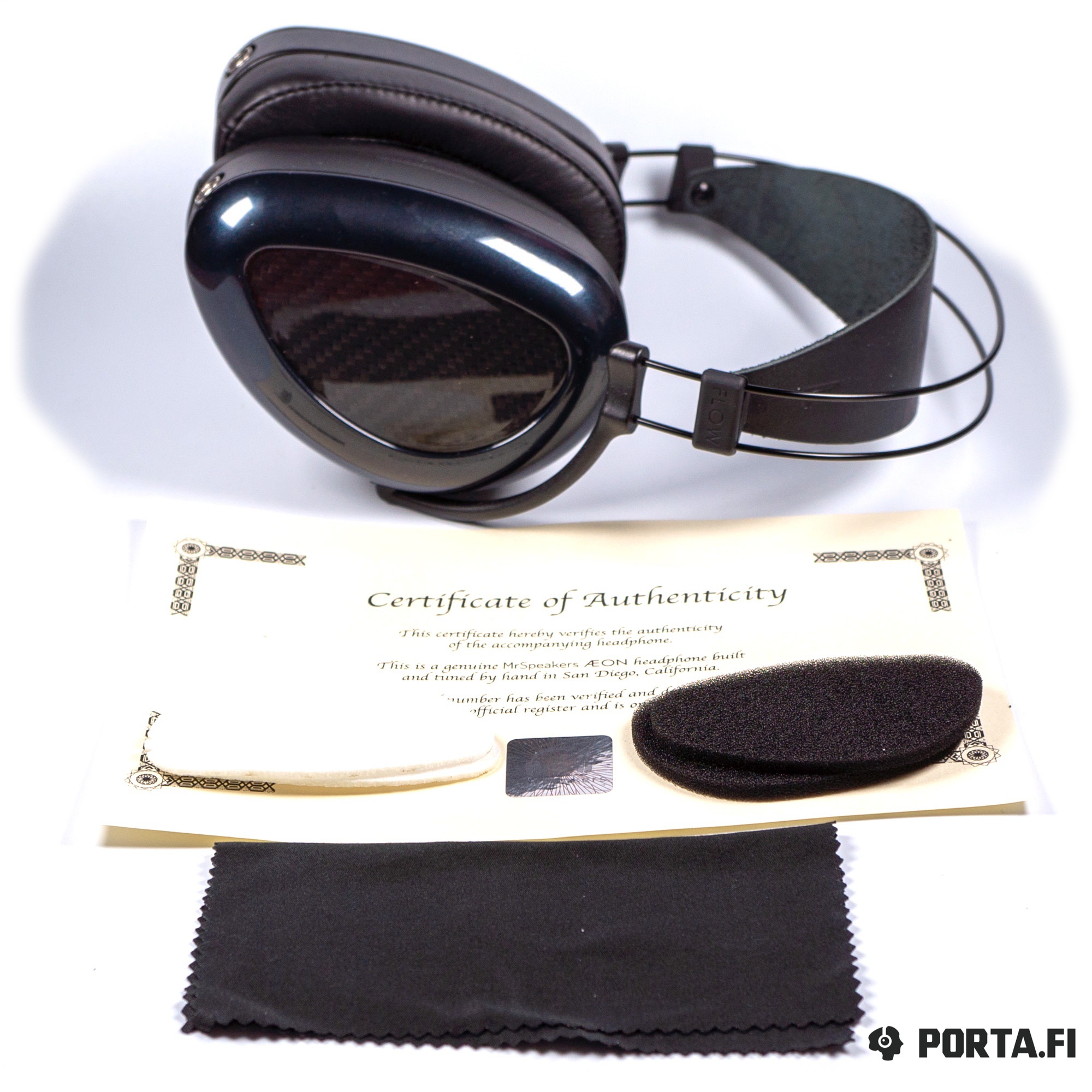 At the moment of purchase you can choose one of the two cable variants: with 6.3mm connectors or with 4-pin XLR for those who prefer balanced connector.
Design and convenience
I don't know why MrSpeakers have chosen not to use similar design as in senior models, but I really think Aeon is an example of how to combine great design and comfort for users.
The ear cups made of polycarbonate, remind of "cat eye" glasses or even a seed of some plant. Upon the whole, this shape has proved to be ergonomic and the ear is totally covered and has no problems in placing inside the earcups. The outer part of the closed back model looks great with the use of carbon, while open backs have a stylish grill of the asymmetric hexagons.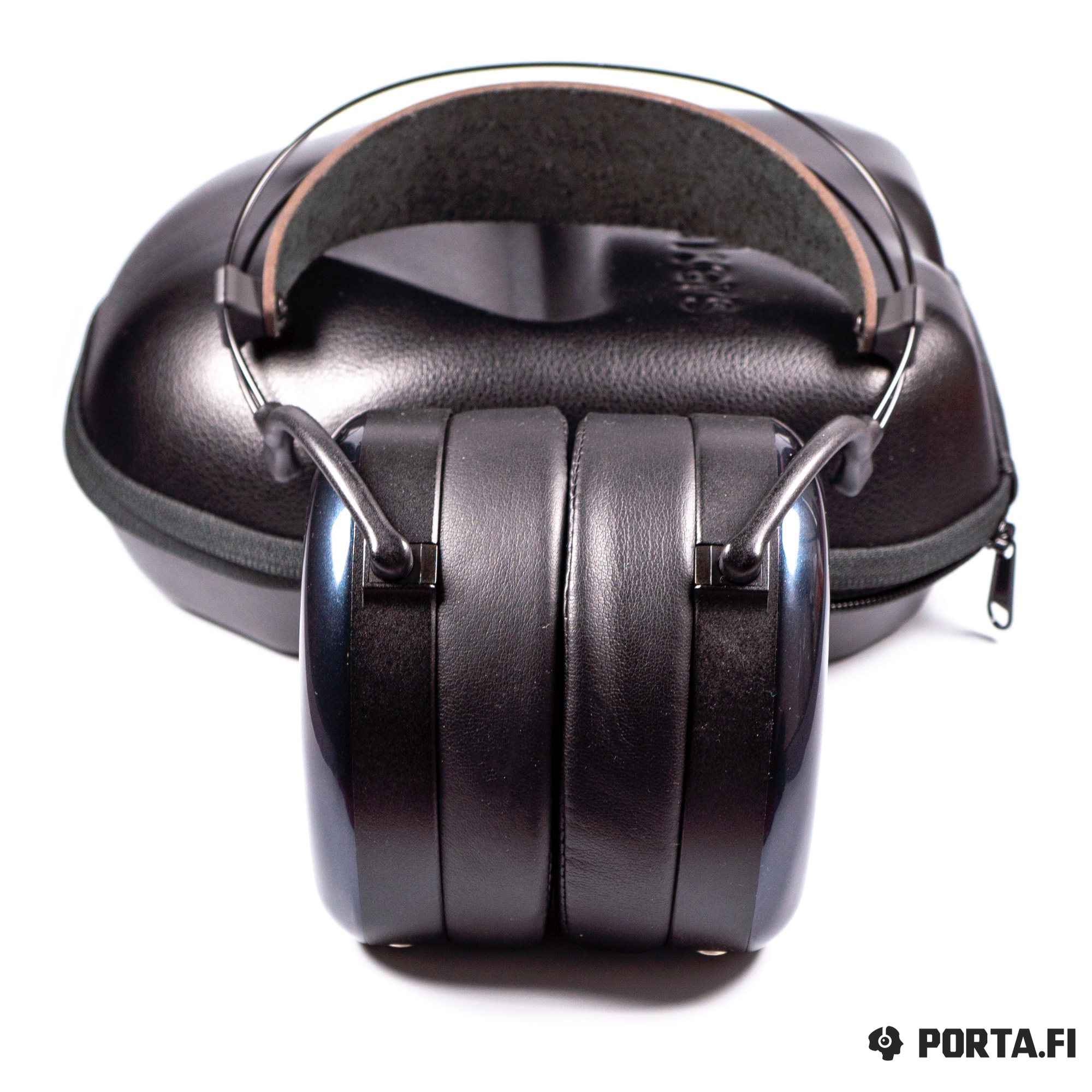 The earcup connection is one sided, probably to lessen the weight. The headband is made of two arcs of NiTinol (nickel titanium alloy), the headband cover is made of leather and can be moved to get the needed force.
Due to low weight and deep earpads, the headphones are very comfortable for long listening sessions. It is not hot inside them, but sometimes you will still need a break. The noise isolation is above average with much less isolation in open back model, but I can't say the isolation is totally lacking in them. However, open backs are surely not designed for open space or outdoor use.
The cable is detachable with unusual connectors – they just snap and you should just pull the ring on the jack to detach them. Despite the feature is non-standard, it is one of the best jacks that I have ever seen in headphones. You just have to act carefully in order to insert the connector at the right angle. The cable is rather usual and the company even underlines this, calling it DUM (or Distinctly Yn-Magical). It is not bad in exploitation but I have always thought about removing its isolation to decrease microphone effect.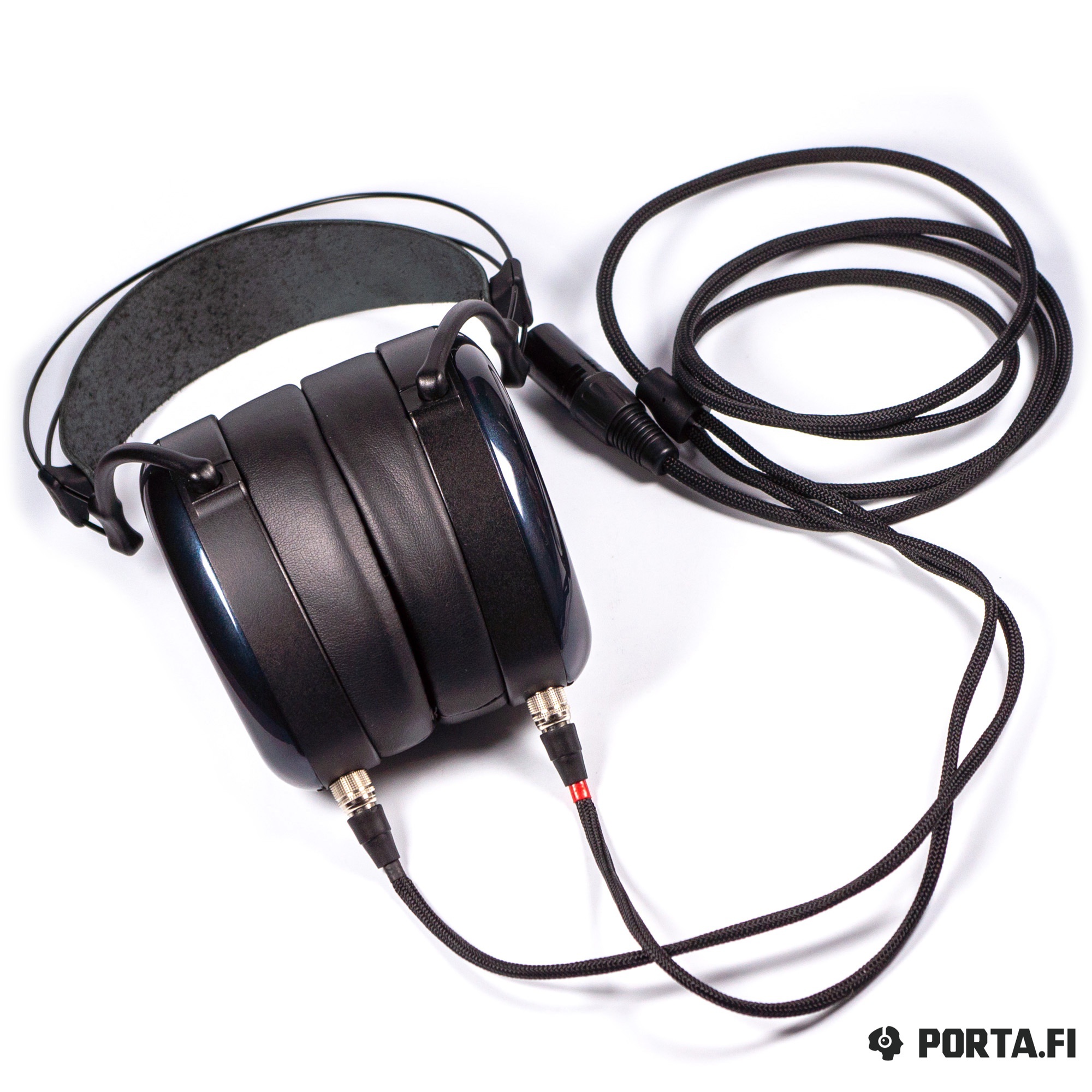 The build quality is good, it is a case when constructive approach goes well along aesthetics and comfort.
Sound
I have used the following equipment for critical listening.
Yulong DA10 and Resonessence Labs Concero HP as DAC and amplifier
Apple MacBook Pro Retina 2016 as source
Audirvana+ as a player
Lotoo Paw Gold Touch, theBit OPUS#2, Astell&Kern A&ultima SP1000 and others as portable players
Hi-res recordings in Lossless-formats (Dr. Chesky The Ultimate Headphone Demonstration Disc and others)
Both models have come to me after burn-in period so I cannot analyze the changes.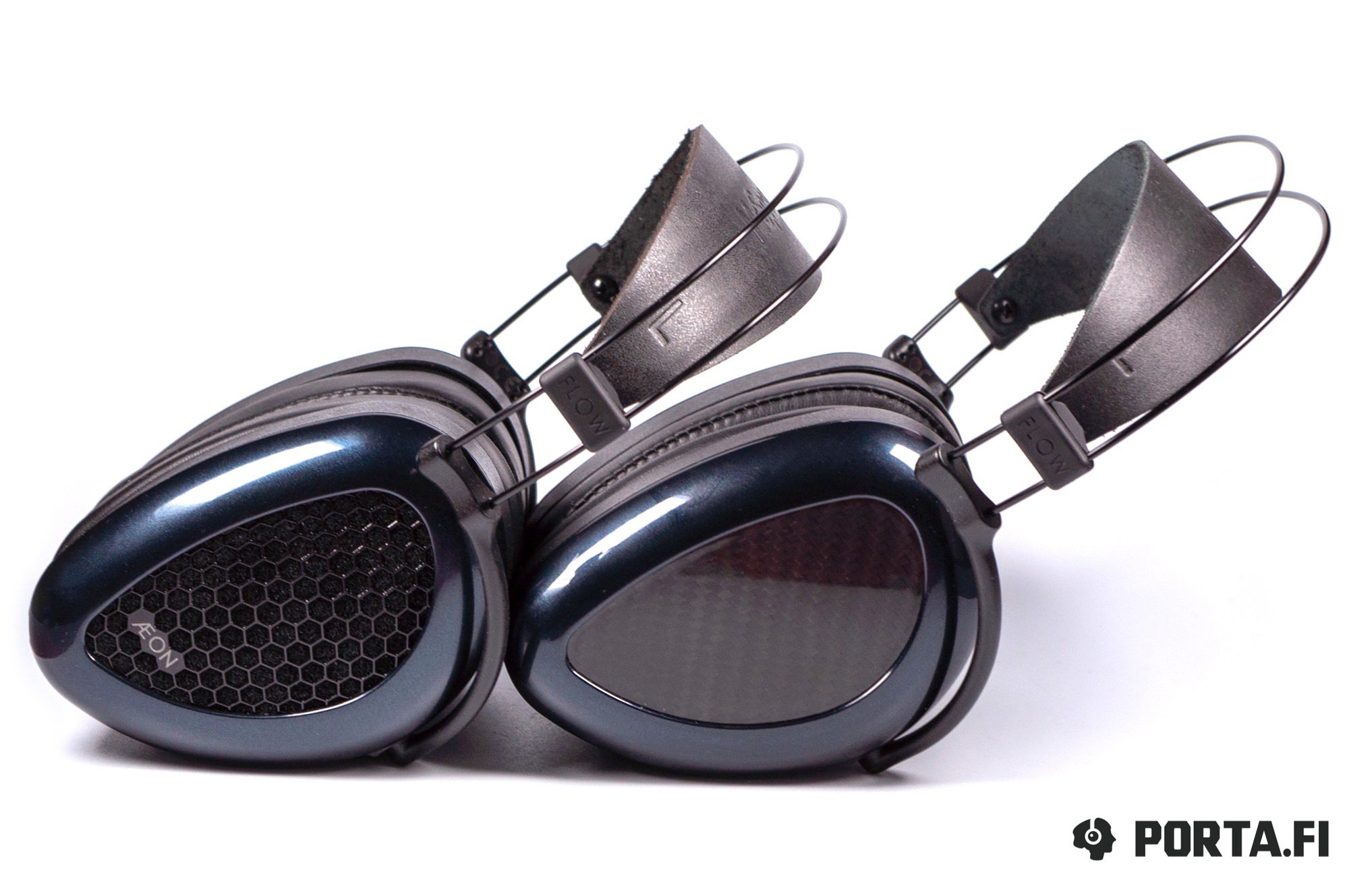 If I have managed to listen to both variants of the headphones in a blind test and determine which one is closed back and which one is open back, I would have most likely failed. The peculiarity of those models is that closed backs have more neutral and monitor sound and open backs accentuate lows and have more loose highs. This is how the stereotypes are broken. Both open and close versions may be tuned with stock pads but I have decided to choose the default variant for critical listening.
The lows in closed backs are almost linear, the model is not suited for those who love enhanced bass. As most of technical isodynamic headphones, they will show the exact amount of bass present in the recording. The bass is technical, deep with good control and textures. Of course it is thick and has a good slam, if those characteristics are recorded.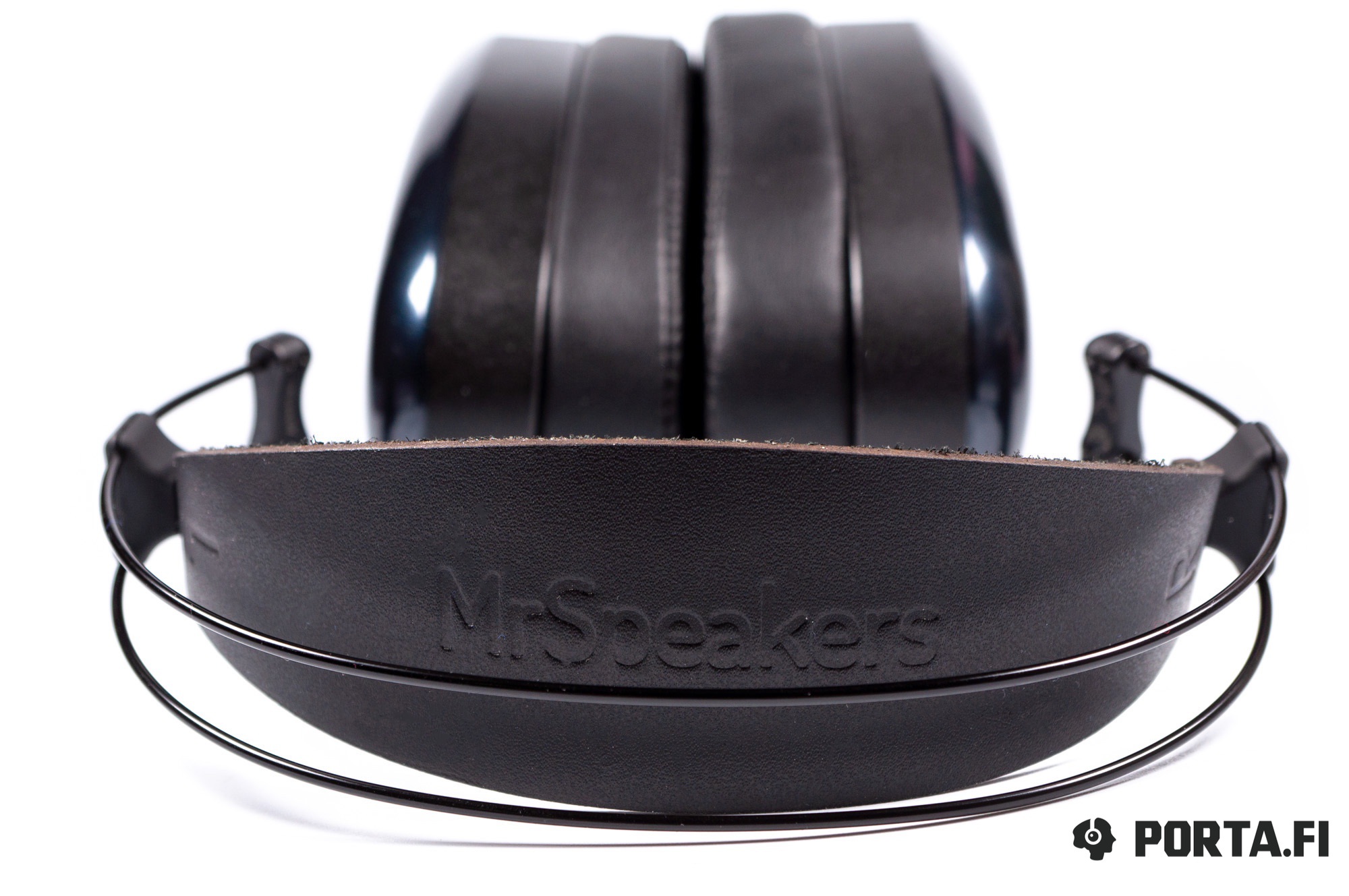 The open back slightly accentuate middle and upper bass bringing more weight. In terms of bass quantity both variants are equal but they are more noticeable in open back variant. As a result open Aeons sound a little darker, but the difference is not that striking. Upon the whole the bass of open backs has almost the same resolution and speed.
The mids of the closed backs are concentrated on microcontrast, however it is not the level detail of armature type. Nevertheless headphones are ones of the most detailed close backs that I remember. Of course the mids are neutral and lack any color – they will play the exact material from the recording. Of course it brings some requirements to the quality of source and recording, but it is well understood – people buy such headphones for good quality recordings. The headphones slightly accentuate upper mids and lower highs, so the female vocals has more sparkle and I consider it to be advantage. The soundstage is one of the best for closed backs, but of course it is less than the best examples of open backs. However, separation, layering and instrument positioning are very good.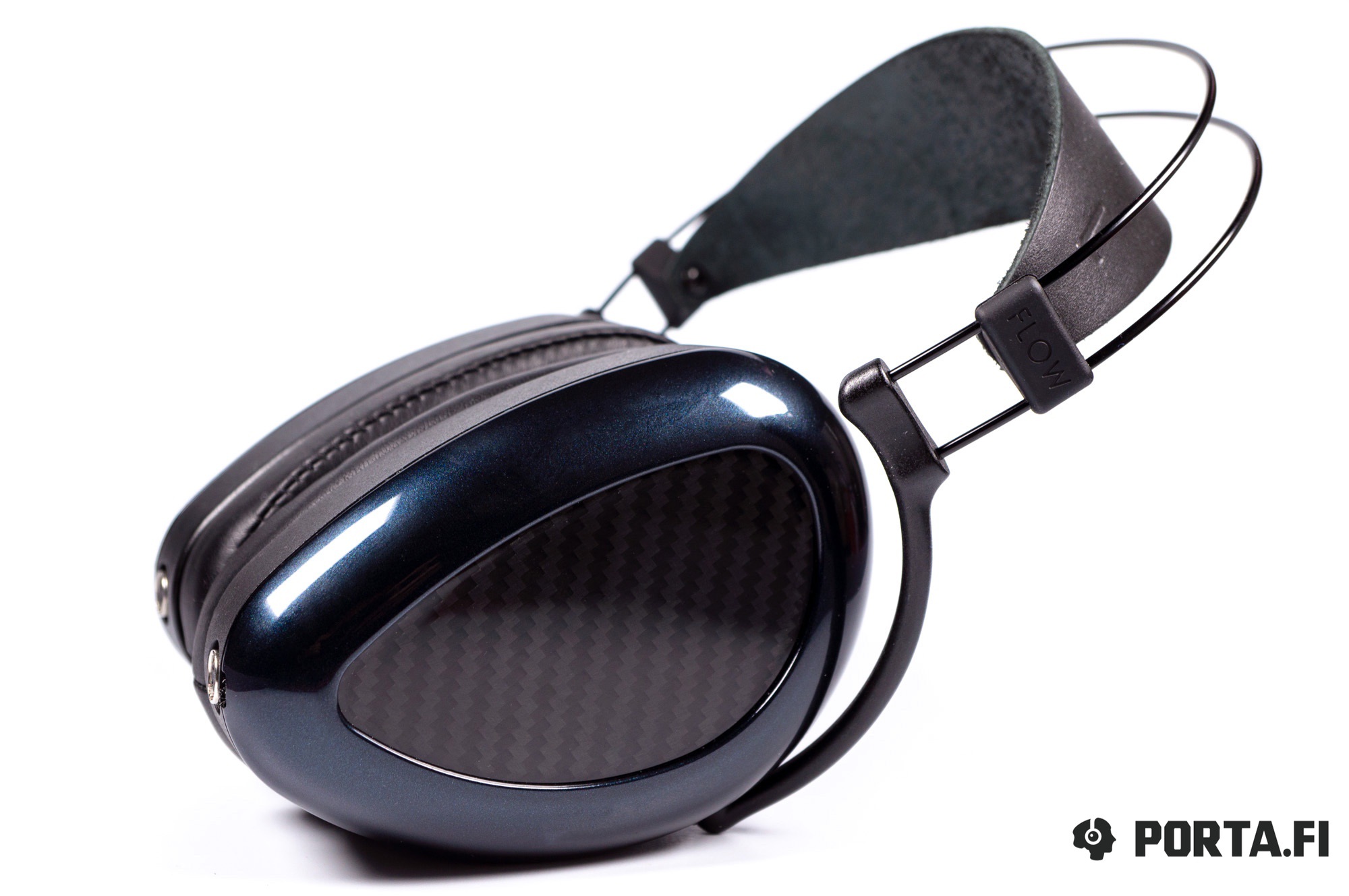 The mids of the open backs are somewhat drawn back. Or, to be more precise, they are less accentuated in comparison to bass and upon the whole the mids are very close to the closed backs but because of the accent on lows they sound more weighty and less going to micro contrast. The headphones are more emotional and their own character is more noticeable, while they are not so critical for the recording quality. However, I repeat, the difference is not that striking. The soundstage is somewhat bigger in the closed backs (especially in terms of depth) but not at the level of Aeon senior models.
In terms of highs both models have good resolution and natural attacks and decays, with closed backs having more accent on highs and open backs offering more length. Due to accents the highs of the closed backs draw more attention and bring more expression to their lower part. They also make the sound more saturated. At the same time the increased length of highs in open back variant allows to better transmit complex instruments in terms of timbre. Of course the highs can be laid back by pads, but for those who do not like light presentation the difference in highs should be seriously considered.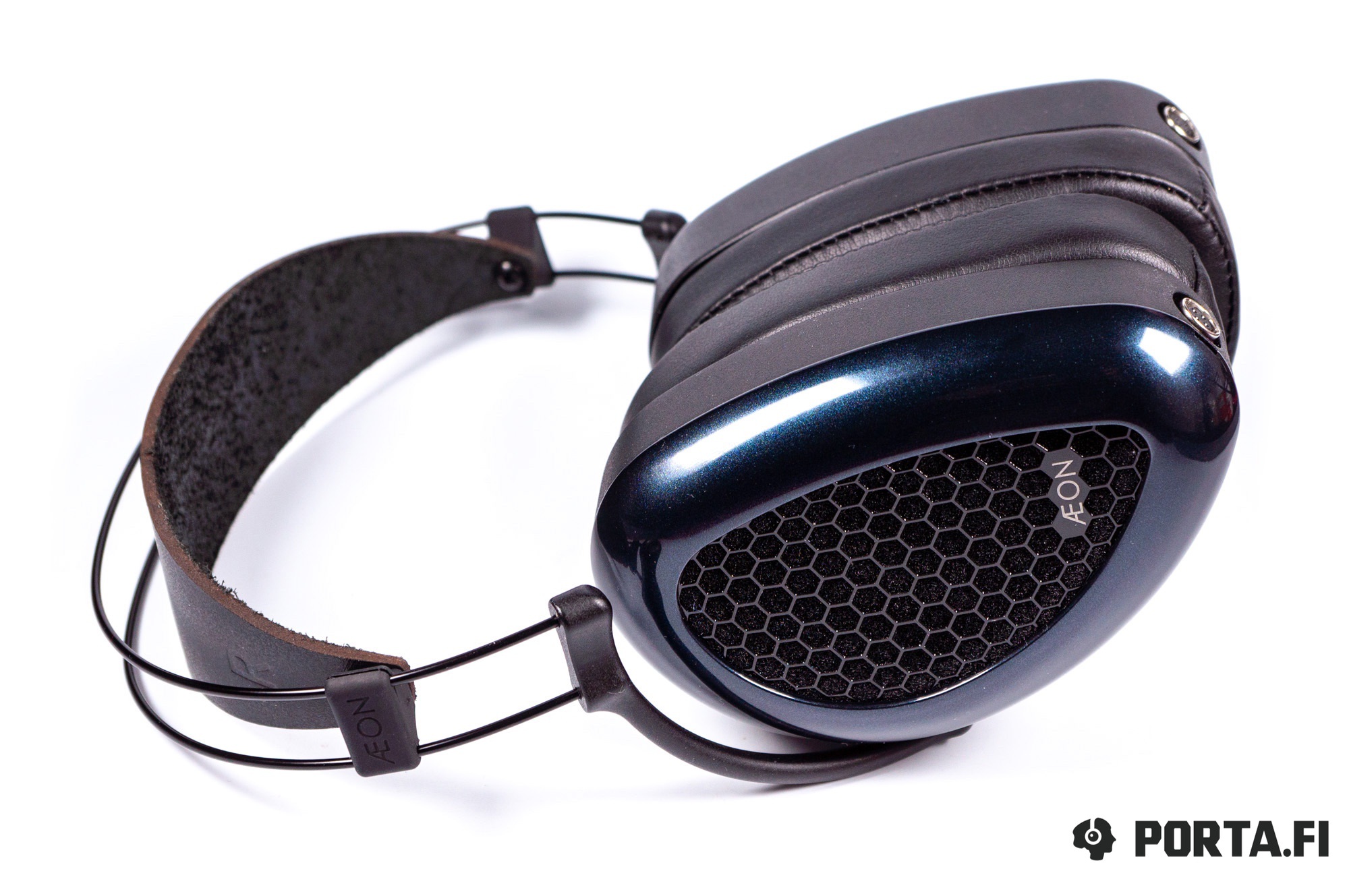 I will not do any comparisons this time as I don't have over the ear headphones within this price category, while the top segment is of course better, so such comparisons will not be fair.
Compatibility
The two variants are quite hard to drive due to low impedance and low sensitivity. Of course QLS 361 will be okay here but not all players are so good in terms of amplification. It is natural that engineers have made this model for a good stationary system.
In terms of style both Aeon variants are universal. The existence of additional pads allows to fine tune the sound. The headphones are average in terms of recording quality requirements – 7 out of 10 for open backs and 8 out of 10 for closed backs.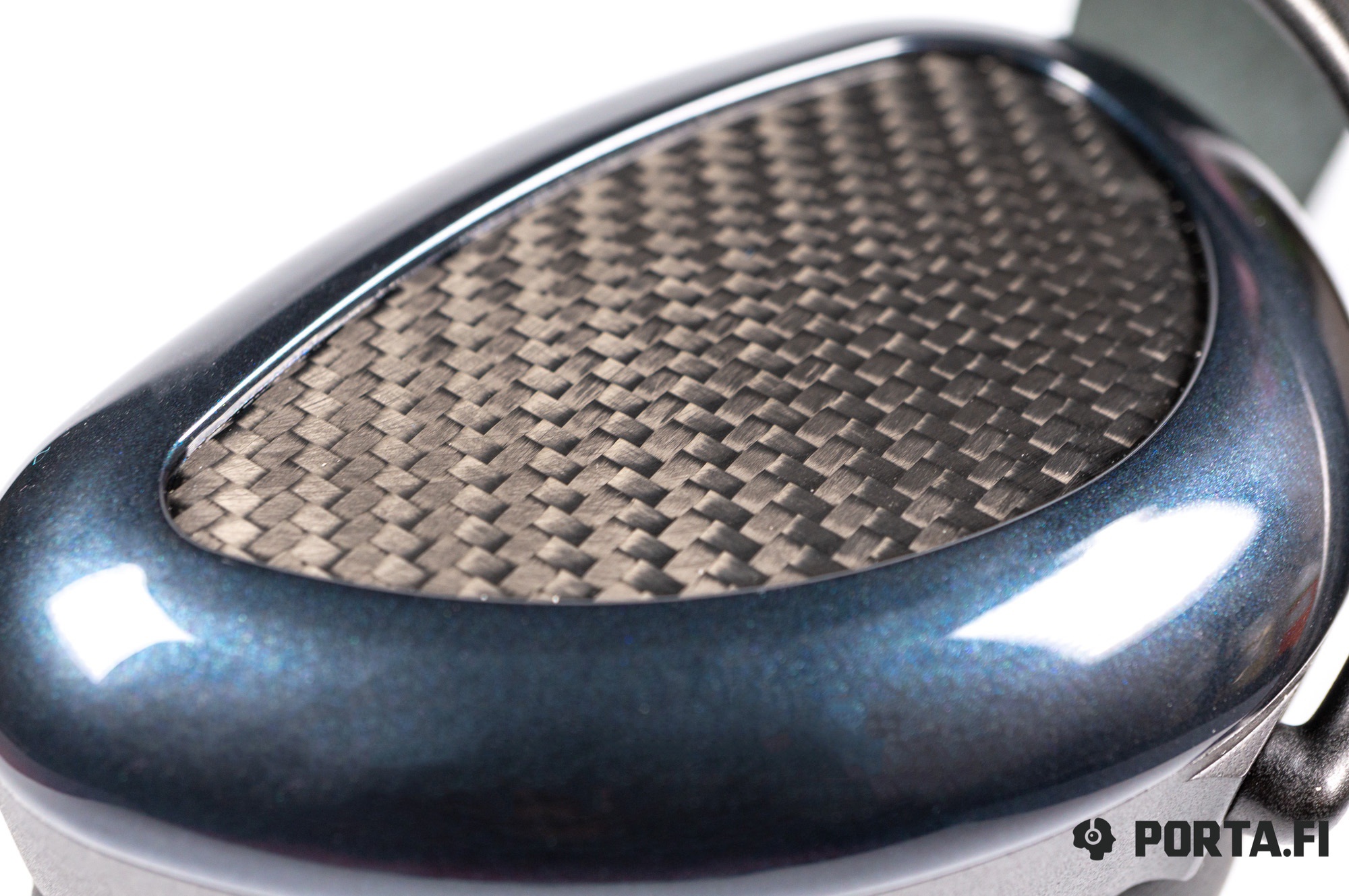 Several example tracks
As long as I have two headphones in review, I will somewhat merge their characteristics. Just take into the account that the difference between these models is noticeable, but not great and they both have a house sound.
Peter Gabriel, The Worldbeaters — This is Party Man A fresh Peter Gabriel single, recorded in collaboration with The Worldbeaters, sound exactly as expected – sustained form full of small nuances, sudden changes and peculiarities – 6+ minutes allow this, for sure. MrSpeakers show themselves at the top. Open backs offer more distinctive bass line, while closed backs are better in the keyboard part in the end of the composition.
Flying Steps — Urban Pictures IIBreak dancers from Berlin, street performers Os Gemeos from Brazil and the Mussorgsky music once met in the museum of the modern arts, building the immense show combining classics with avant-garde. The result has been the interesting album with reworked Pictures on the Exhibition. Of course I might have taken any track of it, but this one underlines the advantages of both Æon variants – outstanding bass and unusual orchestra insertions. I think you understand what is where.
Herlin Riley — Perpetual Optimism Let's conclude with the track bringing us what we lack. As it is known, if you have decided to become a virtuoso at the age of 6 or 7, you are late. Riley is a good example as he has been playing drums since 3. His album shows he has had great practice over the years. Of course, all accompanying band goes hand in hand with him, giving good job to reviewed headphones – contrabass, outstanding drums and percussion and complex keyboard passages.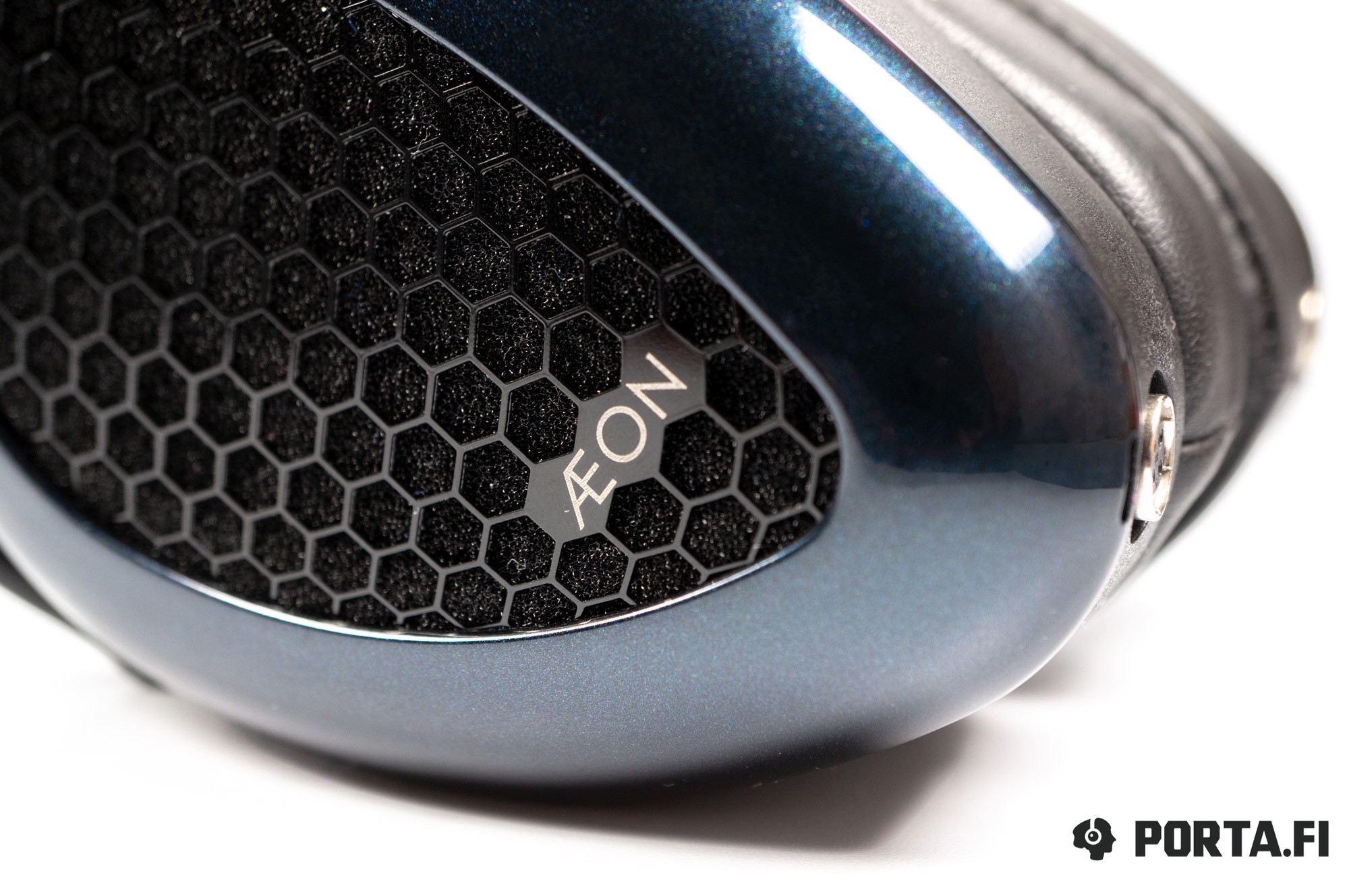 Conclusions
The engineers have been able to create a really interesting model. The technical presentation with good balance of neutrality and natural sound that is present in two acoustic forms with good price tag make these models a good choice for those who has a good stationary system and amplification to drive them.
Translated by: Vadim Kolchev