Mid-segment battle and consumers' money continues and HiBy jumps into this battle with their R5 DAP. Of course, the main reputation of the company is in software area, but the latest years have shown that they are successful in hardware as well.

Engineers have taken trusted Snapdragon 425 chipset and have created audio part with the help of CS43198 and combination of OPA1612 with ADP8397. Cirrus Logic DAC has proven potential for mid segment and becomes more and more popular. The device is compact and affordable in terms of price, costing around 400 USD.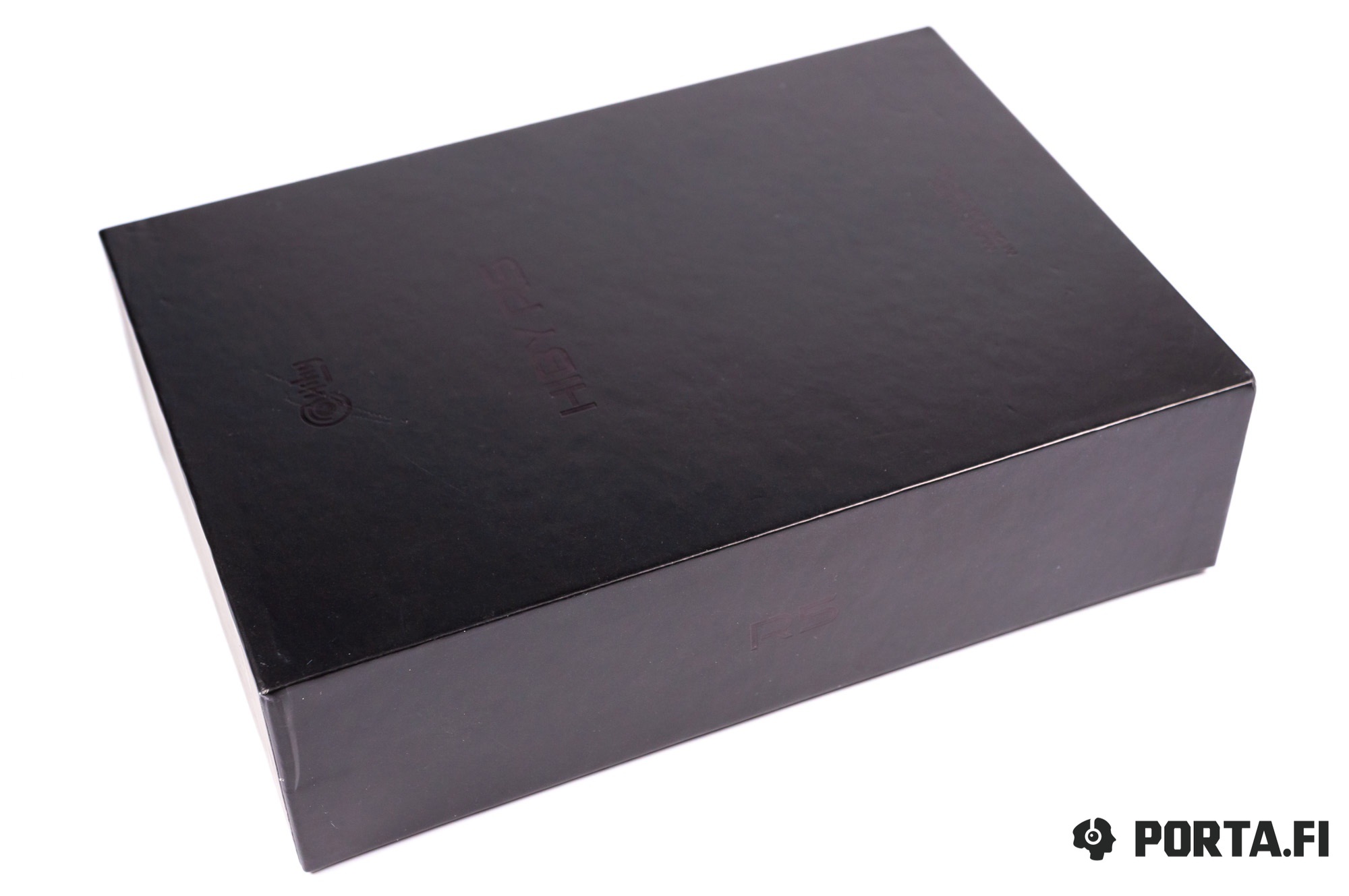 Specifications
Chipset: Snapdragon 425
DAC: 2 × CS43198
AMP: 2 × OPA1612 + 2 × ADP8397
Output power (@ 32Ω): 564 mWt per channel, balanced
Recommended impedance load: 16Ω ~ 300Ω
OS: Android 8.1
RAM: 2 Gb
ROM: 16 Gb
External memory: MicroSD
Wireless interfaces: WiFi 802.11n, Bluetooth 4.2
Bluetooth codecs: aptX, aptX HD, LDAC, HWA
Input: USB-C
Outputs: 3.5 mm PO/LO, 4.4 mm balanced
Screen: IPS, 4″, 540 × 1080, 16M colors
Dimensions: 108 mm × 61 mm × 16 mm
Weight: 160 g.
Battery: 3500 mAh
Charging time with Quick Charge: ~120 mins
Playback time: up to 18 hours single, up to 11 hours balanced
Format support: FLAC, WMA, WAV, ALAC, DSF, DSDIFF, MP3, OGG
Max supported resolution: 384 kHz/32 bits, native DSD 256
Accessories and packaging
As usual, HiBy is conservative in terms of packaging — black cardboard, minimal packaging, even no traditional dust cover, however, R6 Pro hasn't got any better presentation. Inside there is a player, silicone case, USB-C cable and couple of protective films.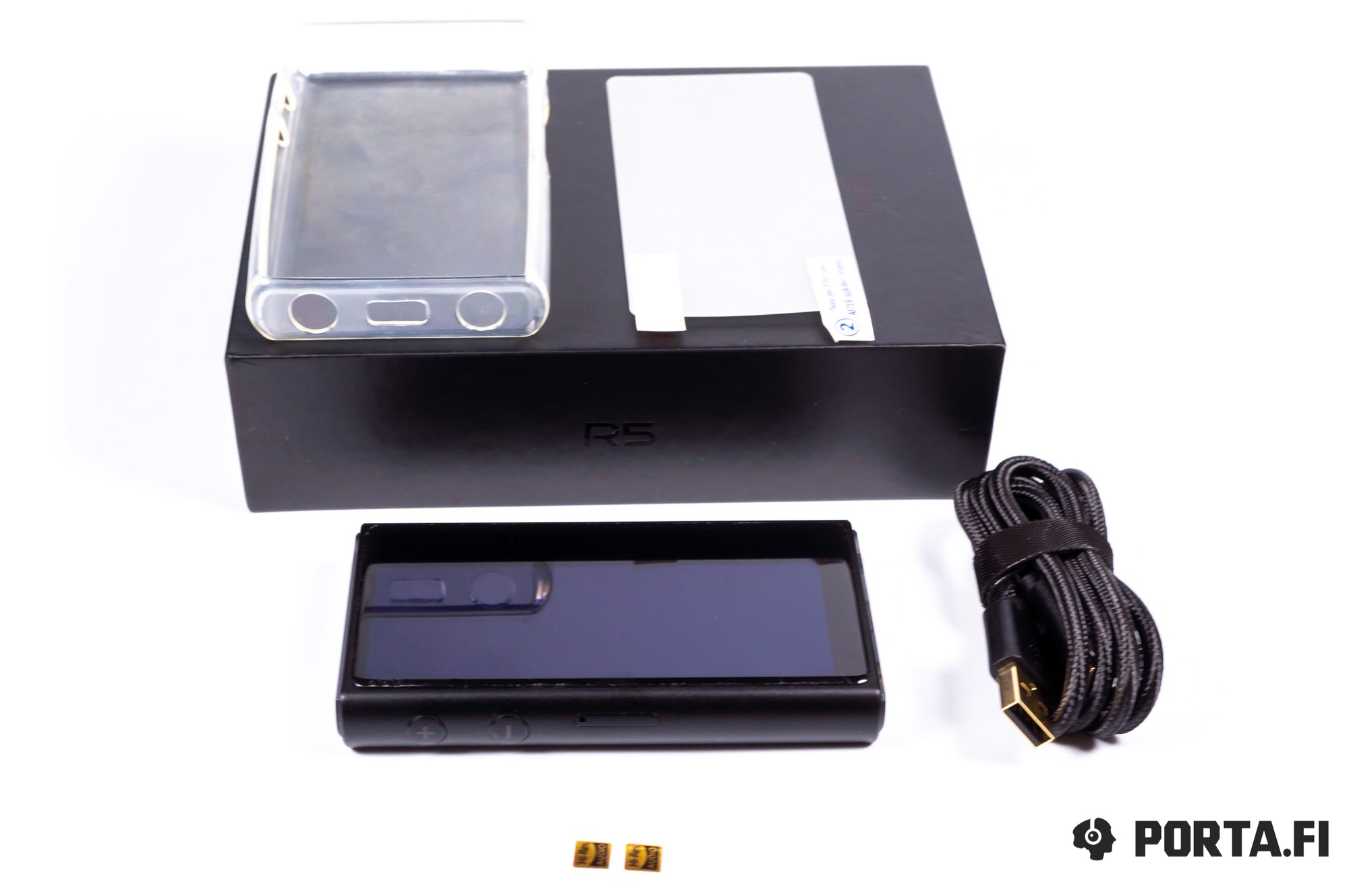 This time there are not usual screen protectors, but hydro gel ones. The protection is applied out of the box but is almost invisible, and I even tried to apply another one. So, do not apply anything by default and if you want to change already applied protector, consult with YouTube since some things are not obvious.
Design and controls
The appearance is quite simple, even R3 has had more interesting looks. R5, on the contrary, has simple and convenient design. The player is made of aluminum in the form of rectangle with rounded corners (will there be a steel version?). You can choose from black, golden and silver colors. Build quality is traditionally high, as well as ergonomics. The body is compact and light and convenient to use, all buttons are accessible.
As usual with HiBy all controls are made with buttons. On the left there are two volume keys and tray for MicroSD cards. R5 has 16 Gb of inner memory and only 10 Gb is available to user. There is a power button on the right with LED indicator and three traditional playback control buttons.On the bottom side there is USB-C input and audio outputs — 3.5mm and 4.4mm.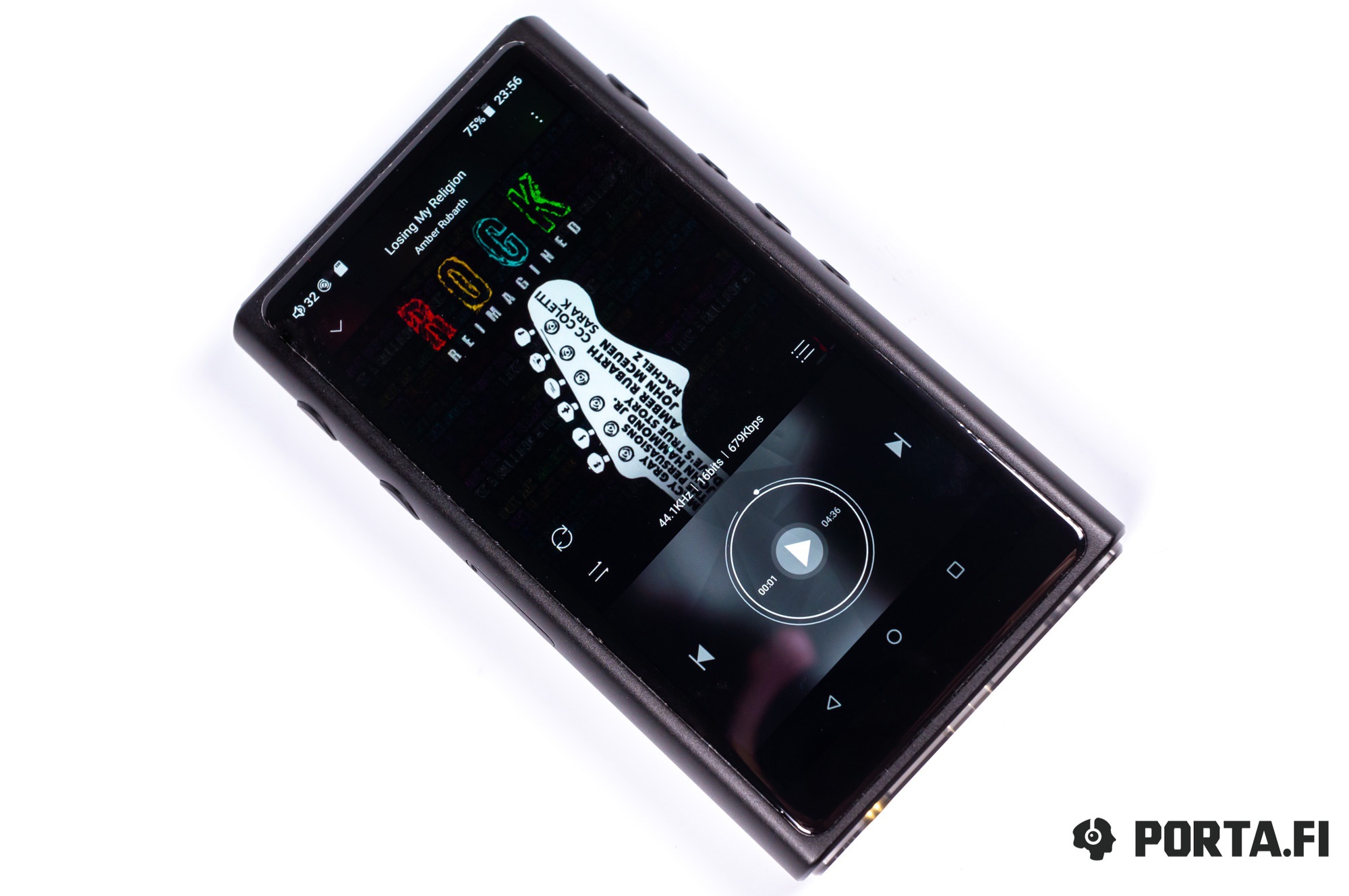 USB-C is traditionally universal — charging, access to memory, connection of external disks and DACs, using R5 as a DAC — everything is realized here. Despite small size and high power, the gadget lasts long from single charge — I have got 10 hours balanced and 15 single ended, but it all depends on load. Quick Charge is supported, so we can say R5 does great.
Back panel imitates glass and the front one is almost fully occupied by screen. It is rather compact but has good resolution, great viewing angles and brightness. It is not the most bright screen on the market, but it remains easy to read even on a sunny day.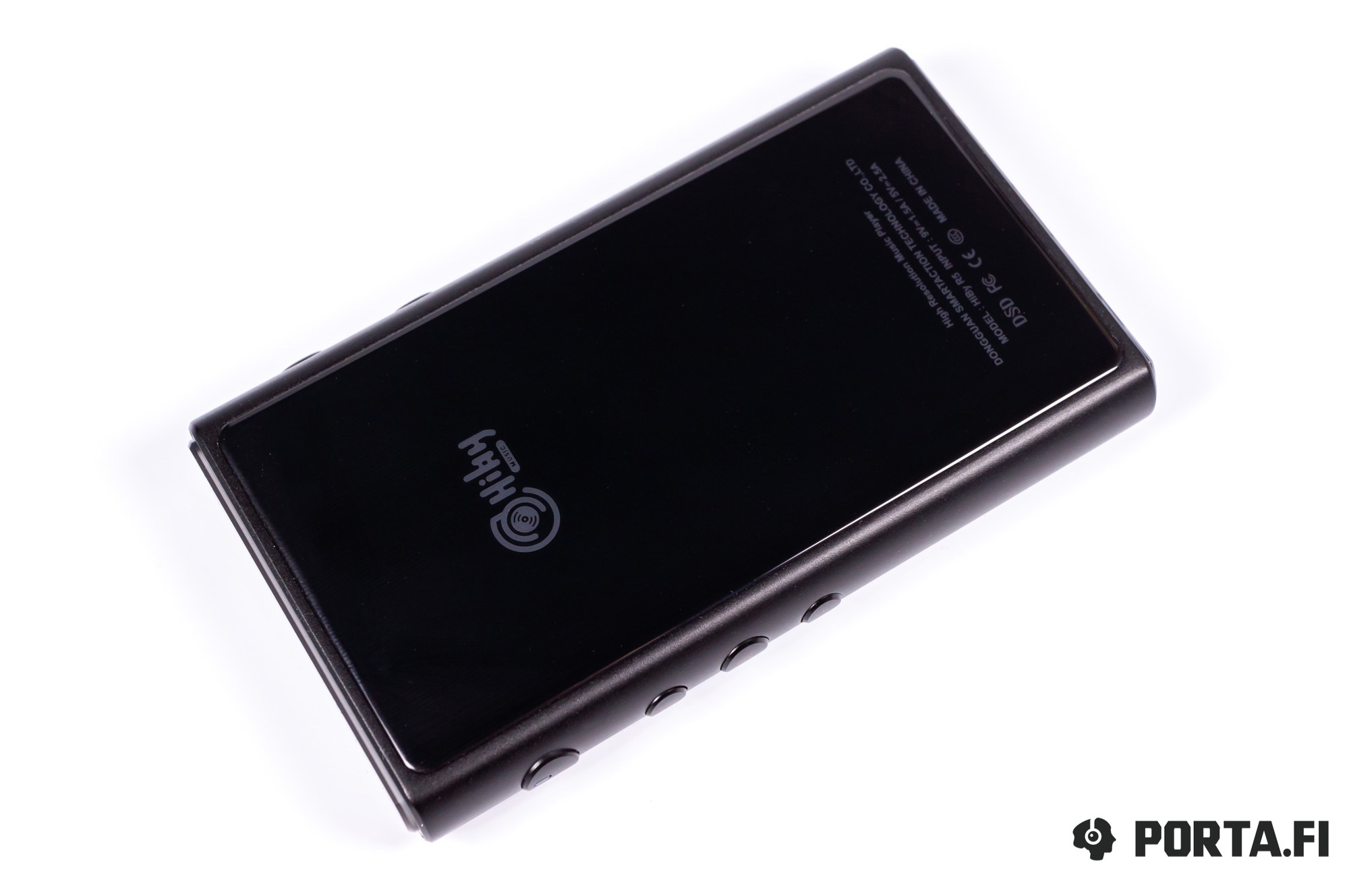 Firmware
No changes to traditional HiBy firmware, we've seen it all many times. There is Android with Google Services and Play Store onboard, complimented by addons from HiBy and their own player. There is DTA function allowing to avoid system resampling and MQA support. The preferences are more abundant now and contain audio options (filter, gain etc), choice of how buttons should behave with blocked screen. There is ability to update firmware over WiFi and two-way Bluetooth supporting hi-res codecs.
Traditionally HiBy Music is the heart of the firmware, and I think all of you have seen it, and if not, just download it onto any phone running iOS or Android. Those versions are a little different from what we get in R5, but in general they are the same. HiBy Music has all modern capabilities and HiBy inventions. I won't even speak about the presence of such things as replay gain and gapless — you've got it all, including brand features, such as HiBy Link and MSEB.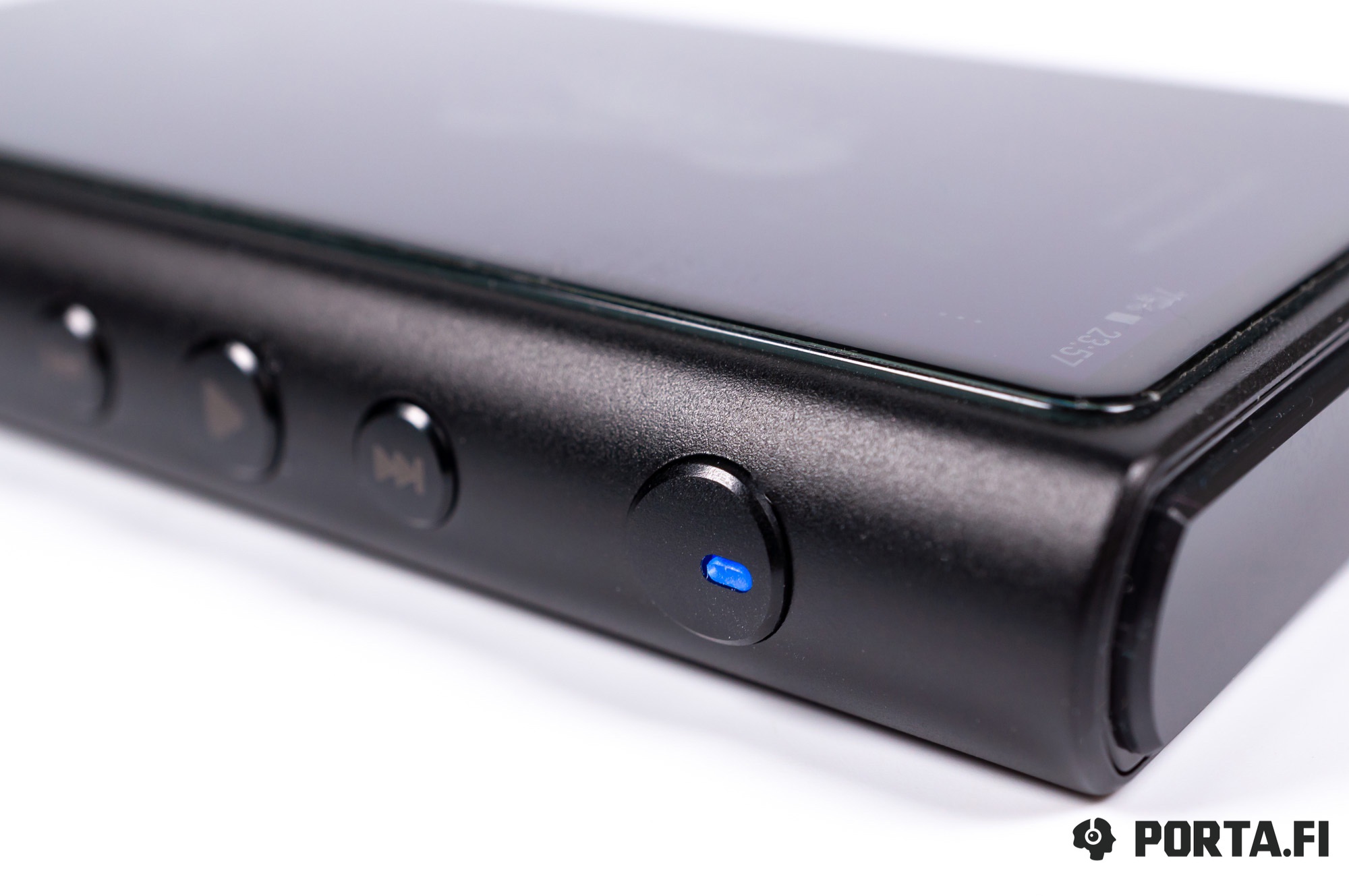 HiBy Link gives opportunity to control the player remotely from smartphone (or vice versa). Such feature is also supported by other manufacturers (Cayin, xDuoo etc), and it is rather useful.
MSEB is a brand equalizer that allows to change such parameters as "warmness of sound" or "springy bass". This all can be achieved by regular equalizer, but in a more complex way, so the feature is great for beginners.
Overall the firmware is rather stable, HiBy keep their code base strong and together with quick chipset it gives smooth and non-problematic work (although there may be some lags).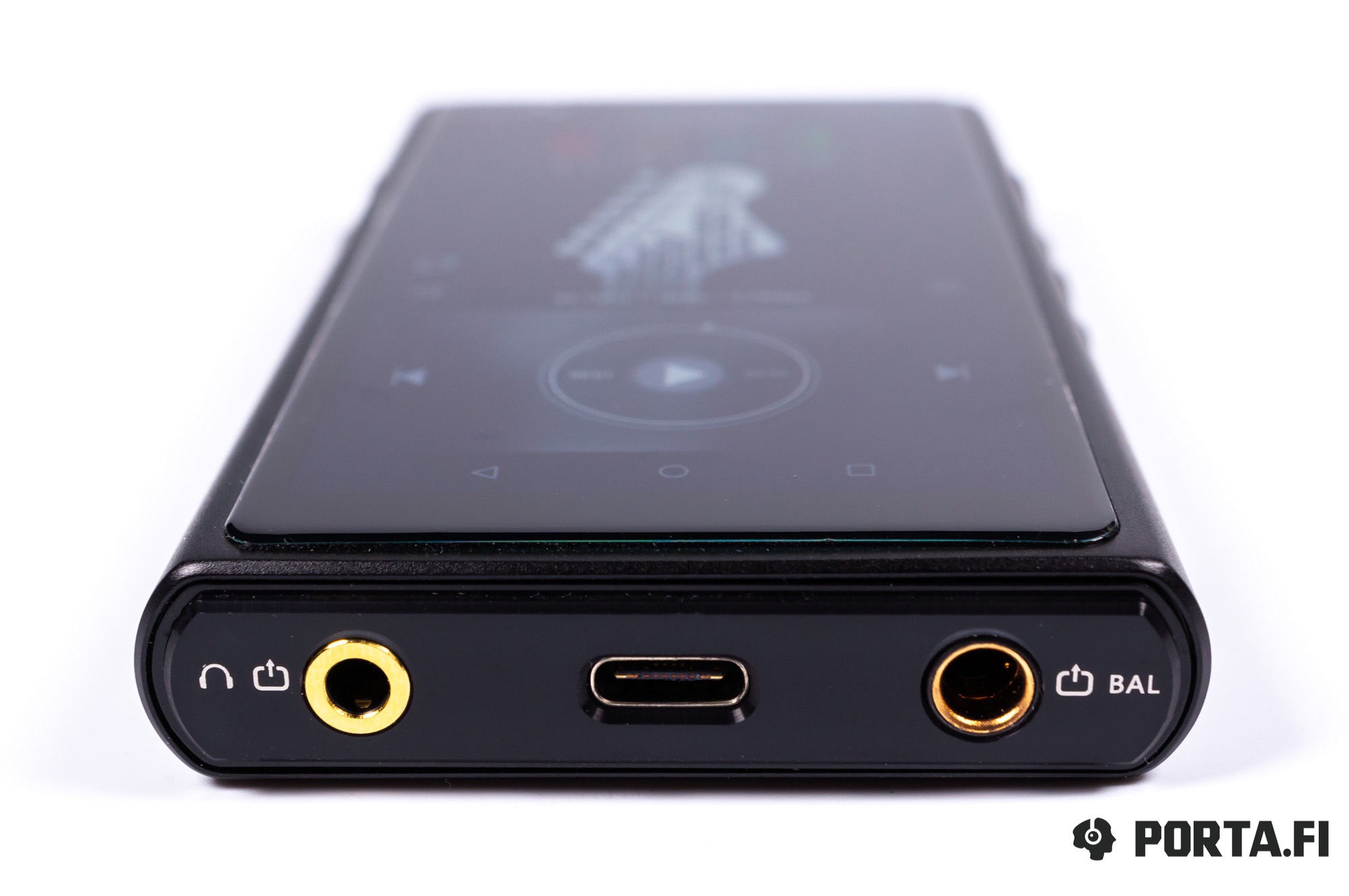 Sound
I have used the following headphones for listening purposes: iBasso IT04, Meze Empyrean, Kennerton Thror, Noble Audio Khan, Campfire Audio Andromeda and Solaris, Unique Melody Mason V3, HUM Pristine and others.
If before we might characterize HiBy sound as warm (to be more precise — not bright), R5 changes this. R5 has slight tendency to dark sound but not at the expense of the highs.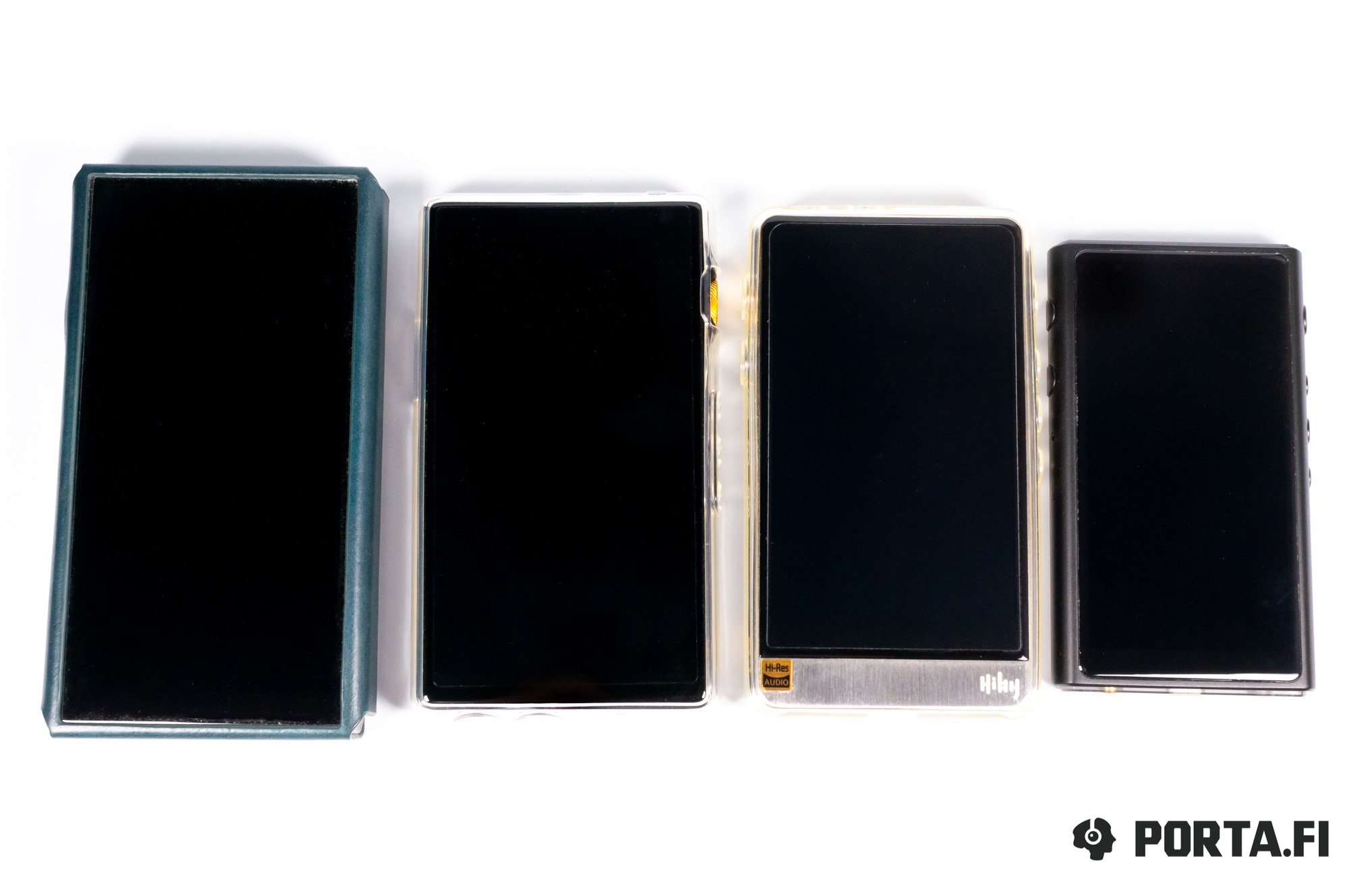 Lows have slight midbass accent achieved with additional weight. The most deep bass layers are present but are not such accentuated as midbass, so the midbass gets more attention, but still lows are full of details overall. The textures have good quality and sometimes adds additional weight to instruments of low and middle register.
The mids are made in a similar way, player does not go into micro details, but macro details are not accentuated as well and it has good balance between them. The mids have good, but not extra resolution. Additional weight is good for male vocals (and not so good with female), and it gives rather unusual soundstage — it is slightly more than average in width and at the same time is much more than average in depth with unusual forward vocals.
Highs are good from all sides. Of course they do not have such layering as in tops, but the highs are the best in HiBys history — length, attacks and decays, resolution, weight balance and quantity — everything looks good. Interesting that R6Pro has highs of better quality but because of diminished quantity they are in the back and are heard worse. R5 doesn't have such peculiarity and I love this changes to the tuning.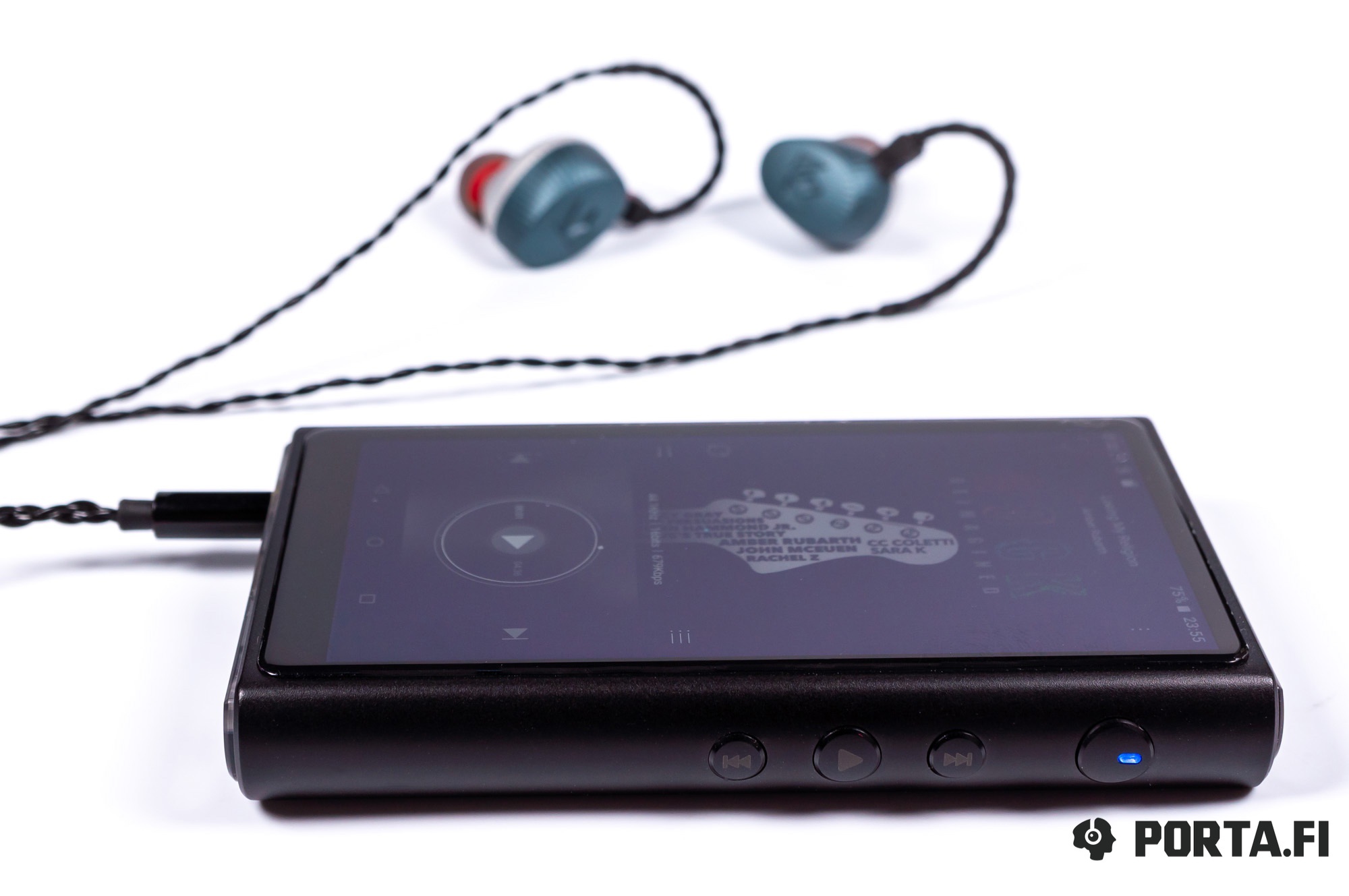 Comparison
Of course I cannot compare R5 to all the actual models on the market and will limit comparisons to several players in terms of sound.
HiBy R6 Pro The elder brother approaches dark presentation differently. It is more natural but at the same time is more punchy and detailed over all frequency range. However, instead of additional weight, as in R5, it just diminishes highs but they have better quality.
FiiO M11 FiiO player offers different presentation, it is more detailed ans sounds more dry and monitor-like, offering more micro details. It has more lengthy highs and appears to be brighter because of that.
iBasso DX160 In simple way, DX160 is something in between FiiO M11 and HiBy R5. It is more neutral with less weight than in R5 and is still more emotional and full of drive than M11.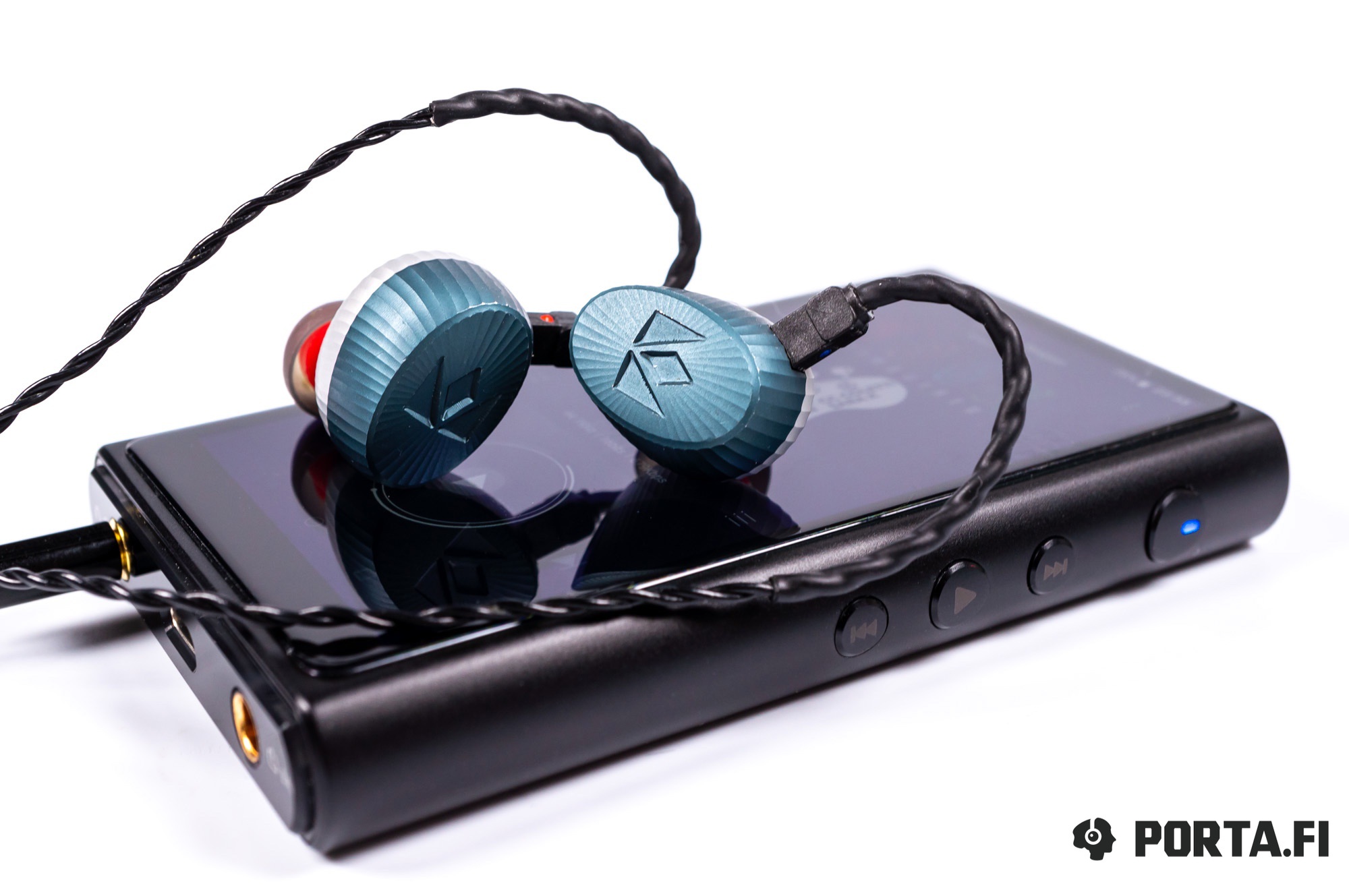 Compatibility
There is enough power in this player, especially from the balanced output. It should be enough from almost any headphone pair, except very tough-to-drives. R5 plays good with sensitive IEMs at the same time, offering almost no background noise.
In terms of style the device is universal, but the listener should like such presentation. The sensitivity to recording quality is above average — 6 out or 10.
Треки-примеры
Miles Davis — Maze Freshly released (recorded in 1985) Miles Davis album has already been an example in my reviews, but this time I will repeat this experience. Let us take Maze track played by R5 — striking guitar intro followed by percussion in the right channel that sounds very realistic. The main part of course includes trumpet and is offered with great presence effect.

https://tidal.com/track/114005801
Wilder Woods — Someday Soon You can at a glance understand that the name is non-existant and imaginary. Really, William Stanley Rinehart III sounds long and heavy. It does not prevent the musician from creating great music by mixing styles into dramatic canvas. R5 plays vocal and back vocal combination very well.

https://tidal.com/track/119248501
Foo Fighters — Sister Europe As I have written there are bands that you should get acquainted with, and Foo Fighters are one of those bands. The new album with complex numeric name is waiting its queue to be thoroughly listened to, but I will take one track from it as an example. HiBy R5 manages to make it vivid and bring emotions to monotonous intro. Overall R5 presentation suits the track well.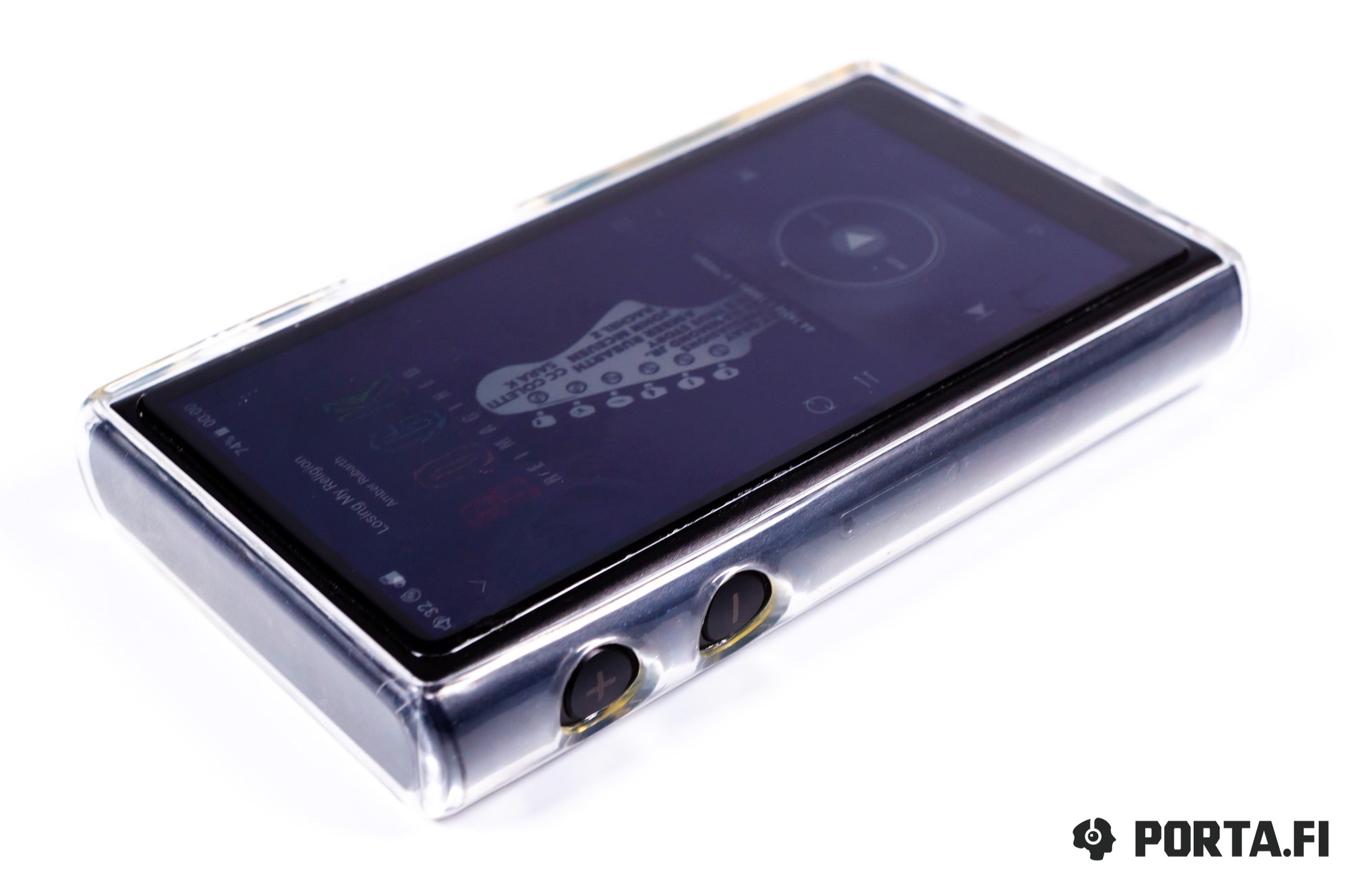 Conclusions
Striking that there is enough power for such strong output and long playback time that R5 demonstrates. When you add adequate price tag and good sound, you should understand why R5 gets so much attention recently.
Translated by: Vadim Kolchev