There are so many Chinese brands that produce IEMs, one can easily get lost.
Today we will speak about another interesting mode from new brand — CCZ Plume.
It has debuted not so long ago so the review can be considered hot (or at least warm). What is so interesting about this model?
First of all, it is made in the body resembling metal. It is colored in one of possible colors —gold. I still do not understand immense love of Chinese manufacturers to this color, but have to admit that they look rather good, as if really made of gold.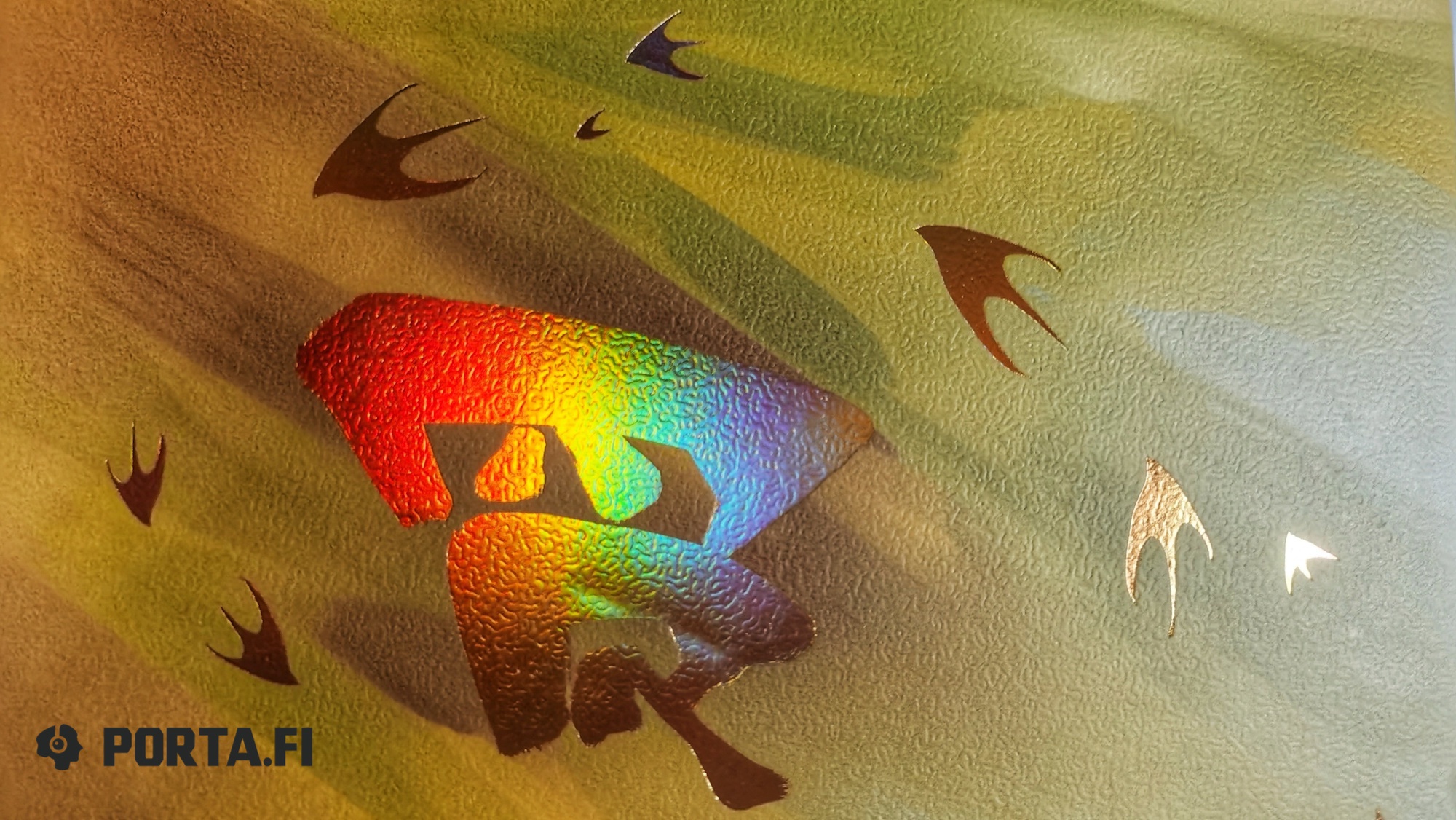 Inside the bodies there is a combination of 1 dynamic driver and 4 armature transducers. You can buy CCZ Plume for 200 USD.
Accessries and packaging
The headphones are supplied in rather large cardboard box. It sports a yellow dust cover with abstract pictures and hieroglyphs. To be precise, one. And it really means Plume.
On the side there is a company logo – the N letter or stylized lightning, probably the latter. On the back manufacturer confirms that the headphones are really made of metal and have that dynamic transducer together with four armature. And yes, I've got this information from here. Also there are some specs. 16 Ohm impedance with 110 dB of sensitivity that is good for a portable model.
Inside the dust cover there is a black cardboard box. It doesn't have any printing, but has peculiar color.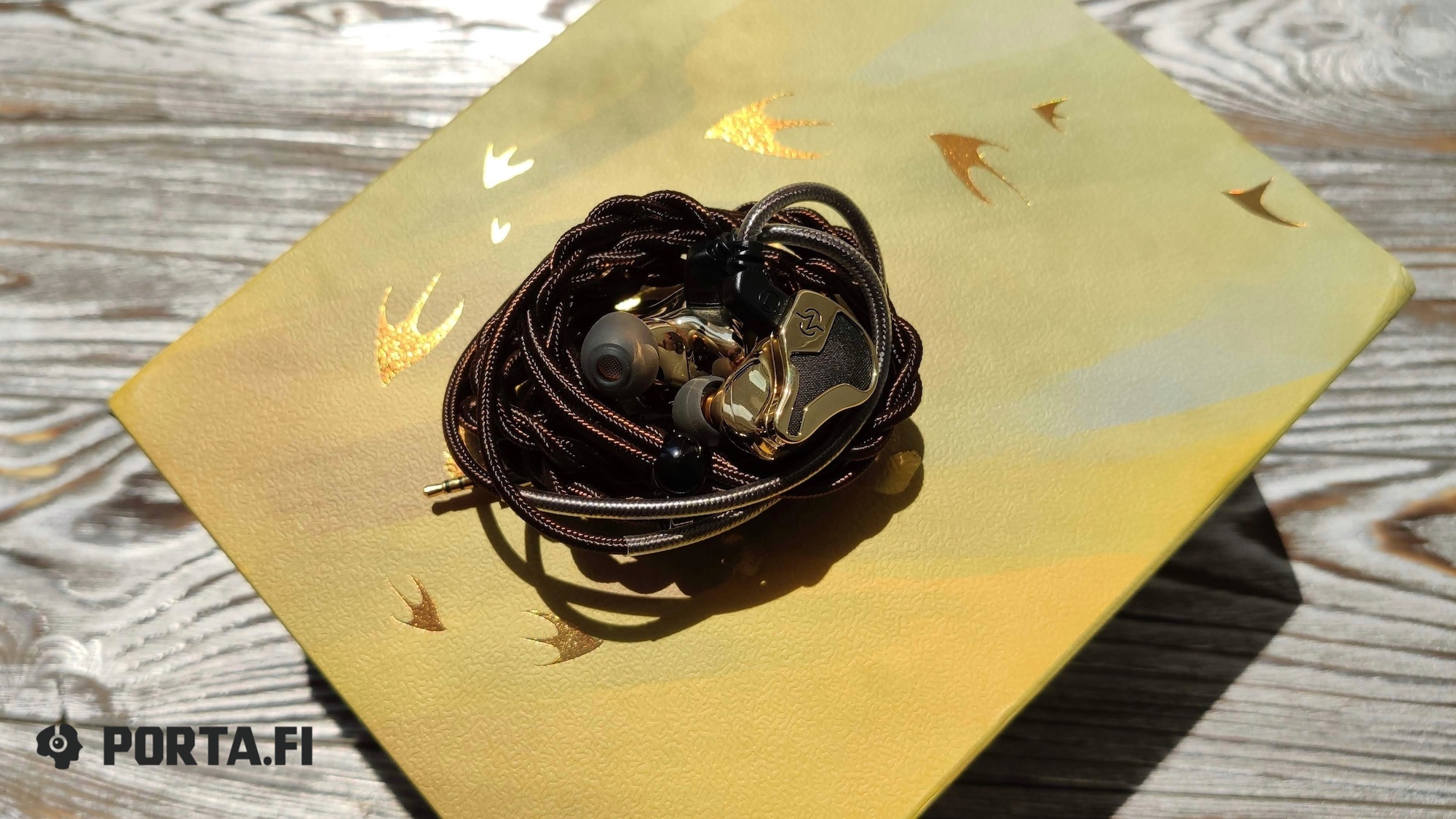 Inside under the magnet cover on a special polystyrene insertion there are headphones and tips. Right below there is a second compartment where we will find a special box with accessories and a pouch. Accessories are comprised by cable and very large brush (really brush, since I've never encountered cleaning tool that big).
Don't find the accessories lacking though, since all the rest are inside the pouch — namely, micro fibre cloth, bag of tips of two sizes (the third is pre-applied to headphones) and couple of adapters to 3.5 and 4.4, as well as some paperwork. Not scarse. Useful pouch, 3 pairs of simple silicone tips and 5 pairs ("KbEar") of less simple silicone tips with more stiff and thick colored channel.
The case is quite regular, but is well made with magnet clamp. It is made of brown leatherette with micro fiber inside. It's not large but comfortably guards the IEMs and fits the pocket well — what else can you desire? Design? It's good as well and fits both with headphones and cable.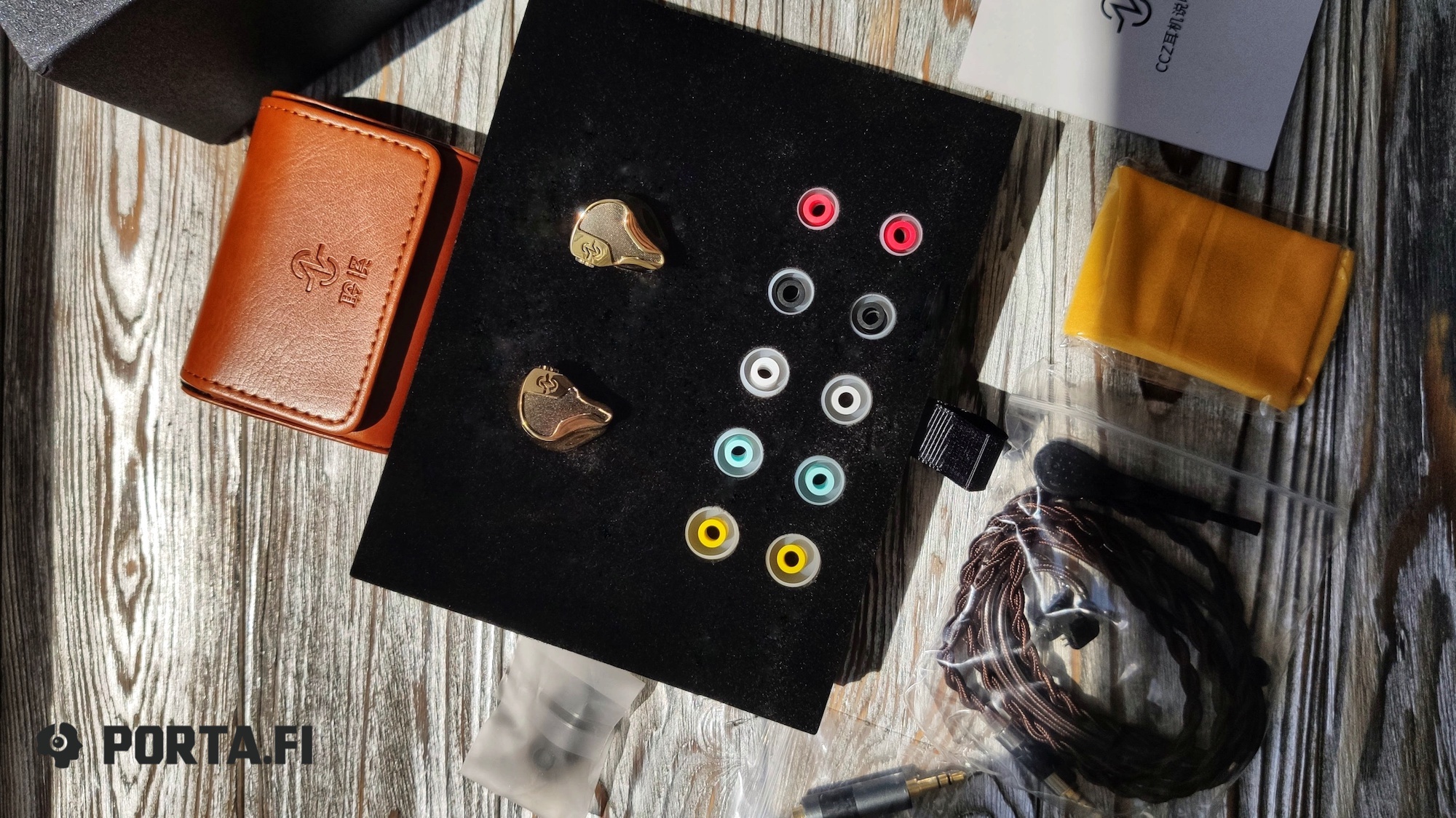 Cable
Cable is well made. It has a stylish fabric brown cover without any special braiding. The conductor diameter is not too large with two cores after the split to each ear piece and all of them braided spirally before the split. There are pre-formed ear hooks.
Connectors have good quality, everything is made of metal. Jack is straight 2.5mm. There are adaptors to 3.5 and 4.4 that are straight as well so you get quite a lever, but still usable. There is a slider in the shape of bead that limits length well and doesn't fall downside by default. It is made of single crystal OFC of high purity.
Connectors are 2-pin angled and they are slightly non-usual, a little bit projected. Of course the cable is created to match them but if you are in for cable rolling it may have just not precise fit but will work nevertheless.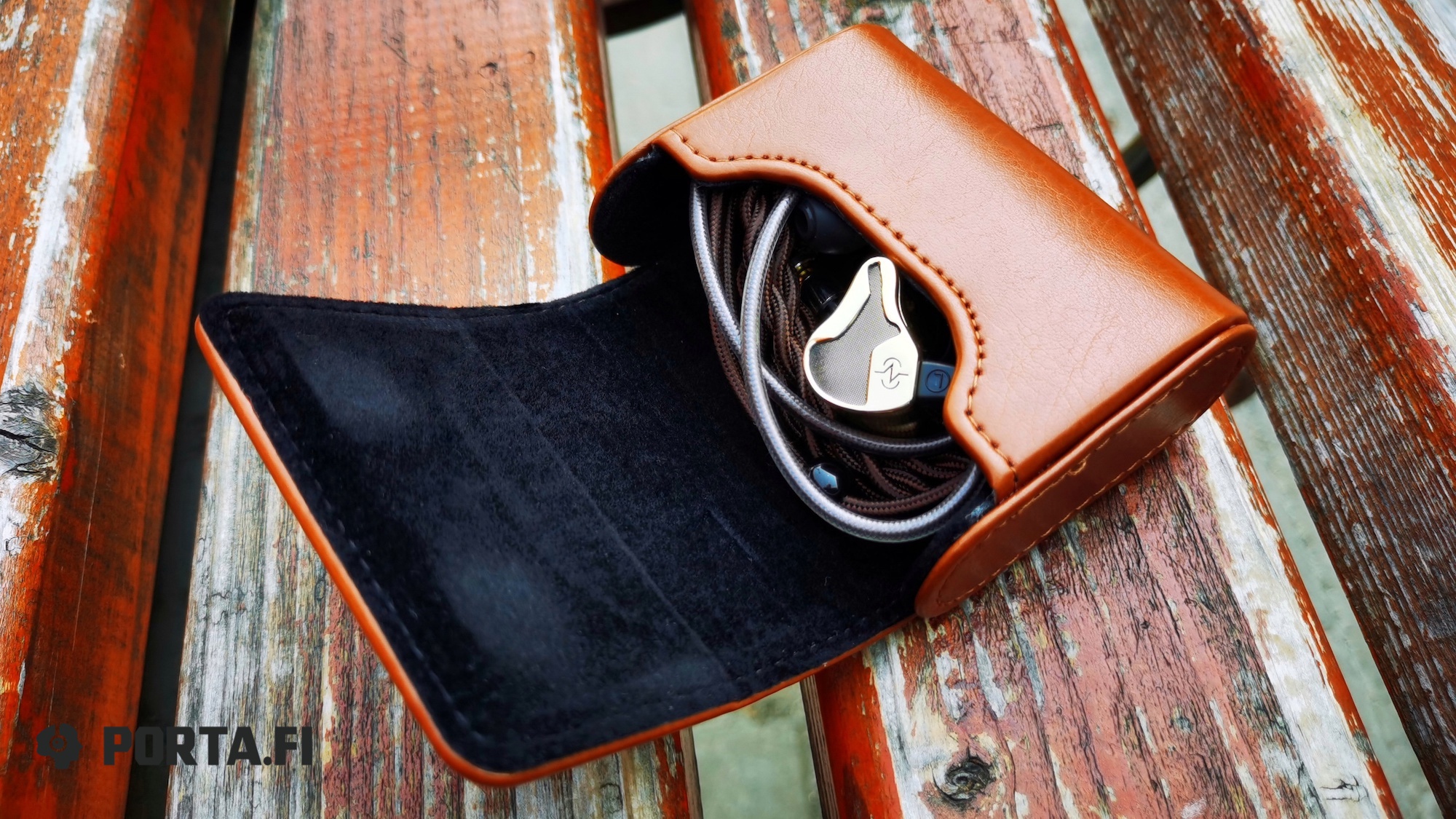 Stock cable is not bad in terms of appearance and ergonomically so I don't advise to do any cable rolling at all if there are no obvious reasons for that.
Design and comfort
In terms of appearance these IEMs are what is called universal version of customs. The bodies are not whole, so some charm goes away because of that. They consist from three parts — nozzle, base and faceplate. Because of high precision the joints, although visible, provide certain charm. They remind me of the back part of classic auto models with special curves and carved luggage compartment.
IEMs are on the large side. The part that goes to nozzle has traditionally some narrowing. This brings additional comfort. From the inner side the body reminds of iBasso IT03. The same projection in the upper part and curvy shapes. Of course the faceplate materials are different.
Faceplates, by the way, deserve a separate conversation. It has metal base with inserted grill. Of course the model hasn't become open and it is not used to mask the compensating projections for dynamic driver. Technologically it could be done by using the joints of the bodies. But they are present on the inner side of the bodies, probably the engineers have considered it right. So the grill is just a designer solution, but it looks really good, the headphones have exactly their own style.
Since they are made of metal, the weight is significant. Not overly abundant, but it is noticeable. For some, however, it may be really pleasant.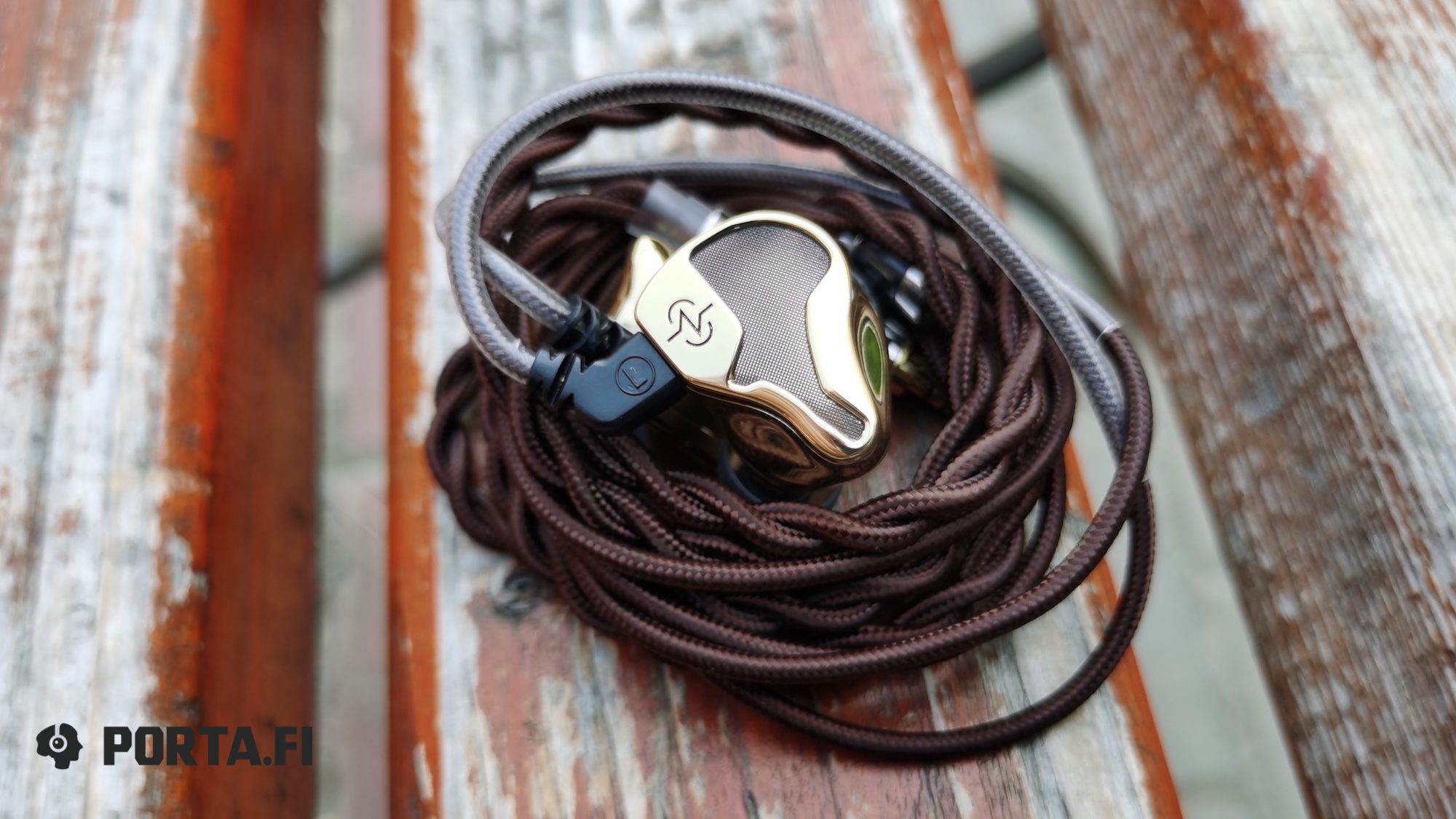 I can also note not bad comfort, however not ideal. Not depending on tips, the headphones have had good fit for me, but after an hour or so there has been fatigue because of the pressure of bodies on ears. And it's not the size, it's the shape to blame. I, however, haven't seen any other complaints so probably it's just me.
It's not hard to choose correct tips. For me couple of stock ones have worked perfectly well, so I haven't had any need in trying another one. This means that the buyer has everything to make usage comfortable without thinking of changes.
The fit is average. Nozzles are of standard width and have projections to hold tips. It has grill on top of it, everything as intended. The angle is correct and there is not need for deep insertion. The sound isolation is average but depends on tips.
Sound
The sound signature is non-typical for hybride IEMs, they have rather flat tuning. This doesn't mean they are lifeless and overly dry, but rather that they don't have too strong accents. Of course the sound depends on tips but not overly so. Stock grey tips give more neutral and dry presentation. KbEar add warmth and body but not to the extent of speaking about notable accents.
The edges of frequency range are a little bit accentuated, but everything here works for mids that really shine. Edges have quantity accents, but mids shine because of slight additional warmth and soundstage. Vocals and soloists are moved forward but without ruining the frequency range. You cannot call headphones colored or too emotional. They are rather not dry and not dull.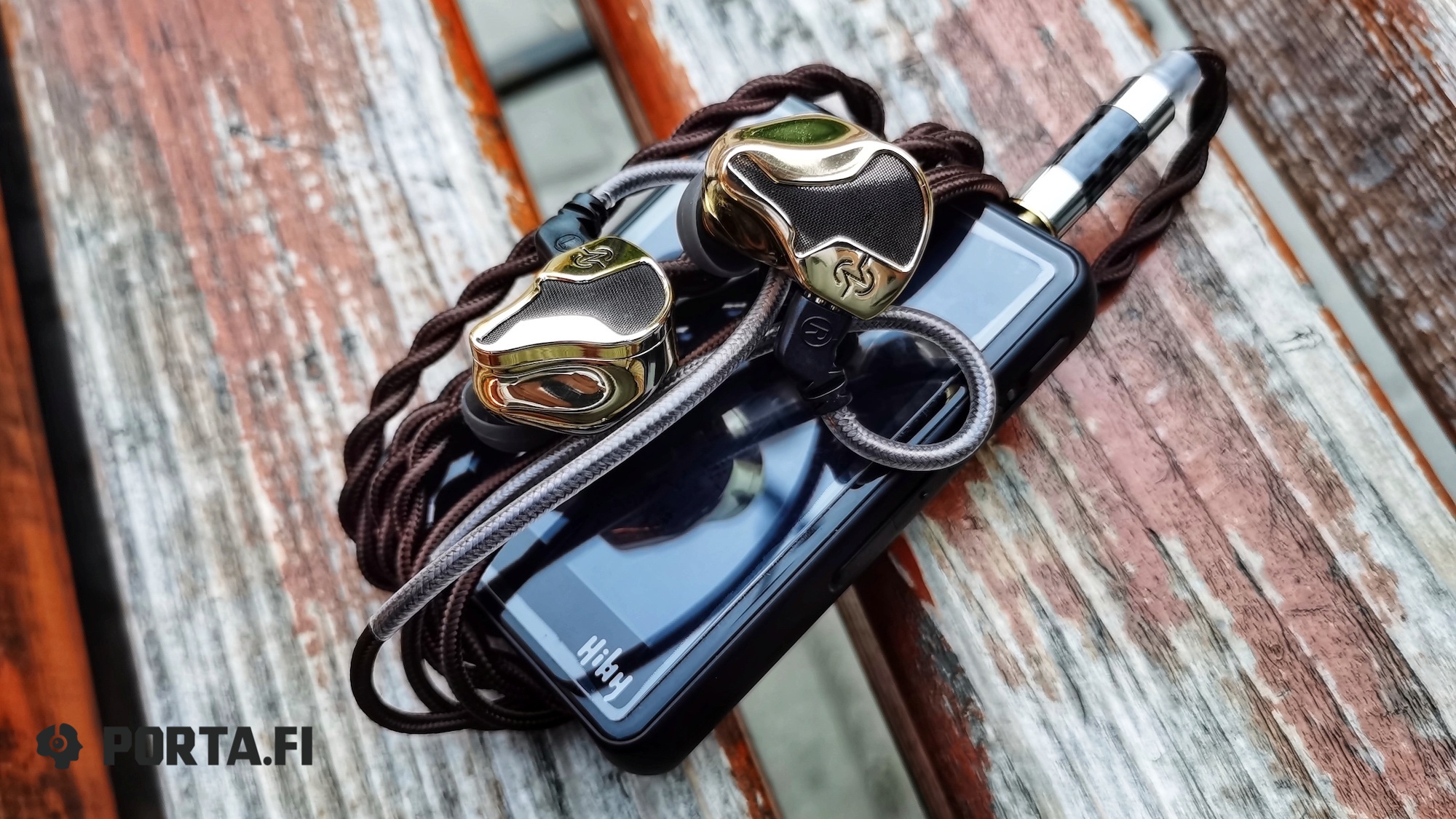 Bass
Lows have slight and pleasant accent. They do not make headphones basshead but add a little bit of weigth, shape and punch. They are slightly on a thick side. Even more the transmission of lows seems monolith. They do not try to emphasize all peculiarities of drums but rather concentrate on macro details without forgetting about micro ones where they are important. Apart from that they play as intended for their budget. Despite good control you won't find too much bass variation and nuances.
Punch, involvement and slight addition of emotions is what concerns this model.
Mids
Mids have their own character. Emotions, involvement and authority are present and attract attention with enough quality and quantity. The musicality and emotions are transmitted not only by whole sound but by small nuances of recording.
Highs
Highs are on the one hand slightly accentuated to compensate lows. On the other hand there is no sharpness or too much accent. The details are abundant but without overly separating the recording. This brings enough air and lightness to composition.
Still, recordings sound whole and highs do not go away from canvas. This is what you need for different recordings of various quality and not only for audiophile compilations.
The soundstage is average in width and slightly less in depth, but CCZ Plume play really good for their price tag. There is enough air between the instrument, the IEMs are not at all condensed. Separation is good as well. Of course the soloist is always up front and brings maximum emotions, but other parts of composition are not forgotten and their input is easily noted.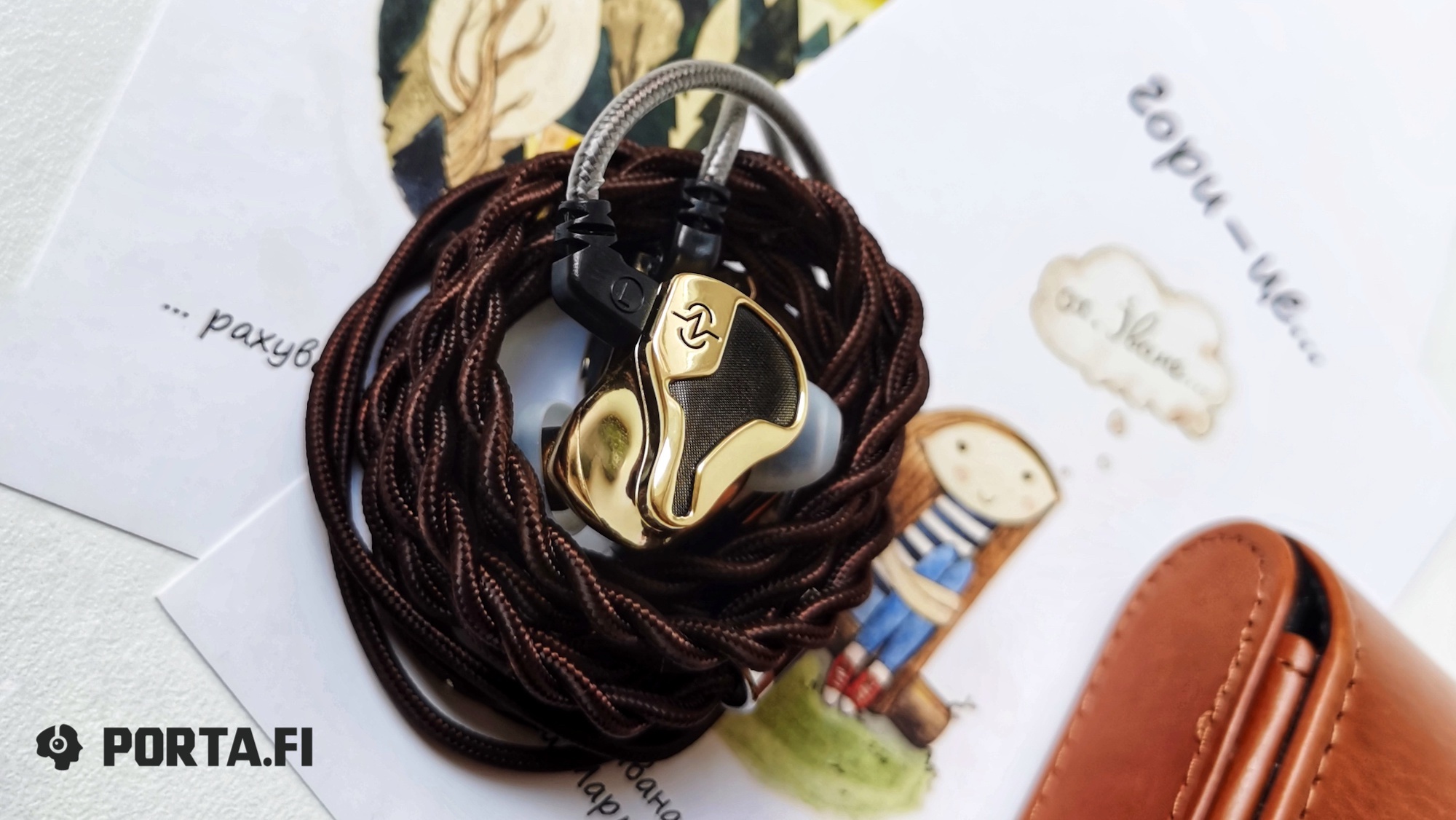 Conclusions
CCZ Plume have come to market with a strong message. Great package without any pathos, unusual appearance, good ergonomics and universal, emotional, but honest presentation. They are also well combined with many sources. Just add good music to it.
Translated by: Vadim Kolchev