Usual Bluetooth headphones are quite common nowadays. I don't have any statistics, but I think that there are thousands, not hundreds of new models a year. MEEAudio understand this fact and try to provide the buyer with something unusual. Their new Earboost IEMs are exactly what happened as a result.
The newcomer differs from many Chinese competitors by having an application that allows to tune the built-in DSP of the codec. At first it may seem insignificant, but after closer look it is a really welcome addition, as its influence is really high. Of course, $100 price is higher than most no-name bluetooth variants, but if you compare it to other known brands product, it is really not too much.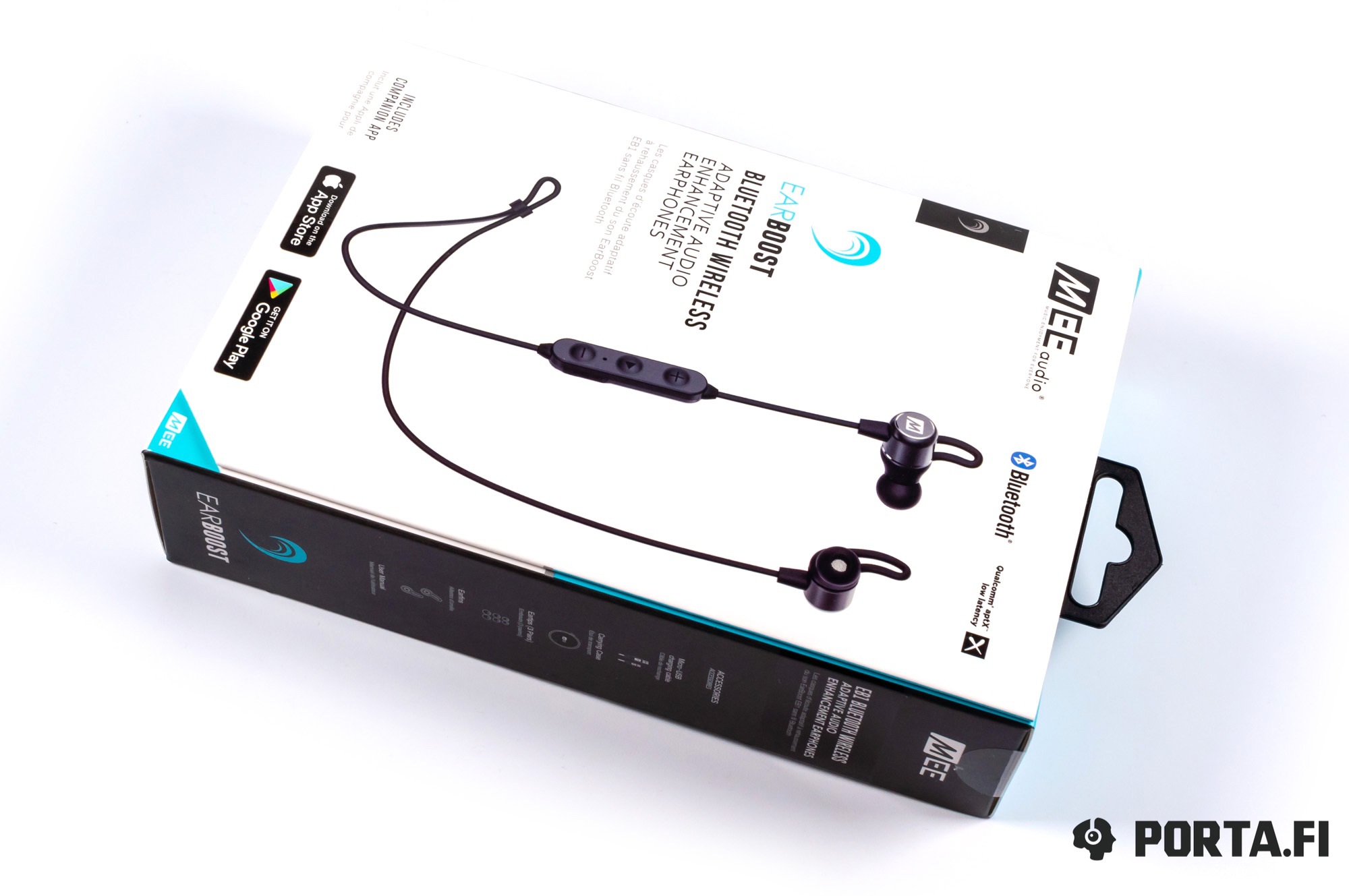 Specifications
Transducer: dynamic, 6 mm
Frequency range: 20 Hz ~ 20 kHz
Bluetooth: 4.1, SBC, aptX, aptX LL
Bluetooth range: up to 10 meters
Playing time: music up to 6 hours, conversation up to 7 hours
Charging time: < 2 hours
Microphone:  100 Hz – 10 kHz, -42±3 dB
Cable length: 55 cm
Weight: 16 g
Packaging and accessories
MEEAudio haven't invented anything new in packaging – a usual cardboard box made of good material with quality print. Inside there is a plastic tray with accessories and IEMs. Here you will find the following:
round zipped case for storage purposes
USB charging cable
3 pairs of differently sized tips
3 pairs of resin hooks ensuring more comfortable fit (also of different sizes)
On the one side, there is no lack of accessories in the box, however, everyone would like to see more ear tip variants.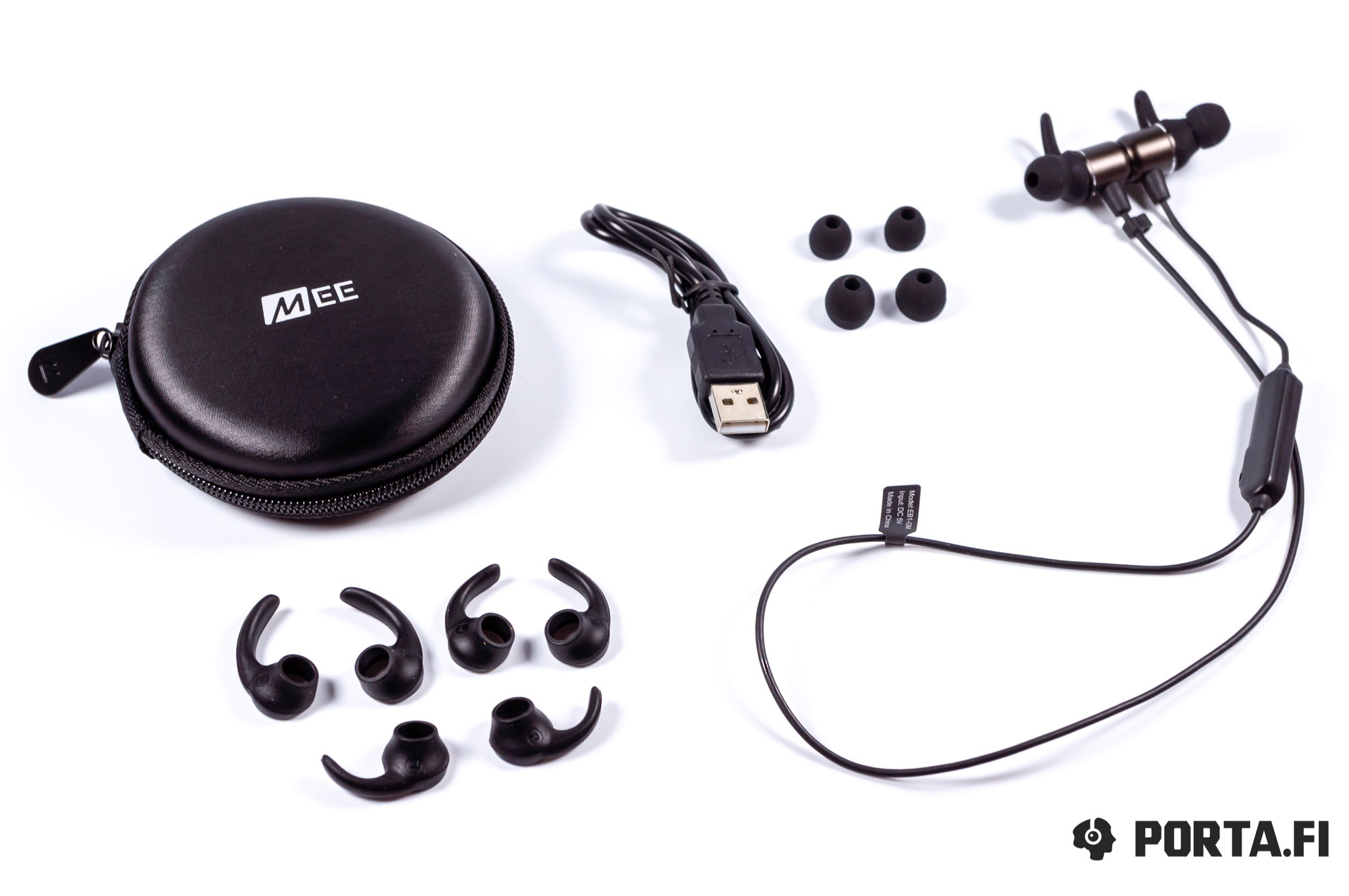 Design and controls
This model looks as many other of that type. Simple cylindrical bodies are made slightly longer than usual, but due to small diameter they will fit in virtually any ears. The nozzles a rather long as well and has two steps. The thicker step is for the hook and the leaner is for the ear tip itself. Despite such construction it works really well, providing rather good noise isolation and comfortable fit.
The earphones are connected to each other with a cable that has volume controls and mic. Also it is very convenient when you let the IEMs fall down on your chest, as they have magnets that stick both bodies to each other. Another good thing.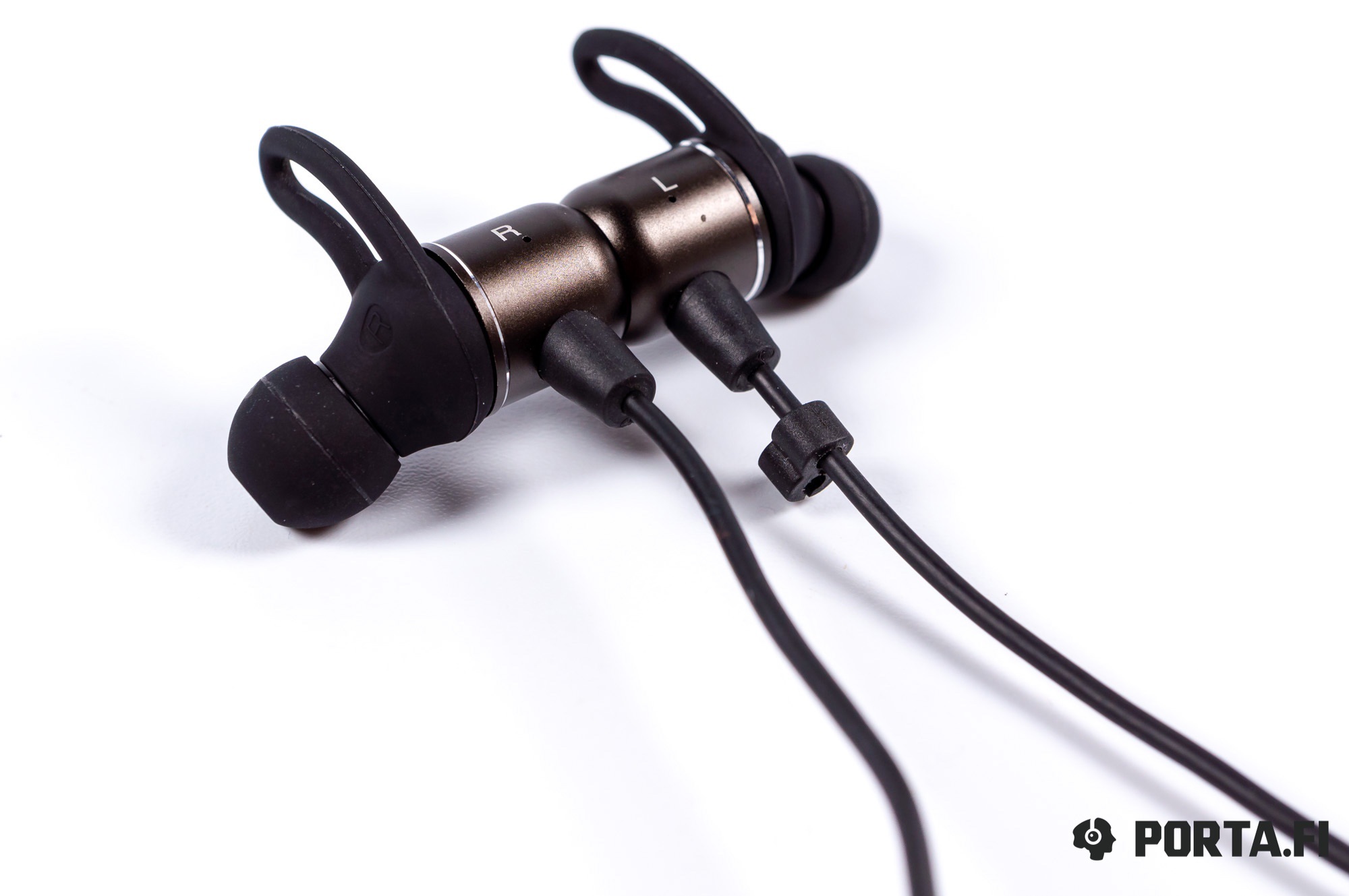 The controls are absolutely standard and you won't have any trouble if you have ever used any hands-free headset. It is notable that the model has not only light indicator but voice over feature that speaks good English.
And of course, the main benefit of EB1 comes from the app that can be downloaded for Android or iOS. It is rather simple as well. First of all it will offer you a hearing test, when you choose correct number of tonal signals in different frequencies that you have heard. Of course it makes to sense to lie to an app because true answers will allow to get the best results in IEM automatic tuning. After the test is completed, the app chooses correct equalizer settings that are unique for you and saves it in the built-in chip in the EB1. This means that you will have correct preset regardless of source you use.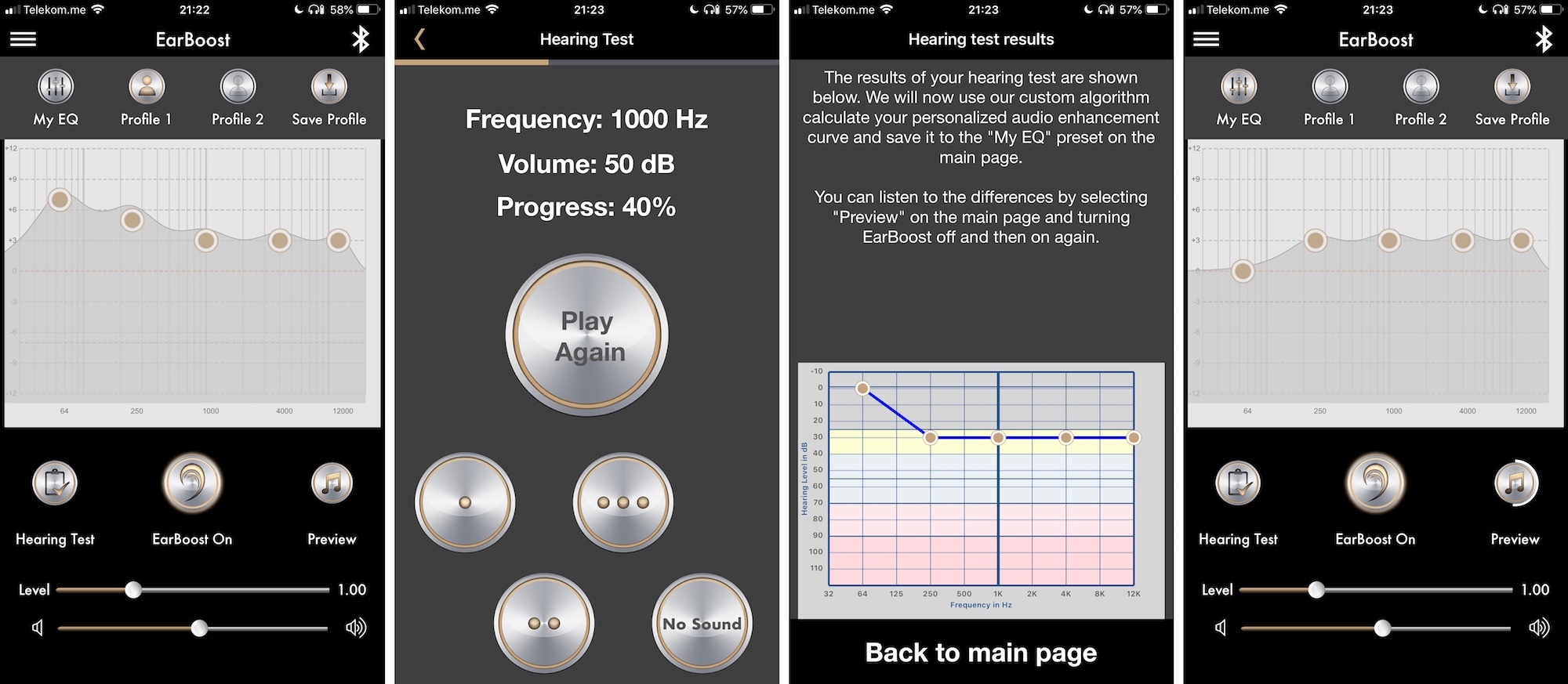 Of course, if you like, you can additionally tune the equalizer but I preferred to stay on "stock chosen" variant.
You can immediately try any preset by pressing buttons in app, the program will play music and you can switch your newly chosen preferences on and off, comparing the results.
The app can also provide additional boost for those users who lack volume and store two different presets, but unfortunately they will be stored in your phone and you will have to run the app to apply different preset. It would be useful to create several presets and then switch them on IEMs, but there is no such option.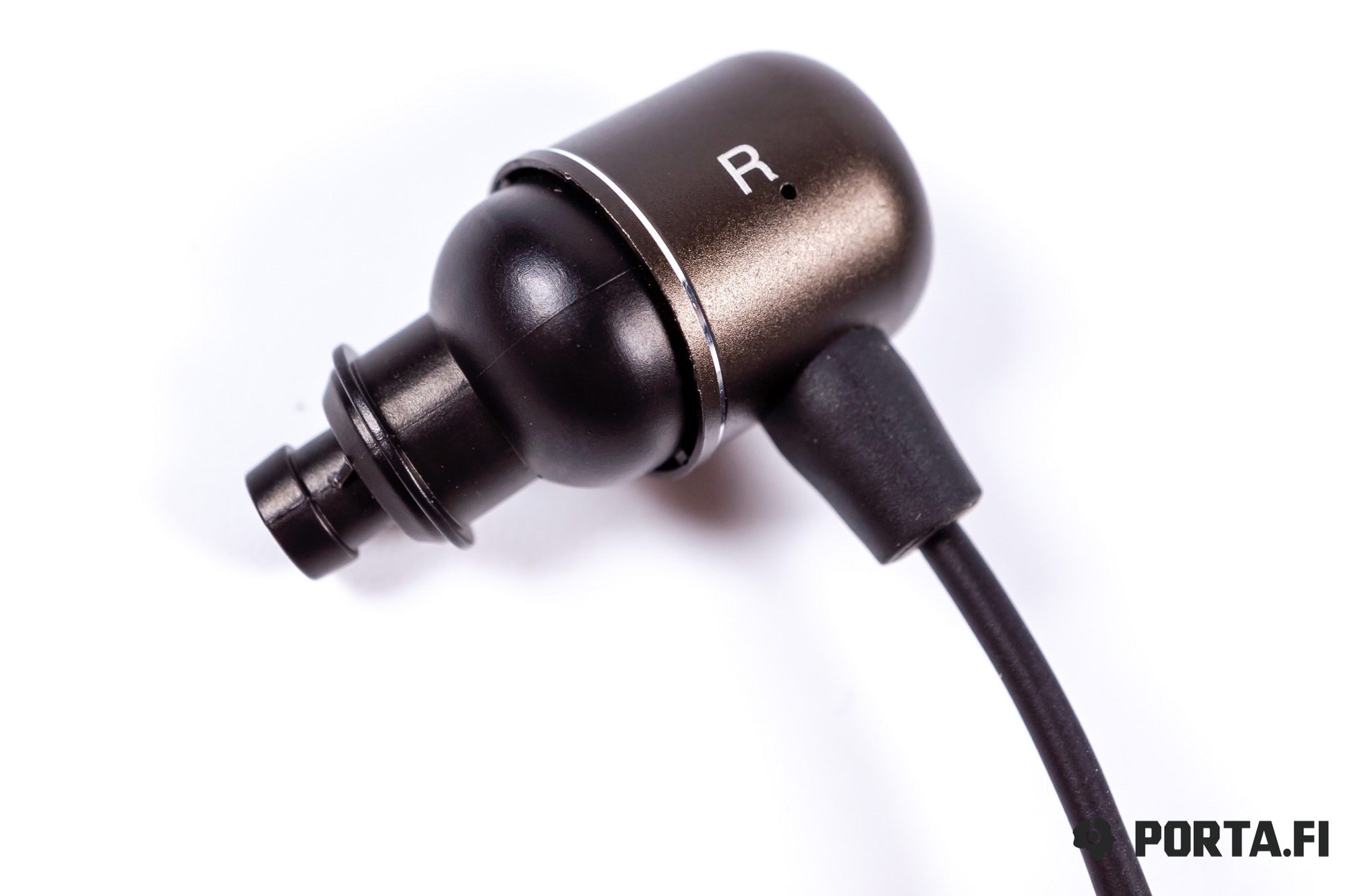 Sound
This time I will not use the common pattern in sound description, because when you get to review Bluetooth headset with built-in equalizer, everything is different. That's why I will describe my impressions from the Earboost everyday use. I mainly used FiiO M7 as a source. The Earboost function has been calibrated to my hearing and switched on.
First of all I would like to say some words on usability. The battery lasts approximately 6+ hours of music. Maximum radius of normal usage in my case is up to 8 meters with 1 wall on the way. I have had no trouble listening to EB1 outside, but it of course highly depends on interference. Overall the connection is good and I have not experienced any interruptions. Due to inclusion of low latency codec you can easily watch videos with those.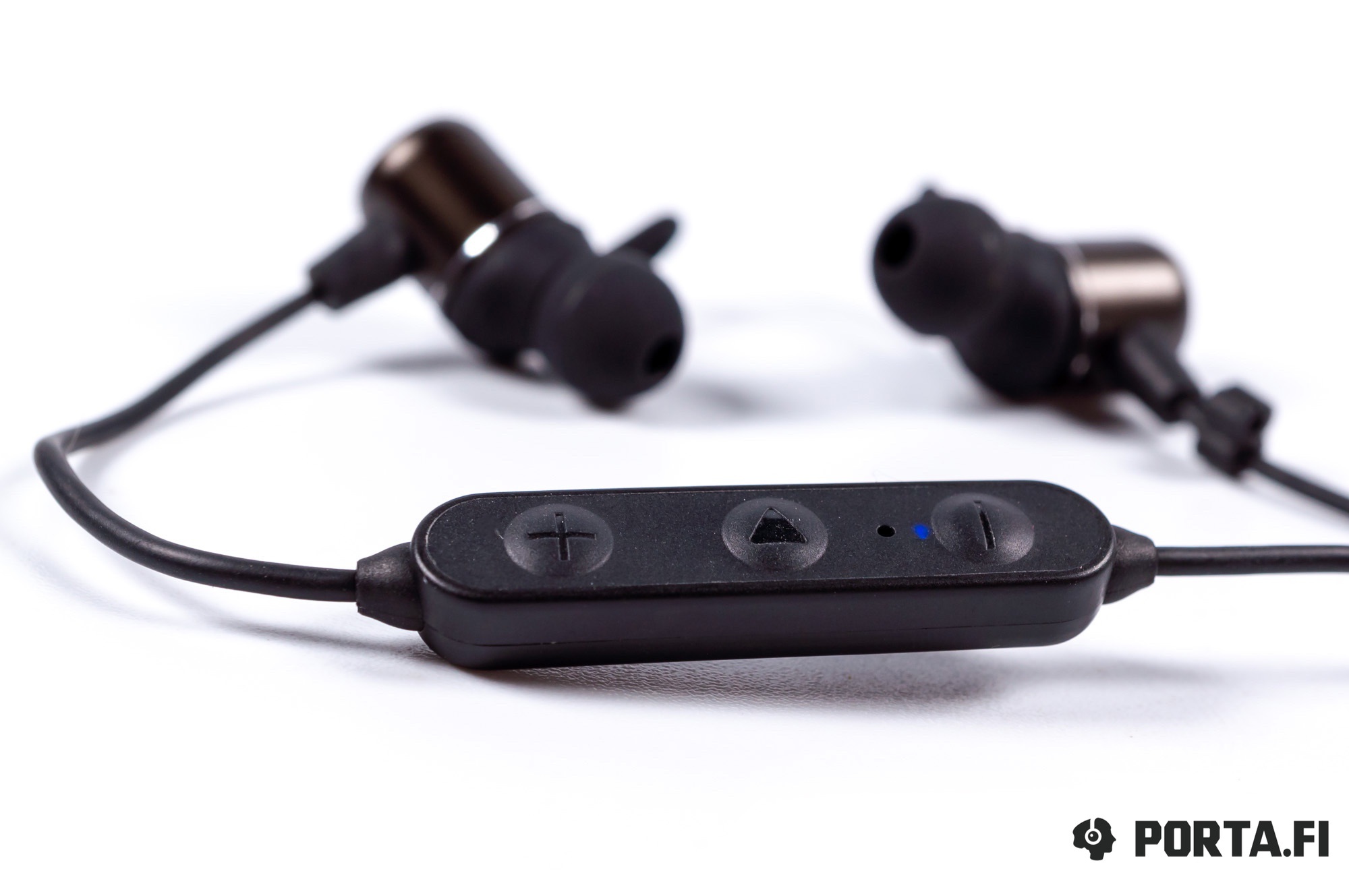 Of course, Earboost are not created for purists who want to listen to the unaltered and monitor sound. There is a "fun" presentation that adapts to your sound, so it is all about flamboyancy, not neutrality. And to tell the truth, MEEAudio succeeded in this approach.
Bass is slightly accentuated with additional weight, mids are emotional and highs are accentuated as well, and this allow to bring pseudo detailed and airy sound. Sometimes it sound unnatural, but it has not been the aim of manufacturer.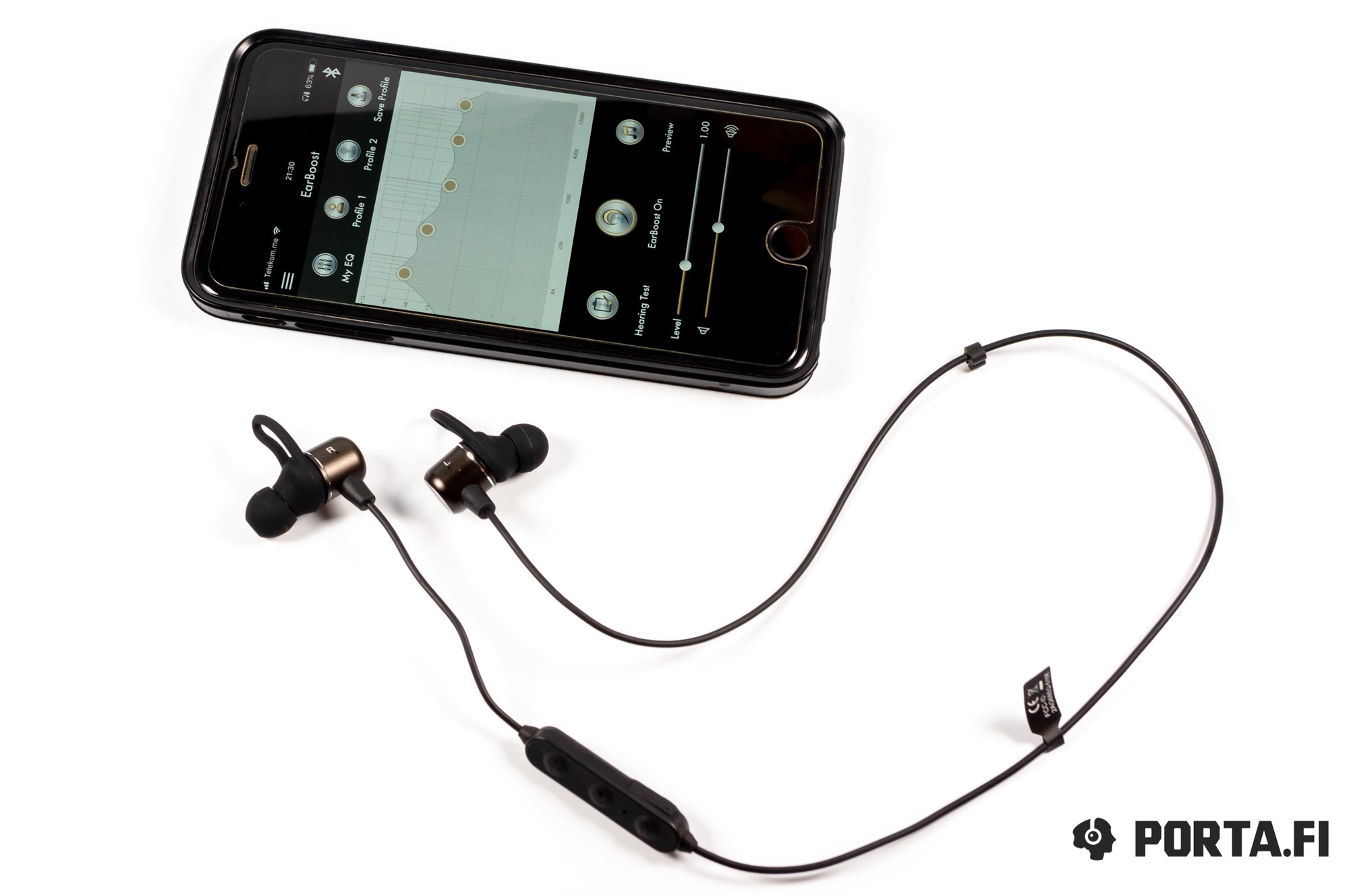 Lows have normal speed – not super fast, but also not boomy. The bass gives good foundation and delivers textures naturally, but is not too deep. This model is not basshead, but if you wish, you can easily give bass boost. It, however, has little sense, having 6mm transducers that are not created for such ear massage. Still it is more than enough to produce good amount of bass in natural styles of music.
Mids – emotional, with additional drive and emotions. The resolution is not bad but of course not outstanding. The instruments sound rather realistic, however sometimes lacking micro details. However, one does not buy Bluetooth headset to listen to micro details. The soundstage is average on both sides, but Earboost often increase it to provide music with more fullness.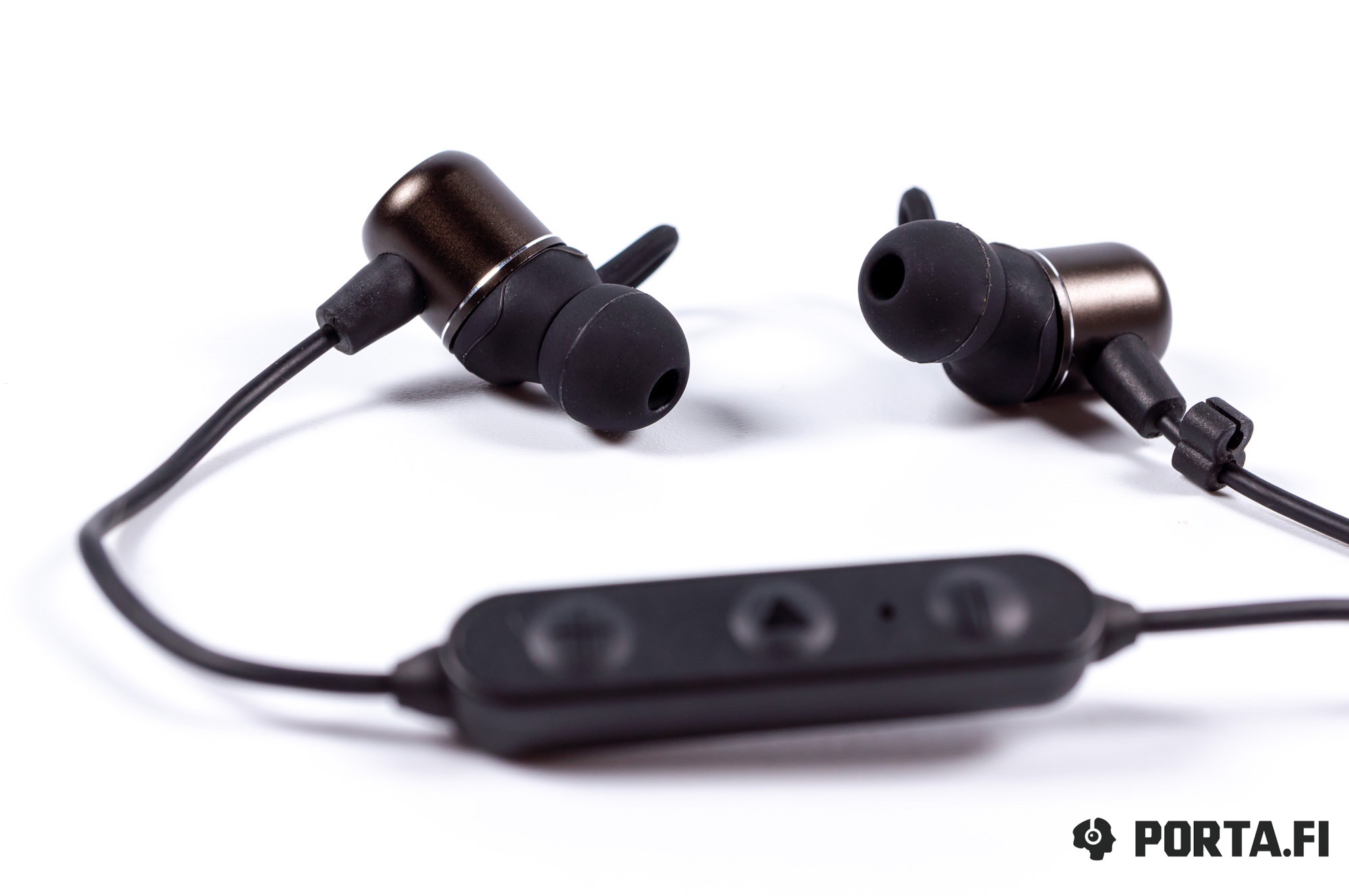 The highs are rather simple here, you won't find layering, attacks and decays are simplified, but the IEMs in general have good resolution and slight highs accentuation brings contrast and airiness.
EB1 proves to be good when watching films and playing mobile games – the explosions and shots sound very impressive.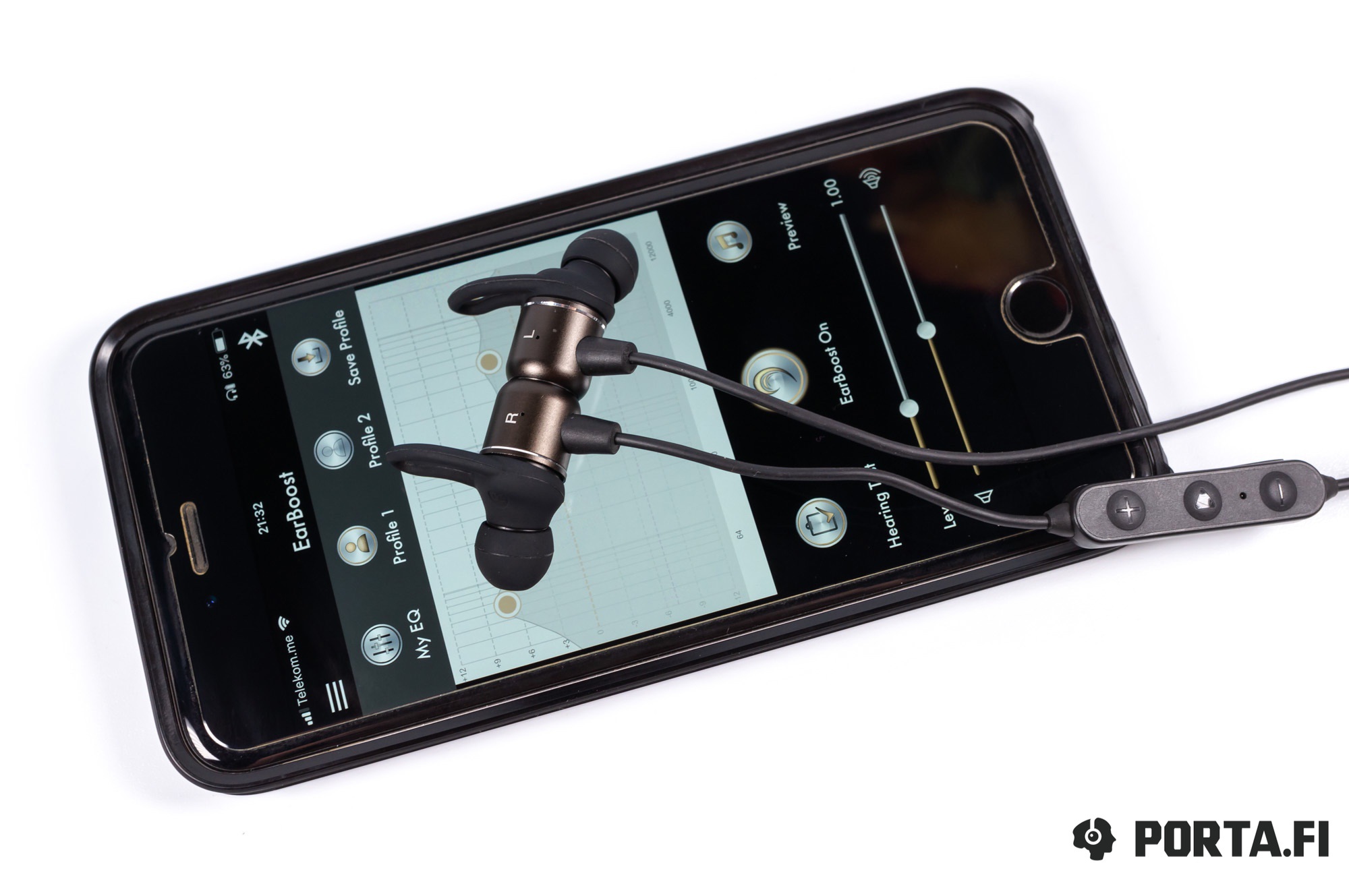 Conclusions
This is another demonstration how new technologies change the way we listen to music. Purists may disagree, but the future of music is digital and even such simple demonstration as Earboost shows that the results may be really good.
Translated by Vadim Kolchev