We live in an unusual world of tendency to small things that allows to create really interesting solutions in a compact way. Today's hero is also small, but has a mature DAC — iBasso DC01.

I don't know what iBasso have thought about, probably winning the competition against other DAC adapter manufacturers, or to provide people with the way to listen to their IT hybrids with smartphones, but it is a given fact — DC01 is out now. In comparison to other similar devices the newcomer hasn't got a mobile Sabre DAC, but AK4493. It has also received a fully balanced amplifier that outputs more than 100 mWt over 32Ω (not bad). The output is 2.5 mm balanced. For unbalanced you should consider buying DC02 that should be out pretty soon.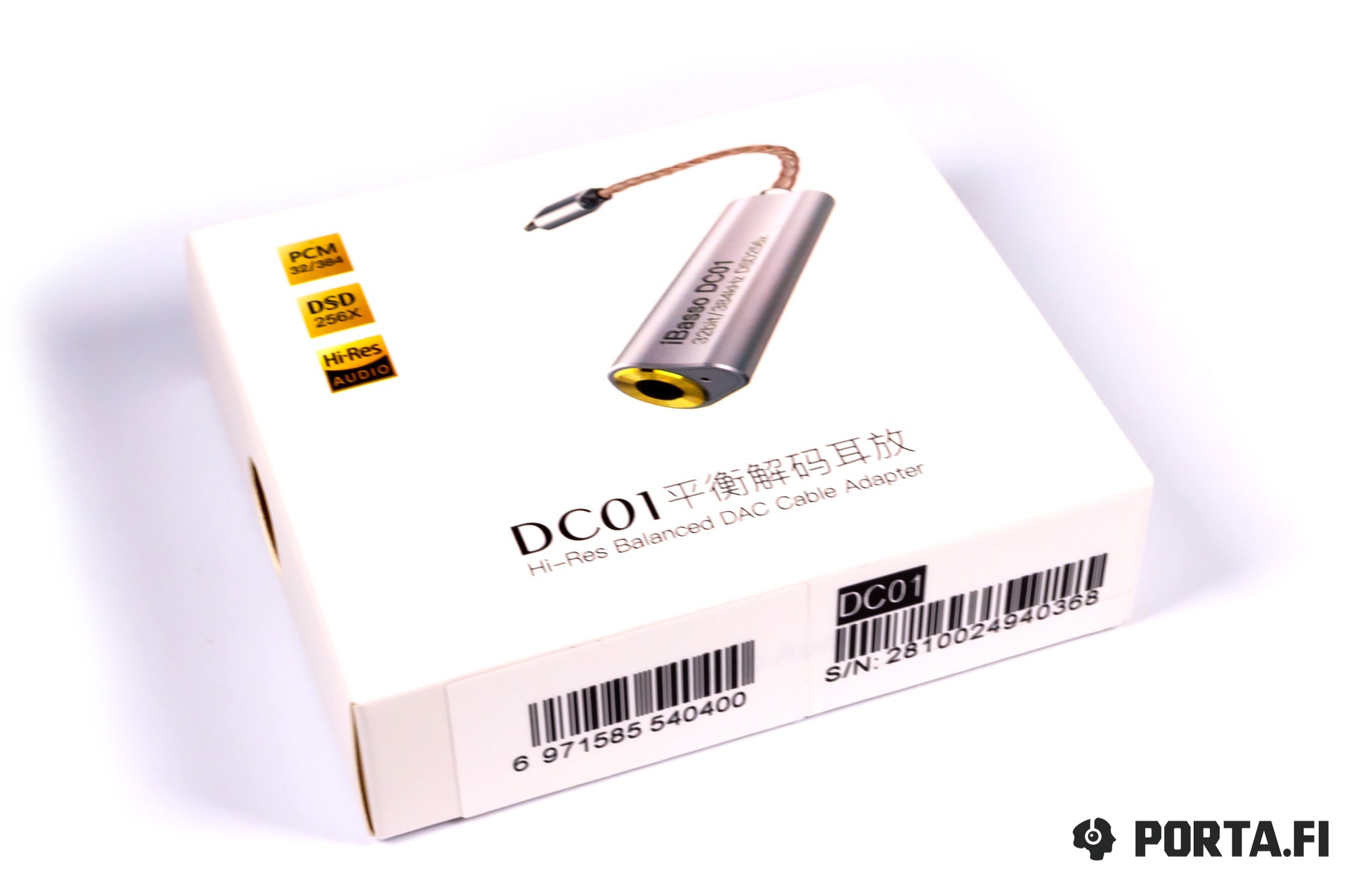 The price is very moderate — the adapter costs around 50 USD.
Specifications
DAC: AK4493
Max resolution: PCM up to 384 kHz/32 bit, DSD up to DSD256
Output power: 113 mWt @ 32Ω
THD + noise: ≤0.001%
Interface: USB-C
Packaging and design
Despite the small size, the box of DC01 is beautiful — white cardboard, printing, specs on the back side — that's what you call presentation. Inside the box there is a DAC and USB-A to USB-C adapter that will be handy when used with PC.


The design of DC01 is simple and accurate. The compact USB-C jack allows to connect to desired device even when there is almost no room for that. Next to it there is a short (around 10cm) cable and the main block that contains headphone input, led indicator and internals such as DAC and other things. The design is very accurate and build quality is good.
In order to make life more simple for Android users, iBasso developers have created the app called iBasso UAC that allows to control the device volume better, with more steps than the OS allows. However, most of audiophile software players, such as UAPP, can do it on their side.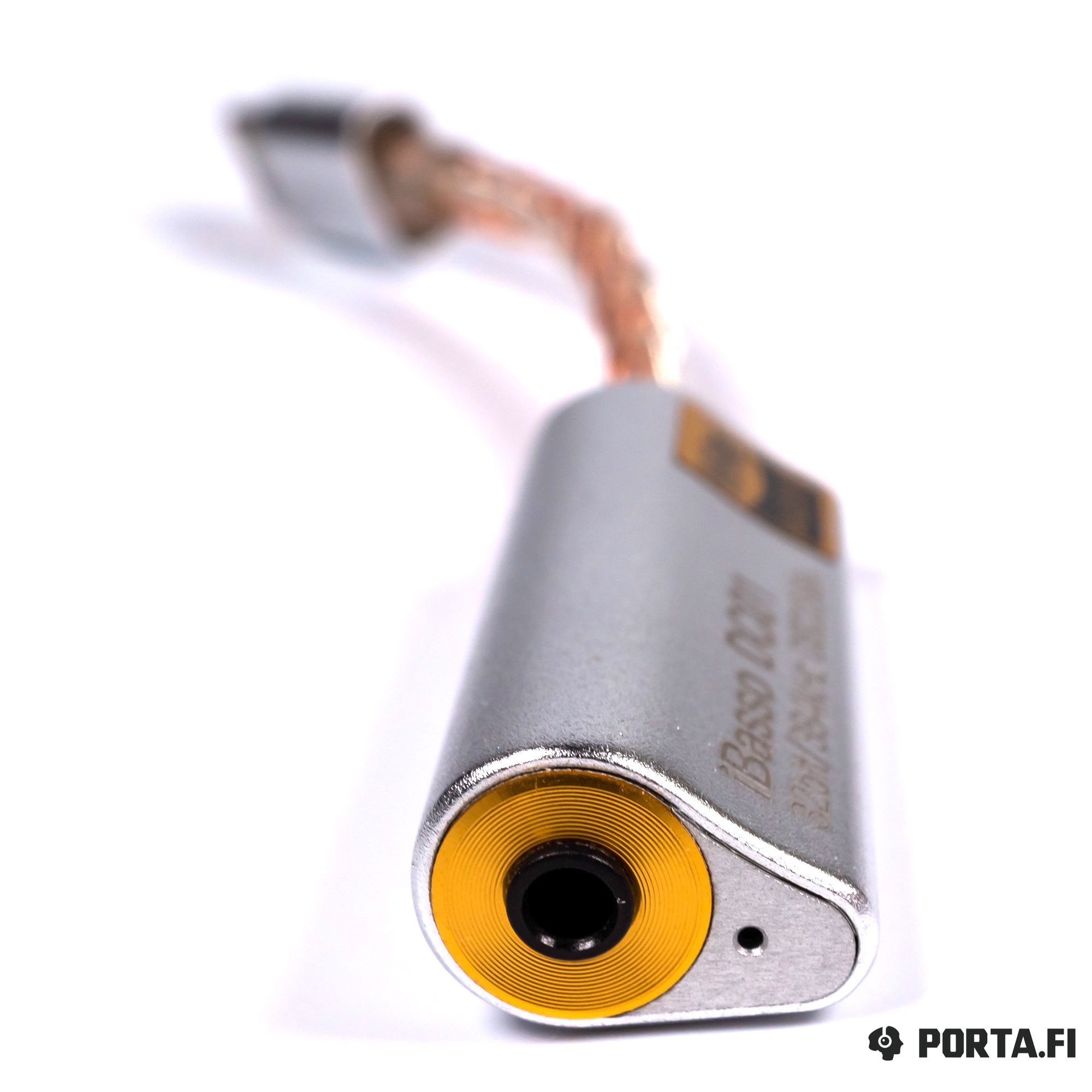 As you can see, DC01 is as simple as it can be. You just plug it into the source, plug the headphones in and everything works. There might be some unpleasant exclusions from Samsung that are known for their own usb out implementations, so some of S9 smartphones I have tested worked flawlessly (European versions), and some not. At first there has been a suggestion that it is the chipset to blame, but it has not been supported by user reports. Since there are no reports about problems with other brands, probably it is Samsung to blame. Maybe iBasso will be able to produce a workaround for this at later stages, but for S9, S10 and Note owners I would suggest to first test adapter with their device before the purchase.
Since the gadget has no built-in battery it takes juice from the phone and shortens its life. I have made my own tests and 5 hours of playback on test Galaxy S9 phone have deducted 25% of battery charge. After second charge and another 5 hours the depletion has been 42%.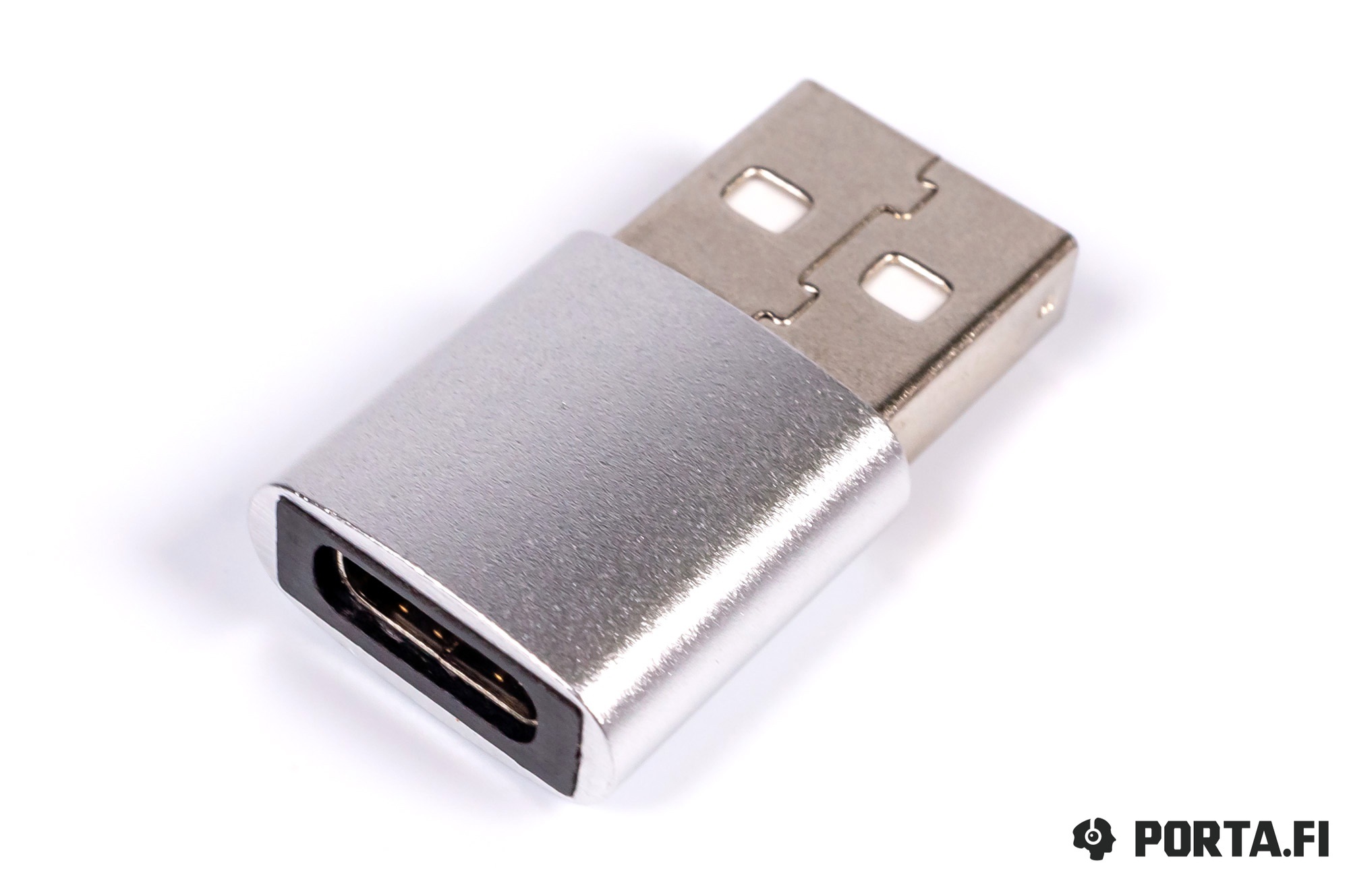 Sound
I have used the following headphones for listening purposes: iBasso IT04, Meze Empyrean, Audio Zenith PMx2, Noble Audio Khan, Campfire Audio Andromeda and Solaris, Unique Melody Mason V3, HUM Pristine and others.
Of course this device is the most appropriate for smartphone users that do not want to dig deep into the audiophile things. Also it can be recommended for people who are not ready for usability of modern players, since with DC01 you will just continue to use your smartphone and the same services but with enhanced sound. That's why it makes sense to compare the adapter to smartphones.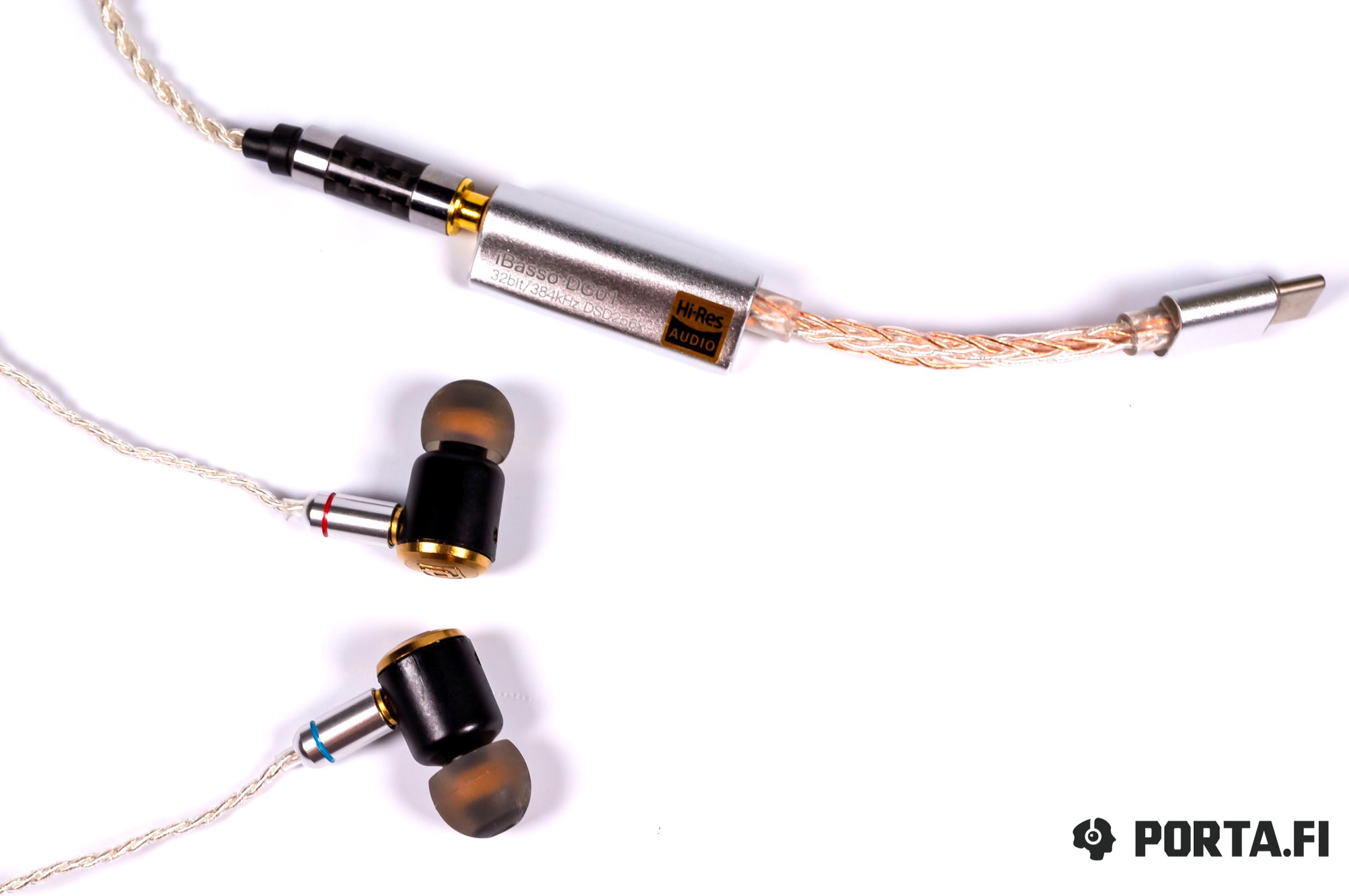 Speaking about regular smartphones without dedicated audio chip, iBasso is a huge step up, since it brings much frequency control and more neutral presentation. Most of modern smartphone manufacturers add too much bass to the sound signature and make it too warm, so DC01 corrects it. The sound stage is improved too, especially in terms of depth. It is the fact that allows to tell good DAC by listening.
The adapter will also help if your headphones lack 10-20 mWt that can be missing in a smartphone. It is especially true for over ears, and in this case the sound changes can be really great.
Do not expect great enhance in resolution, since modern smartphones have this parameter on quite normal level not to lose significant information from the recording. However, the correct work with micro details brings more natural sound to vocals and instruments, but again, those are not "new" details.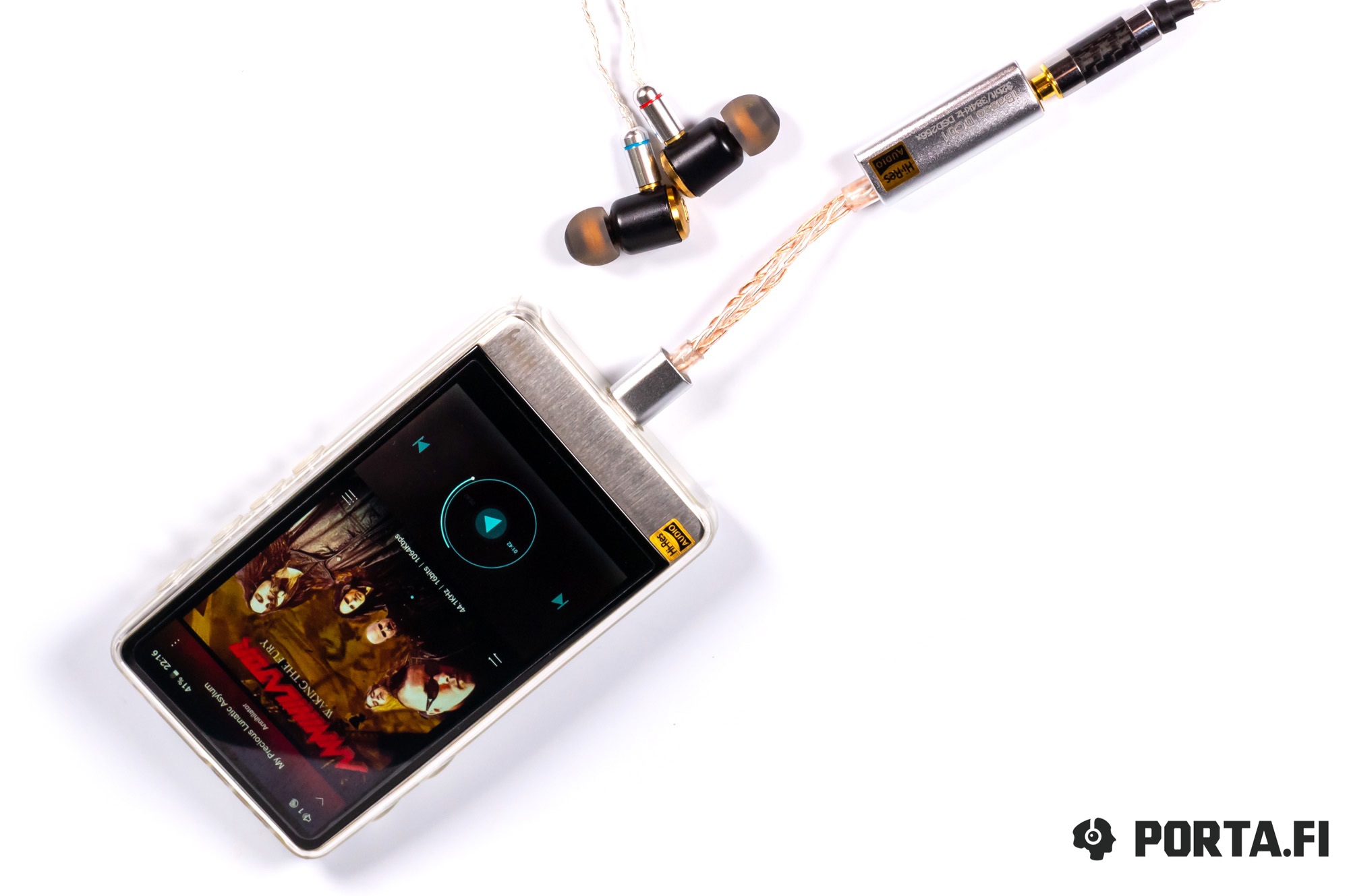 Conclusions
iBasso have brought us the answer to the question — how to get good sound and modern usability without purchasing a player. For a quite affordable price you get good quality jump while keeping all convenient phone usability.
Translated by: Vadim Kolchev