One of the bonuses of the company that occupies the leading positions on the market is the ability to develop devices that cannot be fulfilled by their smaller competitors due to their low margin. So it's not unusual that FiiO have released DAC with Bluetooth support — Q5. As you understand, today we review the renewed Q5s version.

Upon the whole the updated version is a good compilation of company's latest work and experience. They use flagship CSR8675 from Qualcomm as a wireless interface that provides Bluetooth 5.0 support together with many other codecs. The very popular XU208 is responsible for USB, and this means that we get all possible format support and resolutions for DAC. FiiO have chosen AK4993EQ as DACs and there are two of them. The amps are detachable and there is AM3E by default, that is, actually, a reworked variant of AM3 that has received two balanced outputs — here we get both 2.5mm and Pentaconn. All schemes in terms of power and low jitter have been ready, so the only thing has been just to release the gadget.
It has been finally released and Q5s has appeared in stores with recommended price around 350 USD.

Specifications
DAC: 2 × AK4493EQ
USB: XMOS XU208
Bluetooth: CSR8675
AMP: 2 × OPA1642, AD8620+OPA926
Bluetooth version: 5.0, codecs: AAC, SBC, aptX, aptX LL, aptX HD, LDAC, HWA
Battery: 3800 mAh
Full charging time: ≤3.5 ч.
Playback time: >9.5 h. as DAC, >25 h. as AMP
Max resolution: up to 768 kHz/32 bit, DSD256
Dimensions: 24 mm × 64 mm × 16 mm
Вес: 195 g.
3.5 mm headphone output
Output power: ≥210 mWt @32Ω, ≥30 mWt @300Ω
Recommended impedance load: 16Ω ~ 150Ω
Frequency range: 5 Hz ~ 50 kHz (– 3 dB)
Signal/noise ratio: ≥117 dB
Output impedance: <1.2Ω
THD+noise: <0.002%
Channel separation: ≥75 дБ
Balanced outputs
Output impedance: ≥560 mWt @32Ω, ≥112 mWt @300Ω
Recommended impedance load: 16Ω ~ 300Ω
Frequency range: 5 Hz ~ 50 kHz (– 3 dB)
Signal/noise ratio: ≥115 dB
Output impedance: <2Ω
THD+noise: <0.002%
Channel separation: <105 dB
Accessories and packaging
I don't know who is responsible for packaging in FiiO, but this time we get a traditional black cardboard box with golden insertions and thick dust cover on top of it. Inside you will get the following accessories, apart from DAC itself:
carrying pouch
coax output adapter
optical output adapter
screwdriver to change
4 pairs of rubber rings to connect DAC to source
silicone insertion to place between DAC and source to avoid scratches
usual MicroUSB cable to connect charger or computer
MicroUSB-Lightning cable to connect to Apple devices
As you see, the packaging and accessory range is good, however it lacks short cables for modern Android players. There are already a bunch of additional accessories, including different variants of leather pouches from DD.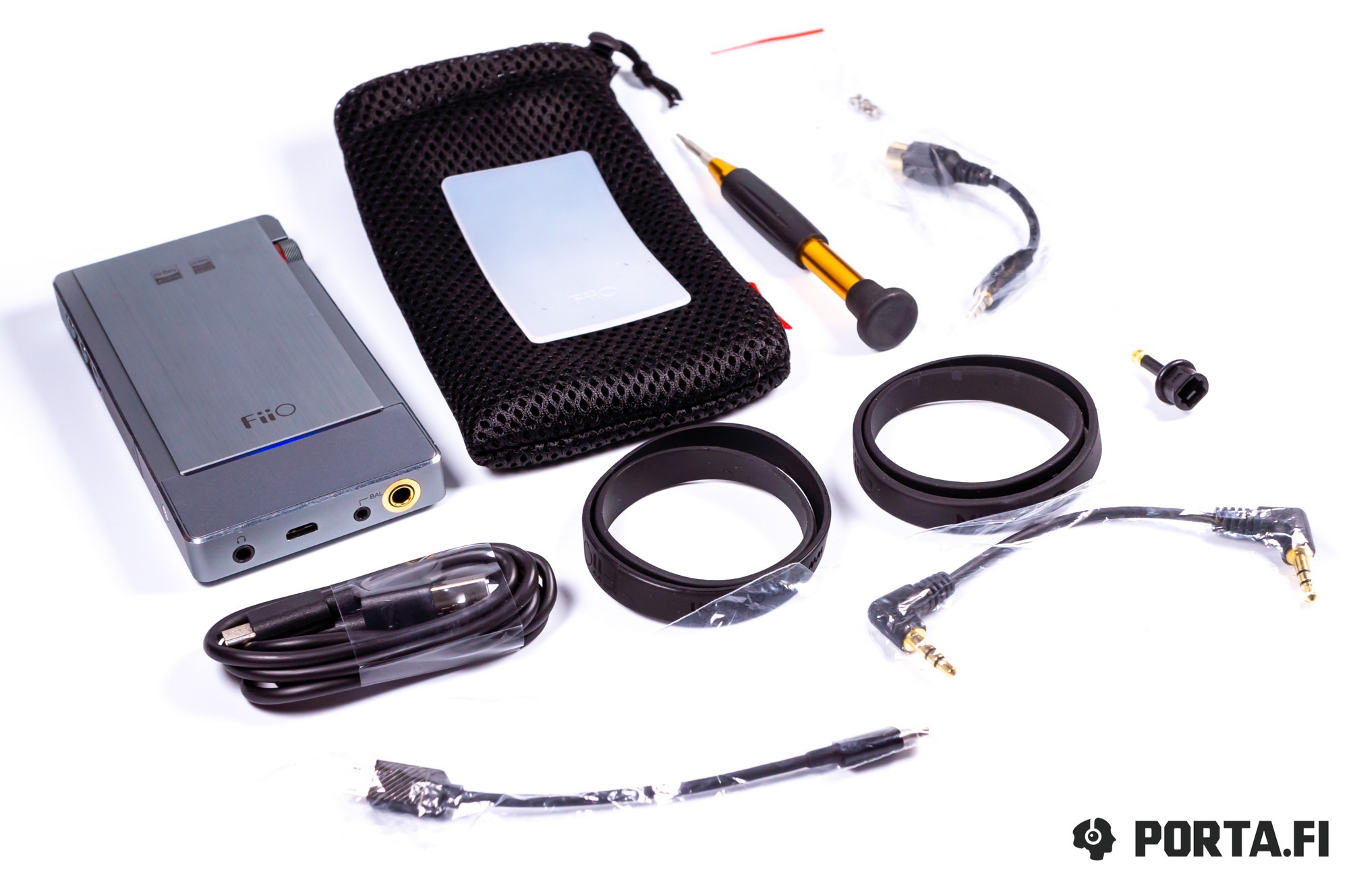 Design and controls
The overall design continues the ideas of Q5 — the similar aluminum body with artificial leather insertion. Despite being rather simple in shape, FiiO have made it more attractive by re-working textures to make it look more modern. The build quality is good, DAC feels as a whole unit with good buttons and switches, etc.
The operational elements are spread over different sides. On the right side there is a volume wheel that also works as on/off switch. Right below there is a button that switches the input and four LED indicators that show chosen source (USB, line, optical or coax). If you long-press the button, the LEDs will show approximate charging level, it's useful for quick controls. Volume wheel has a quality potentiometer and works well. Traditionally common RG-scheme is used when the resistance of potentiometer is read by ADC and sent to a separate scheme responsible for volume control. This way we get the ideal channel balance and absence of noise when turning the wheel.
On the opposite side there are playback control buttons. The middle button also switches Bluetooth on and off and also activates the pairing mode. On top there are gain and bass enhancement switches, as well as two sockets — lineout and universal input (line, coax and optical).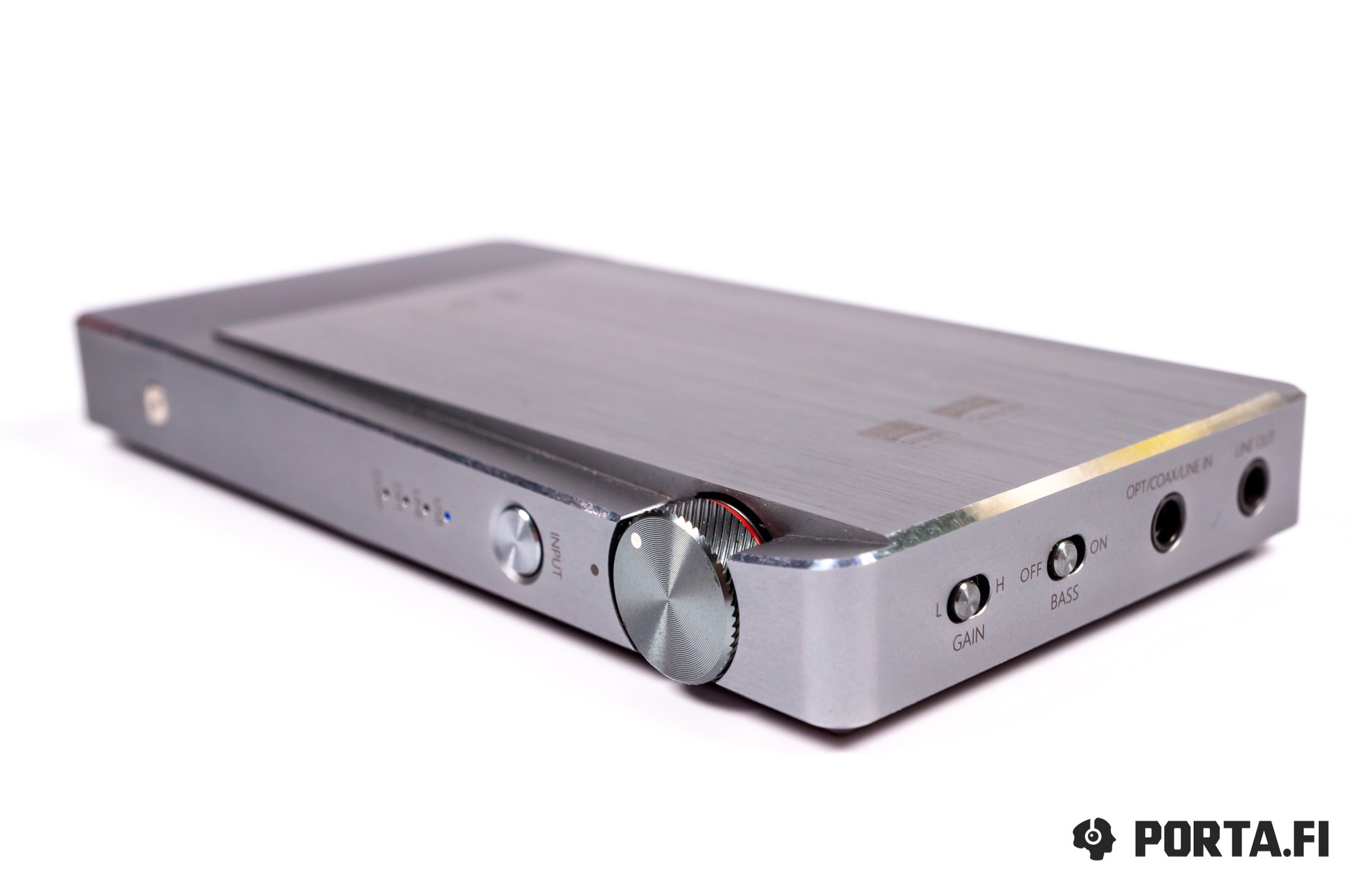 The amp is attached to the bottom and it is responsible for the amount and types of headphone outputs. It is changed the same way as in X7 of both generations — it is enough to detach two screws. Stock AM3E contains all possible outputs that regular user might need — 3.5mm and two balanced — 2.5 and 4.4 mm. Here there is also a MicroUSB input that is used for charging and connection of DAC to the source. MicroUSB here is used to provide compatibility with old K5 and DK1. Also the company has announced that they have decided to quit on developing more amps, so don't wait any innovations after AM3D here.
On the front, right above the amp there is a multicolored led indicator that shows current Bluetooth codec or sampling rate. The indicator is not very bright so it's not annoying but can be switched off via external app.
Almost every device with FiiO music can be used to control Q5s connected via Bluetooth (pity, that not USB). This remote access allows to see exact battery level and used Bluetooth codec and also to change some preferences — to switch LED indicator off, to switch off USB charging for Q5s not to discharge the source, to use equalizer, to set sleep timer etc.
Sleep timer is a good thing that helps to avoid situations when you have forgotten to switch the DAC off and it has discharged. It will turn off when not getting signal and to turn it on again you will need to turn the volume wheel to 0 and backwards. Averagely Q5s can be used for 9-10 hours of playback and it is rather good for such powerful device.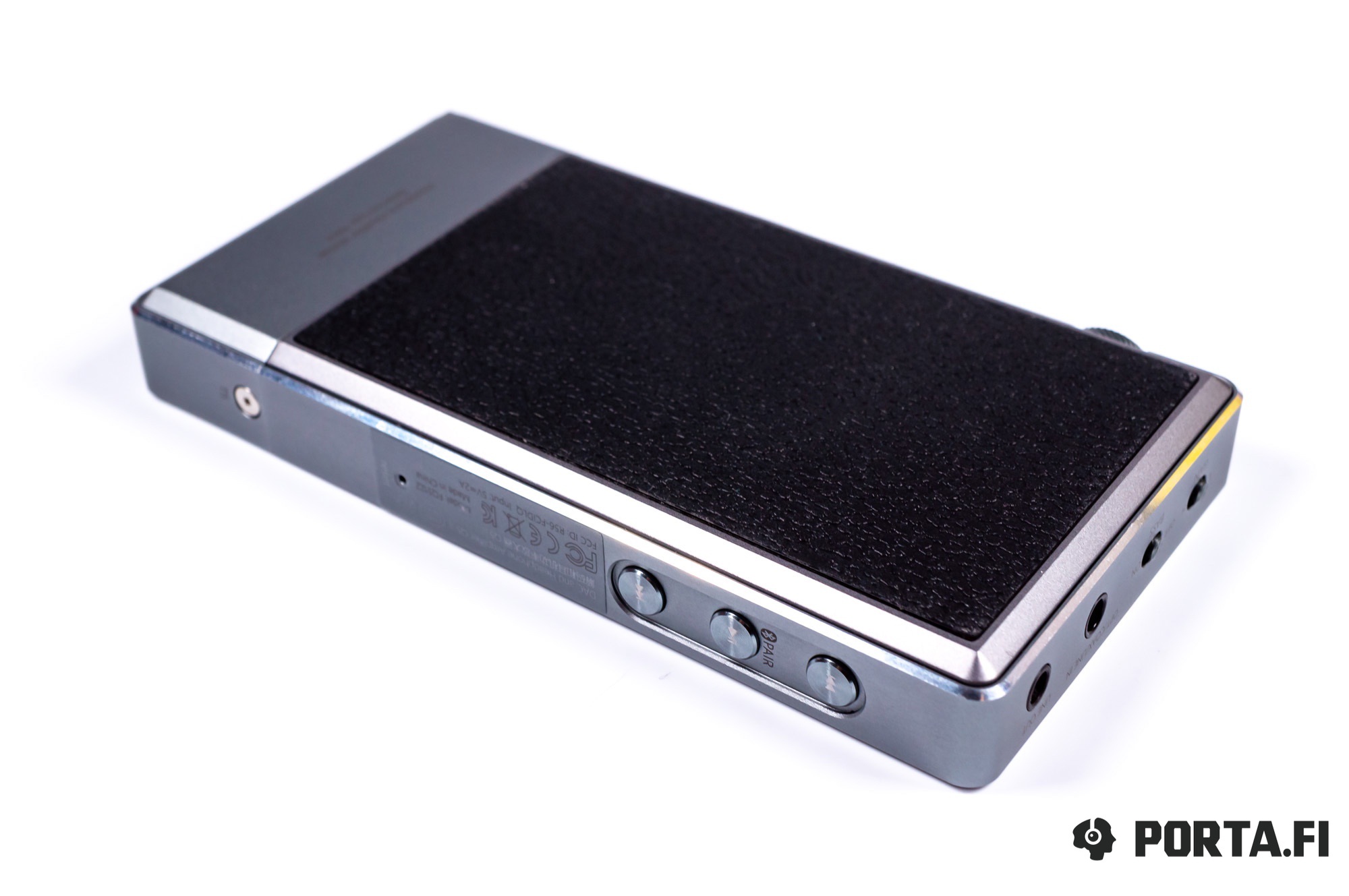 Bluetooth module has good quality and can work over the 10 meter distance with thin walls with all codecs except HWA and LDAC. If the source supports Bluetooth 5.0 the connection quality can be even better.
The device is MFi certified that allows to connect Q5s to iOS devices without additional problems and adapters.
Sound
I have used the following headphones for listening purposes: iBasso IT04, Meze Empyrean, Audio Zenith PMx2, Noble Audio Khan, Campfire Audio Andromeda and Solaris, Unique Melody Mason V3, HUM Pristine and others.
Of course you will get max quality when listening wired — even with the most advanced codecs the Bluetooth influence is obvious, however the changes are not as drastic with LDAC and HWA. I have tested wired and all description below is valid for this type of connection, since I try to describe the maximum quality the device is capable of. You can also tune the sound with interchangeable amps, but I have tested Q5s with stock variant.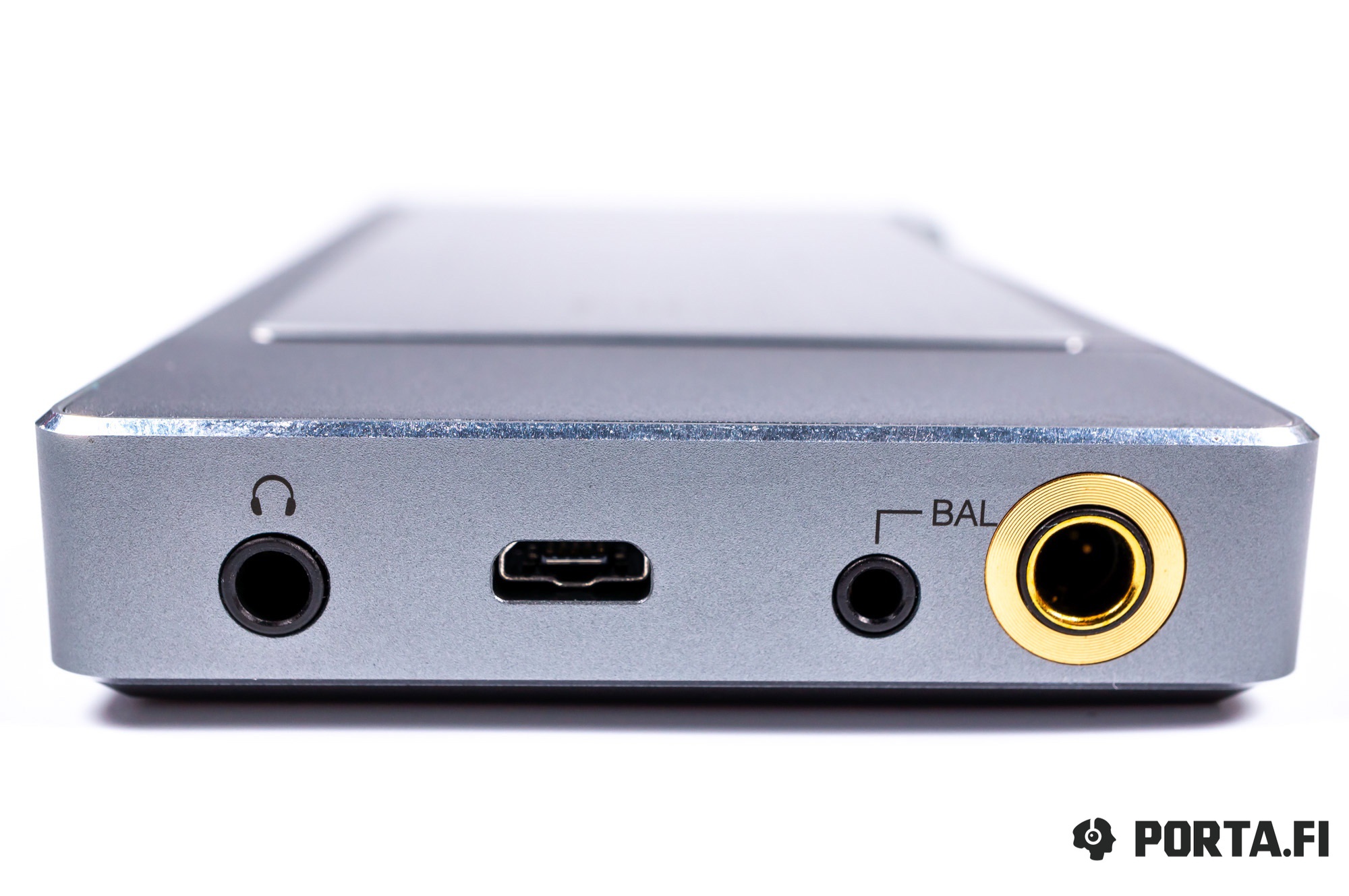 The overall Q5s presentation resembles FiiO M11, it is also neutral and close to monitor presentation, but is not lifeless and dry. It's early to speak about house sound, but lately we have seen several devices from FiiO that have offered such presentation.
Bass is linear and non-accentuated with good depth and controls. Attacks are slightly accelerated on lows that makes them sound sometimes dry, but decays are very natural and it brings needed naturalness level. The sound is well textured and instruments have correct weight. Overall the bass is good and technical for those who like it uncolored. If you want more of it, there is bass enhancer switch, but it is rather intelligent and enhances only the deepest bass layers that gives additional accentuation but does not emphasize midbass.

The mids are presented similarly. They are neutral, monitor with slight micro-details focus. This makes device require quality recording. If the quality is good, you will get everything you need — emotions, air, drive, lots of smallest details and nuances. If there are problems in mixing or quality — you will hear them all. Soundstage is above average in depth and width with enhanced separation.
Highs do not fall out of the overall signature. They are detailed with good length. The attacks are accelerated and decays are realistic. The highs have well-defined shape and the overhangs are divided very well. Those who are sensitive to highs should take into account that this DAC does not try to hide or smooth this frequency range.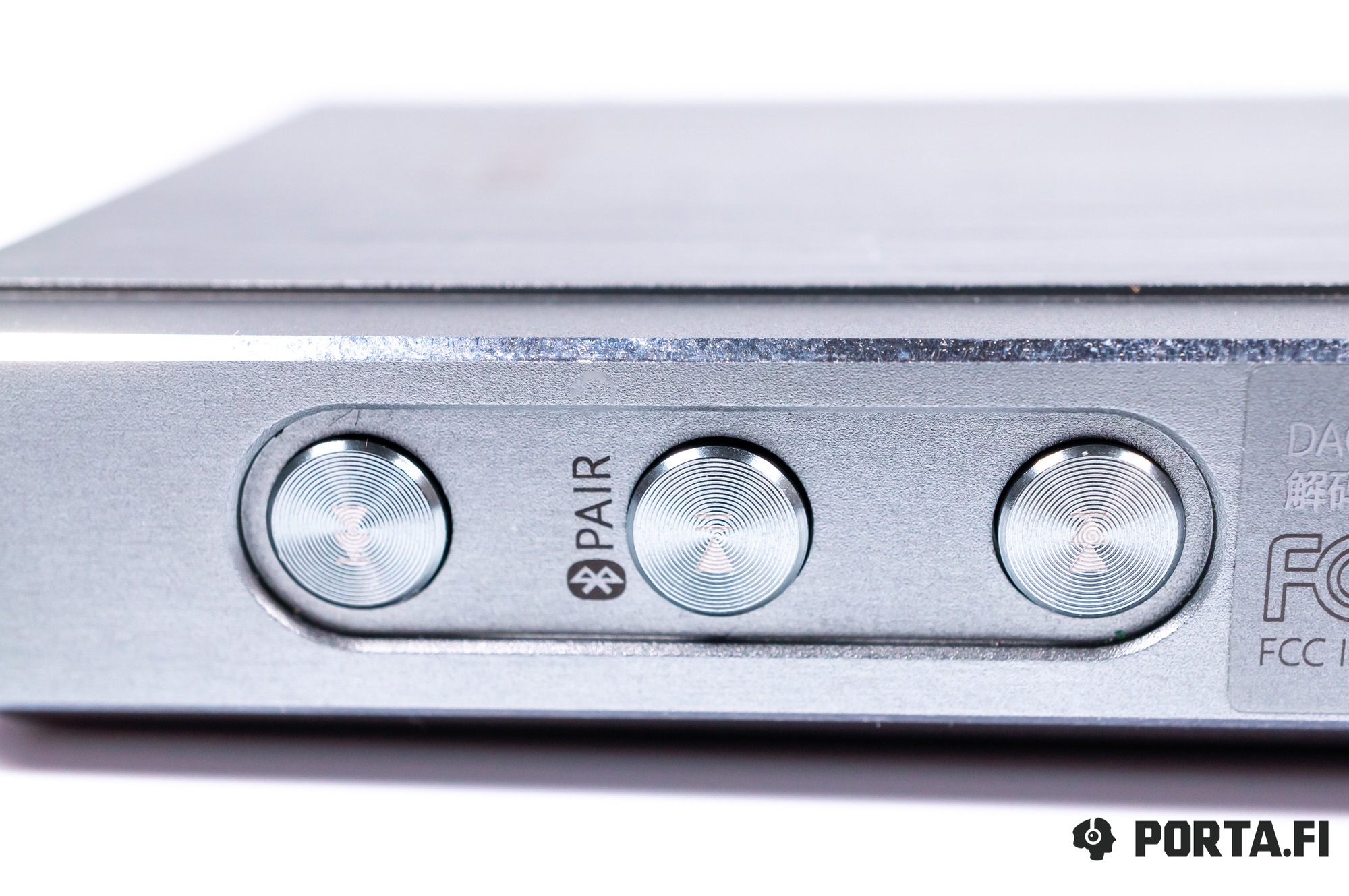 Comparisons
It should be understood that Q5s overcomes all competitors in terms of Bluetooth connection because of HWA and LDAC codecs. Here it has leading positions so the below comparison is made for wired connection.
FiiO Q5 The DAC part of those devices is not that different (but still noticeable), but the new amp gives Q5s more control and more natural sound.
CEntrance BlueDAC Even more neutral, detailed and micro details oriented source that is made in traditional CEntrance way. This DAC is for those who wants to hear everything in music by cutting it into slices.
iFi xDSD In their wiresless DAC iFi have decided to realize more fun presentation with enhanced emotions and macro details by sacrificing resolution and neutrality a little. This is the main difference between them.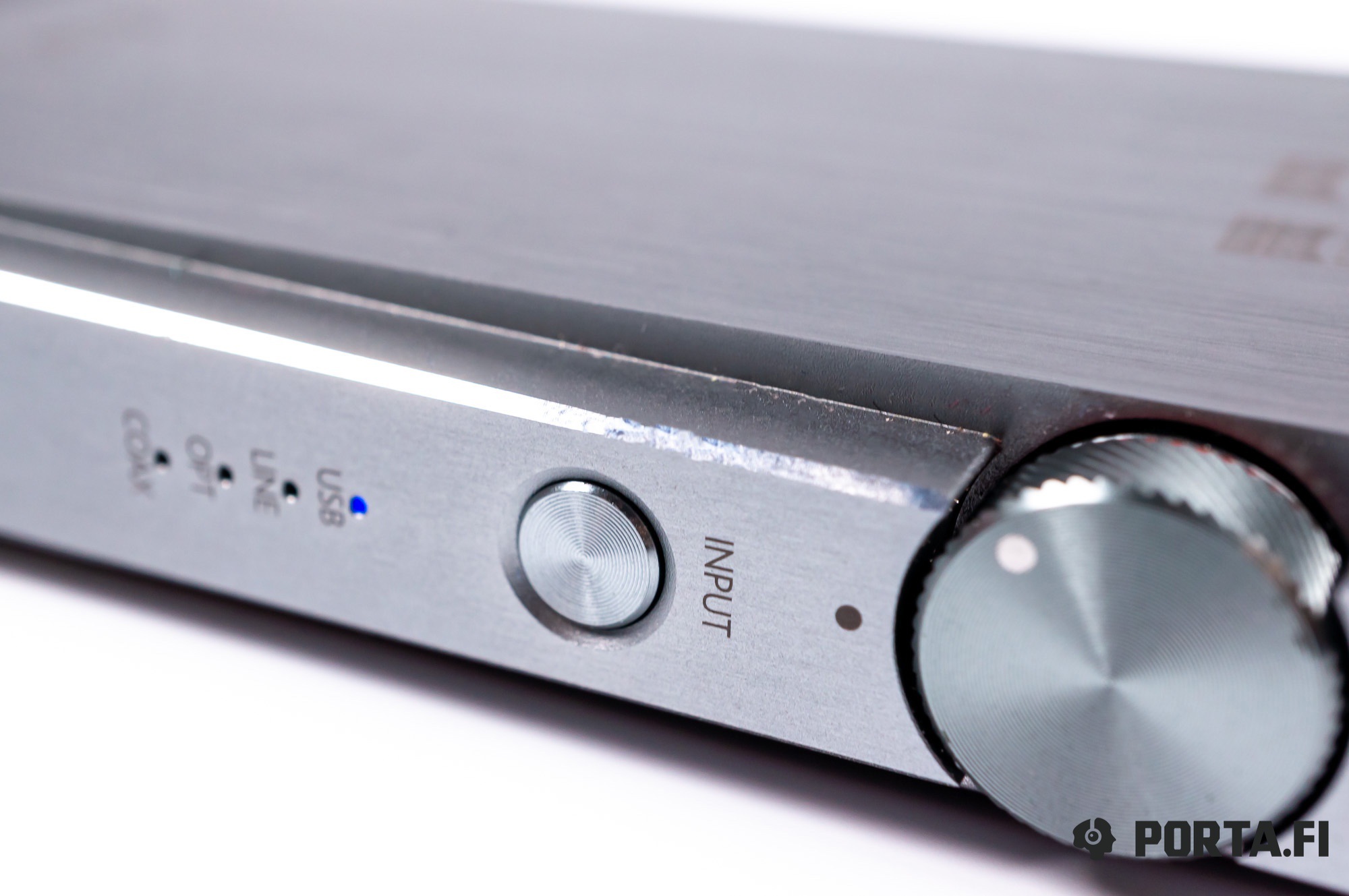 Compatibility
Despite the compact size this device has enough power to drive most of hard-to-drive headphones, especially if you use it balanced. The noise is quite low with sensitive IEMs due to good realization of gain.
In terms of genres the device is universal, just be prepared for non-colored sound. It is rather sensitive to the recording quality — 7 out of 10.
Example tracks
Chrissie Hynde — Caroline, No Chrissie Hynde is one of the most successful front-women in rock music. She has driven the Pretenders from 1978 to this day, having survived the new wave, the post-punk and what not. This track is a good example to show the Q5s neutrality and here we listen to velvet Chrissie vocals that are full of nuances. There is a bunch of stereo effects also and both are not a problem for Q5s.
Charli XCX — Gone The British singer is a good example of how to make pop music interesting. She compiled her own style that has been called as "neon gothic" by critics. This track from her fresh album builds on her ideas and shows that even synthesized bass can be unusual and well-bodies, especially with Q5s.
Weezer — The End of the Game This band from California (not to be mistaken for Whizzer) continues to play their pop-rock and to bring strong material to their listeners that is not too hard to understand but forces you to tap a foot. The new portable FiiO device helps it by playing well guitar parts and vivid chants.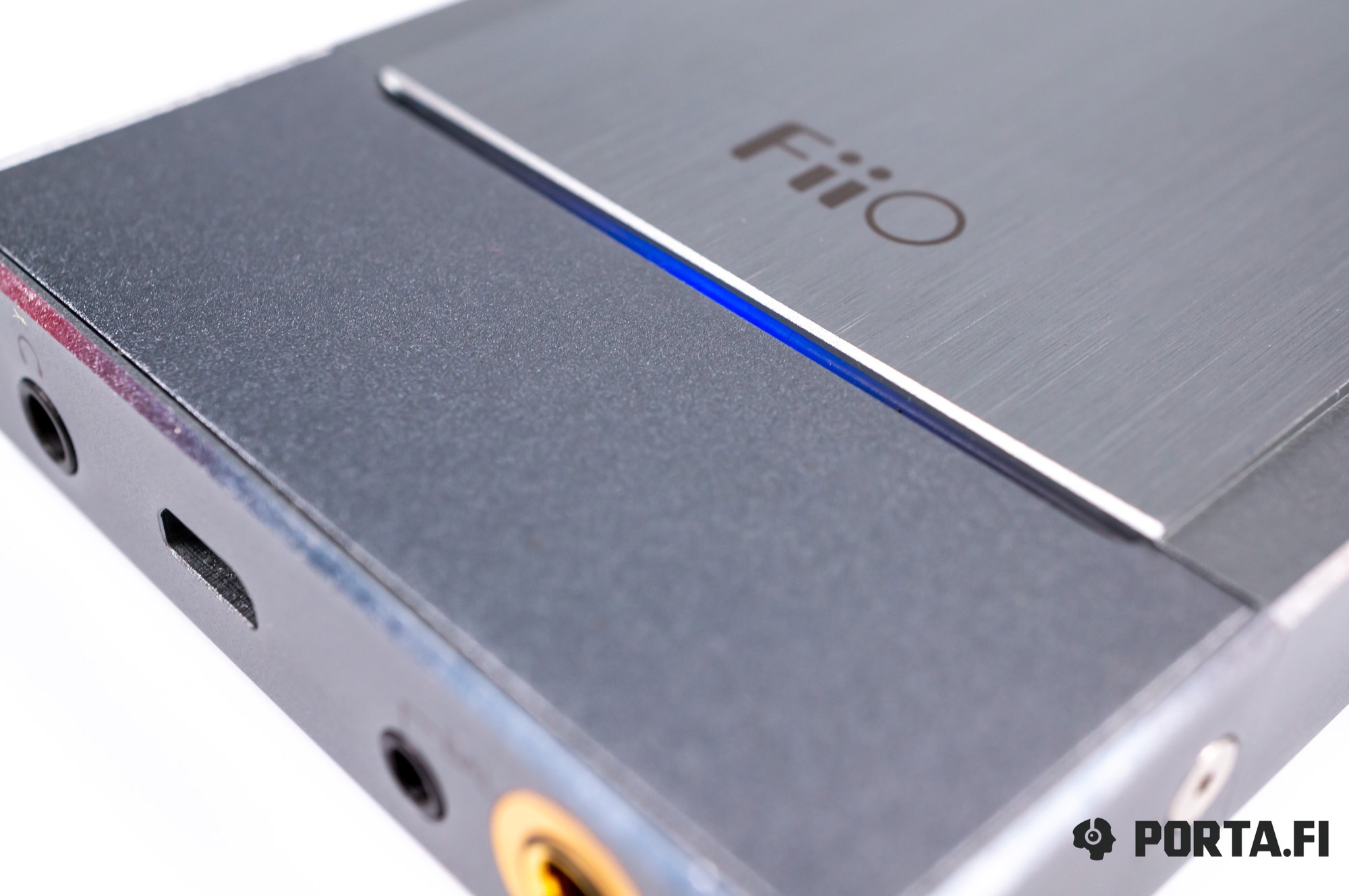 Conclusions
As usual, the portable DAC is a good way to get more quality sound for less money (if compared to DAPs) and FiiO Q5s is a good example. Abundant wireless options are a good bonus for those who use their smartphone as a source.