It has been several months since the spring FiiO presentation where they have announced their mini-player M5 that should have taken the place of their main receiver in the Bluetooth line of products, however it has made to the shelves only now, since the company has been busy with their recent hit — M11. They have also decided to release BTR5, but it is still in announced state, but not released. Let us speak about their new player meanwhile.

The history of this player development is somewhat funny, FiiO has decided to create a receiver with screen to demonstrate useful information. After assessing it, they have decided that the screen is not that busy and added the ability to play files from microSD cards. In result we have an interesting hybrid device that on the one hand has a flagship wireless CSR8675 chip from Qualcomm, and on the other — the best friend of all players — Ingenic X1000E. Both sources send signal to AK4377 that is busy both with conversion and amplification. This way FiiO has created the most compact player in their lineup and one of the most compact players in history.
The price tag is moderate and it couldn't be much higher, since there is M6 with its own price. The newcomer costs around 100 USD and this price can be slightly different depending on taxes and distributors in different countries.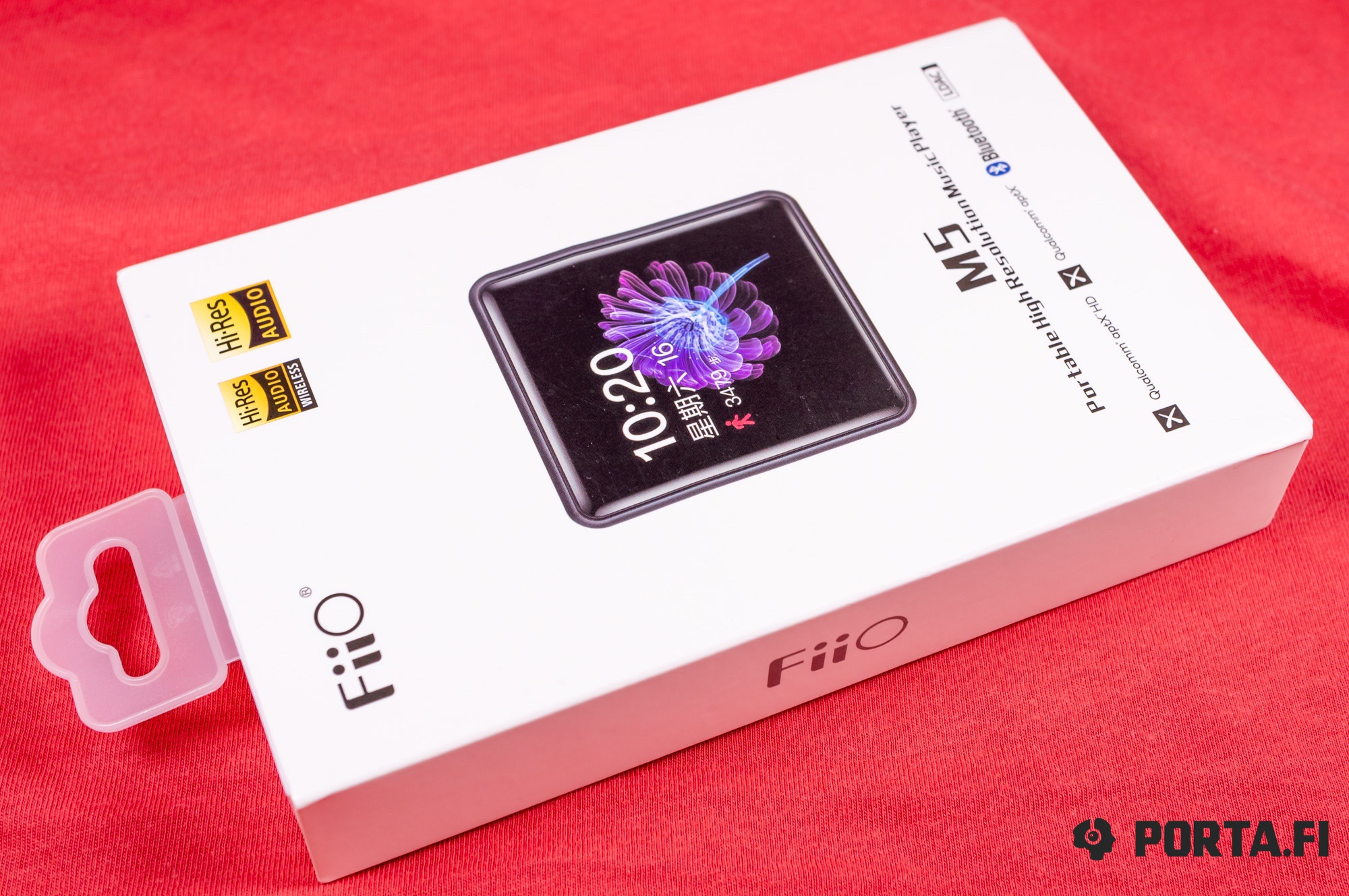 Specifications
Processor: Ingenic X1000E @ 1 GHz
RAM: 64MB
OS: Linux
DAC: AK4377
Bluetooth interface: CSR8675
Bluetooth version: 4.2
Supported codecs: SBC, aptX, LDAC — передача, SBC, AAC, aptX, aptX HD, LDAC — receiving
Screen: 1.54, IPS TFT, 240×240
Memory expansion: MicroSD up to 2 TB
Battery: 550 mAh, Li-Po
Playback time: >10 hours on 3.5 mm output, >12 hours Bluetooth (SBC), >13 hours Bluetooth receiving (SBC)
Max resolution: 384 kHz/32 bit, DSD128
Format support: DSD (DSF, DFF, ISO), APE, FLAC, WAV, AIFF, ALAC, WMA, MP3, OGG, AAC
Output power: ≥42 mWt @ 16Ω, ≥24 mWt @ 32Ω
Frequency range: 5 Hz ~ 90 kHz (–90 dB)
Noise level: <2.5μV
Output impedance: <0.5Ω
THD + noise: <0.003%
Channel separation: 74 dB
Signal/noise ratio: ≥118 dB
Dimensions: 45 mm × 42 mm × 14 mm
Weight: 38 g.
Accessories and packaging
The box is as simple as possible and resembles other products, such as BTR3: white plastic tray in cardboard box. Inside there are:
player
plastic half-case with clip
USB-C cable
protective films for front and back sides
The presentation is rather good for the price and it is great that clip is optional and can be removed together with case. The company has already released separate silicone wrist bracelet that allows to wear the player as watch, and this way we get arguably the biggest (almost) watch in the world. Hope in future we will see more accessories, since I would like to see a leather case — like DD has developed for M6.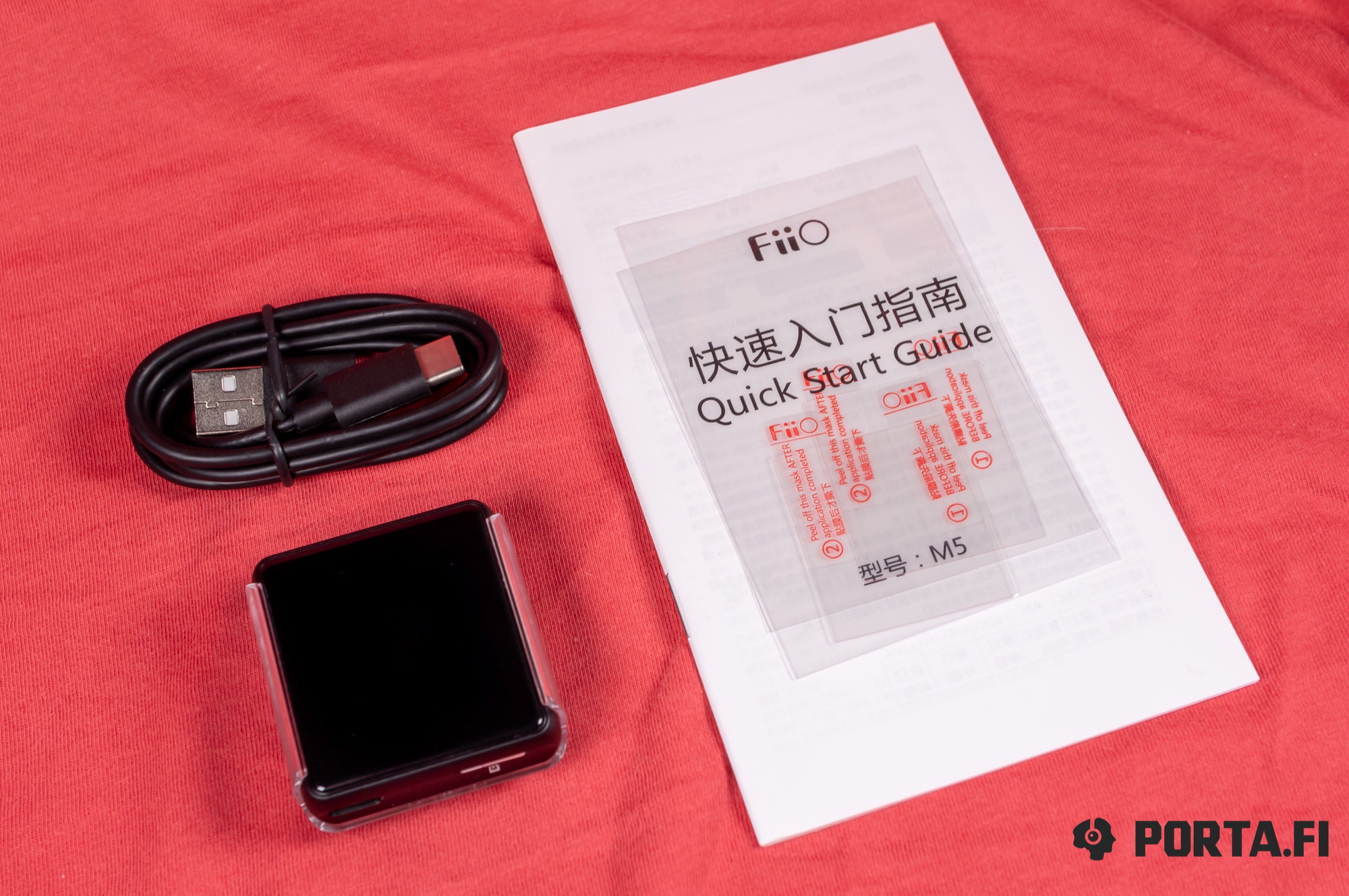 Design and controls
The appearance is as simple as possible: and aluminum square with slightly rounded corners. There is a screen on a front panel, covered with 2.5D glass. On the back — the same glass but of course without the screen, but with different inscriptions and logos that confirm Hi-Res of the highest standard. The player is not only small, it is lightweight, so if someone releases a ring, you can get a great key ring from it. In fact, M5 is couple millimeters smaller than its main competitor — Shanling M0, that has already been rather small.
For beauty lovers — you can choose from several colorful variant, but I think most of audience will still choose black. The build quality is very good.
There are three hardware buttons, but they are still better than Shanling wheel. All of them are located on the upper part of the player (however, it may be not the upper part, since the player can work in any orientation), there is a volume rocker that can also switch tracks on long press and the on/off button that can block the screen on two presses and can stop and start playback on a single press. This can be changed and adjusted in menu. The buttons are pleasant to press so you shouldn't have any problems with blind operation. There is also 3.5 mm output on this side and it is responsible of everything — headphones, lineout and S/PDIF.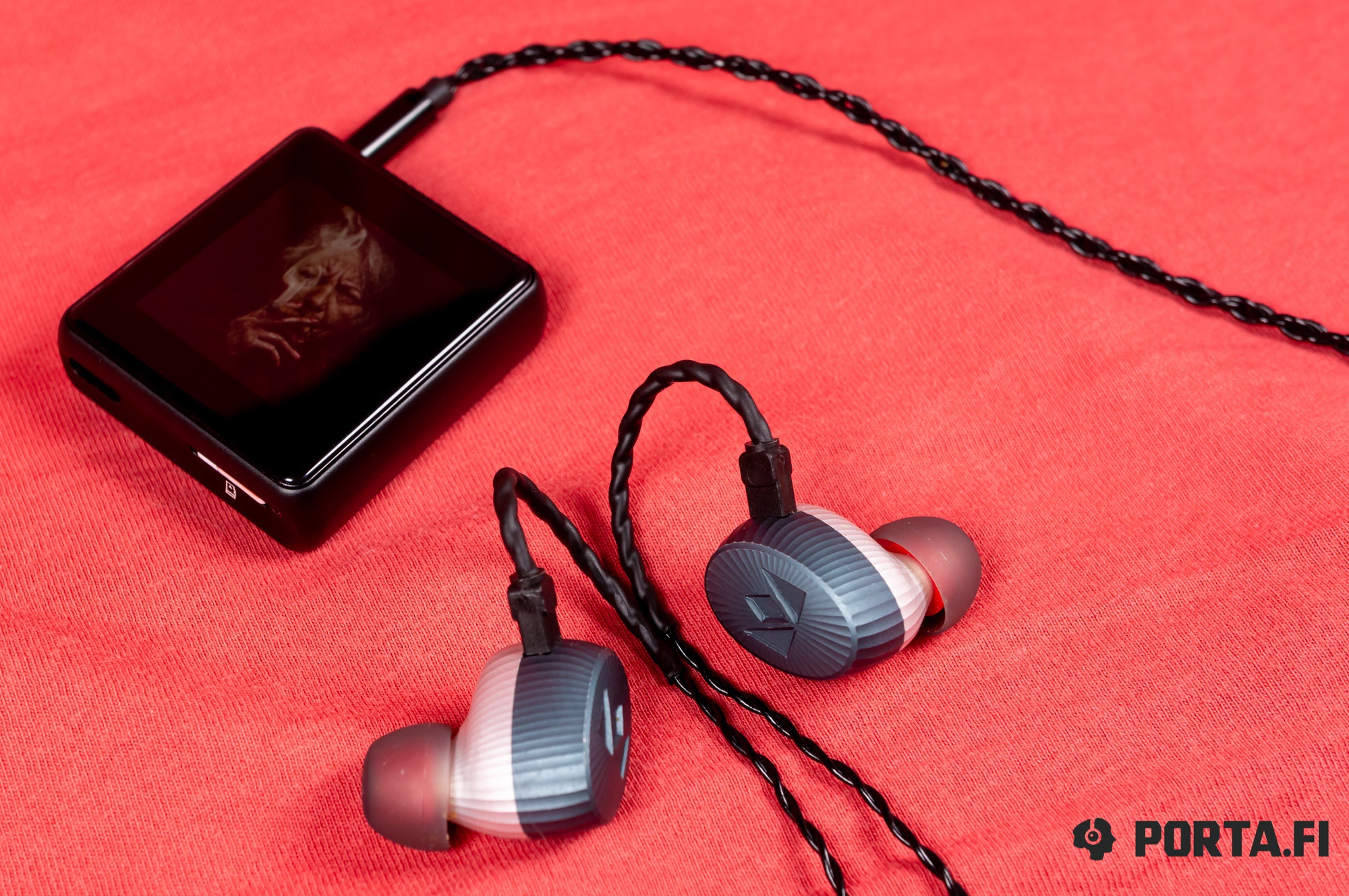 On the opposite side there is a microSD slot and USB-C port that is traditionally universal and is used for charging, memory access, DAC mode, digital output to external DAC. Unfortunately the device cannot receive Bluetooth signal and transmit it via USB/coax, since the receiver function is performed by a standalone chip. It gives better sonic results but deprives us of some advanced features. Full charge takes around 2 hours 10 minutes and it is enough for 10-11 hours of playback in wired mode and 12 hours as Bluetooth receiver/transmitter but this depends on codec. Traditionally the player has deep sleep mode and does not waste battery if you turn off energy intensive processes.
Main operations are done with the help of the screen. It is small but enough. 1.5 inches of IPS TFT with 240×240 resolution provide with pleasant image that stays distinctive even in intensive light. The color depth is 262k colors only but it is not disappointing. The screen registers taps and gestures well. There is no multitouch, but it is not needed here. There is a LED indicator that you can never guess is there if you don't enable bluetooth receiver mode. Of course the borders might be smaller but it would have led to bigger price. FiiO designers have done their best to make them as small as possible so the overall appearance is good.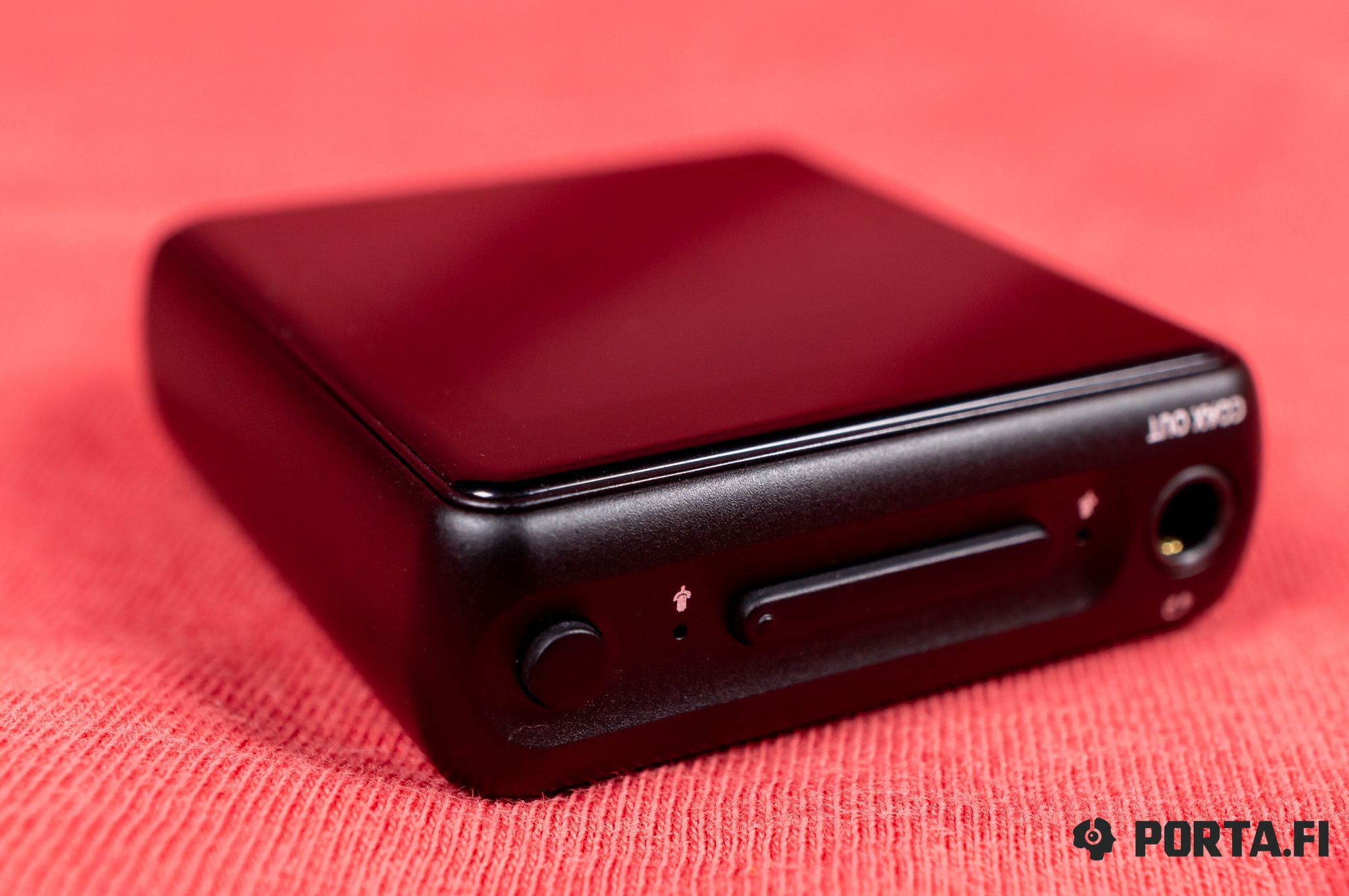 Firmware
This time there is no Android in firmware (however, I wouldn't be surprised). Here we get Linux with skin that provides fast loading time.
Right after turning on the user sees the main menu that consists of 7 entries that are switched by swiping. Let us see all of them.
Now playing — the playback screen. On default it shows the album cover. If you tap on it, you enable navigation and controls button (playing order, adding to playlist and favorites). Swipe to the left shows the progress indicator that can be used for fast rewind as well as additional buttons — equalizer, track removal and additional information.
Browse Files — everyone knows what it is. From differences here we get batch processing functions. Swipe to the left allows to choose multiple files and folders for removal or adding to playlist/favorites.
BT Receiver — as you might guess it is the receiver mode enablement. The player goes to sleep mode and maximally stops the processor to save the power. Upon the whole M5 works as you expect from receiver, including the possibility to answer the call using built-in microphones. The latter are good of quality and you will be clearly heard in not noisy environment, however on too busy streets you might still want to have a separate microphone.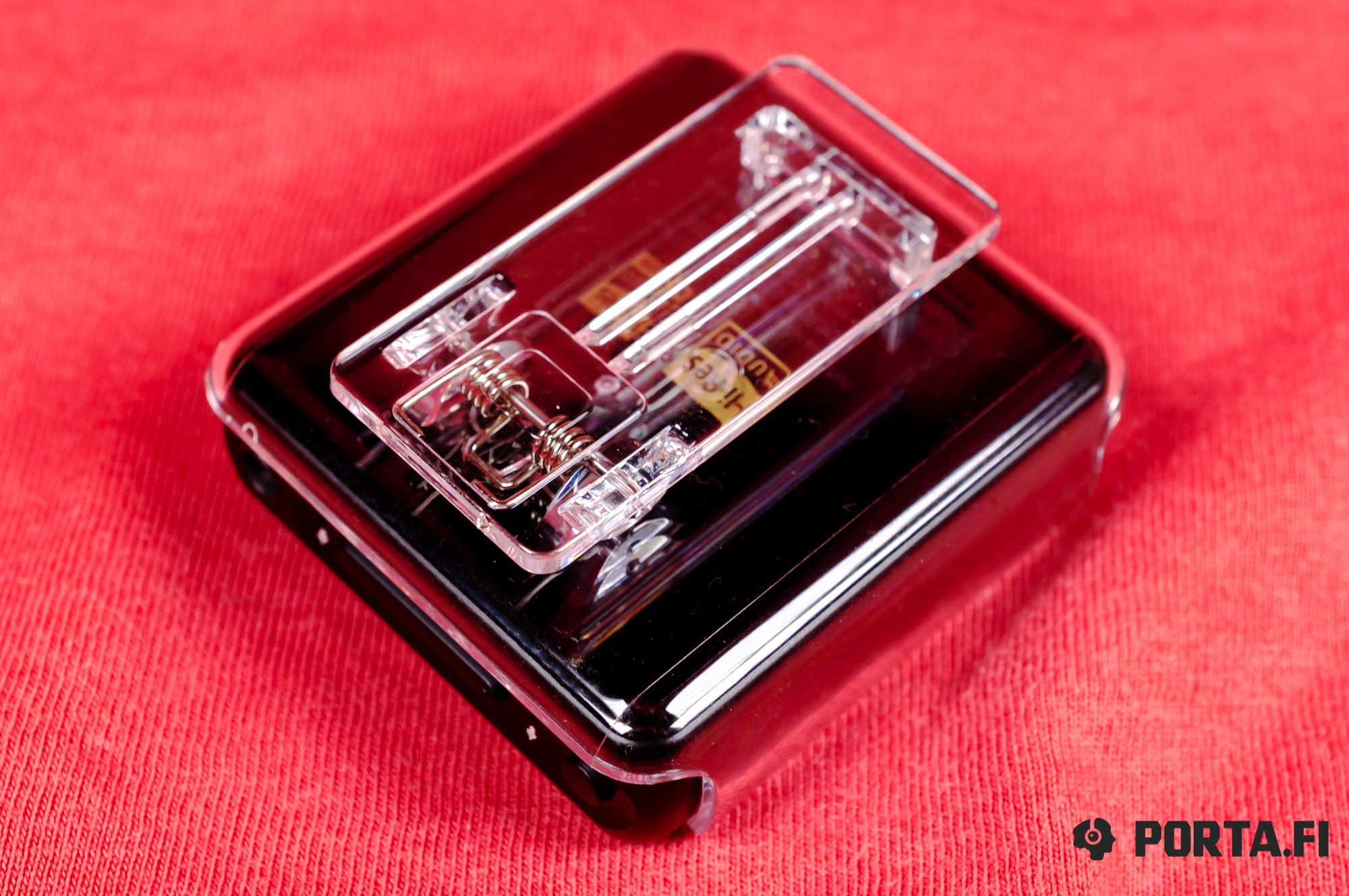 Settings — as you might have guessed, here are options. Here you get: enabling of BT transmission, playback settings (order, position of playback, gapless and all the rest), system settings (brightness, sleep and power off timers, USB mode, clock settings and so on) and media scan.
Recording — a digital recorder. Another function that is, in my opinion, not that useful here, but still it is better to have and not to use than not to have.
Step Counter — pedometer. Another function that I don't understand in this player, since for it to be useful it should be able to at least synchronize data with smartphones. It is rather precise though and misses iPhone 6 Plus results for 3-5%.
Category — media library where you will traditionally find playlists, favorites, the list of all files and categorizing by artists, albums and genres. This menu also has batch processing capabilities.
Upon the whole the controls are well thought over and are intuitive. For example the swipes from the left always bring you to the previous screen and swipes from the right show additional options of the current mode. Swipe from the upper part of the screen opens quick settings (brightness, track switching and pause). In order to return to previous menu you can tap in left upper corner where there is a house icon — it is much more convenient than long screen press that has been used in other players.
Clock mode is good as well, you can choose one of 5 watchfaces and activate the option when the screen wakes up if you bring your wrist up — something I missed in iPod Nano. Also you can wake the screen with double tap and it can be set up in settings.
Upon the whole the firmware is rather stable without any obvious problems and lags. Sometimes there are problems with Russian letters in tags but the use of Unicode helps a lot.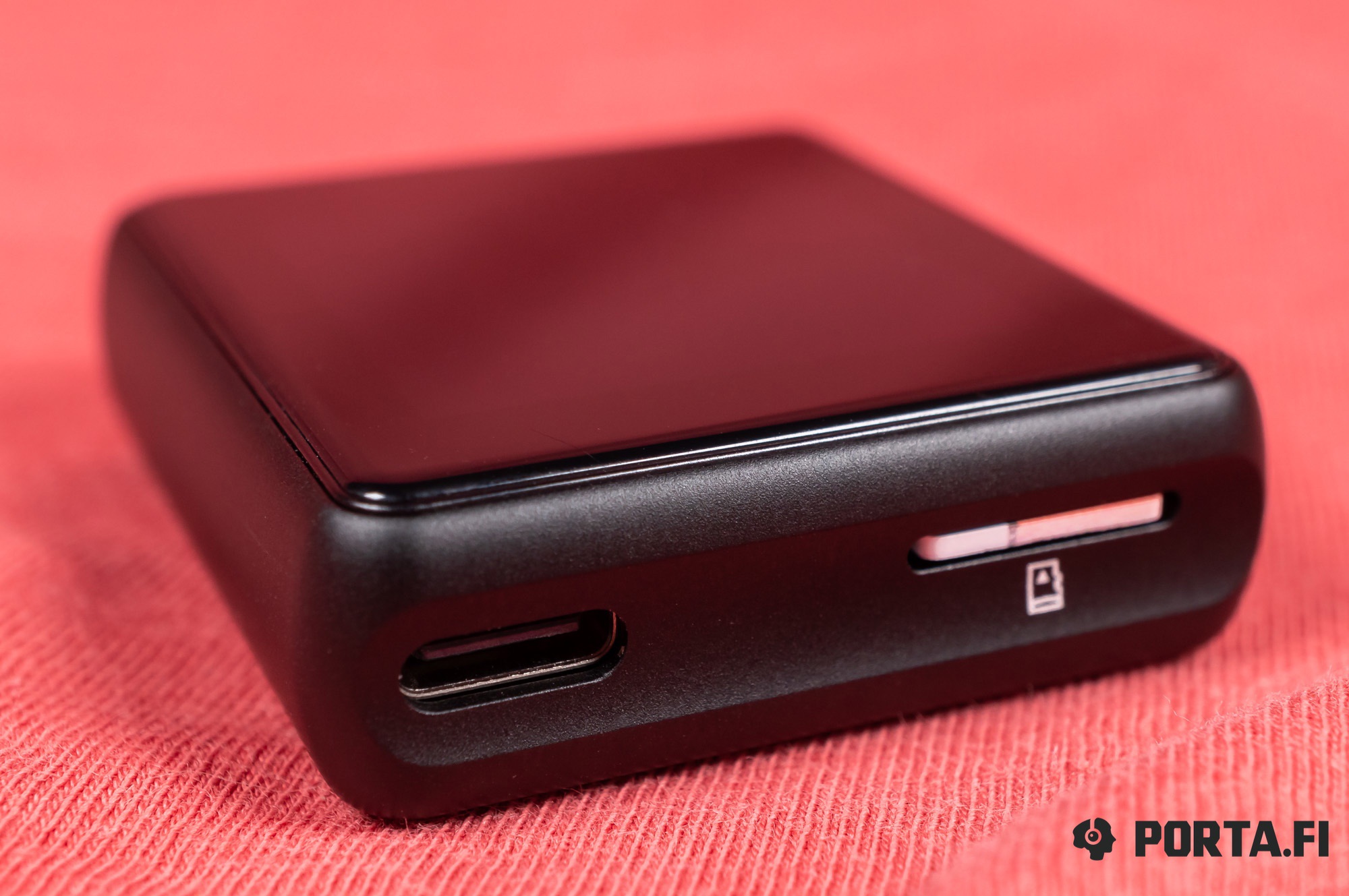 Sound
I have used the following headphones for listening purposes: iBasso IT04, Meze Empyrean, Audio Zenith PMx2, Noble Audio Khan, Campfire Audio Andromeda and Solaris, Unique Melody Mason V3, HUM Pristine and others.
Upon the whole, the player is rather balanced in sound without too evident peculiarities or problems. I don't like to make general conclusions but still suppose that mobile AK is better with simple players than mobile Sabre solutions. Of course you shouldn't expect something extraordinary from player, but given its price and dimensions it is rather pleasant.
The bass is well controlled, it has a little enhanced weight but does not lose resolution. The bass attacks are a little slow but you can notice it only in direct comparison to other more expensive devices. The depth is good but not maximal, however even below midbass area there is enough precision.
The mids are normal in terms of resolution and they do not make any accent on micro details, so it sounds rather whole while not losing naturalness. M5 is rather good in macro details and it sounds lively and full of emotions. The presentation has good weight that adds realism to instruments. The sound stage is average in width and slightly less than average in depth, but the separation is rather natural.

Highs are surprisingly good. Of course I do not speak about absolute comparisons, but it is clearly heard when transmitting wirelessly. Lossy compression is usually evident in highs when transmitted via Bluetooth, but in M5 the developers have been able to mask this. Of course simplification is still heard and M5 has worse attacks and decays than bigger brothers but highs are rather natural and balanced. The same goes for resolution and length and player copes with it not ideally, but rather well.
Comparisons
Shanling M0 — Of course it is the closest competitor. Sound-wise, M0 has more power but it is not that good with sensitive headphones. M5 sounds more mature with it and has better lows control, better soundstage depth and simplified highs. All those aspects are not huge, but if you sum up, you get quite a difference. As for functionality — both devices have their pluses and minuses, for example M0 can forward the sound from Bluetooth to USB while M5 — cannot (at least for now), however the latter has built-in microphones. And again, I like the buttons more than the wheel.
FiiO BTR3 Strange, but M5 is a good competitor for this bluetooth device. It is not much bigger and there is not much difference in price, while M5 has much better functionality and has better highs. FiiO understand that and prepare BTR5 with increased power and sound quality.
FiiO M6 The bigger brother treats the borders of frequency range better and has better soundstage and as a result this gives more mature sound, but at additional cost and larger dimensions.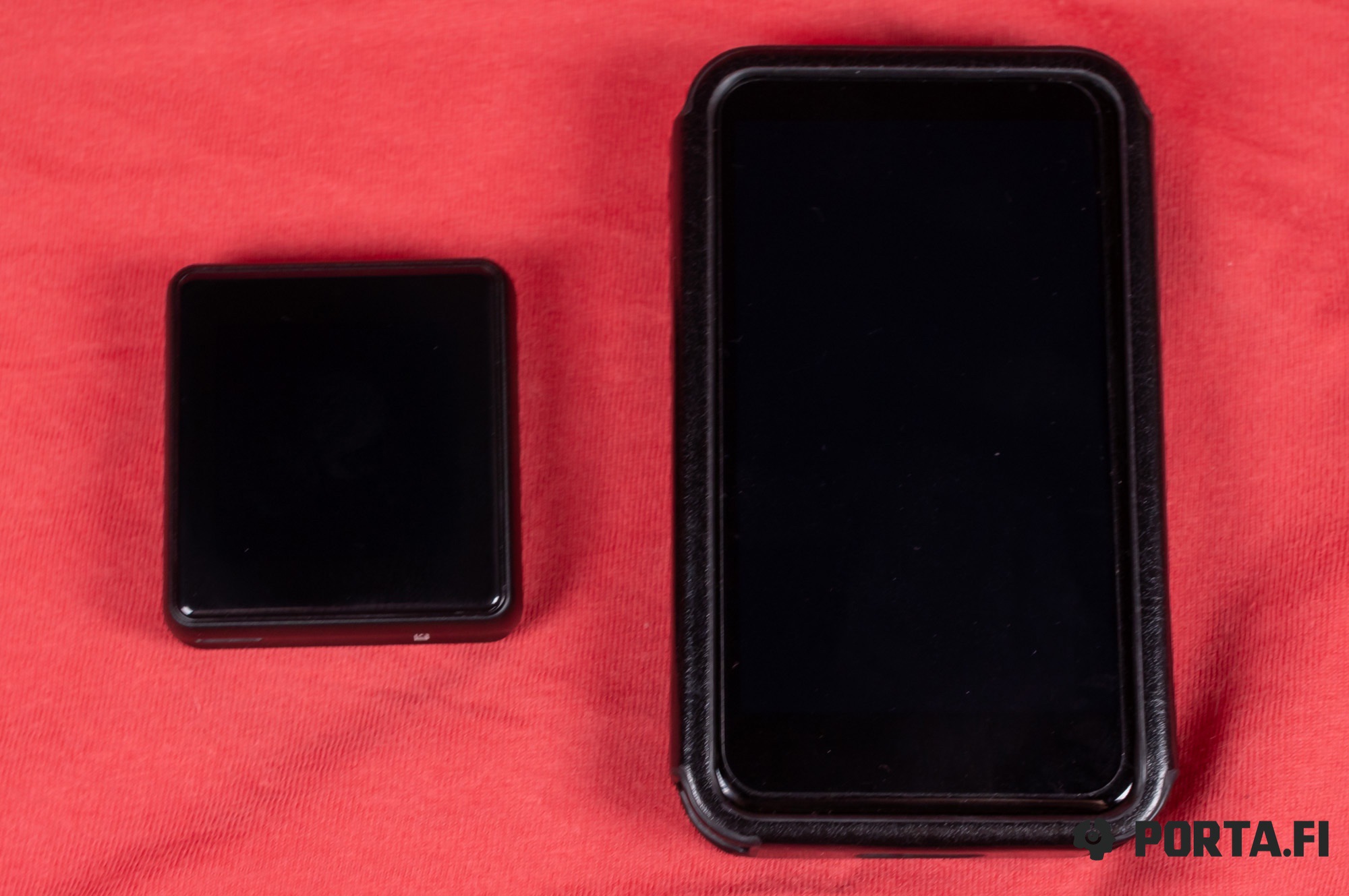 Compatibility
Of course the player is not powerful, but there has been no intention to make it such. It is useful for IEMs and it is good in playing with them, providing good control and low noise. Of course you can try over ear models but they should be sensitive enough. The device is not too picky and has output impedance around 0. As for recording quality sensitivity, it is 6 out of 10.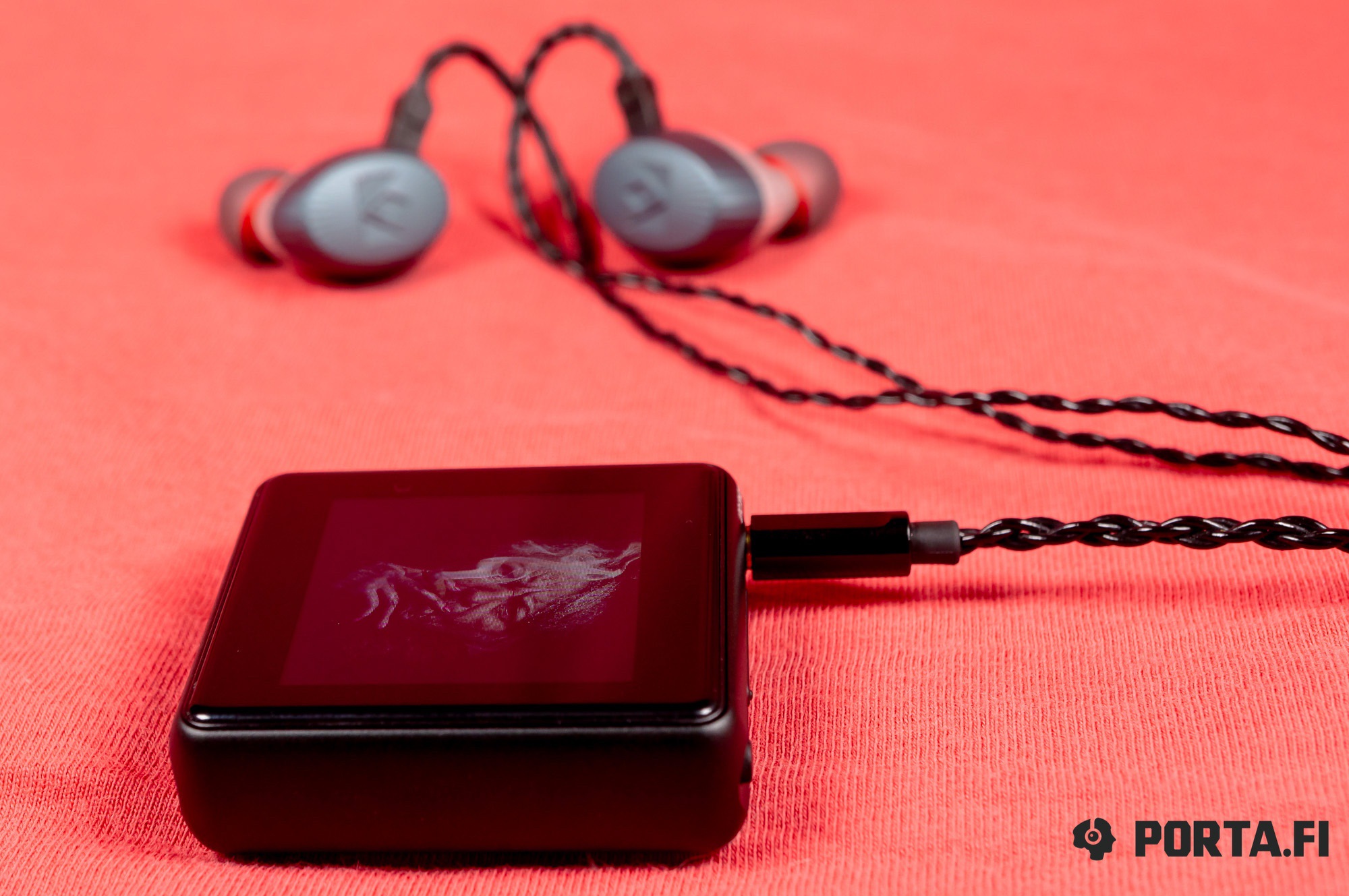 Example tracks
TOOL — Fear Inoculum Of course on the one side TOOL, with their music complexity, require source of the higher level. But on the other side we have been waiting a lot for something new from them and M5 copes with this track rather well, presenting good vocals and guitar parts, as well as hypnotic drums.


Sigur Rós — Sleep 3 We have heard different music from this band, but this endless and slow flowing ambient is something new. Of course it is not directly music, but rather a sound landscape that is played by M5 well.


Ludovico Einaudi — Ascent (Day 7) Let's continue our journey through atmospheric music with great piece by Italian composer and pianist. The track is well recorded but not to the extreme level and it added needed realism and made sense to use this recording for testing purposes. Of course FiiO M5 is not the best source to play such complex material, but still it transmits the atmosphere rather well.
Conclusions
Interesting hybrid gadget that combines Bluetooth receiver and ultra compact player. It is a good companion for music lover whose life is on the active side.
Translated by: Vadim Kolchev