Due to obvious reasons 'audiophiles' and TWS users have usually been not the same people. Right until the time when the company, proving for many years that Bluetooth and quality sound can co-exist, came to the market. And they brought a good design with them as well. So, Devialet have presented their Gemini TWS.

I won't speak much about their achievements in acoustic system market, since I assume that they are well known to everybody. Let's concentrate specifically on TWS. Of course the company has used its experience in software development, and TWS have received active noise cancelling with special compensation system, transparent sound mode and a special algorithm to adjust sound tuning to user ear channel. Hardware is not behind too, beginning with design and ending with a special system of pressure compensation.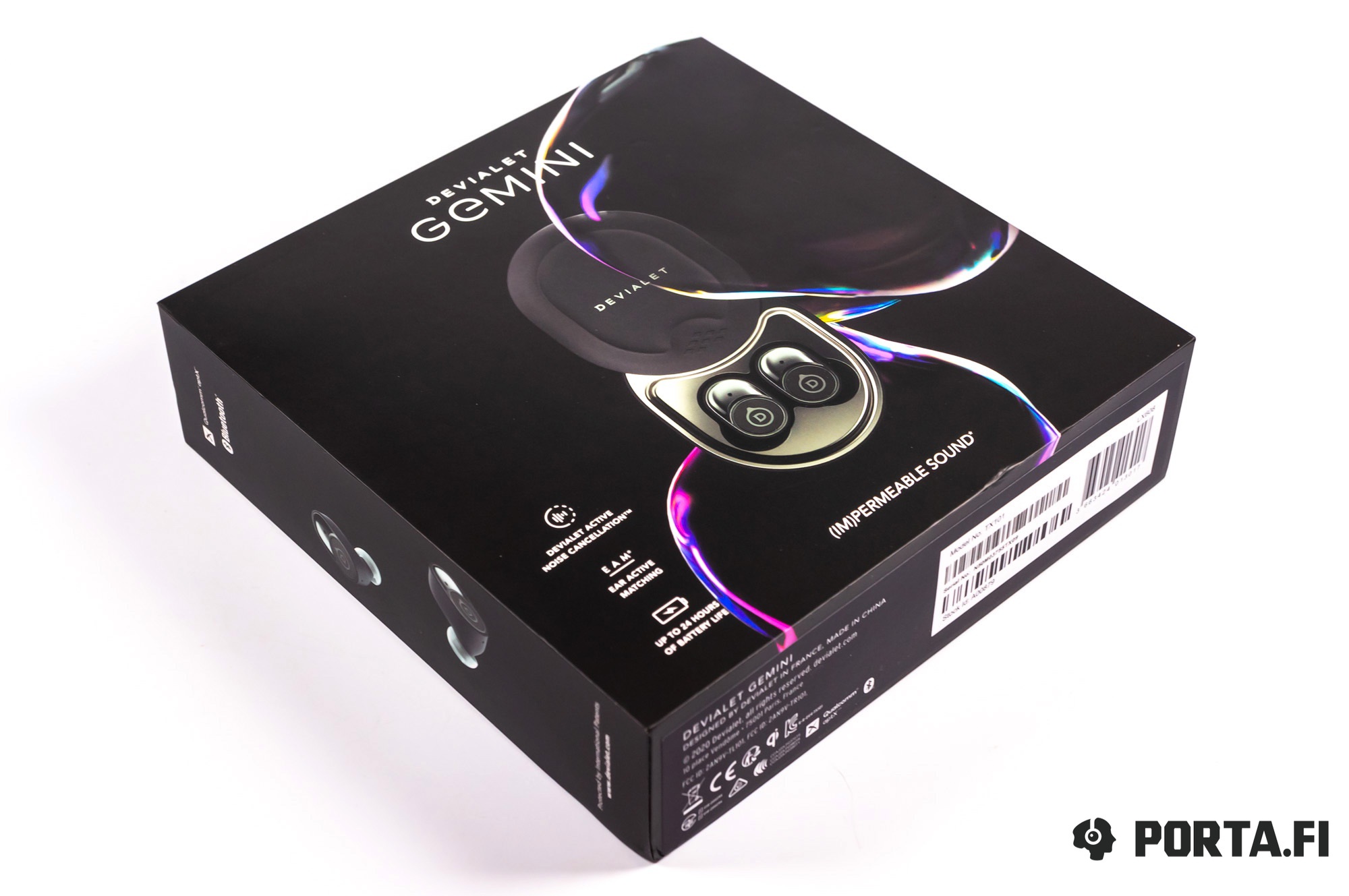 Of course this product cannot be cheap, but luckily it is not very expensive as well. The creators have put the price to around 300 EUR and this goes along well with many other models with similar functionality. However, as usual, the price may vary depending on taxes in different countries.
Specifications
Transducer: dynamic, 10 mm
Frequency range: 5 Hz – 20 kHz
Bluetooth version: 5.0
Supported codecs: SBC, AAC, aptX
Weight: 8g
Design and controls
Devialet have tried to provide their users with the most premium feelings in packaging and design of TWS itself. The box is made of quality cardboard and sports quality printing. Inside there is a case with headphones, USB-C charging cable and set of extra ear tips packed into a hermetic container.
The case is made of black plastic and is almost oval in shape but has straightened sides. The cover is moved horizontally with pleasant click when put in place. The effect is ASMR-like and one should control himself not to click the cover all the time. The case has wireless charging capabilities, but if desired, cable can be used as well. It also has the led indicator and button activating the pairing mode.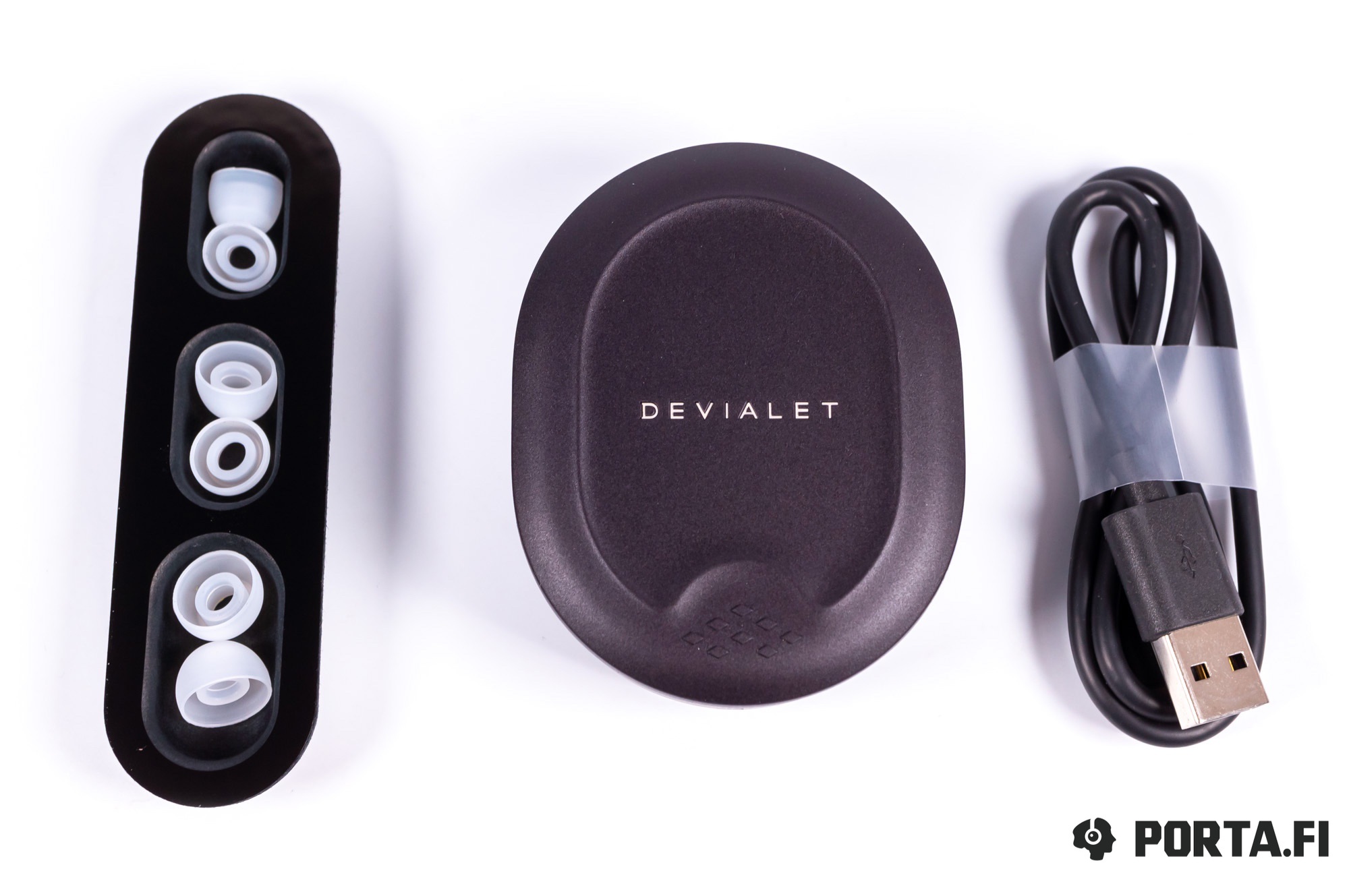 Playback time is around 4 hours with ANC mode on or up to 6 hours without it. Not record breaking, but quite normal for model with ANC. Some users have claimed IEMs to have quick discharge even when not using them, but the company has managed to fixed it with firmware update.
The design reminds acoustic systems design of the same company, luckily diminished to fit into the ear. Gemini bodies are made of black plastic, they fit into ears well and can be worn for many hours without fatigue.
TWS use sensor controls and utilize round pads on outer parts of shells that register touches well and allow to manage different functions (it can partially be set up in Devialet app).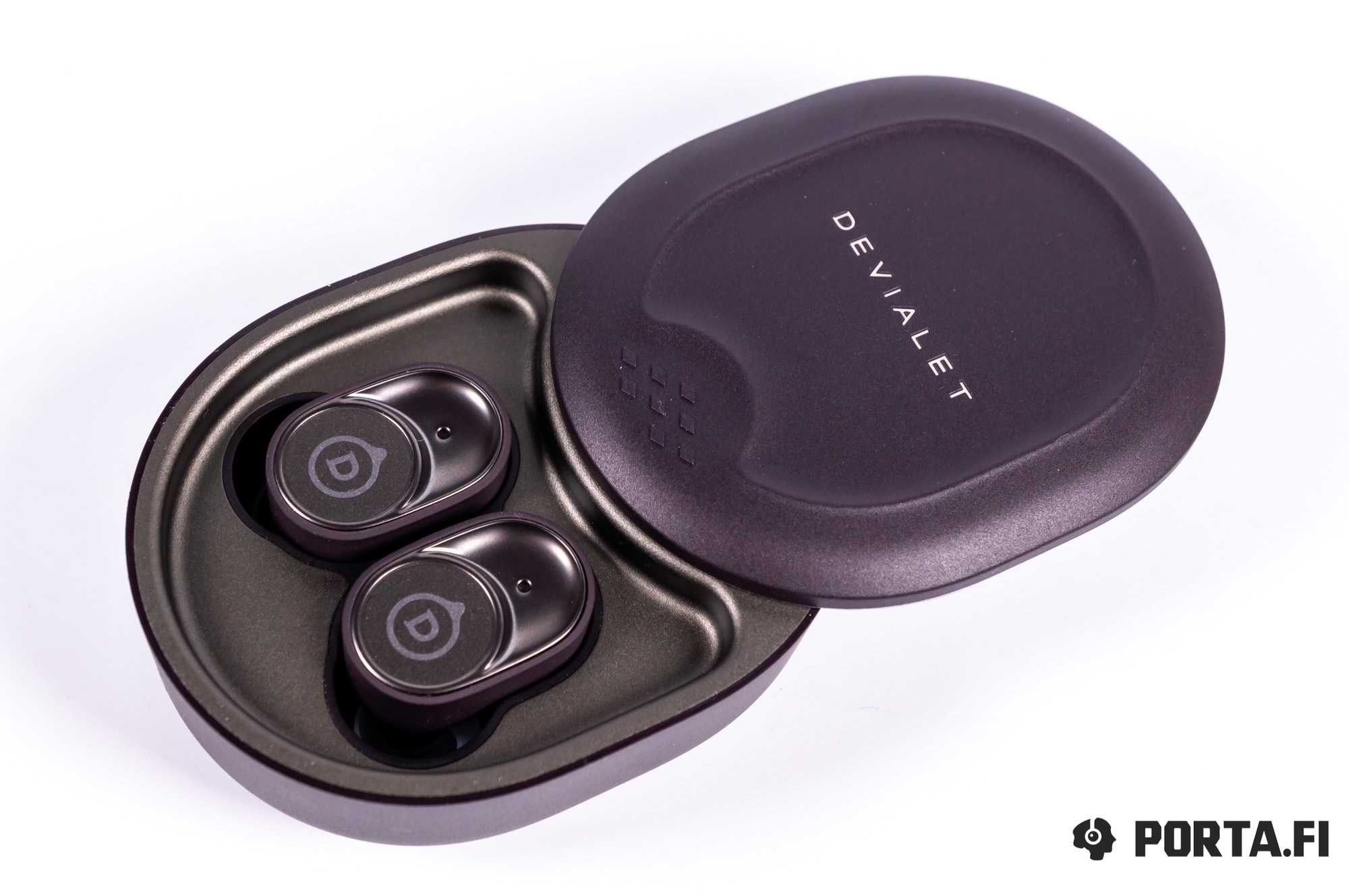 The app is quite simple but copes with all tasks well. Here you can see the charging level of headphone accumulator, switch ANC (off, on, transparent mode), enable smart pause mode when taking IEMs off and choose what should happen on double tap. Also the app allows to upgrade firmware and to perform fit tests. While testing the headphones will play a short melody and built in microphone will determine if the seal is good and will adjust the sound of Gemini accordingly. Also the app has equalizer and ability to change channel balance.
The headphones are rather good when used for voice calls. Brand ANC algorithms will make your voice sound natural in most situations.
Gemini hold connection well apart from regular TWS problems such as abundance of surrounding WiFi networks that may result in some minor stuttering.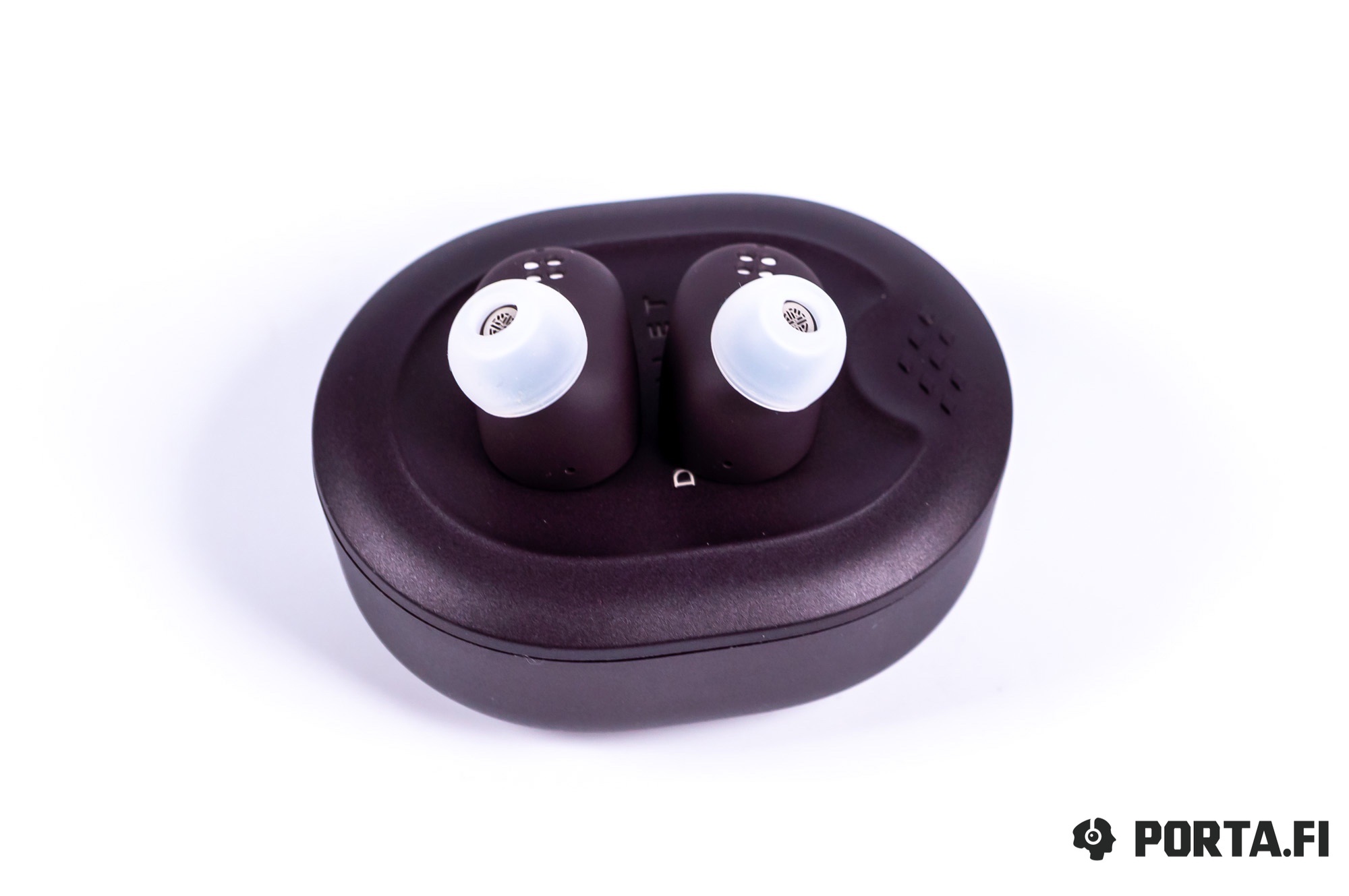 ANC system works really well. It is very slightly behind market leaders and surpasses all other solutions, especially when dealing with sharp and non-monotonous sudden noise.
Sound
The developers have managed to create headphones that are on par with their house sound concept. While listening, one thinks about specialness, refinement etc. Having rich experience with Bluetooth and DSP, Devialet have tried to make their heapdhones sound as natural as possible, despite Bluetooth codecs peculiarities.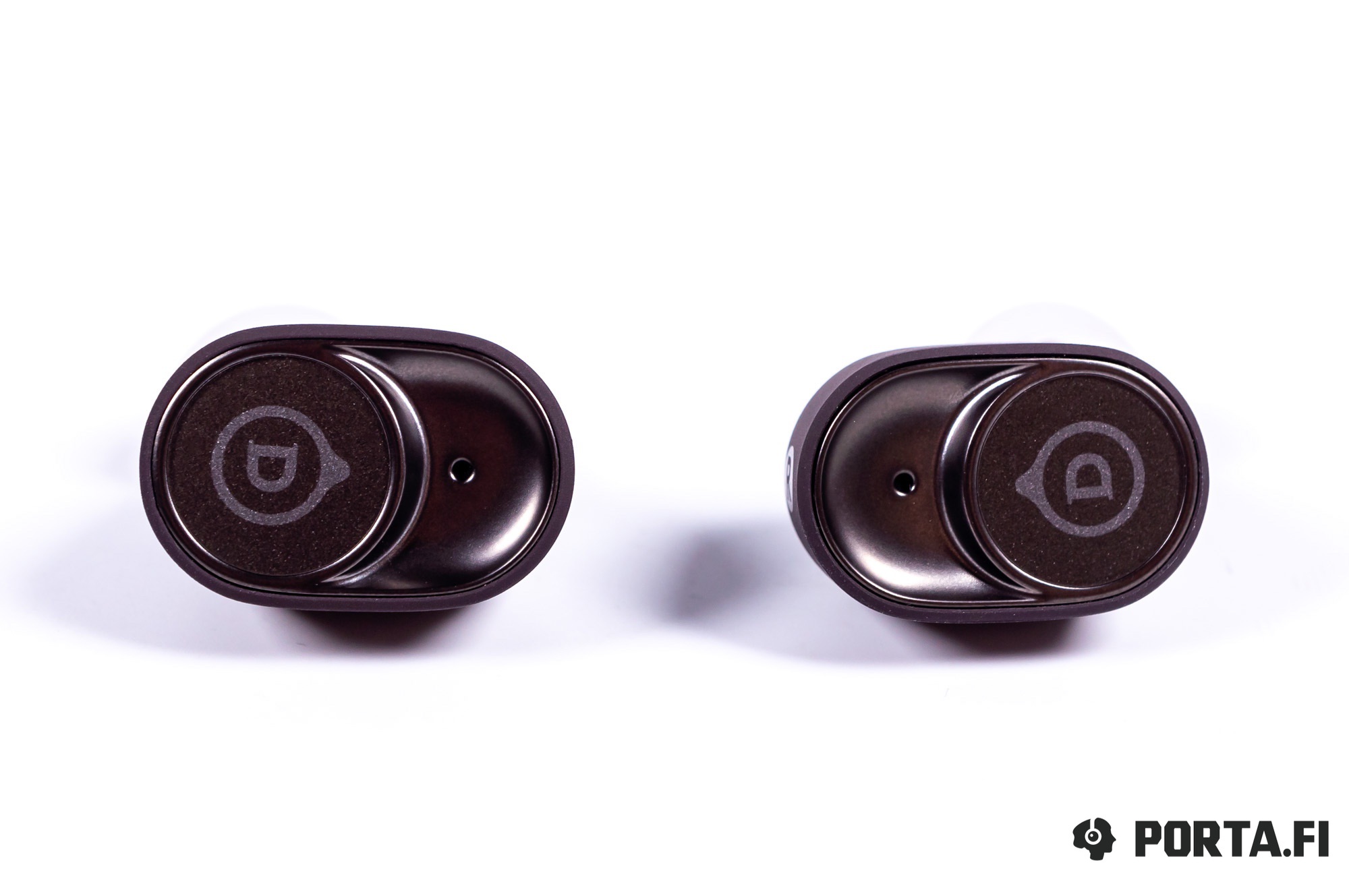 It's necessary to take into account that Gemini is the model for those who listen to music with reasonable volume, since the volume threshold is less than typical Chinese models and this probably makes distortion less. For me the volume is enough (and new firmware boosted maximum volume pretty noticeably), but probably for those who love to listen to the music very loud it might be slightly lacking.
Bass has well-defined texture, the headphones slightly accentuate overtones and small nuances that makes timbre-rich instruments sound more distinctive and natural. The depth is good, but not maximal, since codec restrictions make their input. Bass has good thickness and slam, but Gemini try to control it fully.
Mids are well balanced. IEMs don't go into micro details but have rather good resolution. These TWS provide good balance of weight and details and bring above mentioned naturalness and timbre correctness (up to what the codec allows). Gemini slightly enhance emotions and macro details and this brings additional involvement. The soundstage is above average in width and depth but it is one of the best in TWS world.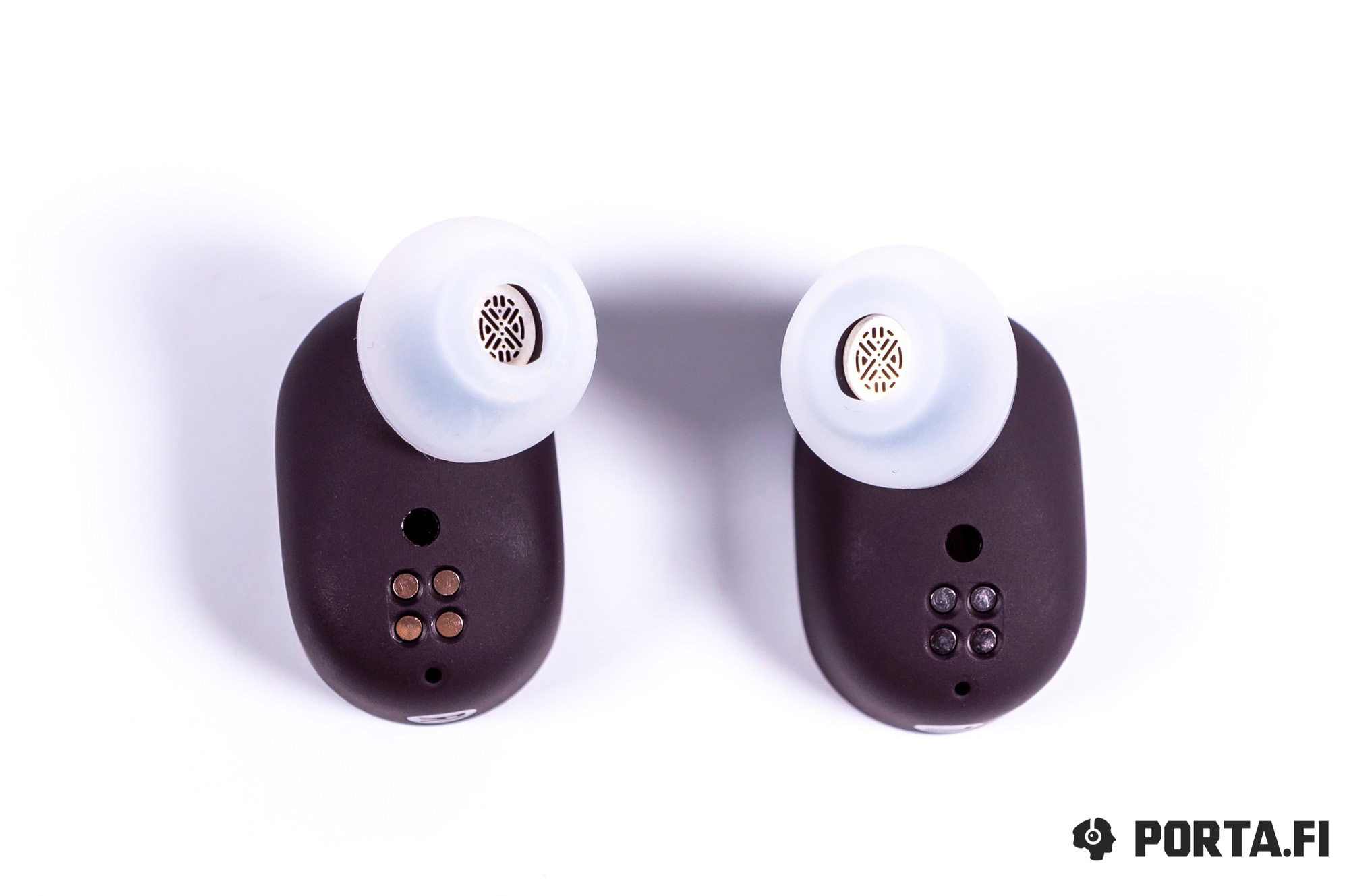 Highs have above average length (again, codec restrictions), but sound really good. I probably would like Devialet to create wired model as well, with the same sound. Highs are balanced with good resolution and naturalness. Attacks and decays, typically to dynamic transducer, are slightly slower, but this does not prevent highs from being transparent. It is impressive that they also have layering, though basic. This provides them with even more beautiful and saturated overtones and naturalness of overall presentation.
Comparisons
For apparent reasons, I can compare Gemini to only two models that I own.
Sony WF-1000XM3 Gemini sound more natural, while Sony has slightly better ANC, advanced software and lower price.
Sennheiser Momentum True Wireless 2 This model sound more drive, dynamic, with better enhancement of emotions and dynamics, providing more fun sound that somewhat lacks naturalness in comparison.
Example tracks
Eydís Evensen — The Northern Sky It happens that work of some musicians can be clearly associated with their place of birth, and this is exactly the case. Iceland musician creates compositions full of awe from harsh northern nature, substituting outside effect with inner sensibility. TWS from Devialet with their refined sound help the listener to get deeper into that atmosphere, playing strings and keys really well.
Dan Wilson — Bird of Beauty Guitar jazz from virtuoso of Ohio will help us warm after Iceland cold. Here we get everything jazz is loved for and Gemini cope with timbre pallette of guitar and accompanying instruments really well.
Ólafur Arnalds — Arnalds: Epilogue Another performer from Iceland. This land is full of talents in modern classical music. The composition from well known "Nomad Land" also strikes with inner emotions, allowing to dig deep into the plot of the movie. Even without visuals good headphones (yes, such as Gemini), will bring much pleasure on this track.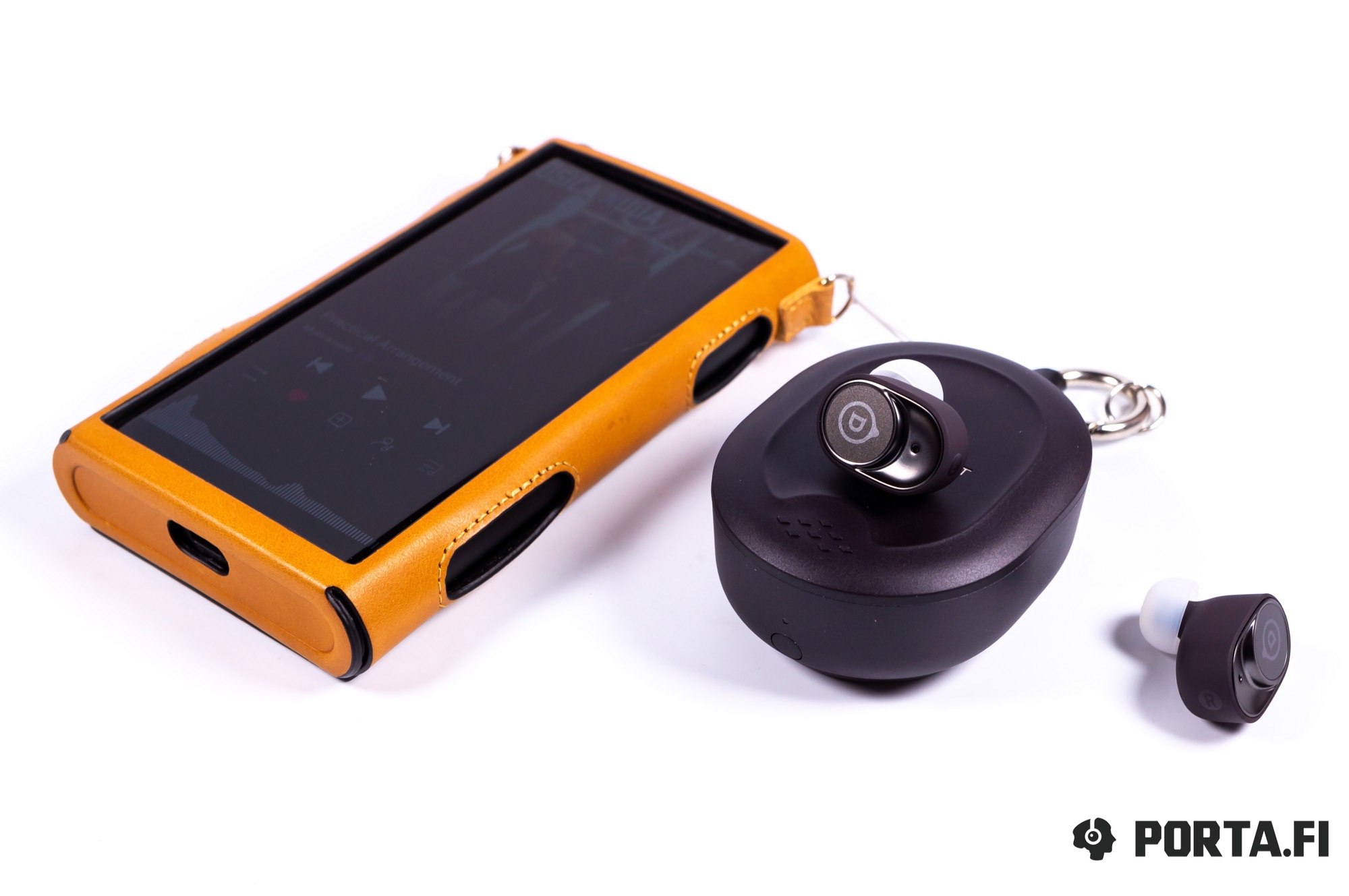 Conclusions
I can say that Devialet have clearly coped with the task. They have created TWS with refined sound. The model doesn't try to fit everyones needs but aim to slightly narrower niche. Enhanced naturalness and reaching beyond usual Bluetooth codec restrictions make it successful for target audience of the company: those who love complex music and want to get the most out of TWS.
Translated by: Vadim Kolchev